Nestled amidst the lush, tropical paradise of Bali, AYANA Villas presents an unrivaled haven of luxury and relaxation for discerning travelers. Set along the enchanting coastline of Jimbaran Bay, this world-class resort boasts an exquisite selection of private villas designed to pamper guests with the utmost indulgence.
From its unparalleled views to its award-winning spa, AYANA offers a bespoke experience that marries the allure of Balinese culture with the comforts of contemporary living.
We were lucky to spend 3 fantastic nights at AYANA Villas Bali, and it's easy to understand why this acclaimed hotel is one of the most sought-after destinations in Bali. Here's a complete review of our stay and all that AYANA has to offer.
*Disclosure: This post contains a few affiliate links, which means I may receive a small commission, at no cost to you, if you make a purchase through my link. Please note that we were invited to stay at AYANA Villas Bali, however, all thoughts and opinions are my own, as always.*
Basic Information
Introduction to AYANA Estate
AYANA Estate is a luxurious and enchanting oasis nestled within the captivating beauty of Bali, Indonesia. Comprising four distinct yet interconnected properties – AYANA Resort and Spa, AYANA Villas Bali, RIMBA by AYANA Bali, and the newly opened AYANA Segara – the estate offers an unparalleled experience of relaxation, indulgence, and world-class hospitality.
Set on lush, cliff-top gardens overlooking the shimmering waters of the Indian Ocean, AYANA Estate has earned a reputation for excellence since its inception in 1996. The resort's award-winning design draws inspiration from traditional Balinese architecture, seamlessly blending with its breathtaking surroundings to create a harmonious and unforgettable experience for guests.
With a diverse range of accommodations, dining venues, and leisure facilities, AYANA Estate caters to the unique desires and preferences of its discerning clientele, ensuring that every stay is truly exceptional.
We stayed at AYANA Villas Bali so this review focuses on the villas, though you can expect all of the same excellent service and amenities at the other properties of AYANA Estate as well.
Arriving at AYANA Villas
AYANA Estate is located a mere 30-minute drive from Bali's Ngurah Rai International Airport. You can easily reach the property by private car or ordering a Bluebird taxi.
AYANA Villas has its own lobby and reception area, located close to the villas itself. Upon arrival, we were welcomed by a friendly and courteous staff who quickly checked us in and explained the ins and outs of our stay.
Since the estate covers a whopping 90 hectares, guests staying at AYANA Villas receive their own private butler and access to a complimentary shuttle service. Whenever we needed to go somewhere, we just had to text our butler via Whatsapp, and they'd come to pick us up in no time. This convenience was highly appreciated!
Room Types
At AYANA Villas, guests are treated to an exceptional range of villas designed to cater to their every desire. Impeccably appointed and infused with Balinese charm, each villa offers a sanctuary of tranquility, where modern luxury meets traditional elegance.
Guests can choose from a diverse selection of one, two, or three-bedroom accommodations, including oceanview and oceanfront villas. Each of these villas boasts breathtaking views of the sparkling Indian Ocean, providing a mesmerizing backdrop to an idyllic retreat.
One Bedroom Ocean View Cliff Villa
We stayed at one of their One Bedroom Ocean View Cliff Villa which is a stunning sanctuary of unparalleled luxury and serenity. Perched majestically on a cliffside, this opulent villa offers breathtaking panoramic views of the mesmerizing Indian Ocean, providing you with a truly unforgettable experience.
Elegantly designed with a harmonious blend of modern and traditional Balinese elements, this villa offers a spacious bedroom, outfitted with a sumptuous king-sized bed, plush linens, and a state-of-the-art entertainment system. The floor-to-ceiling windows ensure you can fully appreciate the enchanting ocean views from the comfort of your bed.
The villa also features a separate living area, tastefully furnished with comfortable seating and exquisitely crafted Balinese artwork. This inviting space is perfect for relaxation or entertainment.
The exquisite marble bathroom boasts a luxurious indoor rain shower and an oversized bathtub ideal for couples or a welcome flower bath.
Outside, you can enjoy the terrace complete with sun loungers and a private plunge pool offering stunning ocean views in an intimate setting. And if there's anything you need, guests of this villa enjoy 24/7 butler service, ensuring all of your needs are met throughout your stay, regardless of the time of day (or night).
Facilities
Pools
AYANA Estate boasts an exquisite selection of swimming pools, each designed to offer guests a unique and rejuvenating experience amidst the resort's tranquil surroundings. With each pool offering distinct features and ambiance, guests are spoilt for choice when it comes to leisurely days spent by the water.
There are 12 pools in total, so spend some time exploring the different options to see your favorite. I've narrowed the list down to my top four.
Ocean Beach Pool
Situated along the stunning coastline of Jimbaran Bay, the Ocean Beach Pool presents a spectacular setting for guests to unwind and soak up the sun. This infinity pool appears to merge seamlessly with the azure waters of the Indian Ocean, creating a captivating illusion of being one with the sea.
The surrounding sun loungers and cabanas offer the perfect vantage point to admire the magnificent views and enjoy refreshing beverages from the poolside bar.
Main Pool
The resort's Main Pool is a tranquil oasis, surrounded by lush tropical gardens and offering ample space for guests to relax and unwind. The pool's unique design features two levels with an infinity edge overlooking the stunning scenery below.
River Pool
Nestled amidst the lush greenery of the resort, the River Pool offers guests a serene and secluded retreat. The pool's meandering design is inspired by Bali's enchanting rivers, with multiple levels and cascading waterfalls creating a sense of tranquility and relaxation.
Guests can lounge on the sunbeds or enjoy the shade of the private cabanas, taking in the soothing sounds of the flowing water.
Luna Pool
AYANA's newest infinity pool is adjacent to the Luna rooftop bar, perfect for taking in the gorgeous surroundings. With its stylish daybeds, private cabanas, and the gentle murmur of the nearby river, this pool is the epitome of relaxation.
Guests can indulge in refreshing cocktails and light fare from the bar while basking in the serene ambiance of this secluded haven.
Spa
Guests are invited to indulge in a rejuvenating journey at the renowned AYANA Spa. This world-class sanctuary, nestled within the resort's lush tropical gardens, offers an extensive array of holistic treatments and services designed to nourish the mind, body, and spirit.
The spa's skilled therapists use traditional Balinese healing techniques, combined with the finest natural ingredients, to create a bespoke experience tailored to each guest's individual needs. With an extensive menu of services, including massages, facials, body treatments, and wellness rituals, there is truly something for everyone at AYANA Spa.
Some of the exceptional treatments offered at the spa include the Balinese Massage, which incorporates long strokes and warm, soothing oils to melt away tension and promote relaxation. The spa also offers a range of revitalizing facial treatments, using a combination of natural ingredients and innovative techniques to cleanse, exfoliate, and nourish the skin, leaving it with a radiant glow.
Guests seeking a more immersive experience can indulge in one of AYANA Spa's signature rituals and packages, such as the Seven Chakra Dhana or the Bali Balance Spa Package.
Fitness Center
AYANA Villas offers two state-of-the-art fitness centers, AYANA Gym, and RIMBA Gym, both designed to cater to the needs of fitness enthusiasts and casual exercisers alike.
The AYANA Gym is a well-equipped fitness center that features a comprehensive selection of modern exercise machines, free weights, and cardiovascular equipment.
You can work up a sweat on treadmills, stationary bikes, and ellipticals while enjoying stunning views of the lush surroundings through floor-to-ceiling windows. The gym also offers a variety of group fitness classes, such as yoga and Pilates, to help you stay active and motivated.
The RIMBA Gym offers a more intimate workout environment. Equipped with the latest fitness equipment, this gym provides guests with everything they need to maintain their fitness routine while enjoying the serene ambiance of the resort.
Special Experiences
Floating Breakfast
The floating breakfast experience at AYANA Villas is a truly unique and memorable way to start the day, combining the allure of indulgent dining with the enchanting setting of your private villa.
This exceptional dining option takes the concept of breakfast in bed to new heights, as you can savor a sumptuous meal while leisurely floating in your own private pool.
Each floating breakfast is thoughtfully crafted with a selection of mouthwatering dishes, using the freshest ingredients and flavors inspired by both local and international cuisine.
Guests can choose from an array of delectable options, such as tropical fruits, pastries, eggs cooked to perfection, and freshly brewed coffee or tea.
Picnic at Kubu Beach
The Picnic at Kubu Beach experience at AYANA Estate is a romantic and unforgettable way to connect with your loved one while enjoying the breathtaking beauty of Bali.
Set against the stunning backdrop of the pristine white sands and azure waters of Kubu Beach, this intimate picnic offers couples the opportunity to create cherished memories in an idyllic setting.
Each picnic is thoughtfully arranged, with a beach parasol providing shade, while the gentle sound of waves lapping at the shore creates a soothing ambiance. The picnic menu features a selection of delectable dishes, crafted from fresh, local ingredients, and accompanied by a refreshing assortment of beverages.
Private Romantic Dinner
The romantic dinner experience at AYANA offers couples an unforgettable evening of intimate dining and enchanting ambiance in the heart of Bali's breathtaking landscape.
This exceptional dining option allows you and your partner to celebrate your love in a private and serene setting, surrounded by the soothing sounds of nature and the soft glow of candlelight.
Each romantic dinner is thoughtfully curated, featuring a sumptuous menu of exquisite dishes crafted from the finest local and international ingredients. Expertly prepared by AYANA's talented culinary team, each course is designed to delight the senses and create a memorable dining experience.
As the sun sets and the sky transforms into a kaleidoscope of vibrant colors, couples can indulge in a truly magical evening, savoring delicious cuisine and toasting to their love with a selection of fine wines and beverages.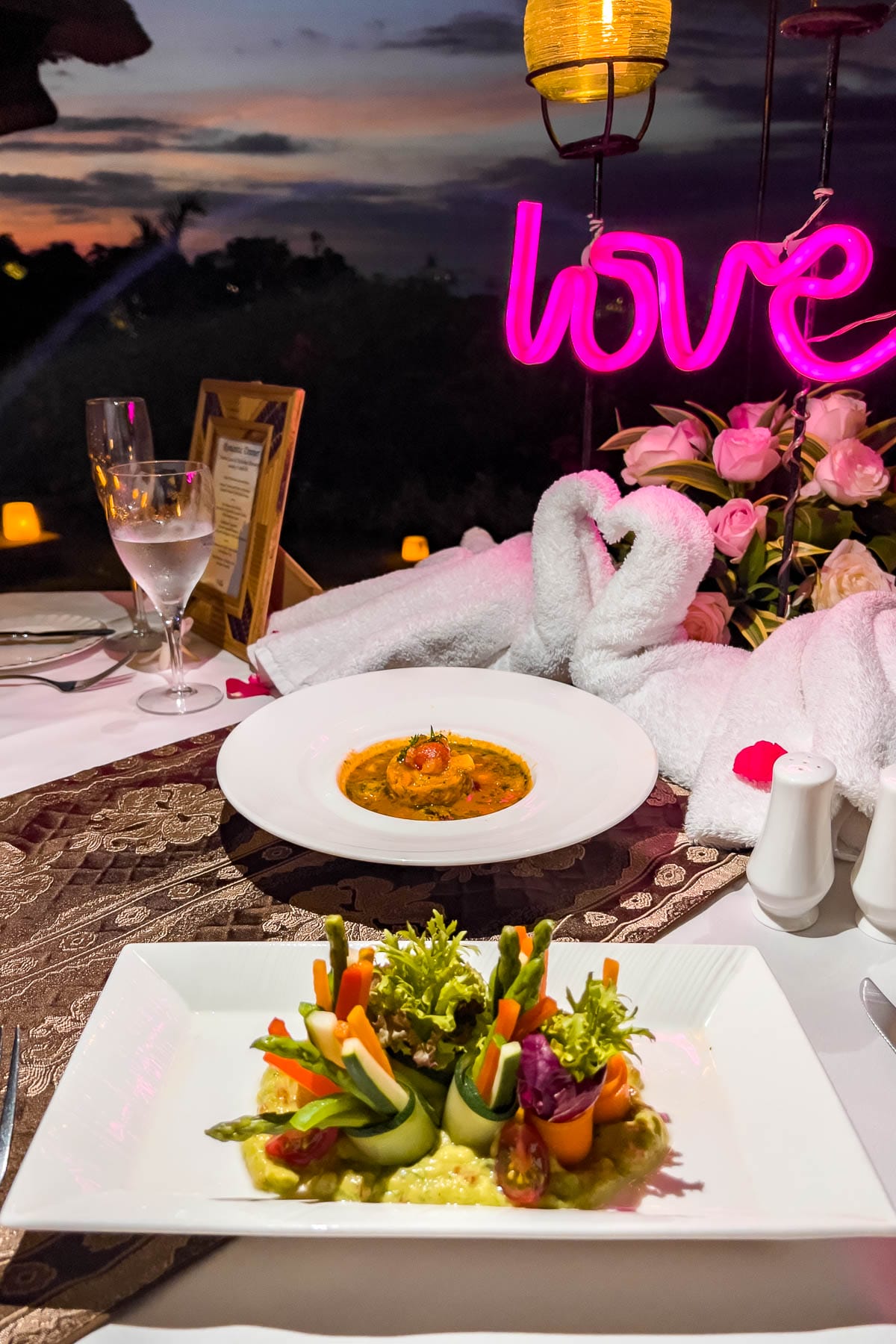 Restaurants & Bars
AYANA Villas Bali offers an exceptional array of dining options, catering to a diverse range of tastes and preferences. With 19 unique venues to choose from, guests can indulge in a culinary journey that spans the globe.
From the refined Mediterranean flavors at Dava Steak & Seafood, the vibrant Asian cuisine at Sami Sami, to the authentic Indonesian dishes at Kampoeng Bali, there is truly something for everyone.
Rock Bar Bali
AYANA Estate is home to Rock Bar, one of the most popular sunset spots in Bali. Perched dramatically on a cliff's edge overlooking the Indian Ocean, this iconic bar offers breathtaking panoramic views and a unique atmosphere.
A cliffside elevator whisks you down to Rock Bar Bali in seconds, where you can enjoy an array of delicious cocktails and drinks accompanied by vibrant music from resident DJs.
Since it's a very popular place, it is advised to make a reservation in advance. As a guest of AYANA Villas, you can just simply text your butler and they will take care of everything so all you have to do is show up and enjoy one of the most stunning sunsets you'll ever see.
KISIK Lounge & Seafood Restaurant
Similar to Rock Bar Bali, KISIK Lounge is perched upon a stunning cliffside where you are treated to unparalleled ocean views.
KISIK has two distinct areas – the lounge, serving up delicious cocktails and mocktails, and the seafood restaurant, where you can enjoy a sumptuous selection of fresh seafood and grilled specialties.
The menu features the finest locally sourced ingredients, prepared to perfection by AYANA's talented culinary team. As the sun sets, the gentle sea breeze and the sound of the waves create a mesmerizing atmosphere, making KISIK Lounge & Seafood Restaurant the ideal destination for an unforgettable dining experience in paradise.
DAVA Steak & Seafood
DAVA offers guests a sophisticated dining experience that combines the finest cuts of meat and the freshest seafood. Each dish showcases innovative techniques and exquisite presentation. The restaurant's elegant atmosphere, complete with a sleek design and stunning ocean views, provides the perfect setting for an unforgettable meal.
Guests at AYANA Villas can enjoy the a la carte breakfast menu at DAVA, featuring a selection of international favorites such as pancakes, smoked salmon, and omelets. If you love sweet breakfasts, you have to try the peanut butter jelly oatmeal – trust me, you'll thank me later!
For dinner, guests can choose from a selection of succulent steak and seafood dishes, as well as vegetarian options. The desserts at DAVA are mouthwatering and truly unique so make sure you save room for them!
Sami Sami
Sami Sami is a delightful dining destination that offers an authentic taste of Italy. The menu features a delectable array of classic Italian dishes, including wood-fired pizzas, homemade pasta, and sumptuous seafood, crafted from the freshest ingredients.
With its elegant terrace overlooking the Indian Ocean and a warm, inviting atmosphere, Sami Sami is the perfect place to enjoy a leisurely lunch or an intimate dinner while experiencing the charm of Italian cuisine in the heart of Bali.
Luna Rooftop Bar
Luna Rooftop Bar offers a chic and stylish setting for guests to unwind and socialize. Boasting stunning panoramic views of the surrounding landscape, this vibrant venue features a delightful array of expertly crafted cocktails and tantalizing light bites.
As day turns to night, the enchanting atmosphere at Luna Rooftop Bar provides the perfect backdrop for a memorable evening under the stars, making it an ideal spot for relaxation and entertainment.
Damar Terrace
Offering a diverse menu of Asian-inspired cuisine, Damar Terrace showcases a variety of flavors, from traditional Indonesian dishes to modern fusion creations.
The restaurant's tranquil setting, complete with lush greenery and soothing water features, creates an enchanting atmosphere for guests to enjoy a leisurely meal or sip on refreshing beverages. Damar Terrace is a true hidden gem, providing a unique and memorable dining experience in the heart of paradise.
Final Thoughts
AYANA Villas Bali is an exceptional resort that effortlessly blends luxury, comfort, and unparalleled beauty. With its stunning location, exquisite accommodations, world-class spa, state-of-the-art fitness centers, and diverse dining options, AYANA Villas Bali provides guests with an unforgettable experience in the heart of paradise.
Whether you are seeking a romantic getaway, a rejuvenating retreat, or a family vacation, AYANA Villas Bali is the ultimate destination to create cherished memories that will last a lifetime. We absolutely loved our time here and can't wait to come back!
---
Planning a trip to Bali?
Then you might want to take a look at all our other travel guides about Bali. I promise, they are just as awesome as this article was!
Bali Travel Guides:
Bali Hotel Guides:
Nusa Penida Travel Guides:
---
Pin It for Later!