Unlike Kelingking beach, Peguyangan Waterfall is not so popular amongst tourists visiting Nusa Penida. However, if you love off-the-beaten-path places, I totally recommend checking it out!
I was so obsessed with those iconic blue stairs ever since I saw them on Instagram, so it was no question that I will include them in my Nusa Islands itinerary. If you're planning on doing the same, I got your back! I put together a complete guide about everything you need to know before visiting Peguyangan Waterfall!
If you're planning to visit Bali for the first time you might be interested in my Ultimate Bali Travel Guide as well. It was written specifically for first-timers and it's loaded with useful information about Bali like where to stay, how to get around, and what to do!
*Disclosure: This post contains a few affiliate links, which means I may receive a small commission, at no cost to you, if you make a purchase through my link.*
No time to read now? Pin it for later!
How to Get to Peguyangan Waterfall
Peguyangan Waterfall (referred to as Mata Air Guyangan by the locals) is located on the southern coast of Nusa Penida. The nearby attractions are Tembeling Beach and Banah Cliff Point on the east and Manta Point on the west.
The easiest way to get around Nusa Penida is to rent a scooter at the harbor. They usually cost around 75,000 IDR ($5 US) for a day. Although be prepared for a very bumpy ride! The roads on Nusa Penida are in really bad condition with many potholes so they can be very dangerous.
If you're planning to rent a scooter (and even if you don't) please don't forget about travel insurance! Unfortunately, accidents can happen anytime and it's better to be prepared for that.
After many hours of research, I decided to choose SafetyWing and I can honestly recommend them! You can use the below form to get a quotation tailor-made to your own travel preferences.
If you don't have experience in scooter riding I would recommend hiring a private driver or opting for an organized tour. Traveling in a car is not comfortable either, but at least you don't have to worry about the road conditions. And having a seatbelt together with an air-con is a huge advantage too!
When to Visit Peguyangan Waterfall
Since Peguyangan waterfall is not so insta-famous yet you don't need to worry about the crowd. Therefore you can basically visit any time of the day! However, it requires intense climbing to reach it from the parking lot (more about this later) so it's better to do it in the morning when the weather is not so hot.
What to Expect at Peguyangan Waterfall
Arriving to the entrance
There is no entrance fee for visiting Peguyangan Waterfall, however, you have to pay 5,000 IDR ($0.4 US) for parking. Once you parked with your scooter/car you will see a little arch at the end of the road that marks the entrance to Peguyangan Waterfall.
You will also find a small restaurant right in front of the entrance selling food and drinks. In case you forgot to bring some water definitely buy some at the restaurant! Trust me, you're gonna need it later.
At the bottom of the stairs, there is a sacred temple so you are required to wear a sarong. If you don't have your own, you can rent it at the entrance for 15,000 IDR ($1 US). It can be hard to climb the stairs wearing a sarong but you can take it off during the climb and put it back on when you reach the temple at the bottom.
It's important to know that although this place is called Peguyangan Waterfall, you will not find any real waterfall there. I will tell you more about it later!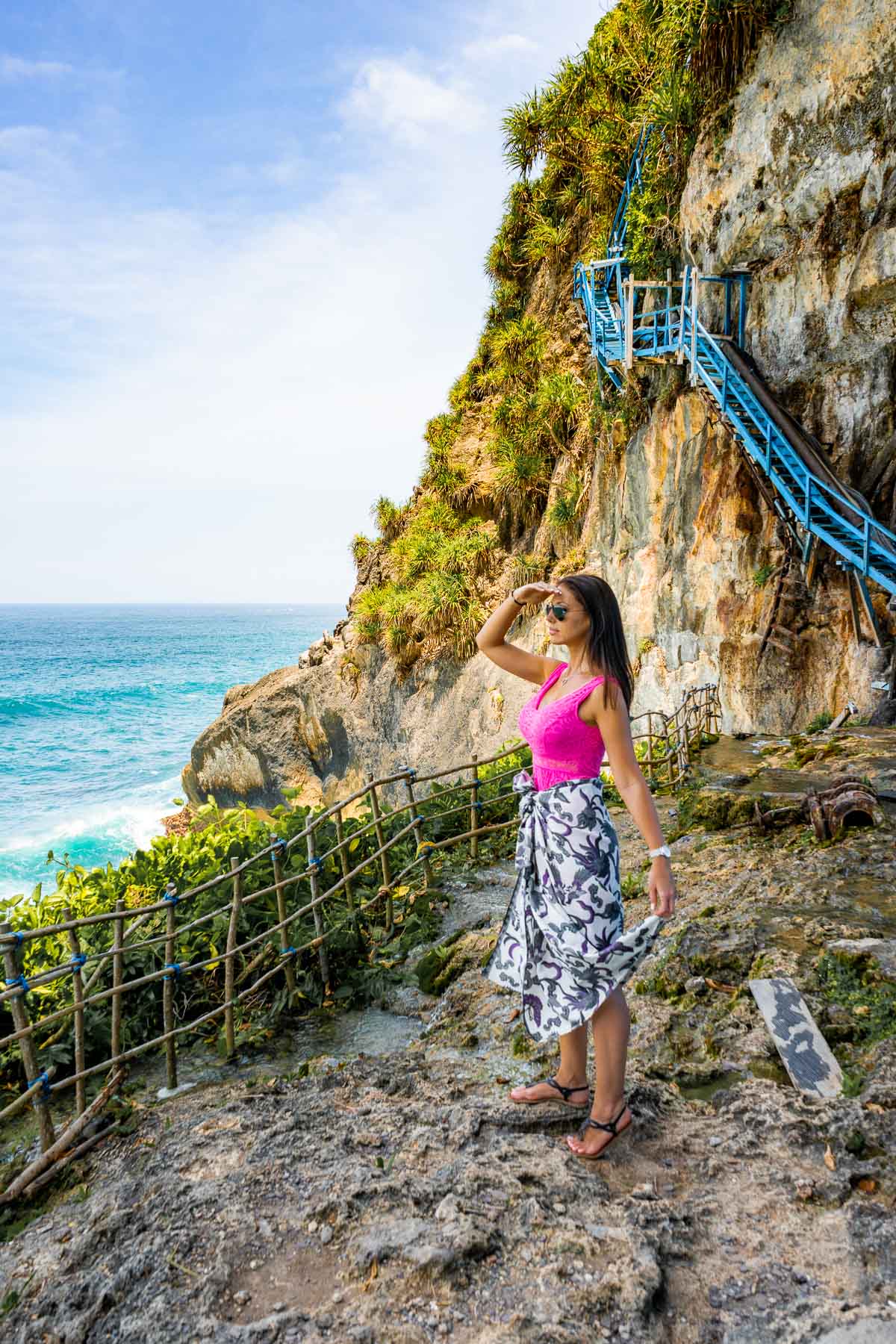 Going down the stairway
As I mentioned before, a little arch marks the entrance to Peguyangan waterfall, and right after you cross it, you will see the iconic blue stairway going all the way down along the cliffs. To reach the bottom where the temple and the "waterfall" are, you have to hike down almost 700 stairs on the hillside. It's definitely not for the faint-hearted!
The stairs are incredibly small and there are large gaps between them so you need to watch your steps! But apart from that, the walk down is not dangerous at all. I would recommend wearing comfy shoes for your own safety but I personally did it in sandals and there was nothing wrong with that either.
It takes like 20-30 minutes until you reach the bottom. Although it can take a lot longer if you constantly stop for photos like I did! The view is absolutely beautiful during the hike, the scenery is just breathtaking. Just look at the below photos and see for yourself!
What is at the bottom of Peguyangan Waterfall?
If you were expecting a gorgeous waterfall at the bottom, you will be disappointed! Despite the fact the place is called Peguyangan waterfall there is no waterfall at all. At least not what you would expect.
Three little spouts are marking the entrance to the sacred temple where the locals usually perform water blessings. Don't expect a big building though, the temple is just a simple gate with a small outside area behind it.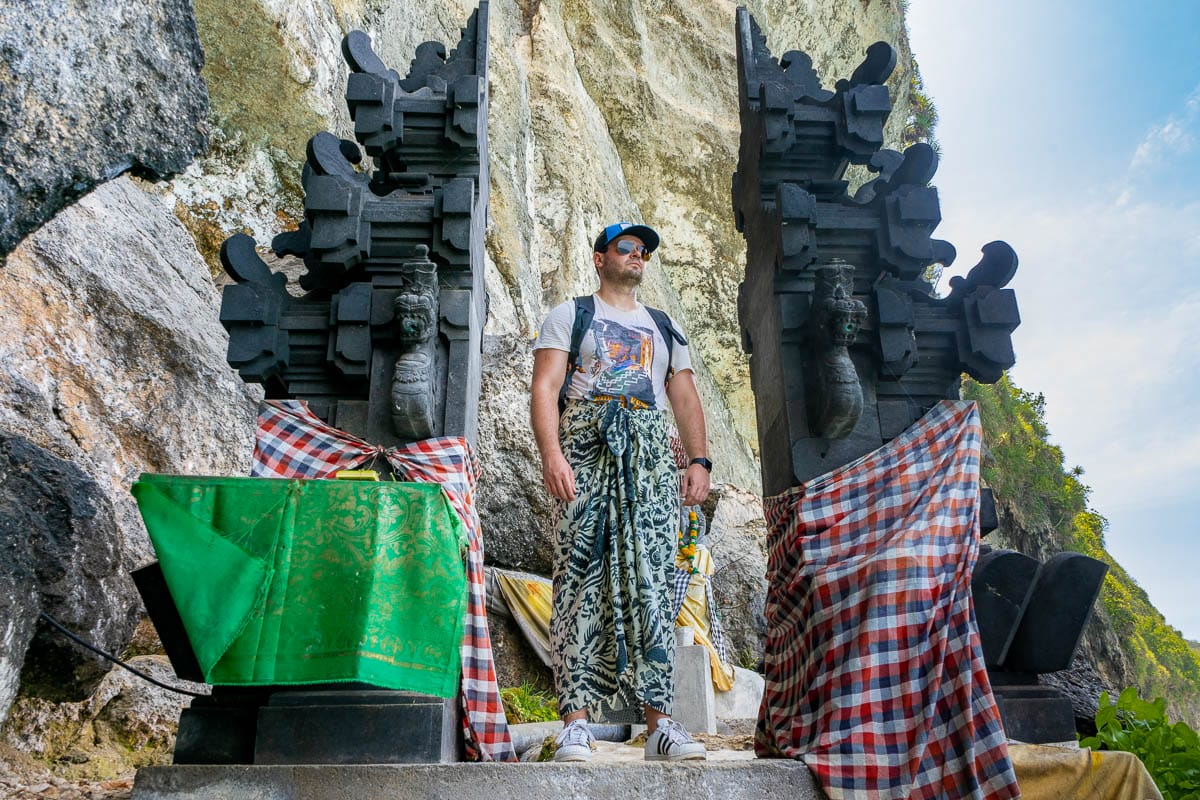 Balinese people believe that if they take a shower under all of the spouts their spirit will be cleansed from evil. First, they have to shower under the tree with little spouts that mark the entrance.
There is a fourth, bigger spout as well and they have to finish the ceremony under it to receive the blessings from the Gods. If you are interested, you can perform the ritual yourself as well!
There is a small natural rock pool where you can take a dip in the water and admire the huge waves crashing into the cliffs. Watch out for the signs though, if it says "No swimming", don't get in the pool!
After you've seen everything at the bottom and soaked in the view, it's time to head back. You need to take the same stairway you used to get down. Unfortunately hiking up is a lot harder so don't rush, take your time, and don't forget to admire the views along the way once again!
How to Get to Nusa Penida
From Bali
Since the two islands are fairly close to each other, getting from Bali to Nusa Penida is quite easy. Basically, all you need to do is to get to Sanur on the southeast side of the island, where you can catch a boat at the harbor.
Whenever I'm in Asia I always book my transportation tickets via 12Go Asia. Their website is super easy to use, you just have to type in your origin and your destination and it collects all the available transportation methods.
For instance, you just have to click 'Find tickets' in the below widget and you can instantly see all the options for traveling to Nusa Penida from Bali! Super convenient, right?
Many different companies offer boats from Bali to Nusa Penida, ticket prices vary between $11-16 US depending on which company you choose. The boat ride takes about 45 minutes in total and it will take you to Toya Pakeh Harbour on the northwest side of Nusa Penida.
If you only want to visit Nusa Penida as a day trip from Bali, the best is to book an organized tour. This way you can enjoy your full day without having to stress about boat schedules and how to get around the island by yourself.
From Nusa Lembongan/Nusa Ceningan
To go to Nusa Penida from Nusa Lembongan or Nusa Ceningan, you have to reach the Yellow Bridge. You will find many local boats around the bridge on the Lembongan side that will take you to Nusa Penida.
There is an official ticket desk where you can purchase your tickets. The ticket price is 100,000 IDR ($6.5 US) for one way per person. The boat doesn't have a fixed timetable, it will depart once it's full with passengers.
It takes around 15 minutes to reach Nusa Penida and you will arrive at Toya Pakeh Harbour.
Where to Stay on Nusa Penida
You can find many types of accommodation in Nusa Penida from budget hostels to luxury villas. They are mostly located on the northwest part of the island and that's also the area I recommend staying at.
Below you can find my top recommendations for staying in Nusa Penida.
LUXURY – Adiwana Warnakali Resort
Adiwana Warnakali Resort in Nusa Penida provides adults-only accommodation with a restaurant, an outdoor swimming pool, and a bar. Each accommodation at the 4-star resort has mountain views, and guests can enjoy access to a sun terrace.
MID-RANGE – Semabu Hills Hotel Nusa Penida
Perched on the quiet hills of Nusa Penida, this hotel offers sweeping views of the island and the sea beyond. Guests can take advantage of the infinity pool or try traditional meals at the on-site Asian restaurant.
BUDGET – Surya Maha Bungallo
For a budget-friendly stay in Nusa Penida, take a look at Surya Maha Bungallo. Boasting a lush garden with a stunning outdoor pool, the property offers double or twin rooms either with a garden or pool view. A daily continental breakfast is also available.
---
Planning a trip to Bali?
Then you might want to take a look at all our other travel guides about Bali. I promise, they are just as awesome as this article was!
Bali Travel Guides:
Bali Hotel Guides:
Nusa Penida Travel Guides:
---
Related Posts
Want to read more about Bali?
---
More Bali Resources
Want to know even more about Bali? Check out these awesome books and travel guides for more inspiration!
---
What Camera Gear Do We Use?
If you want to read more about what is in our camera bag, check out my detailed post about our travel photography gear!
---
Pin It for Later!