Bali is the very essence of Indonesia and the pride and joy of the country. Compared to the likes of Java and Sumatra, this island might appear tiny. But there is so much to see, do and experience on the Island of the Gods that knowing how to see the best of Bali in 2 weeks is no easy feat.
You've got thousands of temples and what feels like hundreds of waterfalls and rice paddies to explore. That's before you even start thinking about all the towns and villages, as well as excursions and activities such as volcano trekking, scuba diving, surfing, and beyond.
To help you plan your trip to the island, I've put together this ultimate 2 weeks in Bali itinerary which is perfect for first-time visitors who wants to see the best of Bali in 2 weeks. My suggestions include all the popular sites that you'll want to check out, as well as some surprises that you might not have considered. Let's dive right in!
*Disclosure: This post contains a few affiliate links, which means I may receive a small commission, at no cost to you, if you make a purchase through my link.*
No time to read now? Pin it for later!
Overview of Your 2 Weeks in Bali Itinerary
First things first, let's talk a little bit about the overview of your 2 weeks in Bali. Instead of telling you what to do day by day, I decided to divide this Bali itinerary into 5 different parts, each covering one part of the island. Each section contains the best things to do in each area, as well as some useful information about how to get there, where to stay and where to eat.
Breakdown of your 2 weeks in Bali
Map for the best things to do in Bali in 2 weeks
Below you can find a customized map that includes all the locations you're going to visit on this 2 week in Bali itinerary.
I marked the different parts of the island with different colors – I used blue for South Bali, yellow for the Nusa Islands, green for Central Bali, magenta for East Bali, and red for North Bali, so you can easily see which places you're going to visit in each area.
If you open up this post on your phone and you click on the bracket in the upper right corner, it will save this map to your Google Maps app so you can always have it with you. Super convenient, right?
The Ultimate Bali 2 Week Itinerary
South Bali (4 Days)
South Bali is the tourist hotspot of Bali. This is where you will find the popular beach, surfing, and party towns of Canggu, Legian, Seminyak, and Kuta which are separated by rice fields, luxurious hotels, and fancy villas.
South Bali is also the location of Denpasar, the island's capital, although it's pretty built up so we're actually going to skip that off your 2 weeks in Bali.
These sunkissed towns form a neat strip along the southwest coast of Bali, culminating in the southernmost 'sack' which is where you will find dreamy Uluwatu and Nusa Dua.
Over on the southeast coast, you've got Sanur, which was the original holiday town of Bali although now it's most popular with families and ex-pats. If you're really into yoga you might want to check out the Yoga Barn, otherwise, the western side will more than satisfy you.
How to get to South Bali
As you will probably arrive in Bali via plane, you will be pleased to learn that Ngurah Rai International Airport is located in South Bali.
You will need to take a taxi from the airport to your accommodation in South Bali. As the taxis waiting at the airport are known to inflate their rates when they see tourists, I recommend downloading the taxi app, Bluebird, and using that to pre-book your ride.
Expect to pay in the region of 150,000-300,000 IDR ($10-20 US) based on which South Bali town you've decided to call home. Don't even think about trying to book via Grab (Indonesian Uber) – it's strictly forbidden around Bali's airport.
If you arrive in Bali via the ferry and bus from Java, you will be dropped at Terminal Bus Mengwi. You can arrange for your Bluebird to collect you from here and the price will be a tad higher.
Where to stay in South Bali
There are loads of accommodation options in South Bali where your 2 weeks in Bali itinerary will get off to a flying start. Choose to stay in the beach town that most appeals to you and you can hop around the others during your stay as they're relatively close. Mind you, local drivers will take you on some hair-raising shortcuts to maximize your time!
Seminyak or Kuta is the most convenient option to stay in as they're right in the middle and provide the best of both worlds. Below you can my recommendations for the best places to stay in South Bali for every budget.
Best things to do in South Bali
1. Watch the sunset at Tanah Lot
Located at the north end of South Bali, Tabanan, Tanah Lot is one of Bali's most scenic temples. It's perched on a crag of rock just off the shore and is where the Balinese locals come to pay respect to the ocean deities. Time your visit for sunset to watch the water turn golden.
2. Take a day trip to Uluwatu
Uluwatu is located in the most southwestern point of Bali and benefits from some of the most amazing beaches on the entire island. However, the most famous draw is its iconic cliff-top temple which features an ocean view that you'll never forget.
You can visit Uluwatu on your own if you have a scooter, but if you want to avoid the stress of driving (which I completely understand!), take a look at this organized Uluwatu day trip which includes watching the sunset and performance of kecak (fire) dance at the temple.
3. Cafe hop in Canggu
If you're a foodie, you could easily spend your entire Bali 2 week itinerary visiting every single one of the best cafes in Canggu and grazing your way through the whole menu. Instead, I suggest you plan to go for at least one brunch and one dinner in Canggu. Okay, maybe two brunches.
4. Cycle through rice fields
When you think about what to do in Bali for 2 weeks, you can expect a lot of rice fields on the agenda. Hire a bicycle and take a peaceful early morning ride through Canggu's lush rice fields before everyone else wakes up. Now you've earned that smoothie bowl!
5. Release hatching turtles
Bali Sea Turtle Society protects the vulnerable eggs of endangered sea turtles during nesting season. Once hatched, the sanctuary safely releases the baby turtles back to the ocean, and you can watch this happen. This takes place on certain afternoons during April and October and you will need to check the daily schedule closer to your visit.
6. Spend a day at a beach bar
South Bali is awash with swanky beach bars where you can while away a day drinking in the ambiance. Check out Finn's Beach Club, The Lawn, Potato Head Beach Club, or La Brisa and raise a chilled Bintang for the rest of your 2 weeks in Bali.
7. Perfect your surf (or start from scratch)
South Bali is one of the hottest surfing destinations in Southeast Asia so if you're already a pro, you can grab a rental board and hit the surf. The top surfing beaches in South Bali include Batu Bolong Beach, Kuta Beach, and the more challenging Echo Beach.
If you're a newbie, you can book a beginner's surfing lesson with an English-speaking professional surfing teacher.
Where to eat in South Bali
Nusa Islands (3 days)
As if the temples and waterfalls of mainland Bali weren't enough, bobbing off the southeast shore of the mainland are three additional islands. Nusa Penida, Nusa Lembongan and Nusa Ceningan collectively form the Nusa Islands.
A lot of people only plan a day trip to the Nusa Islands but if you have 2 weeks in Bali, it's worth spending 3 days in the Nusa Islands.
Of the three, the largest, rawest, and most beguiling is Nusa Penida. The signature of the island is its steep, dramatic coastal cliffs which plunge down to meet the roaring ocean.
Once you make your way down these cliffs, you have some of the most beautiful beaches in Bali. They do stray towards the dangerous side and I wouldn't recommend swimming here due to the strong waves and currents.
Significantly smaller yet still a treat for the eyes, Nusa Lembongan has some of the nicest beaches in Bali. From this island, you can walk to Nusa Ceningan via an iconic yellow bridge.
How to get to the Nusa Islands
The only way to access the Nusa Islands is by boat. Regular connections operate between Sanur Beach Harbor and Nusa Penida and Nusa Lembongan. You will need to organize a taxi to the harbor which will cost approximately 150,000-200,000 IDR ($10-13 US).
You can buy your boat ticket in person at one of the many offices around the harbor, but this may be a little overwhelming. Alternatively, you can book online in advance from 12Go Asia.
Tickets start at 135,000 IDR ($9 US) for a one-way ticket but as there are dozens of operators, you may pay more for the fastest boats. The journey takes around 30 minutes and you should arrive at least 20 minutes prior to departure to orientate yourself.
I recommend leaving your main luggage in Bali with the Bali Luggage Service. This streamlines your experience getting on and off the boat, which requires wading knee-deep into the ocean. It's more fun when you don't have to lug 20 kg with you!
Where to stay in the Nusa Islands
There are hotels and guesthouses on all three Nusa Islands. My recommendation is that you stay in Nusa Penida and take a day trip to the other two islands. This is the largest island and has the nicest accommodation options, especially in the northwest region.
Alternatively, you could spend one night on Nusa Lembongan and the rest of your time on Nusa Penida. Below you can see my top recommendations for staying in Nusa Penida for every budget.
Best things to do in the Nusa Islands
1. Snorkel with manta rays
The waters off the Nusa Islands are home to a squadron of gentle sea creatures and you can snorkel with them. Ask your hotel to book you onto the daily morning tour to watch them catch their morning fish. It will be one of the most memorable parts of your 2 weeks in Bali itinerary!
2. Hike to Kelingking Beach
I'm sure you've already seen a few photos of the coastal cliff that looks like a T-Rex. It's right here on Nusa Penida and the viewpoint takes no effort to get to.
Hiking down to Kelingking Beach itself is another story but it's an awesome addition to your Nusa Island itinerary if you have the energy. If you want to visit this awesome beach, make sure to read my ultimate guide to Kelingking Beach!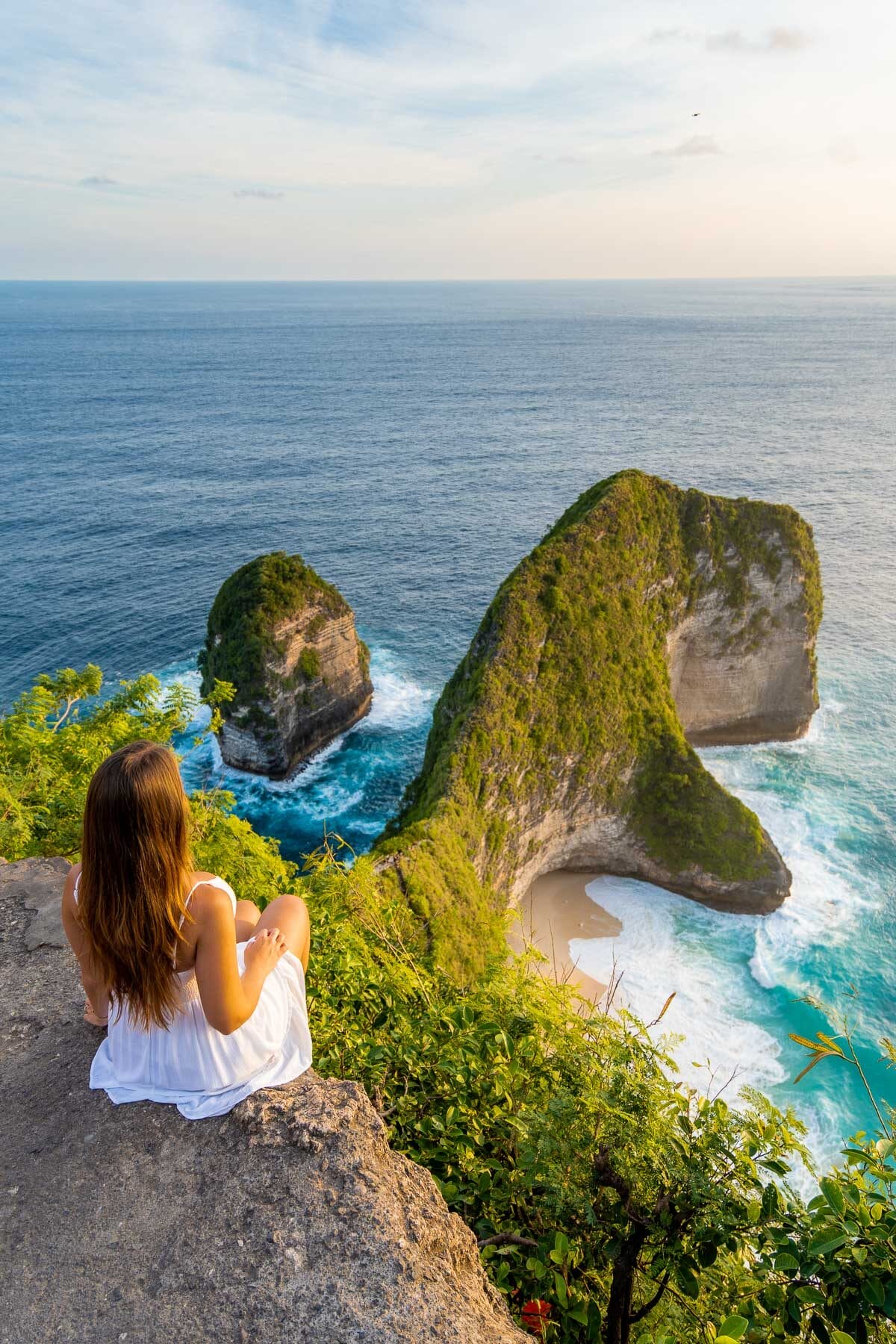 3. Admire Angel's Billabong & Broken Beach
These two natural wonders are located side by side. Angel's Billabong is a natural tidal pool, but do make an assessment of the ocean first if you want to take a dip because the waves could easily whisk you out to sea. Adjacently, Broken Beach is a gorgeous viewpoint of a limestone archway over the sea.
4. Find Peguyangan Waterfall
Spoiler alert, there is no actual waterfall to see here. But once you've tackled the extremely photogenic blue staircase, you'll be treated to some of the dreamiest ocean views you'll see during your 2 weeks in Bali.
There is also a humble yet charming temple at Peguyangan Waterfall where you'll see islanders performing water blessings. For more information, check out my ultimate guide to Peguyangan Waterfall!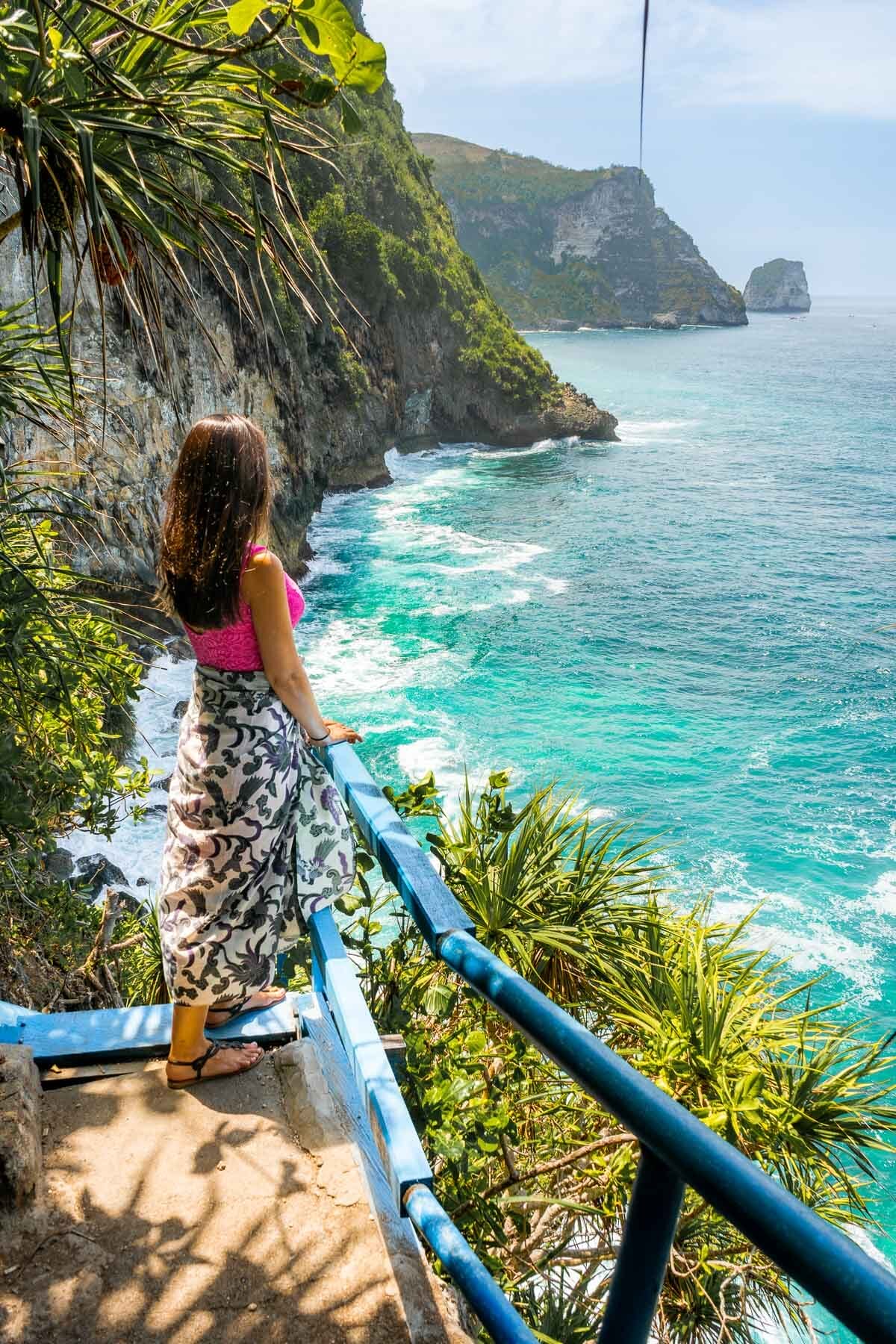 5. Beach hop on Nusa Lembongan
Some of the nicest beaches on Nusa Lembongan are Mushroom Bay Beach, Jungut Batu Beach, and Dream Beach. These are actually nicer than a lot of the mainland beaches in terms of swimming and sunbathing so you might want to bounce around all three.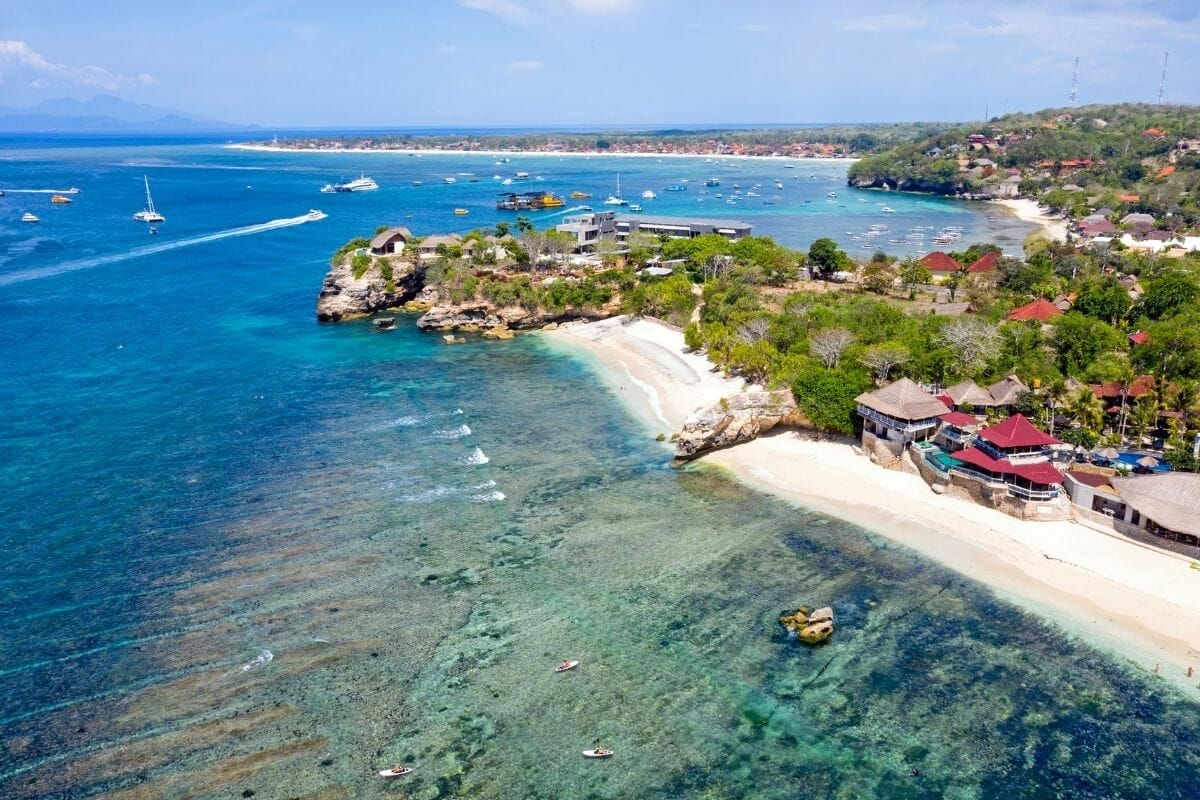 6. Cross the Yellow Bridge
As Ceningan Island is car-free, the only way to access it is to walk or cycle across the Yellow Bridge from Nusa Lembongan. You can hire a bicycle, and whatever you do, allow time for photos when crossing.
7. Bathe in the Blue Lagoon
This bewitching cove with its rugged rocks is a 30-minute walk from the Yellow Bridge on Ceningan Island. Depending on the tide, it is safe to swim here. If you decide to spend a night on Nusa Lembongan, this is a lovely sunset spot.
There are loads more remarkable natural sights to see on the Nusas. Take a look at my Nusa Islands itinerary to make the most of your stay.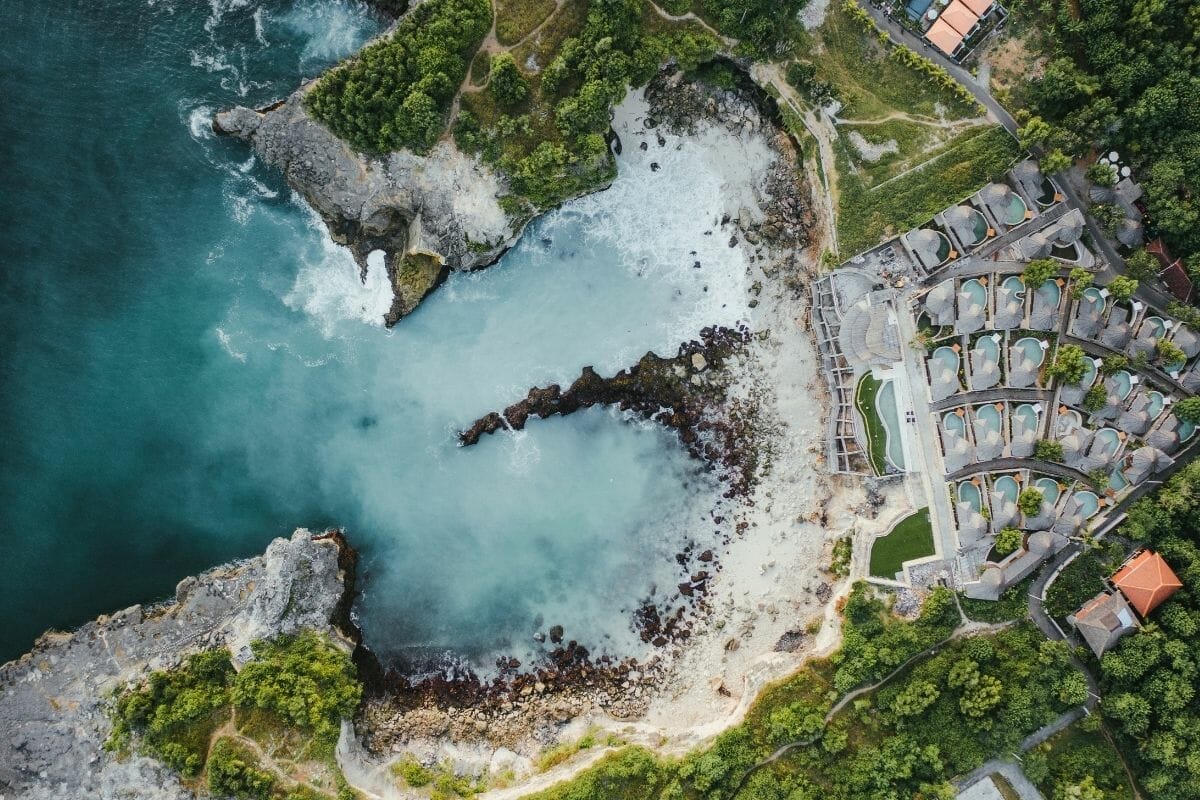 Where to eat in the Nusa Islands
Central Bali (3 Days)
Dominated by Ubud and its surrounding jungles and valleys, Central Bali is considered the spiritual and cultural core of the island. This is where you will find some of the most fascinating temples, postcard-perfect rice paddies, and spectacular waterfalls on the island.
Ubud Town is small but does become very crowded especially during the high season. You'll find a real mix of people here, backpackers, honeymooners, families, yogis, and digital nomads.
Once you leave the town, it feels quieter and you can enjoy peaceful scenic drives. Naturally, the attractions of Central Bali are also very popular so I recommend starting your days as early as possible to beat day-trippers and crowds.
If you're planning on seeing Bali in 2 weeks then spending 3 days in Ubud is the optimum length of time to discover the best of Central Bali.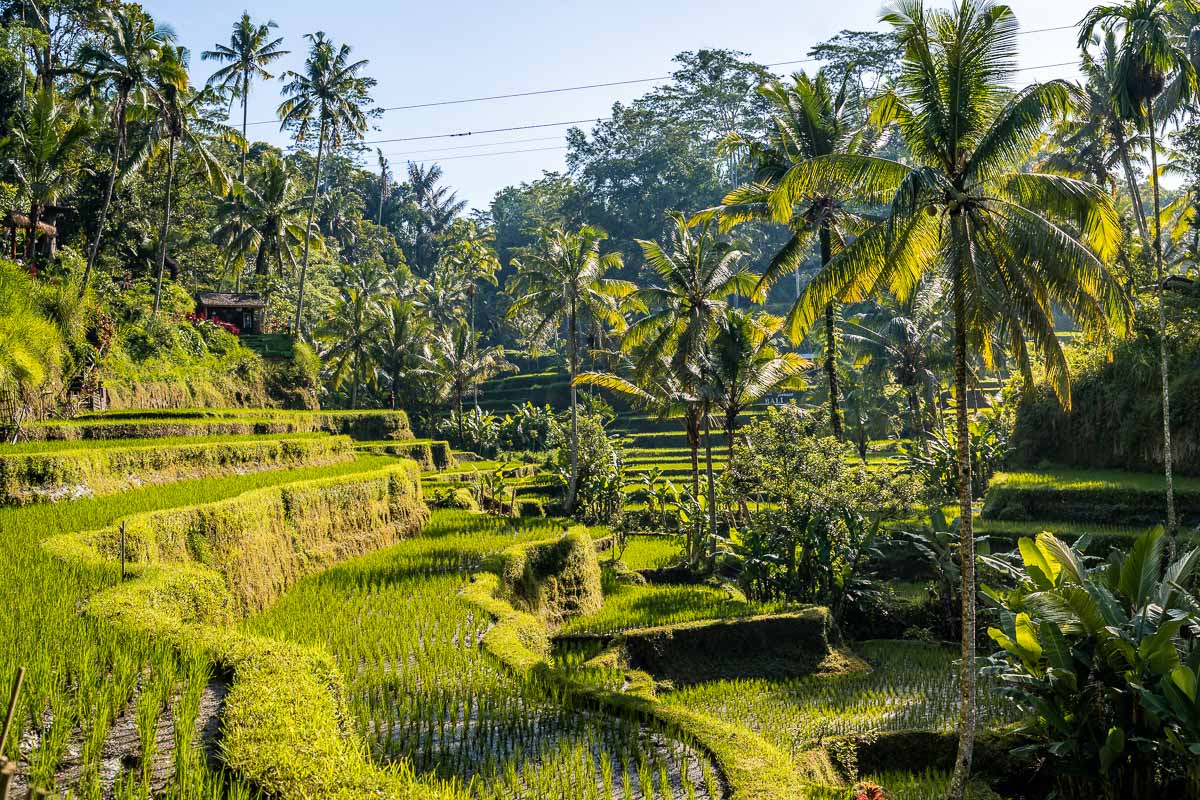 How to get to Central Bali
As there is no public transport in Bali, you will need to organize a taxi or private driver to take you to Ubud from Sanur Harbor.
At this stage in your 2-week travel itinerary to Bali, you may want to arrange a private driver to transport you around the island for the duration of your stay. This way you are covered for all your day trips too.
As a guideline, a Bluebird taxi will cost between 220,000-280,000 IDR ($15-19 US).
Where to stay in Central Bali
You will want to book your accommodation in or close to Ubud town. As the town is quite busy you might want to choose a hotel that's a short drive from the center among the rice fields and jungle valleys.
There are heaps of options available ranging from humble homestays to luxury villas and bamboo huts, below you can see my top picks. If you're looking for something more special, check out these amazing private pool villas in Ubud!
Best things to do in Central Bali
1. Chase waterfalls
There are dozens of waterfalls scattered all over Central Bali, including the Tegununan, Kanto Lampo, and Tukad Cepung waterfalls. Hire a driver for the morning and see how many of Bali's best waterfalls you can plunge into.
2. Wander through rice terraces
Central Bali is famed for its rice paddies as much as its waterfalls. Hike the 2 km (1.2 miles) long Campuhan Ridge Walk in Ubud Town and frolic among the world-famous Tegallalang Rice Terraces. They each provide an entirely different experience so I recommend you squeeze both into your 2 week Bali itinerary.
3. Visit Tirta Empul Temple
This sacred sanctuary complex features two huge pools filled with spring water where Balinese Hindus take part in ritual cleansing. You are also welcome to join in provided that you hire the robe. Even if you don't want to get wet it's still a worthy addition to your Bali 2 week itinerary.
4. Discover ancient sanctuaries
Besides Tirta Empul, you will find the funerary complex of Pura Gunung Kawi and the meditation cave of Goa Gajah in Central Bali. These both provide deeper insight into the Balinese heritage and customs.
5. See the highlights of Ubud Town
Ubud Town features a number of cultural attractions that you can visit for free. Ubud Palace and the Saraswati 'water' Temple each feature beautiful carvings in a serene setting with heaps of photo opportunities. You can also check out the Sacred Monkey Forest Sanctuary which is home to a gang of long-tailed macaques.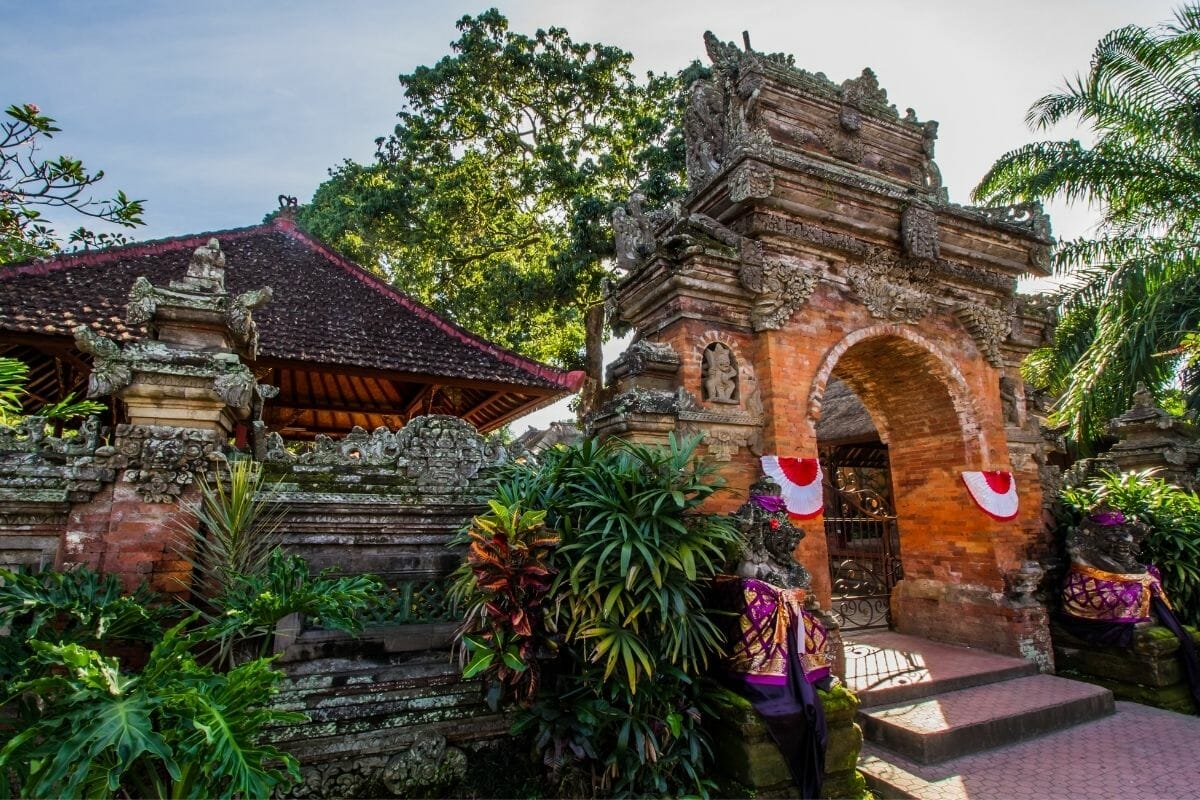 6. Watch a traditional Balinese dance
If you skipped the kecak dance at Uluwatu or want seconds, you can catch the traditional legong dance in Central Bali. There are nightly performances at Ubud Palace.
7. White water rafting in the Bali jungle
If you fancy an adrenaline boost, sign up for a half-day white water rafting experience on the Ayung River. Hang on tight or you might get a little closer to nature than you would like.
8. Wind down in Ubud
In terms of what to do in Bali for 2 weeks make sure you take some time to balance out a busy itinerary with some relaxation time. Spend an afternoon enjoying a massage, yoga class, or cooking lesson in Ubud.
Where to eat in Central Bali
East Bali (2 Days)
East Bali is for those of you traveling to Indonesia to chase volcanoes! The main attractions of this part of the island are the two prominent (and very much active) volcanoes of Agung and Batur.
You will know about Mount Agung from the 2019 eruption but you should familiarise yourself with Batur because climbing is one of the best things to do in Bali.
The region of East Bali mainly comprises rustic villages such as Sidemen where traditional weaving and carving workshops are based.
There is also a lovely strip of golden coastline around Candidasa and the small town of Amed which is popular with backpackers and divers.
You can choose to relocate your accommodation in East Bali or you could even stay in Central Bali and visit the eastern attractions as day trips.
A lot of people skip the eastern part of the island, even when traveling around Bali in 2 weeks. But trust me, you will not regret experiencing this part of the island!
How to get to East Bali
Again, you will need to rely on your private driver or organize a Bluebird taxi to relocate to East Bali from Ubud. A one-way taxi from Ubud to Sidemen will cost approximately 320,000-400,000 IDR ($21-27 US). From Ubud to Candidasa, the rate will be in the region of 420,000-580,000 IDR ($28-39 US).
Where to stay in East Bali
In terms of where to stay in East Bali, my top recommendation is the Sidemen region so you can peek into what the island was like before the tourist scene boomed.
Alternatively, you can consider the black sand beaches of Amed if you want to go diving or Candidasa which has lots of plush seaside hotels that are perfect for families and couples.
If you're looking for something more special, there is a nice selection of magical Bali bamboo houses in both Central and East Bali which add something unique to your 2 weeks in Bali itinerary.
Below, you can find my recommendations for the best places to stay in Sidemen for every budget.
Best things to do in East Bali
1. Hike to Mount Batur for sunrise
Mount Agung remains closed after its most recent grumble, but its cousin is totally safe and open for visitors. Hiking up to Mount Batur is one of the best hikes in Asia so you definitely shouldn't miss out on that!
You can book a Mount Batur sunrise hike which includes a dip in a natural hot spring or add the even more adventurous option for camping and sunrise on Mount Batur. That 1 am wake-up call to start your trek to the summit is totally worth it so don't let it put you off.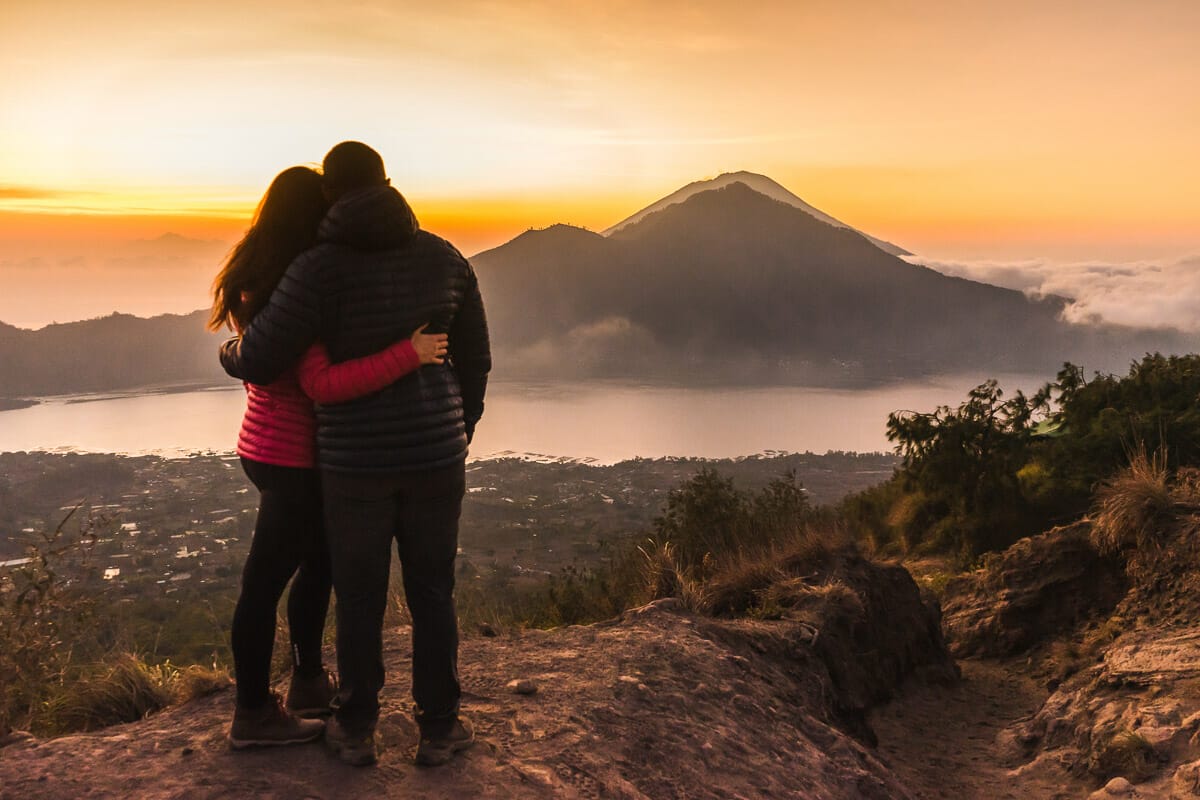 2. Peer through the Gates of Heaven at Pura Lempuyang
Pura Lempuyang is the temple complex that features a view of Mount Agung framed by the sacred Gates of Heaven doorway.
Once you've had your photo taken, you can explore the rest of the sanctuary that is spread across the slope of Mount Lempuyang.
It takes around 4 hours to hike your way around all 7 temples which is doable for your 2 weeks in Bali itinerary.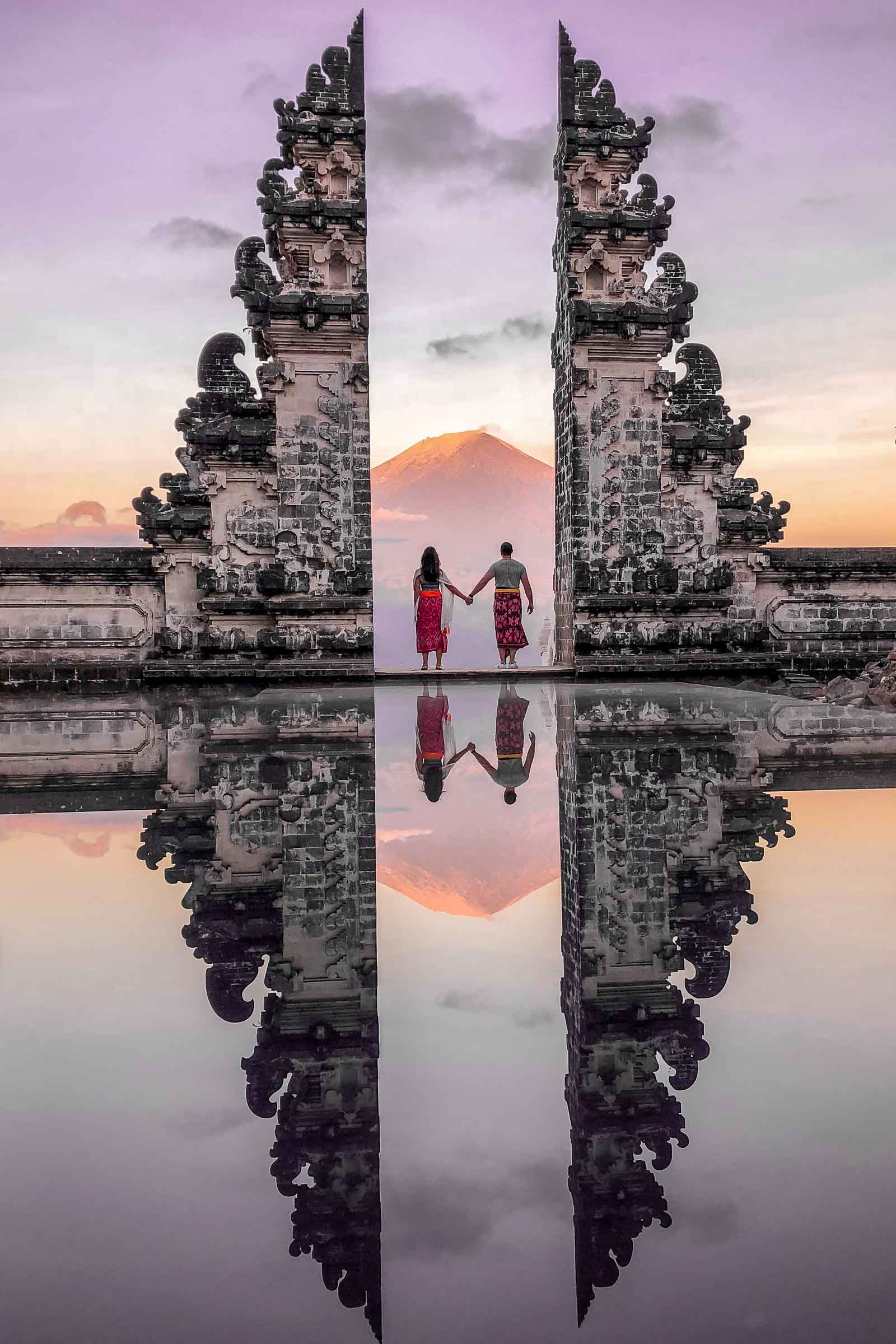 3. Immerse yourself in authentic Bali
If you don't stay in Sidemen, I recommend you dedicate a day to exploring the rice terraces and waterfalls of this untouched region.
You can explore independently by motorbike, hire a driver or book an East Bali Cultural Journey for the chance to join some local workshops such as weaving.
4. Take a stroll around Tirta Gangga
This former royal palace is set among a complex of picturesque water pools, which is appropriate as Tirta Gangga translates into 'holy water of the Ganges.'
With its maze of statues and greenery, this evocative spot shouldn't be missed if you love photography (or flowers!).
5. Scuba dive among moray and shipwrecks in Amed
If you're a water baby and wondering what to do in Bali for 2 weeks, then you can take your pick of the many dive shops in the tiny black sand seaside town of Amed.
One of the best dive spots is the sunken Japanese Wreck from World War II. Alternatively, you can enjoy snorkeling directly from the beach.
6. Take a moment at Candidasa Lotus Lagoon
Right in the heart of Candidasa, this colossal lagoon is teeming with pink and white lotus flowers. Flanked by fragrant frangipani trees it's a tranquil spot to escape the Indonesian heat with a chilled coconut.
This is only a quick stop so I recommend you continue down the road to Blue Lagoon Beach for a dip in the ocean afterward.
7. Visit Pura Besakih
This vast complex comprises 23 temples dotted across the slopes of Mount Agung. It contains the largest temple on the island and as the 'Mother Temple', it is one of the holiest sanctuaries in Bali. At an altitude of 1,000 meters (3,000 feet), this is about as close as you can get to Bali's highest landmark.
Where to eat in East Bali
North Bali (2 Days)
As you head to the northern part of the island, your 2-week travel itinerary to Bali takes a turn for the misty and mysterious.
Set on higher land, the climate is cooler and more prone to clouds than elsewhere on the island which only enhances the remote and slightly otherworldly atmosphere.
Due to the higher altitude and cooler weather, much of Bali's produce and coffee is grown in the far north so it's a good place for foodies.
Much of the trekking trails, temples, waterfalls, and other tourist spots are located around the small mountain village of Munduk. Further north, you have another collection of beach towns, with Lovina being the most popular.
How to get to North Bali
A one-way taxi from Sidemen to Munduk will cost you around 800,000-1,000,000 IDR ($53-66 US). If you decide to stay in Ubud and travel to North Bali from there, then it will cost around 500,000-730,000 IDR ($33-48 US).
Where to stay in North Bali
The best place to stay in North Bali is Munduk because this way you can easily get to all the nearby tourist attractions. Alternatively, you might want to base yourself in Lovina, but this will involve additional driving each day.
Below you can find my top picks for staying in Munduk for different budgets.
Best things to do in North Bali
1. Visit the 'floating' Ulun Danu Beratan Temple
This 17th-century temple complex is dedicated to the water goddess, Dewi Danu. Located on the shores of Lake Beratan, the elegant temple appears to float above the water when the water levels rise.
As the site is very popular, I recommend you visit at sunrise to beat the crowds and see the morning glow illuminate the water temple.
2. Chase even more waterfalls
North Bali gives Central Bali a run for its money when it comes to magical waterfalls. Be sure to check out even more of the best waterfalls in Bali, including the Banyumala Twin Waterfalls, Gitgit Waterfall, and Sekumpul Waterfall.
When staying in Bali for 2 weeks, the former is best experienced as part of a jungle hiking tour with a local guide. Otherwise, you can visit the viewing platform independently.
3. Watch dancing dolphins
Set your alarm bright and early and wake up in time to catch a sunrise tour with dolphin watching.
This tour gives you the chance to encounter and learn about the majestic creatures who reside off Lovina Beach and at the same time get a sensational view of the North Bali coastline.
As a bonus, you get to visit Gitgit Waterfall and Ulun Danu Beratan Temple as well!
4. Pose with the Handara Gate
Another one of Bali's most Instagrammable spots, Handara Gate isn't the gateway to a temple but rather to a luxury golf resort!
But even if you don't want to play golf, it's worth a quick visit to appreciate the symmetrical architecture and have a cool photo taken.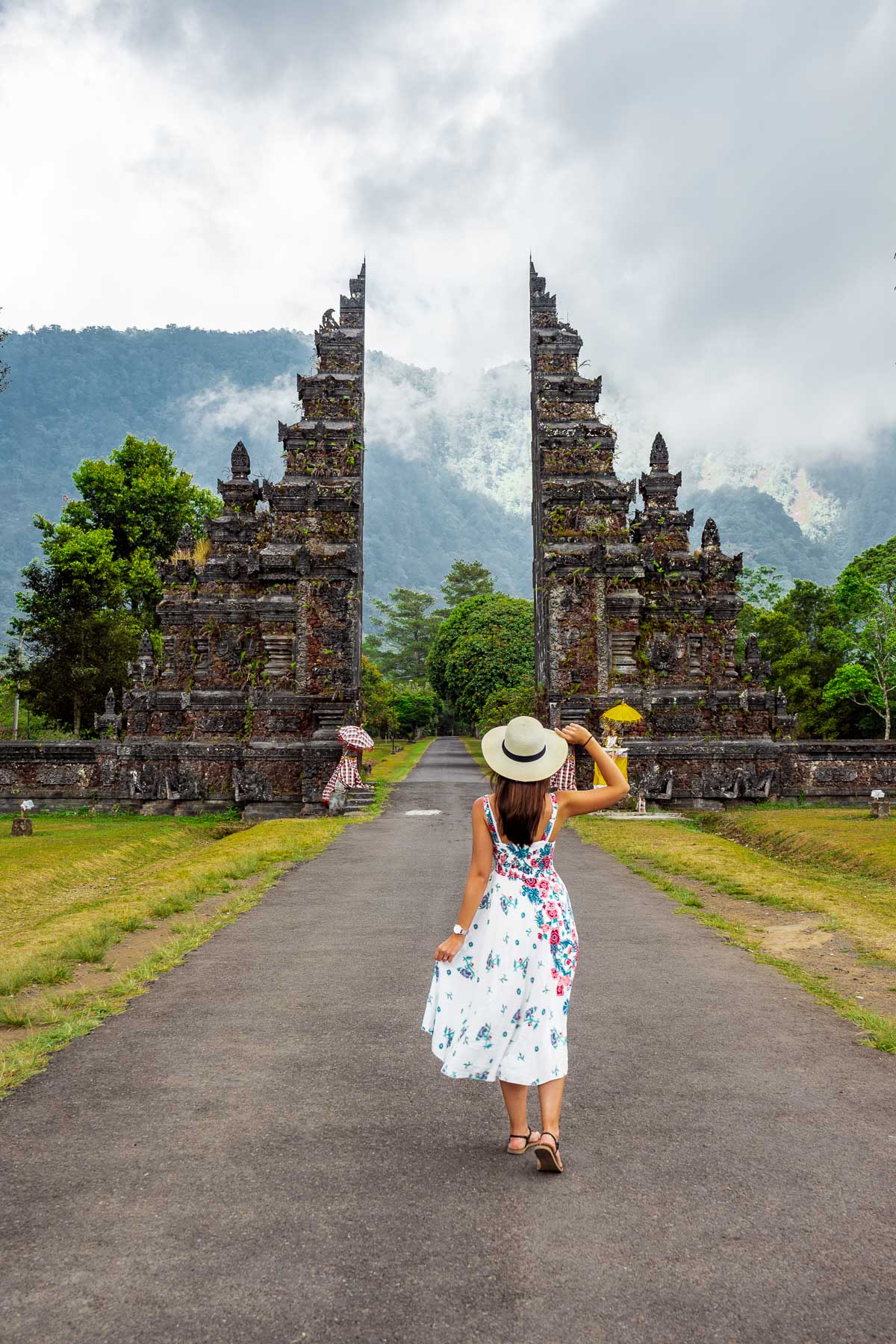 5. Explore Munduk's rice fields
If you skipped the chance to cycle through the rice fields of Canggu, then now you have a chance to rectify that. Munduk is enveloped by loads of paddies which you can explore on a two-wheeler.
Hire a bicycle in town and do this early in the day or late afternoon and watch farmers tending to their crops.
If you're looking for the most instagrammable places in Bali, you can't miss Wanagiri Hidden Hill. It's loaded with many swings (most of them can be used for photo purposes only), nests, and other cool bamboo lookouts, and all of them offer an incredible view of the lake and surrounding mountains.
The entrance fee is quite pricy (150,000 IDR/$10 US), but it's so worth it! If you're looking for an adrenaline rush, I recommend trying one of the big swings (this can be subject to additional costs).
7. Bathe in the holy Banjar Hot Springs
After a busy 2 weeks in Bali, squeeze in some final R&R at the Banjar Hot Springs. These jade green pools register around 38°C (100°F) and are considered a therapeutic and holy experience by the Balinese locals.
Absorb yourself in the tropical foliage and try not to worry about the sulfur smell, the water is steeped in healing properties.
8. Get caffeinated at the Munduk Moding Coffee Plantation
Visit Munduk Moding Plantation where you can learn about their organic coffee and sample a few cups for yourself. It's so aromatic and flavorsome you might want to grab a few bags to take home.
If your budget will stretch, you could even stay in the deluxe resort on the premises which is worth it for the infinity pool alone.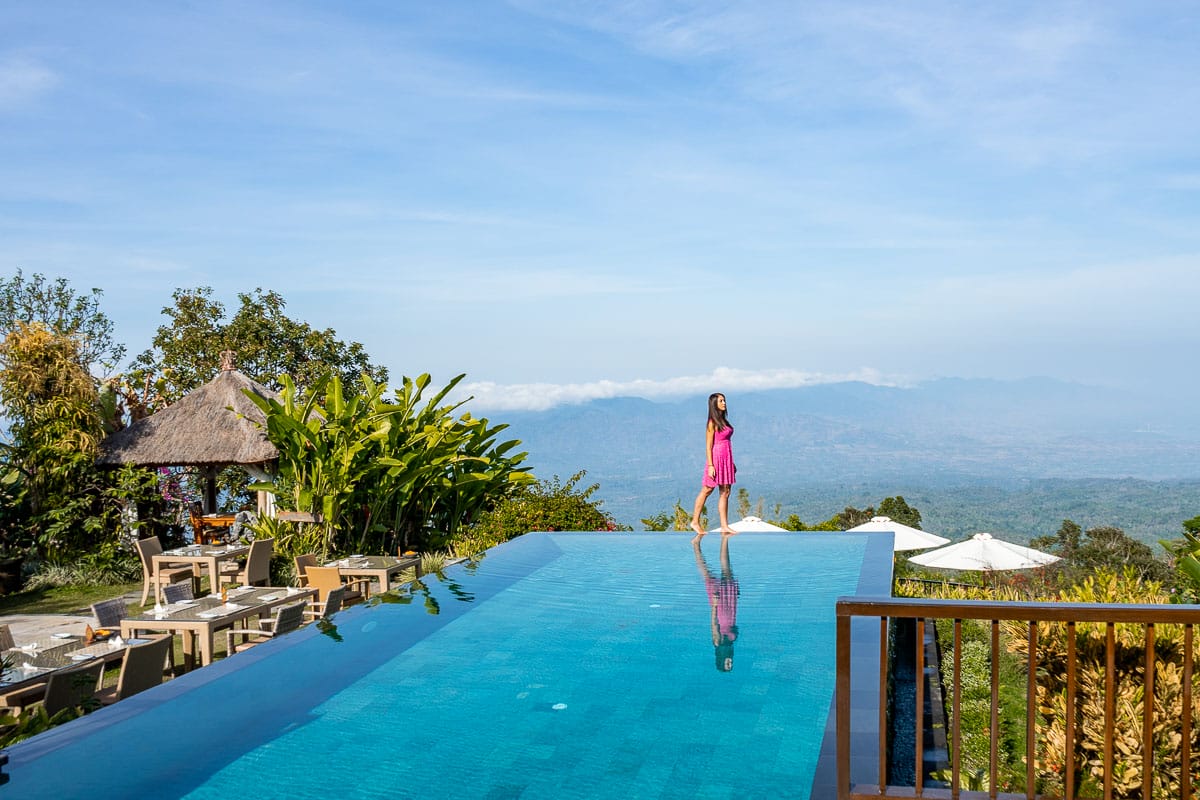 Where to eat in North Bali
---
---
Related Posts
Want to read more about Bali?
---
More Bali Resources
Want to know even more about Bali? Check out these awesome books and travel guides for more inspiration!
---
Pin It for Later!