Are you planning to explore all the incredible sights North Bali has to offer? Then you should consider booking a stay at Munduk Moding Plantation which is not only one of the most luxurious hotels on the island but it's also the perfect base to experience the best things to do in Munduk.
We have already stayed twice at the resort and let me tell you, you are in for a treat! The property is truly breathtaking – from its beautiful infinity pool, which overlooks the dense rainforest of North Bali to its spacious villas with stunning views of the surrounding mountains, it's guaranteed to make you feel right at home.
In this post, we are going to take a closer look at the resort and tell you why it's one of our favorite places to stay in Bali.
*Disclosure: This post contains a few affiliate links, which means I may receive a small commission, at no cost to you, if you make a purchase through my link. Please note that we were invited to stay at Munduk Moding Plantation, however, all thoughts and opinions are my own, as always.*
No time to read now? Pin it for later!
Basic Information
Arriving at Munduk Moding Plantation
Arriving at Munduk Moding Plantation is a delightful experience in itself as you make your way through lush landscapes and winding roads surrounded by the breathtaking beauty of Bali. The resort is located in the cool hills of North Bali, a 2.5-hour drive from the airport, providing guests with a serene escape from the bustling tourist areas.
From the moment you arrive, you'll be welcomed with traditional Balinese hospitality and stunning views of the surrounding mountain range. While the staff handled the paperwork for check-in, we were treated with a refreshing welcome drink and could enjoy the beautiful view from the lobby.
Room types
Munduk Moding Plantation offers a variety of luxurious accommodations to suit the needs and preferences of its guests. Each room type is designed to provide a comfortable and authentic Balinese experience, ensuring a memorable stay.
If you are traveling as a couple, you can choose from the Garden Suites, the One Bedroom Villas, the One Bedroom Pool Villas, or the Istana Negara (Presidential Suite), whereas families and groups can opt for the Two Bedroom Pool Villa, the Three Bedroom Coffee Villa or the generously sized Five Bedroom Pool Villa.
One Bedroom Pool Villa with Jacuzzi
During our recent visit we stayed at the One Bedroom Pool Villa with Jacuzzi and it was simply stunning. The villa offers a perfect blend of luxury, comfort, and privacy for couples seeking an exceptional stay. This exquisite villa is incredibly spacious and showcases a unique combination of traditional Balinese design and modern amenities.
The villa features an airy bedroom with a king-size bed, ensuring a restful night's sleep. The luxurious en-suite bathroom is equipped with double vanity, Sulawesi marble, and a stand-alone bathtub, providing a spa-like experience right in the privacy of your villa.
The living area provides ample space for relaxation and entertainment, with a comfortable sofa and a fireplace. On chilly nights, you can ask the staff to light up the fireplace and curl up with a good book or enjoy a romantic evening together.
One of the highlights of this accommodation is the private heated pool and jacuzzi, offering breathtaking views of the surrounding mountains. We absolutely loved having both facilities at our disposal and it was amazing to enjoy the pool during the hot days and relax in the warm jacuzzi in the evening.
The pool area also has a sun deck complete with sun loungers and an outdoor table, perfect for romantic meals under the stars. In addition, guests can also enjoy complimentary floating breakfasts served directly at their own pool (more about this later!).
The villa also comes with a private butler service which was incredibly helpful during our stay. Our butler was always available to help with anything we needed, from room service and restaurant reservations to organizing tours and providing helpful advice about the area. We only had to send them a message on Whatsapp whenever we needed something and they got back to us in no time.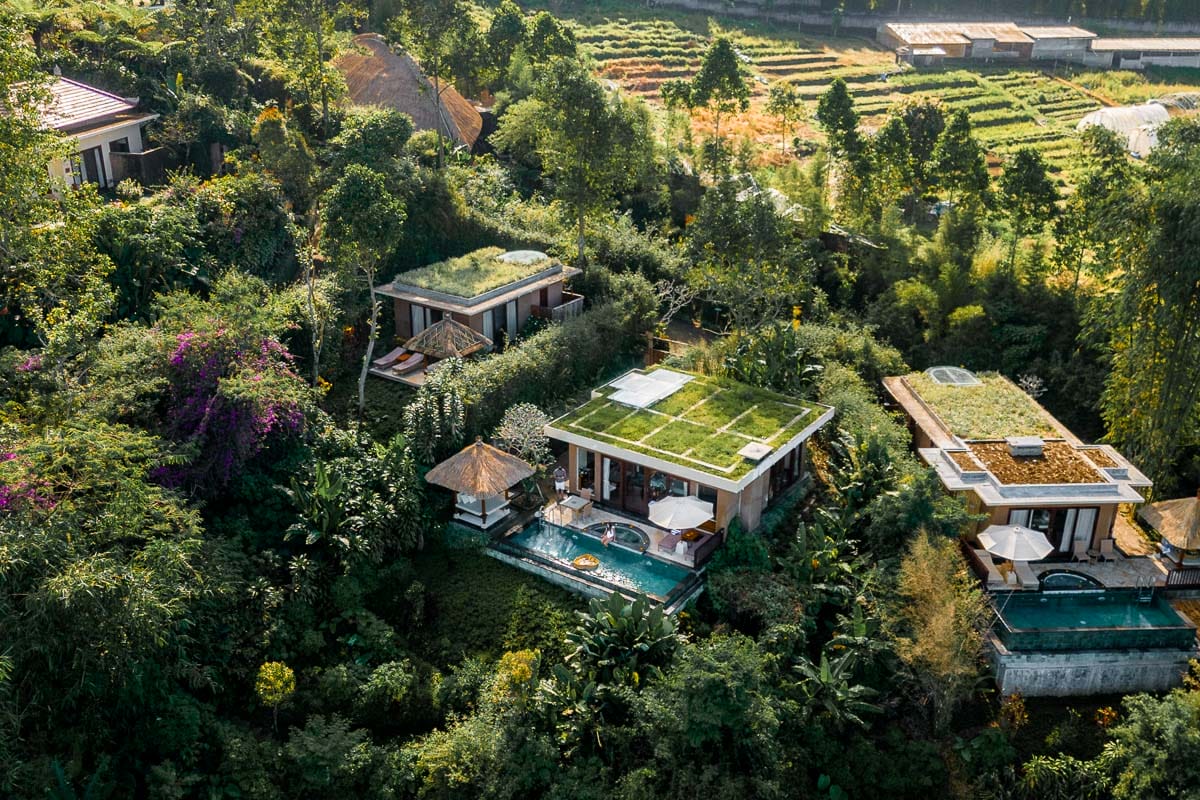 Facilities
Pools
If there's one thing Munduk Moding Plantation is really famous for, it's their spectacular infinity pool – and they actually have two of them! The pools are designed to seamlessly blend with the surrounding natural beauty, creating an unforgettable experience for guests as they swim amidst the stunning landscapes.
Perched on a hillside, the infinity pools offer unparalleled panoramic views of the lush coffee plantation and the rolling hills. This mesmerizing backdrop provides a unique and picturesque setting for guests to relax and soak in the serenity of the resort.
Make sure to set aside some time to watch at least one sunset from either of the pools – you won't regret it! The vivid sunset colors reflecting off the pool's surface are simply breathtaking and trust me, this tranquil beauty will be etched in your memory for years to come.
Comfortable sun loungers and umbrellas are available for those who'd like to bask in the sun, and there's also an outdoor poolside bar where you can get a refreshing drink or tasty snack.
Apart from the two infinity pools, there is also a hot tub conveniently located between the two pools, perfect for enjoying a relaxing evening soak.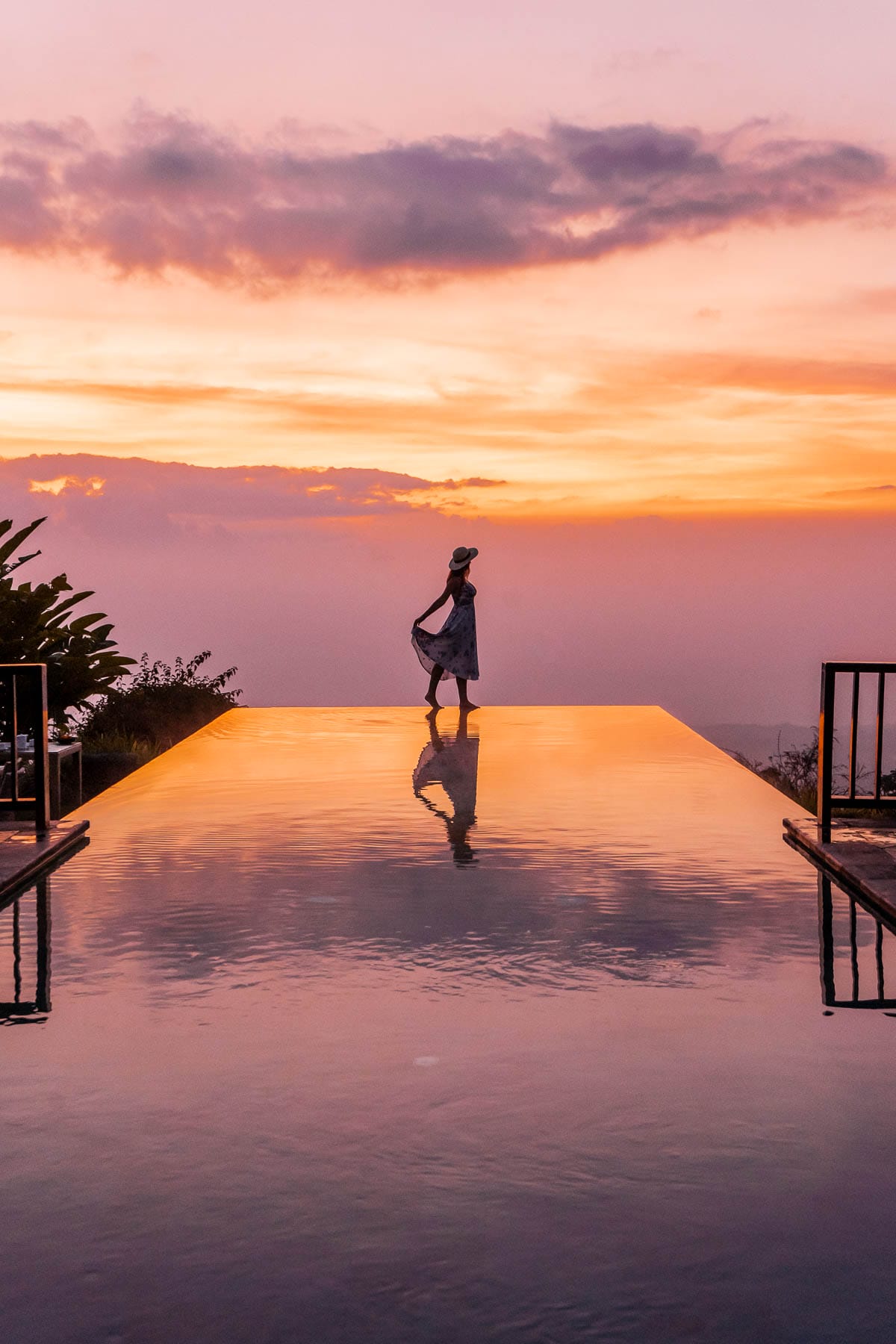 Bamboo Spa
Munduk Moding Plantation is home to a tranquil and rejuvenating spa experience, allowing guests to indulge in a wide array of treatments designed to relax the mind, body, and soul. Surrounded by lush greenery, Bamboo Spa provides an idyllic setting for guests to unwind and immerse themselves in a world of serenity.
The spa menu features a diverse selection of traditional Balinese massages, body scrubs, facials, and other therapeutic treatments, all tailored to the unique needs of each guest. Skilled therapists use high-quality natural products infused with locally sourced ingredients to ensure an authentic and revitalizing experience.
Fitness Center
The hotel thoroughly understands the importance of maintaining a healthy lifestyle, even when on vacation. To cater to the fitness needs of its guests, Munduk Moding Plantation also features a small fitness center, ensuring that you can stay on top of your workout routine even while away from home.
The fitness center is mainly equipped with cardio machines and a few weights, which is more than enough for basic exercises and to keep you in shape. There's also a ping pong table and a billiard table right next door if you're in the mood for some friendly competition while moving your body.
The gym's huge windows provide an abundance of natural light and inspiring views of the lush plantation, creating a motivating atmosphere for you to stay active and energized during your stay.
Experiences & Activities
Munduk Moding Plantation offers a wide array of activities and experiences for guests to immerse themselves in the beauty and culture of Bali. From outdoor adventures to cultural tours, the resort provides countless opportunities to create unforgettable memories.
You can explore the stunning natural surroundings through guided plantation walks, where you will learn about the coffee-making process, as well as the various plants, fruits, and flowers thriving in the area. For those seeking a more exhilarating experience, mountain biking, and horseback riding are available, allowing guests to traverse the scenic hills and valleys at a faster pace.
The resort also organizes a range of cultural activities, such as traditional Balinese cooking classes, which provide insight into the island's culinary heritage. You can participate in a hands-on experience, learning to prepare authentic dishes under the guidance of skilled chefs.
Additionally, the resort offers art and dance classes, where guests can try their hand at traditional Balinese painting, offerings, or learn the graceful movements of Balinese dance.
For guests looking to venture beyond the resort, MMP organizes excursions to nearby attractions, such as Munduk waterfalls, Banjar Hot Springs and Ulun Danu Beratan Temple. These tours provide a unique opportunity to discover the rich history, culture, and natural beauty that Bali has to offer.
Dining
Floating Breakfast
No trip to Bali is ever complete without experiencing a floating breakfast and the good news is that if you stay in one of the private pool villas, you can experience this unique treat right in the comfort of your own villa.
The floating breakfast is served directly to your pool, offering a delicious selection of freshly prepared breakfast dishes for you to enjoy in the tranquil morning air. You can choose from a selection of sweet and savory items, including pastries, pancakes, omelets, and more.
All you need to do is contact your private butler the evening before and select the items that you would like to be included in the breakfast. On the morning of your stay, you will find your floating breakfast waiting for you in the pool, complete with a tray of freshly brewed coffee or tea.
MiMPi Restaurant
The talented chefs at MiMPi Restaurant create a diverse menu, showcasing a fusion of Indonesian and Western flavors, using fresh, locally sourced ingredients. The restaurant places a strong emphasis on incorporating organic produce from the resort's own plantation, ensuring that every dish is bursting with flavor and freshness.
The restaurant is located right in front of the upper infinity pool, offering spectacular views of the surrounding valley and hills. You can choose to dine indoors or outdoors, with a range of seating options available.
If you have breakfast included in your stay, here is where you can enjoy a hearty morning meal of eggs, pancakes, pastries, and more. The portions are rather small but the good news is that you can order as much as you want from the menu so I'd recommend choosing at least two dishes per person.
A complimentary afternoon tea is also available every afternoon, where you can sample a selection of homemade snacks along with your choice of tea or coffee.
For lunch and dinner, the menu features a selection of dishes from both local and international cuisine, including salads, Indonesian specialties, pasta, pizza, and more. If you would like to try a popular local dish, make sure to order the Nasi Goreng! There is also a selection of desserts available to satisfy your sweet tooth.
During our three-night stay, we had the chance to try many different dishes from the menu, and each and every one of them was absolutely delicious. And the prices are quite reasonable too!
Warung Bongkot
The menu at Warung Bongkot focuses on local Northern Balinese dishes, expertly prepared by skilled chefs using fresh, organic ingredients sourced from the resort's own plantation and nearby farms.
You can savor a variety of traditional favorites, such as satay, nasi campur, and pepes ikan, all bursting with the rich and complex flavors that characterize Balinese cuisine.
Dining at Warung Bongkot is a delightful culinary journey through the island's diverse and flavorful food heritage, allowing you to immerse yourself in the local culture while enjoying a memorable meal amidst the tranquil beauty of MMP.
Sunset Bar
The Sunset Bar at MMP is the perfect spot for guests to unwind and enjoy the captivating beauty of Bali's sunsets.
Perched on the edge of the plantation, the bar offers breathtaking panoramic views of the lower infinity pool, the surrounding hills, and the coffee plantation, making it an ideal location to relax with a refreshing drink in hand.
The Sunset Bar features a wide selection of beverages, including expertly crafted cocktails, fine wines, and local beers. You can also enjoy light snacks and appetizers as you take in the stunning scenery and soothing ambiance.
Final Thoughts
Staying at Munduk Moding Plantation was pure bliss. From the attentive service and luxurious accommodation to the delicious food and stunning views, every aspect of our stay was truly remarkable.
The resort is perfectly situated in the lush hills of Bali, offering guests a truly unique opportunity to immerse themselves in the beauty and culture of the island. With its many facilities and activities, MMP is the ideal destination for those seeking an unforgettable Balinese getaway.
We can highly recommend Munduk Moding Plantation to anyone looking for a luxurious and tranquil escape from the hustle and bustle of the tourist-filled southern part of Bali. If you want to experience a truly memorable holiday, then MMP is the perfect place for you!
---
Planning a trip to Bali?
Then you might want to take a look at all our other travel guides about Bali. I promise, they are just as awesome as this article was!
Bali Travel Guides:
Bali Hotel Guides:
Nusa Penida Travel Guides:
---
Related Posts
Want to read more about Bali?
---
More Bali Resources
Want to know even more about Bali? Check out these awesome books and travel guides for more inspiration!
---
What Camera Gear Do We Use?
If you want to read more about what is in our camera bag, check out my detailed post about our travel photography gear!
---
Pin It for Later!