Bali has become way too popular in recent years – there's no denying that. However, while most tourists stick to the main areas of Canggu, Uluwatu, and Ubud, there is still plenty of untouched beauty in Bali that is waiting to be discovered. One of them is Sidemen, located in the hills of East Bali.
If you want to discover the area, one of the best places to stay is Wapa Di Ume Sidemen. This stunning 5-star boutique hotel has everything you need for an amazing getaway and it's the perfect home base for exploring the eastern part of the island.
After spending two incredible days at the hotel, we can confidently say that a trip to East Bali is definitely worth it for this gorgeous hotel alone! Below we will go into more detail about Wapa Di Ume Sidemen and all of its features that made our stay so special.
*Disclosure: This post contains a few affiliate links, which means I may receive a small commission, at no cost to you, if you make a purchase through my link. Please note that we were invited to stay at Wapa di Ume Sidemen, however, all thoughts and opinions are my own, as always.*
No time to read now? Pin it for later!
Basic Information
Arriving at Wapa di Ume Sidemen
Wapa di Ume Sidemen is located in the village of Sidemen in the eastern part of Bali. It's a really quiet and peaceful region full of green mountains and terraced rice fields. To get to the hotel, we would recommend hiring a private driver as the mountain roads can be a bit tricky to navigate.
It's roughly a 1-1.5 hour drive from Ubud but since we started from Uluwatu which is the southernmost point of Bali, it took us around 2.5 hours to get there. The landscape along the way was absolutely breathtaking!
After arriving at the resort, we were welcomed by friendly staff who took care of our luggage and quickly walked us through the check-in process. We also received some hot towels and a delicious welcome drink and before heading to our room, one of the staff members performed a special Balinese blessing to ensure our stay would be a wonderful one.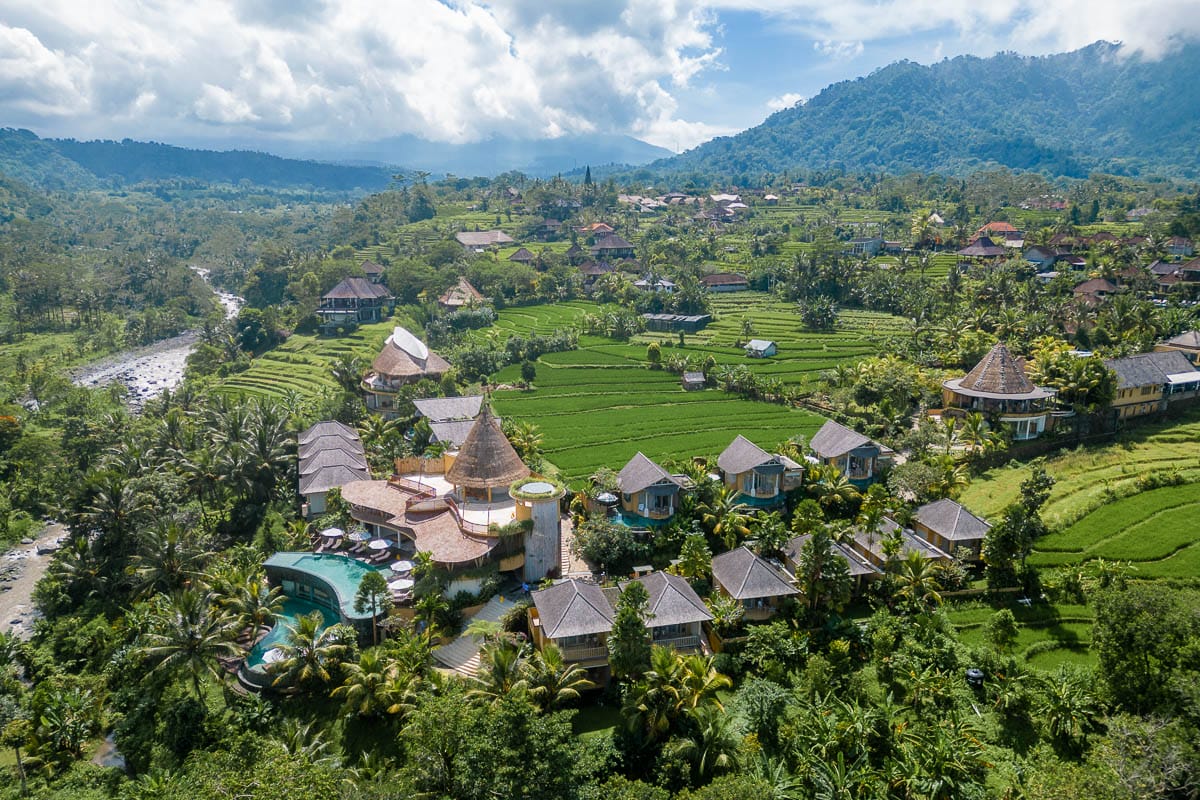 Room Types
Wapa Di Ume Sidemen is a small boutique property consisting of only 21 rooms and villas so you can expect more personalized service and attention to detail during your stay.
You can choose from three different room types: Lanai Room, Di Ume Suite, and the One Bedroom Pool Villa. We stayed at one of the pool villas which is the most expensive option but it was worth every penny!
The 118 sqm (1,270 sqft) villa consists of a bedroom with a comfy king-sized bed and a spacious bathroom with a deep soaking tub, a double vanity, and a separate shower. It also comes with its own private pool which overlooks the green hillside and is surrounded by lush tropical gardens.
There are only five private pool villas at Wapa Di Ume Sidemen so it's best to book well in advance if you want one.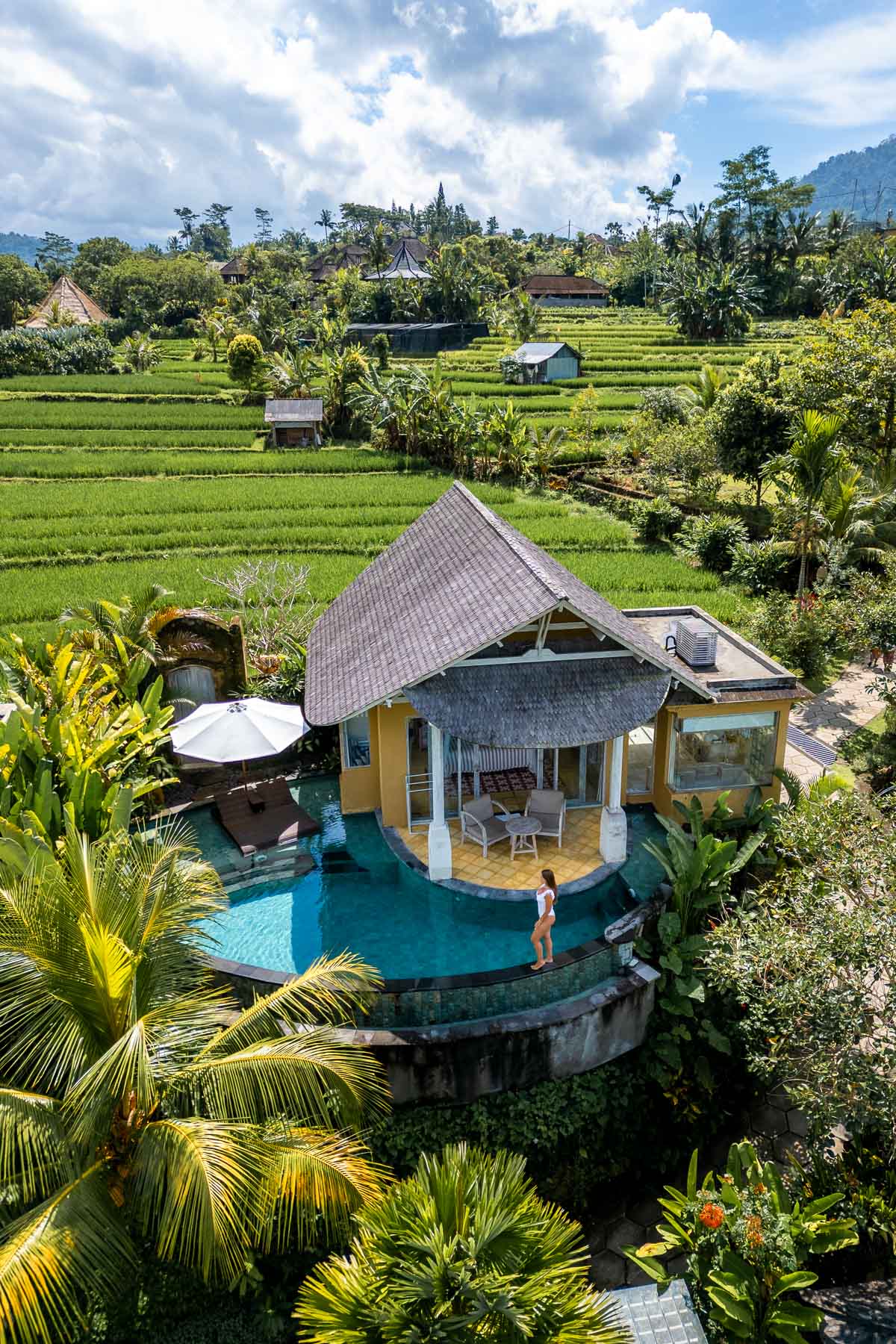 Facilities
Swimming pool
If Wapa di Ume Sidemen has one thing that makes it stand out, it's the stunning swimming pool. Located right in front of the restaurant, this two-tier infinity pool directly overlooks the green valley and is the perfect spot to take in the breathtaking views of East Bali.
The pool area is really well maintained and there are plenty of sun loungers and umbrellas to go around so you can easily spend a full day here. If this hasn't convinced you yet to visit Wapa di Ume Sidemen, then I don't know what will!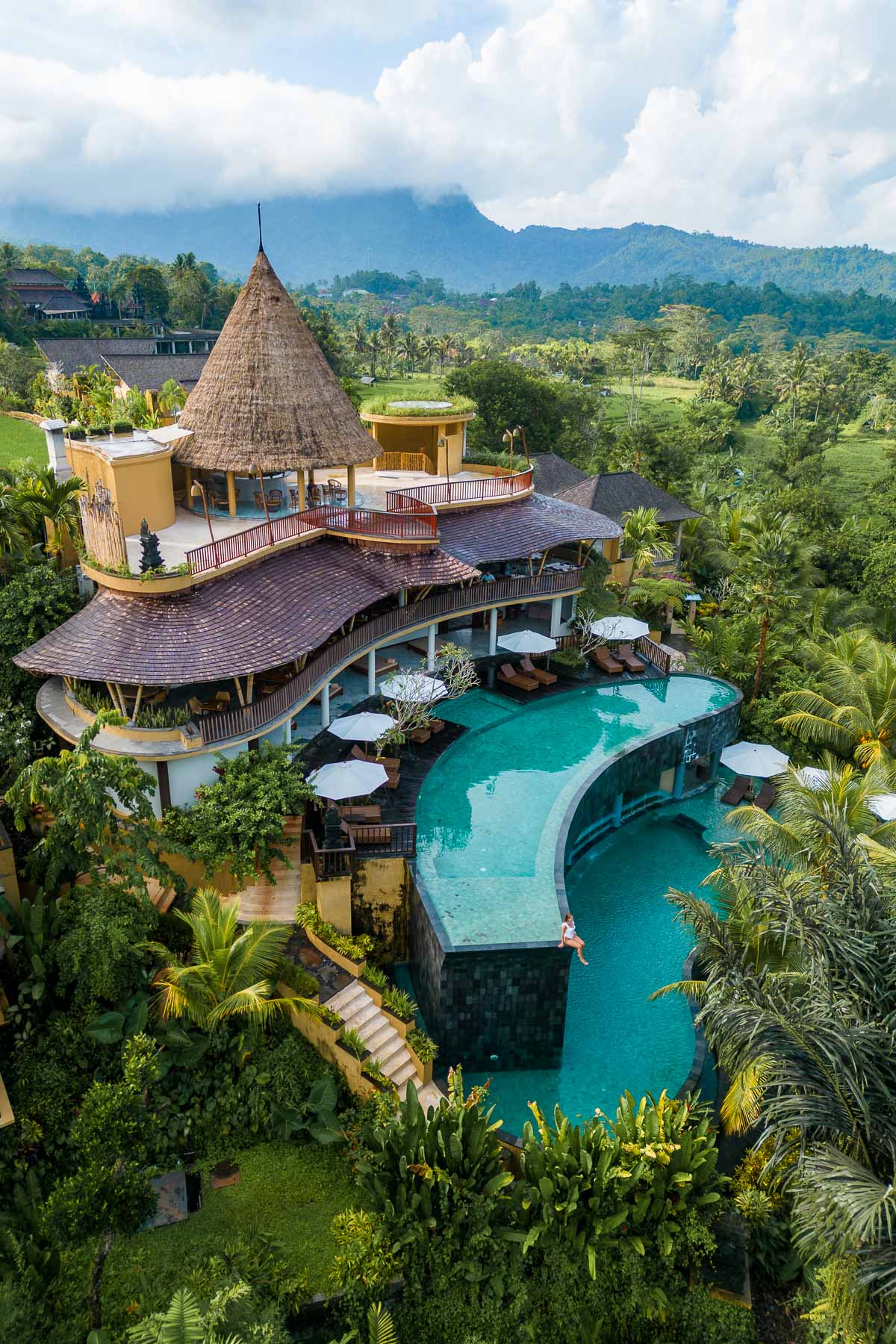 Kapha Spa
In addition to the beautiful infinity pool, Wapa di Ume Sidemen also has a luxurious spa with three treatment rooms and a spacious private salon. The treatment rooms have an open concept so you get to experience the beautiful views of the surrounding hills while you're getting your massage.
During our stay, we decided to treat ourselves to a relaxing massage at Kapha Spa which was absolutely amazing. Upon arriving, we were greeted with a calming cup of tea and we could also choose from a selection of essential oils for our massage.
The massage was really nice and we could also enjoy a beautiful flower bath afterward which was a really special experience. Unlike other flower baths I've tried in Bali, the one at Wapa di Ume Sidemen didn't have any worms or bugs in it so it was truly relaxing!
If you want to experience the spa, I would recommend booking your treatments in advance because it can get quite busy during the peak travel season.
Yoga
Right above the spa, you'll find the Yoga Pavilion which offers daily yoga classes with a certified instructor. The pavilion also has an open concept which allows you to enjoy the beautiful views of East Bali while you're practicing.
The classes held at Wapa di Ume Sidemen are mostly focused on beginners so even if you've never practiced yoga before, you can still join in and enjoy the session.
Fitness Center
If you're looking for a more intense workout, then the fitness center is the perfect place for you. It's located right next to the lower infinity pool and is fully equipped with various pieces of cardio and strength training equipment.
It's a small gym but it has everything you need for a good workout. Plus, the view of the pool and greenery around makes it a truly enjoyable experience.
Dining
Wapa di Ume Sidemen has one restaurant, Sleeping Gajah Kitchen & Lounge. 'Gajah' means elephant in Indonesian and the restaurant was named 'Sleeping Elephant' because of the mountain right across the valley which looks like a sleeping elephant.
The restaurant features an open-air design, allowing you to enjoy your meals while taking in the stunning views of the infinity pools below and the surrounding rice fields.
I was surprised to see that it has a 4.9 rating on Google after almost 300 reviews so it immediately piqued my interest and I have to say, the reviews were not wrong! Each and every meal we tried at the restaurant were absolutely stunning – from the presentation to the taste.
Sleeping Gajah serves breakfast, lunch, and dinner, and offers a mix of Indonesian and Western dishes. It's also open for non-hotel guests so you can always drop by if you're in the area.
The breakfast consists of a light breakfast (fresh fruit platter, cereal, granola bowl, etc.) and a main breakfast menu (various types of eggs, pancakes, avocado toasts, etc.) and you get to choose one from each. In addition to that, you also get a wide selection of fruit juices and other drinks like tea and coffee.
For lunch and dinner, there is a selection of Indonesian dishes such as Nasi Goreng, Mie Goreng, Gado Gado, and more. But if you're not into Indonesian food, there are also a few Western dishes like pasta, burritos, and meat dishes. Make sure to leave some room for dessert because they are seriously to die for!
The restaurant also serves afternoon tea from 3.30 pm to 4.30 pm which is complimentary for in-house guests. You can either opt for coffee or tea and it's accompanied by a selection of sweet and savory snacks. I absolutely loved this service and the quality of the coffee was top-notch.
Overall, I highly recommend trying out the restaurant at Wapa di Ume Sidemen, even if you decide to stay elsewhere. The food is really good and the views from the restaurant are even better. It's definitely worth a visit!
Activities
If you're looking for more of an active vacation, Wapa di Ume Sidemen has plenty of activities for you to enjoy.
The hotel is surrounded by beautiful rice fields so you can start your morning with a guided trekking. It's an easy and relaxing activity that starts every day at 7 am and it's complimentary for guests.
If you're up for a bigger workout, you can also join the medium (2-hour) and heavy (4-hour) trekking but these require an additional fee. Besides that, you can also opt for a bicycle tour or a rafting tour, both of which are available for an extra charge.
When it comes to cultural activities, you can learn about how to make Balinese offerings or how to weave a traditional Sidemen songket (both are free of charge). You can also take part in a traditional Balinese cooking class for an extra fee.
Nearby Attractions
As I mentioned before, Wapa di Ume Sidemen is the perfect base to explore all the beautiful sights East Bali has to offer. Here are some of the nearby attractions you can visit:
Pura Lempuyang Temple: The gate of heaven is perhaps the most famous sight in all of Bali and it's just a one-hour drive from Wapa di Ume Sidemen! Make sure to arrive early as the queues can get quite long.
Tirta Gangga Water Palace: This former royal palace is located about a 50-minute drive from the hotel and it's definitely worth a visit. The lush gardens are filled with ponds and fountains and hundreds of huge koi fish.
Ujung Water Palace: This is another former royal palace located about a 45-minute drive from the hotel. It's surrounded by water and there are some stunning views of Mount Agung in the background.
Besakih Temple: The Mother Temple of Bali is one of the most important temples in Bali and it's about 40 minutes away from Wapa di Ume Sidemen.
Tukad Cepung Waterfall: Bali is really famous for its waterfalls and Tukad Cepung is one of the most stunning. This hidden waterfall is located inside a cave and it's a truly beautiful sight to see, especially with the light rays coming through the top of the cave.
Final Thoughts
If you're looking for a peaceful and picturesque getaway in East Bali, Wapa di Ume Sidemen is the perfect spot for you. This five-star boutique resort has a breathtaking location with stunning views, delicious food, and many activities to choose from.
Whether you're looking for a relaxing holiday or an active one, Wapa di Ume Sidemen will provide you with an unforgettable experience. We absolutely loved our stay here and would definitely recommend it to anyone!
---
Planning a trip to Bali?
Then you might want to take a look at all our other travel guides about Bali. I promise, they are just as awesome as this article was!
Bali Travel Guides:
Bali Hotel Guides:
Nusa Penida Travel Guides:
---
Related Posts
Want to read more about Bali?
---
More Bali Resources
Want to know even more about Bali? Check out these awesome books and travel guides for more inspiration!
---
What Camera Gear Do We Use?
If you want to read more about what is in our camera bag, check out my detailed post about our travel photography gear!
---
Pin It for Later!