If you're a foodie who loves to travel, then Canggu in Bali should be at the top of your bucket list. This popular beach town is known for its vibrant surf culture, stunning sunsets, and most importantly – its incredible food scene!
From cozy cafes tucked away from the hustle and bustle to trendy spots with Instagram-worthy menus, there's something for everyone in Canggu. We've compiled a list of our favorite cafes in this hip spot so that you can experience unique dishes created by talented local chefs while exploring all that Bali has to offer.
So grab your shades and an empty stomach – it's time to discover all the amazing flavors the best cafes in Canggu have to offer!
*Disclosure: This post contains a few affiliate links, which means I may receive a small commission, at no cost to you, if you make a purchase through my link.*
No time to read now? Pin it for later!
Best Cafes in Canggu
I'm a real foodie myself, so trying out a new cafe every day was one of my favorite things to do in Canggu. Since we've spent 10 days in this cute little town, we were able to discover some of the best cafes in Canggu and I have to tell you, I've never seen so many amazing places in one spot!
We tried all the below-mentioned cafes personally, and since I'm a vegetarian, all of the cafes in this post offer many vegetarian/vegan options as well.
Tipping is not common in Bali, however, almost every cafe charges a 10% government tax and a 6% service charge on top of their listed prices (this is always marked on the menu if they do so).
Although many cafes accept credit card payments now, there are still a few where you can only pay with cash, therefore it's useful to always have some cash in your wallet.
Now without further ado, let's take a look at the best cafes in Canggu, Bali!
1. The Avocado Factory
Location on Google Maps: The Avocado Factory
Instagram: @theavocadofactory
If you're also obsessed with avocado like I am, this cafe will be heaven for you! As the name suggests, you will find countless delicious meals with avocado on the menu. Don't worry, if you are not a fan of this green yumminess, you will still find plenty of options to choose from!
The Avocado Factory can be a great choice for both carnivores and vegetarians as their menu caters to everyone. Oh, and they make the cutest latte art on your cappuccino as well!
Favorite dishes: Avo Cheese Croissant XL, Tropical Booster Smoothie Bowl
2. The Loft
Location on Google Maps: The Loft Canggu
Website: https://www.theloftbali.com
Instagram: @theloftbali
We practically lived next to The Loft in Canggu, therefore we visited this amazing place multiple times. After trying various meals from their menu, I can safely say that The Loft is definitely one of the best cafes in Canggu!
Although they have a spacious catering area on the ground floor, it usually fills up quickly so it's better to go early in the morning or outside the busy hours. While this area is quite lively, they have a smaller air-conditioned area upstairs which is perfect for working a few hours (although this area is closed after 5 pm).
While they have both vegetarian and non-vegetarian dishes on their menu, some of their meals are completely vegan. It's definitely a place where everyone will find their favorite type of food. Don't forget to try their raw vegan desserts, these are seriously some of the bests I've ever eaten!
Favorite dishes: The Loft Waffles, Hummus Bowl, Falafel Salad Bowl, Snickers Raw Cake
3. I Am Vegan Babe
Location on Google Maps: I Am Vegan Babe
Instagram: @iamveganbabe
As the name suggests, I Am Vegan Babe is a fully plant-based cafe with the most delicious vegan food I've ever eaten in my whole life. Seriously, even my carnivore boyfriend loved having breakfast there!
The menu mainly contains savory dishes like quesadillas, tacos, sandwiches, and burritos, but there is no shortage of sweets like pancakes or waffles either. I Am Vegan Babe is definitely one of the best vegan cafes in Bali!
Favorite dishes: Hello Babe Waffles, Morning Toast A La Mexicana
4. The Shady Shack
Location on Google Maps: The Shady Shack
Instagram: @theshadyshack
If you're a true veggie lover, The Shady Shack is definitely your place! This cafe is completely meat-free and their meals are not only super beautiful, but healthy and delicious as well.
They have an inside seating area which can be perfect if you're looking for a place to work or you can choose to sit at the lush green outside terrace. If you love coffee, ask for a cappuccino and be amazed by their beautiful latte art!
Favorite dishes: Lost Paradise Smoothie Bowl, Banana Oats
5. Matcha Cafe
Location on Google Maps: Matcha Cafe
Website: https://www.matchacafebali.com
Instagram: @matchacafebali
I'll be honest with you, I had a love-hate relationship with matcha for a very long time. But since it has many well-known health benefits I kept trying until I absolutely fell in love with a matcha latte in one of the cute cafes in Chiang Mai.
If you're a matcha lover too, you definitely need to put Matcha Cafe on your radar! Apart from the endless line of organic matcha green tea beverages, you will find many matcha-based foods on the menu as well.
Think about matcha pancakes. Matcha smoothie bowls. Matcha Tiramisu. Mmm, love them so matcha! On top of that, since Matcha cafe has a quiet and cozy vibe it was one of our favorite places to work as well.
Favorite dishes: Matcha Protein Pancakes, Matcha Acai Superfood, Matcha Latte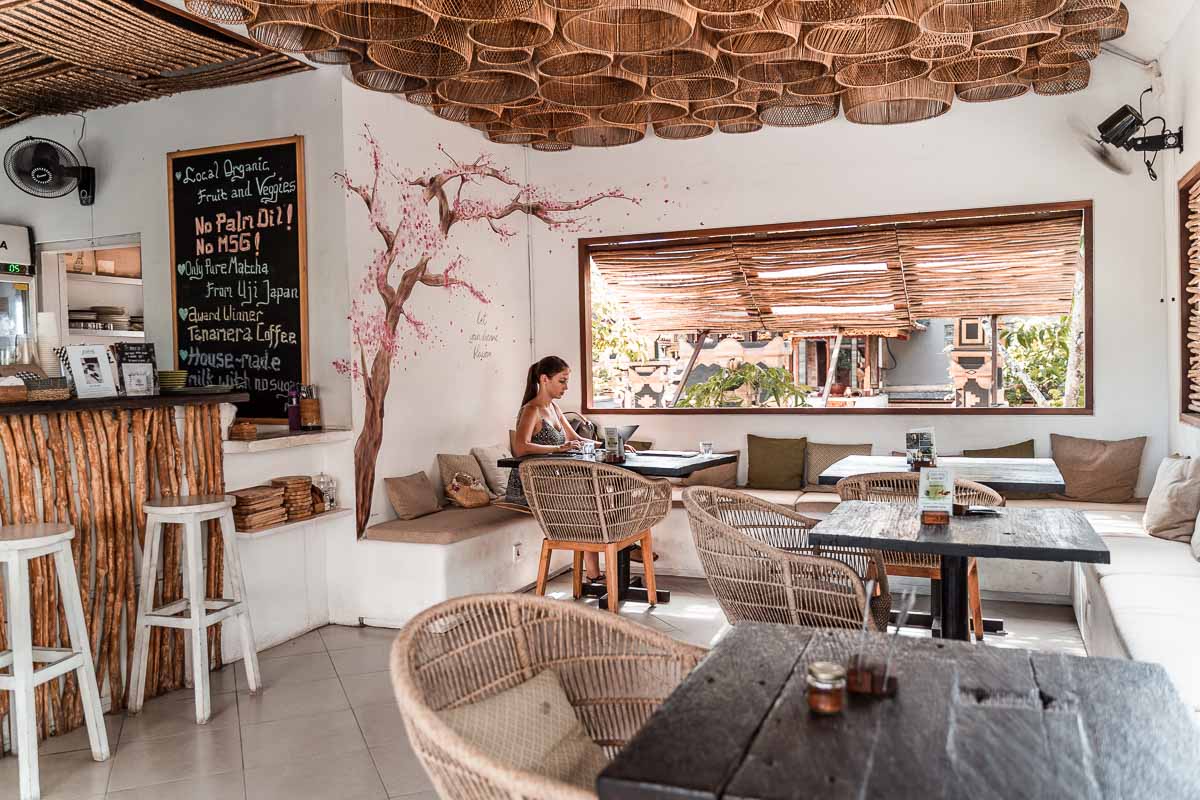 6. Monsieur Spoon
Location on Google Maps: Monsieur Spoon
Website: http://www.monsieurspoon.com
Instagram: @monsieurspoon
Although Bali is mostly famous for its smoothie bowls and avocado toasts, you can find some great bakeries around as well. If you're craving a real French pastry, Monsieur Spoon is your spot!
Their croissant is just so heavenly, I swear it was even better than the ones I had in Paris (sorry, French folks!). The whole cafe has a cozy, relaxed vibe and there is also a spacious terrace outside if you're longing for fresh air. It's perfect for digital nomads as well!
Favorite dishes: Croissant with strawberry jam, Chocolatine
7. Milk & Madu
Location on Google Maps: Milk & Madu
Website: http://www.milkandmadu.com
Instagram: @milkandmadu
Although Milk & Madu has a spacious seating area, since it's one of the most popular cafes in Canggu it's almost always crowded. But don't let that scare you off as their food is so worth the wait! They are open all day long so you can choose to have either breakfast, lunch, or dinner at their place.
We went there for dinner and they had a 2 for 1 special offer for pizzas so we ended up having our cheapest and one of the most delicious dinners we've ever had in Canggu. If you're looking for the best cafes in Ubud, keep your eyes open for Milk & Madu because they have another location in Ubud as well!
Favorite dishes: Pumpkin Pie Pizza, Byron Bowl
8. CRATE Cafe
Location on Google Maps: CRATE Cafe
Instagram: @cratecafe
The industrial-looking, hipster CRATE Cafe is so much more than a regular cafe: they also have a concept store, a gallery and they regularly host interesting events. It's definitely one of the most popular cafes in Canggu, we even had to come back here because there were no free tables at the first time!
If you're looking for a lively and buzzing place with good music and good food, CRATE Cafe is your place. Not only their food is super yummy, but they are also budget-friendly, especially compared to the prices of the other cafes in Canggu.
Favorite dishes: Brekkie 2 GoGo Smoothie Bowl, Black Out Smoothie Bowl
9. Cafe Vida
Location on Google Maps: Cafe Vida
Website: https://cafe-vida-bali.business.site
Instagram: @cafe_vida_bali
We stumbled upon Cafe Vida by accident, after we didn't find any free tables at CRATE Cafe. This cute little cafe is actually taking place inside a traditional Balinese compound so the authentic Bali vibes are guaranteed.
If you love beautifully decorated smoothie bowls (and who doesn't?) you will love this place! Each bowl is a true masterpiece (just look at my photo below or scroll through their Instagram). Oh, and the homemade cakes and cookies look so amazing too!
Favorite dishes: Amazon Acai Smoothie Bowl, Avocado Pesto Toast
10. The Lawn
Location on Google Maps: The Lawn
Website: https://thelawncanggu.com
Instagram: @thelawncanggu
Have you ever really been to Canggu if you haven't been to The Lawn? This popular beach lounge is definitely one of the most iconic places in Canggu and you absolutely need to check it out for yourself!
Featuring a cozy inner seating area, a spacious outside terrace with boho umbrellas, and a shimmering infinity pool overlooking the ocean, The Lawn not only provides delicious food and drinks on their menu but grants a whole day of fun for everyone.
Unfortunately, we only tried some of their drinks but since every dish looked totally mouthwatering, I'm sure they are delicious as well!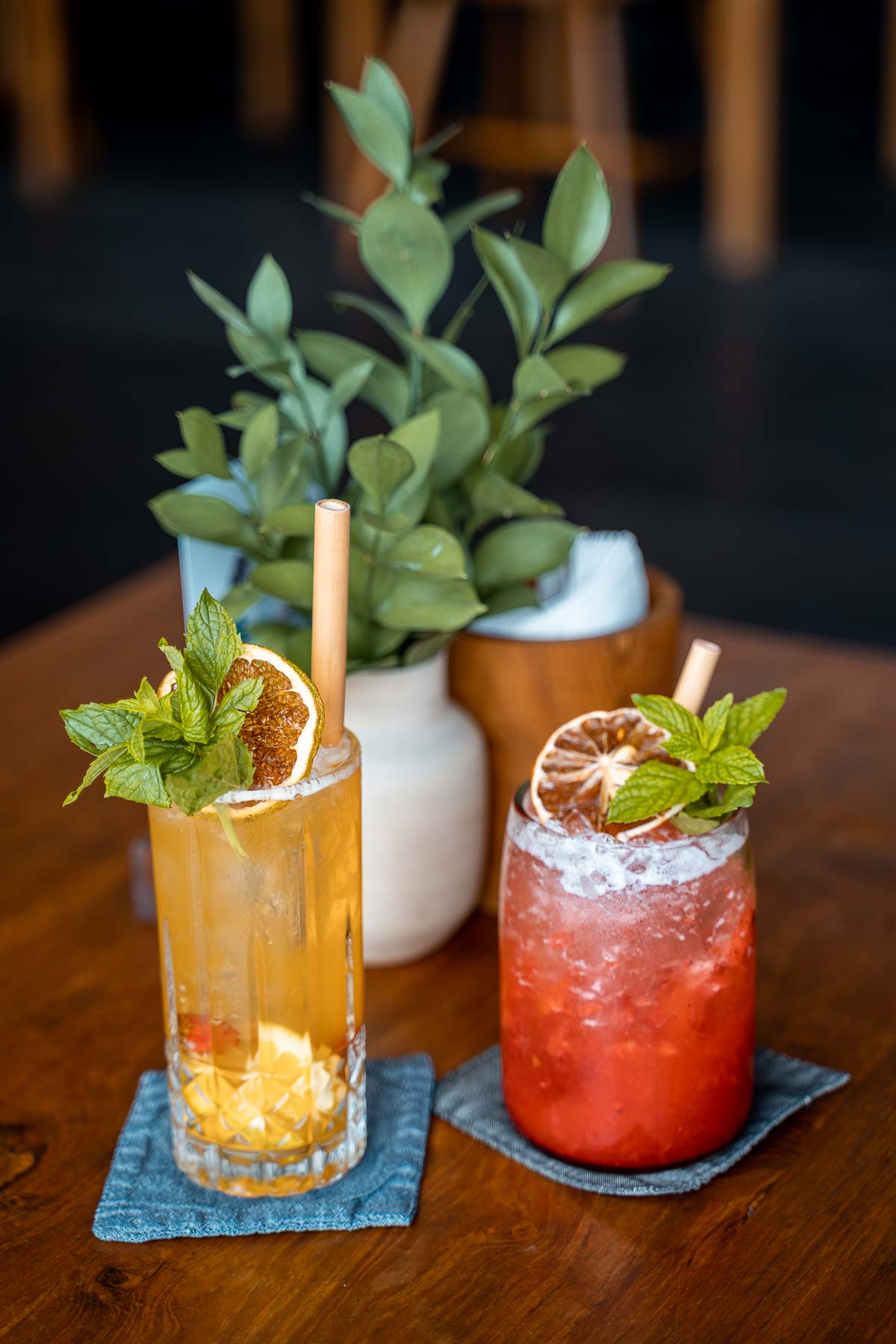 11. Motion Cafe
Location on Google Maps: Motion Cafe
Website: https://www.motionfitnessbali.com/food/
Instagram: @motioncafe
Whether you are following a paleo lifestyle, a ketogenic, or a raw vegan diet, you will definitely find your favorite fitness food at Motion Cafe. Apart from healthy meals and big salad bowls, Motion Cafe also offers various fresh and natural juices, delicious shakes, and sugar-free sweets.
Favorite dishes: Sweet Potato Waffles with Chocolate Spread and Banana, Sweet Potato Salad
12. The Common Cafe
Location on Google Maps: The Common Cafe
Website: https://www.thecommonbali.com
Instagram: @thecommonbali
If you loved Milk & Madu, you definitely need to put The Common Cafe on your list as well! Both of them are operated by the same group (The Good Food Brotherhood) and let me tell you in advance, this little cafe lives up to all the high expectations.
Their menu caters to everyone as apart from the juicy burgers and burritos they also offer plenty of vegetarian, vegan, or gluten-free options.
Favorite dishes: The Commoners Bowl, Chipotle Chicken Burrito
13. Kynd Community Canggu
Location on Google Maps: Kynd Community Canggu
Website: https://www.kyndcommunity.com
Instagram: @kyndcommunity
Kynd Community is a lively and vibrant cafe that prides itself on its commitment to sustainability and healthy eating. All ingredients used in their fresh, locally-sourced dishes are carefully chosen for their nutritional values, with no additives or preservatives.
They only serve 100% plant-based food, so vegan and vegetarian food lovers can rejoice in the abundance of delicious options here. From acai bowls to pancakes and avocado toasts, your taste buds are guaranteed to be tantalized!
On top of the amazing food, Kynd Community also has a pinkish chic and boho design which easily makes this cute cafe one of the most instagrammable places in Bali as well.
Originally they only had one location in Seminyak but due to their well-deserved success, they've recently opened a second spot in Canggu so now you can enjoy Kynd Community in two places!
Favorite dishes: Acai Bowl, Leo Gourmet Toast
14. Cafe Organic Petitenget
Location on Google Maps: Cafe Organic Petitenget
Website: https://cafeorganic.co
Instagram: @cafeorganicbali
Cafe Organic was one of the first plant-based restaurants in Bali and it's still one of the best cafes in Canggu to this day. The whole place has a relaxed and chill vibe both outside and inside, therefore it's a perfect place for digital nomads as well.
The staff is always nice and friendly and the menu is full of nutritious and organic vegetarian/vegan meals. We loved this cafe so much we've been there three times in 10 days!
They used to be located in the heart of Canggu but recently they moved to Seminyak so you might have to drive a little bit further from Canggu if you want to try their delicious meals.
Favorite dishes: Smashed Avo, Chocotella & Cashew Butter Toast
Find the Best Cafes in Canggu on the Map
In the below map, I collected all the best cafes in Canggu for you. You just have to click on the bracket in the upper right corner and it will open it up on your phone. Super convenient, right?
Where to Stay in Canggu
Since the main area of Canggu can be found around the Jl. Batu Bolong if you're visiting for the first time I would recommend staying in this area.
Batu Bolong is a lively neighborhood within walking distance of the beach so it's perfect for experiencing the authentic Canggu vibes. On top of that, almost all the above-mentioned cafes are located here so if you're also a foodie, you will love this area!
Below you can see my top recommendations for the best places to stay in Canggu for every budget. If you're looking for a broader overview of where to stay in Bali, make sure to read my in-depth article about the best areas to stay in Bali.
LUXURY – COMO Uma Canggu
This hotel is set back from Echo Beach and Batu Bolong Beach is close by too! Offering panoramic sea views, COMO Uma Canggu is one of the best luxury options in this part of Bali. There are two swimming pools, a spa & wellness center, a fitness center, and an on-site restaurant at the hotel too.
MID-RANGE – BoHo Canggu
BoHo Canggu is an adults-only hotel so is perfect for romantic getaways! There are plenty of facilities here too including an outdoor swimming pool, a terrace area, and a garden. All the rooms are beautifully designed and each one offers an ensuite bathroom, a wardrobe, and air conditioning.
BUDGET – Serenity Eco Guesthouse
Serenity Eco Guesthouse is just a 1-minute walk from the beach and is the perfect option for a relaxing getaway. This property offers daily yoga sessions, massages, meditation, and a permaculture garden, so you can really get in touch with your body. There's also an on-site vegan restaurant, a swimming pool, and free WiFi.
---
Planning a trip to Bali?
Then you might want to take a look at all our other travel guides about Bali. I promise, they are just as awesome as this article was!
Bali Travel Guides:
Bali Hotel Guides:
Nusa Penida Travel Guides:
---
Related Posts
Want to read more about Bali?
---
More Bali Resources
Want to know even more about Bali? Check out these awesome books and travel guides for more inspiration!
---
What Camera Gear Do We Use?
If you want to read more about what is in our camera bag, check out my detailed post about our travel photography gear!
---
Pin It for Later!