Chiang Mai is the gateway to the mountains and temples of Northern Thailand. With so much adventure ahead of you, the first thing you need to know is where you can start your day with a hearty breakfast in Chiang Mai.
Because the city is a magnet for tourists and digital nomads, you'll find that you're never too far from an amazing cafe. As the cafe scene is burgeoning, it can be overwhelming to decide where to go.
To help you navigate the city, in this article I'm going to share all my favorite cafes for the best breakfast in Chiang Mai!
Disclosure: *This post contains a few affiliate links, which means I may receive a small commission, at no cost to you, if you make a purchase through my link.*
No time to read now? Pin it for later!
Where to Find the Best Breakfast in Chiang Mai
Cafes in Chiang Mai are usually kitted out with speedy Wi-Fi, refreshing air-conditioning, and a selection of hot and iced drinks. Most of them provide free drinking water alongside your meal as well!
Breakfast and brunch menus typically feature a mix of Thai classics and Western dishes so you can choose between a piping hot bowl of Tom Yum, a protein-rich egg and avocado combination, or a buttery croissant.
As part of my Southeast Asian trip, I spent one month in Chiang Mai so I got the chance to try many amazing cafes in the city. The ones you will find below are my personal recommendations for the most scrumptious breakfast places in Chiang Mai!
Whether you're vegan, veggie, or partial to a bit of everything – you'll want to hit up at least a couple of these spots.
1. SS1254372 Cafe
Location on Google Maps: SS1254372 Cafe
Instagram: @ss1254372cafe
Start your day right with a plate of fresh avocado on the most perfect Eggs Benedict at one of my favorite breakfast places in Chiang Mai.
Besides the food, what makes SS1254372 Cafe so unique is that it's located within the Gallery Seescape which sells some of the coolest arts and crafts in town and is worthy of a rummage around.
All the food is artistically presented using fresh ingredients and a kaleidoscope of colors. If you want to branch out you can order a 'blue' latte – it's butterfly pea with a sprig of lavender!
2. Artisan Cafe
Location on Google Maps: Artisan Café
Instagram: @artisancafe_cnx
First and foremost a coffee shop, Artisan Cafe serves some of the best coffee in Chiang Mai. Their food menu is a tad limited compared to other breakfast places on my list but what they do serve, they do extremely well and they continue to expand with new dishes.
You will find melt-in-your-mouth pastries, waffles blanketed with exotic fruits, and perfectly poached eggs. They also have a couple of breakfast sets that dish up a combination of fluffy pastries with eggs, greens, and a hot drink.
Artisan Cafe is only a 5-minute walk from Wat Sri Suphan, one of the most beautiful temples in Chiang Mai. Otherwise referred to as the Silver Temple, Wat Sri Suphan is one of the temples you absolutely have to include in your Chiang Mai itinerary!
Try to schedule your visit early in the morning so that you can pop into Artisan Cafe after and have a delicious breakfast in Chiang Mai.
3. Free Bird Cafe
Location on Google Maps: Free Bird Cafe
Instagram: @freebirdcafe
The menu at the Free Bird Cafe is half Western classics and half traditional Shan (Burmese) food. Everything on the menu is 100% plant-based making this one of the best places to eat in Chiang Mai if you're vegan.
They have an appetizing selection of nutrient-rich smoothie bowls, tempeh bagels, and pancakes. For those of you with a sweet tooth, Free Bird Cafe recently unveiled its lemon cheesecake bowl – but don't worry, it's healthy!
4. Ombra Caffe no.3
Location on Google Maps: Ombra Caffe no.3
Instagram: @ombracaffe.pyur.otel
With its abundance of plugs, slick Wi-Fi, and strong coffee, Ombra Caffe is one of the best coffee shops in Chiang Mai if you need to catch up on work. But you don't have to be a digital nomad to gorge on their incredible breakfast bagels, pastries, and granola bowls!
You can either lounge in the cozy interiors or perch on a stool in the garden surrounded by foliage. The cafe is tucked away down a peaceful street and attached to a boutique hostel.
A great place for either a productive breakfast in Chiang Mai or if you want somewhere quiet to read before you start your day.
5. My Secret Cafe in Town
Location on Google Maps: My Secret Cafe in Town
Instagram: @mysecretcafeintown
As My Secret Cafe in Town is a short walk from Wat Phra Singh and Wet Chedi Luang, it's one of the best cafes in Chiang Mai for a central breakfast while seeing the best sights in the city. They serve a mix of light granola, waffles, fresh fruit salads, and pastries.
Alternatively, you can always grab something more substantial like a tasty sandwich or steaming bowl of noodles. If you have a sweet tooth you should definitely make a pitstop here for a slice of cake!
This is a handy spot to know about for breakfast in Chiang Mai in between temple hopping.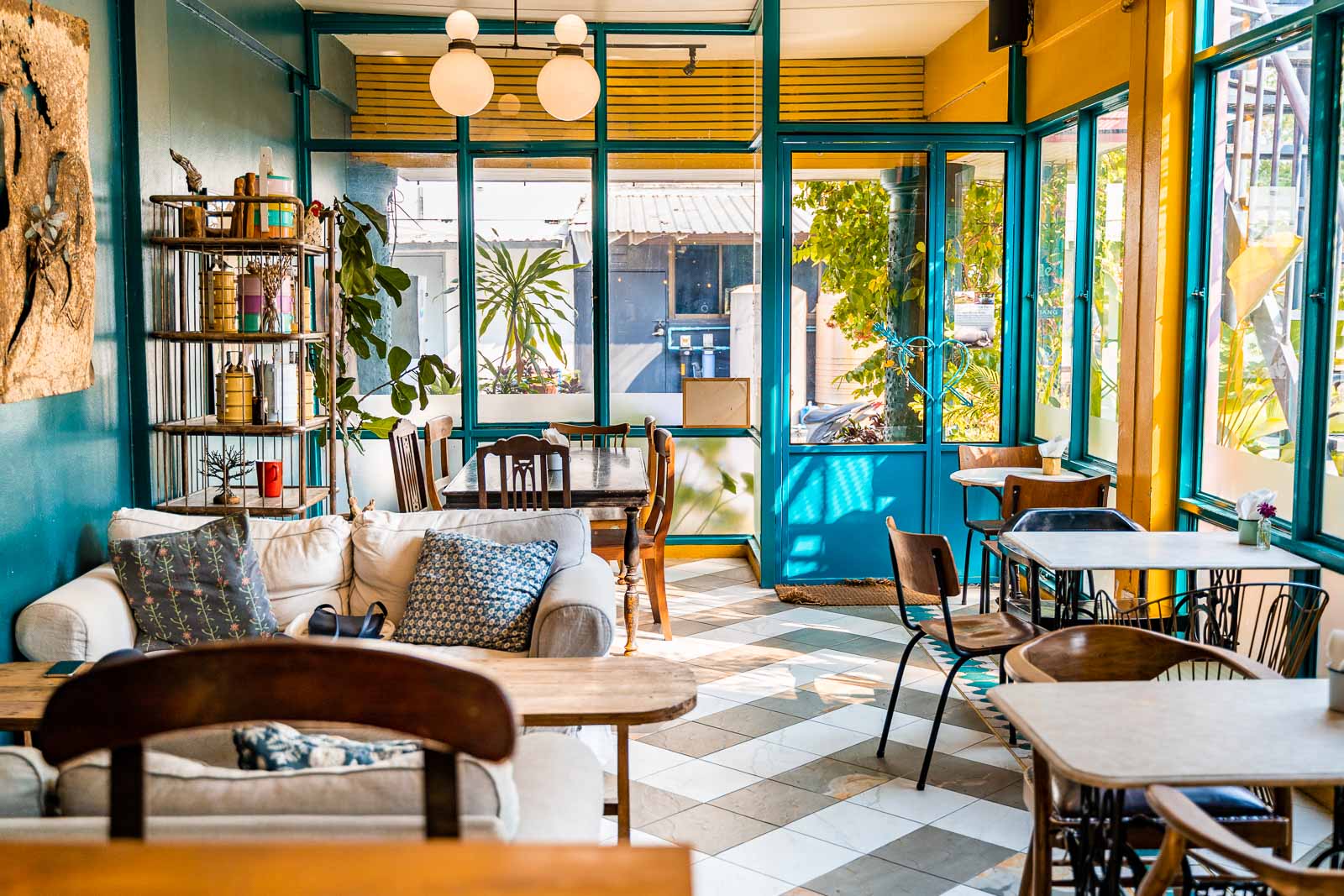 6. Bella Goose Cafe at the Hill
Location on Google Maps: Bella Goose Cafe at the Hill
Website: https://www.bellagoosecafe.com
Instagram: @bellagooseth
Bella Goose Cafe is situated to the east of the Old Town so it's a great spot for breakfast in Chiang Mai if you're staying around the night market.
Craving some comforting American fare? The menu is a blend of Thai and North American dishes!
Bella Goose has taken a whacky approach to its coffee alternatives. If you love coffee shops but are less keen on the flavor of the drink, you can try their caramel apple juice equivalent.
7. See You Soon Cafe
Location on Google Maps: See You Soon Cafe
Instagram: @seeyousooncnx
See You Soon Cafe is another option that is right in the center of the Old Town. The menu is loaded with fruit and veggies; think waffles and pancakes drenched in mangoes and dragonfruit and avocado-stuffed croissants.
If you're after an adventurous breakfast in Chiang Mai you can also dive into a dish of Tom Yum.
See You Soon Cafe is connected to a lovely boutique hotel if you need inspiration for where to stay in Chiang Mai.
The seating area is the perfect place to take a break while you sip on a chilled frappe or smoothie with a view of Wat Chedi Luang.
8. The Hideout
Location on Google Maps: The Hideout
Website: https://thehideoutcm.com/
This cute cafe serves a simple yet effective breakfast in Chiang Mai giving you the choice of cereals, French Toast, omelet, or a spread.
If you want something more substantial around lunchtime, The Hideout is famous for its sandwiches. The portions are on the generous side so you will never leave this place hungry.
You can choose from a mix of coffee and Thai teas and treat yourself to a slice of home-baked cake if you're not too full!
9. .fresh Cafe
Location on Google Maps: .fresh Cafe
.fresh Cafe makes some of the most nourishing and energizing breakfast bowls in town. Wash down one of their acai bowls topped with flakes of granola and fresh fruits with a green smoothie and you'll be ready for your day exploring the city!
You can also tuck into avocado toast, falafel bowls, and bagels. .fresh Cafe is one of the best places to eat in Chiang Mai if you're on a plant-based diet or if you want a healthy meal to balance out all those Pad Thais and curries.
10. Flour Flour Slice
Location on Google Maps: Flour Flour Slice
Website: http://flourflour.cafe/
Instagram: @flourflourbread
Flour Flour Slice (sister of Flour Flour Loaf) is an all-day breakfast and brunch spot that specializes in artisanal home-baked bread using local ingredients and wild yeast.
They whip up a number of toasts with sweet and savory toppings varying from peanut butter and banana to salmon, eggs, and cheeses. You can choose from sourdough, charcoal, and whole wheat bread.
Flour Flour Slice is definitely one of the best cafes in Chiang Mai if you're a bread aficionado!
11. Smoothie Blues
Location on Google Maps: Smoothie Blues
Right in the heart of the lively Nimman Road district, Smoothie Blues is one of the most popular breakfast places in Chiang Mai. They have an ample menu spanning muesli and granola bowls to eggs, wraps, and sandwiches.
As you can probably guess, they also have a stellar smoothie menu which will help you get your 5 a day while on the move! With such a broad menu, Smoothie Blues is a great option if you're in a group and all fancy different things.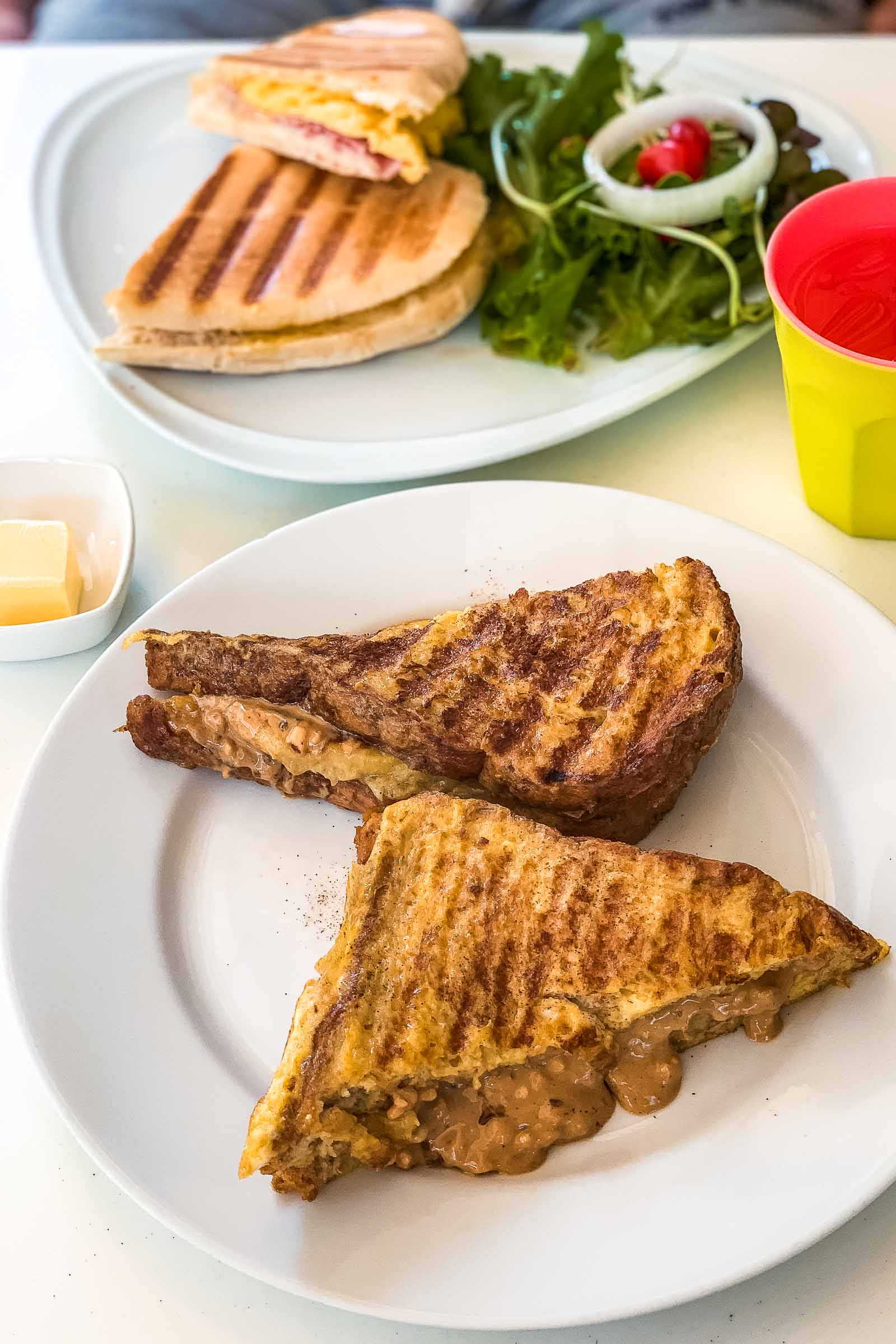 12. No. 39 Cafe
Location on Google Maps: No. 39 Cafe
As one of the quirkiest breakfast places in Chiang Mai, No. 39 Cafe is set around a small yet beautiful lake and one of the seating areas features a slide!
Seating is predominantly outdoors so this is the cafe for you if you want to enjoy your breakfast in a gorgeous natural setting. My tip is to arrive here early before it gets too hot (and too crowded).
No. 39 Cafe serves a mix of Thai and Western coffees, Matcha, and Italian sodas. One thing I will say is that the food menu is limited to all-day breakfast, light pastries, and burgers.
Plan instead to come here for the unusual surroundings and the delicious drinks!
13. Graph One Nimman
Location on Google Maps: Graph One Nimman
Website: https://www.graphcoffeeco.com
Instagram: @graphonenimman
Technically Graph One Nimman isn't a breakfast place but they do have some desserts and sweets. And as they do some of the best coffee in Chiang Mai, I couldn't skip it!
Their menu is wildly creative, with charcoal-activated coffees, nitrogen infusions, and pumpkin blends.
Graph One Nimman is legendary for its cold brew menu – basically, if you're a fanatic about coffee then you need to come here. In addition to its innovative coffees, Graph One Nimman has a fantastic array of cakes!
You can actually find Graph in many different locations, so if you can't make it to Graph One Nimman, you can also try Graph Ground or Graph Quarter!
14. Ristr8to Original
Location on Google Maps: Ristr8to Original
Website: http://www.ristr8to-coffee-chiangmai.com/
Instagram: @ristr8to_original
To wrap up my list, I'm tapping on a plus one because if you love coffee you can't come to Chiang Mai without sampling the goods at one of the best coffee shops in Chiang Mai.
The award-winning Ristr8o is a cult among locals and tourists and serves the most experimental coffee in Chiang Mai. Try their signature Satan Latte which uses a blend of three different coffee beans and shows off coffee art at its finest.
Map for Finding the Best Cafes in Chiang Mai
On the below map, you can see all the best breakfast places in Chiang Mai mentioned in this article with their retrospective number. Just for clarification, the numbers don't reflect any ranking order, they are just simply there to make it easier for you to find the best Chiang Mai breakfast spots on the map!
You can also save this map to your Google Maps app on your phone if you click on the bracket in the upper right corner. Super convenient, right?
Where to Stay in Chiang Mai
This popular city is teeming with hotels, hostels, and guest houses for you to choose between. Because Chiang Mai attracts backpackers, honeymooners, and families, there's loads of variety in terms of accommodation.
For your Chiang Mai trip, I recommend that you stay either within the Old Town or in the popular Nimmanhaemin Road area. This way you'll be close to all the best cafes where you can get the best breakfast in Chiang Mai!
Below you can find the top-rated places to stay in Chiang Mai based on your budget. If you would prefer to stay in an Airbnb then check out my guide to the best Airbnbs in Chiang Mai!
LUXURY – The Inside House
Situated in Chiang Mai, 700 m from Wat Phra Singh, The Inside House features accommodation with a restaurant, free private parking, an outdoor swimming pool, and a bar. Guests at the accommodation can enjoy a buffet or an à la carte breakfast.
MID-RANGE – Yantarasri Resort
Located in the funky Nimman Road neighborhood, this boutique hotel features evocative rooms spread around the pool complex. The ultimate oasis for couples! Guests can enjoy a traditional Thai massage during their stay. Thai cuisine is served at the resort's restaurant, while refreshing beverages can be enjoyed at Pool Bar.
BUDGET – Chiangmun Boutique
Situated near Chang Puak Gate, Three Kings Monument, and Chang Puak Market, Chiangmun Boutique features units with a private bathroom and shower, air conditioning, a flat-screen TV, and a fridge. It's central, clean, and friendly on the wallet – what more could you want? It's also very quiet considering the location.
---
Planning a trip to Thailand?
Then you might want to take a look at all our other travel guides about Thailand. I promise, they are just as awesome as this article was!
---
Related Posts
Want to read more about Thailand?
---
More Thailand Resources
Do you want to know even more about Thailand? Check out these awesome books and travel guides for more inspiration!
---
What Camera Gear Do We Use?
If you want to read more about what is in our camera bag, check out my detailed post about our travel photography gear!
---
Pin It for Later!