While it doesn't have those golden beaches found in Southern Thailand, Chiang Mai more than makes up for it with its mountains, waterfalls, ancient architecture, and mouth-watering eateries.
With hundreds of Buddhist temples, immersive (and ethical!) elephant sanctuaries, and breathtaking nature, there is much to fill your Chiang Mai itinerary.
Although Chiang Mai is a pretty large city, you can absolutely see the most spectacular parts of the area in a couple of days. And this is where my Chiang Mai 3 day itinerary comes into the equation.
I've pulled together a little bit of everything the region has to offer so that you can have an unforgettable experience. Read on to find out exactly what to do in Chiang Mai in 3 days!
Disclosure: *This post contains a few affiliate links, which means I may receive a small commission, at no cost to you, if you make a purchase through my link.*
No time to read now? Pin it for later!
Useful Info for Visiting Chiang Mai
How to get to Chiang Mai
Chiang Mai might feel remote but it's actually one of the easiest cities in Thailand to reach. You can fly, take the train or travel by bus.
Flying to Chiang Mai
Domestic flights to Chiang Mai depart from Bangkok's two airports as well as most other Thai cities (and islands) and other Southeast Asian cities. Popular budget airlines such as AirAsia provide affordable flights starting from 1,500 THB ($43.80 US).
If you are flying to Chiang Mai from an international destination you'll most likely have to transfer in Bangkok. Connections from either Suvarnabhumi Airport (BKK) or Don Mueang Airport (DMK) take less than 2 hours.
The great thing about Chiang Mai is that the airport is super central so it won't take you long to transfer to your accommodation. That saves valuable time out of your Chiang Mai itinerary!
Taking the train to Chiang Mai
If you're already in Thailand, a fun alternative to flying is taking the train north. There are several services per day operating from Bangkok's Hua Lamphong Station to Chiang Mai Station. The journey takes between 11 and 13 hours (although delays aren't uncommon).
You can travel during the day or opt for the sleeper train. Tickets vary based on whether you choose a first or second class, but prices start from 900 THB ($26.30 US). You should book your train tickets in advance either via your accommodation or online as services fill up quickly.
Taking the bus to Chiang Mai
Buses to Chiang Mai leave from Bangkok's Mo Chit Bus Terminal, located in the north of the city. Again you have the choice between traveling during the day or (the more popular option) by night.
Sleeper buses are air-conditioned and in good condition. Road conditions are paved and smooth but it might get a little bumpy at times. Tickets for the bus again vary but you should expect to pay between 600 THB ($17.50 US) and 900 THB ($26.30 US). The journey takes around 12 hours.
When you travel by bus or train in Thailand make sure that you keep your valuables close at all times.
Best time to visit Chiang Mai
When planning your 3 days in Chiang Mai itinerary, it's important to consider what the weather might be doing! Chiang Mai has three seasons; hot, rainy, and cool.
The hot season runs from March until June and temperatures can reach 40°C (104°F). If you travel during these months, plan your activities as early in the morning as possible. That midday sun is a real scorcher!
The rainy season runs from late June/early July until late September. The city is cooler but more humid and heavy rain can be expected for at least an hour or two each day. It's actually really beautiful to experience it but you will need to come prepared with your rain poncho. As this is the low season, Chiang Mai is quieter at this time.
Once the monsoon season ends, from October until early February the weather is lovely. For this reason, Chiang Mai can become quite crowded. It's warm during the day and cool enough to warrant a sweater in the evening! During the day, average temperatures linger around 25°C (77°F) and at night, it can be as cold as 13°C (55°F).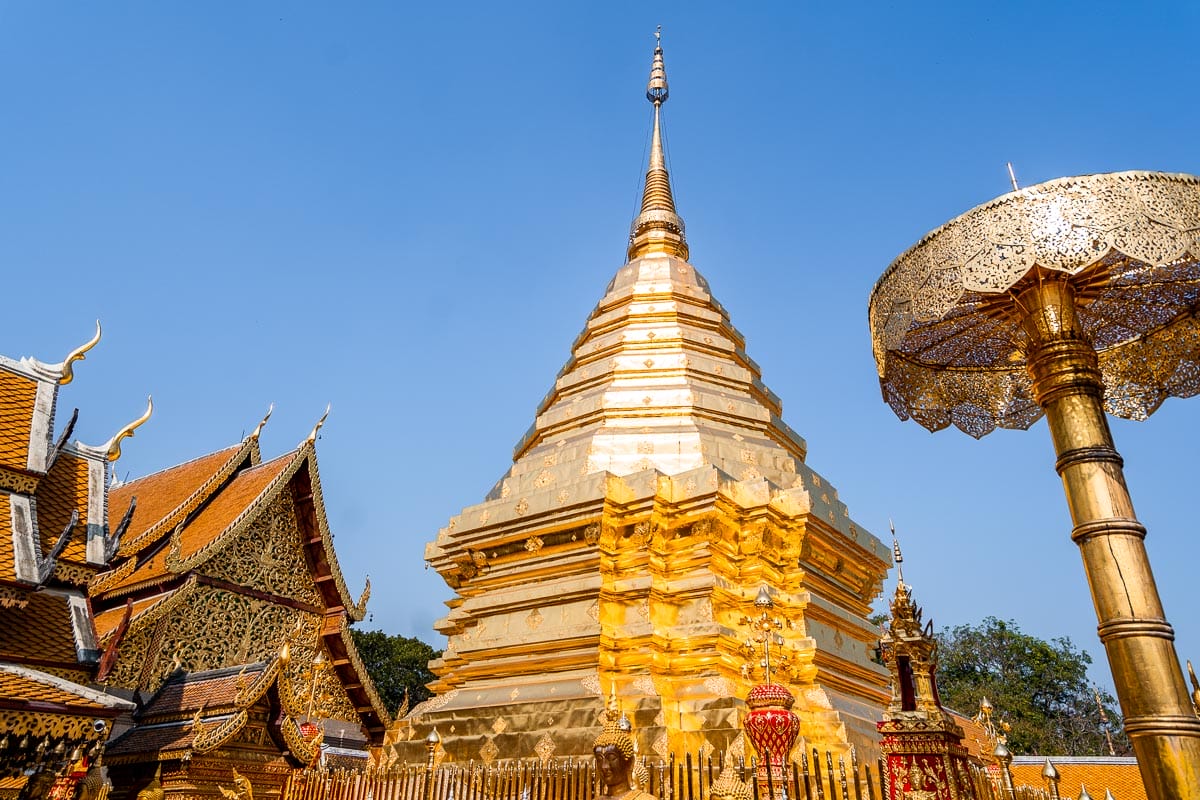 The only time I advise not to visit Chiang Mai is the period between mid-February and the end of March. This is when the local farmers burn their leftover crops and that is why the period is referred to as 'burning season.' The smog and pollution are not pleasant and it's best to avoid the area during these times.
If you want to schedule your Chiang Mai itinerary around some incredible festivals, then you have two options. April is when Songkran (Thailand's New Year) takes place. Between 13-15 April the streets become a giant water festival which is a really unique experience.
An alternative month to consider is November which is when the Yi Peng Lantern Festival takes place. Thais release paper lanterns into the night sky on the eve of the Full Moon, making wishes as they do so. Tourists are welcome to take part so if you plan your 3 days in Chiang Mai to coincide, you can make your own wish.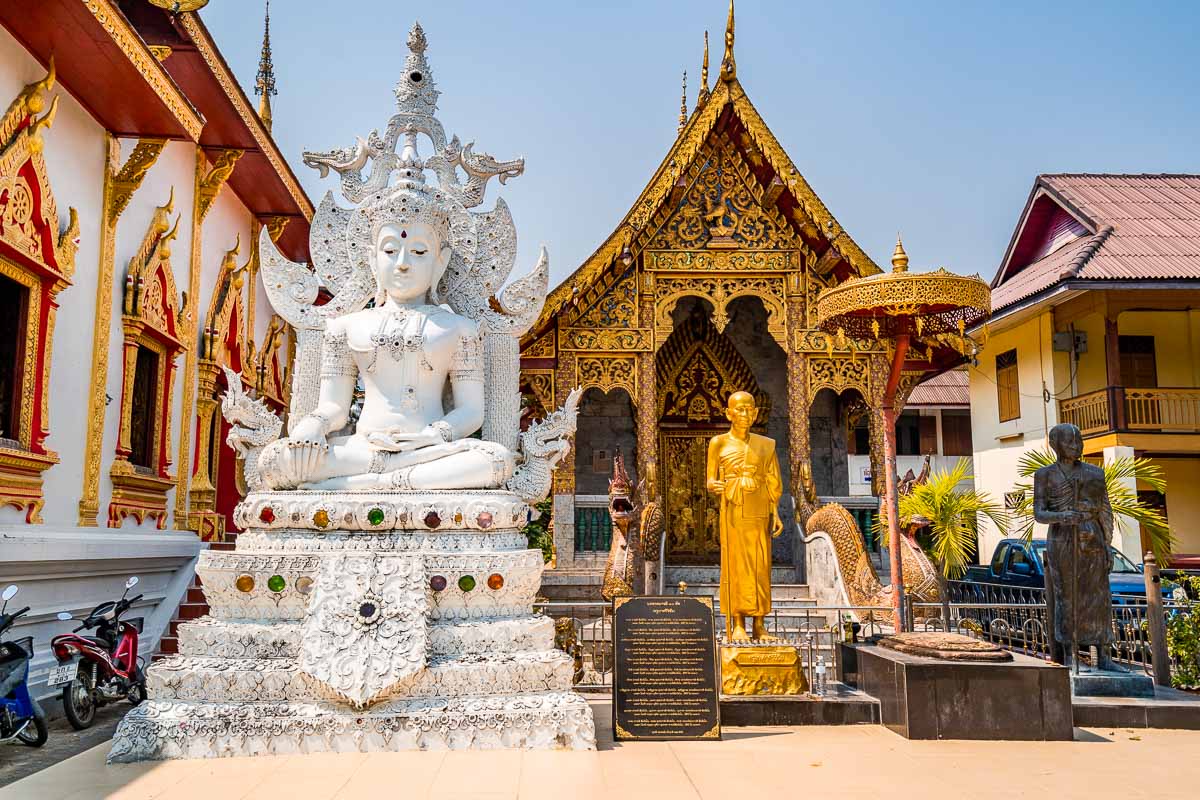 How to get around Chiang Mai
One of the best things about Chiang Mai is how easy it is to get around. Much of the Old Town is walkable but when you want to go further afield you have a bunch of options available.
Rent a motorbike
The best way to get around Chiang Mai is via motorbike. Usually, your hotel or Airbnb host can help you hire one. If not, you can find a rental on every street corner. Expect to pay around 250 THB ($7.30 US) for your rental.
Keep in mind that you'll need to have a valid driving license from your home country with an International Driver's Permit (IDP). Without these, you are driving illegally and may receive a fine from the Thai police. Not the best souvenir from your 3 days in Chiang Mai!
If you are not qualified to drive or would rather not ride a motorbike around these busy streets, then you have plenty of other options.
Songthaew
One of the best forms of public transportation in the whole of Thailand, songthaews are open-backed trucks with two rows of seats. They're red so you can't miss them.
When you see one, just flag it down and let the driver know where you want to go. If he's going the right way, you can hop onboard. Most short rides cost 30 THB ($0.90 US).
Taxi
You can download the Grab app which is the Southeast Asian equivalent to Uber. Short rides around downtown Chiang Mai and the surrounding area will cost no more than a couple of dollars each time. This is the faster alternative to riding the songthaews during your 3 days in Chiang Mai.
Where to stay in Chiang Mai
This popular city is teeming with hotels, hostels, and guest houses for you to choose between. Because Chiang Mai attracts backpackers, honeymooners, and families, there's loads of variety in terms of accommodation.
For your Chiang Mai 3 day itinerary, I recommend that you stay either within the Old Town or in the popular Nimmanhaemin Road area. This way you'll be close to all the places on my itinerary.
Below you can find the top-rated places to stay in Chiang Mai based on your budget. If you would prefer to stay in an Airbnb then check out my guide to the best Airbnbs in Chiang Mai!
LUXURY – The Inside House
Situated in Chiang Mai, 700 m from Wat Phra Singh, The Inside House features accommodation with a restaurant, free private parking, an outdoor swimming pool, and a bar. Guests at the accommodation can enjoy a buffet or an à la carte breakfast.
MID-RANGE – Yantarasri Resort
Located in the funky Nimman Road neighborhood, this boutique hotel features evocative rooms spread around the pool complex. The ultimate oasis for couples! Guests can enjoy a traditional Thai massage during their stay. Thai cuisine is served at the resort's restaurant, while refreshing beverages can be enjoyed at Pool Bar.
BUDGET – Chiangmun Boutique
Situated near Chang Puak Gate, Three Kings Monument, and Chang Puak Market, Chiangmun Boutique features units with a private bathroom and shower, air conditioning, a flat-screen TV, and a fridge. It's central, clean, and friendly on the wallet – what more could you want? It's also very quiet considering the location.
Overview of Your 3 Days in Chiang Mai Itinerary
Breakdown of what to do in Chiang Mai in 3 days
And now, it's the crux of the blog – what to do in Chiang Mai in 3 days! Below you can find a breakdown of what I've got planned for you.
Day 1: Temple-hopping in Old Town, Discover Chiang Mai's cafes, Visit a Museum, Thai Cooking Class
Day 2: Chiang Mai Elephant Jungle Sanctuary, Sticky Waterfalls, Nimmanhaemin Road
Day 3: Doi Suthep Temple, Bhubing Palace, Huay Kaew Waterfall, Night Market
Map for your 3 days in Chiang Mai itinerary
Below you can find a customized map that includes all the locations you're going to visit on this Chiang Mai itinerary. I marked your 3 days in Chiang Mai with different colors – I used blue for the first day, green for the second day, and red for the third day, so you can easily see which places you're going to visit each day.
If you open up this post on your phone and you click on the bracket in the upper right corner of the map, it will open up in your Google Maps app so you can always have it with you. Super convenient, right?
Day 1 of Your Chiang Mai Itinerary
Chiang Mai's historic Old Town is located within the ancient walls of the city which are in turn surrounded by a moat. For your first morning, you'll get to explore this fascinating downtown area.
Discover the Temples of Chiang Mai
If you're wondering what to do in Chiang Mai in 3 days then the answer is easy. With over 500 temples in Chiang Mai, it's time to slip on your sarong, cover your shoulders and go temple-hopping!
Because there are so many temples to choose from, I've pooled together my favorites that you simply must visit. You can easily walk to all of these over the course of the morning if you start early.
Wat Chedi Luang
Opening hours: 8 am – 5 pm
Entrance fee: 50 THB ($1.50 US)
This temple isn't quite as grand as some of the other temples you'll see on your Chiang Mai itinerary but it's just as atmospheric.
Built during the 14th and 15th centuries, the Emerald Buddha that you can now see in Bangkok's Grand Palace used to be housed in this temple! The stupa (chedi) used to be much taller but an earthquake caused major damage to it.
You will see four nagas (mythical sea serpents) guarding the stairways in each of the cardinal directions, plus five elephant sculptures on the southern side.
Wat Chiang Man
Opening hours: 8 am – 5 pm
Entrance fee: Free
As construction started in 1306, this is the oldest temple in Chiang Mai. However, it was developed over several centuries so you will see that the styles vary significantly.
You will see a standing Buddha statue that is believed to bring the rain that the local farmers require to grow their rice. The crystal Buddha is considered to have special healing powers.
Wat Phra Singh
Opening hours: 9 am – 6 pm
Entrance fee: 20 THB ($0.60 US)
The 14th century Wat Phra Singh features the most spectacular mosaic artwork you'll see during your temple tour! Its grand Lai Kam assembly hall also features murals that portray local life.
The main entrance to the sanctuary is guarded by lions, which explains the nickname, the Temple of the Lion Buddha. It's also known as the Golden Temple for its blinding stupa.
Wat Sri Suphan
Opening hours: 6 am – 6 pm
Entrance fee: 50 THB ($1.50 US)
Located just outside the walls, the Silver Temple is shrouded entirely with silver. Even the Buddha sculptures are silver, which is quite startling to see in place of the typical gold.
It was built around 1500 to serve as the temple for a local silversmith village. Around the temple, you will see workshops with craftspeople at work – and in fact, you can commission your own item.
Sadly, women are unable to enter the temple. However, the exteriors are a real sight to behold so it's still worth adding this one to your Chiang Mai itinerary.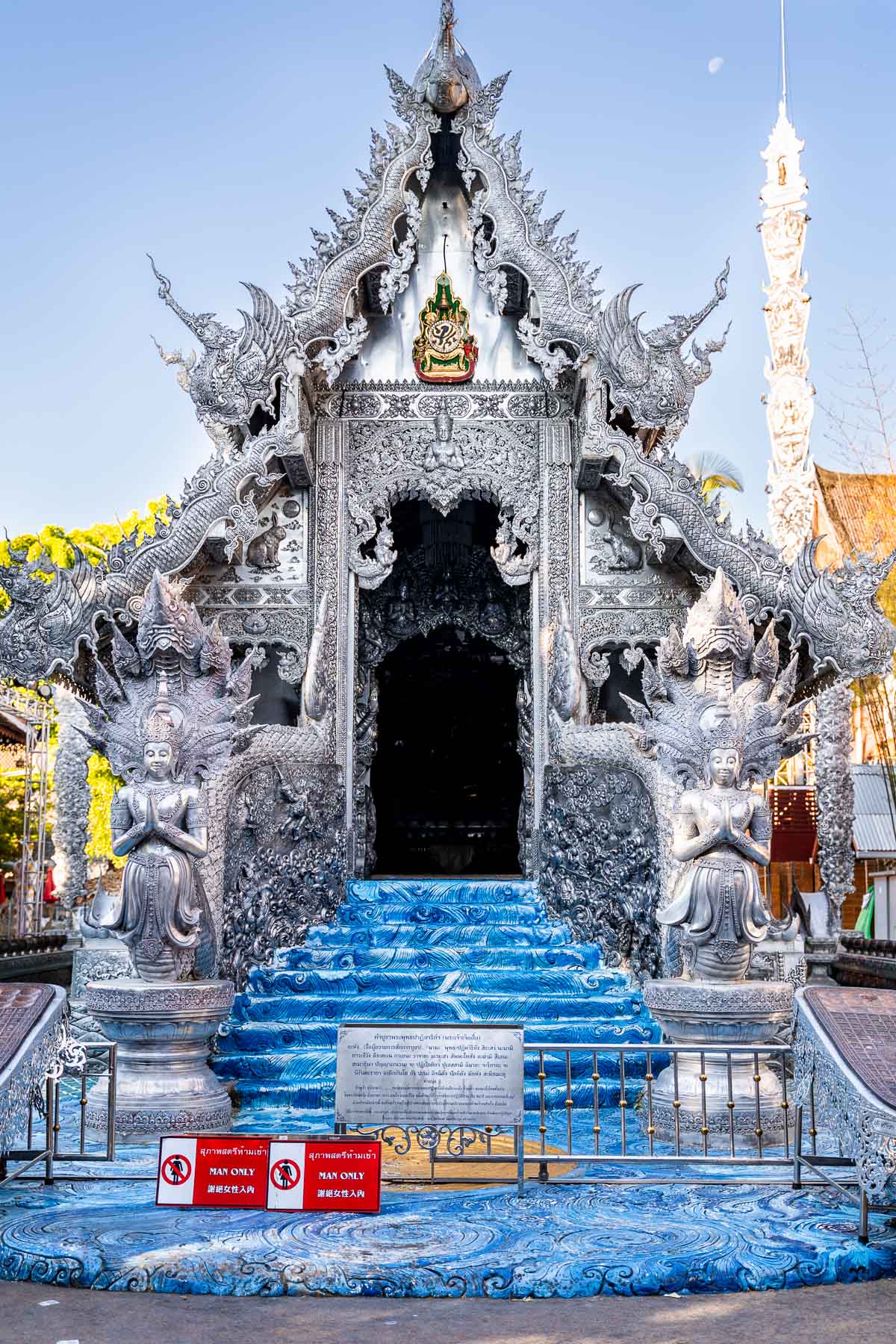 Sip an iced coffee or have lunch
When exploring all these magnificent temples, it's important to stay hydrated! Which in Chiang Mai is super easy thanks to all the wonderful cafes you'll find on every street. Two of my favorites are My Secret Cafe in Town and Artisan Cafe.
My Secret Cafe in Town is located right next to Wat Phra Singh. They serve light Western-style lunches like sandwiches and veggie platters and homemade cakes. It's a great place to start your morning.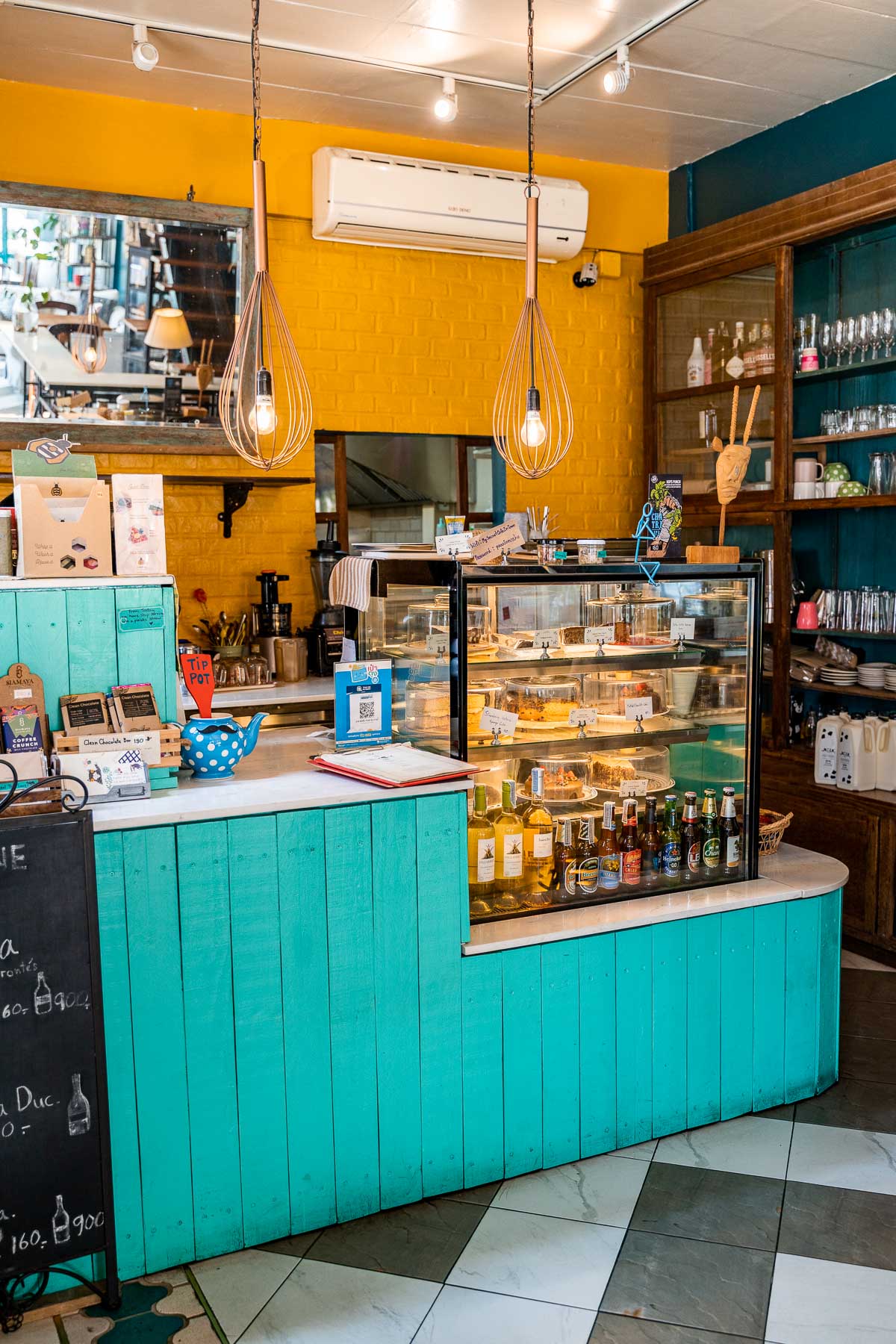 Artisan Cafe is just south of the walls, close to Wat Sri Suphan. They have a vintage vibe inside and serve some of the tastiest coffee in Chiang Mai. Oh, and more cake – you'll earn two slices today with all the walking. You can also make this your lunch stop!
Visit a museum in Chiang Mai
Chiang Mai is the cultural heart of Thailand so you simply must squeeze in at least one museum in your 3 days in Chiang Mai itinerary.
The Chiang Mai City Arts and Cultural Centre is located next to the Three Kings Monument. The collection spans art and artifacts from prehistoric times so it's a great opportunity to learn how the culture and lifestyle have evolved over centuries in the region.
Entry is 90 THB ($2.60 US) and it is open 8.30 am – 4.30 pm Wednesday-Sunday (closed Monday/Tuesday).
The Chiang Mai National Museum is an alternative, however, it is not in the Old City so you will need to drive there or hail a songthaew. The museum has a phenomenal number of Buddha statues and relics that gleam insight into the ancient Lanna kingdom.
Entry is 100 THB ($3 US) and it is open 9 am – 4 pm Wednesday-Sunday (again – closed Monday/Tuesday).
For either museum, plan to stay for at least 1 hour.
Thai cooking class
Thai food is utterly delicious so what could be a better keepsake from your 3 days in Chiang Mai than learning the secrets behind your favorite dish?
Cooking classes in Chiang Mai are fully immersive – you will cook your own dishes under careful supervision from an expert Thai chef. The best thing is that you get to eat your own creations! While there are lots of cooking schools in Chiang Mai, these classes are very popular so definitely book your place in advance!
One of the top-rated tours is this Authentic Thai Cooking Class and Farm Visit where you can not only choose between a morning (8.30 am) or afternoon class (4 pm), but you can also spend a full day learning how to prepare the best Thai dishes (starting from 9 am).
Moreover, you can visit a local organic farm before the cooking starts and you can also create your very own curry paste.
Day 2 of Your Chiang Mai Itinerary
For the second day, you'll be leaving the Old Town and seeing the wilder side of Chiang Mai! Set your alarm for today, you'll have an early start.
Chiang Mai Elephant Jungle Sanctuary
One of the most special things to do in Chiang Mai is to visit an ethical elephant sanctuary. There are a few options to choose from but the most important thing is to check that no elephant rides are permitted.
I'll be honest with you, I was very hesitant to go first as I don't like supporting animal tourism in general. But meeting with the elephants was one of my life-long dreams so after careful research I chose to book a tour at Chiang Mai Elephant Jungle Sanctuary.
After my personal experience, I can safely say that they are indeed the bests! The elephants are treated with the respect they deserve and the guides are passionate and knowledgeable about the majestic creatures.
The only thing I did not like was the mud bathing with the elephants because it felt a little bit forced. Nevertheless, you can choose not to participate like I did and photograph the elephants instead.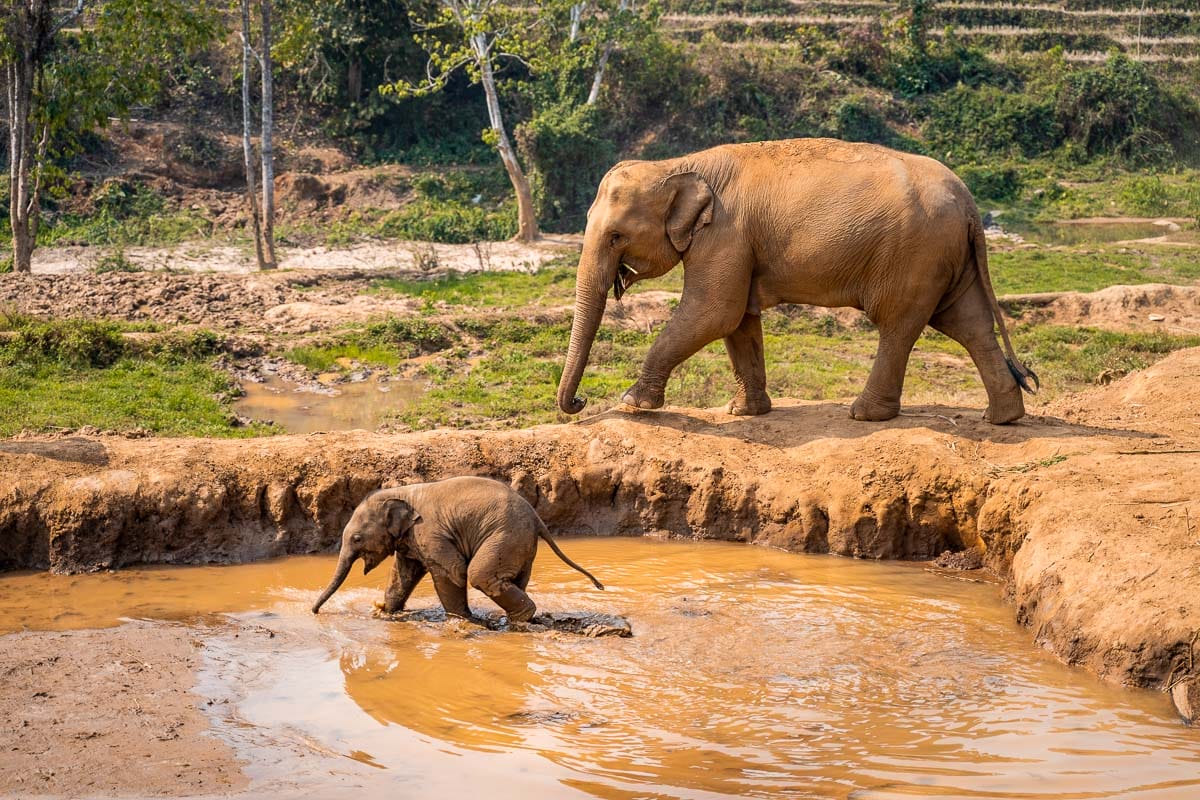 You can book either a morning, afternoon, or full-day visit. We opted for a half-day morning visit and this is what I recommend to you as well.
Even the half-day visit will provide an experience you will never forget! This is another part of your Chiang Mai itinerary that you need to book in advance as group sizes are limited.
The sanctuary is located 1.5 hours out of downtown Chiang Mai and a free transfer is arranged at the cost of your visit. Due to the terrain for the final stretch of the journey, the sanctuary does not permit visitors to drive themselves to the site.
Admission costs 1,900 THB ($55.80 US) per adult and your visit includes the opportunity to meet and feed the elephants. Touching is permitted and you may apply a mud treatment to the elephants but you are not allowed to ride them.
Apart from meeting the elephants, your ticket also includes transport to and from the sanctuary, some scrumptious Thai food, and the hire of traditional Karen clothing.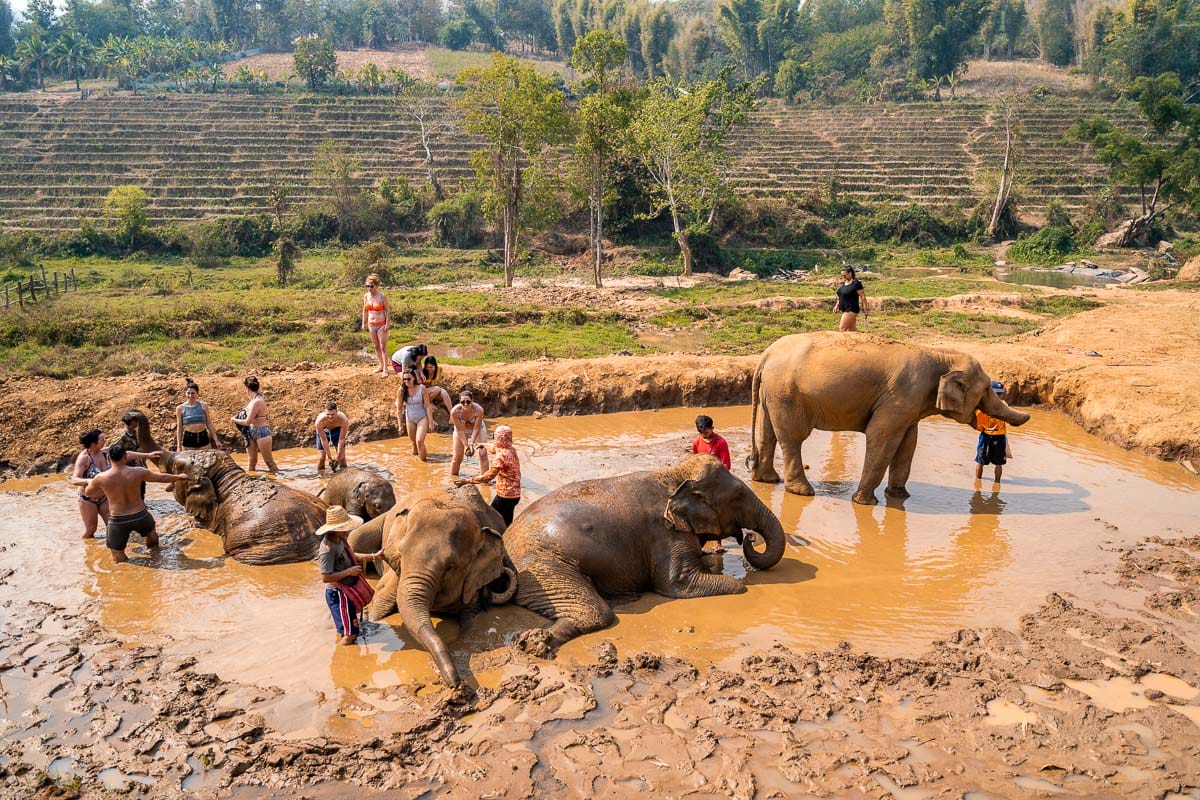 Sticky Waterfalls
If you follow my suggestion and book a morning at the Elephant Jungle Sanctuary then that leaves your afternoon free. Free for visiting a one-of-a-kind waterfall!
The Bua Tong 'Sticky' Waterfalls are so-called because the limestone rocks create friction which makes it easy to clamber around without slipping. Definitely take your swimsuit and a towel. They are totally free to visit, which is amazing!
The Sticky Waterfalls are located just over an hour north of Chiang Mai. This gives you a chance to freshen up at your hotel once you return from the elephant sanctuary.
If this is too much driving for today, my alternative suggestion is to hike the Monk's Trail, which starts a short ride from Old Town. The hour-long hike takes you through the jungle at the foot of Doi Suthep mountain to Wat Pha Lat.
It's named the Monk's Trail because the route is marked by the orange robes of monks. The trek is not challenging but if you do this in the afternoon it could be very hot so take plenty of water.
Nimmanhaemin Road
After a busy day, it's time to let your hair down and experience the best food and nightlife Chiang Mai has to offer. Nimmanhaemin 'Nimman' Road is a popular spot for Thais, expats, and tourists alike.
Here is where you can find the best cafes in Chiang Mai, along with many great restaurants and exciting bars.
I'm going to suggest you either choose Khao Soy Nimman for some of the best noodles in town or Anchan Vegetarian for wholesome veggie Thai dishes. If you're in a mood for a little night out, visit Rise Rooftop Bar for wonderful views and excellent cocktails.
Day 3 of your Chiang Mai Itinerary
For your last day in Chiang Mai, you'll explore the incredible mountain of Doi Suthep that towers over the city.
Wat Phra That Doi Suthep
If you thought you'd seen the best of Chiang Mai's temples already, think again! Perched high into the mountains, you'll find what is arguably the most stunning of all the temples in town.
Officially called Wat Phra That Doi Suthep but generally referred to as Doi Suthep, is one of the most sacred temples in the whole of Thailand.
King Keu Naone established the monastery in 1383 to enshrine a piece of bone that was believed to come from the shoulder of Buddha. A white elephant carried the bone into the hills, which is how the location was chosen. This is why you'll see a sculpture in honor of the elephant.
To reach the huge golden chedi at the heart of the complex you need to ascend a 306-step staircase flanked by naga. Once inside the premises, you can see incredible relics, statues, and art, and observe monks and locals praying.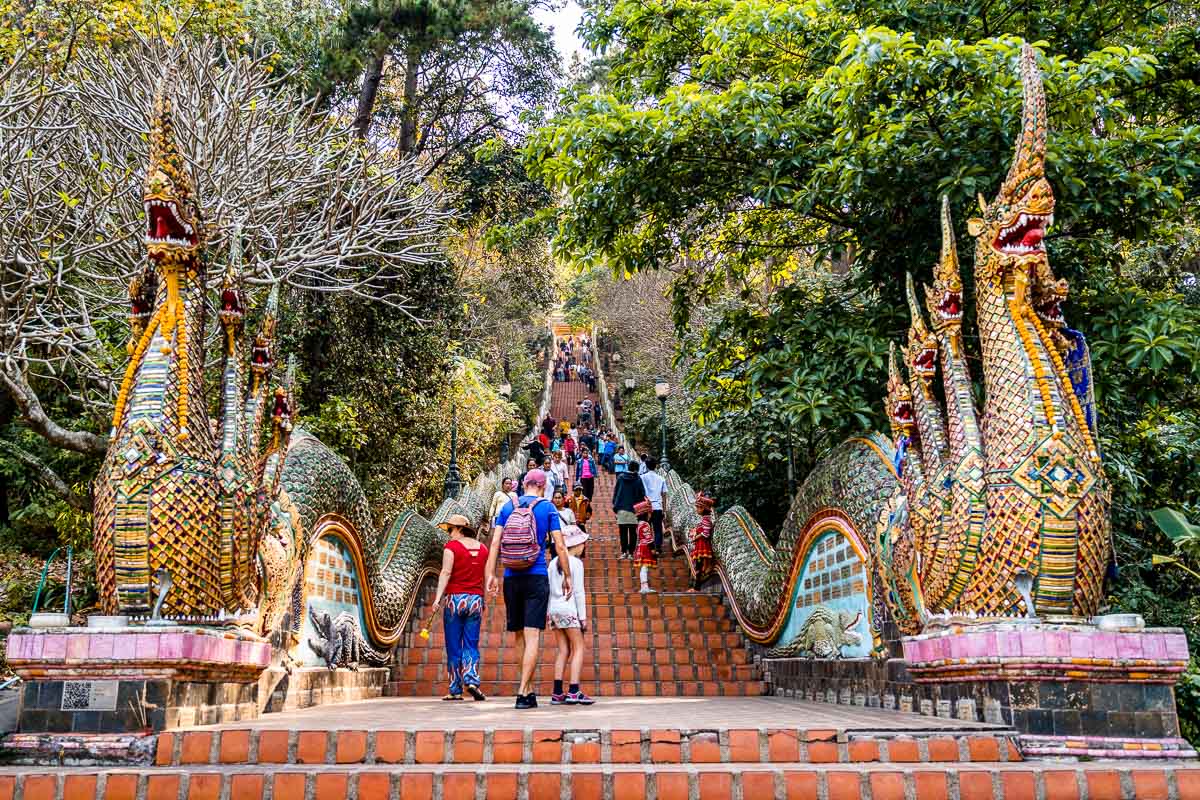 Entry to foreigners is 30 THB ($0.90 US). Plan to spend 1-2 hours checking out the complex and the views. Note that you again must cover your knees and shoulders when you visit the monastery. You will also need to leave your shoes at the entrance.
If you're feeling hungry, I recommend grabbing a bowl of khao soi. This is a coconutty, spicy broth served with meat (usually chicken) and crunchy noodles. It's a Chiang Mai specialty and there's no better place to enjoy it than from the top of Doi Suthep!
Bhubing Palace (currently closed to the public)
Continue 10 minutes up the road and you can explore Bhubing Palace. This is one of the royal residences in Thailand used during January and February, during which time you can only visit the grounds.
It's the rose garden and giant bamboo that steals the show here – they're utterly gorgeous and fun to photograph.
Entry to Bhubing Palace is 50 THB ($1.50 US) and you will spend around 30-45 minutes here.
Namtok Huay Kaew Waterfall
As you head back down the mountain, there is a small waterfall that I recommend stopping off at to cool down. Namtok Huay Kaew Waterfall is located just behind the zoo and is clearly signposted.
The 10-meter falls crash into a pool where you can take a dip and enjoy the tranquility of nature-only moments from downtown Chiang Mai!
You'll have a bit of free time for the final afternoon of your 3 days in Chiang Mai itinerary. Take this as an opportunity to explore more coffee shops, temples, or museums. Or you can treat yourself to a traditional Thai massage!
Night Market
There are several night markets in Chiang Mai and it's worth exploring at least one during your 3 days in Chiang Mai.
The Chiang Mai Night Bazaar is held every night between 6 pm and 12 am. It's located in a trendy neighborhood east of the moat. There is a real mixed bag of things to buy – there are some more authentic souvenirs but there are a lot of fakes too!
However, it's a cool experience with a lively atmosphere and good food choices. Note that this is the most popular market so it does get very busy.
If your Chiang Mai 3 day itinerary falls over the weekend, then you can check out either the Saturday Night Market or Sunday night market.
The Saturday market takes place on Wua Lai Road, just south of the walls. Meanwhile, Sunday's offering takes place just behind Wat Chedi Luang and is the best option for finding arts and crafts.
---
Planning a trip to Thailand?
Then you might want to take a look at all our other travel guides about Thailand. I promise, they are just as awesome as this article was!
---
Related Posts
Want to read more about Thailand?
---
More Thailand Resources
Do you want to know even more about Thailand? Check out these awesome books and travel guides for more inspiration!
---
Pin It for Later!