Brushing up against the Laos and Myanmar borders, Chiang Rai is the northernmost province in Thailand. Its mountainous terrain is punctuated by hill tribes, hundreds of temples, beautiful national parks, and the city of Chiang Rai.
Many travelers visit Chiang Rai as a day trip from Chiang Mai. This is ideal if you're short on time but I recommend that you try to spend at least 2 days in Chiang Rai to make the most of the region. Besides the temples, you have museums, art galleries, waterfalls, and even a beach to discover.
My Chiang Rai itinerary was put together in a way that it's suitable for travelers who have 2 full days in Chiang Rai and for those visiting for a night from Chiang Mai as well.
*Disclosure: This post contains a few affiliate links, which means I may receive a small commission, at no cost to you, if you make a purchase through my link.*
No time to read now? Pin it for later!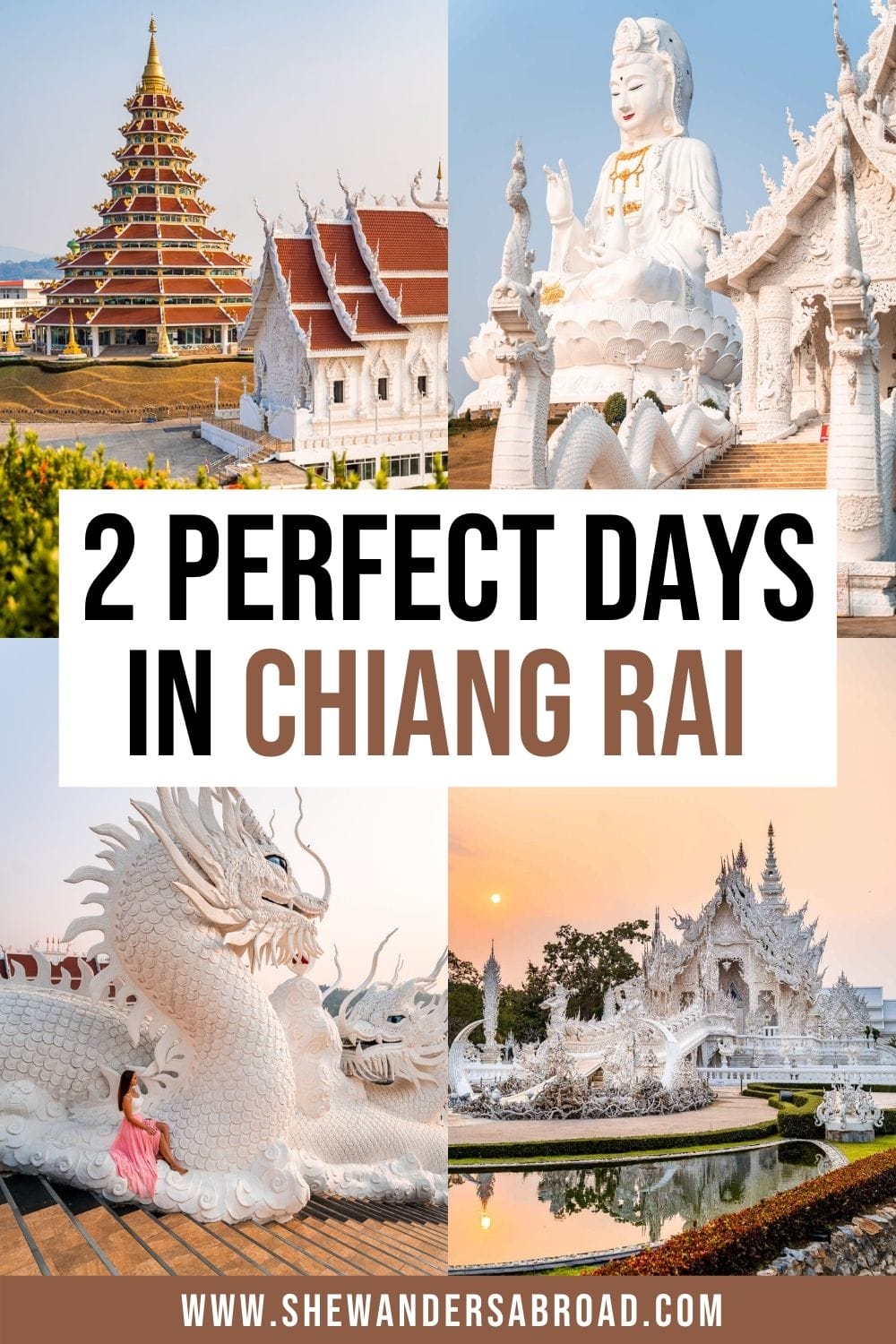 Useful Info for Visiting Chiang Rai
How to get to Chiang Rai
How to get to Chiang Rai from Chiang Mai
If you're planning to visit Chiang Rai from Chiang Mai, you can take the bus from Chiang Mai Bus Terminal 3. The route is served by Green Bus and you can pre-book your tickets online or buy them at the bus station. Note that buses sell out fast during the peak season so it's worth booking your tickets in advance.
Bus tickets start at 200 THB ($5.90 US) and rise upwards of 300 THB ($8.80 US) based on the specific time and class you choose. The journey takes 4 hours on average but is subject to traffic and may take longer.
It is possible to book a private taxi to take you to Chiang Rai from Chiang Mai. The quickest journey will take around 3 hours and it will cost 2,000-2,500 THB ($59-73 US) one way.
In case you're planning to come from Chiang Mai, you might be interested in reading my 3 day Chiang Mai itinerary as well!
How to get to Chiang Rai from Bangkok
Flights from Bangkok take 90 minutes and arrive at Chiang Rai International Airport (Mae Fah Luang). Budget flights start at 1,500 THB ($44 US) but can be twice that amount so it's worth booking early. Connections depart from both Suvarnabhumi (BKK) and Don Muang (DMK) airports.
Taking 12-13 hours, the bus is the cheaper but longer alternative to start your 2 day Chiang Rai itinerary from Bangkok. Tickets each way start at 800 THB ($23.50 US). An overnight bus is the best choice as the journey is quicker and you'll save a night of accommodation fees. You can buy a bus ticket at Mochit Bus Terminal or book online in advance.
If you're planning to come from Bangkok, take a look at my 4 day Bangkok itinerary! You won't have that much time in Bangkok? No worries, then check out my guide about how to spend 24 hours in Bangkok!
Best time to visit Chiang Rai
Located in the mountainous north, Chiang Rai benefits from a cooler climate than Southern Thailand. However, it still features three seasons; cool, hot, and rainy.
November to February is the cool season and sees average day temperatures around 25°C (77°F) and nights plunge as low as 15°C (59°F). This is the most popular time to visit Chiang Rai so the city will be busier.
The hot season kicks off in March and lasts until early June. Temperatures soar above 30°C (86°F) with April seeing the hottest daily average, around 35°C (95°F). While Chiang Mai suffers the brunt of the burning season, the annual burning of crops by farmers in Northern Thailand can also impact the air quality in Chiang Rai. Avoid visiting from late February until late March.
Early June sees the onset of the rainy season. Temperatures bob around the late 20°C (80°F) and you will need to prepare for rain while exploring Chiang Rai in 2 days. On the plus side, the landscapes are at their most lush and green.
How to get around Chiang Rai
Once you're in Chiang Rai you might want to hire a motorbike to explore the sights. Rentals cost 250-300 THB ($7.30-8.80 US) per day on average. A fun alternative is to hire a bicycle but for attractions such as the White Temple, it is too far to cycle for most people.
Another cheap way to explore is by songthaews (pick-up trucks). These are blue and will stop when you flag them down. Short rides to attractions near the town cost around 30 THB ($0.90 US).
Grab is available in Chiang Rai and is more cost-effective than regular taxis, so download the app on your phone and you are all set. Short journeys around the surrounding attractions will cost you 150-200 THB ($4.40-5.90 US).
Your final option is to book a private driver or join tours to explore Chiang Rai. If this sounds like the best option for you, your guesthouse will be able to put you in contact with a trusted driver.
Where to stay in Chiang Rai
LUXURY – TEVA Valley Resort
This luxury hotel offers spacious modern rooms with air conditioning and immaculate bathrooms. You can appreciate mountain panoramas from the on-site swimming pool. The rate includes a free daily breakfast.
MID-RANGE – Hotel Mora Boutique Hotel
Perfect for couples and honeymooners, this pristine hotel is situated in the heart of town and provides a sanctuary after a day of exploring. The best rooms feature a free-standing bathtub, four-poster beds, and a balcony. On site you will find an expansive swimming pool shrouded by palm trees and free bicycles.
BUDGET – Hotel Rasa Boutique Hotel Chiang Rai
These Moroccan-themed bedrooms are heaving with color and have a warmth that you'll particularly appreciate if you visit Chiang Rai during the cool season. If you visit during the hot season you will welcome the air conditioning and swimming pool. Perfect for budget travelers, the rate includes breakfast.
Overview of Your Chiang Rai Itinerary
Breakdown of your 2 day Chiang Rai itinerary
Day 1: Khun Korn Waterfall*, Wat Rong Khun (White Temple), Baan Dam Museum (Black House), Wat Rong Suea Ten (Blue Temple), Chivit Thamma Da Coffee House, Chiang Rai Clock Tower, Chiang Rai Walking Street, Chiang Rai Night Bazaar
Day 2: Wat Huay Pla Kang, Huay Mark Liam Hot Spring, Pha Soet Hot Spa, Chiang Rai River Beach*, Buddha Cave Temple*, Wat Phra Kaew*, Wat Ming Muang*
*For those taking a 2 day trip to Chiang Rai from Chiang Mai, you will need to skip all or some of these activities.
Map for the best things to do in Chiang Rai in 2 days
Below you can find a customized map that includes all the locations you're going to visit on this Chiang Rai itinerary. I marked your 2 days in Chiang Rai with different colors – I used blue for the first day and red for the second day, so you can easily see which places you're going to visit each day.
If you open up this post on your phone and you click on the bracket in the upper right corner of the map, it will automatically save this map to your Google Maps app so you can always have it with you. Super convenient, right?
Day 1 of Your Chiang Rai Itinerary
Khun Korn Waterfall
Assuming that you are already in Chiang Rai, then you can throw yourself straight into the first spot on your Chiang Rai itinerary and visit a beautiful waterfall. In case you're visiting Chiang Rai from Chiang Mai for one night only, sadly you will have to skip this waterfall as you will use the morning to travel between the two cities.
At 70 meters (230 feet), Khun Korn Waterfall is one of the tallest waterfalls in Thailand. From the parking area, you will need to hike for 1.5 km (1 mile) through the beautiful forest to reach the waterfall.
This trail is easy to follow, not challenging physically, and includes passing over a picturesque bamboo bridge. Once you reach the waterfall you can swim in the pool but you won't want to get too close to the gushing water, it's very powerful.
Khun Korn Waterfall is located in the Khun Korn Forest Park, a 40-50 minute drive out of Chiang Rai. It is accessible to visitors between 8.30 am – 4.30 pm daily although it is subject to closure during the wet season if the conditions are dangerous.
You can ask your guesthouse for advice before visiting. It's free to visit and swim in the waterfall.
Wat Rong Khun (White Temple)
More commonly known as the White Temple, Wat Rong Khun is one of the stars of your 2 day Chiang Rai itinerary. As construction only began in 1997, this is a young temple and it's constantly being added to.
It was conceived as a testament to the purity of Buddha and its design depicts the Buddhist cycle of birth and death (samsara) and the escape of greed.
Look closely at the exteriors and you'll see skulls, grasping hands, and even depictions of Angry Birds, Gollum, and Neo from The Matrix among other contemporary faces. The architect behind this iconic and peculiar site is the visual artist Chalermchai Kositpipat.
The entrance to Wat Rong Khun is 100 THB ($3 US) and it's open every day from 8 am to 5 pm. You will need to cover up in modest clothing that covers your legs and shoulders. If you forget, you can hire a sarong at the site.
From Khun Korn Waterfall you can come directly here in 20 minutes without going back to downtown Chiang Rai. In case you just arrived from Chiang Mai, then this will be your first stop on your Chiang Rai itinerary and it will take you around 20 minutes to reach the temple from the city.
Baan Dam Museum (Black House)
Often referred to as the Black House, the Baan Dam Museum was created by the visionary Thai artist Thawan Duchanee. It comprises a series of buildings that are stuffed with all kinds of artworks with the overarching themes being death and Duchanee's imagining of hell.
There is a lot of darkness but everything is artistically presented and it's really a fascinating addition to your Chiang Rai itinerary.
Not all the buildings are open but there are still loads of installations to see. Such pieces you'll find include a throne made of animal horns, a snakeskin table runner, and Buddhist stupas reimagined with contemporary graffiti.
There is a huge submarine-shaped building that was the headquarters of the now-deceased artist, however, it is not possible to enter this room.
The entrance to the Baan Dam Museum is 80 THB ($2.35 US) and the complex is open between 9 am – 5 pm, daily. It takes 30 minutes to drive directly to the museum from Wat Rong Khun and the journey is faster if you bypass the city and take Route 131.
Wat Rong Suea Ten (Blue Temple)
Second only to Wat Rong Khun, Wat Rong Suea Ten (Blue Temple) is another of the best temples to visit in Chiang Rai in 2 days. It's nicknamed the Blue Temple due to the azure coloring.
However, the temple is really named for the tigers who once dwelled in this part of Chiang Rai and literally translates into 'the house of the dancing tigers.'
The temple was designed by Putha Kabkaew who was a student of Chalermchai Kositpipat, the artist behind Wat Rong Khun (the White Temple). It is guarded by naga serpents and surrounded by statues of magical Buddhist figures and mythological creatures.
Step inside the temple and you'll be greeted by a seated Buddha in startling white and a wonderland of blue walls with colorful paintings telling of Buddha's life.
Entrance to Wat Rong Suea Ten is free and it is open from 7 am to 8 pm, daily. It's a 20-minute drive from Baan Dam Museum. If you have a sweet tooth, you have to try the coconut ice cream from one of the stalls around the temple, it's heavenly!
Chivit Thamma Da Coffee House, Bistro & Bar
Before you return to the city center or your accommodation, I recommend that you squeeze in dinner at this lovely restaurant. Chivit Thamma is located right on the banks of the Kok River and it's only a 5-minute walk from Wat Rong Suea Ten.
They serve iced coffees, smoothies, and cocktails alongside organic dishes sourced from local producers. The menu is vastly Thai and Asian with a couple of Western favorites thrown into the mix.
You can dine al fresco with a view of the river and surrounding greenery. If you are too full for dessert, my tip is to take some sweet treats from the bakery to enjoy later.
Chiang Rai Clock Tower
Now that you have a full stomach, you can visit another of the icons of Chiang Rai. Of course, you can visit the clock tower any time during your Chiang Rai itinerary to appreciate the artistry (this is another masterpiece designed by Chalermchai Kositpipat).
However, I urge you to see it under the night sky once it's all illuminated and the gold really gleams.
The clock tower was created in honor of His Majesty King Bhumibol Adulyadej and serves a dual purpose as it's also a roundabout. Every night of the week there is a 5-minute light show starting at 7 pm, 8 pm, and 9 pm. This is free to watch so it's definitely worth adding it to your Chiang Rai itinerary!
Chiang Rai Walking Street
If your 2 days in Chiang Rai coincide with the weekend then you can pay a visit to Chiang Rai Walking Street. You can sample street food and browse trinkets such as wooden carvings, batik clothing, and beyond. There is usually some live music and street performances throughout the night too.
You will find the market on Thana Lai Road, it's around 1 km (0.6 miles) in length. The market opens on Saturday evenings, 4 pm – 11 pm but it doesn't really get started until after 6 pm.
Chiang Rai Night Bazaar
Not visiting over a weekend? Then you can get your satay and souvenir fix at the Chiang Rai Night Bazaar which takes place every evening, between 6 pm – 11 pm. This night market is located just off Phaholyothin Road and follows a similar setup to the Saturday night bazaar.
Day 2 of Your Chiang Rai Itinerary
Wat Huay Pla Kang
Rise and shine, today you will wake up to catch the sunrise at Wat Huay Pla Kang. The highlight of this complex is the colossal representation of the Chinese Goddess of Mercy, Guan Yin, who is seated on a platform of lotus flowers.
Associated with compassion, the goddess achieved enlightenment and chose to linger in our world to help guide others in her path. To access the base of the seated Guan Yin you will need to climb up a long staircase flanked by two giant nagas.
You can then choose to ride the elevator to the head of the goddess for an unparalleled view across the countryside.
Adjacent to Guan Yin you will find a Thai temple and a 9 tier pagoda in the shape of a pyramid. The architecture across the Wat Huay Pla Kang complex is a fusion of Chinese and Lanna style, you will find more nagas guarding the temple while Chinese dragons safeguard the pagoda.
Admission to Wat Huay Pla Kang is free but the elevator costs 40 THB ($1.20 US). Wat Huay Pla Kang is a 15-minute drive from downtown Chiang Rai.
Huay Mark Liam Hot Spring
After enjoying the sunrise you can head straight to your next spot or you can pick up some breakfast first. There are cafes around Wat Huay Pla Kang such as the Secret Garden or if you want to head back to town you can check out Coffeeenergy Chiang Rai.
Huay Mark Liam Hot Spring is located in Lam Nam Kok National Park. This spring is too hot to swim in but because of the beautiful setting, it's a nice spot to visit for photos.
When the sun is out, the water is a striking shade of turquoise and you can watch the sulphuric steam rising above the pool. As a bonus, it's completely free to visit this natural hot spring!
Pha Soet Hot Spa
As you drive to the Huay Mark Liam Hot Spring you will pass this spring on the way. Once you've admired the other spring, you can double back and visit the Pha Soet Hot Spa. It's less pretty to look at but the great thing about this one is that you can take a dip.
A swim in the communal hot spa is 50 THB ($1.50 US). Alternatively, you can book a private spa. These are priced as per the size; a small private bath that accommodates two people costs 80 THB ($2.35 US). You can tap on a massage if you so wish! The hot spas are closed on Monday and Thursday.
If you are visiting Chiang Rai from Chiang Mai for only one night, at this point you might want to take the bus back. Alternatively, you can stay a little longer and check out one or two of the following activities. For those of you staying another night in town, you will be able to fit all of the following things into your Chiang Rai itinerary.
Chiang Rai River Beach & Wat Tham Phra
Beach might be a little deceptive but the next spot on your itinerary is still a treat! There is plenty of seating along the riverside and you will find restaurants where you can enjoy a scenic lunch as well as therapy booths offering Thai and aromatherapy massages.
It's safe to swim in the water but take note that currents may be stronger during the rainy season. While you're here you can also pay a visit to Wat Tham Phra which is a small cave tavern. The beach is a 30-minute drive from Pha Soet Hot Spa and it is free to relax on the shoreside.
Wat Phra Kaew
As the temples you have visited so far are all relatively new, I suggest you add a couple of the older buildings to your Chiang Rai itinerary, and Wat Phra Kaew is one of the oldest temples in the city.
If you have already explored Bangkok then you will probably have visited Wat Phra Kaew at the Grand Palace. The Emerald Buddha is one of the most sacred representations of Buddha and is currently housed in the Bangkok temple.
However, the statue was in fact discovered at this temple by chance back in 1434. At this Wat Phra Kaew in central Chiang Rai, you will see a replica of the original icon.
Wat Phra Kaew is open 8 am – 5 pm, daily. Admission is free but donations to maintain the temple are graciously received.
Wat Ming Muang
Wrap up your 2 days in Chiang Rai with one final temple! Wat Ming Muang is a modest yet spectacularly decorated temple that has stood for 700 years. It incorporates elements of Burmese architecture alongside Thai features and is guarded by elephants rather than the typical nagas.
Wat Ming Muang is a 5-minute walk from Wat Phra Kaew. It is open to visitors 8 am – 5 pm every day and it's free to visit.
---
Planning a trip to Thailand?
Then you might want to take a look at all our other travel guides about Thailand. I promise, they are just as awesome as this article was!
Bangkok:
Chiang Mai:
Chiang Rai:
General Thailand:
---
Pin It for Later!