Bangkok is a vibrant, chaotic city in the heart of Thailand that everyone seems to have a love or hate relationship with. It's a really great starting point for a Southeast Asian trip or a beach vacation in Thailand so if you're planning to travel around the area it's worth setting aside a few days for Bangkok as well.
Spending 4 days in Bangkok will give you the chance to visit the best places in the city and this 4 day Bangkok itinerary will show you how you can make the best of your time!
*Disclosure: This post contains a few affiliate links, which means I may receive a small commission, at no cost to you, if you make a purchase through my link.*
No time to read now? Pin it for later!
Useful Info for Visiting Bangkok
Before we go over all the fabulous things to do in Bangkok in 4 days, let's talk about some practical details for your trip to the Thai capital.
How to get to Bangkok
By plane
If you're traveling from overseas, you will probably arrive at one of Bangkok's two airports.
Suvarnabhumi (BKK) is the youngest, largest, and most developed airport. This is where you'll probably fly if you're traveling from Europe or the US. Situated in the southeast corner of the city, it's around 30 minutes by taxi to downtown Bangkok.
Don Muang (DMK) is an older airport and serves low-cost airlines such as AirAsia and typically serves domestic and regional flights. It's located in the north of the city and again takes approximately 30 minutes by taxi to reach downtown Bangkok. Or you can save your cash and hop on the metro or bus.
By train
If you are already in Thailand then you could always take the scenic route and travel by train to Bangkok.
The main railway station, Hua Lamphong Station, is located centrally in town within the Pathum Wan District. You can connect to Bangkok from the likes of Chiang Mai, Chumphon, and Surat Thani. Trains in Thailand are as comfortable as you are willing to pay – prices vary based on the length of the route and which class you take. Definitely book at least a week in advance during high season as trains get very busy.
By bus
Alternatively, you can take the bus to Bangkok. Bus routes connect Bangkok with all major Thai cities and the southern islands. This is a quick, cost-effective way to travel around the country especially if you opt for night buses.
Thai roads are in excellent condition so while you won't get the best night's sleep, it really could be a lot worse. You can book bus tickets at bus stations, via your accommodation, or online. You can also travel to Bangkok from neighboring Southeast Asian countries if you're already traveling in the region.
Best time to visit Bangkok
One important thing to know about Bangkok is that whatever time of year you visit, it won't dip below 25°C (77 °F)!
Thailand has two seasons, dry season and monsoon season (or 'green' season). The monsoon season starts late May/early June and runs to mid-October. During these months, Bangkok can be lashed with rain on a daily basis. Luckily, it will often only rain for an hour or so and shouldn't interfere too much with your sightseeing.
The dry season sees temperatures skirt around the high 20°C (around 86°F) with December, January, and February being the busiest months for tourism.
If you want agreeable weather and fewer crowds, plan your 4 days in Bangkok for the shoulder season of March/April or November.
How to get around Bangkok
As a major, metropolitan city, Bangkok has a fantastic public transport system in place. This will enable you to see the best of Bangkok in 4 days without worrying too much about how to get from A to B.
Taxi
I recommend you start your 4 day Bangkok itinerary by investing in a Thai SIM card and downloading the local rideshare app, Grab. This way you don't need to worry about negotiating your fares or overpaying.
Fees vary based on the journey but expect anything from 60 THB ($1.70 US) for short rides to 500 THB ($14.10 US) for longer rides across town. You can also hail motorbike taxis which are cheaper, faster, and practical if you're exploring Bangkok solo.
Tuk Tuk
This is your most adventurous option of getting around Bangkok but you'll need your wits about you! If you fancy being jostled around the streets of Bangkok, make sure you agree on the price before your driver sets off.
It's fine to barter and haggle – in fact, you could use the price Grab suggests as your asking price. But expect the tuk tuk ride to still come out a little higher as you're paying for the novelty as much as the transport.
Boat
An exhilarating way to get around Bangkok is via boat! There are piers dotted about all along the length of the Chao Phraya that take you across the river to the opposite bank as well as along the length of the waterway.
The Chao Phraya Express Boat is used by locals and commuters as well as tourists and operates 5 different lines depending on where you want to go. Only the Orange Line runs 7 days a week, and the flat fare is 16 THB ($0.45 US).
BTS Skytrain
One of the most efficient ways to zip around the city during your one day in Bangkok is via the Skytrain. This elevated rapid transport system connects much of the city. Fees vary from 17 to 47 THB ($0.50 – 1.30 US) depending on the distance traveled. A one-day pass costs 150 THB ($4.20 US). Hours are roughly 5.15 am – 12.50 am depending on where you need to go.
Bangkok MRT
Where the Skytrain doesn't go, the MRT has you covered. The Bangkok metro has two lines (Blue and Purple) connecting the city and prices are similar to the Skytrain. Hours of operation are 6 am – 12 am.
Bus
Bangkok has a great bus system in place and you can generally find up-to-date information via Google Maps. Fees vary from 7 THB ($0.20 US) for those without air-con to 24 THB ($0.70 US) for modern buses with air conditioning.
Generally speaking, the fee is calculated by the distance and you can pay in cash on the bus. Buses operate between 5 am – 11 pm, with some routes running for 24 hours per day.
Where to stay in Bangkok
Bangkok is a huge city that offers thousands of hotels and places to stay at. It can even be a bit overwhelming to choose from all the options at first but don't worry, I'm here to help you out!
Almost all the best hotels are located in the Riverside area, while the Khao San area is really popular amongst backpackers due to the number of cheaper accommodations.
If you like shopping or you would like to be close to the BTS SkyTrain, the Siam Square or the Sukhumvit area can be a good choice as well when thinking about some of the best places to stay in Bangkok.
Do you want to make your stay in Bangkok even more memorable? Then make sure to check out my article about the best Bangkok hotels with infinity pools!
If you're in a hurry, below you can find my top picks for staying in Bangkok for every budget.
MID-RANGE – Eastin Grand Hotel Sathorn
The luxurious Eastin Grand Hotel Sathorn is connected to Surasak BTS Skytrain Station via the hotel's own Sky Bridge. The hotel features an outdoor infinity-edge pool. A well-equipped fitness center and 3 dining options are available.
BUDGET – The Quarter Hualamphong by UHG
The Quarter Hualamphong by UHG offers modern air-conditioned rooms with free Wi-Fi in all areas. Rooms are fitted with a flat-screen cable TV, safety deposit box, and electric kettle. The four-star hotel also features a spa and fitness center.
Is it Enough to Spend 4 Days in Bangkok?
Bangkok is undoubtedly one of the best places to visit in Thailand. While you could spend several weeks in the city without getting bored, spending 4 days in Bangkok is the optimal amount of time if you want to see the best of the city and explore the nearby area a bit.
Many people only have a short layover in Bangkok and often have just one day to explore the Thai capital. While you can see a lot in just 24 hours in Bangkok, I think it's not enough to truly experience the vibe of the city.
If you follow this 4 day Bangkok itinerary, you will be able to see the best temples and historical sites in the city, visit the most unique markets, go for a little shopping in the huge malls, try the best Thai foods, and experience some of the best things to do in Bangkok at night (if that's your thing).
So let's dive right into the details, shall we?
Overview of Your 4 Days in Bangkok
The section below includes an overview of your 4 day Bangkok itinerary with all the best highlights that I recommend visiting during each day of your trip.
While I've included some of the more touristy attractions that you have to see at least once in Bangkok, I've also included a few of the more off-the-beaten-path locations as well.
Breakdown of your 4 day Bangkok itinerary
Day 1: The Grand Palace and Wat Phra Kaew, Wat Pho, The Sixth or Elefin Coffee, Wat Arun, Khao San Road
Day 2: Bangkok National Museum, Loha Prasat and Wat Ratchanatdaram, Wat Saket, Wat Benchamabophit, Chatuchak Weekend Market or Talad Rot Fai Night Market
Day 3: Damnoen Saduak Floating Market, Maeklong Railway Market, Siam Paragon or ICONSIAM, Unicorn Cafe
Day 4: Ancient Siam, Rooftop bar (Octave, Sky Bar Bangkok or Vertigo)
Map for your 4 days in Bangkok
Below you can find a customized map that includes all the locations you're going to visit on this Bangkok itinerary. I marked your 4 days in Bangkok with different colors – I used magenta for the first, yellow for the second, green for the third, and red for the fourth day, so you can easily see which places you're going to visit each day.
If you open up this post on your phone and you click on the bracket in the upper right corner of the map, it will open up in your Google Maps app so you can always have it with you. Super convenient, right?
Day 1 of Your 4 Day Bangkok Itinerary
The Grand Palace and Wat Phra Kaew (Temple of the Emerald Buddha)
The Grand Palace is one of the most popular tourist attractions in Bangkok, and while you can read many debates on whether it's worth visiting or not, I would still suggest including it in your 4 day Bangkok itinerary.
The palace complex was built in 1782 and it consists of not only a palace but several government offices and temples as well, including one of the most important religious sites in Thailand, Wat Phra Kaew – or otherwise known as the Temple of the Emerald Buddha.
Entrance fee and opening times
Although access to the Palace is free for Thai people, as a foreigner, you need to pay 500 baht ($14.10 US) per person for a ticket which includes entrance to the Wat Phra Kaew and the Queen Sirikit Museum of Textile as well.
It might seem a little expensive but trust me, the architecture of this place is simply stunning, and seeing it with your own eyes is worth every penny.
The Grand Palace is open between 8.30 am – 3.30 pm, and since it gets crazily crowded during the day, I strongly advise you to schedule your visit around the opening time.
I don't want to give you false hope as you won't find empty grounds early in the morning either, but being there for opening time will not only save you from the massive crowd but from the scorching midday heat as well.
Look out for scams
And while this is one of the best things to do in Bangkok, please be cautious. If anyone approaches you saying the Grand Palace is closed, simply do not believe them and walk away.
It's one of the biggest tourist scams in Bangkok, even tuk tuk or taxi drivers sometimes try to steer tourists to other places like gem or tailor shops where they get a commission if you buy something.
It can actually happen anywhere in Bangkok, not just at the Grand Palace, so always keep your eyes open and see for yourself if a place is really closed or not.
Dress code
Be aware that the dress code is very strict and if you are not dressed appropriately, you won't be allowed to enter the palace.
You need to cover both your knees and shoulders and you can't wear any tight clothes such as jeans or bike pants. So definitely be aware of this before you visit. Otherwise, you might miss out on one of the many fun things to do in Bangkok.
As a woman, it's best to wear a long-sleeved, loose-fitting maxi dress that covers your entire body. I've heard some people complaining that they were not allowed to enter wearing flip-flops or sandals, but personally, I didn't have any problem with my sandals.
That being said, it's worth having a pair of socks or sneakers inside your bag, just in case.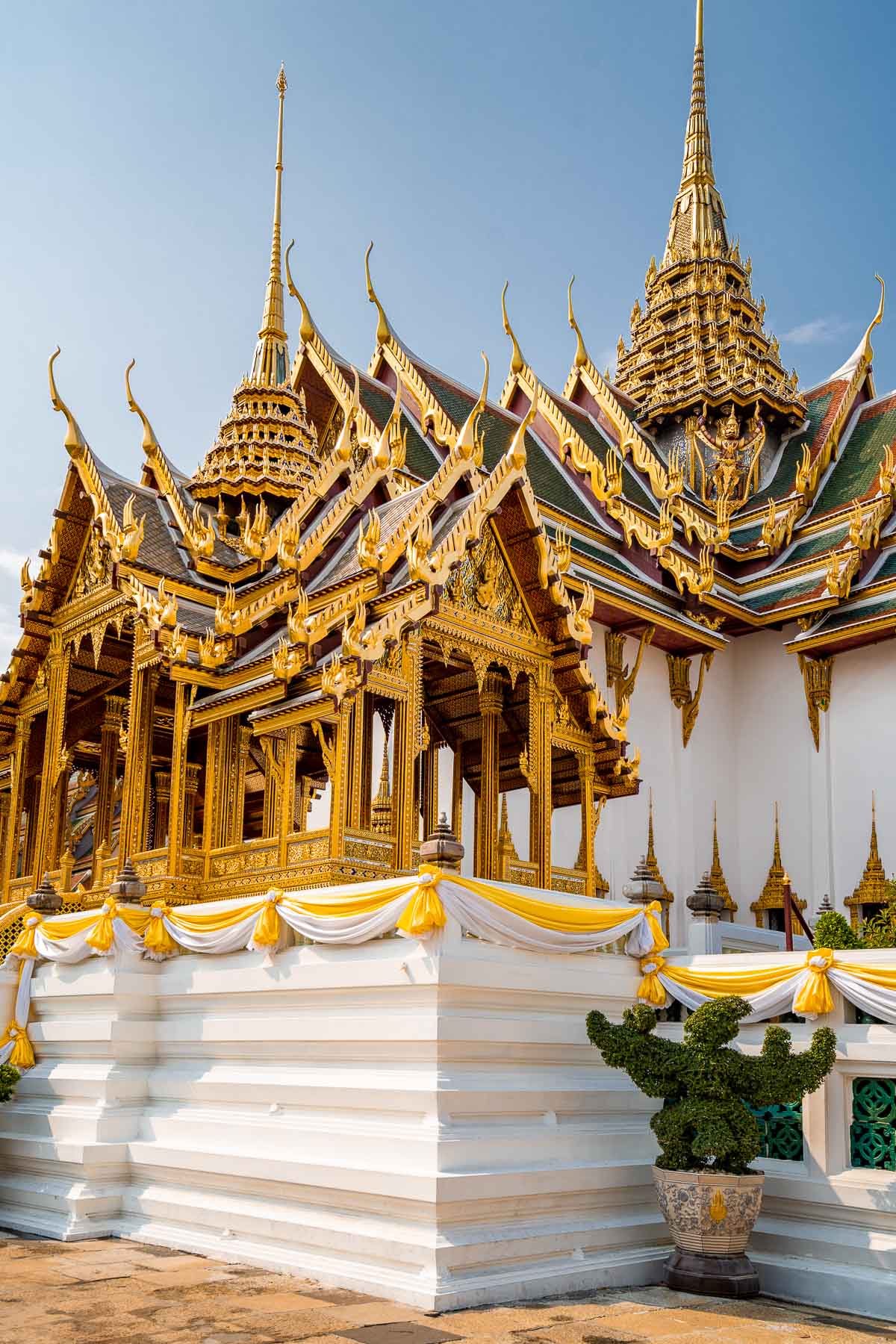 Wat Pho (Temple of the Reclining Buddha)
Wat Pho is the oldest and largest temple complex in Bangkok and since it's just a short 10-minute walk from the Grand Palace, it's worth visiting both attractions on the same day.
Although this temple gets crowded during the day as well, it's nothing compared to the palace – that's why I recommend visiting the Grand Palace first, and the Wat Pho second.
The temple boasts the largest collection of Buddha images in Thailand along with the famous 46 meters (150 ft) long and 15 meters (50ft) tall reclining Buddha.
The enormous Buddha image is covered in gold leaf and its 5 meters (16 ft) long feet are decorated with mother-of-pearl ornaments. It looks absolutely breathtaking in real life and this is why this is just one of the many amazing things to do in Bangkok in 4 days.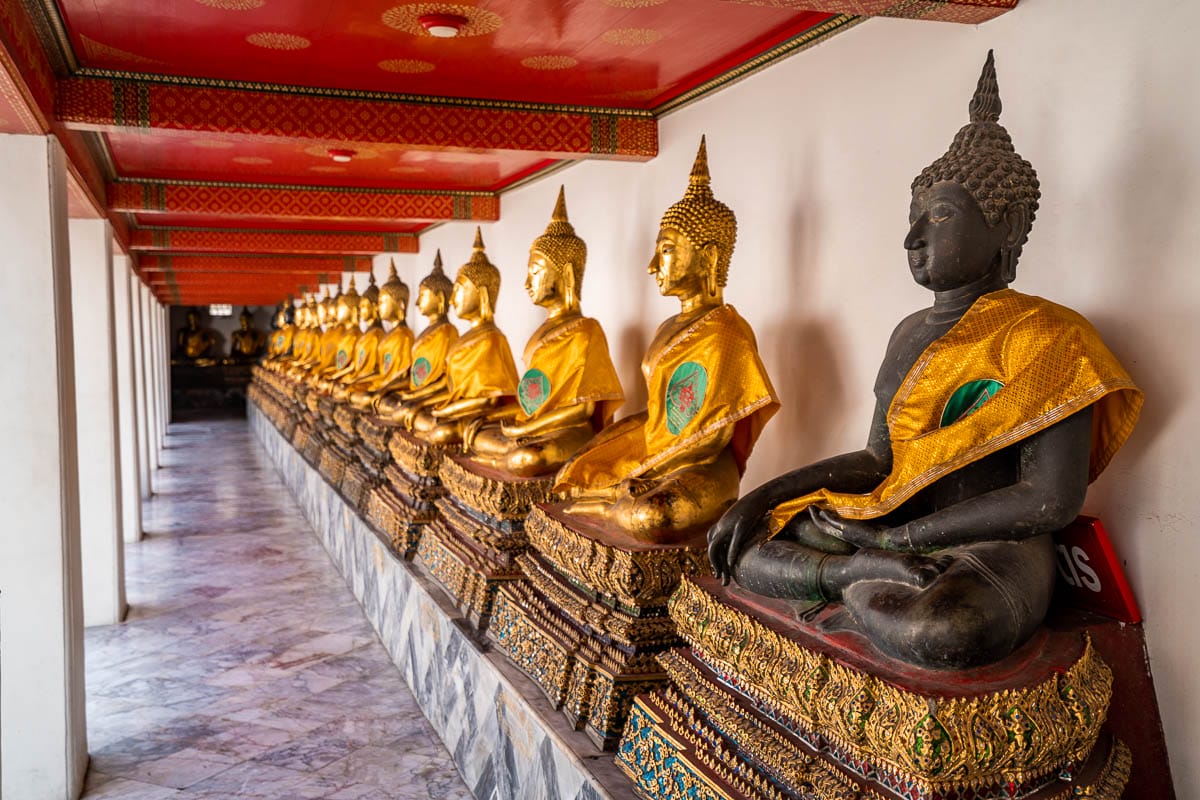 Although the reclining Buddha is definitely the most famous part of Wat Pho, it's worth taking a walk around the garden as well, where you will find plenty of Chinese statues and beautifully decorated stupas.
If you would like to try a traditional Thai massage, Wat Pho is a perfect place for that, as it contains one of the best massage schools in the country. In this case, you should book your spot when entering Wat Pho – a 30-minute session costs 320 baht ($9 US), while the 1-hour-long treatment is 540 baht ($15.20 US).
Wat Pho is open between 8 am – 6.30 pm every day, and the entrance ticket costs 200 baht ($5.65 US) per person. Since it's also a religious site, you need to dress properly by covering your knees and shoulders and wearing loose-fitted clothes.
Lunch break
If you follow the exact steps in this 4 day Bangkok itinerary, you should be able to visit the Grand Palace and Wat Pho in the morning. By the time you finish at Wat Pho chances are you will be already hungry.
In this case, you can include a small lunch break before going to the next temple! Because yes, there will be a lot of temple visits during your 4 days in Bangkok.
There are many restaurants around Wat Pho, I recommend using Tripadvisor to find the best places to eat in Bangkok.
One of the most popular restaurants in the area is The Sixth and based on the reviews you can't go wrong with it. Unfortunately, it's closed on Saturdays and since we visited on a Saturday we stopped at Elefin Coffee instead. It was a really nice place with good food and great coffee so I can absolutely recommend it.
Alternatively, if you really want to save some time, you can quickly grab some street food from one of the stalls on the streets.
Wat Arun (Temple of Dawn)
If it's your first time in Bangkok, you will absolutely love this temple. Wat Arun is one of the most interesting temples in Bangkok due to its unique and majestic design. It's located on the opposite side of the Chao Phraya river, so if you're planning to visit it after Wat Pho, you need to catch a boat to cross the river.
For that, you need to head over to the Tha Tien Pier where you can buy a ticket for the riverboat for 5 baht ($0.14 US) per person. The boats don't have a fixed timetable but they run frequently, so you don't need to worry about the timing.
Since Wat Arun is almost directly opposite Wat Pho, it only takes like 5 minutes for the boat to arrive.
Wat Arun is composed of beautifully decorated spires reaching to the sky. The 82-meter (270 ft) high central tower is accessible via stairs and if you decide to climb up, you can get one of the best views in Bangkok and the river.
Although Wat Arun looks absolutely breathtaking from the distance as well, seeing the tiny pieces of colored glass and Chinese porcelain on the spires at close range will leave you speechless.
The temple is open between 8 am – 6 pm every day, you need to pay 100 baht ($2.80 US) per person for the entrance ticket.
Just like at the other temples, you need to cover your knees and shoulders before entering and you are not allowed to wear any tight or transparent clothes. And if you do not wear appropriate attire, you will miss out on one of the most amazing places to go in Bangkok.
Khao San Road
Enough temple hopping for the day, it's time to have some fun! Since you won't visit any more temples this day, you can ditch the long-sleeved shirts and maxi skirts and change into something more casual if you want.
Your last stop for the day will be the Khao San Road which is widely famous among backpackers and hippies. The street is packed with shops, street food stalls, bars, and restaurants so it's the perfect place to try some of the best street foods in Bangkok and unwind a little with a few beers or cocktails.
Khao San Road is also famous for its lively and vibrant nightlife. So if you're looking for a great party and some of the best things to do in Bangkok at night, then you will definitely find it there.
Day 2 of Your 4 Day Bangkok Itinerary
Bangkok National Museum
Start off day 2 of your 4 days in Bangkok at the Bangkok National Museum. It displays the largest collection of local art and artifacts in the country so if you would like to know more about the Thai culture, it's a must-visit on your 4 day Bangkok itinerary.
There are 12 halls inside the museum, showcasing items from the Sukhothai and Ayutthaya eras through to the modern Thai Kingdom.
The museum is open between 9 am – 4 pm from Wednesday to Sunday and the entrance fee is 200 baht ($6 US) per person. If you're not that into museums or you partied hard last night, feel free to skip the national museum and continue to the next stop to discover more fun things to do in Bangkok.
Loha Prasat and Wat Ratchanatdaram
Loha Prasat is one of the best hidden gems in Bangkok. It's not so popular among tourists but if you have at least 4 days in Bangkok, it's worth putting it on your itinerary. The majestic golden temple was built in 1846 and consists of 37 metal spires that represent the 37 virtues towards enlightenment.
It's located right next to Wat Ratchanatdaram so it's easy to visit both temples at once. There is no admission fee to enter the temples but a small donation is required if you would like to go up to the roof of Loha Prasat.
You can get a great panoramic view over the city from the roof so it's definitely worth going up there to get one of the best views in Bangkok.
Wat Saket (The Golden Mount)
The Golden Mount (officially known as Wat Saket) is located right next to Loha Prasat so you can easily walk from one place to another. The shrine is located on top of an 80-meter (262 ft) tall man-made hill and you need to climb 300 steps if you want to go up there.
Wat Saket is open from 7 am to 7 pm every day and a ticket costs 100 baht ($2.80 US) per person.
Wat Benchamabophit (The Marble Temple)
The last temple for today will be the Wat Benchamabophit. Otherwise known as the Marble Temple, this gorgeous temple is located a bit out of the city center therefore it's much calmer and quieter than the other temples in Bangkok.
It's only a 5-minute drive from the Golden Mount so I recommend taking a taxi or ordering a Grab, it doesn't worth wasting your time with public transportation.
Wat Benchamabophit is made of Italian Carrara marble and looks absolutely majestic. If the temple looks familiar to you, it's not a coincidence as its image is featured on the 5 bath coin.
You can visit this masterpiece every day between 8.30 am and 5.30 pm, an entrance ticket costs 50 baht ($1.40 US) per person.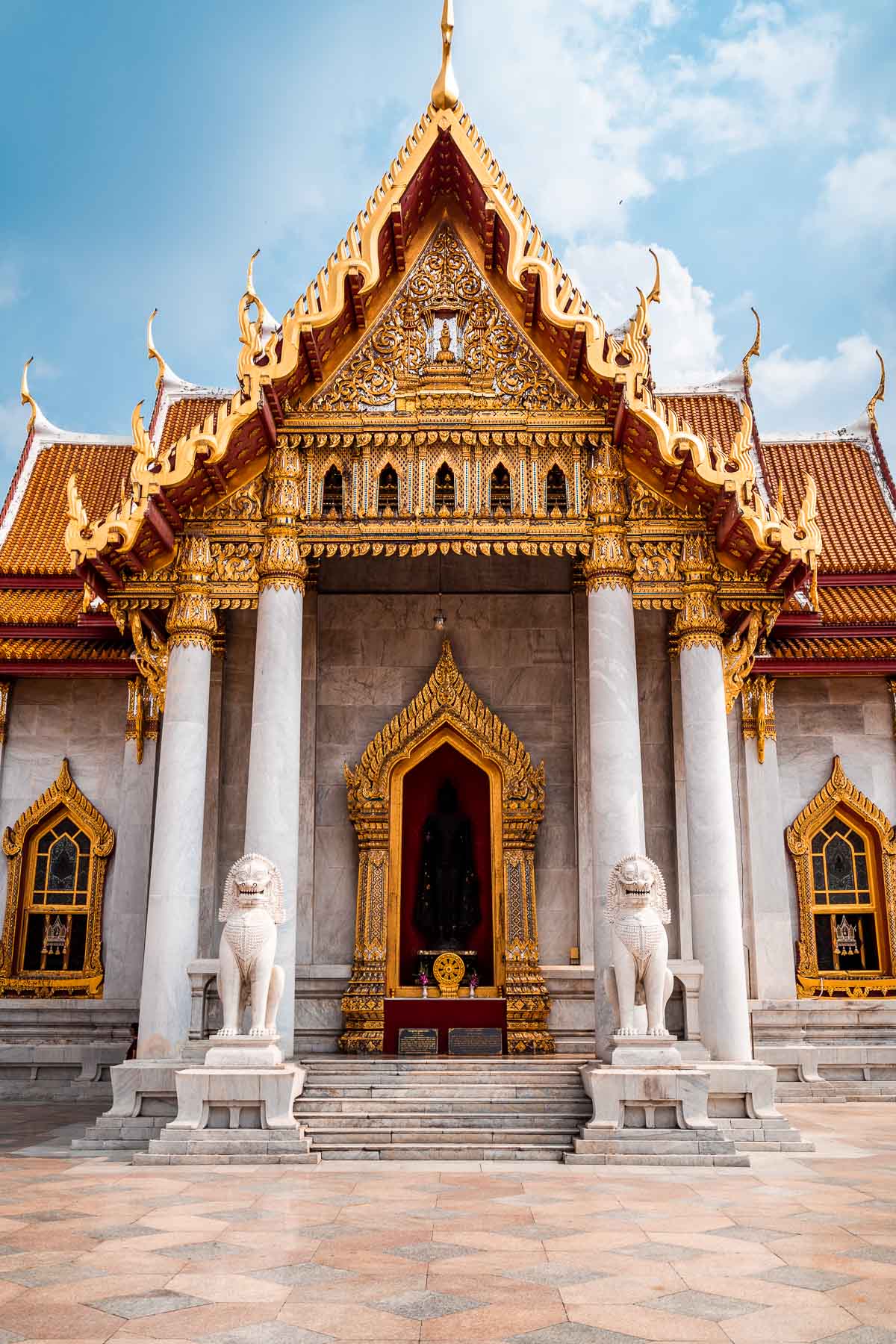 Chatuchak Weekend Market / Talad Rot Fai Night Market
No Bangkok itinerary would be complete without visiting one of the famous night markets in Bangkok. If you're spending 4 days in Bangkok, chances are you will be there on a Friday, Saturday, or Sunday.
In this case, I would recommend visiting the Chatuchak Weekend Market which is the biggest open-air market in the world and one of the best things to do in Bangkok at night.
There are more than 15,000 stalls in the market and you will find basically anything there. Clothes, accessories, jewelry, books, plants, pets, home decorations, furniture – you name it.
The easiest option to get there is to take a taxi or order a Grab but you can also take the SkyTrain and get off at the Mo Chit BTS Station. The market is open from 6 pm until midnight on Friday and between 9 am – 6 pm on Saturday and Sunday.
If your 4 day Bangkok itinerary happens to fall from Monday to Thursday, unfortunately, you will not have a chance to visit the Chatuchak Market. In this case, I recommend visiting the Talad Rot Fai Night Market which is also really popular among tourists.
It's open from Thursday to Sunday between 5 pm – 1 am and since it's located close to the Thailand Cultural Centre MRT station it's quite easy to get there.
Day 3 of Your 4 Day Bangkok Itinerary
Damnoen Saduak Floating Market
Can you believe it's already the third day from your 4 day Bangkok itinerary? Crazy, huh? Today it's time to venture out of the city a little bit and visit two of the most unique markets around Bangkok: the Damnoen Saduak Floating Market and the Maeklong Railway Market.
If you have your own scooter and you are not afraid of the crazy Bangkok traffic you can enjoy one of the most fun things to do in Bangkok on your own as well.
However, the markets are located quite far away from Bangkok – you need to drive around 1.5 hours in one direction – so I would recommend booking an organized tour instead of driving by yourself.
We also decided to book an organized tour that included a visit to both markets. The tour starts at 9 am which is great since the markets are less crowded in the morning and the heat is more bearable.
Damnoen Saduak is the most popular floating market in Bangkok therefore it's always packed with tourists. To be honest with you it's not so authentic as you would imagine, the market is very commercialized and it kinda feels like a tourist trap.
Even so, visiting the floating market is a unique experience so if you have 4 days in Bangkok I would still recommend checking it out.
After arriving at the pier at the market, you need to hop inside a long-tail boat to be able to access the floating market. The boat ride is approximately 20 minutes long and you will see many wooden houses, floating stalls, and merchants selling products from their own boats.
You can buy basically anything there – like at the Chatuchak Weekend Market – but only if you want, there is no mandatory shopping. If you haven't had breakfast yet I would recommend trying the mango sticky rice or the coconut ice cream, both of them are really delicious and fairly priced.
Maeklong Railway Market
Since the Maeklong Railway Market is only a 25-minute drive from the Damnoen Saduak Floating Market it's worth visiting both places on the same morning.
If you're taking a tour as we did, your guide will show you how to get to the train market. After that, you will have a couple of hours to explore the market by yourself and have a delicious lunch in one of the restaurants/food stalls.
The Maeklong Railway Market is one of the most unique markets in Bangkok because not only does it sit atop the train tracks but a train is actually passing through the market a few times a day.
Once the merchants and vendors hear the warning bell they immediately start drawing back the overhead tents and moving their products away from the railways. As a result, this is easily one of the most unique places to go in Bangkok.
The market completely adjusts itself in just minutes to let the train pass freely and after the train has passed, everything goes back to normal a few minutes later. The train moves through the market very slowly but it's still crazy to see how close it gets to the goods and the people. You can even touch the train while it's moving, though I wouldn't recommend it.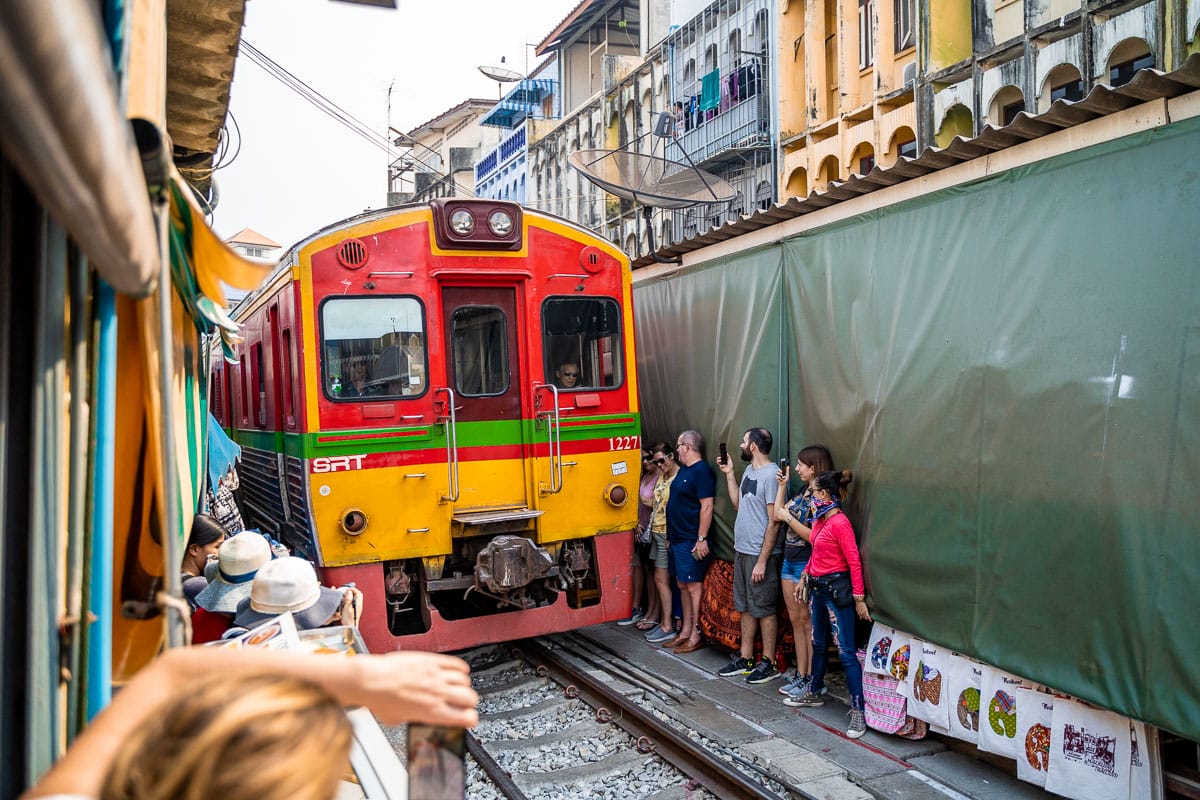 Siam Paragon / ICONSIAM
The tour we took started from the Siam Paragon Mall and on the way back we could choose whether we want to get off at ICONSIAM or Siam Paragon. It doesn't really matter which one you choose as both shopping malls are really huge and full of interesting shops to see.
The market tours are usually finished by early afternoon which gives you plenty of time to wander around the malls and explore some of the best places to shop in Bangkok.
It's odd to say that shopping malls are one of the best places to visit in Bangkok but they really are. They serve as a social hub for both locals and tourists and it's worth visiting at least one if you're in Bangkok. You can easily spend a few hours exploring all the shops and trying the best Thai dishes in the food courts.
Unicorn Cafe
Did you know that there is a unicorn-themed cafe in Bangkok? Ever since I've seen photos of this place on Instagram it was on my bucket list. The Unicorn Cafe is filled with pink and blue oversized furniture and fluffy unicorns, it's like all your childhood dreams are coming true!
You can even rent a unicorn onesie for 100 baht ($2.80 US) to take the funniest photos while eating your rainbow waffles and drinking your cotton candy milkshake.
If you're really not into this, feel free to skip it and spend more time in the shopping malls instead. But trust me, it's a really fun place! Both I and my boyfriend enjoyed it a lot despite being grown-ups. Just give it a try!
Day 4 of Your 4 Day Bangkok Itinerary
Ancient Siam
Ancient Siam – or otherwise known as Samut Prakan Ancient City or Muang Boran Museum – is the biggest open-air museum in the world and it was my ultimate favorite place on this 4 day Bangkok itinerary.
Although you can take many amazing day trips from Bangkok, if you have to choose only one I strongly suggest taking this trip! I'm not such a museum type of girl but this place is really different from other museums.
The Ancient City is spread over a Thailand-shaped area exceeding 200 acres so it's almost impossible to see everything in just only one day. You can find more than 120 attractions across the land consisting of replicas of temples, palaces, pavilions, floating markets, and Buddha images.
The area is full of gorgeous gardens, fountains, and ponds and it has a really peaceful and relaxed vibe.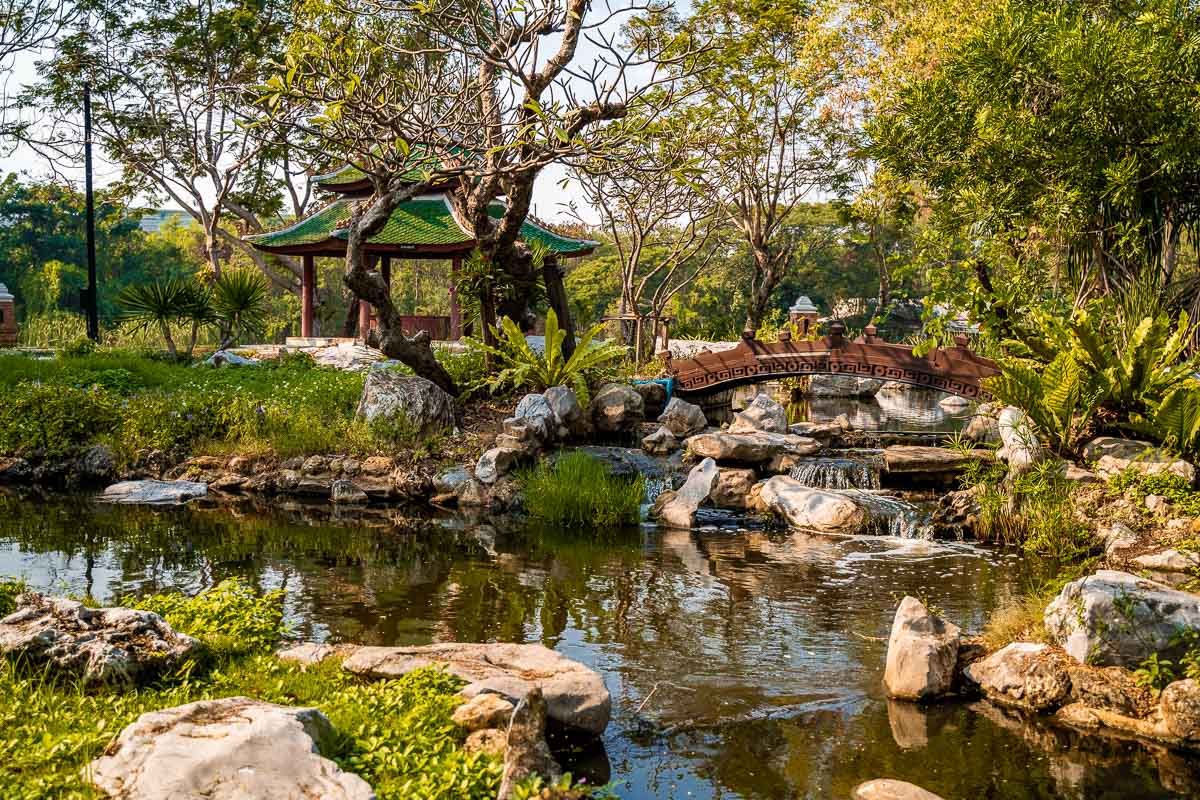 Although the ticket is quite pricy – 700 baht ($19.80 US) per person – it's really worth every cent. Since the attractions are scattered across a huge area it's not possible to see them on foot but you can get a free bicycle at the entrance which makes exploring a lot easier.
If you don't like biking, you can also rent a golf cart or wait for the organized shuttle buses to take you around. Ancient Siam is open from 9 am until 6 pm and I recommend getting there early since you will need all day to see everything.
Getting there is a little bit tricky – you have to take the BTS SkyTrain to the Kheha Station, then you need to change to a local Songtaew (30/36) to reach the museum.
Alternatively, you can take a taxi or get a Grab but since it's quite far away from Bangkok, it won't be a cheap ride. The easiest option is to take the BTS SkyTrain then take a taxi for the last 5-10 minute ride instead of using the bus.
Rooftop bar
We just arrived at the last stop on your 4 day Bangkok itinerary. Can you imagine a more stylish way to end your 4 days in Bangkok than having a drink at a fancy rooftop bar? Yeah, me neither!
Rooftop bars are one of the things Bangkok is famous for so there are many around the city you can choose from. You can get one of the best 360-degree views over the city from Octave, located on the top of Marriott Hotel Sukhumvit. Other popular choices are Sky Bar Bangkok or Vertigo.
Visiting a rooftop bar is not the cheapest experience in Bangkok, that's for sure, but you really deserve to pamper yourself a bit at the end of your trip! Am I right? It's also one of the best things to do in Bangkok at night and should really not be missed during your first time in Bangkok.
---
Planning a trip to Thailand?
Then you might want to take a look at all our other travel guides about Thailand. I promise, they are just as awesome as this article was!
---
Related Posts
Want to read more about Thailand?
---
More Thailand Resources
Do you want to know even more about Thailand? Check out these awesome books and travel guides for more inspiration!
---
What Camera Gear Do We Use?
If you want to read more about what is in our camera bag, check out my detailed post about our travel photography gear!
---
Pin It for Later!