Bangkok is a spirited city that unites traditional Thai culture with a contemporary zest for living life to the full. While I wholeheartedly recommend spending at least 4 days in Bangkok, even if you only have 24 hours in Bangkok you can see enough of the city to leave a lasting impression.
So if you only have limited time in the city but you still want to be able to see the best of Bangkok, you are in the right place! Read on for my perfect Bangkok one day itinerary – curated with first-time visitors in mind.
Disclosure: *This post contains a few affiliate links, which means I may receive a small commission, at no cost to you, if you make a purchase through my link.*
No time to read now? Pin it for later!
Useful Info for Visiting Bangkok
Before we go over all the fabulous things to do in Bangkok in one day, let's talk about some practical details for your trip to the Thai capital.
How to get to Bangkok
If you're traveling from overseas and you will only have 24 hours in Bangkok, most likely you will arrive at one of Bangkok's two airports. Suvarnabhumi (BKK) is the youngest, largest, and most developed airport.
This is where you'll probably fly if you're traveling from Europe or the US. Situated in the southeast corner of the city, it's around 30 minutes by taxi to downtown Bangkok.
Don Muang (DMK) is an older airport and serves low-cost airlines such as AirAsia and typically serves domestic and regional flights. It's located in the north of the city and again takes approximately 30 minutes by taxi to reach downtown Bangkok. Or you can save your cash and hop on the metro or bus.
Alternatively, you can either take a train or a bus to Bangkok. The main railway station, Hua Lamphong Station, is located centrally in town within the Pathum Wan District. You can connect to Bangkok by train from the likes of Chiang Mai, Chumphon, and Surat Thani, while bus routes connect Bangkok with all major Thai cities and the southern islands.
Best time to visit Bangkok
One important thing to know about Bangkok is that whatever time of year you visit, it won't dip below 25°C (77 °F)!
Thailand has two seasons, dry season and monsoon season (or 'green' season). The monsoon season starts late May/early June and runs to mid-October. During these months, Bangkok can be lashed with rain on a daily basis.
Luckily, it will often only rain for an hour or so and shouldn't interfere too much with your sightseeing. Although it's something to bear in mind when you have one day in Bangkok!
The dry season sees temperatures skirt around the high 20°C (around 86°F) with December, January, and February being the busiest months for tourism.
If you want agreeable weather and fewer crowds, plan your 24 hours in Bangkok for the shoulder season of March/April or November.
How to get around Bangkok
As a major, metropolitan city, Bangkok has a fantastic public transport system in place. This will enable you to see the best of Bangkok in one day without worrying too much about how to get from A to B.
One of the most efficient ways to zip around the city during your one day in Bangkok is via the Skytrain. This elevated rapid transport system connects much of the city.
Fees vary from 17 to 47 THB ($0.50 – 1.30 US) depending on the distance traveled. A one-day pass costs 150 THB (roughly $4.20 US). Hours are roughly 5.15 am – 12.50 am depending on where you need to go.
Where the Skytrain doesn't go, the MRT has you covered. The Bangkok metro has two lines (Blue and Purple) connecting the city and prices are similar to the Skytrain. Hours of operation are 6 am – 12 am.
Apart from the Skytrain and the MRT, you can also find countless bus lines in Bangkok and you can also use the boat when traveling from one side of the river to the other. And if you want to opt for the most adventurous option, you can hop on a Tuk Tuk as well.
I recommend you start your 24 hours in Bangkok by investing in a Thai SIM card and downloading the local rideshare app, Grab. This way you don't need to worry about negotiating your fares or overpaying.
Fees vary based on the journey but expect anything from 60 THB ($1.70 US) for short rides to 500 THB ($14.40 US) for longer rides across town. You can also hail motorbike taxis which are cheaper, faster, and practical if you're exploring Bangkok solo.
Where to Stay in Bangkok
Bangkok is a huge city that offers thousands of hotels and places to stay at. It can even be a bit overwhelming to choose from all the options at first but don't worry, I'm here to help you out!
Almost all the best hotels are located in the Riverside area, while the Khao San area is really popular amongst backpackers due to the number of cheaper accommodations.
If you like shopping or you would like to be close to the BTS SkyTrain, the Siam Square or the Sukhumvit area can be a good choice as well when thinking about some of the best places to stay in Bangkok.
Do you want to make your stay in Bangkok even more memorable? Then make sure to check out my article about the best Bangkok hotels with infinity pools!
Since you will only have 24 hours in Bangkok, it's important to stay close to the city center in order to save some time commuting. Below you can find my top picks for staying in Bangkok for every budget.
MID-RANGE – Eastin Grand Hotel Sathorn
The luxurious Eastin Grand Hotel Sathorn is connected to Surasak BTS Skytrain Station via the hotel's own Sky Bridge. The hotel features an outdoor infinity-edge pool. A well-equipped fitness center and 3 dining options are available.
BUDGET – The Quarter Hualamphong by UHG
The Quarter Hualamphong by UHG offers modern air-conditioned rooms with free Wi-Fi in all areas. Rooms are fitted with a flat-screen cable TV, safety deposit box, and electric kettle. The four-star hotel also features a spa and fitness center.
Overview of Your One Day Bangkok Itinerary
Breakdown of your 24 hours in Bangkok
Morning: The Grand Palace, Wat Phra Kaew, Wat Pho, Wat Arun
Afternoon: Chao Phraya Riverboat or National Museum, ICONSIAM Paragon
Evening: Khao San Road, Rooftop Bar
Map for the best things to do in Bangkok in 24 hours
Below you can find a customized map that includes all the locations you're going to visit on this Bangkok itinerary. I marked each time of the day with different colors – I used blue for the morning, green for the afternoon, and red for the evening, so you can easily see which places you're going to visit during your 24 hours in Bangkok.
If you open up this post on your phone and you click on the bracket in the upper right corner of the map, it will open up in your Google Maps app so you can always have it with you. Super convenient, right?
Morning of Your 24 Hours in Bangkok
You will spend the morning of your Bangkok one day itinerary absorbing the traditions and culture of Thailand and visit 3 major landmarks. Because these attractions are very conservative, you'll need to dress modestly in a long skirt/pants with your shoulders and knees covered.
The Grand Palace
As the most popular tourist attraction in Bangkok, the Grand Palace really draws in the masses and gets extremely busy. So I'm going to suggest you make this the first stop on your 24 hours in Bangkok itinerary.
This ornate palace was constructed in 1782 to coincide with the ascent of King Rama I to the throne. The complex spans 218,000 square meters and features temples, stupas, government offices, throne halls, a Buddhist library, and splendid manicured gardens.
Your admission ticket also permits you to visit the Queen Sirikit Museum of Textiles and Wat Phra Kaew.
The Grand Palace is open daily between 8.30 am – 3.30 pm – try to arrive around opening time to avoid the crowds! Tickets cost 500 THB ($14.45 US) and you can buy them at the palace.
You can also buy them online but you'll need to do this at least 24 hours in advance. Plan to spend 2 hours exploring the Grand Palace.
Wat Phra Kaew
As I mentioned before, your ticket to the Grand Palace grants entry to Wat Phra Kaew (Temple of the Emerald Buddha). This deserves a special mention when planning your route around Bangkok in 24 hours, as this is the most sacred temple in the whole of Thailand!
Symbolizing legitimacy and prosperity, the Emerald Buddha is the most important representation of Buddha, so don't miss your chance to visit this temple. Head there at the start of your visit to the palace.
Wat Pho
Wat Pho is the oldest temple compound in Bangkok. It's also the largest and in fact, it contains the largest hoard of Buddha images in the whole country! The most iconic sight is the Reclining Buddha statue.
This 15-meter (50 ft) tall, 46-meter (150 ft) long Buddha is covered with gold leaf and is an absolute treasure to see during your one day in Bangkok. One thing to note is that it's not the easiest statue to capture a photo of due to its massive size, so you'll need to get creative.
You can walk to Wat Pho from the Grand Palace in 10 minutes. Wat Pho is open daily, between 8 am – 6.30 pm. Admission is 200 THB ($5.65 US) and you should plan to spend around 1-1.5 hours here.
Wat Arun
If you thought the first couple of sights were something special, then just wait until you see Wat Arun! The Temple of the Dawn is one of the most beautiful temples in the whole of Southeast Asia.
When you get up close you will see that it is made up of colorful ceramic tiles – over one million of them. These pieces were salvaged from a shipwreck before being used to embellish the temple.
Wat Arun is an abbreviation of Wat Arun Ratchawararam Ratchawaramahawihan. If you can pronounce that before your 24 hours in Bangkok are up, then I'll be impressed!
To get to Wat Arun from Wat Pho you will need to hop on the riverboat across the Chao Phraya river. You can walk to the Tha Tien Pier (less than 5 minutes from Wat Pho) and hop on a boat there. The ride across the river costs 5 THB ($0.14 US) and the boats depart often so you won't have to wait long.
Wat Arun is welcoming visitors between 8 am – 6 pm. The entrance fee is 100 THB ($2.80 US) and you can buy a ticket at the temple. You'll spend 1 hour tops here.
Afternoon of Your 24 Hours Bangkok
Lunch
Whatever you do, don't skip lunch during your one day in Bangkok – Thai food is absolutely delicious! I recommend crossing back over to the other side of the river as you'll find a few more choices there. Or, you could always have lunch before you visit Wat Arun if you're feeling hungry.
There are lots of casual eateries around the Tha Tien Pier. If you need some air-con then scoot down the road to either Baan Tha Tien or Elefin Coffee where you can enjoy Thai dishes washed down with Thai tea. Alternatively, the Deck by Arun Residence has an amazing outdoor terrace where you can dine with a view of Wat Arun.
Option A: Chao Phraya Riverboat
Because everyone has different preferences, now I'm going to give you two options of things to do in Bangkok in one day! The first option is a boat ride along the Chao Phraya river. As the journey to and from Wat Arun is so brief, taking a scenic tour is a great way to get a sense of Bangkok's character.
One way to do this is by taking the Chao Phraya Tourist Boat. You can buy a hop-on-hop-off ticket for 350 THB ($10.10 US) online or at the pier. They often run special promos and deals so make sure to check what the latest deal is in advance.
You can then travel between the 9 different piers and alight at whichever stops appeal. Boats run between 9 am – 8.30 pm daily.
An alternative option is to book a tour. This Bangkok: Canal Tour by Longtail Boat is a great option because, in addition to the river, you will navigate the canals of the old city of Thonburi and peek into small suburban villages.
If you do book this tour, you can skip visiting Wat Arun in the morning as the tour includes a stop at the temple.
OPTION B: National Museum
If you're not a fan of boat tours, then your alternative option is the National Museum where you can dive even deeper into Thai culture. Founded by King Rama V in a former palace, the museum spans artifacts from prehistoric Thailand through the Sukhothai and Rattanakosin periods to the contemporary Thai Kingdom.
The Bangkok National Museum is open between 9 am – 4 pm from Wednesday to Sunday. Admission is 200 THB ($6 US)per person and you can purchase a ticket at the entrance.
ICONSIAM Paragon
You might not be a shopper, but malls in Bangkok are an attraction in their own right! The city is bursting with high-end malls that rival those in Dubai, and they're pretty cool to spend an hour or so of your 24 hours in Bangkok.
ICONSIAM Paragon is home to dozens of international brands, the largest aquarium in Southeast Asia, and a sprawling food court.
Among the fashion boutiques and beauty bars, you'll also find one of the best foreign-language bookshops in Bangkok: Kinokuniya. This might come in handy if you're headed down to the islands for a beach retreat.
The mall is open daily, between 10 am – 10 pm. There is a Skytrain station right outside.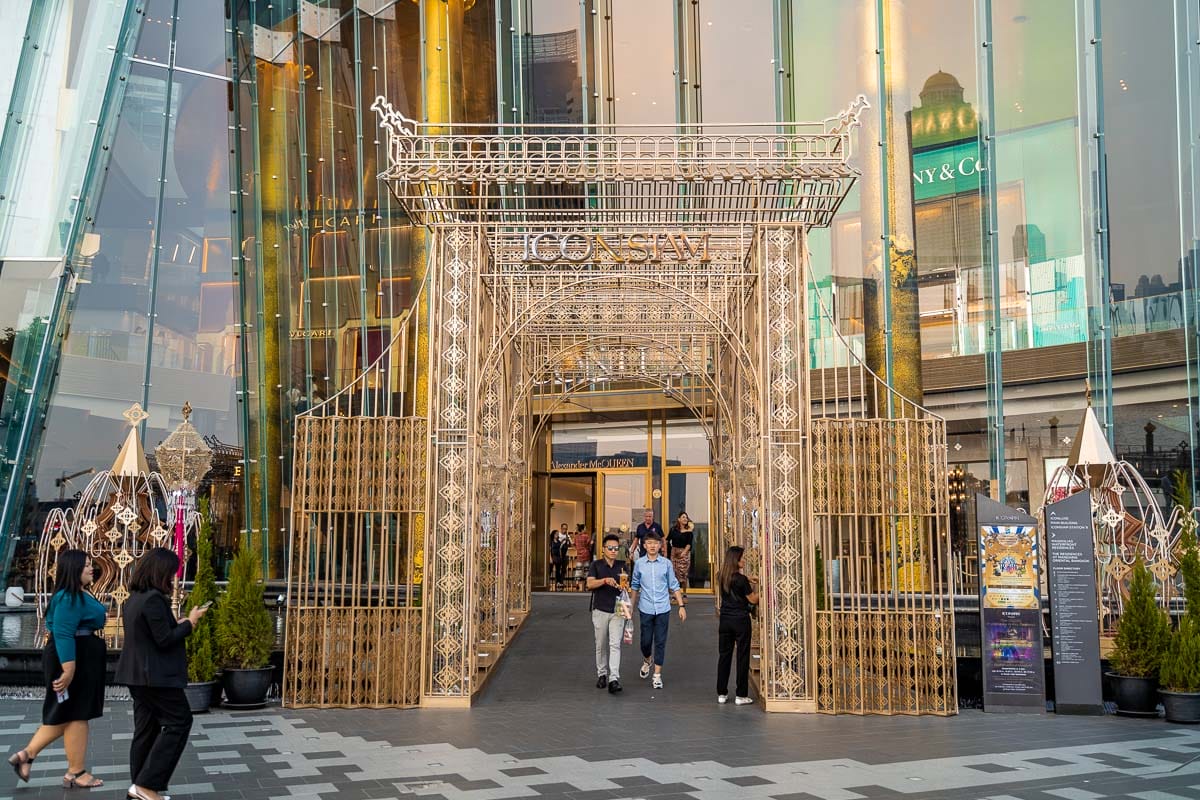 Evening of Your 24 Hours in Bangkok
Khao San Road
And now it's time for a different type of shopping experience! Khao San Road is the mecca of backpackers and by the early evening the street springs to life with drink deals and platters of fried insects.
If you didn't eat at SIAM, you can pick up some delicious street food here (there are other options beyond the scorpions and crickets!).
There are loads of stalls where you can pick up clothes, accessories, and souvenirs. Otherwise, pick a bar that you like the look of and let yourself wind down, and soak up the hedonistic side of Bangkok!
Rooftop Bar
In complete contrast to Khao San Road, another of the things to do in Bangkok in one day is to sip a fancy cocktail in one of the city's legendary rooftop bars.
Unlike the laid-back hippy vibes of Khao San Road, these bars require a certain dress code so you'll need to factor in a change of clothes from your casual sightseeing clothes.
Flip-flops and sandals are not allowed and most bars also request a few other standards to be adhered to. Drinking at a rooftop bar in Bangkok is not going to be a budget-friendly activity but it will sign off your 24 hours in Bangkok with so much style that you won't care.
In terms of where to go, Sky Bar is one of the most popular rooftop bars. Located in the Lebua State Tower, the bar shares the space with the Sirocco restaurant if you fancy splashing out on a deluxe dinner.
Occupying the 33rd and 34th floors of the Fraser Suites, Above Eleven is a cool hang-out that serves a fusion of Japanese and Peruvian food and drinks.
Alternatively, you could head to Vanilla Sky, which is also a nightclub with live DJs and a 360° view over the Bangkok skyline.
---
Planning a trip to Thailand?
Then you might want to take a look at all our other travel guides about Thailand. I promise, they are just as awesome as this article was!
---
Related Posts
Want to read more about Thailand?
---
More Thailand Resources
Do you want to know even more about Thailand? Check out these awesome books and travel guides for more inspiration!
---
What Camera Gear Do We Use?
If you want to read more about what is in our camera bag, check out my detailed post about our travel photography gear!
---
Pin It for Later!