If you're looking for the perfect getaway from the hustle and bustle of Ubud, make sure to book a stay at The Udaya Resorts & Spa!
Located only minutes away from the heart of Ubud, The Udaya offers a peaceful haven surrounded by lush natural beauty. From its beautiful tropical gardens to its warm Balinese hospitality, The Udaya has everything you need for an unforgettable stay.
The resort also became really popular for its stunning flower creations so if you're dreaming of experiencing a flower bath or an even more luxurious flower pool, The Udaya is the perfect place to be.
Read on to find out more about this amazing resort and why it needs to be on the top of your Bali bucket list!
*Disclosure: This post contains a few affiliate links, which means I may receive a small commission, at no cost to you, if you make a purchase through my link. Please note that we were invited to stay at The Udaya Resort & Spa, however, all thoughts and opinions are my own, as always.*
Basic Information
Arriving at The Udaya Resorts & Spa
The resort is conveniently located a 7-minute drive away from the center of Ubud so it's very easy to get to. They also offer a complimentary shuttle service to Ubud and back, so you can easily get around and explore the area.
If you're coming from the airport, it takes around 1-1.5 hours to get to the resort. The traffic in the center of Ubud is absolutely crazy so make sure to factor in enough time for traffic and delays, especially if you need to catch your flight!
As we were coming from the other side of the island and got stuck in traffic, we arrived pretty late. We were really tired from the journey but the amazing staff at The Udaya immediately made us feel so welcome and comfortable.
We received some cold towels and a delicious welcome drink, while the staff made sure to check us in as quickly as possible so that we could get settled in and enjoy our stay to the fullest.
Room types
From spacious suites to private pool villas, the resort offers a variety of accommodation options to suit all budgets and needs.
We stayed in one of their Pool Villas which was absolutely stunning. It was situated right next to the entrance of the spa, surrounded by lush gardens and tall trees providing us with ultimate privacy.
The 125 square meter villa was extremely spacious and the king-sized bed was incredibly comfortable! The semi-open bathroom was just as beautiful and it featured a double vanity sink, an outdoor shower with cold water, an indoor shower with hot water, and a free-standing oval terrazzo bathtub overlooking the garden and the private pool.
The bathroom also had a large wood luxury closet and a selection of amenities including bathrobes, slippers, and bathing products.
Our favorite feature of the villa was definitely the private pool which was perfect for cooling off and relaxing.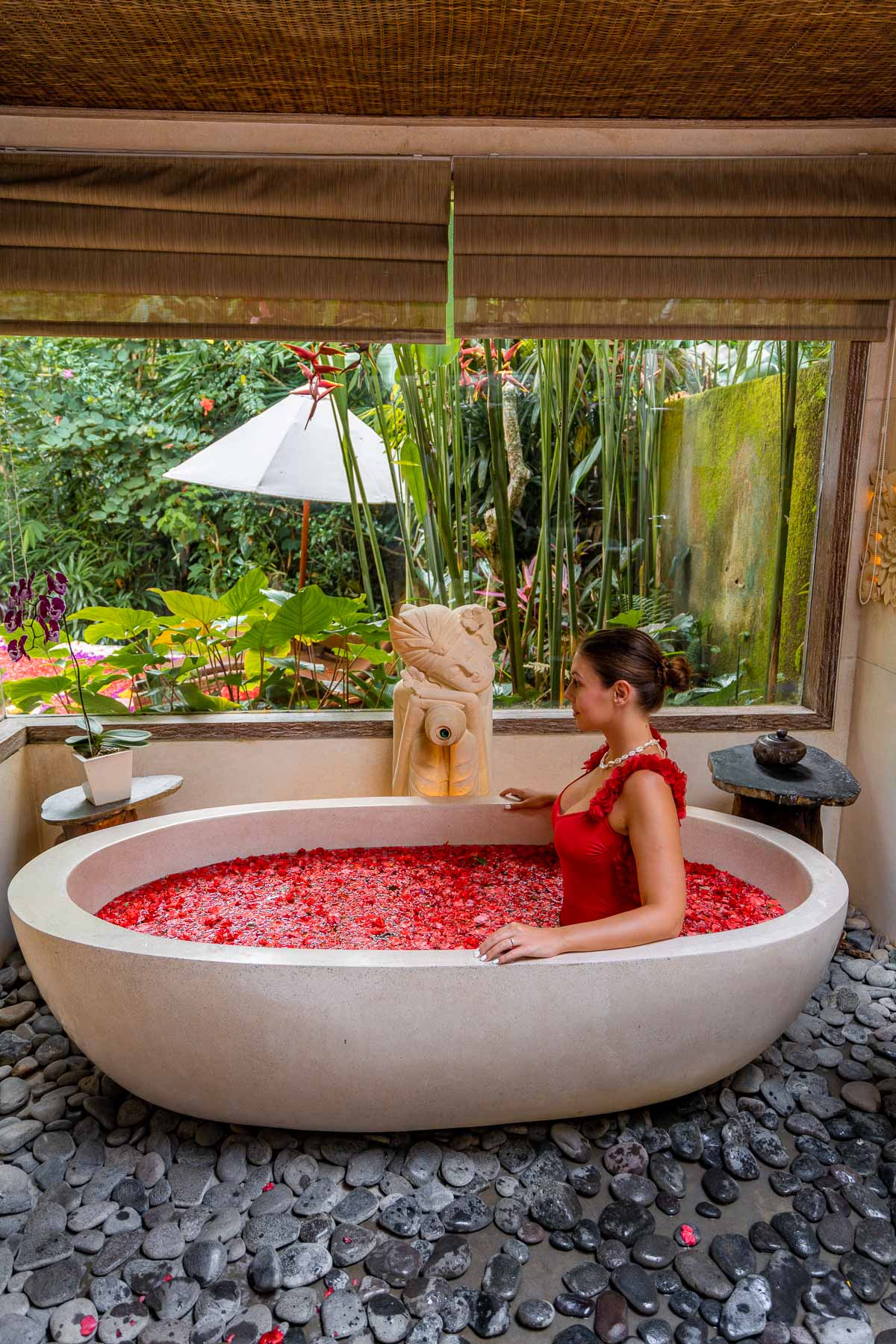 Special Experiences
Floating breakfast
If you've booked a suite or villa with a private pool, you can request a floating breakfast which is definitely something you should try!
The floating breakfast is prepared by the amazing chefs at the Deeva Restaurant so the menu is the same as the one you would get at the restaurant. If you want to opt for the floating breakfast option, you have to book it at least one day in advance and send your selections the day before.
The Morning Glory menu has a wide selection of both Asian and international dishes and the breakfast is also served with fresh fruit juices and your choice of coffee or tea. All these items are beautifully presented on a floating tray – is there a better way to start the morning? I don't think so!
The good news is that you can choose as many items from the menu as you want so you can really make the most out of this amazing experience. Some of our favorite dishes were the egg burrito, the French toast, and the smoothie bowl.
Unfortunately, the floating breakfast is not available at the main pool so if you want to try it, make sure to book a pool suite or villa.
Flower pool
If you're celebrating a special occasion or just looking for a unique experience, you can request a personalized flower pool at The Udaya. The staff will fill your private pool with fresh flowers and petals so you can enjoy the ultimate romantic experience.
You can request a special design of your choice or let the staff surprise you with something unique. The individual design option is perfect for special occasions like anniversaries or birthdays, not to mention proposals! Can you imagine anything more romantic?
As with the floating breakfast, the flower pool is only available in suites and villas with private pools. The flower pool needs to be booked at least two days in advance and it takes approximately two hours to prepare so if it's going to be a surprise, make sure to plan accordingly.
We stayed at the villa while the staff prepared the pool and it was really fascinating to watch how the design of our pool gradually came to life.
This was truly one of the best experiences in our lives but there are two things that you should know if you want to jump into a flower pool.
First, you will most probably find some small worms in the flowers – they are completely harmless and won't bite you but it's best to keep this in mind if you're not a fan of small creatures.
Second, try not to wear a white swimsuit as the petals might leave some color stains. I learned this the hard way so be sure to check the color of your swimsuit before jumping in!
Kaveri Spa
The Kaveri Spa located at The Udaya is known as one of the best spas in Bali and it's definitely worth a visit. They offer several different massages such as a traditional Balinese massage, a hot stone massage, or foot reflexology.
We tried the Balinese massage during our stay and it was absolutely amazing! The massage room was really cozy with relaxing music playing in the background and the masseuse was really skilled and attentive.
However, what the spa is really famous for is its signature baths. If you've scrolled through Instagram recently, you must have seen pictures of people taking a dip in the beautiful flower petal baths – this was most likely at the Kaveri Spa!
The Celebration of Flowers Bath is definitely the most popular option when it comes to the signature baths. You can opt for an oval bathtub with a garden view or a round bathtub with a garden, jungle, or bridge view.
Upon booking the experience on the website, you can even see some pictures with the different setups which is super helpful in deciding which one you like the most. You can also choose the specific design of the flower petals – when we visited the spa, they had 35 different options to choose from!
Another one of the signature baths we got to try was the Twilight Bath. During this treatment, the bath is made with butterfly pea flowers and citric acid, and the bathtub is filled with citruses and different types of colorful flowers.
This is a great option if you want to have a relaxing experience without coming across any small worms as this bath was completely worm free!
The bath experience usually lasts for 45 minutes and you can choose from a single or couple treatment.
Deeva Restaurant
The open-air Deeva Restaurant is the only restaurant you'll find at The Udaya. It's open all day long so you can have breakfast, lunch, or dinner here.
The restaurant has an extensive menu (it's 21 pages long!) and it offers a variety of both Western and Asian dishes. You can find anything from fresh salads and soups to pizza, pasta, and seafood, and they also have many vegetarian options to choose from.
A complimentary afternoon tea is served every day from 4 to 6 pm at the restaurant. We really enjoyed this as it gave us a chance to try some of the delicious Indonesian snacks and cakes.
We ate dinner here both nights of our stay at The Udaya and we were really impressed with the quality of the food. Everything we tried was delicious and the staff were very friendly, helpful, and attentive.
Final Thoughts
The Udaya Resorts & Spa Ubud is definitely one of the best resorts in Bali and it has really exceeded our expectations. It has all the amenities that you could possibly need or want during a stay in Bali, from the beautiful pool to the flower bath experience and relaxing massages at the Kaveri Spa.
The staff were super friendly and helpful throughout our stay and we really enjoyed experiencing some of the traditional Balinese culture and hospitality at The Udaya.
We would definitely recommend this resort to anyone looking for a luxurious stay in Bali and we hope to visit again soon!
---
Planning a trip to Bali?
Then you might want to take a look at all our other travel guides about Bali. I promise, they are just as awesome as this article was!
Bali Travel Guides:
Bali Hotel Guides:
Nusa Penida Travel Guides:
---
Pin It for Later!