Luang Prabang is one of the most cherished cities in Laos that captivates all who visit. Life glides to a gentle halt in this languid riverside town where the pace is slow and the ambiance is warm.
Dotted among the UNESCO World Heritage Site listed Old Town you will find 34 temples to explore where saffron-robed monks are always willing to take some time to practice their English and welcome guests.
To help you make the most of your time in this lovely city, I have curated the perfect Luang Prabang itinerary. This tells you how to get there, when to visit, where to stay, and, naturally, some of the best things to do in Luang Prabang in 2 days. Let's get into it!
*Disclosure: This post contains a few affiliate links, which means I may receive a small commission, at no cost to you, if you make a purchase through my link.*
No time to read now? Pin it for later!
Useful Info for Spending 2 Days in Luang Prabang
How to get to Luang Prabang
Luang Prabang is one of only two cities in Laos (the other being the capital, Vientiane) to have its own international airport which means that it is one of the easiest cities to travel to from overseas.
Luang Prabang International Airport (LPQ) is located 4 km (2.5 miles) northeast of the city. Direct flights connect Luang Prabang to a limited number of major Southeast Asian airports.
Hanoi and Bangkok are the best places to start your search for connections. If you are traveling from Europe, the US, or elsewhere, then you should expect to transfer at either of these airports.
Alternatively, you can travel to Luang Prabang from Northern Thailand via van or boat. Slow boats depart from Chiang Khong (near Chiang Mai) in Thailand and cruise along the Mekong River. This journey typically takes two days to complete whereas the van journey takes approximately 11 hours.
In case you're planning to visit more destinations in the country during your Laos itinerary, you can travel to Luang Prabang from other destinations by minivan or public bus within Laos.
Best time to visit Luang Prabang
Laos is defined by two seasons, wet season and dry. The wet season runs from May to September while the dry season spans from October until April. Temperatures reach their highest between March and July and it can get as hot as 35°C (95°F).
The most rainfall is between July and September and this can cause nearby flooding. Sometimes this makes it trickier to access sites outside of town so do bear that in mind if you are planning to include a waterfall trip in your Luang Prabang itinerary.
On the other hand, it is when you will find the least crowds and cheaper accommodation deals. The busiest period is October to February.
How to get around Luang Prabang
Luang Prabang is very small and the historic center is walkable. Alternatively, you can hire a bicycle which will save some time and make this Luang Prabang 2 day itinerary even more fun!
Hotels often provide bicycles but if not there are rentals all over the town and costs are usually 15,000-30,000 LAK ($0.75-1.50 US) per day.
For seeing the sights further afield you can rent a motorbike if you feel comfortable driving on challenging roads and have an International Driver's Permit (IDP). Rental fees are higher than in neighboring countries and rates vary from 95,000-145,000 LAK ($4.65-7.20 US) per day.
The other option for traveling to nearby sites during your 2 days in Luang Prabang is to enlist the services of the many tuk tuk drivers. These are available for private hire or on a shared basis if you want to save some money.
Short journeys around town will cost you around 20,000 LAK ($1 US) per trip and further afield you are looking upwards of 50,000 LAK ($2.45 US) based on the distance.
Where to stay in Luang Prabang
LUXURY – Pullman Luang Prabang
Located in a quiet part of Luang Prabang, away from the hustle and bustle of the city, Pullmann Luang Prabang is a true paradise. The property features a swimming pool and an on-site restaurant where guests can enjoy a complimentary breakfast.
MID-RANGE – The Belle Rive Boutique Hotel
This top-rated hotel is located within a colonial building that affords tremendous river views. Treat yourself to a duplex or suite which comes with its own ample balcony and wake up to some of the most incredible views you'll ever experience.
BUDGET – Villa Mahasok Hotel
Boasting free on-site parking, a central location, and air-conditioned bedrooms, this budget hotel is a total steal. Immaculate rooms are fitted with private bathrooms.
Overview of Your Luang Prabang Itinerary
Breakdown of your 2 days in Luang Prabang
Day 1: Alms Giving Ceremony, Luang Prabang Old Town, Wat Xieng Thong, Wat Sensoukaram, Wat Pa Phai, Wat May Souvannapoumaram, Mekong Sunset River Cruise
Day 2: Kuang Si Waterfall, Kuang Si Butterfly Sanctuary, Lao Cooking Course, Botanical Gardens, Royal Palace, Mount Phu Si, Night Market
Map for your Luang Prabang Itinerary
Below you can find a customized map that includes all the locations you're going to visit on this Luang Prabang itinerary.
I marked your 2 days in Luang Prabang with different colors – I used blue for the first day and green for the second day, so you can easily see which places you're going to visit each day.
If you open up this post on your phone and you click on the bracket in the upper right corner of the map, it will open up in your Google Maps app so you can always have it with you. Super convenient, right?
Day 1 of Your 2 Day Luang Prabang Itinerary
Alms Giving Ceremony
Alms giving is a ritual that takes place every morning at dawn in Luang Prabang. Local monks form a peaceful procession along Sakkaline Road during which they are handed offerings of rice balls by the residents of Luang Prabang.
It is free to watch alms giving and it coincides with sunrise. However, it's really important that you keep your distance from the monks. In the past, tourists have caused issues by getting in the way when trying to take photos of the monks.
It is best to watch from afar down one of the side streets. You will also need to dress conservatively with your knees and shoulders covered.
Witnessing alms giving is one of the most interesting things to do in Luang Prabang in 2 days and you really will not regret that early morning wake-up call.
Explore the Old Town
The historic heart of Luang Prabang is situated on a peninsula that is surrounded by the Mekong and Nam Khan rivers. As a UNESCO World Heritage Site, the small area is teeming with heritage buildings that fuse traditional Lao with colonial French architecture.
Take the opportunity on the first morning of your Luang Prabang itinerary to weave your way through the streets and watch daily life spring into action. You can choose to explore Old Town on foot or rent a bicycle.
The Luang Prabang Morning Market runs daily from 5 am to 10 am and is a great spot to pick up fresh tropical fruits and the typical Lao breakfast of Khao jee (grilled sticky rice served on banana leaf).
If you would prefer then you can grab some of the best French-style pastries outside of France at one of the authentic bakeries in town. Alternatively, stop by Two Little Birds Cafe for a healthy breakfast and good coffee! Their smoothie bowls and avocado toasts are really delicious.
You can also visit the rickety Bamboo Bridge which connects the tip of the peninsula with a small settlement on the Mekong. It costs 10,000 LAK ($1 US) for the novel experience of crossing the bridge. The bridge is only open during the dry season as during the rainy season the water washes the bridge away.
Temple hop in Luang Prabang
Now is the perfect time to tackle the myriad of temples that dot the streets of Luang Prabang. There are so many to see so you can wander at will or head straight to the following to sample a selection.
Wat Xieng Thong
As the largest and most sacred temple in town you really can't miss the chance to visit Wat Xieng Thong, or, the 'monastery of the golden city'.
Erected in the 16th century in a typical Lao architectural style with its wide sweeping roof, the temple is one of the oldest temples in the country. The complex features a funerary hall and an intricate mural of the tree of life.
Wat Xieng Thong is open daily, 8 am – 6 pm, and the admission fee is 20,000 LAK ($1 US).
Wat Sensoukaram
The meaning behind the name of this alluring temple is ambiguous. 'Sensoukaram' means '10,000 treasures' and some local fables say that was because it was constructed using 10,000 stones from the Mekong.
However, there are many other explanations so feel free to make some inquiries during your 2 days in Luang Prabang and see how many legends you can collect.
Wat Sensoukaram is open daily, 8 am – 3 pm, and there is no admission fee. It is a 5-minute walk from Wat Xieng Thong.
Wat Pa Phai
This small yet exquisite gilded temple features a remarkable gold leaf facade that depicts seated Buddhas.
Its precise origins are unclear due to renovations but the interiors depict scenes from 19th-century life in Laos. Its lush setting earned Wat Pa Phai the affectionate nickname of 'monastery of the bamboo forest.'
Wat Pa Phai is open daily, 8 am – 5 pm, and there is no admission charge. It is a 10-minute walk from Wat Xieng Thong.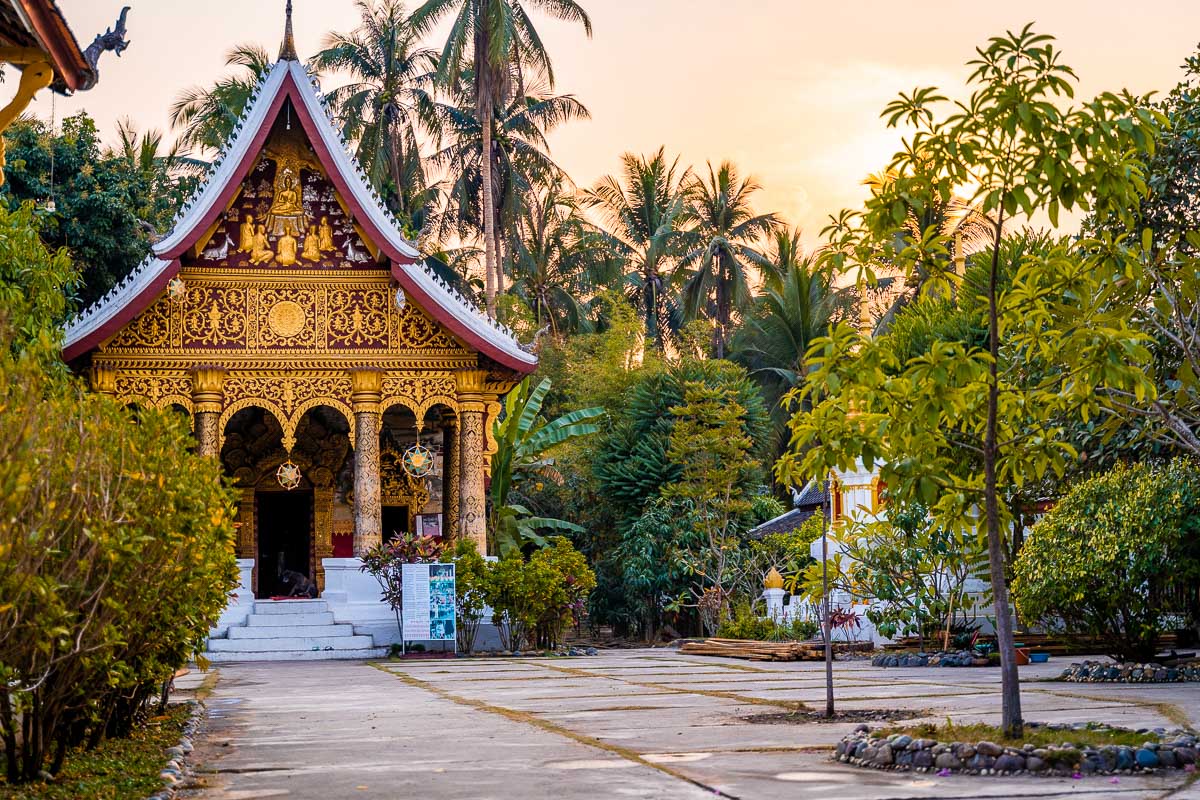 Wat May Souvannapoumaram
More commonly referred to as simply Wat May, this temple was built in the early 18th century and is one of the largest complexes in town besides Wat Xieng Thong. Upon construction it was used by the royal family and to this day it houses an extensive collection of Buddha statues.
Wat May is open daily, 8 am – 5 pm, and the admission cost is 20,000 LAK ($1 US). It is a 10-minute walk from Wat Pa Phai.
Mekong Sunset River Cruise
Unless you started your 2 days in Luang Prabang by riding the slow boat from Thailand, taking a scenic cruise along the Mekong really shouldn't be missed.
Flowing through six countries, this mighty river is one of the longest in Asia, and hopping aboard a boat gives you the perfect opportunity to lap up the rural scenery and snap some incredible photos.
As many of the river tours take an entire day, I suggest joining this 2.5-hour Mekong Sunset Cruise from Luang Prabang. It's the perfect way to wind down after a full day spent on your feet exploring the Old Town. This boat cruise departs daily at 4 pm (subject to the weather conditions).
Dinner
Although you can find countless amazing restaurants in the Old Town of Luang Prabang, my personal recommendation is to have dinner at Yuni Yupoun.
Constantly rated as the number one restaurant in all of Luang Prabang, this charming restaurant prides itself on serving delicious bites from all over the world. In fact, the name means 'here and there' and each corner inside the restaurant represents a different culture.
We loved this restaurant so much that we decided to eat here on both evenings of our 2 days in Luang Prabang and let me tell you, we didn't regret it. The hospitality is amazing and the food is just out of this world.
Day 2 of Your 2 Day Luang Prabang Itinerary
Kuang Si Waterfall
For the second day of your 2 day Luang Prabang itinerary you will need to set your alarm clock again but this time you will also need to grab your swimmers. Your first stop today is the picturesque Kuang Si Waterfall.
The azure water of the Kuang Si Waterfall cascades through the jungle from a height of 50 meters (164 feet). It's perfectly safe to swim so do bring your towel and wear sturdy shoes as well so you can scramble up through the jungle to appreciate varying views of the natural attraction.
The waterfall is open to tourists daily, 8 am – 5 pm. Because it gets so busy I recommend that you get here as soon as the falls open for business.
You will need to pay an entrance fee of 25,000 LAK ($1.25 US) to visit and swim in the falls. It takes 45-60 minutes to reach the Kuang Si Waterfall from downtown and it's best to hire a tuk tuk driver to take you unless you're a competent motorbike driver.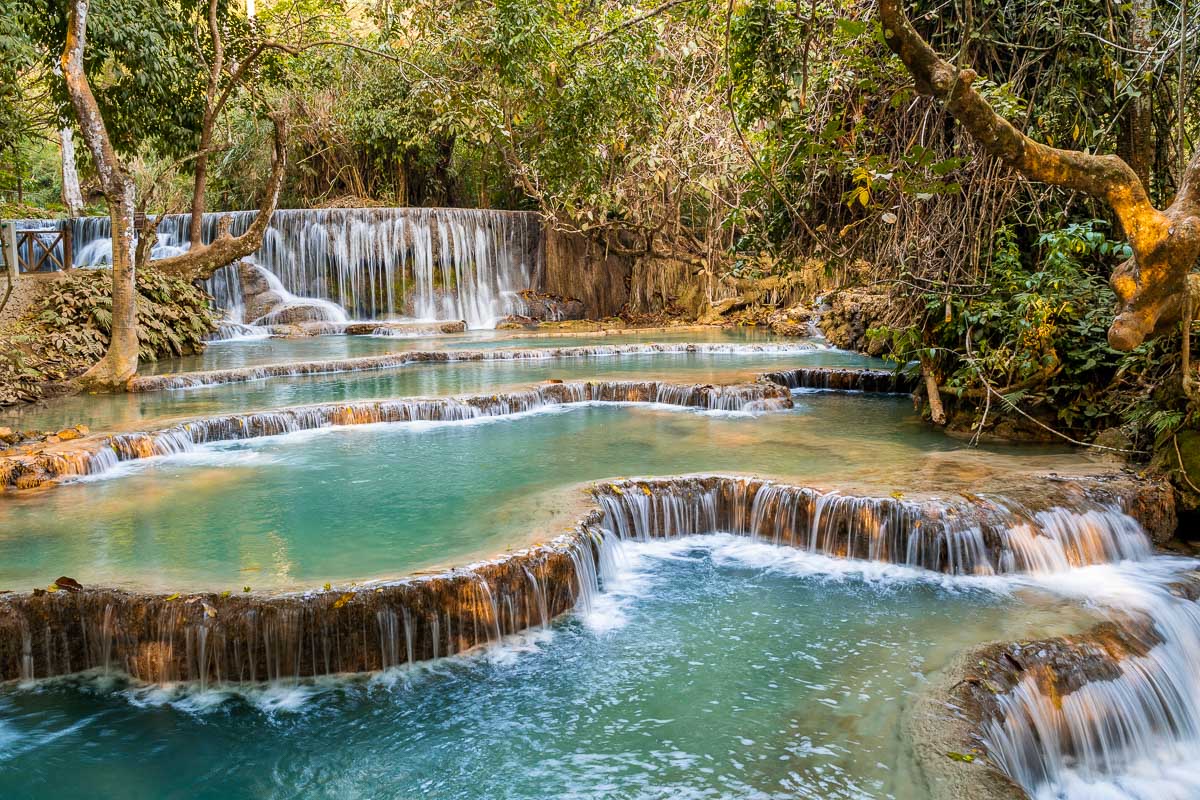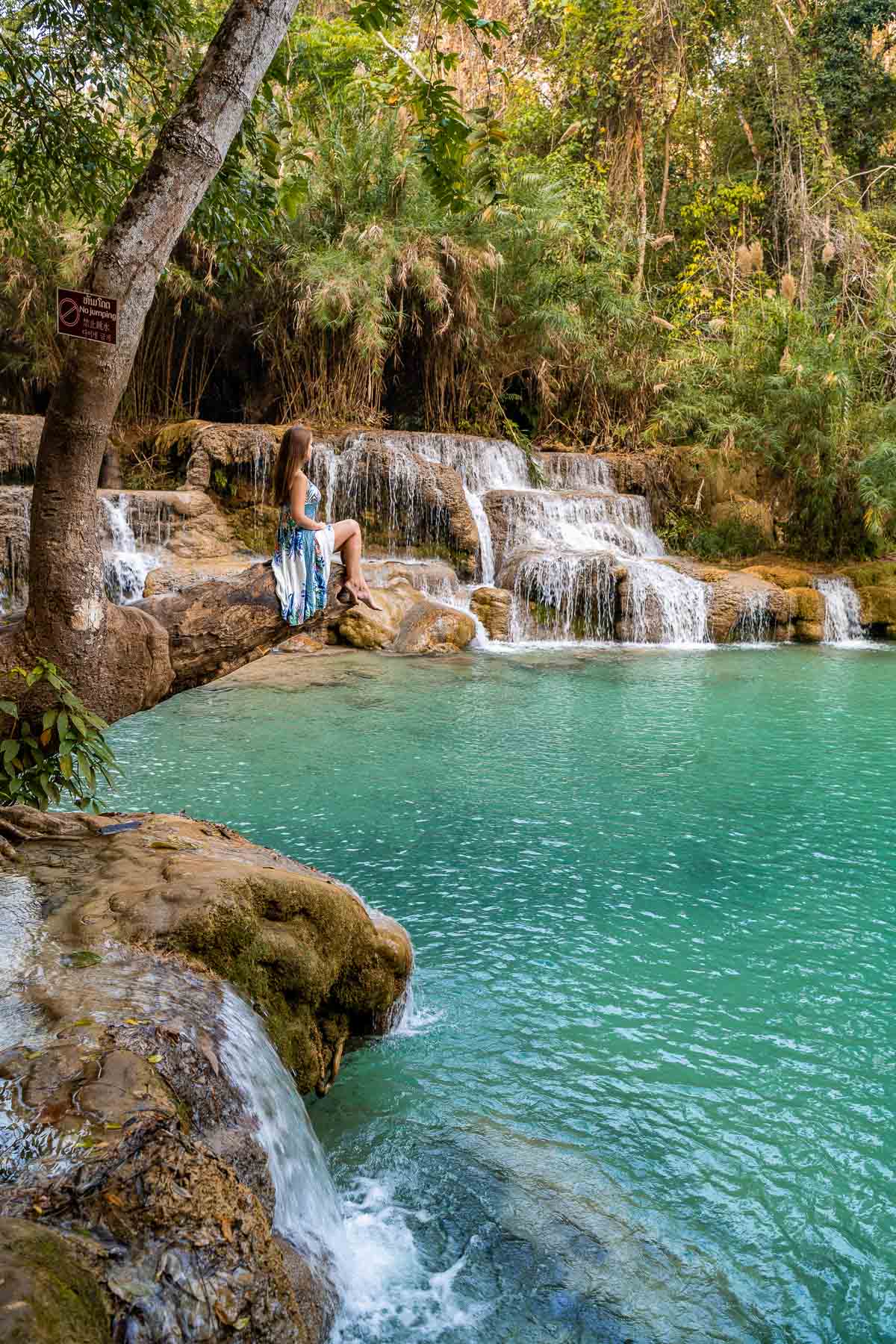 Kuang Si Butterfly Park
Once you've frolicked in the pools you can dry off with a wander around this lovely butterfly sanctuary which is brimming with colorful creatures and flowers. There is also a large fish pond and a fish spa if you're brave enough to let fish nibble your feet.
It takes around 20 minutes to walk to the sanctuary from the waterfall but you might be best striking a deal with your tuk tuk driver to wait for you and return you to town via the sanctuary. Alternatively, you will find shared tuk tuks milling around the entrance.
The sanctuary is open 11 am – 4 pm (on Thursdays it's closed). Admission is 100,000 LAK ($5 US) or 204,000 LAK ($10 US) if you want to add lunch.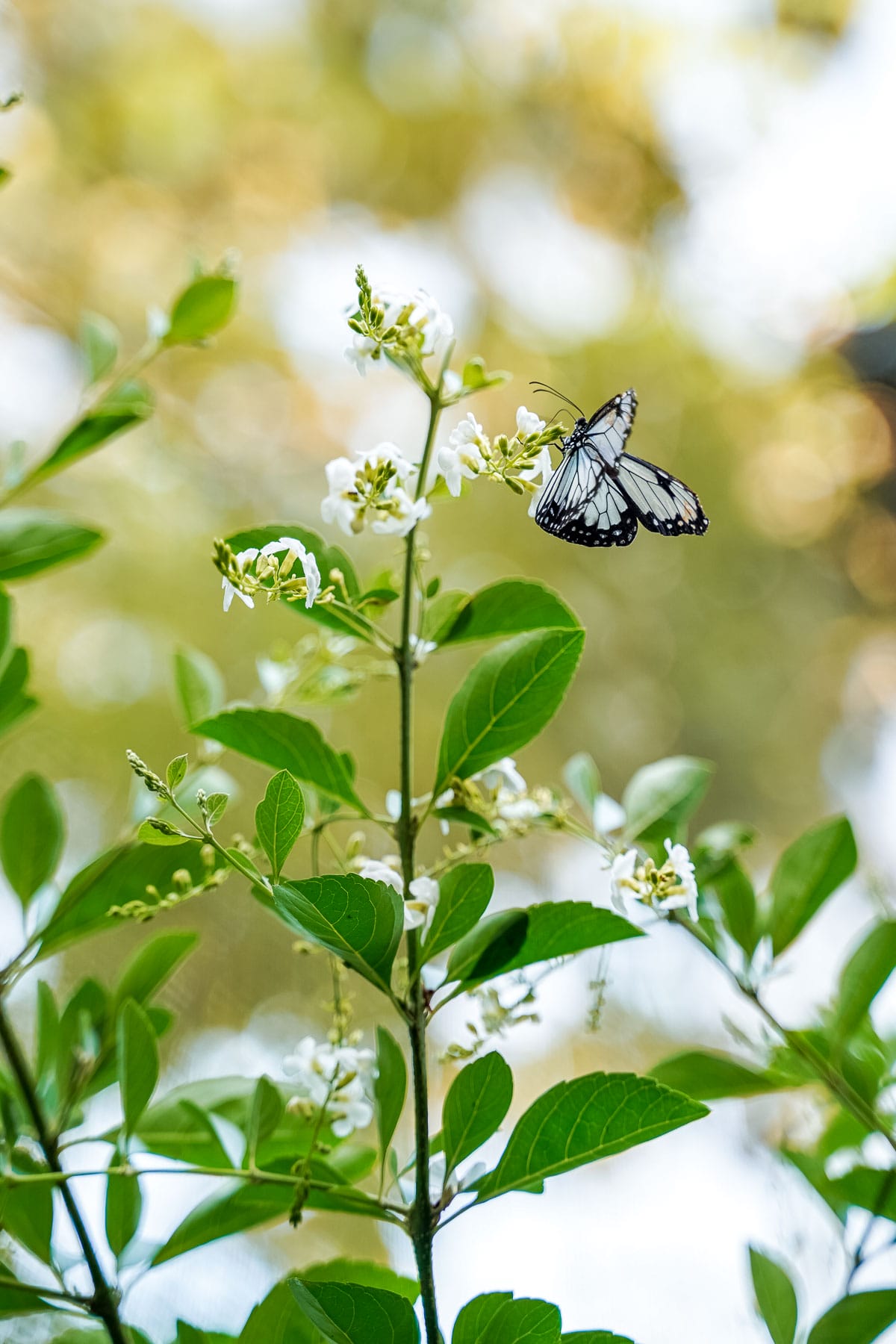 Lao Cooking Class
Now for your afternoon, you have a decision to make. You can either enroll in a Lao cooking class or visit the beautiful Pha Tad Ke Botanical Gardens.
There are several places in town where you can take a course and you will see adverts in town. Tamarind provides some of the most immersive and informative Lao cooking classes in town.
Their evening classes run from 4 pm to 8.30 pm and cost 612,000 LAK ($30 US). During the course, you will master how to create four scrumptious Lao dishes.
However, if you want to do this then you'll need to jiggle this Luang Prabang itinerary and either skip last night's sunset river cruise or reschedule your sunset hike from this day to a sunrise climb.
Pha Tad Ke Botanical Garden (temporarily closed)
Option B, you can take a stroll through the very first botanical garden that opened in Laos. Pha Tad Ke is an oasis of fragrant orchids and colorful tropical plant life interspersed with bamboo forest.
You can book a skip the line ticket that includes access to the gardens by boat (return boat trip included). This also permits access to a herbal tea tasting and whatever craft activities and other events happen to be scheduled on the day of your visit.
Royal Palace
Situated right by the river at the foot of Mount Phu Si (the next item on your Luang Prabang itinerary), the former royal residence of King Sisavang Vong has since been converted into a museum.
Often referred to as Haw Kham or the Golden Hall, the palace was constructed in 1904. As with much of the architecture in Luang Prabang, it is a mix of Lao and French elements.
Inside the museum, you can explore apartments that are presented as time capsules from the time the palace was a royal residence as well as Buddhist relics and artifacts.
The museum is open daily, from 8 am to 11.30 am and from 1.30 pm until 4 pm. Admission is 30,000 LAK ($1.50 US).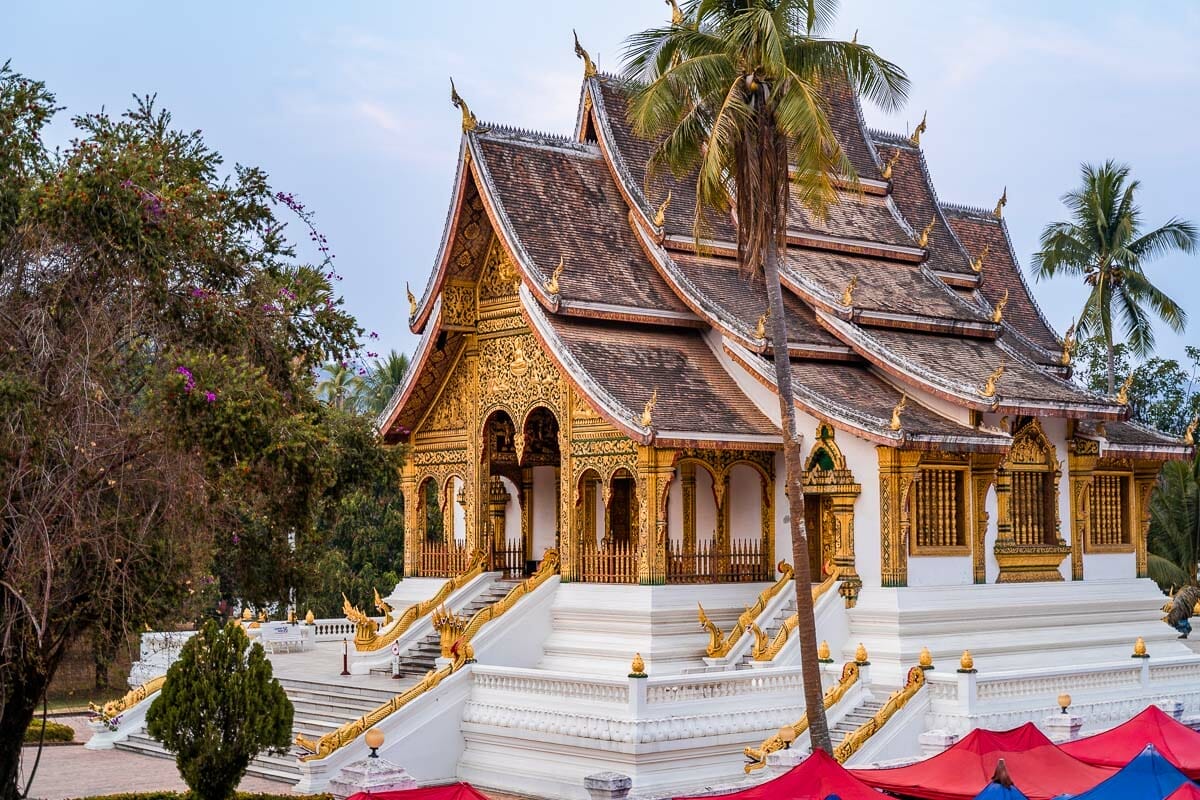 Mount Phu Si
Mount Phu Si (Mount Phousi) is a 100-meter (328 feet) high hill right in the center of town. It's the tallest point in the city and provides a wonderful panorama across the confluence of the Mekong and Nam Khan rivers and surroundings.
There are two staircases, each featuring just over 300 steps. Climbing the peak is one of the most unforgettable things to do in Luang Prabang in 2 days and is best experienced at sunset.
You can climb up using the Sisavongvang Road entrance (near the Royal Palace) and return via the route that starts on Thanon Phousi. The former has slightly fewer steps.
Once you reach the summit you will spot the golden stupa of Wat Chom Si where locals and monks place daily offerings.
Hiking up Mount Phu Si is permitted between 6 am and sunset each day. There is a small fee of 20,000 LAK ($1 US) to pay soon after you start the hike.
You can also buy some flowers to make an offering if you wish. Because Mount Phu Si is a holy site you will need to cover up modestly once at the top.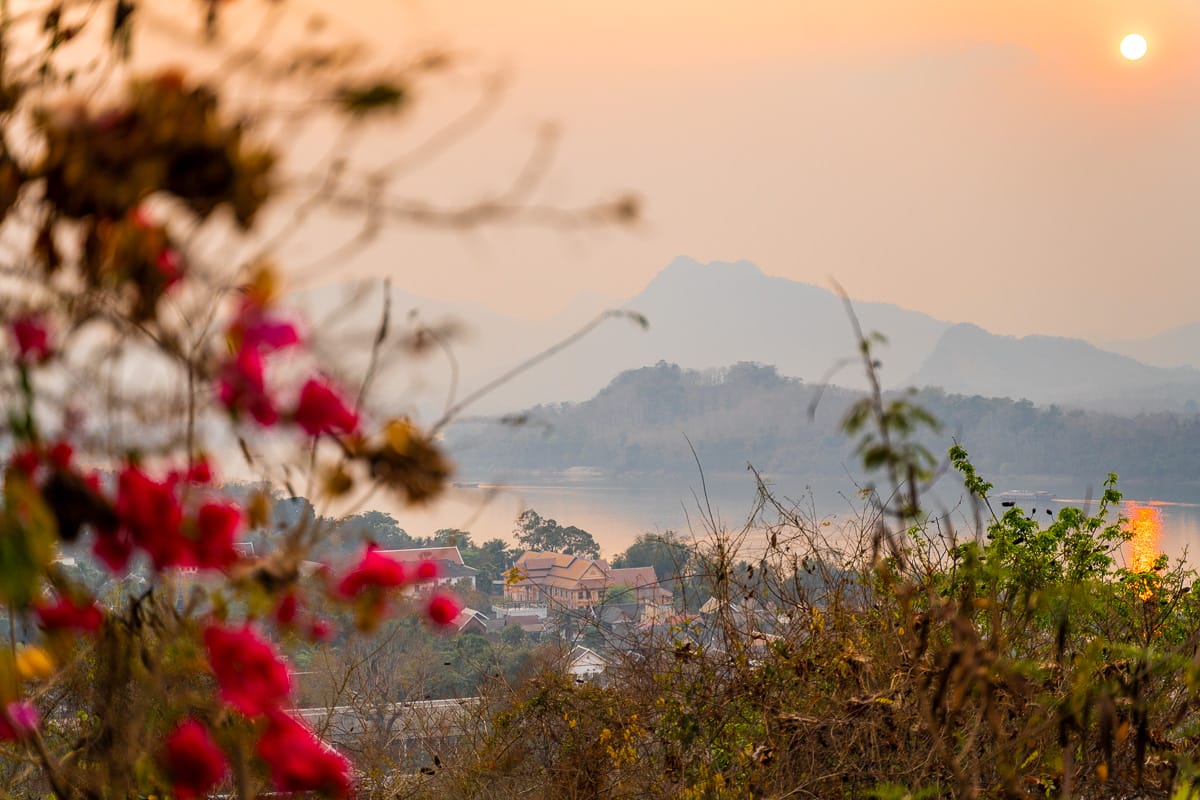 Night Market
There's nothing like hiking up 300 steps to work up an appetite so for the final stop on your Luang Prabang 2 day itinerary you can feast on Lao delicacies at the Night Market.
This is situated on Phothisalath Road and it runs every night from 5 pm – 11 pm. In addition to numerous food stalls, there are also dozens of stalls where you can purchase authentic Lao handicrafts and souvenirs.
Whatever you do, make sure to try some coconut pancakes – they are super delicious!
Final Thoughts
That brings your 2 day Luang Prabang itinerary to an end. As you can see, there are plenty of cultural and natural wonders to keep you entertained while in and around this charming city that casts a spell over so many travelers.
I hope that my Luang Prabang itinerary has illustrated how unique this city is and helps you understand how to maximize your stay. If you have any questions about Luang Prabang or traveling in Laos then feel free to send me an email or drop a comment below. I'd love to hear from you!
xoxo, Kriszti
---
Related Posts
Want to read more about Laos?
---
What Camera Gear Do We Use?
If you want to read more about what is in our camera bag, check out my detailed post about our travel photography gear!
---
Pin It for Later!