Enigmatic Laos is home to magnificent Buddhist temples, architecture that juxtaposes East and West, pristine natural landscapes, and plenty of outdoor pursuits.
As it's still relatively untouched by mass tourism, spending one week in Laos provides you with the opportunity to experience the splendor of Southeast Asia without the crowds, hustle, and bustle.
To help you see the best of Laos in one week, I have curated the following itinerary which features where to go, where to stay, how to get around the country, and what to do.
Read on and discover the perfect Laos itinerary which allows you to maximize your time and see all the most beautiful places in Laos!
*Disclosure: This post contains a few affiliate links, which means I may receive a small commission, at no cost to you, if you make a purchase through my link.*
No time to read now? Pin it for later!
Overview of Your One Week Laos Itinerary
Rather than telling you exactly how to spend your one week in Laos day by day, this itinerary is divided by region.
For each city, I have suggested where to stay, where to eat, and what to do while you're there. This way you can choose to spend your days in Laos doing the activities and tours that most appeal to you.
Breakdown of your one week in Laos
The three areas that you will during your one week in Laos are the followings:
Luang Prabang (2 days)
Vang Vieng (3 days)
Vientiane (2 days)
If it's more convenient for you, it is also possible to flip this Laos travel itinerary and start in Vientiane which also has its own international airport.
Map for your Laos itinerary
Below you can find a customized map that includes all the locations you're going to visit on this Laos itinerary.
I marked the 3 main areas you'll visit during your one week in Laos with different colors – I used blue for Luang Prabang, green for Vang Vieng, and red for Vientiane, so you can easily see which places you're going to visit in each city.
If you open up this post on your phone and you click on the bracket in the upper right corner of the map, it will open up in your Google Maps app so you can always have it with you. Super convenient, right?
The Perfect One Week in Laos Itinerary
Day 1-2: Luang Prabang
Luang Prabang is located in the mountainous north of Laos in a valley at the confluence of the Mekong and Nam Khan rivers.
As a UNESCO World Heritage Site, the town is brimming with ancient architecture that fuses together traditional Lao styles with colonial French builds.
This is a laid-back city where the pace of life is slow. There are no huge skyscrapers or busy highways to contend with.
Spending 2 days in Luang Prabang is the perfect length of time to experience the major sites as part of your Laos itinerary and see why so many travelers consider this one of the loveliest cities in Southeast Asia.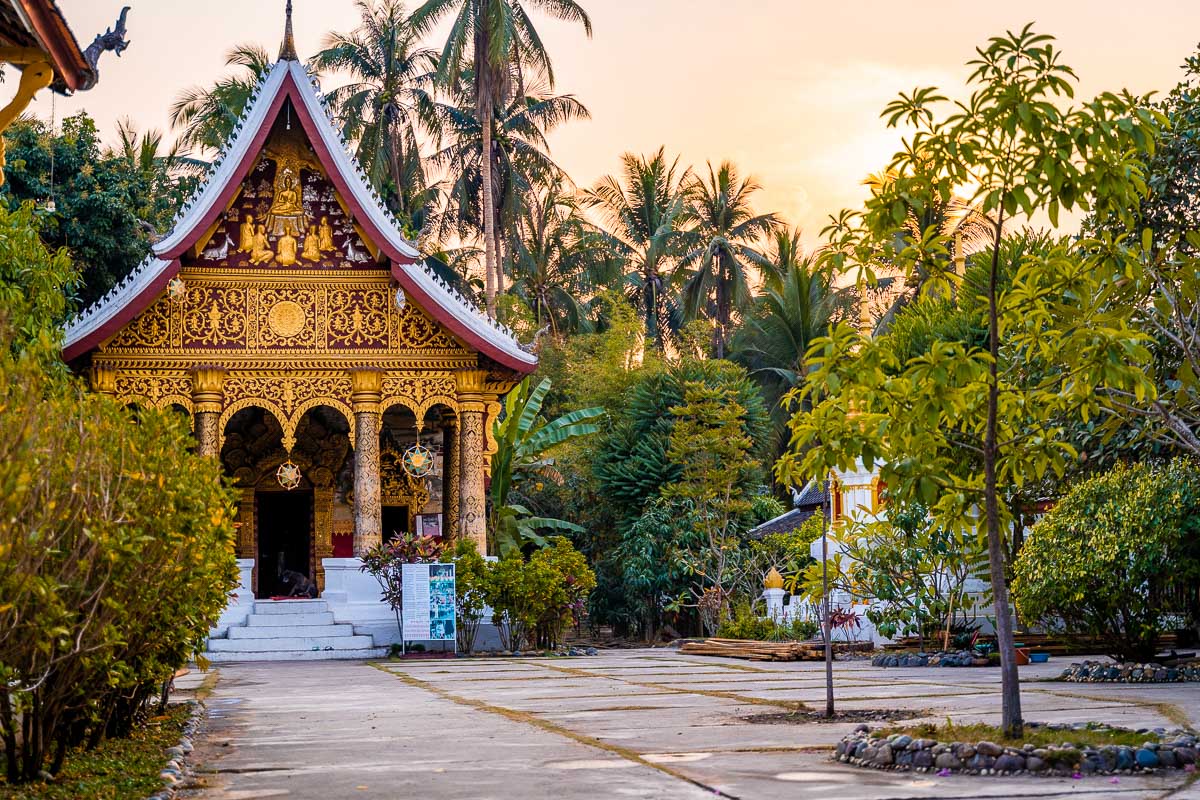 How to get to Luang Prabang
If you are traveling from overseas then you will likely arrive at Luang Prabang International Airport (LPQ). The airport is located 4 km (2.5 miles) northeast of the city.
You can fly direct to Luang Prabang from a select number of major Southeast Asian airports, Hanoi and Bangkok specifically, and if you are traveling from further afield you will likely transfer at one of these airports.
If you are already in Southeast Asia as part of a wider adventure then you could transfer to Luang Prabang by boat from Thailand. Slow boats depart from Chiang Khong (near Chiang Mai) and cruise the Mekong over the course of two days.
Where to stay in Luang Prabang
The historic heart of Luang Prabang sits right at the meeting point of the Mekong and Nam Khan rivers.
It is best to stay as centrally as possible so that you can make the most of the attractions in town and plan some early starts which are mandatory for your one week in Laos. Besides, this way you can save some cash by exploring on foot.
Here are my top picks for where to stay in Luang Prabang for different budgets.
LUXURY – Pullman Luang Prabang
Located in a quiet part of Luang Prabang, away from the hustle and bustle of the city, Pullmann Luang Prabang is a true paradise. The property features a swimming pool and an on-site restaurant where guests can enjoy a complimentary breakfast.
MID-RANGE – The Belle Rive Boutique Hotel
This top-rated hotel is located within a colonial building that affords tremendous river views. Treat yourself to a duplex or suite which comes with its own ample balcony and wake up to some of the most incredible views you'll ever experience.
BUDGET – Villa Mahasok Hotel
Boasting free on-site parking, a central location, and air-conditioned bedrooms, this budget hotel is a total steal. Immaculate rooms are fitted with private bathrooms.
Best things to do in Luang Prabang
Cycle or walk around Old Town
Luang Prabang features a dreamy fusion of traditional Lao and colonial French architecture. Carve out a few hours to explore and take photographs either on foot or with a rental bicycle.
Alternatively, you can take a tour of Luang Prabang by tuk tuk with a professional tour guide if you want to learn more about the history.
Observe the Alms Giving Ceremony
Alms giving is a ceremony whereby locals hand out offerings of rice and food to the resident monks. This takes place daily in Luang Prabang at dawn.
As a tourist, you are welcome to watch the ritual, however, it's important to respectfully observe from a distance and not interrupt the procession of monks.
Watch the sunrise at Mount Phu Si (Mount Phousi)
Watching the morning sun flood the city atop its tallest point is a special addition to your one week in Laos itinerary.
Mount Phu Si literally translates into 'sacred hill' and the summit (where you will find the golden stupa of Wat Chom Si) is accessible via a climb of over 300 steps.
The 100 meters (328 feet) tall hill is located in the town center so there's no excuse to hit the snooze button.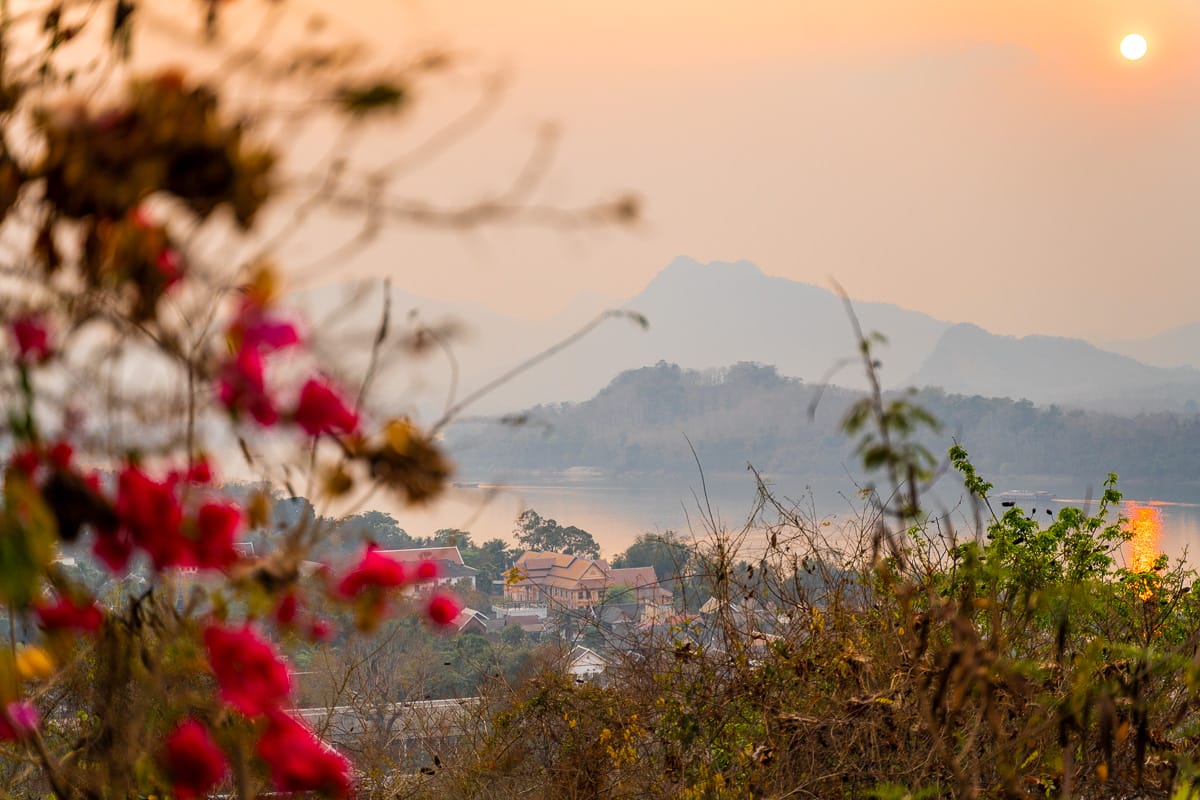 Step into Lao history at the Royal Palace
This former royal residence of King Sisavang Vong was built in 1904 using a blend of Lao and French architectural styles.
It has since been transformed into a museum that houses royal relics, holy Buddhist artifacts, and palatial apartments that show how the royal family lived. The museum is also known as Haw Kham (Golden Hall).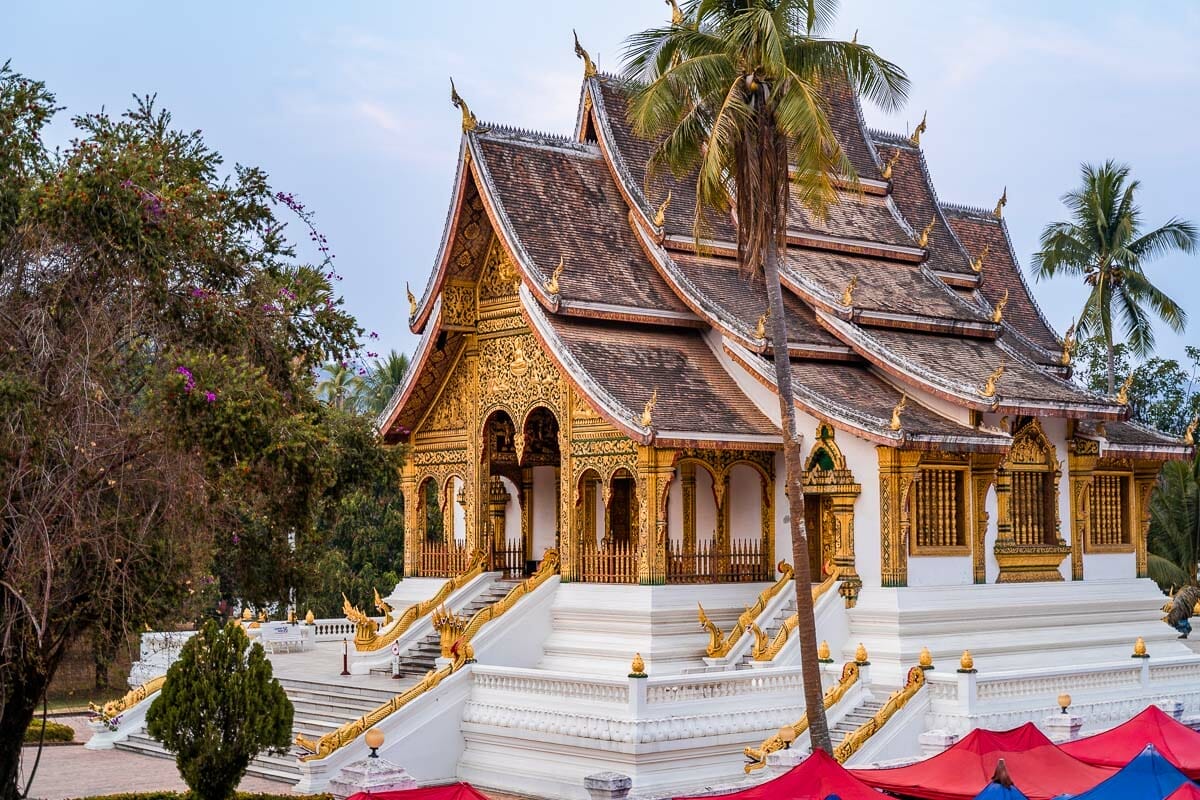 Tick off the temples of Luang Prabang
There are 34 temples awaiting you in Luang Prabang so you could easily spend your entire Laos one week itinerary hopping around them all.
Start with one of the largest and most sacred, Wat Xieng Thong, which was constructed in the 16th century.
You can visit independently or as part of this heritage sites of Luang Prabang guided tour if you want to glean more insight into Laotian culture.
Plunge into the Kuang Si Waterfall
Slip into your hiking boots and visit one of the most beautiful waterfalls in Laos which tumbles down through the jungle foliage.
Taking a dip in the turquoise pool of the Kuang Si Waterfall is the perfect way to launch into your one week in Laos.
It's possible to climb up through the forest to reach the top of the 50 meters (164 feet) falls but you will require sturdy footwear.
Find sanctuary at the Pha Tad Ke Botanical Garden
Considered the first botanical garden to open in Laos, Pha Tad Ke is teeming with orchids, bamboo, and colorful tropical plant life.
Your ticket includes the boat trip to and from the garden and grants access to a herbal tea tasting and whatever handicraft workshops are scheduled on the day of your visit.
Shop for souvenirs at the Night Market
There are a couple of markets in Luang Prabang where you can shop for keepsakes.
The Night Market opens every evening around 5 pm and provides you with the chance to pick up street food, textile products, and other locally made gift items. You can find it on Phothisalath Road.
Where to eat in Luang Prabang
Day 3-5: Vang Vieng
Vang Vieng is one of the most gorgeous places you'll experience while traveling around Laos in one week, or perhaps in the world.
This rural setting is where you'll see limestone mountains, blue lagoons, caves, and plains speckled with rice paddies and tufts of greenery. There are so many incredible things to do in Vang Vieng that you can easily fill three days in the area.
When Vang Vieng first arrived on the Laos travel scene it rose to fame as a party hotspot. Nowadays it follows in the footsteps of Luang Prabang and provides a far more tranquil experience.
You're more likely to encounter travelers waking up for a sunrise hike or taking a yoga class than partying until dawn.
How to get to Vang Vieng
The easiest and most cost-effective way of transferring to Vang Vieng from Luang Prabang is by public bus or minivan.
Tickets cost around 160,480 LAK (17 USD) and buses are operated by Naluang and Sout chai. The buses provided by Naluang depart from Naluang Bus Station whereas those operated by Sout chai include a hotel pick-up.
Factoring in toilet breaks and the condition of the roads, the journey will take anything between 6-7 hours.
You can book your bus tickets online in advance at 12Go.Asia or ask your hotel in Luang Prabang to arrange them for you.
Where to stay in Vang Vieng
In a similar vein to Luang Prabang, the center of Vang Vieng is compact and walkable.
If you want to avoid hiring a scooter and paying for tuk tuks and taxis then you are best staying as centrally as possible so that you can walk to most of the attractions on this Laos itinerary.
Here are my top hotel recommendations in Vang Vieng.
MID-RANGE – Silver Naga Hotel
Featuring an outdoor pool and an on-site restaurant, rooms at Silver Naga Hotel come with air-conditioning, a TV, and a private bathroom with a hairdryer. The property is only a 5-minute walk from the center of Vang Vieng.
BUDGET – Faraway Suites
This centrally located budget-friendly hotel offers air-conditioned rooms with private bathrooms for a reasonable price. You can also find a wellness area with a hot tub on site, as well as billiards and darts.
Best things to do in Vang Vieng
Swim in a Blue Lagoon
Vang Vieng is famous for its resplendent blue lagoons and there are six located a short drive from the town where you can bathe in the turquoise water.
Choose to hop around the different lagoons (they are named Blue Lagoon 1, 2, 3, etc.) or relax at one for a longer time period.
You can visit independently if you hire a scooter or buggy, or else book a tuk tuk transfer to tour them hassle-free.
Explore Tham Chang Cave (Tham Xang)
In addition to the lagoons, there are a couple of caves located in Vang Vieng that you can explore.
One of the most accessible, Tham Chang Cave, is a short walk across the Orange Bridge and features a spring where you can take a dip. Keep your eyes peeled for the stalactite shaped like an elephant.
Tour the Nam Song River by Tube, Kayak, or Longtail Boat
You have a variety of options available for exploring the Nam Song River and its caves.
Tubing is one of the popular options for adrenaline seekers and is much safer these days with more emphasis on the experience itself rather than the partying aspect.
Alternatively, you can join a guided kayaking cruise or hop aboard a longtail boat.
Temple hop in Vang Vieng
Vang Vieng has fewer temples than Luang Prabang so it's easy to take some time in your Laos travel itinerary to visit them.
Retreat to the largest, Wat That, where you will stumble upon golden buddhas, nagi snakes, and other Buddhist sculptures.
If you fancy a drive through the lush landscape you can head north to Wat Pho Karm Chai Mong Kol which is set amongst the tropical greenery and provides remarkable views.
Hike to the Nam Xay Viewpoint
To appreciate the breathtaking scenery of Vang Vieng you can hike up to one of the nearby viewpoints.
The summit of the Nam Xay Viewpoint takes less than 1 hour to hike so it's perfectly feasible for your Laos itinerary. Although do prepare for the fact that it is more of a scramble than a hike in some places.
You'll need to dress appropriately and have your hands free to navigate your way to the incredible finishing point.
Splash out on a Hot Air Balloon Ride
Vang Vieng is one of the most affordable destinations in the world where you can ride a hot air balloon and gaze out across some of the most spectacular scenery in the world.
Above Laos schedules daily flights at sunrise and sunset, subject to the weather conditions.
Stroll through the rice fields
In between all the water activities and high octane activities, take some time to enjoy the serenity of Vang Vieng by taking a stroll in the surrounding rice fields.
Cross the Namsong Bridge to the western bank of the Nam Song River and you'll find some of the most picturesque in the area surrounding the hotels of Vieng Tara Villa and Maylin Guest House.
Where to eat in Vang Vieng
Day 6-7: Vientiane
Located close to the Thai border, Vientiane is the capital and largest city in Laos.
Keeping up with the trend set by Luang Prabang and Vang Vieng, do not travel to Vientiane seeking chaos and noise – the city maintains the level of calmness that is synonymous with Laos.
The city is punctuated by yet more glorious architecture, temples, landmarks, and places to indulge in Lao cuisine.
Dedicating two days of your one week in Laos itinerary is the perfect amount of time to explore the inner city and plan a trip to the outskirts to see some of the unique attractions of Vientiane.
Vientiane is the location of the only other international airport in Laos and so you can choose to start your travels here if you prefer.
How to get to Vientiane
Again the best way to travel onwards is by public bus or minivan.
Malany schedules buses from Malany Vang Vieng to Vientiane Northern Bus Stop which takes approximately 4-5 hours and costs 66,080-113,280 LAK (7-12 USD) per person.
Alternatively, Sout chai will collect you from your hotel in Vang Vieng and drop you in downtown Vientiane. This journey takes 2.5-3 hours and costs approximately 113,280 LAK (12 USD) per person.
Again you have the option to book your bus tickets online in advance at 12Go.Asia or ask your hotel in Vang Vieng to arrange them for you.
Where to stay in Vientiane
Vientiane is the largest place that you will visit during your one week in Laos and as such, the city districts are more spread out.
With two days to spend in Vientiane, it's best to stay centrally and choose a hotel close to the riverfront in the Ban Haysoke and Watchan neighborhoods. This way you can walk to attractions or hop on the public bus or call a taxi with the rideshare app, LocaLaos.
Here are the three top places to stay in Vientiane with different budgets in mind.
LUXURY – La Seine Hotel
Funky rooms decorated with a modern flair at this 5-star hotel offer comfortable quarters with all the mod-cons. The rooftop restaurant provides upscale dining with an incredible panoramic view. A complimentary glass of wine is presented at check-in.
MID-RANGE – Vientiane Garden Villa Hotel
Sophisticated rooms are equipped with spacious showers and some feature a private balcony. The complex features a lush courtyard that contains a seating area and an outdoor pool.
BUDGET – Viryla Boutique Hotel
Rooms are clean and equipped with private bathrooms, a refrigerator, and air conditioning. The property features a compact swimming pool and breakfast is included in the rate.
Best things to do in Vientiane
Admire the Patuxay Monument
As you pass by this towering memorial archway you might think you've teleported to Europe. This landmark was constructed to commemorate the Lao people who fought for independence from the French and in subsequent wars.
It is inspired by the Parisian Arc de Triomphe but once you get up close, you'll see that it actually features Lao motifs.
Visit the Haw Phra Kaew (Hophakaew Museum)
Formerly a Buddhist temple, Haw Phra Kaew has since been converted into a museum.
The foundations of the building date back to 1565 when it was erected to house the sacred Emerald Buddha. It has been rebuilt several times and now contains a wide selection of Buddhist relics and artifacts.
Discover textile culture at the Lao Textile Museum
If you can't help admiring the exquisite textiles of Laos then you might enjoy taking a trip to the Lao Textile Museum and seeing how the women dye and weave fabrics using traditional methods.
The museum is slightly further afield so does require transport to get there and you may want to coincide it with a trip to the nearby Lao National Museum.
Tour the temples of Vientiane
Another city, another list of temples to discover during your one week in Laos!
Visit Wat That Khao to see the colossal reclining Buddha and Pha That Luang to see the 44 meters (144 feet) tall stupa. The early 19th century Wat Si Saket is one of the oldest temples in town and is built in the Siamese style.
Again if you want to gain more understanding of the heritage behind the temples and the Patuxay Monument you might prefer to join a walking or even a cycling tour of Vientiane.
Watch the sunset from Chao Anouvong Park
This riverside park is the perfect place to survey the Mekong river and enjoy watching your final sunset in Laos.
It's also the setting of the daily night market which springs to life around 6 pm and gives you a chance to pick up some Lao street food, handicrafts, clothing, and other trinkets.
Take a Lao Cooking Class
If you've fallen head over heels with Lao cuisine then taking a cooking class that enables you to whip up your own dishes back at home is the ultimate souvenir from your one week in Laos.
Cooking classes in Vientiane typically start with you selecting your own herbs from the garden and learning about the theory behind typical Lao dishes.
Roam in Buddha Park (Xieng Khuan)
Situated 22 km (13.7 miles) southeast of downtown Vientiane, this park is brimming with Buddha statues as well as representations of various other creatures from Buddhist and Hindu mythology.
You can visit independently or book a Vientiane highlights tour that concludes at the park.
Where to eat in Vientiane
Final Thoughts
That concludes this Laos one week itinerary. These seven days will provide you with ample opportunities to immerse yourself in the culture and natural delights that this mysterious country offers.
Now that you know how to see the best of Laos in one week, I hope that this often overlooked country jumps to the top of your travel bucket list.
If you have any questions about traveling to Laos or want to share your own Laos travel tips, feel free to drop a comment below or shoot me a message via email or social media.
xoxo, Kriszti
---
Related Posts
Want to read more about Laos?
---
What Camera Gear Do We Use?
If you want to read more about what is in our camera bag, check out my detailed post about our travel photography gear!
---
Pin It for Later!