Beautiful limestone mountains, green rice paddies, crystal clear blue lagoons, amazing local food, and friendly people. Sounds amazing, right? You can have it all in Vang Vieng!
During our one week in Laos, we spent the majority of our time in Vang Vieng and it definitely became my favorite place in the country. I collected the top 10 best things to do in Vang Vieng to inspire you to visit this beautiful gem in Laos!
*Disclosure: This post contains a few affiliate links, which means I may receive a small commission, at no cost to you, if you make a purchase through my link.*
No time to read now? Pin it for later!
Useful Info for Visiting Vang Vieng
Best time to visit Vang Vieng
Laos has only two seasons: the wet season and the dry season. The wet season runs from May to September while the dry season lasts from October to April. The temperature is usually the hottest between March and July while the rainiest period is from July to September.
Although Vang Vieng can be visited all year round, the best time highly depends on what are you planning to do.
For example, hot air balloons only fly in the dry season and if you want to visit the blue lagoons you should do it in the dry season too, otherwise, they will be brown and disappointing in the rainy season.
However, if you're mainly looking for lush green rice paddies and mountains and you want to try tubing, the early wet season will be a better choice for you.
How to get to Vang Vieng
Unfortunately, Vang Vieng has no airport. Most people fly to Luang Prabang or Vientiane and visit Vang Vieng from there. In the below section you can find out how to get to Vang Vieng from either Luang Prabang or Vientiane!
How to get to Vang Vieng from Luang Prabang
Basically, you have two options for getting to Vang Vieng from Luang Prabang: you can either rent a car or book a bus/minivan ride. Since the roads are not in a good condition and renting a car is generally more expensive, I recommend taking the bus/minivan.
Whenever I travel in Asia, I always use 12Go Asia to check the possibilities, availability, and prices. You can easily check all of it in the below box by modifying your dates!
If you're planning to travel between Luang Prabang and Vang Vieng you can choose from two companies: Sout chai and Naluang.
Sout chai operates both buses and minivans but unfortunately, you can't tell in advance if you will get on a bus or a minivan. There is only one departure per day at 8 am and the ticket costs $18 US per person.
Naluang operates only minivans and they have several departing times so we decided to choose them. Their minivans depart from the Southern Bus Terminal, you can take a tuk-tuk from your hotel to get there. The ticket price is also $18 US per person.
You need to get to the Bus Terminal 30-60 minutes before your actual departing time to exchange your tickets (you need to print them!) and to make sure your baggage has a place in the minivan.
I didn't want to believe it when I first read about it but it's true: your baggage will travel on top of the minivan! Unfortunately, if there is no more space for your bags on the minivan you need to wait for the next departure so make sure to get there in time!
I won't lie to you: the roads are bad. Pretty bad. According to the company, it takes 5 hours to reach Vang Vieng but since the full route goes through the mountains it takes around 6-7 hours in reality.
If you get sick easily, make sure to have some pills for motion sickness with you. The van has multiple stops along the road where you can use the toilet and buy some snacks if you're hungry.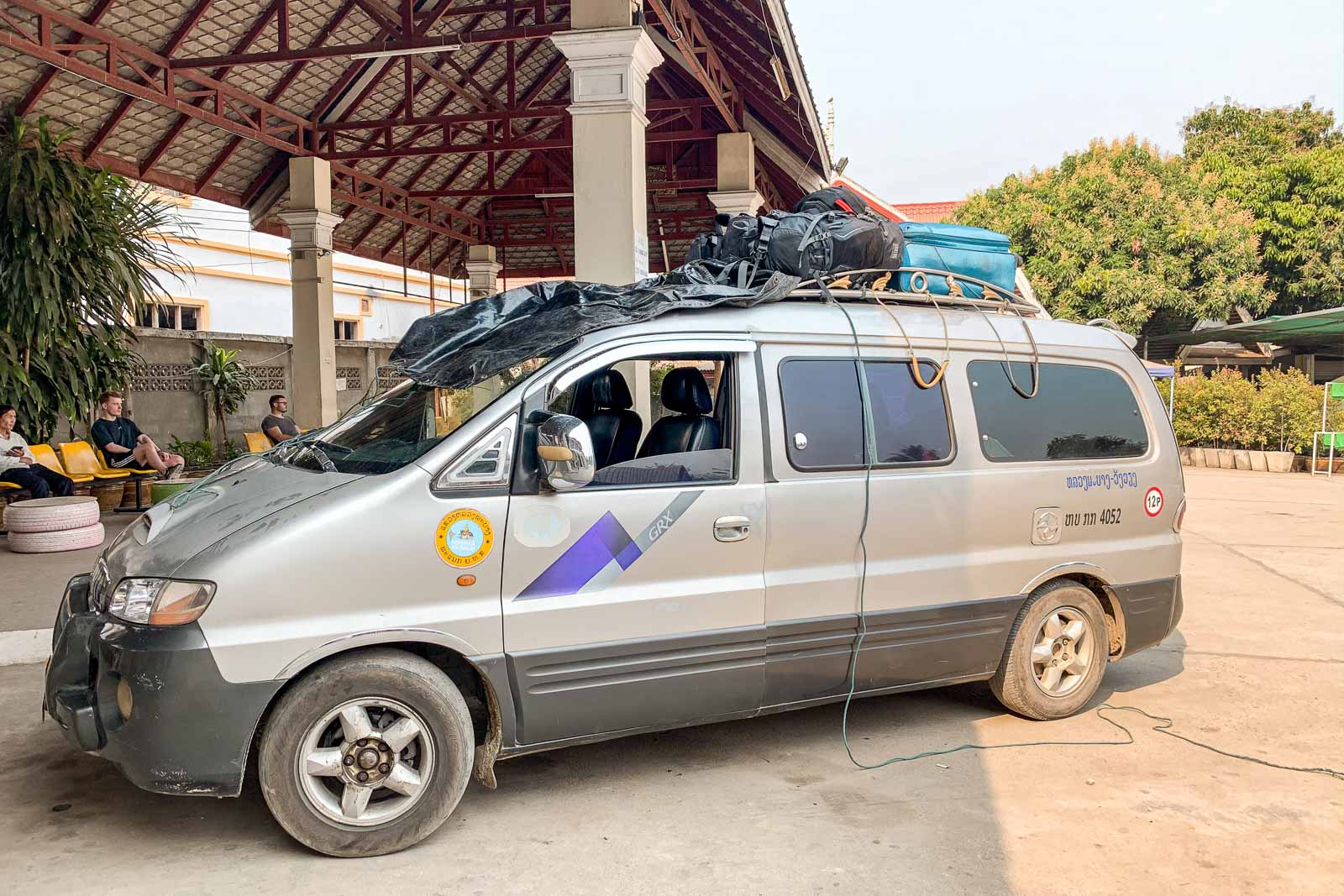 How to get to Vang Vieng from Vientiane
If you're planning to travel to Vang Vieng from Vientiane you have the same two options: renting a car or taking a bus/minivan. Since the car rental is much more expensive I recommend taking the bus/minivan.
As I mentioned before, 12Go Asia is my to-go source for booking transportation in Asia. You can easily check your possibilities by putting your dates in the below box!
Sout chai operates both buses and minivans but unfortunately, you can't tell in advance if you will get on a bus or a minivan. There are two departures per day and the ticket costs $11 US per person.
They also offer free hotel pick-up which is super convenient because you don't need to take another tuk-tuk to go to the Bus Terminal.
The whole journey takes around 4 hours and the roads are in much better condition than the ones coming from Luang Prabang.
Another advantage is that only a small part of the route goes through the mountains, after that the bus/minivan continues on the highway. Their minivan is also in a much better condition than the ones at Naluang which makes the journey much better.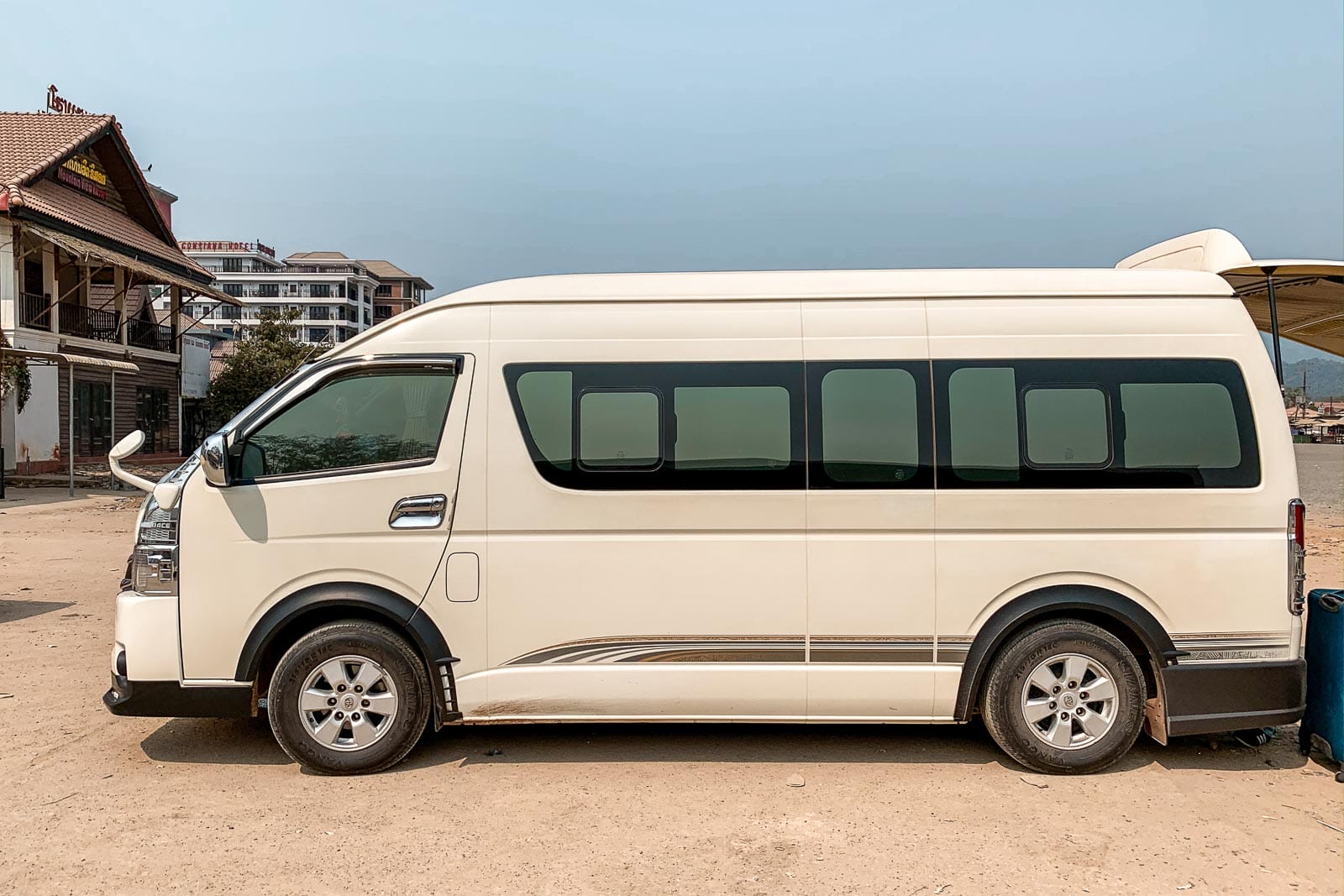 Where to stay in Vang Vieng
Vang Vieng has limited options when it comes to accommodation but luckily you can always find a good place for every budget. There are no luxury hotels in the area but there are a few cute boutique resorts with amazing views.
Below you can see my recommendations or you can check all the accommodations in Vang Vieng here.
MID-RANGE – Silver Naga Hotel
Featuring an outdoor pool and an on-site restaurant, rooms at Silver Naga Hotel come with air-conditioning, a TV, and a private bathroom with a hairdryer. The property is only a 5-minute walk from the center of Vang Vieng.
BUDGET – Faraway Suites
This centrally located budget-friendly hotel offers air-conditioned rooms with private bathrooms for a reasonable price. You can also find a wellness area with a hot tub on site, as well as billiards and darts.
Best Things to Do in Vang Vieng
To make your life easier I collected all the best things to do in Vang Vieng with their exact locations in the below map! You just have to click on the bracket in the upper right corner and it will open it up on your phone. Super convenient, right? Now, let's get into the details!
1. Try the famous river tubing
Vang Vieng used to be famous for its drunk and often drugged-up backpackers whose favorite activity was tubing down on the Nam Song River and having a drink or two at every bar they could find along the river.
As one can expect, without any proper ground rules things got out of hand quickly which resulted in many serious accidents. After many deaths have been reported the government banned the whole activity and decided to give a full safety transformation for the river-tubing.
Nowadays the tubing takes place in a much safer environment and almost all the riverside bars had been closed down, only a handful of them are allowed to be open at the same time.
Thanks to these restrictions Vang Vieng has completely been rebranded and now it's more about the outdoor adventures and the beautiful scenery rather than a party scene for drunk backpackers.
However, river tubing still remained one of the best things to do in Vang Vieng so if you're feeling adventurous definitely go for it! If you want to try river tubing, you can hire tubes and dry bags from the Tubing Center in the middle of the town.
Renting a tube costs 60,000 kip ($3.50 US) and you also need to pay 60,000 kip deposit ($3.50 US). Depending on the current flow of the river the whole activity can be completed in 3-5 hours. You will still find some bars along the river and drinking alcohol is not banned but please be careful!
I haven't tried this activity myself but if you're interested in reading about a personal experience, check out my friend's post about river tubing in Vang Vieng!
And please don't forget about travel insurance! Unfortunately, accidents can happen anytime and it's better to be prepared for that. After many hours of research, I decided to choose SafetyWing and I can honestly recommend them! You can use the below form to get a quotation tailor-made to your own travel preferences.
2. Admire the views from Nam Xay Viewpoint
If tubing is not your thing you don't need to worry: Vang Vieng has so much more to offer! The second best thing to do in Vang Vieng is definitely hiking.
There are many viewpoints in the mountains from where you can have an amazing view but if you have only time for one, make it to the Nam Xay Viewpoint!
The starting point is located 20 minutes from the city center so you need to either rent a scooter/buggy or hire a tuk-tuk driver to get there. Once you arrived you need to pay 10,000 kip ($0.60 US) as an entrance fee.
Although I've read on a lot of other blogs that they considered this hike easy-moderate I will be completely honest with you: I found it very very hard!
There is a marked pathway so you will not get lost but the roads are very tricky and rocky. The first section didn't seem so bad but after a point, you are basically doing rock climbing and you will need all your hands and feet for that.
It takes around 30-45 minutes to reach the top depending on your fitness level and the view is absolutely worth all the struggle!
Just please be very careful, wear appropriate clothing and if you're going for sunset don't stay up too long because doing this hike in the dark can result in serious injuries.
3. Hike up to the Pha Ngern Viewpoint
The other most popular viewpoint in Vang Vieng is the Pha Ngern Viewpoint. It's located fairly close to the city center, only a 5-10 minute drive away. You need to follow the main road after crossing the bridge and you will find a turning point around the TCK Buggy Car Station.
From here you need to follow the signs and you will easily find the starting point. You need to buy a ticket for this hike as well which costs 10,000 kip ($0.60 US).
Based on what I've heard this is a very difficult hike, even more, difficult than the one to the Nam Xay Viewpoint. Since I found that one quite challenging as well I decided not to go for this one so I have no personal experience.
I only recommend doing this hike if you're in very good shape as it takes around 1-2 hours to complete and the terrain is quite hard as well.
There are two separate viewpoints along the road and both of them offer an amazing 360 view over the whole area so I'm sure you will be rewarded for all your efforts if you decide to do it!
4. Swim in one of the Blue Lagoons
Vang Vieng is quite famous for its blue lagoons and spending the day in the crystal clear blue water is definitely one of the best things to do in Vang Vieng! You will find several blue lagoons around the city and they are all numbered.
The Blue Lagoon 1, 2, and 3 are the closest ones to the city and they are the most popular ones as well.
It's important to know that the water in the blue lagoons is only blue in the dry season or if it hasn't been raining for a couple of weeks. Otherwise, you will find them all brown and kinda disappointing. We visited at the end of February and luckily they were all blue and crystal clear.
You need to rent either a scooter/buggy or hire a tuk-tuk to get to the blue lagoons. Although many hotels offer free bicycles rentals I don't recommend actually using them since the blue lagoons are quite far away from the city center.
The entrance fee is between 10,000 – 20,000 kip ($0.60 – $1.20 US) per person for each blue lagoon and if you manage your time wisely you can easily visit more of them in a day.
5. Visit the Tham Chang Cave
Actually, you can find many different caves around Vang Vieng, most of them are located in the blue lagoons.
Tham Chang Cave is the most popular one and since it's fairly close to the city center it's a real must-visit in Vang Vieng. If you're staying in the center you can easily walk there or you can take a bicycle.
In order to reach the cave first, you have to pass through a resort which costs 5,000 kip ($0.30 US) per person.
After that, you need to walk across an orange bridge and you will easily find the entrance of the cave where you need to buy a ticket for 15,000 kip ($0.90 US) per person.
There are different pathways inside the cave and you will also find a small blue pool by the entrance.
6. Rent a buggy to explore the area
Vang Vieng is truly one of the most beautiful places in Laos and while you can hire a tuk-tuk to drive you around, the best way to explore the area is to rent a buggy and roam around the gorgeous scenery in your own pace.
You can also rent a scooter but I don't recommend this as there are no concrete roads (only until you reach the Blue Lagoon 1), the roads are full of holes and everything is really dusty.
There are several places in Vang Vieng where you can rent a buggy, we rented it from TCK Tours (I marked their offices on the map below).
The prices depend on the type of the buggy (2 or 4 seats) and on the duration (1-6 hours). For example, we rented a buggy with 2 seats for 5 hours and it cost us 400,000 kip ($23 US).
Having a buggy gives you the freedom to go wherever you want and explore the area at your own pace. We decided to do the following route: after crossing the bridge we went to the Blue Lagoon 1, then drove up to Blue Lagoon 3, and finally drove down to Blue Lagoon 2 before heading back to our hotel.
You can complete this small circle anywhere between 3-5 hours depending on how much time do you want to spend at the blue lagoons or how frequently you stop to admire the scenery.
7. Enjoy the views from a hot air balloon
When talking about hot air balloons, most people instantly think about Cappadocia in Turkey or Bagan in Myanmar. However, you can go for a hot air balloon ride in Vang Vieng as well!
However, don't expect a sky full of balloons as only a few ballooning companies operate in the area.
If you're interested in the hot air balloon ride, I would recommend checking out Above Laos. Their flights start from $130 US per person which is totally budget-friendly compared to the crazy high prices in Cappadocia or Bagan.
They have a sunrise flight every day and they also offer sunset flights on some days.
8. Get a traditional Laos massage
If you're looking for a relaxing experience you need to try the traditional Laos massage! This type of massage is based on the body's pressure points and the masseuses use their own body weight to add force to the rhythmic repetition.
The treatment usually starts with foot reflexology and then moves up to the legs, back, arms and head.
We tried the traditional Laos massage at the Riverside Sala Spa and I can only recommend this place. The Spa is located in a remote area inside the Riverside Boutique Resort, right next to the Nam Song River.
The ambiance of the place is very quiet and relaxing and it offers an amazing view over the mountains. A 60-minute long session costs 200,000 kip ($12 US) per person.
9. Have a boat ride on the Nam Song River
Although tubing is still the most popular river activity luckily this is not your only option. If tubing is not your thing but you'd still like to experience the scenic views from the Nam Song River you can either go kayaking or rent a long-tail boat.
Many tour companies offer kayak or boat rentals across the city, basically, you just need to walk around the streets and choose the one you like. If you don't have the time for searching you can also ask your hotel to arrange a rental for you or you can book a guided tour online.
10. Try the local Lao cuisine
Generally, you will find the best Laotian dishes on every restaurant's menu, however, if you would like to get a complex experience I would recommend trying the Lao Degustation Menu at the Restaurant du Crabe d'Or.
The menu is composed of 5 different dishes served at the same time. Although the menu contains fish and meat, if you're a vegetarian they can offer you other types of dishes to try like tofu or stir-fry vegetables.
If you're planning to eat at the Restaurant du Crabe d'Or I highly recommend booking a table in advance. Since this is the top-rated restaurant in Vang Vieng it fills up quickly in the evenings.
Try to get a table outside since the restaurant offers an amazing view over the Nam Song River and the limestone mountains.
Final Thoughts
Vang Vieng is a true paradise for outdoor lovers and basically anyone who loves to relax in a beautiful and peaceful scenery. If you're planning to visit Laos I would absolutely recommend spending at least 3 days in Vang Vieng to soak in all the beauty it has to offer.
If you have any questions feel free to leave a comment below or send me an email, I always love helping you out! Would you like to add something to the list of the best things to do in Vang Vieng? Let me know in the comments!
xoxo, Kriszti
---
Related Posts
Want to read more about Laos?
---
What Camera Gear Do We Use?
If you want to read more about what is in our camera bag, check out my detailed post about our travel photography gear!
---
Pin It for Later!