Siquijor is a tiny island in the Central Visayas region of the Philippines which is known for its ties to mysticism, shamanism, and witchcraft. There are still a number of healers on the island and you'll spot freshly brewed love potions on sale in the villages.
Magic aside, your Siquijor itinerary will be packed with pristine beaches, excellent snorkeling conditions, and beautiful waterfalls. It's an island that begs you to slow your pace right down and appreciate nature at its finest.
Since it's a small island which means that you can easily see the best of Siquijor in 2 days. Now I'm going to tell you exactly how to do this to make the most of your stay on the island of voodoo!
*Disclosure: This post contains a few affiliate links, which means I may receive a small commission, at no cost to you, if you make a purchase through my link.*
No time to read now? Pin it for later!
Useful Info for Spending 2 Days in Siquijor
Before we start planning your 2 days in Siquijor, let's run over some basics such as how to get to the island and where to stay.
How to get to Siquijor
As there is no commercial airport in Siquijor, the island is only accessible via ferry from Negros Oriental and Bohol.
Most boats are operated by OceanJet but there are a couple of other providers that have slower crossings (and cheaper fares). Note that Siqujor has two ports – Siquijor and Larena – so you'll want to double-check your destination when you book your ticket.
Ferries depart from Tagbilaran City Sea Port on Bohol and arrive at Larena Port. This journey generally takes 90 minutes and fares range from 700-1,000 PHP (14-20 USD) subject to the carriage class.
Since you have to get to Tagbilaran City anyways, it's worth adding a couple more days to your Philippines itinerary to visit the best tourist spots in Bohol!
Crossings from Dumaguete City Port on Negros Oriental take 1-2 hours subject to whether you take a ferry or fast craft and arrive at Siquijor Port. Again, fares vary from 250-380 PHP (5-8 USD) based on whether you book regular or business class.
If you are traveling to Siquijor from Cebu you will need to take the boat to Tagbilaran and then switch. If you are coming from Manila then you can take a domestic flight and then transfer to the boat.
Best time to visit Siquijor
As a tropical island, Siqujor has two seasons – wet and dry. It's warm all year round but you may want to avoid the monsoon season if you have only 2 days in Siquijor.
The rainy season runs from May until the end of November, which is usually the wettest month. From December the rains ease and February is the driest month.
April is the hottest month, with average daily temperatures lingering around 33°C (91°F). In order to have the best weather, it's best to travel to Siquijor between January and May.
How to get around Siquijor
Rent a motorbike
If you feel comfortable doing so, the easiest and cheapest way to get around Siquijor is to hire a motorbike and drive yourself. The main highway, the Siquijor Circumferential Road, is in excellent condition and the island is peaceful and free from congestion.
Motorbike rental in Siquijor is approximately 300 PHP (6 USD) per day. Remember to carry your International Driver's Permit and driving license and wear a helmet if you choose this option.
You can hire a motorbike at rental stores around either port, in the main town of San Juan, or, in most cases, from your hotel.
Rent a tricycle / habal-habal
Tricycles are the most typical way to get around Siquijor if you don't want to drive a motorbike. These are basically the Filippino version of the Thai tuk-tuk!
If you want to rent a tricycle for both of your 2 days in Siquijor itinerary, then you should expect to pay approximately 1,500 PHP (30 USD) per day. But this will be subject to how many of the Siquijor tourist spots you want your driver to take you to. You can also flag tricycles down but the costs for shorter journeys will add up to be more expensive overall.
You can also hop on the back of a motorbike taxi (known as a habal-habal). This is a good option if you're traveling solo and don't want to drive yourself. Discuss the rate before you jump on.
Hire a driver
If you want to travel around Siquijor in air-conditioned comfort then you can hire a car and driver. Your hotel will be able to organize this for you.
Costs are typically around 2,000 PHP (40 USD) per day based on one car with up to three travelers.
Where to stay in Siquijor
LUXURY – Infinity Heights Resort
This is a laid-back, peaceful resort that provides an incredible panoramic view of the jungle and ocean from its hilltop setting. Rooms are decked out with comfy furnishings and balconies. On site, you'll find a restaurant serving local delicacies and a stunning pool.
MID-RANGE – White Villas Resort
This gorgeous property features an outdoor swimming pool, a bar, and a restaurant right next to Solangon beach. Each room is equipped with a flat-screen TV and a private bathroom, and select rooms also feature a terrace.
BUDGET – Aloha Seaside Resort
Located a 10-minute walk from the beach, Aloha Seaside Resort features a restaurant, room service, and a tour desk. All rooms have a private bathroom and free toiletries, and certain rooms at Aloha Seaside Resort have a terrace.
Overview of Your 2 Day Siquijor Itinerary
Breakdown of your 2 days in Siquijor
Day 1: Lugnason Falls & Cold Spring, Enchanted Balete Tree, Lazi Church, Cambugahay Falls, Salagdoong Beach, Talisay Beach, Butterfly Sanctuary, Mount Bandilaan viewpoint
Day 2: Cantabon Cave, Guiwanon Spring Park, Tubod Beach & Marine Reserve, Marelle's Seashell Museum, Paliton Beach
Map for your 2 day Siquijor itinerary
Below you can find a customized map that includes all the locations you're going to visit on this Siquijor itinerary.
I marked your 2 days in Siquijor with different colors – I used blue for the first day and green for the second day, so you can easily see which places you're going to visit each day.
If you open up this post on your phone and you click on the bracket in the upper right corner of the map, it will open up in your Google Maps app so you can always have it with you. Super convenient, right?
Day 1 of Your 2 Day Siquijor Itinerary
Lugnason Falls & Cold Spring
Why not start your Siquijor itinerary by plunging into one of the island's most sensational waterfalls? You'll understand in a heartbeat why Siquijor is often referred to as one of the most beautiful islands in the Philippines!
The Lugnason Falls tumble down a 5 meter (16 feet) rockface into an inviting swimming hole. You'll love photographing the turquoise water just as much as you'll enjoy splashing around in it.
It's best to visit this waterfall during the rainy season or earlier in the dry season before the water levels drop.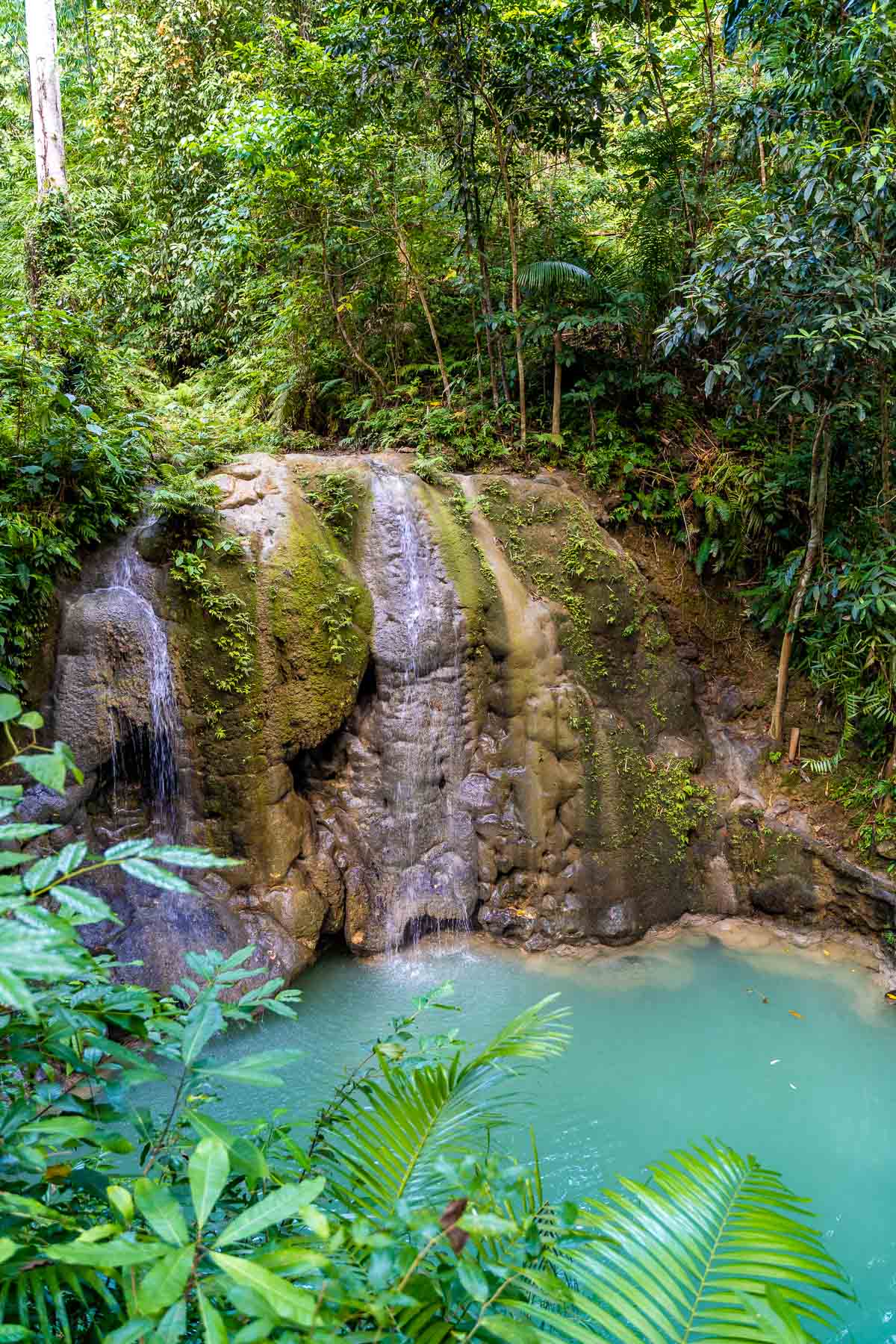 Lugnason Falls is a 15-minute drive from San Juan and the main tourist hub. The trail from the parking area to the waterfall takes a further 15 minutes. It's an easy hike and is clearly signposted.
Entrance to the waterfalls is free but you might have to pay a couple of pesos for parking.
Before you leave you can continue a little further through the jungle to find the man-made cold springs. They're not as pretty as the waterfall but they are really unusual to look at and photograph.
Enchanted Balete Tree
This 400-year-old ancient tree is one of the most unusual tourist attractions to check out during your 2 days in Siquijor.
In Philippine folklore, Balete trees are considered to form the habitats of supernatural creatures and spirits including fairies and tree demons. It gets spookier, as these trees are known to strangle their neighboring trees, killing them in the process!
It's free to stop and take some photos of the enchanted tree. There is a large pool of spring water at the base of the tree where you can opt to have a fish pedicure for 10 PHP (0.20 USD).
The Enchanted Balete Tree is a 20-minute drive from the Lugnason Falls.
Lazi Church
Let's take a break from nature and experience one of the most historic attractions in Siquijor.
The foundation of Lazi Church was constructed in 1884 and the bell tower was added the following year. It is the oldest Roman Catholic Church on the island and features an iconic red roof atop its coral stone foundation. Inside there is a stunning blue ceiling to admire.
Across from the church, you can visit the San Isidro Labrador Convent which houses the Siquijor Heritage Museum.
It's free to enter the church but there is an admission fee of 20 PHP (0.40 USD) to go inside the museum.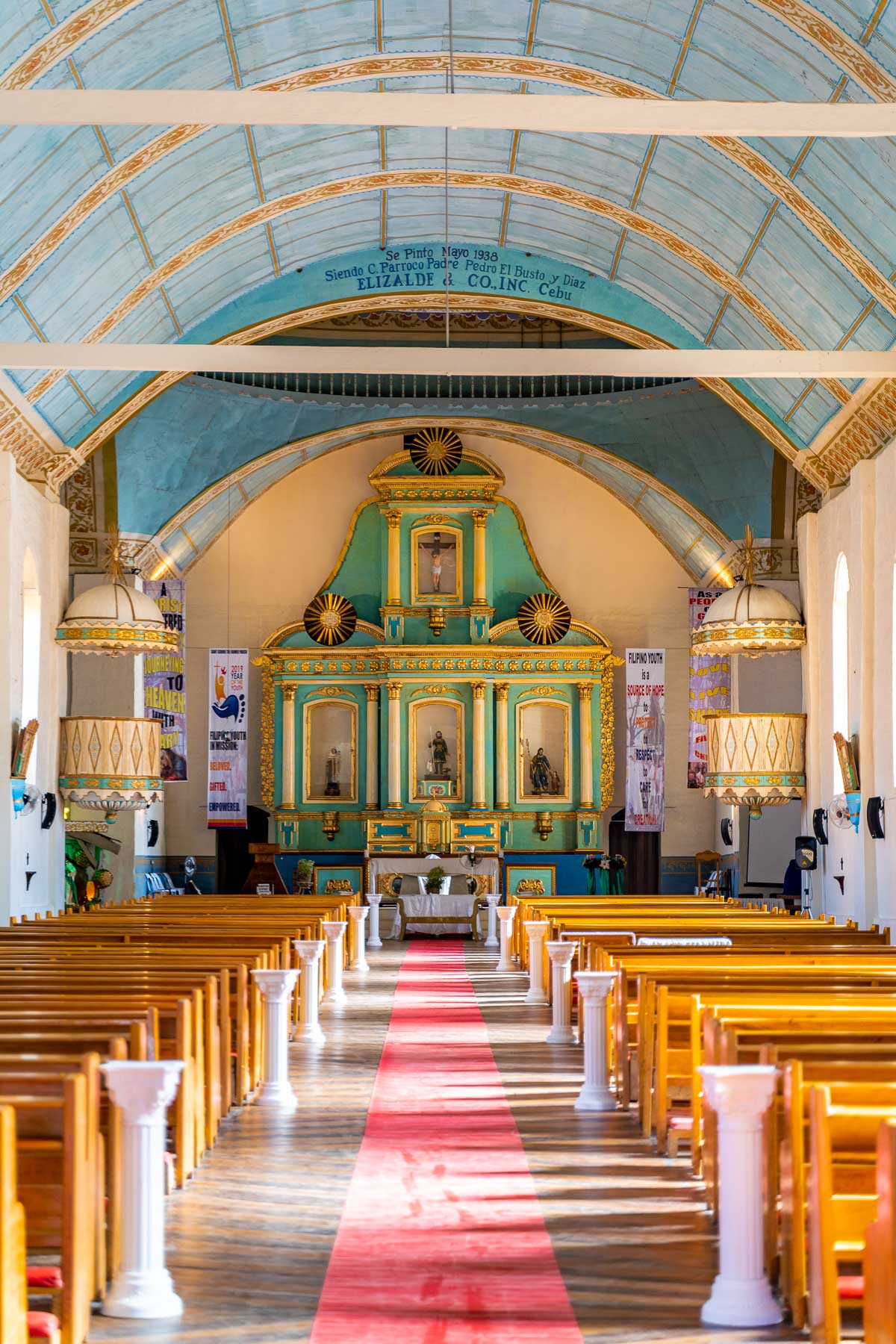 Cambugahay Falls
Waving farewell to the tree, your next stop is the three-tiered Cambugahay Falls which tipple down through the lush jungle. This is one of the most impressive sights you'll see and is essential for any Siquijor itinerary.
Cambugahay Falls has an admission fee of 20 PHP (0.40 USD). If you want to play with the Tarzan swing, bamboo raft, and inflatables you'll need to pay an extra 50 PHP (1 USD).
The falls are a 15-minute drive from the tree and are accessible via a short walk down a flight of 100 stairs.
Talisay Beach
Now let's take a break from the waterfalls and head to the ocean. The first of Siquijor's beaches that I want to tell you about is one of the least developed and quieter ones.
Talisay Beach is perfect for a swim and a snorkel during high tide, otherwise, it's a nice spot to grab a few minutes of tranquility and take some photos.
You will need to park at the side of the road and then it's less than 5 minutes to the beach through the trees.
Talisay Beach is a 10-minute drive from Cambugahay Falls and there is no admission charge.
Salagdoong Beach
The next beach on your Siquijor itinerary is one for the thrillseekers!
Palm tree fringed Salagdoong Beach features crystal clear water, white sand, and some epic diving spots from the cliffs and artificial diving boards. The highest one is a leap of 9 meters (30 feet)!
If you do want to cliff jump, I recommend asking any locals who are hanging around nearby for some pointers first to ensure your safety. You'll also need to plan this at high tide. Safety first!
Entrance to Salagdoong Beach is 50 PHP (1 USD) because the cove is part of the Salagdoong Beach Resort. You can also buy some lunch from the hotel restaurant if you didn't bring a picnic along.
This beach is a 10-minute drive from Talisay Beach.
Butterfly Sanctuary
A quirky tourist spot in Siquijor, the Butterfly Sanctuary isn't large but it's well worth a stop.
The purpose of the center is actually to breed butterflies that are at risk of becoming endangered. They are then released back into nature.
While there isn't a huge collection to see, it's a lovely place to see colorful butterflies and other bugs up close.
The entrance to the sanctuary is 100 PHP (2 USD). It might seem high considering that you don't see a lot of creatures, but it's a really worthwhile project to support during your 2 day Siquijor itinerary.
The Butterfly Sanctuary is around an hour from Salagdoong Beach and you can either follow the Siquijor Circumferential Road or drive through the mountains.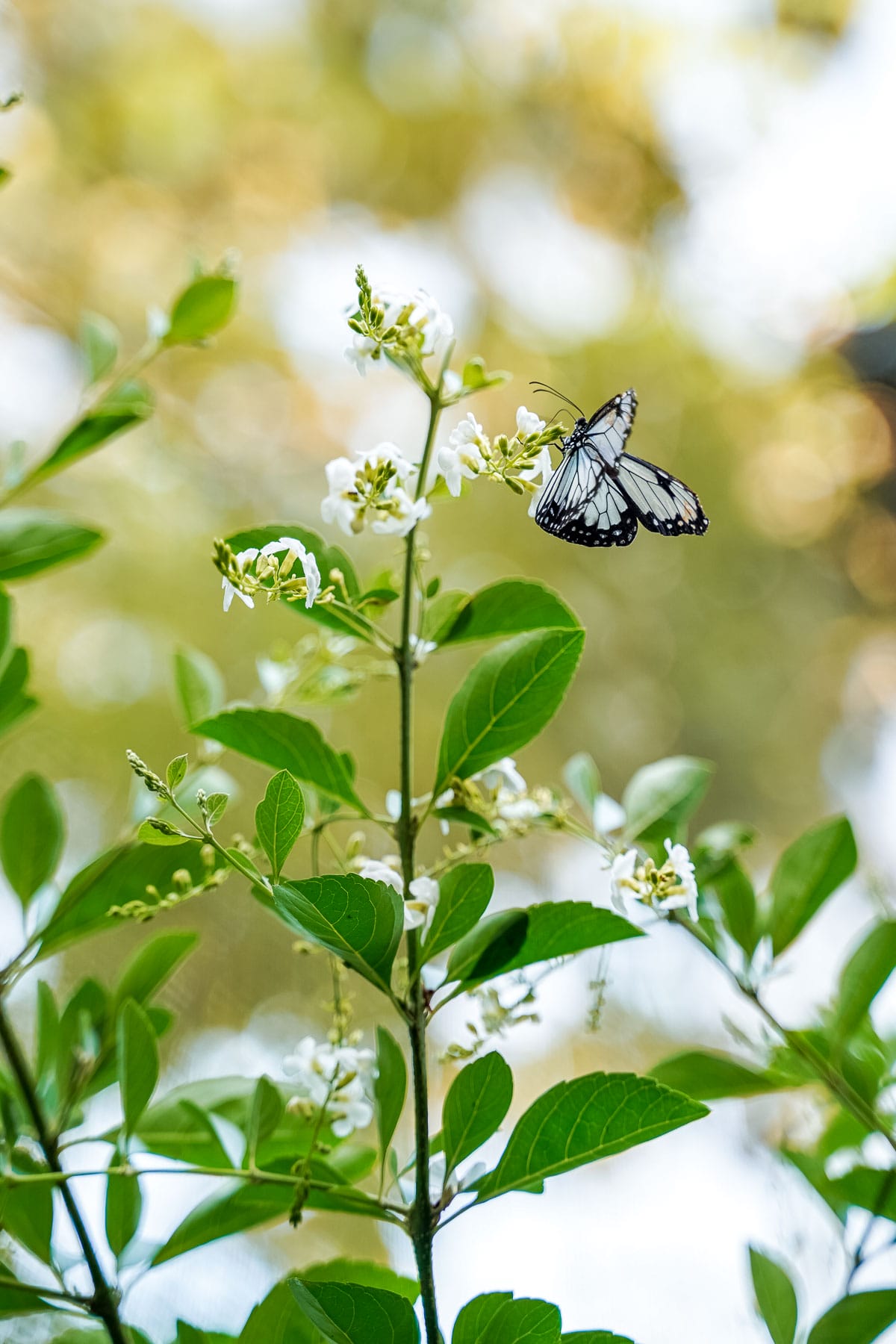 Mount Bandilaan viewpoint
A quick 5-minute drive from the sanctuary and you can park at the Mount Bandilaan viewpoint and enjoy panoramic views from the highest point on the island at 632 meters (2,000 feet) above sea level.
To access the top of the tower you will need to walk up 148 steps. If you time this right and visit on a clear day, you can enjoy the sunset from the deck.
It's free to climb up to the platform but you may leave a discretionary donation if you like.
Day 2 of Your 2 Day Siquijor Itinerary
Cantabon Cave
If you're touring Siquijor in 2 days how about sampling those rumored healing powers of the island for yourself?
Cantabon Cave is an 800 meter (2,625 feet) subterranean stream with stalactites, stalagmites, and rock formations. Legend has it that the water has magical powers and you are invited to sample it for yourself during your caving expedition.
To experience the cave in full you will need to pay for a guided tour. You will need to wear suitable swimming and exercise clothes, I would also recommend some aqua shoes with a good grip to protect your feet from the rocks.
Flip-flops and sandals are not advisable as it's slippery down there!
Most hotels will help you to book your tour but if not you can just turn up. The tour costs 600 PHP (12 USD) and includes your helmet and a flashlight.
It takes around 2 hours in total and the drive time from San Juan to the cave entrance is 30 minutes.
Guiwanon Spring Park
In addition to the twinkling waterfalls and beaches, mystical trees, and underground caverns, Siquijor even has a mangrove forest.
The Guiwanon Spring Park is a peaceful spot that's particularly appealing to nature lovers. There are a couple of boards dotted around which help you understand the role the mangroves play within the ecosystem.
You can follow an elevated wooden footpath around the complex which lets you get close to the mangroves while appreciating ocean views.
There is a humble entrance fee of 10 PHP (0.20 USD) to pay before exploring the park. You can rent one of the cabins for a few hours or stay overnight if you wish.
An alternative option is to visit the Guiwanon Spring Park first thing and experience sunrise here before heading to the cave.
Tubod Beach & Marine Reserve
For the final afternoon of your 2 day Siquijor itinerary, head back to the beach!
Tubod Beach is a sandy beach that grants access to the Tubod Marine Reserve. You can rent snorkeling gear from the Coco Grove Resort if you don't have your own and wade out to explore the reef and tropical marine life.
Be careful not to touch the coral while you float and consider wearing your aqua shoes again as sometimes there are sea urchins around the reef.
Tubod Beach is a 25-minute drive from the Guiwanon Spring Park. There is no fee to access the beach but if you want to snorkel you will need to pay 50 PHP (1 USD) which goes towards conserving the reserve.
Snorkeling rental is usually 100-150 PHP (2-3 USD) depending on where you hire from.
Either bring a picnic lunch or order some lunch from the Coco Grove Resort or a nearby restaurant. There are plenty of options on the Siquijor Circumferential Road.
Marelle's Seashell Museum
Another eccentric tourist spot in Siquijor is the museum that houses hundreds upon hundreds of seashells! The museum is very well documented so you'll pick up loads of trivia here about the underwater world in general.
You can actually walk to the museum from Tubod Beach in 10 minutes. It's open daily 7 am-10 pm and the admission fee is 100 PHP (2 USD). However, if you'd like to tuck into some fresh seafood and eat at the museum restaurant the entrance fee is waived.
Paliton Beach
Wrap up your Siquijor itinerary at one of the most picturesque beaches on the island.
Paliton Beach features gleaming white sand and calm water that's perfect for swimming although it's not ideal for snorkeling because of the seagrasses. You can hang out here and watch the sunset.
Paliton Beach is a 10-minute drive from Tubod Beach. It's free to enter the beach and you can pick up snacks, beers, and soft drinks from beach stalls.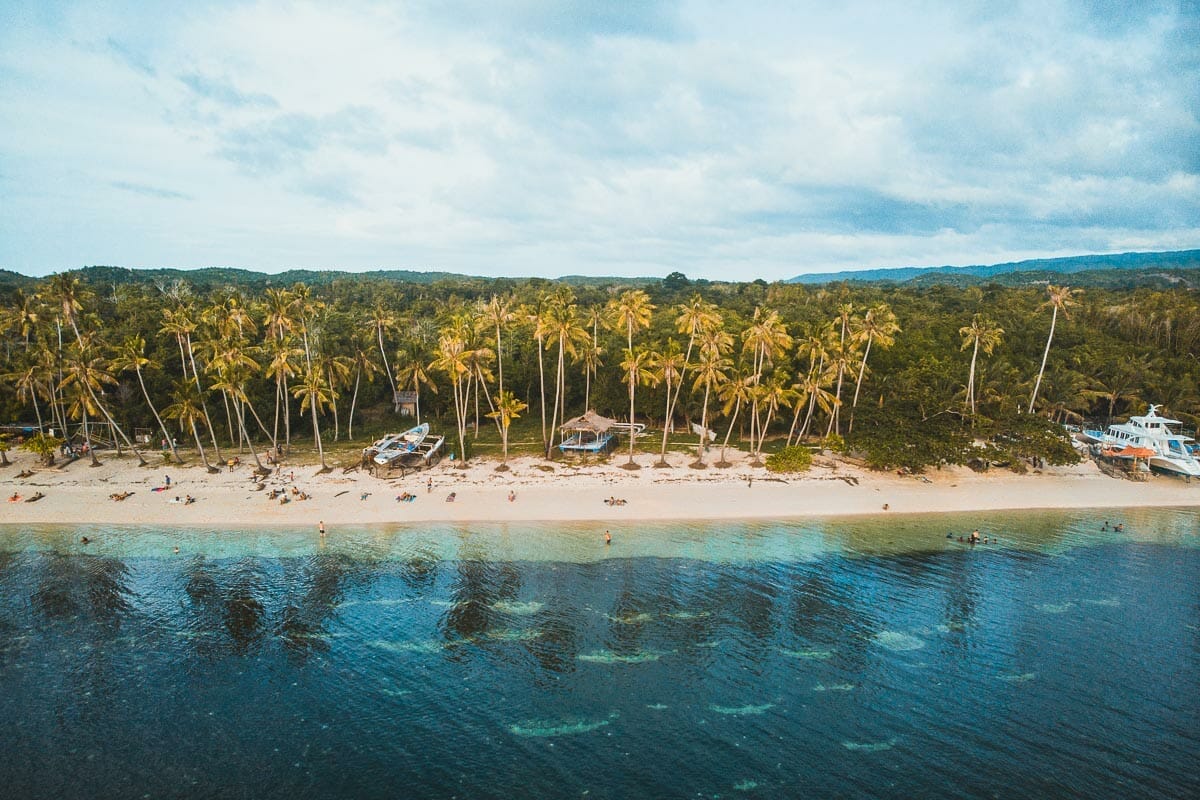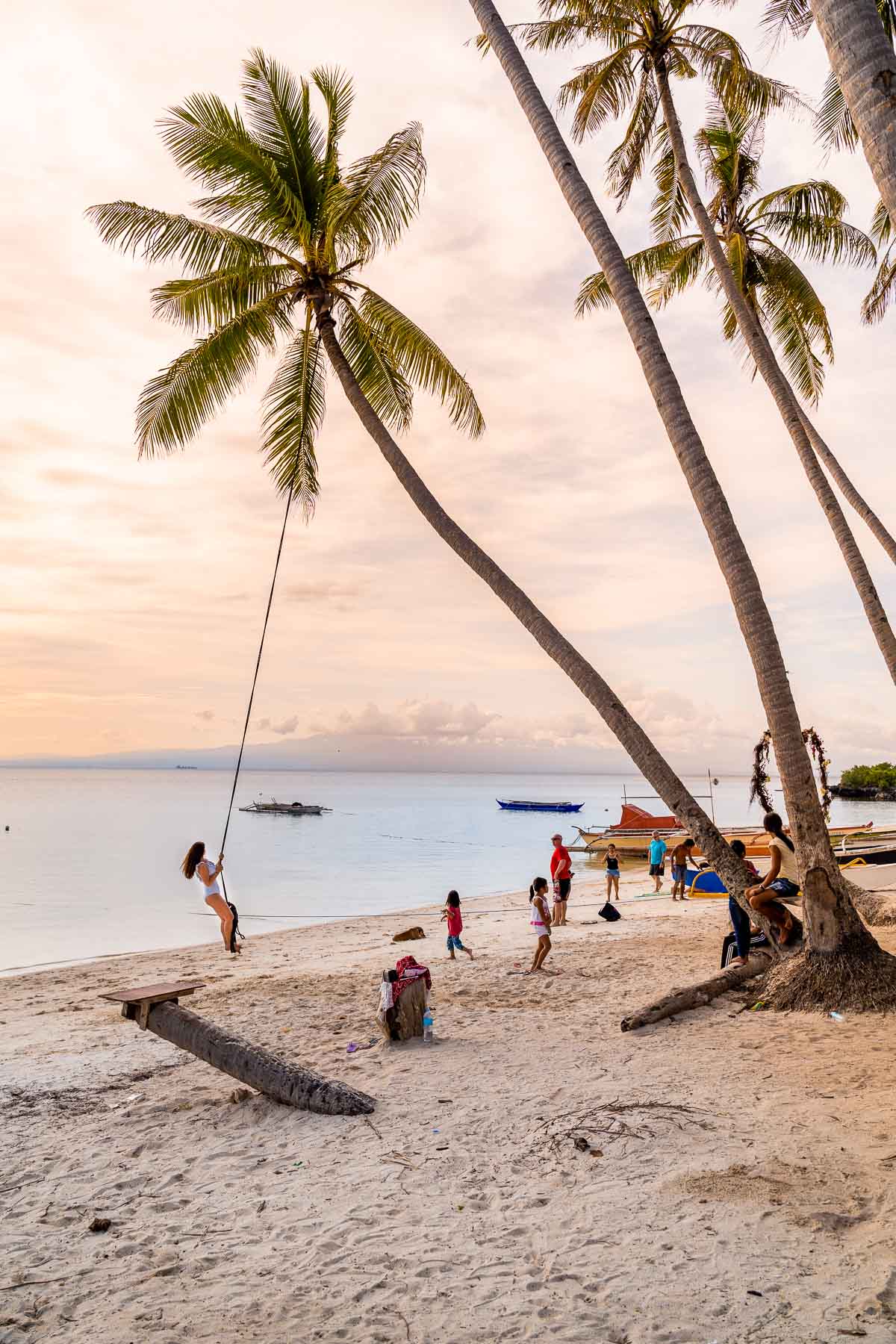 Final Thoughts
That concludes your 2 days in Siquijor itinerary! I hope this gives you a sense of all the adventurous activities and gorgeous tourist spots the island has to offer.
If you have any more questions about things to do in Siquijor or traveling in the Philippines in general, please don't hesitate to get in touch. Either leave a comment below or contact me via email or social media. I'm always happy to help!
xoxo, Kriszti
---
Related Posts
Want to read more about the Philippines?
---
What Camera Gear Do We Use?
If you want to read more about what is in our camera bag, check out my detailed post about our travel photography gear!
---
Pin It for Later!