The island of Siquijor in the Philippines is a playground for adventurous souls. With its creamy beaches, waterfalls, underground caverns, mystical trees, and snorkeling opportunities, you're totally spoiled for choice when it comes to the best tourist spots in Siquijor!
An interesting fact for you, the Spanish named Siquijor 'Isla del Fuego' which means 'the island of fire' due to the number of fireflies who swarmed around the island.
Your second interesting fact is that the island is known for its voodoo ways, witchcraft, and its active population of healers. But don't worry, the only spell you'll be a victim of is falling totally in love with the island.
Read on for a guide to my favorite Siquijor tourist attractions and you'll see exactly what I mean! In case you're planning to spend a weekend on the island, you might be interested in reading my 2 day Siquijor itinerary as well.
*Disclosure: This post contains a few affiliate links, which means I may receive a small commission, at no cost to you, if you make a purchase through my link.*
No time to read now? Pin it for later!
11 Best Tourist Spots in Siquijor, Philippines
1. Cambugahay Falls
The Cambugahay Falls is one of the most beautiful tourist attractions in Siquijor. These waterfalls form a three-tiered tumble of water that works its way down the lush jungle backdrop before forming its dazzling turquoise catch basin.
Whether you're a photographer, wild swimming fanatic, or a daredevil, the Cambugahay Falls has something for everyone.
There is a swing where you can perfect your best Tarzan impression and fling yourself into the water. If that's not for you then you can hire some rubber rings or float on the bamboo raft.
The falls are located near Lazi in the south of the island. It takes around 40 minutes to drive there from San Juan via the Siquijor Circumferential Road.
The falls are accessible via a short stroll through the jungle which includes walking down around 100 stairs. They are open for tourists daily, 7 am – 5.30 pm. The earlier you visit the less crowded this popular swimming spot will be.
Cambugahay Falls has an admission fee of 20 PHP (0.40 USD). If you want to use the swing and other features then you will need to pay an additional 50 PHP (1 USD).
2. Lugnason Falls & Cold Spring
The Lugnason Falls is another beautiful example of why the Philippines islands are legendary for their waterfalls. The water oozes its way down a 5 meter (16 feet) rockface to form a splash basin.
It's another of the most scenic tourist spots in Siquijor where you'll want to take photos and plunge in for a swim.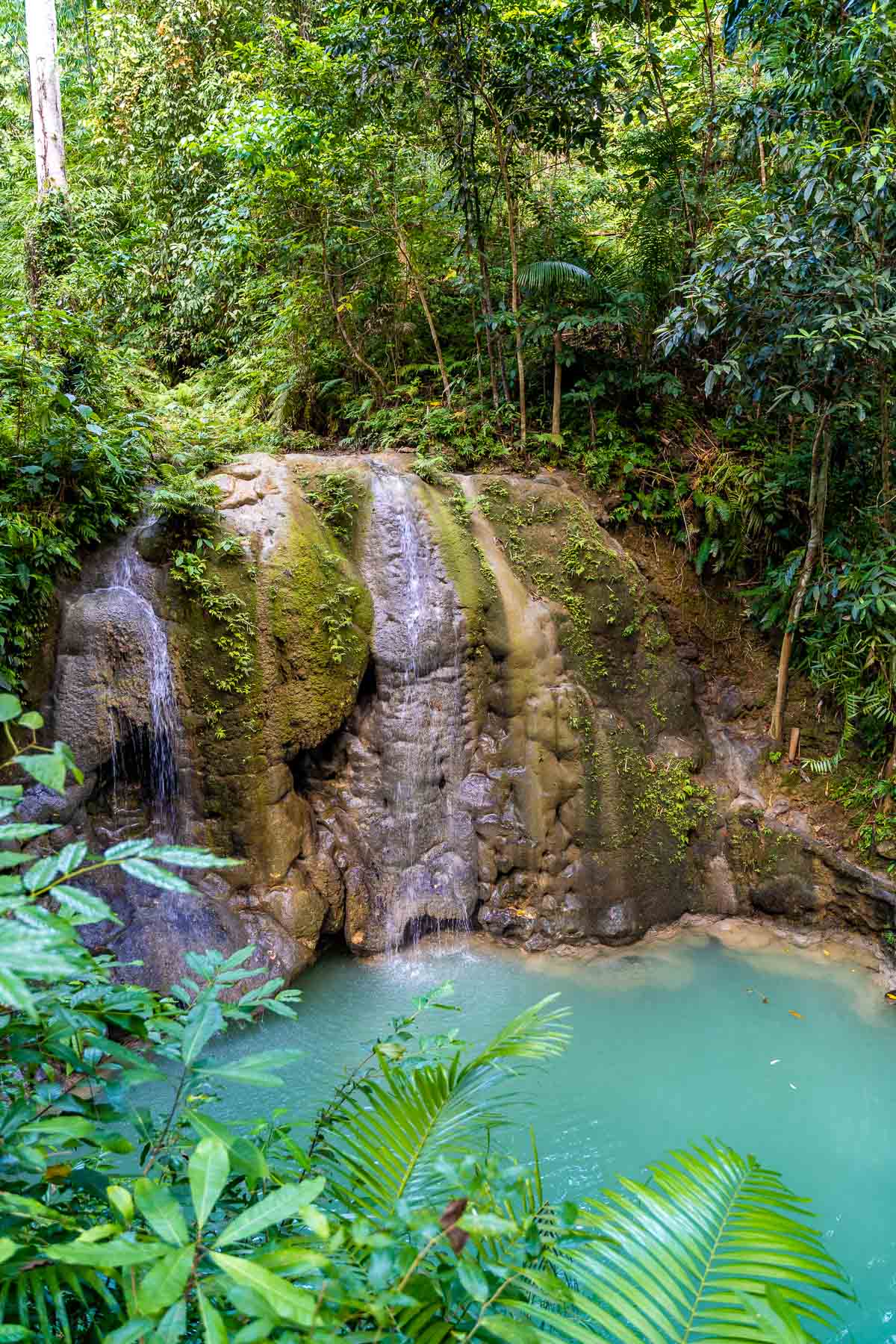 But don't leave too soon! Follow the signs deeper into the jungle and you will find another watery attraction, the man-made cold springs.
These aqueducts look really out of place here in the jungle but in the best possible way. You are welcome to hop into the refreshing water for yet another swim surrounded by nature.
Lugnason Falls are located in the main tourist area of San Juan so it takes around 15 minutes to get here from nearby resorts. From the parking area, you will need to walk for around 15 minutes to reach the waterfall.
It's an easy walk and the trail is clearly signposted so if anyone offers to guide you then you can politely decline them.
Entrance to Lugnason Falls is currently free but you might have to pay a couple of pesos for parking, usually 10-20 PHP (0.20-0.40 USD). It's best to visit them during the wet season or early in the dry season.
3. Paliton Beach
Siquijor boasts a number of postcard-pretty beaches but most travelers agree that Paliton Beach is the most beautiful. The glistening white sand, the azure ocean, and the tropical foliage remind you that you are right in the heart of paradise!
You can swim here however there is a lot of seagrass which means it isn't the best spot for snorkeling (stay tuned – that's your next tourist spot!).
I recommend heading to Paliton Beach for a late afternoon swim so that you can linger and watch a gorgeous sunset from the sand.
Paliton Beach is located in the northern tip of the San Juan area, in between Cangbusyo and Pontod beaches which you might want to visit at the same time.
There is no admission fee to visit the beach. It's not very developed so there aren't any resorts here but you can buy snacks and chilled drinks from friendly beach vendors.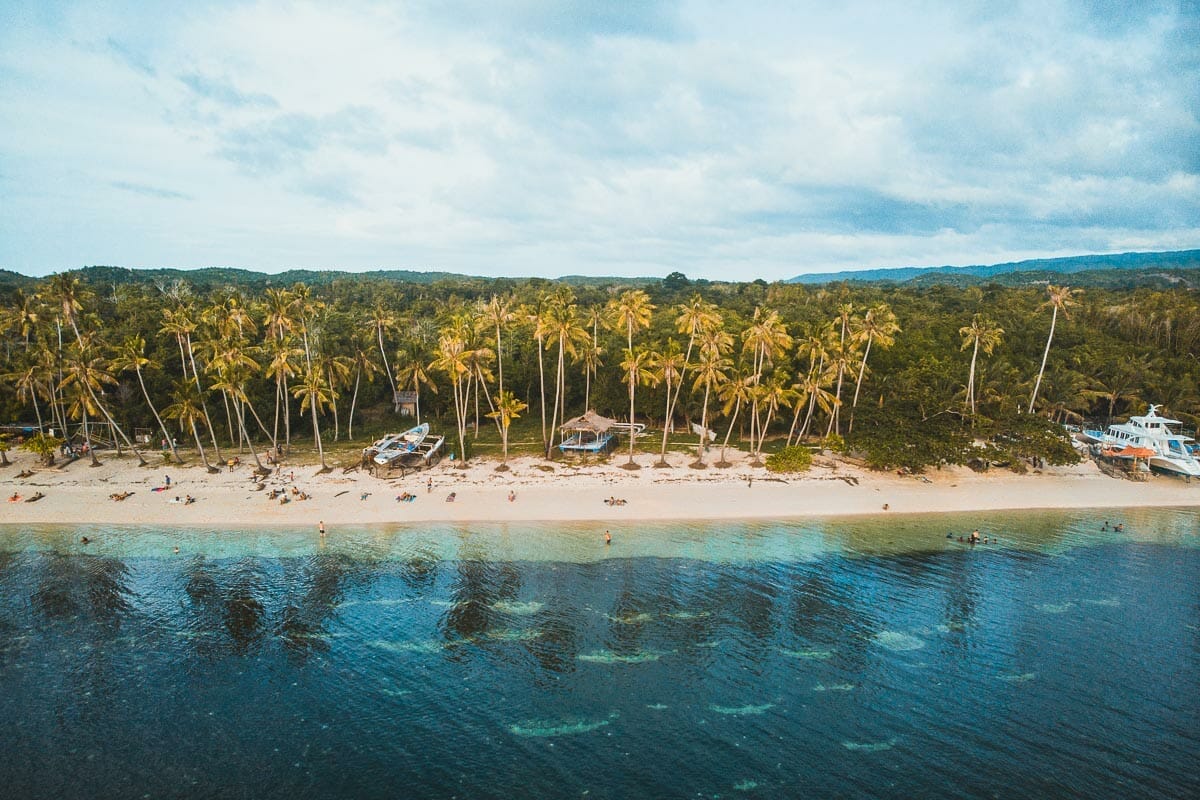 4. Tubod Beach & Marine Sanctuary
As promised, Tubod Beach is one of the best tourist spots in Siquijor for snorkeling among a pristine colorful reef.
This is a lovely sandy beach right in front of the Tubod Marine Reserve so you can snorkel straight from the beach. The reef hosts a variety of tropical fish (including Nemo!) as well as clams and sea snakes.
It's fairly deep but do take care not to knock the coral while you float. I would also recommend wearing some aqua shoes as sometimes there are sea urchins lurking in the shallows.
Tubod Beach & Marine Sanctuary is located in the heart of the San Juan tourist area so it's accessible via the Siquijor Circumferential Road.
There is no fee to access the beach but if you want to snorkel you will need to pay 50 PHP (1 USD). This benefits the conservation efforts for the marine reserve.
Snorkeling rental in Siquijor is generally 100-150 PHP (2-3 USD) depending on where you hire from. You can rent equipment from the Coco Grove Resort which is located right on the beach in front of the marine sanctuary.
5. Cantabon Cave
Now for something offbeat. Cantabon Cave features an 800 meter (2,625 foot) subterranean stream that is open to tourists to explore.
Once underground in one of the most unusual attractions in Siquijor, you will see stalactites, stalagmites, white rocks, and other formations. Locals say that the water in the cave has magical powers that can heal you. You can drink it yourself and make your own mind up!
You will need to wear your swimming gear with some extra layers on top as well as some protective footwear. Some of the rocks are very sharp and it gets slippy due to the water.
Access to Cantabon Cave is only possible with a guide and I wouldn't recommend this to anyone who suffers from claustrophobia.
The caving excursion costs 600 PHP (12 USD) and includes a safety helmet and a flashlight to help you see. You should take your own wet bag to keep your phone or camera safe.
It will take approximately 2 hours to complete the caving tour and you can buy your ticket at the site without booking in advance.
It takes around 30 minutes to drive to Cantabon Cave from San Juan.
6. Salagdoong Beach
Salagdoong Beach is one of the best attractions in Siquijor for brave explorers who like to throw themselves off cliffs!
At this beach, you can jump from cliffs and stone diving boards into the sea. One of them is a jump of 9 meters (30 feet) so it's pretty hair-raising stuff.
Please ensure that you only jump during high tide otherwise the water is far too shallow. I would also recommend that you ask other divers for advice before you take the plunge.
Even if you don't want to leap off the cliffs this is still a gorgeous beach for sunbathing and swimming. It's enveloped by the Salagdoong Forest so the entire beach is fringed with tropical trees.
Salagdoong Beach is located on the eastern side of the island in north Maria. You'll need to drive there via the Siquijor Circumferential Road so plan the journey to take around 1 hour, but it will be longer if you stop off at other Siquijor tourist spots along the way.
There is an entrance fee to Salagdoong Beach of 50 PHP (1 USD). This is payable to the Salagdoong Beach Resort, who owns the beach.
7. Talisay Beach
Talisay Beach is a total contrast to the other beaches on the list as it has more or a rugged vibe. But it's just as beautiful as Paliton and Tubod beaches, with its powdery sand and crystal clear water.
It's one of the best tourist spots in Siquijor if you want to grab some solitude away from the more popular beaches of the west.
You can also snorkel at Talisay Beach but I would only recommend this at high tide because otherwise, it can be a little rocky getting in and out of the water.
Talisay Beach is located on the eastern side of the island in Maria. It takes 45-60 minutes to drive here from accommodations in the San Juan area. There is no official parking area so you will need to leave your scooter, tricycle, or car on the side of the road and then walk through the trees.
There is no fee associated with visiting Talisay Beach.
8. Old Enchanted Balete Tree
On an island known for its voodoo, it's no surprise that one of the most unique tourist spots in Siquijor is an enchanted tree.
The Old Enchanted Balete Tree is 400 years old and is the oldest tree of its kind in the province. Balete trees are rumored to be the dwelling place of fairies, tree demons, and other supernatural beings. They are known as 'strangler trees' because they strangle nearby trees to death!
The Old Enchanted Balete Tree is free to visit between 6 am – 6 pm. You'll notice a large basin of natural spring water at the foot of the tree. You can choose to have fish nibble your feet for 10 PHP (0.20 USD).
The Enchanted Balete Tree is located in Lazi at the southern part of the island right off the Siquijor Circumferential Road.
9. Guiwanon Spring Park
The Guiwanon Spring Park is a peaceful spot where you can view the island's mangrove trees.
Overshadowed by waterfalls and beaches, it's one of the more off-the-beaten-track tourist attractions in Siquijor and is an attractive choice for nature enthusiasts. There are a couple of boards dotted around which help you understand the role the mangroves play within the ecosystem.
The mangrove forest is located in northern Siquijor and it's a 30-minute drive from the accommodations of San Juan. Once at the park, you can follow an elevated wooden footpath around the complex which lets you get close to the mangroves while appreciating ocean views.
There is a humble entrance fee of 10 PHP (0.20 USD) to pay before exploring the park. You can rent one of the cabins for a few hours or stay overnight if you wish.
10. Butterfly Sanctuary
The Butterfly Sanctuary is smaller than the one located on the neighboring island of Bohol, but it's such a special experience that it's worth the pitstop.
Rather than tourism, the core purpose of the sanctuary is to breed butterflies that are at risk of becoming endangered. Once they have reproduced the sanctuary owner then releases the creatures back into nature. There aren't loads of butterflies to see here but it's a unique way of learning about butterflies and seeing some up close.
The Butterfly Sanctuary is located right in the center of the island and it takes 40 minutes to drive there from San Juan.
The entrance to the sanctuary is 100 PHP (2 USD) and this goes straight into the conservation efforts of the center.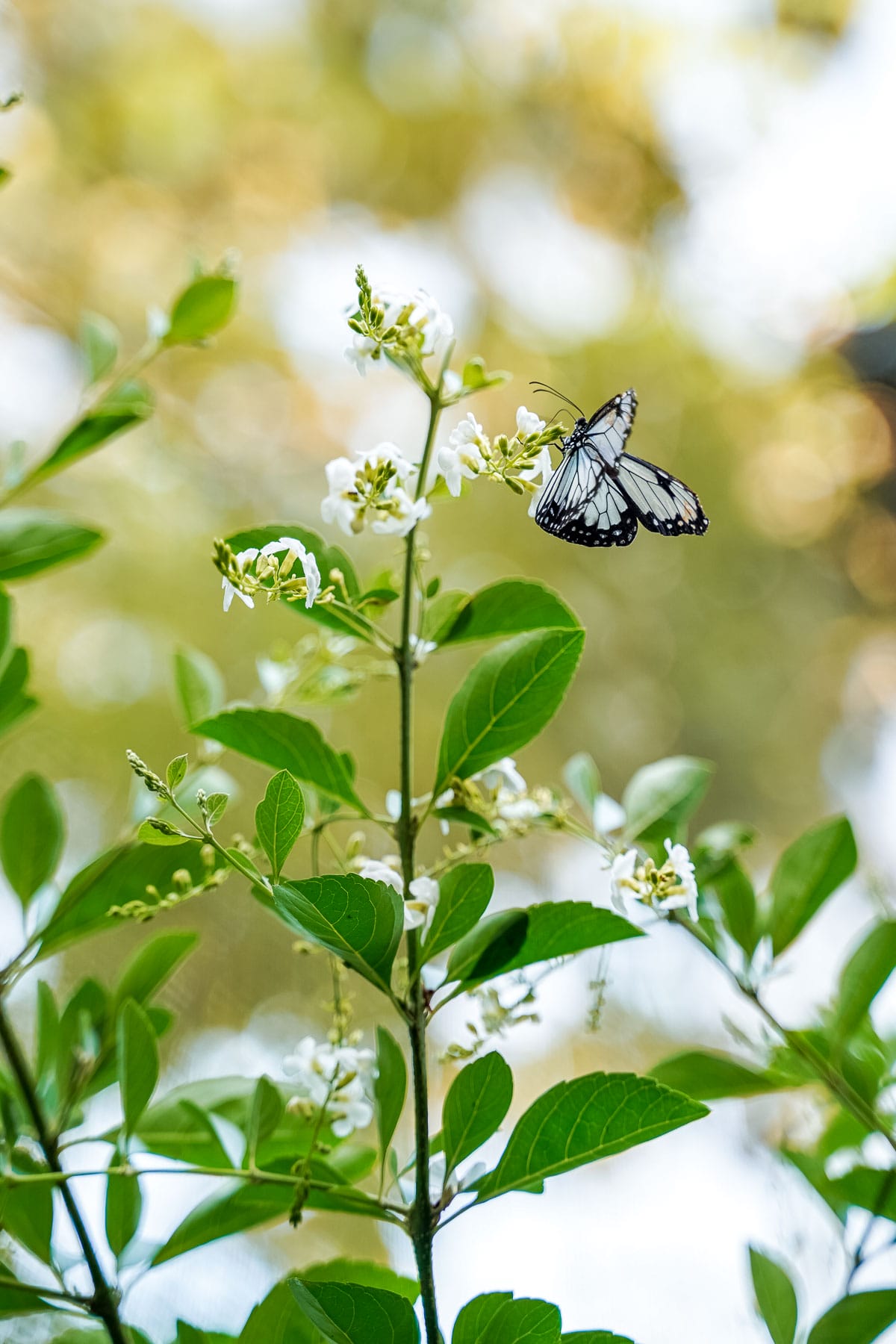 11. Lazi Church
Last but not least, let's wrap up your list of Siquijor tourist spots with some heritage.
Lazi Church is the oldest Roman Catholic Church on the island. It was built in 1884 and constructed out of sea stones. The building features a bell tower and a striking red roof that looks great against a cloudless blue sky.
Inside, be sure to tilt your head to admire the blue ceiling and floral tilework!
Lazi Church is located in Lazi so if you book accommodation in the southern town you can walk to it. Otherwise, it's a 30-minute drive from San Juan that you can coincide with the waterfalls and enchanted tree.
It's free to enter the church but if you want to visit the adjacent museum, housed in the old convent, there is an admission fee of 20 PHP (0.40 USD).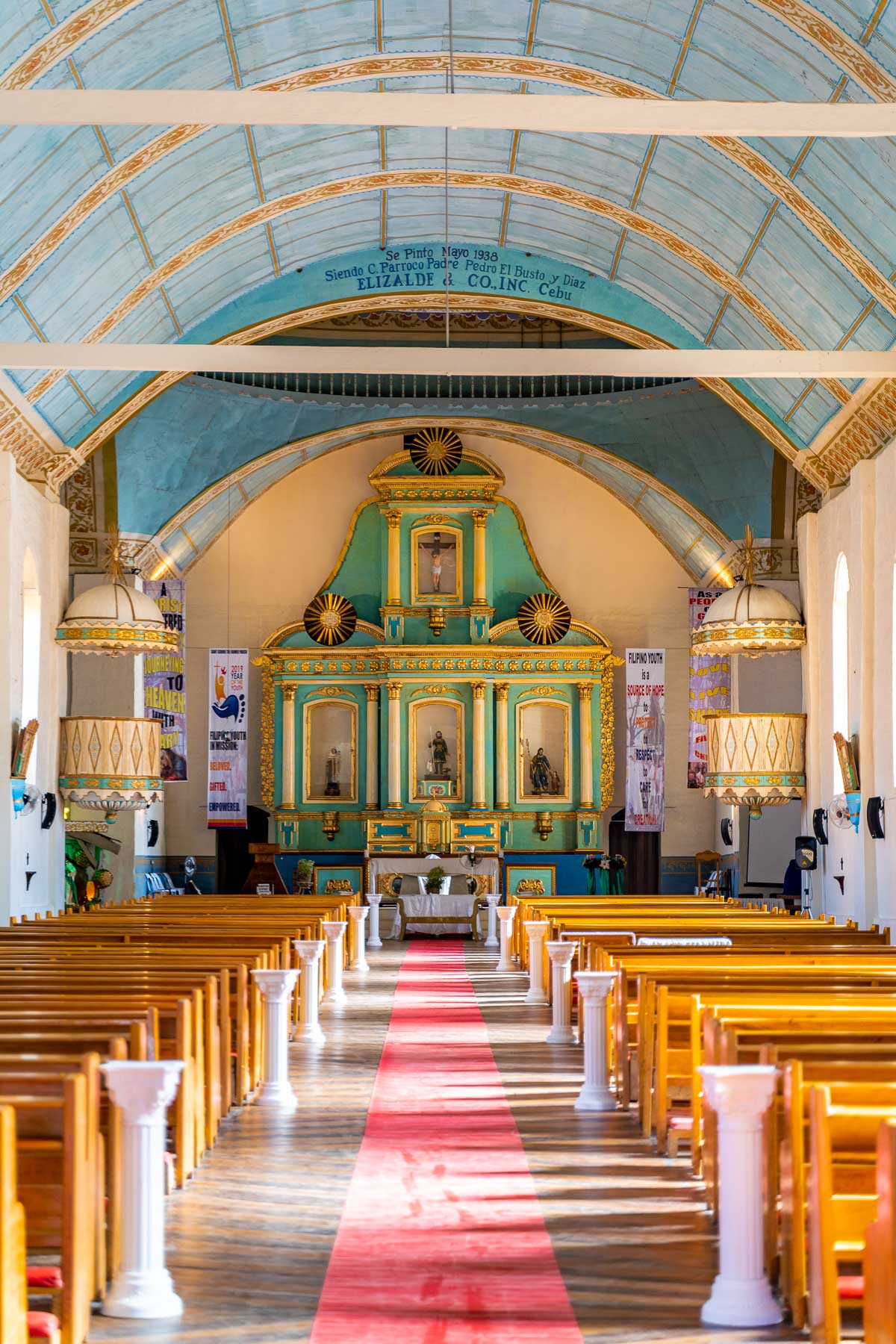 Final Thoughts
That's a wrap! I hope you enjoyed reading about the best tourist spots in Siquijor and that this post inspired you to add this gorgeous Filippino island to your travel bucket list.
Are there any other tourist attractions in Siquijor that I've missed? Let me know in the comments if so!
xoxo, Kriszti
---
Related Posts
The Perfect Siquijor Itinerary: How to Spend 2 Days in Siquijor
Want to read more about the Philippines?
---
What Camera Gear Do We Use?
If you want to read more about what is in our camera bag, check out my detailed post about our travel photography gear!
---
Pin It for Later!