While the majority of the Philippine Archipelago is famed for its white beaches and coral reefs, Bohol is known for its cascading waterfalls, adorable wildlife, and quirky natural sites such as the Chocolate Hills.
This isn't your typical Filipino destination and you can expect your Bohol itinerary to be packed with diverse nature and exciting adrenaline activities!
I recommend spending at least 3 days on Bohol. This gives you enough time to see the famous sights and explore some hidden gems.
Read on and I'm going to tell you exactly what to do in Bohol for 3 days that gives you the opportunity to experience a little bit of everything the island has on offer.
*Disclosure: This post contains a few affiliate links, which means I may receive a small commission, at no cost to you, if you make a purchase through my link.*
No time to read now? Pin it for later!
Useful Info for Spending 3 Days in Bohol
How to get to Bohol
How to get to Bohol from Manila
The easiest way to get to Bohol is via plane. There are direct flights from Manila to Tagbilaran, the capital of Bohol via Cebu Pacific Air, Philippines Airlines, and Air Asia. The flight takes about an hour and costs around 1800 PHP (50 USD).
How to get to Bohol from Cebu
Unfortunately, you can't fly directly from Cebu to Bohol, you have to catch a connecting flight in Manila. However, you can take the ferry instead which is a pretty convenient and cheap way to get to Bohol.
Bohol has two ferry ports: Tubigon and Tagbilaran. You need to pay attention to which port your ferry is going to because they are actually quite distant from each other!
Tubigon is located on the island's northwest side, and since it's far away from the best tourist spots in Bohol, it's not the most convenient option for most travelers. Tagbilaran, on the other hand, is on the island's southwest coast and serves as its administrative center.
Typically, a one-way ferry ticket costs around 600-700 PHP (12-14 USD) and the journey takes 4-5 hours.
Best time to visit Bohol
The weather in Bohol is mostly hot and humid, although it does cool down a bit during the evening. The dry season (December-May) is the best time to visit, as it's cooler and less humid than the other times of the year.
The northeast monsoon begins in late May and lasts until the beginning of December, with 15 wet days on average.
How to get around Bohol
There are regular buses that operate in Tagbilaran, but they're very crowded and uncomfortable, thus not the best way to get around as a tourist.
A more convenient way to get around is to rent a car with a driver. A full day of driving costs about 1800 PHP (50 USD), while hourly rates are 400-600 PHP (10-15 USD).
It's also possible to hire a tricycle (pedicab) to take you around town. Trikes are cheap (around 50-100 PHP/1-2 USD) and easy enough to flag down on the street.
If you're a seasoned driver, you can also rent a scooter or a car. However, traffic is quite hectic on Bohol island so I would only recommend this if you have experience with driving in a Southeast Asian country!
Where to stay in Bohol
There is a wide range of accommodations available in Bohol, basically, you can find anything from cheap hostels to luxury resorts. If you are visiting Bohol as a tourist the best places to stay are either in the capital city, Tagbilaran or on Panglao Island.
Panglao Island
If you want to stay close to the best beaches in Bohol then staying on Panglao Island is the best choice for you. This small island is connected to the main island by a bridge and it is very easy to get there.
The best resorts are located in the southern part of the island, near Alona beach and Bolod Beach. Check all the accommodations on Panglao Island here!
LUXURY – South Palms Resort Panglao
Just a few steps from Bolod Beach, South Palms Resort Panglao features a spa, a gym, and an outdoor pool. The tropically decorated rooms are air-conditioned and feature a flat-screen TV with cable channels, a personal safe, tea/coffee-making amenities, and a minibar.
MID-RANGE – North Zen Villas
Situated in Panglao, 150 m from Doljo Beach, North Zen Villas features accommodation with a restaurant, free private parking, a garden, and a terrace. The resort provides an outdoor swimming pool and a 24-hour front desk and free WiFi.
BUDGET – Glamping Alona
With pool views, Glamping Alona is set in Panglao and has a restaurant, room service, bar, garden, outdoor pool, and sun terrace. The tented camp features both WiFi and private parking free of charge. We stayed here personally and loved everything about it!
Tagbilaran
Staying in Tagbilaran is a good choice if you want to explore the best tourist spots in Bohol and you want to minimize traveling time. You won't find too many luxury or beachfront resorts here but the prices are much lower so if you are traveling on a budget that's good news for you.
Since you are closer to the tourist spots you will spend less time on your motorbike or in the car which is another advantage. Check all the accommodations in Tagbilaran here!
LUXURY – Kasagpan
A cliffside hideaway in Bohol, Kasagpan offers air-conditioned bungalows with pool or sea views. The resort also features 2 outdoor swimming pools, a restaurant, and free WiFi in all public areas.
MID-RANGE – Sweet Home Boutique Hotel
Set in Tagbilaran City, Sweet Home Boutique Hotel provides a terrace. Among the facilities of this property are a restaurant, a 24-hour front desk, and room service, along with free WiFi throughout the property.
BUDGET – Bohol Ecotel
Situated in Tagbilaran City, within 8.3 km of Hinagdanan Cave and 37 km of Tarsier Conservation Area, Bohol Ecotel features accommodation with a shared lounge and free WiFi throughout the property as well as free private parking for guests who drive.
Overview of Your 3 Day Bohol Itinerary
Breakdown of your 3 days in Bohol
Day 1: Philippine Tarsier Sanctuary, Mahogany Forest, Habitat Butterflies Conservation Center, Chocolate Hills, Kawasan Falls, Loboc River dinner cruise
Day 2: Stand up paddle boarding (Loboc River), Pahangog Falls, Ingkumhan Falls, Kinahugan Falls, Anda White Long Beach, Tibaw Cave Pool, Cadapdapan Rice Terraces, Can-Umantad Waterfall
Day 3: Baclayon Church, Blood Compact Monument, Panglao Island, Kayak to Virgin Island, Scuba dive at Balicasag Island (optional), Hinagdanan Cave, Alona Beach
Map for your Bohol itinerary
Below you can find a customized map that includes all the locations you're going to visit on this Bohol itinerary.
I marked your 3 days in Bohol with different colors – I used blue for the first, green for the second, and red for the third day, so you can easily see which places you're going to visit each day.
If you open up this post on your phone and you click on the bracket in the upper right corner of the map, it will open up in your Google Maps app so you can always have it with you. Super convenient, right?
Day 1 of Your 3 Day Bohol Itinerary
Philippine Tarsier Sanctuary (Corella)
The first activity on your 3 day Bohol itinerary is going to be meeting the cutest residents in the whole of the Philippines.
Tarsiers are one of the smallest primates in the world and they are sadly endangered. But you can visit them ethically at the Philippine Tarsier Sanctuary in Corella.
Tarsiers are extremely shy and noise causes them so much stress that they have been known to kill themselves. In order to protect these lovable creatures, your visit will be led by a guide.
The guide will expect you to keep noise to a minimum and to not take photos with flash photography. It also goes without saying that you should keep your distance from them and not try to touch them.
Entrance to the Philippine Tarsier Sanctuary is 60 PHP (1.20 USD) and this covers your admission and the mandatory guide who will escort you through the forest. The reserve is open daily, 9 am to 4 pm. You can buy tickets on-site, there is no need to book in advance.
Plan to spend 30 minutes here in total, the actual tour only takes around 20 minutes in order to protect the tarsiers.
Scenic drive via the Bilar Forest (Mahogany Forest)
As you leave the tarsier sanctuary, you can continue your journey via the man-made Mahogany Forest.
The forest is 2 kilometers (1.2 miles) in length and is located on the border of Bilar and Loboc. These gorgeous trees stretch up to the sky and form a tunnel that makes your drive splendidly scenic.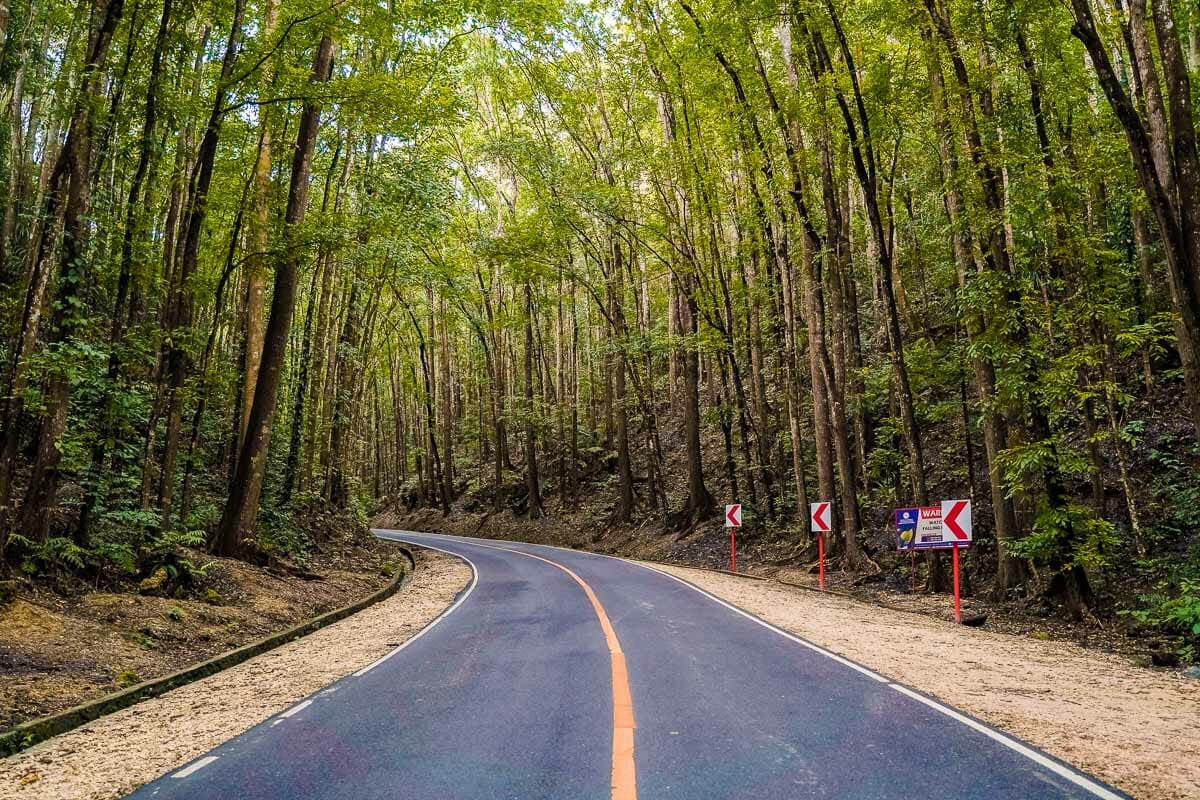 Habitat Butterflies Conservation Center
Continuing on with your day of nature and wildlife, you can stop off at the Habitat Butterflies Conservation Center.
There are hundreds of butterflies and moths here across over 20 different species. You'll pick up some interesting trivia as you're guided around the park and you'll have the chance to take some incredible close-up shots of the beautiful creatures.
You can also grab a fruit ice cream from the gift shop – no Bohol itinerary is complete without sampling this local specialty!
The entrance fee is 60 PHP (1.20 USD) and as with the tarsier sanctuary, this includes a guided tour.
The drive from the Tarsier Sanctuary to the Habitat Butterflies Conservation Center takes just under one hour but you'll want to stop to admire the Mahogany Forest along the way.
Chocolate Hills
You can't start thinking about what to do in Bohol for 3 days without the Chocolate Hills instantly popping into your mind!
There are over 1,200 hills spread across the region in central Bohol. During the dry season, these oddities of nature turn a delectable chocolate brown color. If you visit during the wet season note that the hills will be emerald green instead.
The entrance fee to the Chocolate Hills complex is 50 PHP (1 USD) per person and this grants access to the viewing platform where you can take panoramic photos. Plan to spend around 30 minutes admiring the hills.
Loboc River dinner cruise
To round off the first of your 3 days in Bohol you can treat yourself to a floating dinner on the Loboc River. This is the golden opportunity to try Filipino cuisine with a lush jungle backdrop as you slowly cruise along past traditional villages and witness local life.
A number of local companies run lunch and dinner tours on the Loboc River. Lunch ones are more popular but there are dinner options too.
You can book via Scotty's or ask your hotel to provide the latest schedules with their recommended cruise operator.
Day 2 of Your 3 Day Bohol Itinerary
Stand up paddle boarding on the Loboc River
If you skipped the dinner cruise last night then you might fancy starting the second of your 3 days in Bohol itinerary with an alternative way to experience the Loboc River.
SUP Tours Philippines provides a couple of options. You can book a 1 hour stand up paddle boarding tour which is suitable for beginners. These run from 8 am and you will cover 2.5 kilometers (1.6 miles) of the waterway.
Alternatively, you can book the moderate 3-4 hour waterfall tour that navigates 8 kilometers (5 miles) and takes you to the Busay Falls where you can enjoy a swim and splash around.
Dimiao Twin Falls (Pahangog Falls)
Once you finish off your SUP tour, it's time to head east and check out some of the more remote sights of Bohol.
The Dimiao Twin Falls (also known as the Pahangog Falls) is one of Bohol's best-kept secrets. Two strands of water tumble over some huge limestone boulders and flow into a turquoise pool that you can take a refreshing dip in.
You can swim right up to the tumbling water itself for a relaxing water massage. You can take some great photos from the bamboo bridge as well.
Note that the parking area is only accessible for motorbikes, not cars. From where you leave your scooter, you will need to follow a steep 1 kilometers (0.6 miles) descent through the jungle to reach the waterfalls. This will take around 20-30 minutes each way subject to how slippery the route is.
You will need to pay 20 PHP (0.40 USD) to view and swim in the Dimiao Twin Falls.
Ingkumhan Falls
A short drive from the twin falls brings you to another of Bohol's most beautiful waterfalls that must feature on your Bohol itinerary.
The great thing about Ingkumhan Falls is that they have a swing rope where you can unleash your inner Tarzan and fling yourself into the refreshing swimming hole!
If you know what you are doing you can also try cliff jumping. But I would recommend you ask the locals to give you some pointers first or that you get the lay of the land before you plunge in.
As with the Dimiao Twin Falls, you will need to follow a steep route down through the jungle in order to reach the waterfalls. Again there is an entrance fee of 20 PHP (0.40 USD).
Kinahugan Falls
After visiting your first two waterfalls of the day, you have around an hour of traveling ahead as you venture over to eastern Bohol where even more waterfalls await you.
Unlike the other two waterfalls, Kinahugan Falls is super easy to get to and just requires a 5-minute walk from the parking area.
Depending on the conditions when you visit, these three waterfalls might be powerful to take a dip in. Sometimes the water is really fast moving so make an assessment and plan to skip the swimming if that's the case.
They're still worth making a trip to see and take photographs of. Plus, Kinahugan Falls is free to visit!
Anda White Long Beach
There are lots of beautiful beaches to visit in the municipality of Anda and you could spend the rest of the day beach hopping.
With its powdery white sand fringed with swaying coconut palm trees and turquoise waters, Anda White Long Beach is the best place to slot into your Bohol 3 days itinerary. Factor in some time to relax on the sand, take a swim, and eat at one of the surrounding beach bars.
Tibaw Cave Pool
There must be around 20 sunken cave pools in the Anda area so it would be crazy to come all the way over to this side of the island and not visit at least one!
They are kind of like the cenotes in Mexico and many of them permit swimming and cliff diving. If you do want to jump in for a swim, make sure you check first that there is a ladder so you can get back out.
A couple of the cave pools used to be accessible to swimmers but since the ladders have been taken away, it appears they are now closed. You can still visit for a look around though and to take some photos.
Tibaw Cave Pool is the easiest to access on your Bohol itinerary and is open to swimmers and jumpers. The water is around 3 meters deep so you can dive in but ask the locals for some tips first and do a recce of the water to check the layout.
The entrance fee for Tibaw Cave Pool is 20 PHP (0.40 USD). It's a 5-minute walk from the parking area or you can just walk there from Anda White Long Beach.
You can follow the signs and continue another 5 minutes and see the much larger Cabagnow Cave Pool. Unfortunately, this one is currently closed to swimmers but it's still available for viewing.
Cadapdapan Rice Terraces
As well as its waterfalls, Bohol gives Bali a run for its money with its abundance of dreamy rice fields.
There are a couple of rice terraces in eastern Bohol that you can check out. Some of the most beautiful and accessible to tourists are the Cadapdapan Rice Terraces in Candijay.
You can park your car or scooter at Eleuterios's Farms where you will need to pay the entrance fee of 20 PHP (0.40 USD). Then you are free to roam the terraces and take photos to your heart's content.
It's a fairly tricky road to reach the parking area if you're driving yourself by motorbike so do take care. The ride from Anda White Long Beach takes just under one hour.
Can-Umantad Waterfall
There's been a lot of waterfalls on your Bohol itinerary so far but I'm sure you'll agree that they are a major part of the appeal of the island!
Can-Umantad Waterfall is only a 10-minute drive from the Cadapdapan Rice Terraces so I recommend you round off your day with a refreshing dunk in the water. This 18 meters (60 feet) tall waterfall is said to be the tallest on the island and it really does make for an impressive sight.
The trail from the car park is around 5 minutes. Once you're at the swimming basin you can swim right up to the waterfall and, carefully, experience a neck and back massage from the gushing waters.
As is the norm in Bohol, you will be expected to pay 20 PHP (0.40 USD) to visit the waterfall and take a dip. All these entrance fees go towards keeping the natural environment clean and maintained.
Day 3 of Your 3 Day Bohol Itinerary
Baclayon Church
So far your 3 days in Bohol have been focused on experiencing the raw nature and the unique nature of the island. Let's start your final day dipping into some of the heritage of the island.
Officially the tongue tangling La Purisima Concepcion de la Virgen Maria Parish Church, Baclayon Church was built in 1596.
Constructed out of coral stones, it's one of the oldest churches on the island and dates back to when the island was colonized by the Spanish.
You can go inside and have a look at the ancient frescoes and majestic altar. The church looks pretty humble from the outside and the interiors might surprise you.
Entrance to the church hall is free but if you want to visit the adjacent museum it costs 25 PHP (0.50 USD).
Blood Compact Shrine
Another fascinating heritage site to squeeze into your Bohol itinerary is the Blood Compact Shrine. This commemorates the friendship treaty that took place between the Spaniards and the Filipinos on 16 March 1565.
The compact, or Sandugo in Spanish, was initiated between the explorer Miguel López de Legazpi and Bohol chieftain Datu Sikatuna.
The shrine is a 5-minute drive from the church and it's free to visit.
Panglao Island
There's a chance you might have already booked accommodation on Panglao Island which is the small island connected to Bohol via a bridge.
Panglao Island is one of the most popular tourist areas on Bohol and has the best beaches on an island that isn't as famous for its beaches as neighboring Filipino islands.
Whether you're staying on Panglao or elsewhere you can't conclude your 3 day Bohol itinerary until you've explored it in full! Here are some ideas for what to do on Panglao Island.
Kayak to Pontod Island (Virgin Island)
Pontod Island (also known as the Virgin Island) is a sandbar located off the western tip of Panglao Island. It's tiny but well worth the visit for that castaway experience. You also stand a high chance of seeing loads of colorful starfish as you paddle through the crystal clear water.
Most of the local resorts on Alona and Danao Beach provide kayaks to guests. If you aren't staying in a hotel in the area then you can ask to hire one for a small fee.
Take your passport and money for a deposit and expect to pay around 200 PHP (4 USD) per hour for your kayak rental.
Scuba dive at Balicasag Island
If you are a scuba diver (or a first-timer wanting to give it a go) then there are heaps of dive shops on Panglao Island where you can get your fish fix.
This will take most of the day so you will need to skip the kayaking and jiggle your Bohol itinerary to visit the heritage sights earlier in the trip.
Alona Divers are one of the top-rated scuba centers on the island. They provide different rates for qualified open water divers based on how many dives you want to do. You can also book a discovery dive, take a refresher course or enroll in your first open water diving course.
Go Deep offers comparable packages and they also have the option to go freediving or snorkeling with friendly whale sharks!
An alternative option for your 3 days in Bohol itinerary is to book an island hopping tour that takes you to both Balicasag Island and Virgin Island.
Hinagdanan Cave
Before you go, there's one more subterranean cave for your Bohol 3 days itinerary! Hinagdanan Cave is a huge limestone cavern with a deep lagoon that is lit naturally by the sun.
The entire cave is decked out with massive stalagmites that you will get an excellent view of while floating in the water on your back.
The water depth is 3-4 meters so it's perfectly safe to jump in and enjoy a unique swimming experience.
Hinagdanan Cave is open daily, 7.30 am – 5 pm. Entrance is 50 PHP (1 USD) but if you want to swim in the water you'll need to pay an additional 100 PHP (2 USD).
You'll need to shimmy yourself down a skinny, wormhole of a staircase to enter the cave but it's worth it.
Alona Beach
Wrap up the final hours of your Bohol itinerary by nursing a refreshing cocktail on the sandy white Alona Beach. You can take a dip in the warm, crystalline waters while you wait for the sun to start its descent.
This and Anda Long White Beach are the closest comparables on the island to the likes of Boracay, which is one of the best islands in the Philippines for beach lovers.
There are heaps of beach bars nestled between the tropical palm trees which serve refreshing sundowners, light meals and happy hour deals. Plus, you'll get an incredible sunset from here.
Final Thoughts
And now you know exactly what to do in Bohol for 3 days! As you can see, there are a lot of ways to fill your time on one of the most beautiful islands in the Philippines.
I hope my Bohol itinerary will help you to plan the perfect adventure on this unforgettable island and shows you how to maximize your stay.
Have you ever been to Bohol or is it still on your bucket list? Let me know in the comments!
xoxo, Kriszti
---
Related Posts
Want to read more about the Philippines?
---
What Camera Gear Do We Use?
If you want to read more about what is in our camera bag, check out my detailed post about our travel photography gear!
---
Pin It for Later!