Bohol is one of the most beautiful islands in the Philippines and it's packed with many gorgeous and interesting places to visit. The island is mostly famous for the Chocolate Hills and the cute-looking tarsiers but it has many more things to offer.
If you're looking for a vacation spot that has something for everyone, Bohol is definitely worth considering. Here are eight of the best tourist spots in Bohol that you won't want to miss!
*Disclosure: This post contains a few affiliate links, which means I may receive a small commission, at no cost to you, if you make a purchase through my link.*
No time to read now? Pin it for later!
Useful Info for Visiting Bohol
Before we dive all into all the best tourist spots in Bohol, let's go over some practical information for visiting this beautiful island.
How to get to Bohol
How to get to Bohol from Manila
If you want to visit Bohol from Manila your only option is flying. Luckily Bohol has an airport – Panglao International Airport (TAG) – and you can find cheap flights easily.
Cebu Pacific, Air Asia, and Philippine Airlines operate several flights on a daily basis between Manila and Bohol. The flight takes around 1.5 hours and the ticket prices are usually between 1,500-2,500 PHP ($25-45 US).
How to get to Bohol from Cebu
Although you have many options to get from Cebu to Bohol, unfortunately flying directly is not one of them. The easiest option is taking a ferry which is very straightforward and it's actually much cheaper than flying from Manila.
Bohol has two ferry ports – Tubigon and Tagbilaran – and you need to pay attention to which port your ferry is going to because they are actually pretty far from each other!
Tubigon is located on the northwest part of the island and since it's quite far from the best tourist spots there is a big chance that it's not the right ferry port for you.
Tagbilaran, on the other hand, is located on the southwest side of the island and it's the capital of the island with many hotels, shopping malls, and restaurants.
There are three different companies that operate on the Cebu-Tagbilaran route: OceanJet, SuperCat, and Island Water.
They are all departing from Cebu Pier 1, a tourist class ticket usually costs around 600-700 PHP ($11-12.50 US). There is not much of a difference between the three, just take the one which has the best timing for your needs.
Whenever I'm in Asia I always book my transportation tickets via 12Go Asia. Their website is super easy to use, you just have to type in your origin and your destination and it collects you all the available transportation methods.
For instance, you just have to click 'Find tickets' in the below widget and you can instantly see all the options for traveling from Cebu to Bohol! Super convenient, right?
If you're planning to visit Bohol from Cebu, it is worth adding a few more days to your trip to explore Moalboal on Cebu island as well. Read this Moalboal itinerary to find out why!
How much time do you need to spend on Bohol
As I said before Bohol is the 10th largest island in the Philippines so it has a lot of things to offer. You will need a minimum of 3 days in Bohol to explore the main tourist spots on the island.
If you want to spend more time on the beaches or want to go island hopping to the nearby islands you can easily spend 5-7 days in Bohol.
Best time to visit Bohol
Before visiting the Philippines I made the mistake of checking only a few sites about the weather. All of them said that December is a dry season in the Philippines so that's why I decided to visit the islands before Christmas. Then I arrived in Bohol and was welcomed with pouring rain. What?!
It turned out that despite December is being considered as a dry season for some parts of the Philippines – it is not true for Bohol. Typically the dry season lasts from March to May on the island but you can still expect a little rain in this period too.
The wet season starts with the northeast monsoon in late May and it lasts up until the beginning of March. In this period you can expect 15 rainy days on average.
The temperature is always hot and humid in Bohol. The humidity is around 80% all year long, while the hottest months are April, May, and June.
Where to stay in Bohol
There is a wide range of accommodations available in Bohol, basically, you can find anything from cheap hostels to luxury resorts. If you are visiting Bohol as a tourist the best places to stay are either in the capital city, Tagbilaran or on Panglao Island.
Panglao Island
If you want to stay close to the best beaches in Bohol then staying on Panglao Island is the best choice for you. This small island is connected to the main island by a bridge and it is very easy to get there.
The best resorts are located in the southern part of the island, near Alona beach and Bolod Beach. Check all the accommodations on Panglao Island here!
LUXURY – South Palms Resort Panglao
Just a few steps from Bolod Beach, South Palms Resort Panglao features a spa, a gym, and an outdoor pool. The tropically decorated rooms are air-conditioned and feature a flat-screen TV with cable channels, a personal safe, tea/coffee-making amenities, and a minibar.
MID-RANGE – North Zen Villas
Situated in Panglao, 150 m from Doljo Beach, North Zen Villas features accommodation with a restaurant, free private parking, a garden, and a terrace. The resort provides an outdoor swimming pool and a 24-hour front desk and free WiFi.
BUDGET – Glamping Alona
With pool views, Glamping Alona is set in Panglao and has a restaurant, room service, bar, garden, outdoor pool, and sun terrace. The tented camp features both WiFi and private parking free of charge. We stayed here personally and loved everything about it!
Tagbilaran
Staying in Tagbilaran is a good choice if you want to explore the best tourist spots in Bohol and you want to minimize traveling time. You won't find too many luxury or beachfront resorts here but the prices are much lower so if you are traveling on a budget that's good news for you.
Since you are closer to the tourist spots you will spend less time on your motorbike or in the car which is another advantage. Check all the accommodations in Tagbilaran here!
LUXURY – Kasagpan
A cliffside hideaway in Bohol, Kasagpan offers air-conditioned bungalows with pool or sea views. The resort also features 2 outdoor swimming pools, a restaurant, and free WiFi in all public areas.
MID-RANGE – Sweet Home Boutique Hotel
Set in Tagbilaran City, Sweet Home Boutique Hotel provides a terrace. Among the facilities of this property are a restaurant, a 24-hour front desk, and room service, along with free WiFi throughout the property.
BUDGET – Bohol Ecotel
Situated in Tagbilaran City, within 8.3 km of Hinagdanan Cave and 37 km of Tarsier Conservation Area, Bohol Ecotel features accommodation with a shared lounge and free WiFi throughout the property as well as free private parking for guests who drive.
Best Tourist Spots in Bohol
And now let's get to the juicy part of my Bohol travel guide and let's see all the best tourist spots in Bohol! On the below map you can see all the places mentioned in this article with their retrospective number.
The numbers don't reflect any ranking order, they are just simply there to make it easier for you to find all the best places to visit in Bohol on the map! You can also save this map to your Google Maps app on your phone if you click on the bracket in the upper right corner.
1. Chocolate Hills
The Chocolate Hills is one of the best tourist spots in Bohol and you definitely need to see this amazing landscape with your own eyes!
The hills are located in the middle of the island – you can rent a motorbike to go there on your own, hire a private driver or join an organized tour.
There are more than 1,200 hills and during the dry season they are all brown – hence the name. However, if you're visiting in the rainy season the hills and the surrounding area will be lush green.
You can't climb the hills individually and there is only one viewing platform that is accessible by a long stairway. The entrance fee is 50 PHP ($1 US) per person.
There is not much to do besides admiring the Chocolate Hills from the platform so you will only need 20-30 minutes for visiting.
2. Tarsier Sanctuary
Bohol is really famous for the tarsiers and visiting these wide-eyed monkey-looking creatures are one of the top things to do in Bohol.
You can visit the tarsiers in three different locations on the island. We visited the Tarsier Sanctuary in Corella which is officially run by the Philippine Tarsier Foundation.
Tarsiers are officially recognized as endangered species. They are really sensitive emotionally and they can get stressed out easily. If their stress level is too high they often commit suicide by banging their heads against the trees.
That's why you can only visit for a short period of time and you have to keep your voice to a minimum level to protect the animals. You can take photos of them without the flash but touching them is strictly prohibited.
You have to pay 150 PHP ($2.70 US) per person for the entrance fee. A local guide will lead you through the jungle in a small group and he will help you spot the tarsiers. They are really small, like half the size of your hand so without the guide it would be really hard to see where they are.
The trek in the jungle is really short, we spent only like 15-20 minutes there but we could see at least 4-5 tarsiers.
3. Bilar Man-Made Forest
The Bilar Man-Made Forest is a 2 km long forest located on the border of Bilar and Loboc towns. You will find huge Mahogany trees in this forest creating a natural tunnel above the roads.
Honestly, if I didn't know about these trees I probably wouldn't even noticed but actually, they are not naturally grown, they were planted by humans. And this is the only interesting thing about them – don't expect more.
There is not much to see or do here but since you will drive through it anyway from the Tarsier Sanctuary on the way to the Chocolate Hills it's a nice stop for a quick photo.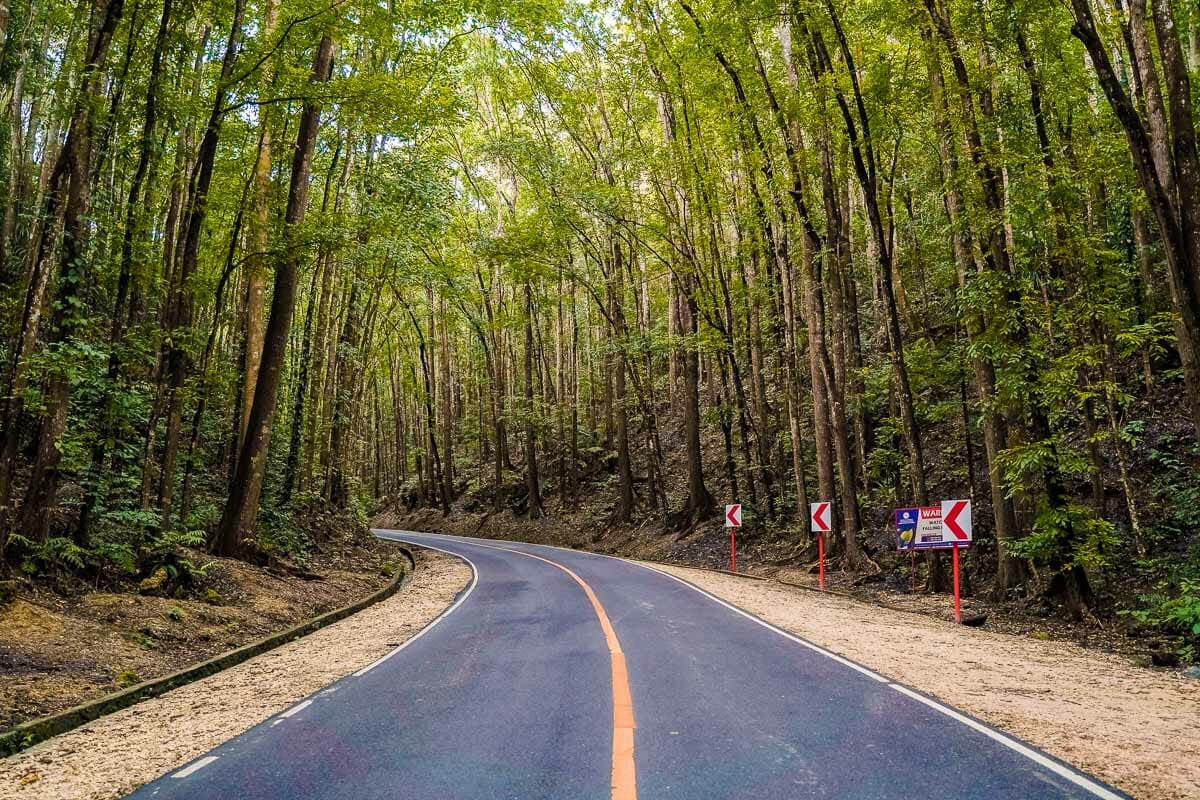 4. Alona Beach
Alona Beach is one of the best beaches in Bohol. It's located on the southern side of Panglao Island and there are many resorts, hotels, and restaurants nearby.
It's a 1.5 km (1 mile) long white sandy beach with two rock walls bordering on both ends. The water is very shallow and crystal clear which makes it perfect for swimming.
There are numerous dive boats around and you can also go island hopping from the beach to the nearby islands.
5. Dimiao Twin Falls (Pahangog Falls)
The twin falls near Dimiao are definitely one of the best tourist spots to visit in Bohol! Although I'm not sure if you can call it a tourist spot because it is not so well-known amongst visitors. But this is just one more reason for you to visit!
On Google Maps, you will find this waterfall as Pahangog Falls. Unfortunately, you can't visit it by car, you will need a scooter or a motorbike to go there.
Don't worry if you're not comfortable driving a motorbike – you can hire a local guide to take you there just like we did.
Even if you take a motorbike you still need to walk the last 1 km (0.6 miles) on foot. It's a very steep hike down and it is not completely built yet so be careful! The roads are really slippery, especially after rain.
It's definitely not an easy hike but it's completely worth all the struggle! The waterfalls are really beautiful and you can even swim in the water which is very refreshing after the hike. You need to pay 20 PHP ($0.40 US) per person and you will have the waterfalls almost to yourself!
6. Ingkumhan Falls
Ingkumhan Falls is located only 3 km (1.8 miles) away from the Dimiao Twin Falls so you can easily visit both of them during a day trip.
Getting to Ingkumhan Falls is pretty similar to the twin falls as you need to hike down on a super steep road as well. Proper shoes are a real must-have! You also need to pay 20 PHP ($0.40 US) per person to enter the falls.
What makes this waterfall really special is that there is a huge swing and a rope which is super fun! It looks very dangerous at first but there are always a few local guys around who will guide you and teach you how to do it.
Although it looks pretty scary definitely go for it if you can! I almost chickened out but made up my mind in the end and it was super amazing!
7. Rice fields
I didn't know it before I visited but actually, Bohol is full of beautiful rice fields! It reminded me a lot of Bali and I was really happy to see these lush green fields on this island too.
The most famous ones are the Cadapdapan Rice Terraces but since it's quite far from the other tourist spots we didn't go there in the end.
However, if you have the time definitely check it out! And don't worry if you don't – you will stumble upon many gorgeous rice fields while traveling around Bohol anyways.
Final Thoughts
Staying in Bohol was a great start to our 2 week long Philippines itinerary. I loved exploring the crystal clear beaches, lush green hills, hidden waterfalls, and seeing the interesting wildlife on the island.
Hope you guys liked this post about the best tourist spots in Bohol and it will help you plan your Bohol itinerary!
If you have any questions feel free to leave a comment below or send me an email, I always love helping you out! Have you already visited Bohol or is it still on your bucket list? Let me know in the comments!
xoxo, Kriszti
---
Related Posts
Want to read more about the Philippines?
---
What Camera Gear Do We Use?
If you want to read more about what is in our camera bag, check out my detailed post about our travel photography gear!
---
Pin It for Later!