When it comes to travel in the United Arab Emirates, many people find themselves faced with a difficult decision – Abu Dhabi or Dubai? Both are cities of luxury and promise a unique experience, but which one is right for you?
Abu Dhabi and Dubai are the two most populous and well-known destinations in the United Arab Emirates (UAE). People often mention these two emirates interchangeably. While both have ultramodern features and excellent infrastructure, the two are very different in some ways.
Travelers seeking specific traits may be disappointed if they choose one emirate over the other without doing their research beforehand.
Those seeking beaches, traditional settings, nature, and a quieter atmosphere will appreciate one destination, while those who prefer shopping, nightlife, and family-friendly activities will enjoy the other.
Want to find out which emirate is best for you? Read on for an in-depth comparison of Abu Dhabi vs Dubai!
*Disclosure: This post contains a few affiliate links, which means I may receive a small commission, at no cost to you, if you make a purchase through my link.*
No time to read now? Pin it for later!
Abu Dhabi vs Dubai at a Glance
Locations
Both cities and their emirates sit on the Persian Gulf on the eastern coast of the Arabian Peninsula.
It might sound surprising, but the Emirate of Abu Dhabi actually covers 87% of the UAE! It occupies the entire southern portion of the country.
Though the city itself sits on the central coast, the Abu Dhabi Metropolitan Area covers the entire northern area of the emirate and several islands just offshore in the Persian Gulf.
The Emirate of Dubai is to the north of Abu Dhabi. Though it is smaller in area, it is the most populated of the seven emirates in the UAE. The city is on the coast in the far northern portion of the emirate, near the border with Sharjah.
Though it lacks the same number of isles as Abu Dhabi, Dubai has well-known artificial island developments, the Palm and the World.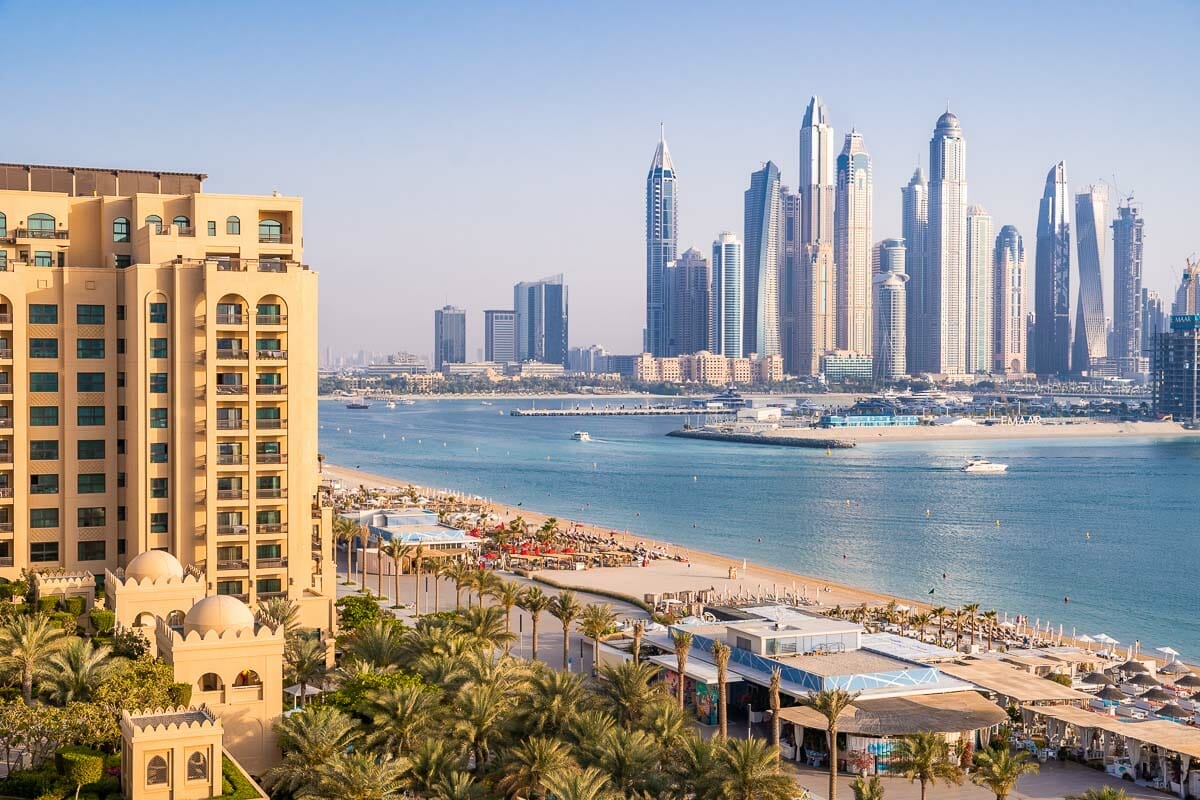 Similarities
Both cities have excellent infrastructure and public transportation options (a metro system in Dubai and a bus service in Abu Dhabi).
You can also find plenty of shopping in both places. Abu Dhabi boasts the Yas and Marina Malls, while the Mall of the Emirates is in Dubai, alongside many other world-class retail centers.
Both cities have busy commercial centers with numerous skyscrapers and weekday rush hour traffic.
Since Abu Dhabi and Dubai are coastal cities, visitors can enjoy beach access and water sports in each place. Meanwhile, desert excursions are possible in both emirates, with Abu Dhabi featuring the eastern end of the so-called Empty Quarter and Dubai offering sand dune expeditions.
Dubai and Abu Dhabi also have similar weather. Though Abu Dhabi is slightly warmer, the two cities both experience average daily highs above 40 °C (105 F) in July and August and January highs in the low 20s °C (low 70s degrees F).
The currency in both places is the UAE dirham (abbreviated as AED).
Differences
Despite being so close to each other, both Dubai and Abu Dhabi offer very different atmospheres.
Most visitors find Abu Dhabi quieter, with more traditional culture and a less cosmopolitan vibe. On the other hand, Dubai has a livelier entertainment scene, a faster pace of life, and a more international flair.
The costs in both places are similar, though Dubai is often slightly cheaper because there is more competition between hotels, restaurants, and shopping venues.
That said, people who love beaches and islands may prefer Abu Dhabi over Dubai because it offers a greater variety of seaside attractions.
Now that you have a general overview of the similarities and differences between Abu Dhabi and Dubai, let's jump into an in-depth comparison featuring the most important key areas for travelers.
Accommodation in Abu Dhabi vs Dubai
Visitors have a wide range of accommodation options in Abu Dhabi and Dubai. However, there are a few contrasts when it comes to places to stay in the two places.
Accommodation in Dubai
Dubai is famous for its luxury hotels, including one of the world's finest, the Burj Al Arab, which is a sail-shaped luxury inn on a private artificial island.
Meanwhile, many of the world's major luxury hotel brands, from W and Waldorf Astoria to Shangri-La and Anantara, are in the emirate. If you want to treat yourself, you can also take a look at some of the most amazing hotels in Dubai with Burj Khalifa views.
However, Dubai is not only about luxury! Despite being known as a luxury travel destination, visiting Dubai on a budget is very much possible.
You can find many great Airbnbs in Dubai, as well as 3 and 4-star hotels that are more reasonably priced than luxury resorts and skyscraper hotels.
Dubai also has its share of hostels and guesthouses catering to budget travelers and backpackers. While these might not be as cheap as they are in other places, they are still reasonable for the location.
Accommodation in Abu Dhabi
Abu Dhabi has its own legendary luxury hotels, like the Emirates Palace, Ritz-Carlton Abu Dhabi, and St. Regis on Saadiyat Island. The Al Maya Private Island and Resort is an example of an all-inclusive, high-end venue you can find on the emirate's islands.
You can also find plenty of mid-range brands in the emirate. Novotel, Park Inn by Radisson, and Sheraton hotels take reservations in the city.
Cheaper places, such as hostels and guesthouses, are available in Abu Dhabi, but there are not as many as in Dubai. Budget travelers may struggle to find a place to stay in the city unless they come across a special promotion or are willing to book a place that offers discounts for longer-term stays.
This also leaves some visitors with the impression that Abu Dhabi is slightly more expensive than Dubai.
Cost of Living in Dubai vs Abu Dhabi
Despite the differences in the availability of cheaper accommodation, the cost of living is similar whether you are in Dubai or Abu Dhabi.
Cost of living in Dubai
If you plan to stay in Dubai for more than a vacation, the cost of rent for a one-bedroom apartment is AED 5,141 ($1,400 US), and a simple meal is AED 30 to 45 ($8 to $12 US).
Of course, this is just a ballpark number, and the actual cost highly depends on which part of the city you want to live in and where you're dining on a regular basis.
Transport is slightly more expensive in Dubai than in Abu Dhabi. Fares average AED 5.5 ($1.30 US). However, the system is comprehensive and modern, and you can use a stored-value Nol Card to pay for fares.
Overall, Dubai is the second costliest of the seven emirates. According to LivingCost.org, the average long-term visitor or expat pays AED 6,975 ($1,899 US) per month.
Cost of living in Abu Dhabi
On average, monthly rents in Abu Dhabi are slightly higher, with a centrally-located one-bedroom costing 5,863 AED ($1,596 US).
However, rents can be cheaper in places outside the city center, with rates around AED 3700 ($1,000 US). Meals in Abu Dhabi are in the AED 30 range ($8 US).
Bus fares in Abu Dhabi are in the AED 2 ($0.50 US) range. This is slightly cheaper than Dubai, however, Dubai has a more comprehensive transit system with trams and metro, while Abu Dhabi relies mainly on buses and taxis.
According to LivingCost.org, Abu Dhabi is more expensive than Dubai overall, with an average cost of living of AED 7,217 ($1,963 US).
Things to Do in Abu Dhabi and Dubai
One of the biggest differences between Abu Dhabi and Dubai is the list of activities. While both offer beaches and shopping, each city has its own index of unique things to do.
Things to do in Dubai
Dubai has a huge list of the "world's biggest" attractions. Starting with the Burj Khalifa, which is currently the world's tallest building towering at 829.8 m (2,722 ft)!
No visit to Dubai is ever complete without seeing the views from the top of the tower. You can choose to visit either the 124-125 levels with a standard ticket, or if you're willing to spend a bit more, you can go up all the way to the top to level 148 with a premium ticket.
Talking about great views, a visit to Ain Dubai is also a must. This massive observation wheel takes you 250 meters (820 feet) into the air while offering an insane panorama over the city. You can also see the world's largest artificial islands, the Palm and the World, which were created by dredging the sea floor in the Persian Gulf.
Dubai has many family-friendly attractions, including the IMG Worlds of Adventure theme park, which is entirely indoors, and the zipline and tree-top experiences at Aventura Parks.
The Dubai Aquarium and Underwater Zoo feature a huge collection of aquatic life and underwater tunnels for visitors to get a different view of marine habitats.
Other only-in-Dubai attractions include the indoor Ski Dubai and Dubai Ice Rink, the immersive virtual reality experience at the VR Park, and the unique Sky Views Dubai. This venue has a transparent-floor pathway, an edge walk, and a glass slide more than 200 meters (656 feet) above the street.
While Dubai is a thoroughly modern place, it does have a few historical areas. The Al Fahidi Historical Neighborhood faithfully recreates the atmosphere of Dubai before the emirate's formation, while Al Seef is a riverside district with a similar historical ambiance.
Things to do in Abu Dhabi
Abu Dhabi doesn't have as many modern landmarks as Dubai, but it does offer plenty of sights and activities to keep visitors busy.
The city is mostly famous for its impressive architecture, including the Sheikh Zayed Grand Mosque, which is one of the largest mosques in the world.
One of the things you can't miss when spending a day in Abu Dhabi is strolling through the long seaside promenade known as the Corniche. An observation deck in Etihad Towers allows you to see views from on high if you want.
You can also visit one of the most exclusive hotels in the world: Emirates Palace. Even if you don't have the budget to spend the night, you can take a stroll through the lobby or take a sip of its signature gold cappuccino with 24-carat gold flakes.
Many of Abu Dhabi's landmarks have a sense of history rather than modernity. The Al Maqtaa and Mezair'ah Forts are popular attractions for history buffs, while the Qasr Al Watan is a unique site with neo-classic Arabic architecture and exhibits that explore Arab culture and heritage.
Other cultural exhibits include the Louvre Abu Dhabi and the more modern N2N Art Gallery.
Abu Dhabi does have its share of head-turning attractions. Many of them are sports-related, such as the Yas Marina Formula One Circuit and the adjacent Ferrari World.
Also, despite not getting as much press as the Dubai Aquarium, the National Aquarium in Abu Dhabi is larger, with rare species like hammerhead sharks and 10 different themed exhibits.
Abu Dhabi has a few very unique attractions, including the Abu Dhabi Falcon Hospital, which offers tours of its rescue facilities, and the Abu Dhabi Mangrove National Park, a coastal forest outside the city that you can explore by kayak.
Shopping in Dubai and Abu Dhabi
The UAE is a well-known destination for shopping. From traditional souks to some of the largest malls in the world, you can find a diverse range of retail experiences in both Dubai and Abu Dhabi. Here is a look at the similarities and differences between the shopping scenes.
Shopping in Dubai
Dubai is typically associated with palatial modern shopping centers, like the Dubai Mall, Mall of the Emirates, and Dubai Festival City Mall. These venues offer endless retail options, dining, attractions, theaters, and even performance spaces.
You can also find smaller centers, like the Dubai Marina Mall and City Centre Mirdif. Some visitors might find these places easier to navigate, though there are not as many attractions.
Dubai offers themed shopping experiences, such as the Italian Renaissance-inspired Mercato Shopping Mall, the international-flavored Global Village, the Egyptian-themed WAFI, and the traditional outdoor Souk Madinat Jumeirah.
The Dubai Spice Souk is an attraction as well as a shopping destination. It is worth a visit even if you are not in the market for the flavorful products on sale there.
You can find deals in Dubai at the Ripe Market, Naif Souk, Old Souk, and Waterfront Market.
Shopping in Abu Dhabi
Abu Dhabi does not have as many shopping options as Dubai, but you can find similar experiences. The Abu Dhabi Mall contains hundreds of retailers, a movie theater, and plenty of local retailers selling specialties like dates, nuts, and spices.
Meanwhile, the Yas Marina Mall offers an upscale shopping experience. It boasts Dubai-like attractions such as theme park rides and an ice-skating rink.
Abu Dhabi has all the high-end boutiques, many of which you can find along Avenue at Etihad, near the Etihad Towers. However, there are also bargains to be had for fashion lovers.
Paris Avenue features lesser-known international designers. Their shops capture the latest trends in Europe's fashion capitals, but the lack of big brand names makes it easier to find good deals.
Traditional shopping, without a thematic design, is easier to find in Abu Dhabi. The Souk Central Market is the primary place to find antiques, souvenirs, and perfumes.
The Carpet Souk and Madinat Zayed Gold Center are ideal settings for finding two products famous in the Middle East. Finally, the Iranian Souk and Women's Handcraft Centre also offer shopping in a traditional setting.
Beaches at Abu Dhabi vs Dubai
Both Abu Dhabi and Dubai are coastal cities. They sit on the Persian Gulf and are home to some of the region's best beaches. However, the activities and overall beach scenes are a bit different depending on which emirate you choose to visit.
Beaches in Dubai
Dubai's beaches are well known for their amenities. Jumeriah Beach and JBR Beach are easy to access and have lots of amenities and attractions.
JBR is centrally-located, but it can get exceptionally busy with families attracted to the nearby rides. Another family-friendly option, Al Mamzar Beach Park, is more laid back than the others.
Spots like Jumeriah and Le Mer Beach are artificial, so even though the scenes are lively, they may lack some of the natural allure of the sands found elsewhere in the UAE.
Dubai does have a few quieter spots, such as Al Sufouh Black Palace Beach and Mercato Beach, but these laid-back places are not as plentiful as Abu Dhabi.
Finally, Dubai boasts some high-end beach experiences, such as the private White Beach on the Atlantis Resort on the artificial Palm Island. A visit isn't cheap, but you will get pampered for sure!
Beaches in Abu Dhabi
Abu Dhabi's beaches are more accessible. Despite its name, the Saadiyat Public Beach, on easy-to-reach Saadiyat Island, has a high-end setting with plenty of amenities and soft white sands usually reserved for exclusive resorts.
Yas Beach is free to guests at any of Yas Island's hotels, and any visitor can use it for a fee. This is an example of Abu Dhabi's family-friendly beaches. There are cabanas for rent, separate kids' pools, and water sport equipment rentals.
Two centrally-located public beaches are free and popular with both families and locals. Al Bateen Beach and Corniche Beach both have lively weekend scenes, with volleyball and football (soccer) and lifeguards on duty for those who want to try the water.
Culture in Dubai vs Abu Dhabi
Dubai and Abu Dhabi are part of the same country. Their emirates border one another, and you can travel between them in less than an hour. However, there are still many differences between the culture and overall atmosphere of the two places.
Culture in Dubai
Dubai was the first destination in the UAE to get onto international tourists' radar. It is a popular destination for travelers from around the world, and it has the features and facilities to cater to these visitors and business travelers.
Many people consider it the most cosmopolitan, modern, and international city on the Arabian Peninsula, let alone in the UAE. Tourists and most residents are transplants from other countries, which adds to the international atmosphere.
Though you can find traditional Arabian culture in Dubai, it is not as easy to experience as in the other emirates.
That said, the city's modern edge makes it extremely user-friendly, especially for first-time visitors. At the same time, the cosmopolitan vibe means Dubai is more fast-paced than its neighbors.
When it comes to clothing, people in Dubai tend to be more fashion-forward than in other parts of the UAE. You don't really have to adapt to any strict dress codes, however, it's still best to dress modestly and respect local customs.
Culture in Abu Dhabi
Abu Dhabi has plenty of modern trappings, but most visitors and residents consider it a quieter, more traditional, and conservative option than Dubai.
You are more likely to encounter Arabic culture here, and the city embraces this with its art galleries, souks, and less-touristy neighborhoods.
You'll also notice that the dress code is more strict in Abu Dhabi than in Dubai. You still don't need to adhere to a very strict dress code, but many places will require you to cover up more than in Dubai.
Generally speaking, women should cover their shoulders and knees, and men should avoid wearing shorts or sleeveless shirts. This is especially true when visiting religious or government sites.
It is also easier to access nature in Abu Dhabi. This is because it has more land than the other emirates and partly because of conservation efforts that keep some islands and coastal areas natural.
Some visitors will welcome the slower pace and atmosphere, while others will prefer the user-friendliness of Dubai.
Transportation in Abu Dhabi vs Dubai
The ease of getting around the city is always important when traveling to a new destination. Here is a look at the transportation options in Dubai vs Abu Dhabi.
Transportation in Dubai
Dubai has more public transportation options than Abu Dhabi.
The Dubai Metro currently has two lines and 53 stations, with more in development. It is supplemented by an automated waterfront tram system that connects the central areas around the Dubai Marina Mall and Palm Island.
Dubai also has a fleet of 1,500 buses, which deliver service to outlying areas and connect Metro stations. Meanwhile, water taxis provide connections to destinations along the waterfront and down Dubai Creek.
To use the metro and the bus, you will need to pick up a rechargeable Nol card which you can use to travel on both networks. It's important to know that you can only buy Nol cards at metro stations and not at bus stations, so make sure to plan accordingly.
Finally, taxis are everywhere in Dubai, and the flag fee is AED 12, plus AED 1.82 per km ($3.25 US plus $0.50 per km). You can also use ridesharing apps like Uber and its Middle-Eastern equivalent, Careem and prices are similar to regular taxis.
For the ease of traveling around, you can also pick up a rental car in Dubai. As most Emiratis drive, parking is available in abundance in Dubai and often it's free – at least for a couple of hours.
For a guideline, an economy rental car will cost around AED 220 (around $60 US) per day. 4X4 and luxury models will set you back a little more, especially during high season.
Transportation in Abu Dhabi
Abu Dhabi is pedestrian-friendly in some areas, such as the Gulf-side promenade known as the Corniche but given the size of the city, it's inevitable to use some kind of transportation when getting around.
Abu Dhabi doesn't have a metro system, but its nearly 100 bus routes operate throughout the day and night. Fares are between AED 2 and 4 ($0.50 and $1 US).
Ferries operate between some of the more popular offshore islands. However, if you are staying in one of these locations, hotels may provide a free transfer from the airport or city.
Finally, taxi prices are the same as in Dubai (AED 12 flag fee plus first km and AED 1.82 per additional km). Cabs are easy to flag down in most major areas of the city and you can also take advantage of the ridesharing apps such as Uber or Careem.
Abu Dhabi or Dubai: Which Should You Choose?
Now that we've gone through the in-depth comparison of Abu Dhabi vs Dubai, it's time to decide which destination you should choose for your next trip.
One thing for sure: both places offer excellent infrastructure, transportation, and plentiful dining, shopping, and entertainment options.
That said, visitors seeking more entertainment and nightlife options and a more cosmopolitan big city vibe will prefer Dubai, while those who want a slower, quieter atmosphere, more traditional settings, and more island, beach, and outdoor adventure options will find Abu Dhabi a better option.
Since the two cities are only 139 km (86 miles) apart, it's also possible to visit both cities in one trip if you feel like you're unable to choose.
Visiting Abu Dhabi as a day trip from Dubai is a popular option among visitors but if you have more time, consider spending at least a few nights in each place.
---
Related Posts
Want to read more about the UAE?
---
More UAE Resources
Planning a trip to the UAE? Check out these awesome books and travel guides for more inspiration!
---
What Camera Gear Do We Use?
If you want to read more about what is in our camera bag, check out my detailed post about our travel photography gear!
---
Pin It for Later!