If you're seeking a city that gives you culture, adrenaline, delectable food, and warm-spirited locals, then look no further than Dubai. On the surface, this gleaming city is known for its towering architectural masterpieces, sprawling malls, and luxury hotels.
But if you spend 4 days in Dubai then you'll soon realize how much more the Middle Eastern mega-city has to offer.
Dubai must be one of the few places in the world where you can sunbathe on pristine beaches, surf down giant sand dunes, and wander around historic alleyways all within the same day.
Although this ginormous city in the United Arab Emirates gives you heaps to see, the great news is that you can enjoy the best of Dubai in 4 days.
This brings you to my Dubai travel guide! I've curated the perfect Dubai itinerary that will help you squeeze in all the top tourist attractions, as well as a few lesser-known gems that will make your trip unique.
Disclosure: *This post contains a few affiliate links, which means I may receive a small commission, at no cost to you, if you make a purchase through my link.*
No time to read now? Pin it for later!
Useful Info for Visiting Dubai
How to get to Dubai
Before we get started with all the fabulous things to do in Dubai in 4 days, let's run over the essentials in order to make planning your trip as seamless as possible.
When it comes to getting to Dubai, chances are that you will fly to the city. However, if you are already based in the Middle East, you also have the option to drive to Dubai from a neighboring country.
Dubai is mainly served by the Dubai International Airport (DXB) but you can also catch flights to Al Maktoum International Airport (DWC). DXB is located close to the Deira district and a taxi to your downtown hotel will take around 20 minutes, while DWC is located 37 km (23 miles) southwest of Dubai.
DXB is a bustling transport hub with connections to most major cities around the world. Flights from Europe and the US are generally very affordable if you shop around. Airlines such as Emirates and Etihad often run deals and promotions so sign up for their newsletters and keep an eye on socials for discounts.
A quick tip – you might want to check out flight options to nearby Abu Dhabi. Depending on where you are flying from, it might be cheaper to disembark in the neighboring city and transfer to Dubai either via a car rental or by bus.
A bus to Dubai from Abu Dhabi should cost around AED 25 ($6.80 US) whilst a taxi will cost approximately AED 250-300 ($68-81 US). The drive takes about 90 minutes. If your schedule permits, spending one day in Abu Dhabi is a nice addition to tapping onto either end of your Dubai itinerary.
Best time to visit Dubai
Because of Dubai's spot slap-bang in the middle of the Arabain desert, the weather can get very intense in the city. It's definitely one of those places where you need to plan your trip around the climate.
The best time to visit Dubai is during its 'winter' months – from November to March. Daytime temperatures linger around a comfortable 25°C (77°F) whilst evenings drop a few degrees cooler.
But bear in mind that this is the peak tourist season in the UAE and so attractions and beaches will be more crowded and hotels a lot pricier.
From April onwards the temperatures start to ramp up and it can become oppressively hot. By June/July, the city is usually in the late 30°Cs (95°F +).
If you're planning to spend most of your Dubai itinerary indoors anyway, there will be air-conditioning to keep you cool. However the beaches, gardens, and desert will be harder to deal with.
The great thing about visiting Dubai during summer is that hotel prices plummet.
How to get around in Dubai
As a major metropolis, Dubai gives you the option to get around via either public transport or private car. Whilst it's not a walkable city, there are some areas that are very pedestrian-friendly as you'll see in my itinerary.
If you want to see the best of Dubai in 4 days without hiring a car, I would recommend doing a mix of public transport and taxis to save valuable sightseeing time.
Hire a car
As Dubai is a city that was designed for cars, the most comfortable way to get around Dubai is via a rental car.
There are loads of highways connecting the city. Once you've coughed up the necessary hire and insurance costs, petrol prices are very low in the UAE.
As most Emiratis drive, parking is available in abundance in Dubai and often it's free – at least for a couple of hours.
For a guideline, an economy rental car will cost around AED 220 ($60 US) per day. 4X4 and luxury models will set you back a little more, especially during high season.
Taxi
Dubai is well-served by taxis as well as the ridesharing apps like Uber and its Middle-Eastern equivalent, Careem.
In fact, the prices for roadside and rideshare taxis generally work out around the same – which is unusual. It's worth picking up a Dubai SIM card and downloading both of the apps so that you have all the options at your fingertips.
When you hail taxis, you can ask for a price estimate and confirm whether or not the driver charges by the meter.
Public transport
Dubai has both metro and public bus systems in place. The metro operates across two lines – red and green.
These connect you to most of the major parts of the city but in some cases, the nearest station to certain attractions isn't as close as you would hope.
So if you do opt to use public transport during your 4 days in Dubai, you will sometimes need to add on a bus or taxi transfer.
Additionally, you can use the bus system which will take you to pretty much anywhere you want to go. If you deviate from my suggested itinerary, you can use the RTA journey planner.
To use the metro and the bus, you will need to pick up a rechargeable Nol card which you can use to travel on both networks. You can do this at any metro station – the red card is suitable for getting around on your 4 days in Dubai itinerary.
It's important to know that you can only buy Nol cards at metro stations and not at bus stations. Without a Nol card, you can't get on any of the buses and the nearest metro station can be kilometers away. So it's worth buying your Nol card well in advance, in case you're planning to use public transportation in Dubai.
There are a few more exciting public transport options in Dubai which I'm going to mention in my Dubai itinerary so stay tuned!
Where to stay in Dubai
Unlike its compatriots – Singapore and Hong Kong, Dubai is not a walkable city. The distance between different places to visit is enormous. The public transportation in Dubai is also not very comprehensive and will eat up a lot of your sightseeing time.
Hence, depending on what you want to do as a tourist and your budget, you will have to decide which area would be best for you to stay in during your 4 days in Dubai.
Generally speaking, the best areas to stay in Dubai are Dubai Downtown, Palm Jumeirah, Dubai Marina, and Jumeirah Beach Residence (JBR). You can check all the hotel options in Dubai here, or if you don't want to spend time searching, check out my recommendations below!
If you want to make your Dubai trip even more memorable, read my post about the best hotels in Dubai with Burj Khalifa view!
Do you prefer staying in Airbnbs rather than hotels? Then you need to check out my article about the best Airbnbs in Dubai, including beautiful Marina views, penthouses, and many more!
If you're in a hurry, here are my top hotel recommendations for different budgets.
LUXURY – Atlantis the Palm
Located on Dubai's Palm Jumeirah Island and enjoying a private sandy beach, the 5-star Atlantis offers stunning views of the Arabian Gulf. It provides an underwater aquarium and complimentary access to the Aquaventure water park and the Lost Chambers Aquarium.
MID-RANGE – Crowne Plaza Dubai Marina
Crowne Plaza Dubai Marina has a restaurant, an outdoor swimming pool, a fitness center, and a bar in Dubai. Boasting family rooms, this property also provides guests with a sun terrace. The accommodation features a 24-hour front desk, room service, and currency exchange for guests.
BUDGET – Gulf Inn Hotel Al Nasr
Gulf Inn Hotel Al Nasr (formerly Roda Links Al Nasr) features a restaurant, outdoor swimming pool, a fitness center, and a shared lounge in Dubai. Featuring family rooms, this property also provides guests with a sun terrace. Gulf Inn Hotel Al Nasr offers a continental or buffet breakfast.
Overview of Your 4 Day Dubai Itinerary
Now it's time to find out about all the amazing things to do in Dubai in 4 days! The section below includes an overview of your 4 days in Dubai itinerary with all the best highlights that I recommend visiting during each day of your trip.
While I've included some of the more touristy attractions that you have to see at least once in Dubai, I've also included a few of the more off-the-beaten-track locations as well.
Breakdown of your Dubai itinerary
Day 1: Al Bastakia Quarter, Dubai Museum, XVA Gallery, Souks of Deira, Dubai abra boat ride, Al Dhiyafah Road
Day 2: Sunrise at Burj Khalifa, Burj Park by Emaar, Dubai Miracle Garden, Ride the Palm Jumeirah Monorail, Lost Chambers Aquarium, Dinner at The Pointe
Day 3: Dubai Mall, Dubai Aquarium, Dubai Desert Safari
Day 4: Jumeirah Mosque, Etihad Museum, Jumeirah Public Beach, Dubai Creek Harbour, Dubai Marina
When you plan out your 4 days in Dubai itinerary bear in mind that certain attractions are closed or operate reduced hours on Friday, which is the Islamic holy day.
Map for your 4 days in Dubai
Below you can find a customized map that includes all the locations you're going to visit on this Dubai itinerary.
I marked your 4 days in Dubai with different colors – I used blue for the first day, green for the second day, red for the third day, and yellow for the fourth day, so you can easily see which places you're going to visit each day.
If you open up this post on your phone and you click on the bracket in the upper right corner of the map, it will automatically save this map to your Google Maps app so you can always have it with you. Super convenient, right?
Day 1 of Your 4 Days in Dubai
Al Bastakiya
Dubai is known for its glittering modern skyscrapers but tucked away beneath all the glass you can discover the traditional heritage of the city.
Al Bastakiya (also known as the Bastakiya Quarter or the Al Fahidi Historic District) gives you a feel of what Dubai was like before it has its modern facelift.
Located on the banks of Dubai Creek, Al Bastakiya was established in the 19th century when Dubai was developing into a thriving hub for trade.
The residences and commercial businesses are housed in buildings made from stone, teak, and sandalwood – which isn't quite what you expect from Dubai! This walkable area is a labyrinth of alleyways and courtyards studded with plants, street art, cafes, museums, and galleries.
The Al Fahidi Metro is a 10-minute walk away from Al Bastakiya. I recommend that you get here as early in the day as possible before the sun heats up and then you can duck inside the following attractions to keep cool.
Dubai Museum (Temporarily closed)
The Dubai Museum is set within the 18th-century Al Fahidi Fort which happens to be the oldest building in Dubai. The collection takes you back through Dubai's colorful heritage which spans the pearl trade and date farming.
You'll also learn about the various desert, marine, and agricultural lifestyles of old Dubai residents and see a traditional Emirati home reconstruction.
Entry to Dubai Museum is 3 AED ($0.80 US) which makes this one of the most budget-friendly things to do in Dubai in 4 days.
The museum is open between 8.30 am-8.30 pm from Saturday to Thursday and from 2.30 pm to 8.30 pm on Fridays.
XVA Gallery
A short walk from the fort, the XVA gallery houses exhibitions from contemporary Arabian artists. Exhibitions change frequently and the works showcased are vastly different in terms of form and composition.
As many of the artists exhibited aim to raise awareness of political and social issues, it will give you plenty of food for thought.
Entry to XVA is totally free and the gallery is open daily, from 10 am to 6 pm. If you're visiting Dubai in March, you can check out the SIKKA Art Fair that takes place here.
Sip coffee and eat dates
After you've had a wander around the maze of Al Bastakiya, you should reward your feet by finding a nook in one of its quaint cafes.
The Arabian Tea House serves all the Arabic food you could possibly crave. Varying from light plates, biryanis, and sweet treats you can also take your pick from a wide range of teas and coffees.
Stop here for a slice of date cake and a refreshing drink or make this your lunch stop.
Deira
Once you cross over the Dubai Creek from Bur Dubai you have the Deira district which is famous for its gold and spice souks.
The Gold Souk is a warren of avenues where you can find quality gold jewelry studded with precious gemstones.
If you do wish to buy something, make sure you shop from the official shops rather than the street vendors. Pieces are sold by weight and you are expected to barter with the salespeople – they won't be offended.
Across from the Gold Souk, you'll find the Spice Souk (sometimes called the Old Souk) which is home to every single spice you've ever heard of. Again, it's totally acceptable to haggle so don't be shy.
Even if you don't want to buy anything, meandering around the souks is a fun addition to your Dubai 4 days itinerary that will immerse you in Emirati culture.
The Gold Souk is open 9.30 am – 9.30 pm from Saturday to Thursday, and 4 pm – 9.30 pm on Fridays. The Spice Souk is open earlier than 8 am to past 9 pm, except on Fridays when the market is closed. Both places are free to enter and in most cases, you can pay for products via credit card, but take extra cash just in case.
Dubai Abra boat ride
You can cross over Dubai Creek in your rental car or via the metro. But what's much more fun is riding on the Dubai abra!
These are historic wooden vessels that are half boat, half raft. The motorized traditional abra has been fitted with a motor but the original style remains. These ones ferry locals and tourists from Bur Dubai to Deira and vice versa.
It might surprise you that the birthplace of Dubai's trading heritage, Dubai Creek, is still used for this function even today. Whilst you cross over the creek you can expect to see various boats of cargo being loaded or unloaded.
During your Dubai itinerary, you can choose to transit to and from each district via abra. The crossing only costs 1 AED ($0.30 US) in the motorized traditional boat. I would recommend crossing back to Bur Dubai at sunset.
If you want to soak up more of the Dubai Creek, you might want to hop aboard the Petrol Heritage Abra on the 45-minute scenic cruise.
This costs AED 25 ($6.80 US) per person or you can even charter a private traditional abra for AED 120 ($32.70 US) for an hour-long private tour.
Al Dhiyafah Road
To tie in with your cultural immersion of ancient Dubai, for the first evening of your 4 days in Dubai I suggest diving into some tasty Middle Eastern food. As a cosmopolitan city, you can actually find more or less any food nationalities in Dubai.
Al Dhiyafah Road is Dubai's hotspot for affordable street-food-style restaurants that range from Emirati, Middle Eastern, South Asian, and beyond.
If you need some inspiration, check out Al Mallah Dhiyafah for your Arabic and Lebanese favorites. You can walk off your meal by taking a stroll past the Satwa Big Mosque which looks amazing under a quilt of stars.
The closest metro to reach the strip of eateries is the World Trade Centre. From there you can walk around 15 minutes to find where the cluster of restaurants begins.
Day 2 of Your 4 Days in Dubai
Sunrise at Burj Khalifa
One of the unmissable things to do in Dubai in 4 days is to summit the tallest tower on the planet!
The cloud-piercing Burj Khalifa measures an incredible 830 meters (2,720 feet) in height and wherever you go in Dubai, you'll constantly be under its gaze.
Whilst you can appreciate the architecture from the ground, visiting the observation deck means that you get to see the best views across the city and Persian Gulf. It's a bit pricey but trust me, it's totally worth it!
Admission tickets to the observation deck (level 124 and 125) start at AED 169 ($46 US), you can buy your tickets here. If you want to also visit level 148 ticket prices start at AED 399 ($108.60 US), you can buy them here. You also have the possibility to visit the world's highest lounge (levels 152, 153, 154), for AED 769 ($209.40 US).
If you want to book your visit to coincide with sunset (prime hours are 4 pm – 6 pm), the tickets are more expensive. Whichever option you choose, make sure to book your tickets online in advance!
My personal recommendation is to visit at sunrise instead of sunset because this way you'll have fewer crowds and have a more peaceful experience. The light is incredible for photographs.
A 10-minute walk away, the Burj Khalifa/Dubai Mall metro station is the closest public transport option. Alternatively, there is masses of parking at the mall.
Burj Park by Emaar
The Burj Park by Emaar is an island that sits within the Burj Lake, across from the Dubai Fountain (the world's largest). It was originally constructed for special events and formal occasions so the presentation is immaculate.
Plus, it gives you some of the best views of the Burj Khalifa so if you're looking for the most instagrammable places in Dubai, you definitely need to check it out!
At the time I visited the park, cameras were not allowed but it was fine to take photos with smartphones. This rule appears to have relaxed however you might want to plan to be stealthy with your camera, just in case.
Make sure you have a wide-angle lens with you, otherwise you will have a hard time fitting the whole Burj Khalifa in your photo!
You can easily walk to the Burj Park by Emaar from the Burj Khalifa within minutes.
Dubai Miracle Garden
Featuring over 50 million flowers, the Dubai Miracle Garden is the largest (Dubai really likes its world records!) natural flower garden on the planet.
There are also 250 million plants sharing this space. All the displays are innovatively curated and there's even an Emirates plane drenched with blooms.
If you follow my advice and visit Dubai during the winter months, you can add this floral paradise to your Dubai itinerary.
However, the garden is closed from mid-May until November so if you plan to visit during these months, then unfortunately you'll have to skip this one and spend longer on the other items on today's agenda.
The closest metro station is the Mall of Emirates (red line). From there you need to take the 105 bus which drops you right outside the Miracle Garden.
Alternatively, you can hail a taxi to save time. If you are driving your rental – there are loads of parking around the garden.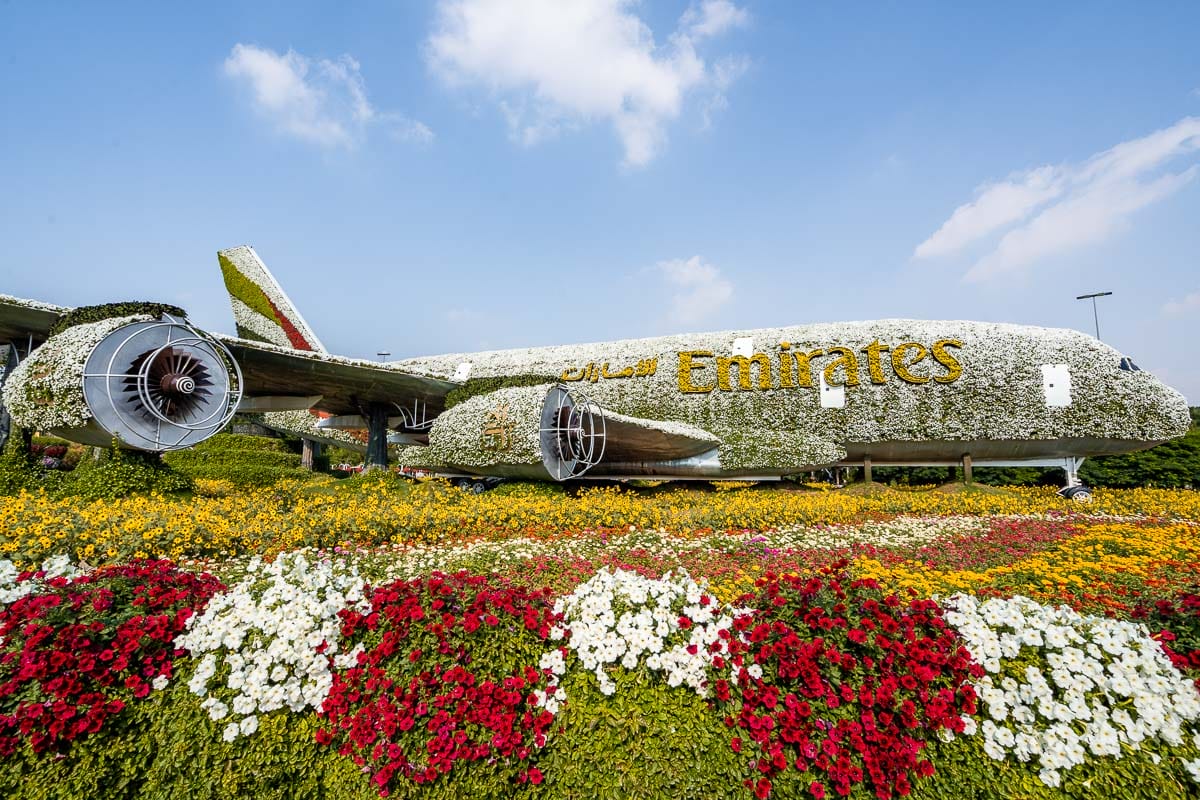 Palm Jumeirah
Once you've had your fill of flowers you can head over to another of Dubai's most famous attractions – the Palm Jumeirah.
This is the sprawling artificial island that resembles a palm tree from above, so don't forget to peer out of the plane window on arrival in the city.
Palm Jumeirah is studded with some of Dubai's fanciest hotels, private residences, and upscale eateries. Atlantis The Palm, one of the most famous hotels in the world, is located at the end. Besides the cost of the transport, Palm Jumeirah is free to visit and you don't have to be a guest at any of the resorts to explore it.
The best way to access the island during your Dubai 4 days itinerary is by riding the super-speedy and very convenient Palm Monorail. You can park your car by the Palm Gateway station or have a taxi drop you there if you are coming from the Dubai Miracle Garden.
A single ticket costs AED 20 ($5.45 US), a round trip costs AED 30 ($8.20 US) and an unlimited day pass costs AED 35 ($9.50 US). You can buy these in advance or at the station.
Lost Chambers Aquarium
You might want to tap on a few hours to explore the Atlantis-themed Lost Chambers Aquarium, which is part of the plush Atlantis Hotel.
The Ambassador Lagoon is home to a whopping 65,000 marine creatures and the aquarium is rich in information about the exhibits and conservation efforts.
Entry to the Lost Chambers costs AED 115 ($31.30 US), you can buy your tickets here. If you want to make your visit even more special, you can choose to tap on additional experiences like scuba diving.
The aquarium is open daily 10 am – 9 pm.
The Pointe
For the second evening of your 4 days in Dubai itinerary, you can dine in style on Palm Jumeirah. There is no shortage of places to eat on Palm Island but my recommendation is to eat at The Pointe.
This is a new neighborhood that has been developed only recently and now has over 80 restaurants and bars in addition to various boutiques.
There is a beautiful fountain that rivals the Dubai Fountain and The Pointe hosts regular events, festivals, and farmers' markets.
If you want to watch a film 5 kilometers at sea, you can even do that. Those 80 restaurants cover Arabic, Mexican and Asian food to name a few and you can find scrumptious seafood plates too.
Day 3 of Your 4 Days in Dubai
Dubai Mall
Even if you're not a fan of shopping, no Dubai 4 days itinerary can be complete without a trip to one of the city's prestigious malls. Even if you only want to window shop.
Dubai Mall is the largest mall in the world in terms of land area – yes, another world record for this Middle Eastern city! You can shop for clothes, interiors, toys, fragrances, and beyond, plus there are loads of places to grab some breakfast.
In addition to all the shops, there are some cool installations dotted around the plaza, like the Waterfall Wall. The sculpture traverses all four levels of the mall and depicts human divers plunging gracefully into the pool of water at the bottom.
Dubai Mall opens daily at 10 am and closes at 11 pm from Monday to Thursday and 12 am from Friday to Sunday.
Dubai Aquarium and Underwater Zoo
Inside the Dubai Mall is the Dubai Aquarium and Underwater Zoo – home to sharks, rays, and tens of thousands of tropical fish. A huge walk-through tunnel gives you the chance to get up so close you'll almost feel like you're scuba diving!
The entrance to the aquarium is located on the 2nd floor and it is open during weekdays 10 am – 11 pm and on weekends 10 am – 12 am. Tickets start at AED 199 ($54 US) and you can add encounters or skip the line admission. You can buy your tickets to Dubai Aquarium here!
Unless you really love sea life, you might not want to visit both of Dubai's aquariums. So feel free to decide which one you want to include in your 4 days in Dubai (the Dubai Aquarium or the Lost Chambers Aquarium at Atlantis The Palm) and give the other a miss.
Dubai Desert Safari
Buckle up – the next item on your Dubai itinerary is going to give you an adrenaline blast! As the city of Dubai rises out of the evocative red sand dunes you've no doubt spotted photos of, it would be crazy to miss the chance to see them for yourself.
If you've followed my advice so far and went inside the Dubai Museum, then you'll visit the desert with some existing understanding of the Bedouin way of life.
Once in the desert, you will have the chance to gain even deeper knowledge with a series of interactive cultural activities.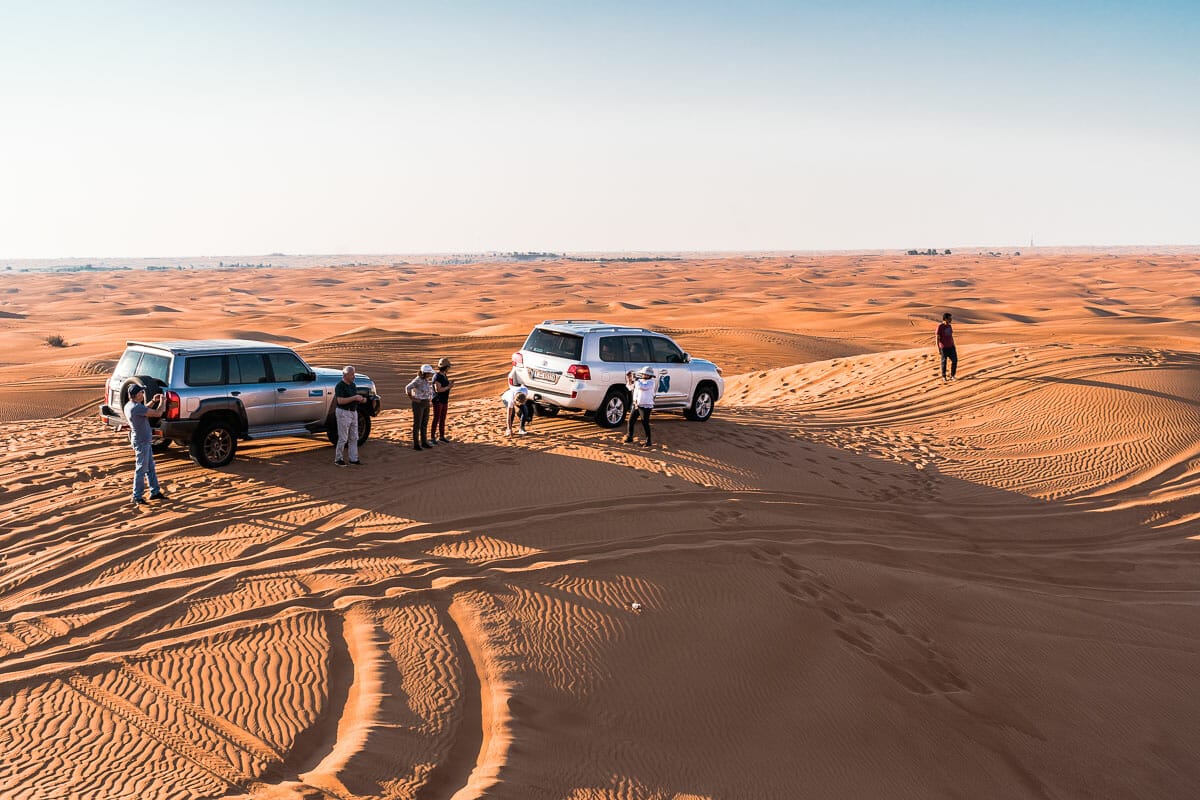 To make the most of the desert, you need to book a desert safari tour. There is no shortage of options but I'm personally recommending the Al Khayma Camp desert safari that we went on.
This one is of great value as it includes dune bashing, sandboarding, camel feeding, henna painting, watching a dance show, and a scrumptious sunset BBQ. You get to stay in the camp until the sun vanishes, and experience the desert in the dark.
If you want to go quad biking you can add this on but you will need to pay extra. You will be collected from your hotel around 2 pm by a professional driver and a 4×4 Land Cruiser which will take you out into the Lahbab Desert. Afterward, you will be dropped off back at your hotel, so you don't need to worry about transportation at all.
This is one of the most popular desert tours in Dubai and they really live up to all the expectations! In case the tours are sold out or you're looking for something else, make sure to check out my post about the best desert safaris in Dubai that contains 15 amazing options for every budget.
Day 4 of your 4 Days in Dubai
Jumeirah Mosque
As one of only two mosques open to non-Muslims in the city, taking a tour of the Jumeirah Mosque is one of the most fascinating things to do in Dubai in 4 days.
Although it was constructed in the 1970s, the style commemorates traditional mosque architecture.
Built in a Fatimid style that originates from Syria/Egypt, the mosque is one of the most attractive places of worship in the whole city.
A tour is the best way to visit the mosque as you'll gain a unique insight into the culture of Islam in the UAE and have the chance to ask questions. Tours operate daily at 10 am (excluding Fridays) and last a little over one hour.
You should arrive at 9.30 am to register – there's no need to do this in advance. The tour costs AED 35 ($9.50 US) per person and includes Emirati snacks and coffee.
If you don't want to take the tour you can still visit the mosque and appreciate the exteriors. The closest metro stop is Al Jafiliya. From there you can take a short taxi ride to the mosque or hop on the C10 bus.
Modest dress is required if you visit the mosque, including the need to cover your hair with a headscarf. If you forget, there are some clothes that you can hire for the tour.
Etihad Museum
The Etihad Museum is a 15-minute walk from the mosque. Whilst the Dubai Museum focuses on local history, this museum spans the foundation of the UAE.
The archive shows you a glimpse of the past before and after the treaty that now unites the seven emirates was signed.
As you can tell from the exterior, this is a very modernly curated museum and some of the technology inside is pretty futuristic. It's a fun and interactive way to digest the history of the UAE.
Entry to the Etihad Museum is AED 25 ($6.80 US). It's open daily 10 am – 8 pm, with guided tours scheduled at 12 pm and 5 pm. Plan to spend 2-3 hours exploring the collections.
Jumeirah Public Beach
With all those glitzy skyscrapers, endless malls, wondrous gardens, epic fountains, and historic docklands – you might have forgotten something.
Dubai occupies a prime position in the Persian Gulf and also has an amazing collection of sandy beaches. And after a packed couple of days aborning the city – you've earned a dip in that inviting water.
If you're spending 4 days in Dubai then my suggestion is Jumeirah Public Beach. The beach is free to access and provides one of the best views of the Burj al Arab.
Rising to 321 meters (1,050 feet), this sail-shaped hotel is another of Dubai's architectural wonders. Cast out in the ocean, you can get the best views of the world's only 7-star hotel from Jumeirah Public Beach.
With soft golden sand, the beach is perfect for sunbathing and swimming in the bathtub-warm ocean. You can also go surfing or dabble in other watersports.
You can walk to Jumeirah Public Beach from Etihad Museum in 20-30 minutes. Alternatively jump on bus 8, 9, or C10 and alight opposite McDonald's.
Dubai Creek Harbour
Dubai Creek Harbour is a neighborhood located in eastern Dubai which provides one of the best views of the city skyline.
At the time I visited, the area was still under development but now it's bustling with restaurants and quirky street art and sculptures.
Many people confuse this place with Dubai Creek but while Dubai Creek is a saltwater creek that is now part of the new Dubai canal, Dubai Creek Harbour is a specific neighborhood on the shores of Dubai Creek.
Currently, it can't be reached with public transportation so you will need to arrange a taxi to get there, however, it's absolutely worth it!
After a busy 4 days in Dubai, this is a wonderful spot to take stock of what you've seen and reflected on your time in the city.
I recommend visiting in time for sunset as you'll be able to get some special photos of the sun sinking behind Dubai's striking cityscape.
You might want to stay here and enjoy a glass of wine or even order dinner as the Dubai skyline twinkles in the background. At Mondoux, you can tuck into ocean-fresh seafood dishes and burgers.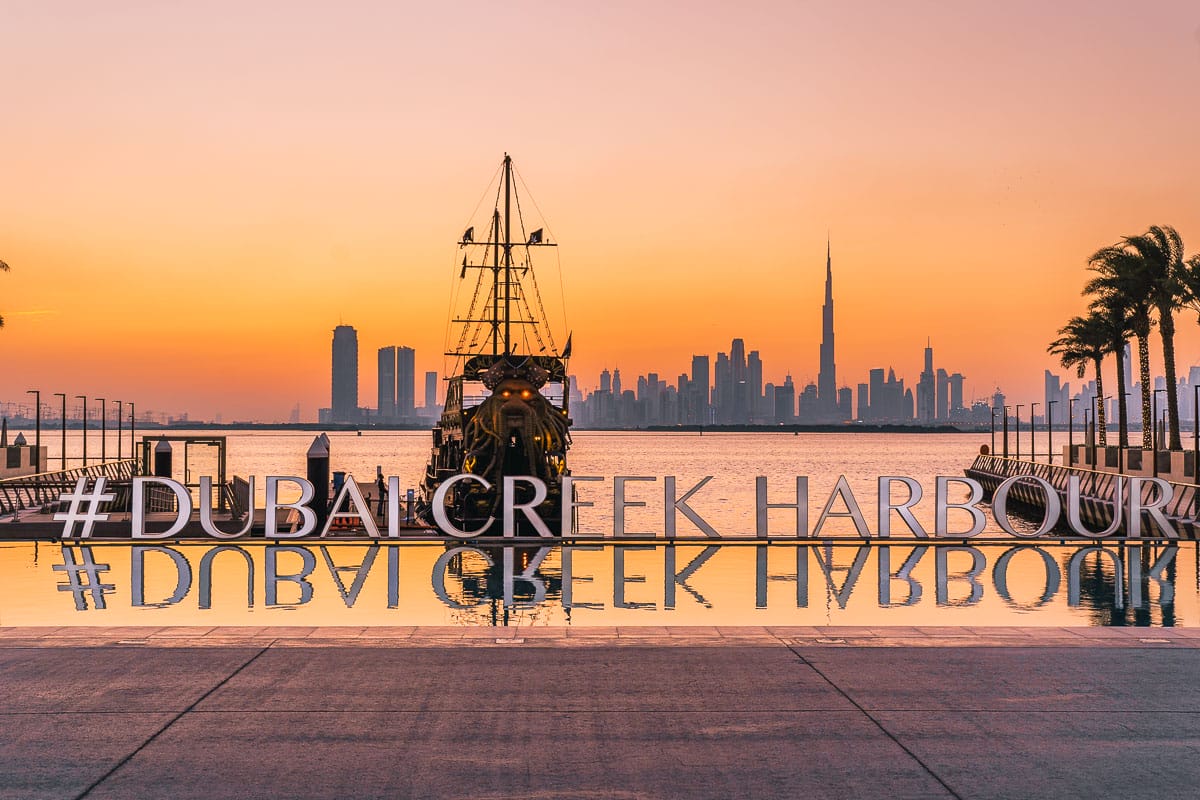 Dubai Marina
Last but not least – you should wrap up your holiday in the Middle East with some cocktails overlooking the Dubai Marina. You can ride the red line to the Dubai Marina metro station or treat yourself to a taxi.
You're spoilt for choice with options for bars but some of the best ones for drinks, views, and overall ambiance are Pure Sky Lounge and Bliss Lounge.
Alternatively, if you don't want to eat at Dubai Creek Harbour, you can have dinner at Dubai Marina as well. If so, I would recommend booking a table in advance at the restaurant you choose.
---
Planning a trip to the UAE?
Then you might want to take a look at all our other travel guides about the United Arab Emirates. I promise, they are just as awesome as this article was!
Dubai:
Abu Dhabi:
---
Pin It for Later!