It's sleek and modern but Dubai is hiding an abundance of heritage beneath those shiny skyscrapers, malls, and luxury hotels. A short journey into the United Arab Emirates inland and you'll find swathes of red sand dunes that gift you with rip-roaring adrenaline pursuits, exotic desert wildlife, and a glimpse into traditional Bedouin culture.
The most exciting way to experience this sprawling desert-scape for yourself is to book a safari tour in Dubai!
If you've already read my 4 days in Dubai itinerary then perhaps you're already feeling inspired to tap on your own trip to the Dubai desert. Now, to help you make that dream reality, I've rounded up the best desert safaris in Dubai that you can book right now!
*Disclosure: This post contains a few affiliate links, which means I may receive a small commission, at no cost to you, if you make a purchase through my link.*
No time to read now? Pin it for later!
Why Take a Safari Tour in Dubai?
But first, what is the Dubai desert, where is it situated, and is it worth booking a Dubai desert tour? Before the modern metropolis that we know today bloomed, Dubai was essentially a desert backwater. The city itself is erected right on the edge of the desert foundation.
Most tours take you to either the Lahbab or Margham Deserts which are each located 50-60 km (31-37 miles) south of the city. Drive time is typically around one hour so taking a tour is perfectly feasible even if you are only spending a couple of days or a long layover in Dubai.
These tours are well known as most of them include an element of dune bashing that will give even the most fearless traveler an adrenaline rush.
However, the best desert safaris in Dubai also provide you with an immersive opportunity to encounter traditional Arabic and Bedouin culture, customs, and food as well as a chance to interact with the native wildlife of the desert.
This is typically in the form of a camel safari and falconry show but there are also specific wildlife excursions that take you through the pristine Dubai Desert Conservation Reserve.
Quick Lockdown of the Best Dubai Desert Safaris
Whether you want to take the backseat or grab the reins and drive your own quad bike or dune buggy, I've rounded up the most popular, most adventurous, and most unique desert safari tours in Dubai.
Among the safaris I have collated, you will find options suited for solo adventurers, couples, friends, and families. There is something for everyone to enjoy so all you have to do is pick the one that most appeals to you and press 'book'!
MY TOP 5 PICKS FOR THE BEST DESERT SAFARIS IN DUBAI
Keep reading to know more about each tour and to find some more desert safaris in Dubai to choose from!
15 Best Desert Safaris in Dubai
A quick note to say that most tours include pick up and drop off from your hotel or a chosen location in central Dubai. I have specified any exceptions to this rule. Your pick-up time is generally an hour before the tour start time. The exact time will be communicated with you at the time of booking.
Do check the terms carefully to ensure that the area where you stay in Dubai is covered in the transfer service. Bear in mind that religious holidays such as Ramadan do affect certain elements of the tours such as the cultural performances and dances.
Hold onto your hat, now for the full desert safari guide!
Most Popular Desert Safaris in Dubai
The following 5 listings are the most popular desert safari tours in Dubai based on the opinions of previous customers. These tours offer a balanced blend of adrenaline and culture and each has various additional extras if you want to personalize your tour.
1. Dubai: Premium Red Dunes, Camel Safari, & BBQ at Al Khayma
Price range: $$
Duration: 7 hours
Meals: BBQ buffet
Highlights: Dune bashing, camel safari, sandboarding, falconry show
An excellent all-rounder tour, this desert safari takes you across the Lahbab Desert where you will experience the thrill of dune bashing. Once you've worked up an appetite you will be taken to the Al Khayma Desert Camp for an evening of relaxation and further activities.
A short camel ride is included in this tour and there is the option to add a second ride and feed the camels yourself. You are also invited to partake in a spread of cultural activities including henna painting, meeting the resident falcons, and watching a traditional dance performance.
Additional add ons include the chance to go quad biking or expand the dune bashing to a longer duration. The meal included is a BBQ buffet but another upgrade gives you the choice to receive VIP table service.
Setting the precedent for most of the tours on this list, the excursion includes your pick up and drop off from your chosen hotel by a licensed desert guide in an air-conditioned 4X4 Land Cruiser. Lasting 7 hours in total, the tour usually starts at 3 pm.
Considering the inclusions, tour duration, price point, and customizations, I consider this to be the best Dubai desert safari in terms of the overall experience.
Customer review: "This excursion was a 10/10 experience!!! It was well worth every coin, most especially the dune bashing. Mansoor Manz was such an amazing host, if you are able to request anyone request him! He went above and beyond to make sure this experience for my family was special- the drive to the desert was accompanied with a full on tour, facts and history about the UAE, and good humor mixed in it all. This is a must book!" – Ahlam, May 2021
2. Dubai: Red Dunes Safari, Quad Bike, Camel Ride & Sand Board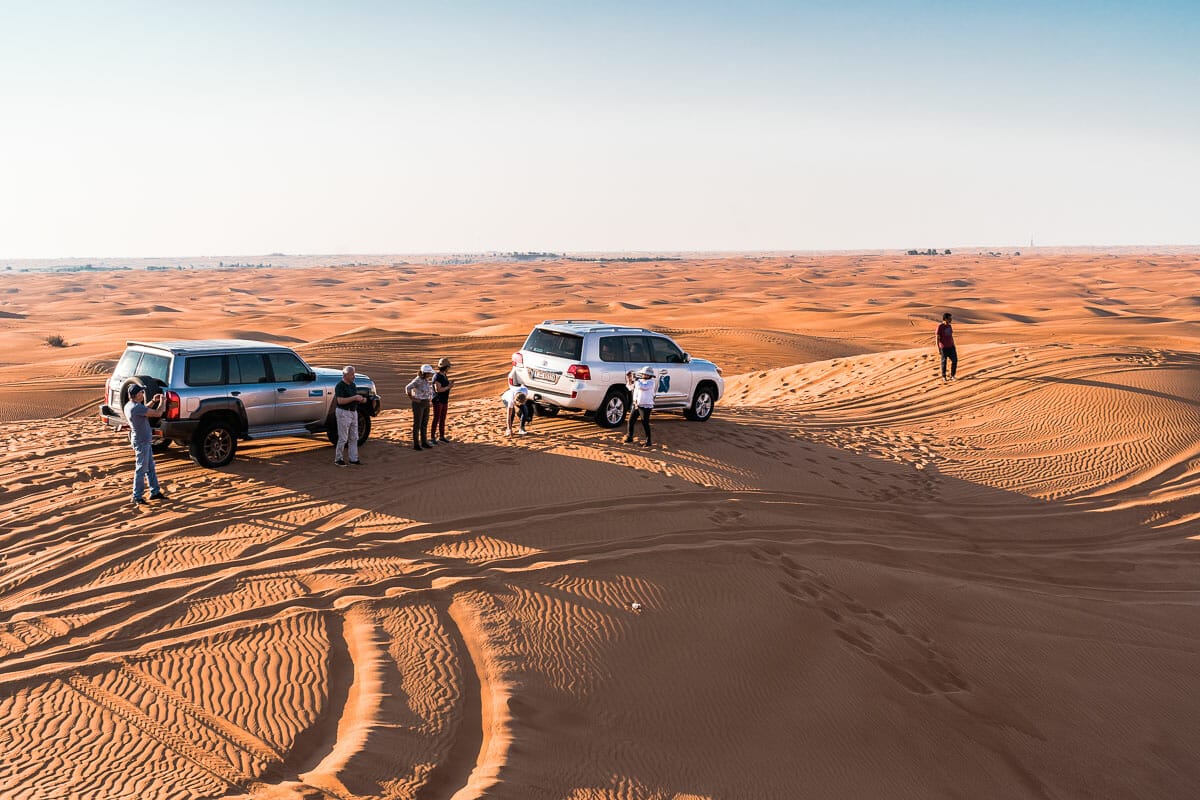 Price range: $
Duration: 4 hours
Meals: None
Highlights: Dune bashing, camel safari, sandboarding
This Dubai desert safari is essentially a condensed version of the first tour on my list. The shorter time span (and subsequent reduction in price) means that this one is ideal for those on a shorter stay in Dubai or who are on a tighter budget.
The dune bashing aspect of the safari will last around 40 minutes after which you can enjoy a short camel ride and a spot of sandboarding. If you'd rather not take part in this then you can simply relax and soak up the landscape. There are plenty of opportunities to take photos during the safari.
Starting times vary from 8 am, 9 am or 10 am in the morning, and 3 pm in the afternoon which means that you will catch the sunset before you depart. Again, you will be collected from your hotel or desired location.
As with the first tour, this safari offers a couple of customization options. Those include upgrading from a shared tour to a private tour and adding quad biking if you wish.
However, there is no inclusion for food with this excursion so ensure that you eat well prior to leaving and pack some snacks to keep your energy levels up.
Customer review: "This tour was exactly what we paid for! Nabeel, our tour guide, was great with pictures and super fun in the safari ride! He was very attentive and communicative. The camel ride was amazing and I was happy that the camels look cared for. Would recommend this to anyone looking for a desert experience." – Paola, April 2021
3. The Sunriser: 4-Hour Sunrise Safari from Dubai
Price range: $$
Duration: 4 hours
Meals: Breakfast picnic
Highlights: Sunrise in the desert, falcon show
If you've ever fantasized about witnessing the sunrise above the Arabian Desert, then this is the best Dubai desert safari for you.
Once you've got the early pick-up out of the way (don't worry, you can snooze in the car) your licensed guide will whisk you away to the remote sand dunes where you will watch the horizon glow with the first rays of sunshine.
As the sun makes its final ascent you will be invited to take your seat for an Arabian breakfast picnic while you watch the falcon show. There will be plenty of time to ask questions about the desert lifestyle and customs, and you will gain heaps of trivia about the birds of prey during this tour.
This option is perfect for the culturally curious and those with an interest in wildlife – and early birds, it goes without saying.
This sunrise safari is perfect for bucket listers, photographers, and couples seeking one of the most romantic activities that the UAE can provide. But please note that this tour does not include dune bashing or any other extreme activities. The tour starts at 4.45 am, which means pick up is around 4 am.
Customer review: "We were picked up from the port on time. The guides prepared a great breakfast for us in the desert and we could calmly wait for the sunrise. Even if the falcon show was a typical tour program, it really fascinated us. However, this only took about 10 minutes. Dune bashing with the pick ups was also a lot of fun and we can only recommend the trip!" – Theresa, December 2019
4. Dubai: Morning Desert Safari with Sandboarding & Camel Ride
Price range: $
Duration: 4 hours
Meals: Light snacks or brunch (optional)
Highlights: Dune bashing, camel safari, sandboarding
If sunrise is pushing you too far out of your comfort zone then how about a more leisurely safari with the option to add brunch? This desert safari combines the rush of dune bashing and sandboarding in the Dubai desert with the opportunity to experience the landscape in tranquility before the afternoon tours arrive.
Once you've had your fill of adrenaline your guide will take you to Al Khayma where you will be greeted with traditional Arabic coffee (Gahwa), dates, and other sweets. Once at the camp you will have the chance to meet and ride the local camels and learn about the Bedouin way of life.
If you want to indulge in the traditional Arabian brunch then this will take place upon completion of the safari quest, at Al Khayma Heritage House in the Al Fahidi Historical District.
This safari offers four morning start times of 7.30 am, 8 am, 9 am, and 10 am. However, there is also the opportunity to book an afternoon slot at 3 pm or 3.45 pm which will conclude with golden hour. Again there is the option to add quad biking to your session.
This is the best Dubai desert safari for those on a budget who still want to experience a bit of everything. For those seeking luxury, you can select the private tour version of this excursion.
Customer review: "Bash, our guide picked us up right on time, then he drove us to the desert and during the ride he showed us some attractions and told us about the history. Sand duning was fun but you shouldn't do it if you have motion sickness. Sand boarding and the camel ride were a nice experience, would definitely recommend!" – Sarah, April 2021
5. From Dubai: Red Dunes and Camel Safari with Overnight Camp
Price range: $$
Duration: 17 hours
Meals: Light snacks, BBQ buffet, breakfast
Highlights: Dune bashing, sandboarding, camel safari, camping overnight in the desert, sunset, and sunrise
Now that you're all warmed up with the first couple of tours, how about upgrading your desert safari to a camping adventure? Surely the most immersive safari tour in Dubai, this option gives you the chance to live the real desert life by spending a night in a Bedouin tent!
Following your hotel collection, you will journey to the desert and enjoy a sequence of dune bashing, sandboarding, and camel riding. If you so wish you can also add quad biking at this stage for an additional fee.
After all the excitement you will be offered Gaymat (Arabic sweets) and Chai (Arabic tea) before making yourself comfortable to observe the sunset in the camp.
You will spend the night sleeping in a Nawar, a Bedouin-style bed housed within a tent, beneath a quilt of stars. But before you hit the hay you will share a BBQ feast while you watch Tanoura dancing and belly dancing displays.
There is also the option to smoke shisha and meet the resident falcons, and ladies may participate in henna painting.
You will start your second day by rising early to undertake a camel trek through the dunes to the nearby sunrise spot. Before returning to Dubai bright and early, you will tuck into a freshly cooked Arabian breakfast. The tour starts at 3.30 pm and is excellent value for what you receive.
Customer review: "Unbelievable from start to finish. I was with the team leader Rav, and he just crushed the dune bashing. The camp in the desert was lovely, the bed and tent they had prepared too. MUST DO in Dubai, like seriously. Worth all your money….. And more!" – William, May 2021
Best Dubai Desert Safaris for Adrenaline Junkies
Did the first 5 tours pique your interest, but would you say you're a self-confessed daredevil seeking something even more adventurous? In that case, I'm sure one of the following desert safari tours in Dubai for adrenaline junkies will satisfy your thirst for thrills!
6. Dubai Evening Desert Quad Bike Adventure and BBQ Dinner
Price range: $$
Duration: 7 hours
Meals: BBQ buffet
Highlights: Quad biking, Tanoura and belly dancing show
Hang on tight, very tight, this exhilarating desert safari invites you to rev up and tackle the dunes yourself on the back of your own quad bike.
Prior to starting the Dubai desert tour, you will receive a comprehensive safety briefing about how to drive and control your vehicle. Your professional guide will then embark across the red dunes as you follow courageously in their stead. Each quad bike is designed to carry one rider, there is no option to ride pillion.
After exhausting yourself with this high octane activity you will be presented with a shisha and Arabic-style BBQ dinner. For entertainment, you can look forward to a cultural display of Tanoura and belly dancing. There is also the opportunity to enjoy a brief camel ride in between relaxing in the camp.
The tour starts at 3.15 pm and comes as both a shared tour and the possibility to upgrade to a private tour.
Customer review: "Karnain was great! He was a great driver and very informative. As we were driving to our location he made great suggestions on what to do while in Dubai on vacation. He took very nice pictures and videos and took our safety seriously. I would definitely want him as a driver again!" – Alexis, May 2021
7. Dubai Evening Dune Buggy and BBQ Desert Adventure
Price range: $$$
Duration: 7 hours
Meals: BBQ
Highlights: Dune buggy experience, sandboarding, Tanura and belly dancing show
If quad biking isn't for you but you're looking for a more daring way to experience the Dubai desert then a dune buggy is the perfect compromise. This desert safari provides two-seater buggies so you can buddy up with your travel mate or go solo.
Safety is paramount and each buggy is equipped with a full roll cage and a full safety harness. Before your guide unleashes you on the dunes they will provide a full safety briefing to give you the confidence to tackle the giant dunes.
The dune buggy expedition lasts one hour after which you will disembark at the desert camp and feast on a lavish desert BBQ while the sun sinks into the horizon. Make sure you grab the opportunity to surf down the dunes before the desert is plunged into twilight.
You will spend the rest of your excursion being entertained by an Arabian dance performance and sharing stories with the desert residents. Female guests may have a customary henna tattoo, the perfect souvenir of a wonderful Dubai desert tour.
The starting time for this tour is 3.15 pm. Children are welcome on this tour but those younger than 18 must be accompanied by an adult.
Customer review: "The excursion was perfect, the activities offered as well as the dinner with shows really lived up to our expectations! Special mention for our guide Niaz who was really brilliant, caring and great advice. I highly recommend this excursion and especially this guide which will make you enjoy your stay in Dubai in the most beautiful way." – Nicolas, January 2021
8. Dubai: Self-drive Guided Desert Adventure by 4WD Dune Buggy
Price range: $$$
Duration: 1-2 hours
Meals: None
Highlights: Self-driving your own customized dune buggy
Cranking up the volume a notch, this tour invites you to take charge of your own Polaris XP 1000 customized 4WD dune buggy. Pay attention while making your reservation as there are several variations available to suit your requirements.
For example, you may choose a one-seater, two-seater, or even a four-seater if you wish to turn this into a family bonding experience! You also have the option of a one or two-hour experience.
From behind the wheel, you will explore the most breathtaking desert and mountain areas in the whole of the UAE, such as Big Red, Pink Rock, and Fossil Rock. The buggies are top-notch and you will be fully kitted out with a helmet, goggles, and gloves.
Children from age 10 are permitted to ride in the buggy but the minimum age to drive the vehicle is 15. You must take your passports or ID in order to proceed with this hair-raising tour. Tour start times are typically 6.30 am, 7.30 am, 8.30 am, 3.30 pm, 5 pm and 5.30 pm depending on the selected tour.
Customer review: "If you're into driving then just go for it. The buggies are powerful and fun to drive, it's not that cheap Chinese buggy you can rent as a tourist in other places. I had Jamie and Adriaan as guides and they did a great job. I'd recommend two hours tour and no passenger, so you can enjoy all of it yourself." – Alexander, April 2019
9. Dubai: Self-drive 2000cc Ranger-Dune Buggy
Price range: $$$
Duration: 4-6 hours
Meals: BBQ dinner (for 6-hour tour)
Highlights: 50-minute drive in a customized desert buggy
If you want to go even faster then this spine-tingling self-drive adventure might be the best Dubai desert safari for adrenaline junkies. Your customized 'ranger' buggy enables you to get even closer to the dunes and feel every twist and turn as you navigate your way through the desert.
These buggies accommodate one or two passengers so you can book this activity as either a solo driver or as a duo. The driver must be aged 16 or over and an adult over the age of 16 needs to accompany those between the age of 10 and 15.
There are two time durations available. However, regardless of whether you book the 4 or 6-hour tour the total drive time is 50 minutes. Both tours also include the provision to try sandboarding and take a short camel ride.
The 6-hour option (starting at 3 pm) includes the cost and time for dining on a desert BBQ dinner and additional activities within the Al Khayma Camp. Only soft drinks are provided to those who opt for the 4-hour tour (starting time at 7.45/8.45 am).
Customer review: "This was one of the best experiences I have ever had! The tour had everything, a buggy ride, camel ride, falconing, henna tattoo, dance shows and barbeque dinner. The highlight was the buggy tour though, absolutely incredible feeling! Nabeel, our guide was extremely friendly and welcoming. Thank you again for such a memorable experience!" – Felix, February 2020
10. Dubai: Hot Air Balloon, Desert Safari, Quad Biking, and More
Price range: $$$
Duration: 5 hours
Meals: Breakfast
Highlights: Sunrise hot air balloon flight, quad biking, camel safari
Packing in adrenaline left, right and center, this tour starts with a sunrise hot air balloon over the dunes and concludes with quad biking and camel riding across them!
Subject to the weather conditions your flight will last 45-60 minutes and enable you to appreciate sunrise from a whole new perspective. There's no time for jelly legs because the second you land you will plunge straight into a thrilling quad bike ride before the bulk of the morning tours arrive.
You also have the pleasure of riding a camel and sometimes there is the option to ride a horse too. Not forgetting meeting the falcons of the traditional Bedouin camp and diving into a gourmet Arabic breakfast.
This is the best desert safari in Dubai for adrenaline junkies who want to experience the majesty of the red dunes from all angles. It's perfect for couples and families, with children over the age of 5 permitted to take part.
There is no dune bashing in this offering however the other inclusions more than make up for it and the quad biking is automatically included at booking.
As hot air balloon flights must depart early to beat the wind, the start time of this activity is 3 am.
Most Unique Desert Safari Tours in Dubai
For the final section of my guide to the best Dubai desert safaris, I've chosen 5 tours that offer something utterly unique.
The following tours are preoccupied with showcasing the heritage, culture, nature, and wildlife of the desert and sustainable tourism. None of these excursions include dune bashing but they all offer something remarkable in its place.
11. Heritage Desert Safari from Dubai
Price range: $$$
Duration: 7 hours
Meals: Dinner
Highlights: Vintage Land Rover transportation, tour of Dubai Desert Conservation Reserve, bread making experience
This safari tour in Dubai is radically different from the others. First of all, you'll notice that your vehicle is a vintage, open-air 1950's Land Rover rather than a modern 4X4.
As I explained, there is no dune bashing in this tour but rather the safari focuses on the heritage of desert culture and the exotic wildlife that resides in the Dubai Desert Conservation Reserve.
This is a 225 square kilometer (87.1 square miles) natural reserve which limits the number of tour operators who are permitted to organize trips here. This means that with minimal impact on the environment you can see what the region would have looked like centuries ago. In fact, another wonderful factor about this safari tour is that a contribution is made directly to the reserve when you book your place.
After taking an informative tour through the conversation reserve you will relax at an evocatively lit Bedouin camp and immerse yourself in activities such as camel rides, henna artistry, shisha, and befriending the falcons.
Another unique feature that this tour offers is that you will learn how to prepare a local bread recipe that has been carefully handed down through the ages. The tour starts at 2.30 pm and your booking includes your dinner beneath the stars.
Customer review: "Fantastic from start to finish. The guides really cared about the experience they were delivering and all felt very authentic and premium. Particularly liked the awareness of sustainability of the experience by not offering dune bashing, sticking to the tracks and not using plastic bottles, rare to see in Dubai!" – Max, December 2020
12. Dubai Private Night Safari & Astronomy
Price range: $$$
Duration: 5 hours
Meals: 3-course dinner
Highlights: Vintage Land Rover transportation, twilight desert walk, astronomy session
If you're waiting for me to share the best desert safari in Dubai for a romantic date night then this is the one you'll want to surprise your other half with. Pick up for this unique night safari is 5.30 pm.
Each booking covers two guests and you will venture into the desert after sunset in an open-top 1950's Land Rover. After a drive through the cooling dunes, you will participate in a twilight nature walk where you might see anything from creepy crawlies to fauna.
Night vision binoculars are provided so that you can see the full might of the desert-scape and its nocturnal residents. This activity is led by a highly trained conservation guide with extensive knowledge of ecotourism and the local environment.
In addition to the wildlife safari, you will take part in an astronomy session with a professional telescope which allows you to fully comprehend the star-studded sky. Your evening concludes with a decadent three-course dinner at an exclusive camp within the desert retreat of the local royal family. As you see, this safari oozes romance!
Customer review: "We had the best guide ever, speaking Russian German and also English fluently!! Amazing Tour, very entertaining and interesting you get a lot of impressions about the beduines. I really recommend this tour if you like to a different view of Dubai. The food was also really tasty. we started from 6.30 pm until 12 pm, be prepared to wear comfortable shoes." – Ngan, May 2021
13. 1 or 1.5 Hour Horseback Dubai Desert Park Ride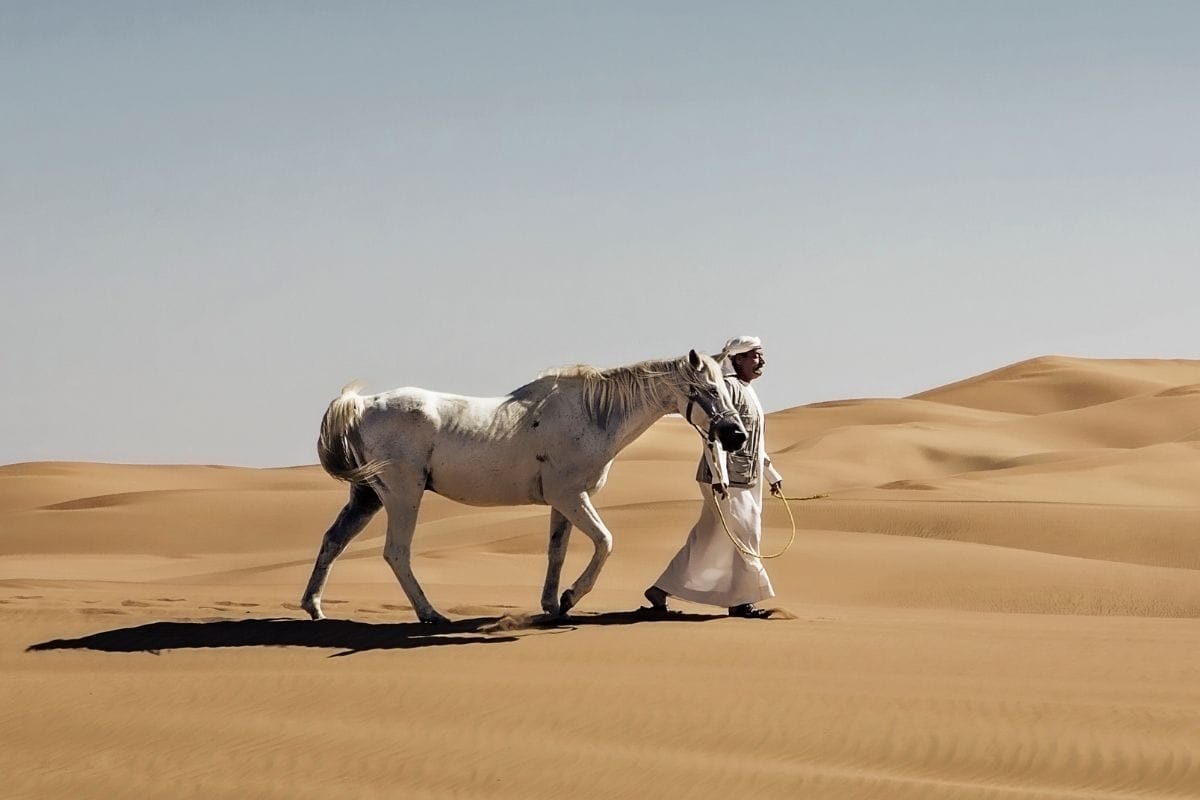 Price range: $$
Duration: 1-1.5 hours
Meals: None
Highlights: Experience the desert by horseback, washing and tending to your horse, possibility to see native wildlife
Giddy up, this is one of the best desert safaris in Dubai for horse lovers! You will mount your friendly horse and follow your guide through the dunes of the National Mushrif Park.
Along the way, you can keep your eyes peeled for native wildlife that resides in the region such as the desert fox. Even without spotting any fauna, the scenery is breathtaking and you can soak up nature far from the sounds of the dune bashing 4X4s and quad bikes.
Upon conclusion of the trek, you will be invited to wash and groom your companion horse and give them a reward of carrots. The tour is best suited for those with some horse riding experience as at times you will trot and canter.
This tour is available at 5.30 am, 6.30 am and 6 am. Please note that unlike most of the other safaris on this list, for this activity you will need to arrange your own transport to and from the horse stables.
Customer review: "Amazing experience in the nature, beautiful surrounding, great horses. All very organized and professional." – Julia, May 2017
14. Dubai: Private Falconry Safari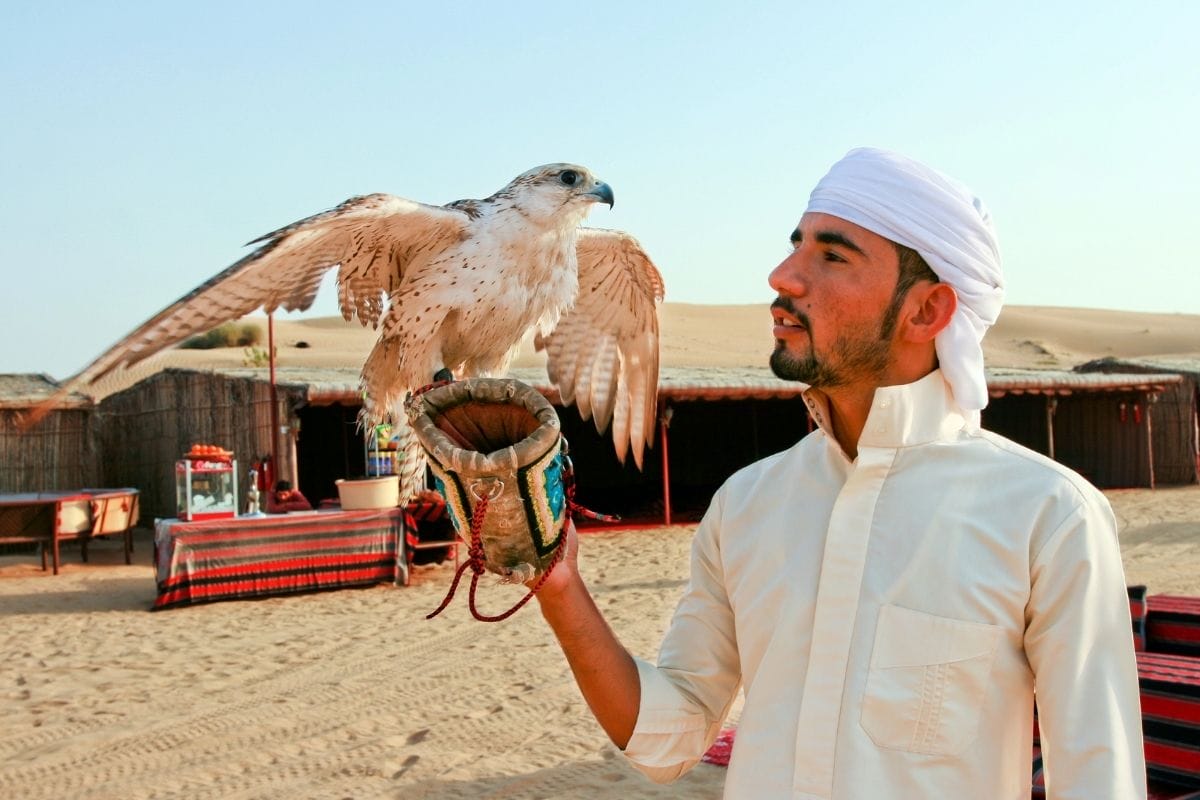 Price range: $$$
Duration: 5 hours
Meals: Luxury breakfast (optional)
Highlights: 1.5 hours of falcon handling, nature drive
Designed for those with a keen interest and appreciation for birds of prey, this safari provides you with the bucket list experience of training a falcon to fly from your own wrist.
During the course of the private safari, you will also interact with an owl and an eagle. The falconry experience of the tour lasts 1.5 hours and is led by a professional falconer who is passionate and committed to taking care of the beautiful creatures.
For the remainder of the tour, you will be able to enjoy a nature drive by 4X4 during which you will be poised to spot the likes of houbara bustards, Arabian oryx, and sand gazelles. As you can imagine, this is the best desert safari in Dubai for those who possess an eagle eye of their own! However, your qualified guide will do his/her best to help you detect the wildlife.
As the tour starts at 5 am you may want to upgrade the experience to include a luxury breakfast. At least two participants are required to book this unique tour.
Customer review: "Wonderfully personal experience among the untouched dunes of the Desert Conservation Reserve: for nature lovers interested in learning about falconry and the flora and fauna of the Arabian Peninsula, this tour offers an authentic, hands-on experience with a knowledgeable guide. Rather than watching birds being flown, you become a trainer yourself and get a taste of how various birds of prey hunt and form working bonds with falconers. Worth the extra Money." – Viktoria, December 2019
15. Dubai Desert Conservation Reserve 5-Hour Tour with Breakfast
Price range: $$
Duration: 5 hours
Meals: Breakfast
Highlights: Chance to spot native wildlife, expert knowledge from conservationists
For the final tour on my list, you will head deep into the Dubai Desert Conservation Reserve. As you observe the likes of native birdlife, Arabian Oryx, desert monitors, and free-roaming gazelles, your safari guide will nourish your exploration with a wealth of knowledge about the flora, fauna, and history of the first national park in the United Arab Emirates.
It's not guaranteed but if you're really lucky you might even catch a glimpse of the rarely sighted Gordon's wildcat.
Children over the age of 10 are welcome on this tour and it's the perfect activity for solo wanderers, families, or couples alike. The start time for this tour is a languid 7.30 am and it concludes with a decadent breakfast at the Al Maha Desert Resort before you return to the city.
Customer review: "One of the highlights of our visit to Dubai, our driver and guide, Peter, was an accomplished naturalist. He quickly picked up on our interest in birds and wildlife and we had some great views of oryx, two species of gazelle, numerous LBJ's and fine views of a Pallid Harrier, all from the comfort of a splendid silver Range Rover. The desert landscapes are spectacular and the stop for a relaxed breakfast was a welcome break at the unexpectedly luxurious Al Maha "desert resort"." – Philip, December 2020
Useful Info for Planning Your Trip to Dubai
Where to stay in Dubai
There is no shortage of places to stay in Dubai, from high-end luxury hotels to more affordable options. Contrary to belief, you can find good deals on hotels in Dubai, no matter your budget.
The most important thing to keep in mind when booking your hotel room is the location. Dubai is huge and spread out, so you want to make sure you're staying in an area that's close to the sights and attractions you want to see.
Generally speaking, here are the best areas to stay in Dubai:
Deira – If you're looking for a more traditional Arabic experience, you can't go wrong with Deira. It's also one of the more affordable areas in Dubai.
Bur Dubai – This is a great option if you want to be close to the action. Bur Dubai is home to many of the city's best hotels, restaurants, and nightlife venues.
Palm Jumeirah – If you're looking for a luxurious and relaxing vacation, look no further than Palm Jumeirah. This artificial island is home to some of Dubai's most exclusive hotels and resorts.
Downtown Dubai – This is the best area for those who want to be close to the city's most popular attractions, like the Burj Khalifa and the Dubai Mall.
Dubai Marina – This is a great option if you're looking for a more laid-back atmosphere. The Dubai Marina is home to many restaurants and bars, as well as a beautiful waterfront promenade.
In case you're curious to know more about each area with pros and cons and hotel recommendations, make sure to check out my in-depth article about where to stay in Dubai.
If you want to make your Dubai trip even more memorable, read my post about the best hotels in Dubai with Burj Khalifa views!
Do you prefer staying in Airbnbs rather than hotels? Then you need to check out my article about the best Airbnbs in Dubai, including beautiful Marina views, penthouses, and many more!
If you're in a hurry, here are my top recommendations for different budgets.
LUXURY – Atlantis the Palm
Located on Dubai's Palm Jumeirah Island and enjoying a private sandy beach, the 5-star Atlantis offers stunning views of the Arabian Gulf. It provides an underwater aquarium and complimentary access to the Aquaventure water park and the Lost Chambers Aquarium.
MID-RANGE – Crowne Plaza Dubai Marina
Crowne Plaza Dubai Marina has a restaurant, an outdoor swimming pool, a fitness center, and a bar in Dubai. Boasting family rooms, this property also provides guests with a sun terrace. The accommodation features a 24-hour front desk, room service, and currency exchange for guests.
BUDGET – Gulf Inn Hotel Al Nasr
Gulf Inn Hotel Al Nasr (formerly Roda Links Al Nasr) features a restaurant, outdoor swimming pool, a fitness center, and a shared lounge in Dubai. Featuring family rooms, this property also provides guests with a sun terrace. Gulf Inn Hotel Al Nasr offers a continental or buffet breakfast.
How to get to Dubai
Being the biggest hub between Europe and Asia and one of the busiest airports in the world, Dubai International Airport (DXB) welcomes a huge number of airlines and connects the city with the rest of the world.
Located only 15 km (9.3 miles) from Downtown Dubai, flying to DXB is the most convenient way to get to the city. Once you land, there are several ways to get into the city center: you can take a taxi, the metro, or even the bus.
Although DXB is the biggest airport in Dubai, you can also choose to fly to Al Maktoum International Airport (DWC). This airport is located in the Jebel Ali area, about 50 km (31 miles) from Downtown Dubai, and it mostly handles cargo flights and low-cost carriers.
How to get around in Dubai
Dubai is an enormous city and getting around can be a bit daunting, especially if you're not used to such big metropolises. The good news is that there are plenty of options when it comes to transportation.
Public transportation – Dubai has both metro and public bus systems in place. Although the metro is the most efficient way to get around, it only covers certain areas of the city. The bus system, on the other hand, covers a larger area but it can be quite slow during rush hour. This is definitely the cheapest way to get around Dubai, however, it can be pretty time-consuming.
Taxis – Taxis are widely available in Dubai and they're relatively affordable, especially if you're splitting the fare with someone. Your best bet is downloading the Careem app, which is similar to Uber, and lets you order a traditional Dubai taxi or a private vehicle.
Car rental – If you want the freedom to explore Dubai at your own pace, then renting a car is the way to go. Just keep in mind that traffic can be pretty bad during rush hour, so you might want to avoid driving during those times.
Best time to visit Dubai
The best time to visit Dubai is between November and March when the weather is cooler and more bearable. This is also the peak tourist season, so you can expect higher prices and bigger crowds.
If you don't mind the heat, then you can visit Dubai during the summer months (June to August), when temperatures can reach up to 40°C (104°F). Each and every place is air-conditioned in Dubai, so you can take refuge from the heat indoors.
Just keep in mind that outdoor attractions such as gardens and water parks will be much less enjoyable during this time and it's practically impossible to swim in the ocean because of the high temperatures.
If you want to avoid the crowds and get cheaper rates, then April, May, September, and October are the best months to visit Dubai. Prices will be lower and the weather will still be relatively pleasant.
Another thing to keep in mind: Ramadan takes place during the ninth month of the Islamic calendar but the exact dates change every year (usually it falls between March and May).
During this time, Muslims fast from dawn to dusk and many restaurants and cafes will be closed during the day. Alcohol is also not served during Ramadan. However, nightlife carries on as usual and many hotels offer special rates during this period.
If you're not Muslim, then you can still visit Dubai during Ramadan, you just need to be respectful of the local customs and traditions.
Final Thoughts
That draws my guide to the most unique desert safari tours in Dubai to a close. As you can see, there is so much more to experience than the thrill of dune bashing. Some safaris focus on heritage and nature whereas others are designed with adrenaline junkies firmly in mind. There truly is a safari for everyone.
I really hope that my guide helps you determine the best desert safari in Dubai for you and you'll go home with an unforgettable experience after your Dubai trip. Have you already taken part in a desert tour? Let me know in the comments what you thought if so!
xoxo, Kriszti
---
Related Posts
Want to read more about Dubai?
---
More UAE Resources
Planning a trip to the UAE? Check out these awesome books and travel guides for more inspiration!
---
Pin It for Later!