During our recent trip to Dubai, we spent two nights at Hotel Fairmont The Palm. This 5-star resort is located on Palm Jumeirah and promises all the luxury, hospitality, and glamour that Dubai is known for.
Want to know whether Hotel Fairmont The Palm lived up to its reputation? Then read on for my honest review of the resort. In this post, I will reveal what we loved about our stay and what you can expect from the place.
*Disclosure: This post contains a few affiliate links, which means I may receive a small commission, at no cost to you, if you make a purchase through my link. Please note that we were invited to stay at Fairmont The Palm, however, all thoughts and opinions are my own, as always.*
No time to read now? Pin it for later!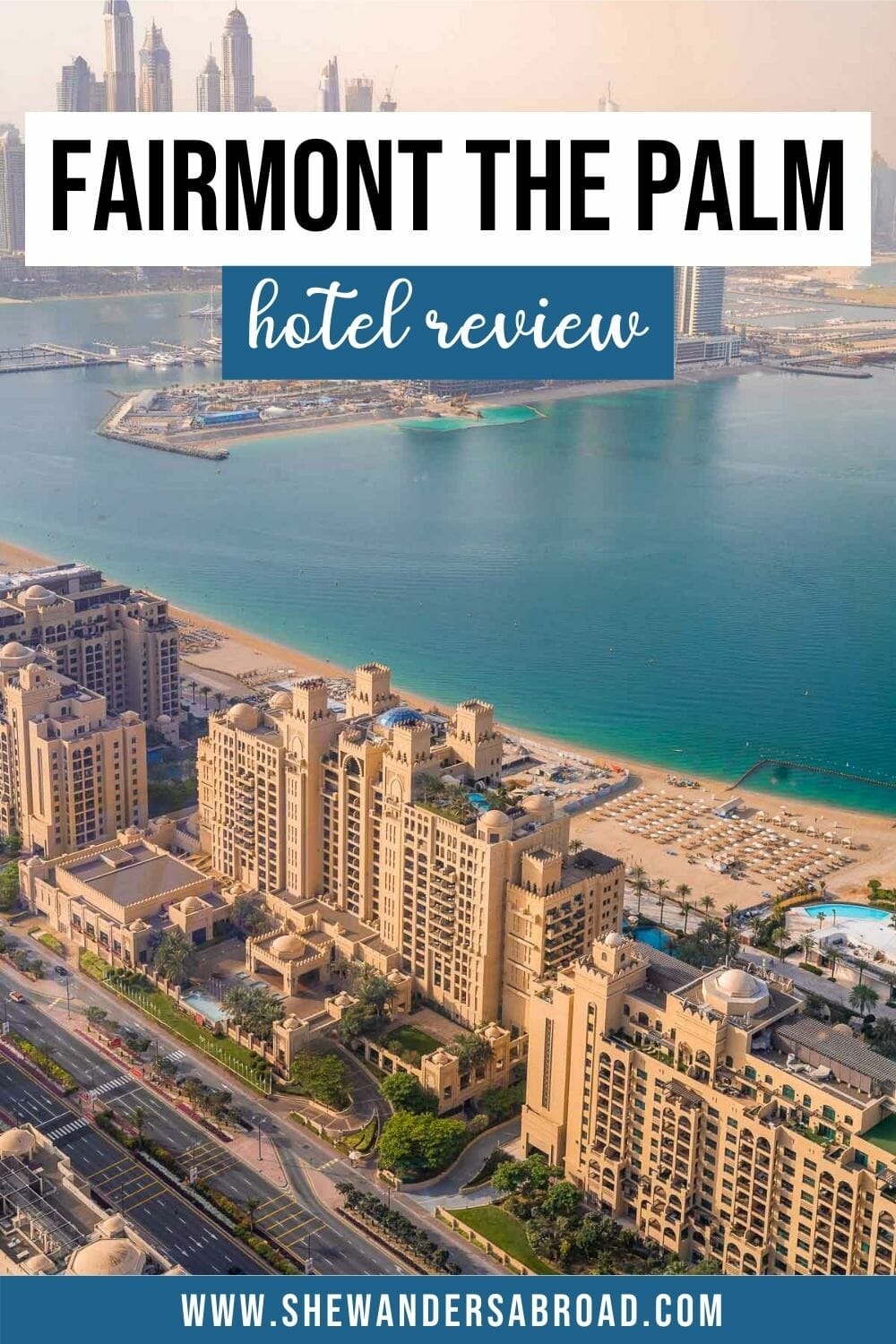 Basic Information
Arriving at Hotel Fairmont The Palm
Location
Fairmont The Palm is located on the west coast of Palm Jumeirah – Dubai's famous archipelago of artificial islands that are engineered to resemble a palm tree. This hotel is constructed on the "trunk" of the palm tree.
This offshore lifestyle and tourism destination is situated next to Dubai Marina. It's only a 20-minute drive south of Downtown Dubai where you'll find the likes of the Burj Khalifa and Jumeirah Beach.
Dubai International Airport (DXB) is also only 30 minutes away by rental car, taxi, or airport transfer. A taxi will cost approximately ​​80-100 AED ($22-27 US). Alternatively, you can arrange an airport transfer directly with the hotel for 320 AED ($87 US) one-way.
Once at the hotel, you can benefit from free valet parking. There is a free shuttle service to Downtown Dubai and various malls.
Palm Jumeirah has everything you need in terms of restaurants, attractions, amenities, and top-tier hotels. It's a fantastic base for a vacation in Dubai!
Lobby & Check-in Process
Fairmont The Palm is equipped with a palatial, marble-clad lobby with high arched ceilings and refreshing air-conditioning. Staff was ready to greet us and help with our bags and a concierge desk was available around the clock whenever we needed advice.
Note that the check-in time is 3 pm while check-out is 12 pm. If necessary, you can leave your bags with reception and relax in the Leisure Lounge until your room is available. This multi-purpose space features kid-friendly activities, comfortable seating, and work areas.
Rooms & Suites
This 5-star luxury hotel in Dubai features 391 guest rooms and suites. All units are impeccably decorated with an Arabian theme. Regular rooms are generously sized and every single one comes with the perk of a private balcony with views differing among the available room selections.
At the top of the scale, residences at Hotel Fairmont The Palm consist of 1-2 bedroom apartments.
We selected to stay in a Deluxe Heritage Palm Sea View Room. This came with a King-size bed, seating area, and work desk.
Our private bathroom featured a walk-in rainfall shower with a separate marble bathtub. As this is a luxury hotel, we were provided with fluffy robes, slippers, deluxe toiletries, and a Nespresso machine.
Best of all was the private balcony which overlooked the Palm, Arabian Gulf, and Dubai Marina Skyline. The panoramic views were truly spectacular and there's no better place to experience the sunset in Dubai!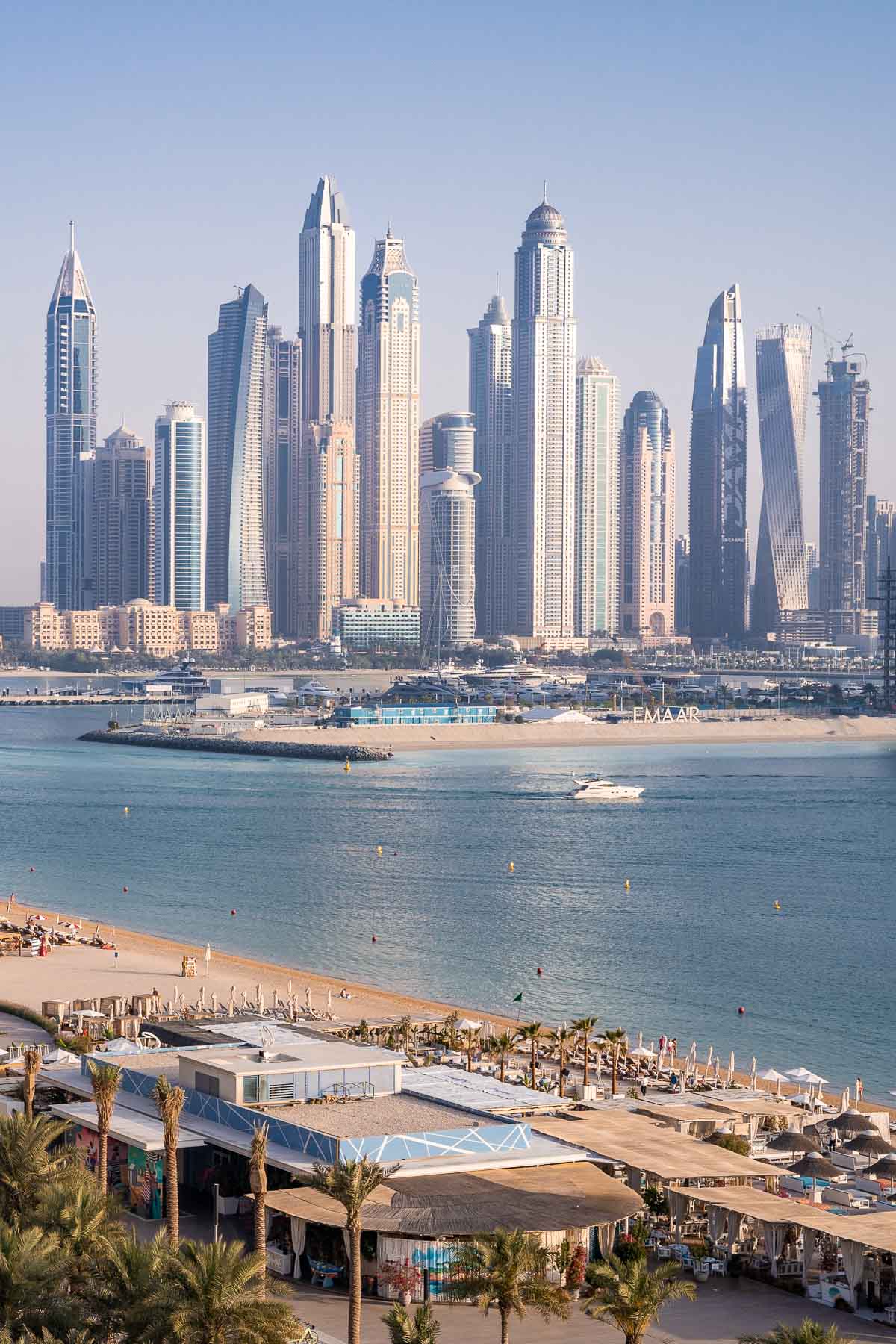 Service & Facilities
Pools
At the pinnacle of luxury, Hotel Fairmont The Palm is fitted with four swimming pools. One is a children's pool, another is adults-only, while the other two are family-friendly.
The pools are temperature-controlled so that you can enjoy a swim regardless of the time of day. They are generally open between the hours of sunrise and sunset.
Spa
Willow Stream Spa at Hotel Fairmont The Palm is the perfect place to unplug and indulge in a session of rest and relaxation. The spa features a sauna, steam room, and hamman room as well as a series of treatment rooms where you can enjoy massages, facials, scrubs, and more.
Private Beach
Besides the pools, this vast property even has a private beach where you can dip your toes into the Arabian Gulf. The hotel rents out watersports equipment such as kayaks and stand-up paddleboards. You can also book various activities like yacht cruises, banana boat rides, parasailing, and jet ski tours.
Gym
Last but not least, Hotel Fairmont The Palm has a fitness suite that opens daily, 6 am-10 pm. This is rigged with a state-of-the-art gym as well as a yoga studio and spinning zone. Exercise classes take place throughout the week in case you want to keep on top of your cardio regime.
Dining
Furnished with beautifully appointed 11 restaurants and two atmospheric bars, Hotel Fairmont The Palm offers something to cater to all tastes.
We ate at Flow Kitchen both mornings and enjoyed one lunch at Seagrill Bistro and one dinner at Little Miss India. We had to abandon dinner plans at Frevo due to our very late flight on the day of the check-in. On the bright side, that gives us an excuse to return to Dubai again soon!
Flow Kitchen
We ate at the hotel's breakfast menu, Flow Kitchen, both mornings. This is a scenic restaurant that looks out over Dubai Marina.
You can browse the a la carte and take your pick from breakfast favorites such as pancakes, eggs, and oatmeal porridge. Or, if you're in the mood for a larger breakfast, treat yourself to the "Full Breakfast Experience" for 160 AED ($43.50 US).
Seagrill Bistro
Seagrill Bistro is a modern bistro with a Mediterranean-inspired menu. The venue is light and airy with stunning views over the Arabian Gulf. Food is diverse and ranges from fresh seafood and pastas to prime meats and burgers.
We dined from the half-board lunch menu at Seagrill Bistro which was absolutely divine. We could choose one starter, one main dish and one dessert from the expansive menu – let me tell you, it was so hard to choose because everything sounded amazing!
In the end, we went for a Mozzarella Salad and a Crisp Green Salad for starters, a Marseille Bouillabaisse and a Grilled Salmon for the main course, and a Banana Passion Cheesecake and a Decadent Chocolate Cake for dessert. Needless to stay, we didn't leave hungry!
Every dish was exceptionally tasty and the presentation was also top-notch. However, I feel like the salads deserve an extra mention – they were some of the best salads I've ever eaten! If you find yourself in Seagrill Bistro, don't miss them.
Little Miss India
Little Miss India is a themed restaurant that revolves around Mohini Singh, the "Mistress" of the mansion. The restaurant aims to present a journey through the flavors of India, with a mix of tandoori, curry, and traditional desserts.
Again, we ordered from the half-board menu and started the dinner with Bhutiyan dey Kebab (crispy Kebab stuffed with green apples) and Murgh Tikka (boneless chicken marinated in Kashmiri chilies, yoghurt). For the mains, we chose the Butter Chicken and the Dal Makhani (black lentils) which was served with white rice and cheese and garlic Naans.
Although we were already pretty full, we couldn't resist ordering some desserts – and I'm so glad we didn't leave without it! We chose the Jamun O Gu, which is a stuffed gulab jamun filled with saffron and pistachio and served with vanilla ice cream, and Rasmalai, aka cottage cheese dumplings stewed in condensed milk. Both of them were amazing!
Final Thoughts
I can say that Hotel Fairmont The Palm did live up to – and exceed – its expectations. Our room could not have been more comfortable and the panoramic views were even better than we hoped for.
The dining and leisure facilities were flawless and we were well taken care of by sincere staff throughout our stay. If you want to experience the same, you can check the latest prices and availability here!
If you have any questions about our stay at Hotel Fairmont The Palm or traveling to Dubai in general, please don't hesitate to send me a message or drop a comment below. I would love to hear from you!
xoxo, Kriszti
---
Related Posts
Want to read more about Dubai?
---
More UAE Resources
Planning a trip to the UAE? Check out these awesome books and travel guides for more inspiration!
---
What Camera Gear Do We Use?
If you want to read more about what is in our camera bag, check out my detailed post about our travel photography gear!
---
Pin It for Later!