Planning a day trip to the capital of the United Arab Emirates and wondering how to see the best of Abu Dhabi in one day? Then you've found your way to the right place as I'm going to help you plan the perfect one day in Abu Dhabi itinerary!
Despite being the capital of the UAE, Abu Dhabi is often overshadowed by its glitzy northern neighbor. Sure, Abu Dhabi is smaller, quieter, and has slightly fewer things to see than Dubai. However, it still offers a bevy of unique attractions, landmarks, and views.
If you're interested in knowing more about the two, check out this in-depth comparison of Abu Dhabi vs Dubai!
With an inspiring mix of contemporary and historic architecture, modern amenities, and traditional culture, Abu Dhabi is a great addition to your travels in the Middle East. But when you have only 24 hours in Abu Dhabi you need to fill them in a way that maximizes your time, which is why I'm here to help!
Let me tell you exactly what to see in Abu Dhabi in one day, how to get around the city, and how to get there.
Disclosure: *This post contains a few affiliate links, which means I may receive a small commission, at no cost to you, if you make a purchase through my link.*
No time to read now? Pin it for later!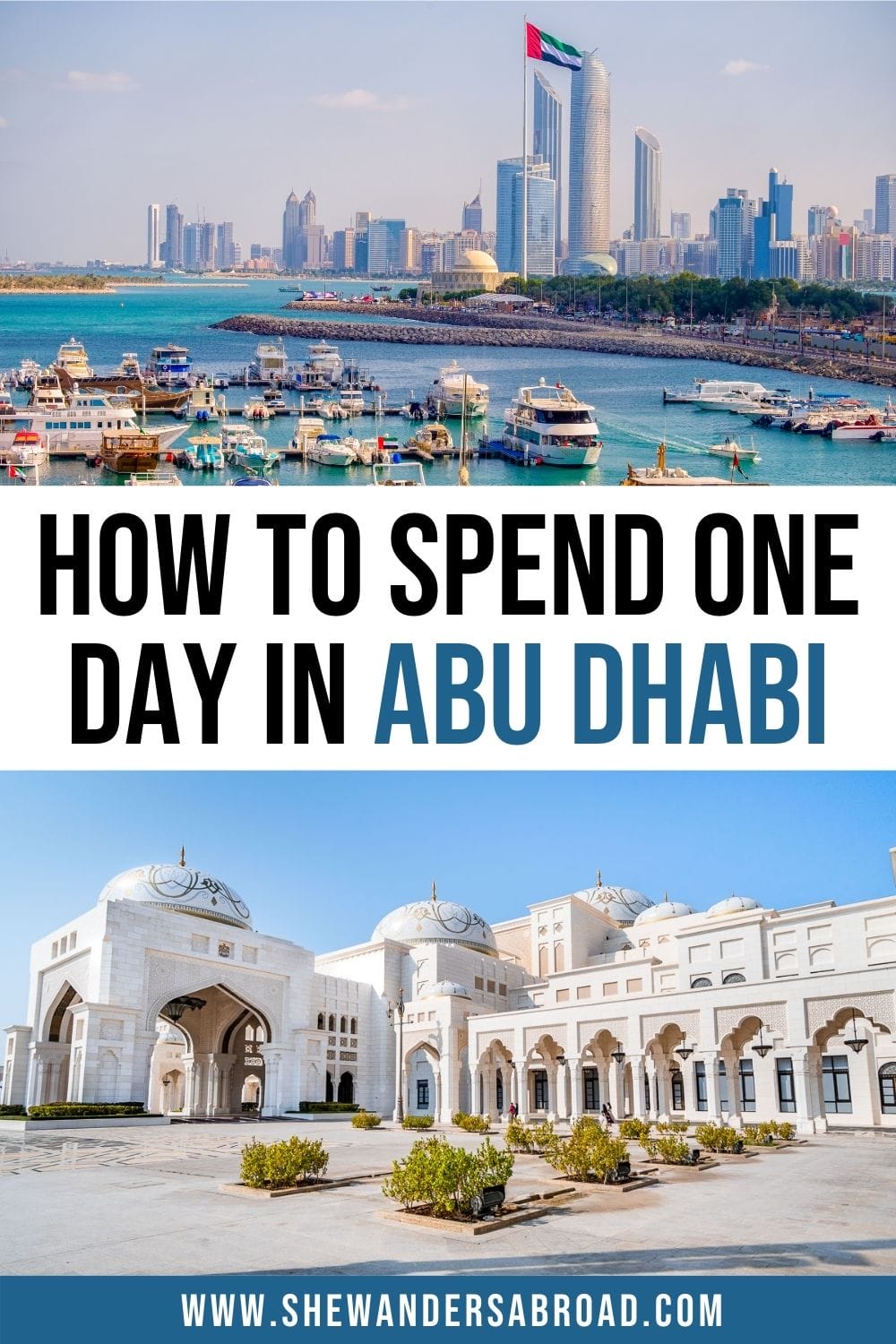 Useful Info for Visiting Abu Dhabi
How to get to Abu Dhabi
First things first, before I reveal all the places to see in Abu Dhabi in one day, let's figure out how you're going to get there.
How to get to Abu Dhabi from Dubai
If you're already in the UAE, then you can visit Abu Dhabi in one day from Dubai. This is a very popular option as the cities are so close. If you rent a car, you can drive between the two cities.
The journey takes around 90 minutes and then you can drive yourself around the attractions. This is the easiest and most convenient option, we did the same and I can only recommend it!
The next option, you can take a bus. The E100 leaves Al Ghubaiba Bus Station in Dubai every 15-20 minutes and drops you off at Abu Dhabi Central Bus Station.
A one-way ticket costs AED 25 ($6.80 US). Expect the bus to take 90 minutes to 2 hours and don't forget to calculate with some extra time to actually get to the bus station in Dubai and get to the attractions in Abu Dhabi from the bus station.
If you prefer you could book a private taxi, although this is the most expensive option. A taxi will set you back approximately AED 250-300 ($68-81 US) each way.
The last option is to book a full day Abu Dhabi sightseeing tour from Dubai, this is the best option if you don't want to organize your day trip to Abu Dhabi by yourself.
How to get to Abu Dhabi from overseas
If you are flying into Abu Dhabi then you can find routes from most major international cities. Connections from European destinations are usually the most economically priced but you can also find great deals from the US.
Abu Dhabi is served by the Abu Dhabi International Airport (AUH) which is located a 20-minute drive from the city center.
If you are staying in Dubai and are planning to spend one day in Abu Dhabi then you can consider flights to and from Dubai. Dubai International Airport (DXB) is a major transit hub with even more connections and fantastic deals on flights.
Middle Eastern airlines such as Emirates and Etihad frequently promote deals on flights to both Abu Dhabi and Dubai. It's worth signing up to their newsletters and keeping an eye on their social feeds and comparing flight costs.
Best time to visit Abu Dhabi
As with Dubai, the temperatures in Abu Dhabi are overwhelming at certain times of the year so you might want to plan your trip around the cooler weather. If you have only one day in Abu Dhabi you want to be as comfortable as possible.
The best time to visit Abu Dhabi is between November to March which are the winter months in the UAE. During these months, the weather is hot and dry, with temperatures hovering around the mid-20°C (77-84°F). Evenings are slightly cooler due to the desert climate.
From April onwards, the temperature rises. The city becomes very hot, and locals avoid wandering the streets whilst the sun is up. It can get as hot as 40°C (104°F) during June, July, and August.
Despite the soaring heat in the summer, Abu Dhabi draws in a reliable crowd of tourists year-round so the city will always feel busy. Yet the winter months are most popular with tourists.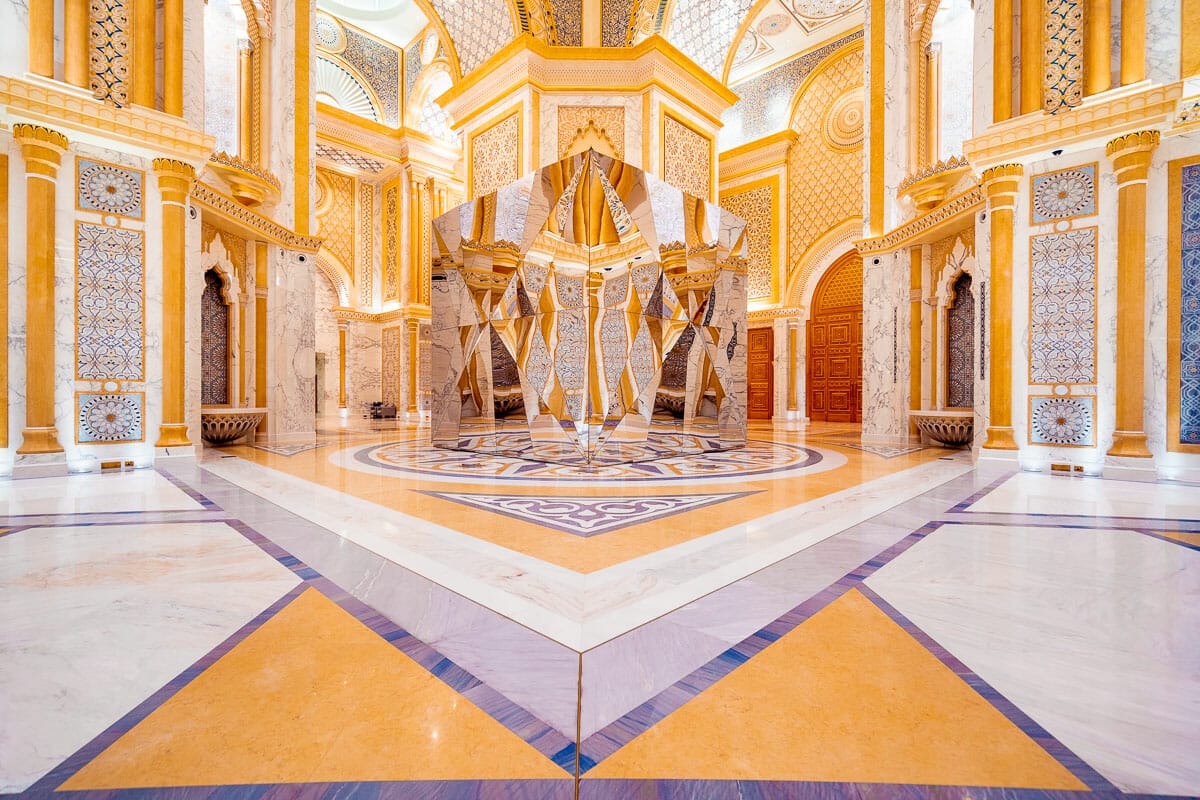 How to get around in Abu Dhabi
Abu Dhabi is a large yet more compact city in comparison with the sprawl that is Dubai. The city is in fact located on an island that juts off the mainland of the UAE, which partly explains why Abu Dhabi is nicknamed the Manhattan of the Middle East. In terms of getting around Abu Dhabi, you have three options.
Rental car
If you organize a rental in Dubai, you can drive yourself to and around Abu Dhabi. But be mindful that there are lots of one-way streets to navigate. Parking is widely available in Abu Dhabi and you will generally pay AED 2-3 ($0.55-0.80 US) per hour for parking. 24-hour parking is AED 15 ($4 US).
However, if you don't come with a rental car from Dubai, it's not worth renting a car in Abu Dhabi just to get around. Since you're only spending a day in Abu Dhabi, it will be easier to just take taxis as the attractions in my guide are not far from one another.
Taxi
Taxi is going to be the most efficient way of getting around during your one day in Abu Dhabi. There are plenty of taxis in Abu Dhabi that you can hail from the roadside, especially around hotels, malls, and tourist attractions. Usually, they are metered and fares are not expensive.
If you are coming from Dubai then you will probably already have the Uber and Careem rideshare apps downloaded on your phone. This is another way to get around Abu Dhabi efficiently and without spending too much money.
Bus
There is no metro service in Abu Dhabi but there is a bus system. Fares cost around AED 2 ($0.55 US) but first, you will need to get a Hafilat card. You can pick one up for AED 10 ($2.70 US) at a Hafilat card outlet. These are located at shopping malls, bus stations, and customer care centers in Abu Dhabi.
If you have only 24 hours in Abu Dhabi then to be honest, with the added hassle, you'll find taxis much more time effective. But the bus is an alternative if you are traveling on a budget.
Where to stay in Abu Dhabi
While technically it's possible to visit Abu Dhabi on a day trip from Dubai by coming early in the morning and leaving late in the evening, if you want to maximize your time, it's better to stay for one night in Abu Dhabi. This way you can wake up early and you can have a full day for exploring!
Since Abu Dhabi is a popular destination among travelers, you can find a wide range of accommodations in Abu Dhabi. Although you won't find any hostels, luckily you can still find some budget options too.
In case you're interested in knowing more about the most popular neighborhoods in Abu Dhabi and what each one has to offer, check out my in-depth guide about where to stay in Abu Dhabi.
You can check all the accommodation options in Abu Dhabi here, or if you don't want to spend a lot of time searching, just check out my recommendations below!
MID-RANGE – Marriott Hotel Downtown Abu Dhabi
This amazing hotel is situated in a central location and offers air-conditioned rooms with amazing city views. Guests can take advantage of the 4 on-site restaurants as well as the spa center.
BUDGET – Copthorne Downtown
Featuring a rooftop swimming pool, a well-equipped gym, and a sauna, Copthorne Downtown is a great budget-friendly choice. It also has a central location and a few on-site restaurants.
Overview of What to See in Abu Dhabi in One Day
And now it's time to start the juicy part of my guide – how to see the best of Abu Dhabi in one day! Here is a quick overview of the places you will get to see today.
Breakdown of your one day in Abu Dhabi itinerary
Morning: Sheikh Zayed Grand Mosque, Etihad Towers
Afternoon: Qasr al Watan, Heritage Village
Evening: Wahat Al Karama, Dinner at The Corniche
Map for the best things to do in Abu Dhabi in one day
Below you can find a customized map that includes all the locations you're going to visit on this Abu Dhabi itinerary.
I marked your one day in Abu Dhabi with different colors – I used blue for the morning, green for the afternoon, and red for the evening, plus I marked the bus station and the airport with yellow. This way you can easily see which places you're going to visit at each time of the day.
If you open up this post on your phone and you click on the bracket in the upper right corner of the map, it will open up in your Google Maps app so you can always have it with you. Super convenient, right?
Morning of Your One Day in Abu Dhabi
Sheikh Zayed Grand Mosque
Of all the places to see in Abu Dhabi in one day, the Sheikh Zayed Grand Mosque is one you really won't want to miss. The largest mosque in the country is a beacon of sparkling white marble.
Beyond the beaming symmetrical facade, you'll see a number of solid gold chandeliers as well as the world's largest hand-knotted carpet.
The late Sheikh Zayed bin Sultan Al Nahyan commissioned this mosque to convey a message of peace, tolerance, and diversity.
He intended that its construction would link ancient and modern Islamic architecture whilst at the same time creating a place of learning that would reflect Islamic values.
Entrance to the mosque is free and it opens its doors for visitors between 9 am – 10 pm. On Fridays it is open from 9 am to 12 pm and reopens from 3 pm to 10 pm.
But make sure to arrive earlier as you can expect a large queue and a big crowd. Prepare to spend around an hour at the mosque.
Since it's a deeply religious place, all guests must be modestly dressed. The dress code is really strict for women: you must wear loose-fitting, ankle-length trousers or skirts and have your arms covered.
If you're not properly dressed, you will need to borrow an abaya so that you're covered up properly.
The Sheikh Zayed Grand Mosque is insanely beautiful and it's definitely one of the most instagrammable places in Abu Dhabi. However, be prepared that taking photos inside is really tough.
There is a marked one-way path for the visitors and the guards usually keep rushing everyone who spends too much time taking photos. Definitely not the most peaceful experience but it's totally worth it!
Etihad Towers
Located a 25-minute drive from the mosque, the Etihad Towers is a complex of five attractive skyscrapers that provide panoramic views of the Persian Gulf. The towers are used for shopping, hotels, restaurants, and luxurious residences.
For the purpose of sightseeing in Abu Dhabi in one day, you want to know about the observation deck. The Observation Deck at 300 is located on the 74th floor of Tower 2 at a height of – you guessed it – 300 meters above sea level.
Entry to the tower is AED 95 ($25.90 US) and you can book your ticket online. This includes a credit voucher of AED 55 ($15 US) which you can redeem against a deluxe afternoon tea at the Jumeirah cafe on the day of your visit. The price per person of tea is AED 250 ($68 US).
The Observation Deck at 300 is open daily, from 12 pm to 8 pm. Plan to spend 30-45 minutes enjoying the view and add on additional time if you want to eat at the cafe.
Afternoon of Your One Day in Abu Dhabi
Qasr al Watan (UAE Presidential Palace)
After having lunch in or around the Etihad Towers, you can stroll over to your first post-lunch attraction. Qasr al Watan is a wing of the UAE Presidential Palace which only recently opened to the public.
Translating into 'Palace of the Nation,' Qasr al Watan was established to give non-officials the opportunity to explore this wonder. Inside the palace, you will discover the legacy of the UAE through some of the most beautiful and intricate architecture in the country.
Admission to Qasr al Watan is AED 65 ($17.70 US). Because you only have one day in Abu Dhabi I recommend that you book your tickets in advance online to save time having to queue. But if you forget, you can buy them at the entrance. Entry slots run from 11 am – 6.45 pm.
You should plan to spend one hour to 90 minutes at the palace and make sure to dress modestly by covering your knees and shoulders.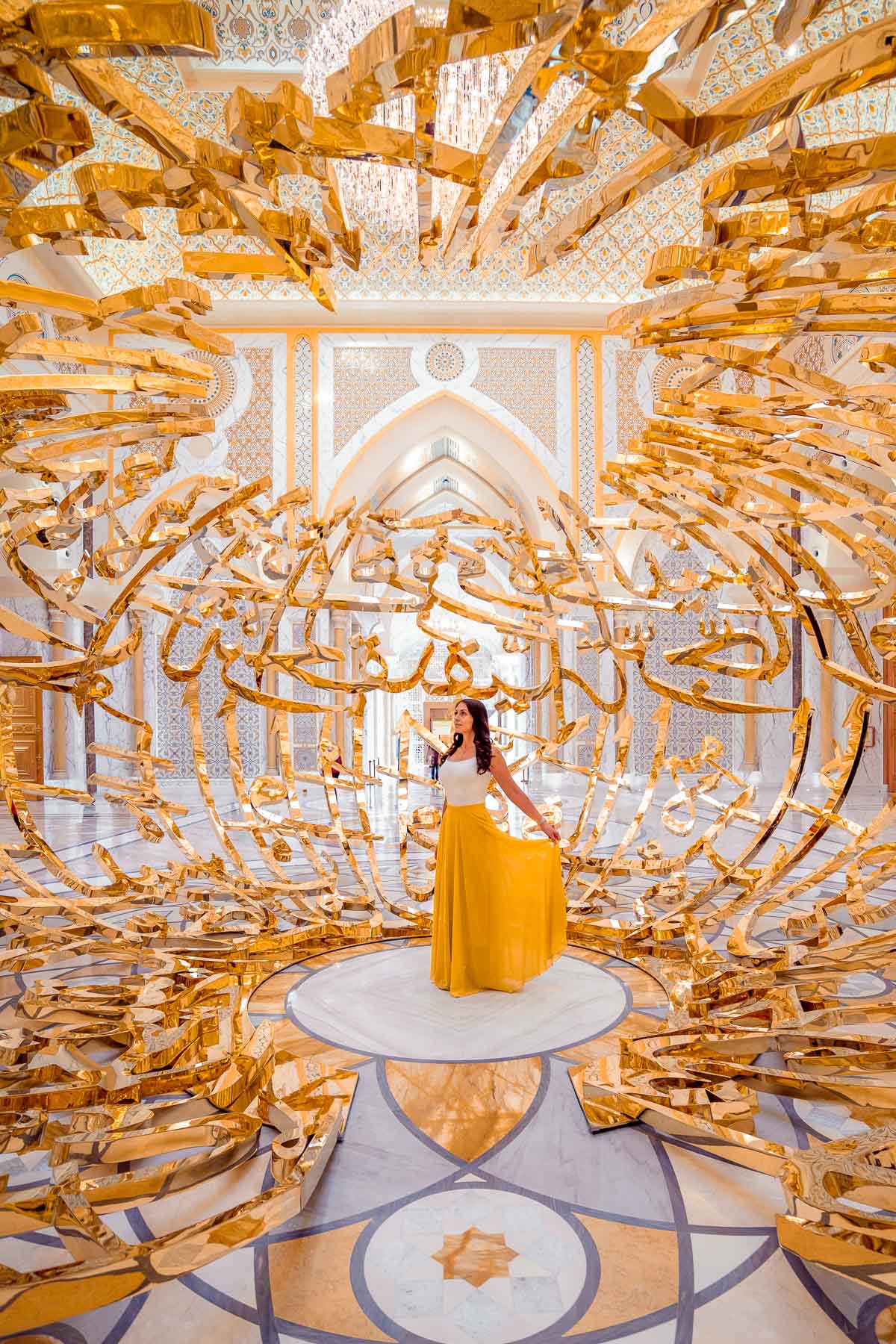 Heritage Village
A 10-minute taxi ride takes you to the Heritage Village. This installation gives you a glimpse into life before the oil industry boomed – there is a traditional Bedouin camp, souk, and mosque to explore. It's an immersive way to gain an understanding of the earlier Emirati people living in Abu Dhabi and beyond.
If you want to buy some artisanal souvenirs, then you can purchase them here from the tradespeople. Entry to the Heritage Village is free. It is open from 9 am to 4 pm from Saturday to Monday and between 3.30 pm – 9 pm on Fridays. You will want to spend around an hour exploring.
Evening of Your One Day in Abu Dhabi
Wahat al Karama
If you have only 24 hours in Abu Dhabi, you need to make sure you choose your sunset position carefully. My tip is that you head to Wahat al Karama for golden hour.
Wahat al Karama is a massive sculpture that was erected in honor of Emirati martyrs who sacrificed their lives to serve their country.
What you will love is the view that the Wahat al Karama offers you of the Sheikh Zayed Grand Mosque – because the structure is right across the road. The sun drops right behind the mosque and gives you the perfect excuse to sharpen your sunset photography.
Wahat al Karama is yet another thing to do in Abu Dhabi in one day that is totally free!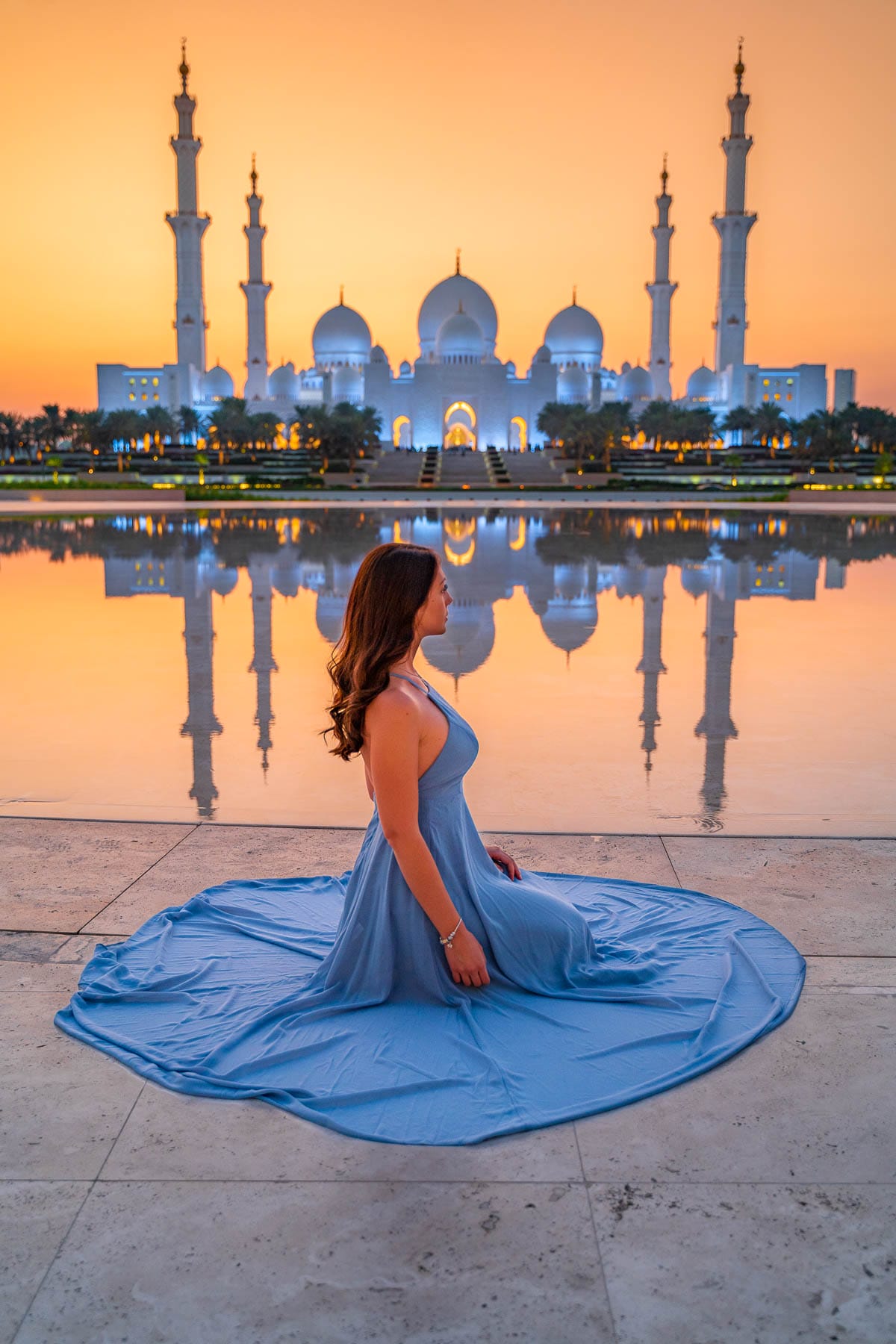 Dinner at The Corniche
After sunset, you can commence with your onward travel or stick around for dinner. You won't be surprised to hear that Abu Dhabi has a lot of choices.
Where you eat might depend on where your hotel is but in case you don't necessarily want to eat at or around your hotel, my recommendation is dinner by The Corniche.
The Corniche is the waterfront of Abu Dhabi, with a long sandy beach. You can eat nearby then have a wander along the cool sand or even eat with a view. Choose to feast on the freshest fish at Catch at St. Regis and savor the views from Parmigiana within the Sofitel Abu Dhabi Corniche.
Final Thoughts
Now you know how to explore the fabulous city of Abu Dhabi in one day! I hope that my guide will enable you to plan your visit and make the most of your time in this fascinating city.
If you have any questions feel free to leave a comment below or send me an email, I always love helping you out! Are there any other places to see in Abu Dhabi in one day that you think should be on this list? Let me know in the comments!
xoxo, Kriszti
---
Related Posts
Want to read more about the United Arab Emirates?
---
More UAE Resources
Planning a trip to the UAE? Check out these awesome books and travel guides for more inspiration!
---
Pin It for Later!