Neuschwanstein Castle is a true dream destination. This castle is not only one of the most beautiful fairytale castles in the world but it's one of the best places to visit in Germany as well.
Although it looks gorgeous from every angle, due to the tourist crowds it's not always easy to take some amazing photos. If you want to find the best Neuschwanstein Castle viewpoints, including some secret ones, keep on reading!
If you are visiting this fairytale castle for the first time I recommend checking out my ultimate guide to Neuschwanstein Castle where you can find much useful information about when to visit, where to stay, and what to expect.
Planning to visit Neuschwanstein Castle from Munich? Read my step-by-step travel guide about how to get to Neuschwanstein Castle from Munich!
*Disclosure: This post contains a few affiliate links, which means I may receive a small commission, at no cost to you, if you make a purchase through my link.*
No time to read now? Pin it for later!
Best Neuschwanstein Castle Viewpoints
1. The most popular viewpoint: From Marienbrücke
Let's start with the most famous Neuschwanstein Castle viewpoint: the Marienbrücke (also referred to as Mary's Bridge in English). If you are looking for that iconic castle view you've probably seen a thousand times on postcards, this is it!
It's a great place if you wanna photograph the castle itself, but if you want to be in the picture as well it will be quite a challenge. The bridge is quite narrow so it's kind of impossible to have a full-body picture and on top of that it's usually really crowded.
However, if you go early or you are patient enough you can still shoot some great portraits on the bridge.
How to get to Marienbrücke by foot (official way)
If you want to reach Marienbrücke, your first option is to go by foot – you can see the official map below that marks the hiking trails. Actually, there are more paths in reality, but if you want to follow the official way you need to find the red path.
Start following the pathway until you reach the castle. Then you need to go further up on the purple trail and at the end, you will reach the bridge with the iconic view.
Now, this is a really long way – it can take up an entire hour to get there, depending on your fitness level. But the good news is that you can make some shortcuts! You have two options for this, but none of them are marked on the map.
How to get to Marienbrücke by foot (with shortcuts)
Your first option is to start the trail behind the parking lots (which are on the left side of the Alpseestraße, see the above map). There is a concrete stairway, start following that and you will soon find yourself on the red trail (somewhere around the brown point marked on the map).
From there you need to follow the red trail, and then the purple trail as I mentioned above.
The second option is to take a shortcut right after the start of the red trail. Start following the trail and then a few minutes later you will see a path on the right side that goes into the forest with the sign Marienbrücke on it.
If you follow that path it will take you directly to the bridge and you don't need to walk all the way to the castle and then back to the bridge. Don't worry, the path is clearly marked and it is not in worse condition than the official one.
Keep in mind that no matter which option you choose, you have to walk on a steep uphill road to reach both the castle and the bridge. It's not a hard hike, but it will be a workout for sure. Be prepared with some comfy shoes and lots of water!
How to get to Marienbrücke by bus
Cars and bicycles are not allowed on the road to the castle, however, you can take a shuttle bus that departs from the Hohenschwangau Palace. The bus can't go directly to the castle so it will drop you off around the Marienbrücke (which is perfect for you if you want to head there anyway).
Prices for the shuttle: €3 for the uphill trip, €2 for the downhill trip, and €3.5 for a return trip.
How to get to Marienbrücke by horse carriage
You can also choose to go up with a horse-drawn carriage. It won't take you up so high though, they will drop you off at the brown point marked on the map.
You still need to walk 5-10 minutes uphill from the ending point of the ride to reach the castle, and then another 10-15 minutes to the Marienbrücke. Tickets can be bought at the horse carriage driver, the uphill ride costs €8, and the downhill ride is €4.
As I don't want to support this kind of animal tourism I would politely ask you not to use this service! Walking up there is not that bad and the views you get along the way will definitely make you up for your burning thighs.
If you can't walk for some reason it's still cheaper (and a lot more ethical) to take the shuttle bus. So please choose wisely!
2. Up-close viewpoint: On the way to the Marienbrücke
If you choose the long official path (or the shortcut with the stairway) it will take you right in front of the Neuschwanstein Castle.
While you can't shoot pictures of yourself with the castle here (except selfies), you can shoot some pretty good up-close photos of the castle itself.
Just keep your eyes open and don't forget to stop for a while to admire the remarkable details of the castle!
3. Lesser known viewpoint: After the Marienbrücke
Most people visiting Neuschwanstein Castle only hike up to Marienbrücke, take some pictures there, and then turn back. Don't be like them! The hiking trail goes further up to the hill and if you continue your hike you can find some amazing viewpoints along the road!
The bright side is that since most people stop at the Marienbrücke, you won't really see many people on the road. That means you don't need to worry about photobombers and you can enjoy the views without the crowds.
The bad news is that the roads are not in the best condition. While the trails that go up to the Neuschwanstein Castle and the Marienbrücke are very well-built after you pass by the bridge you have to continue on a dirt paved road.
It can be a bit challenging (especially after rain) so make sure you have the right shoes with you and watch your steps!
After you cross the Marienbrücke you will find yourself on a long zig-zag road. Simply continue your way up and you will soon reach an amazing viewpoint surrounded by a big fence. You can see the whole area from up there together with the Neuschwanstein Castle – the view is absolutely breathtaking!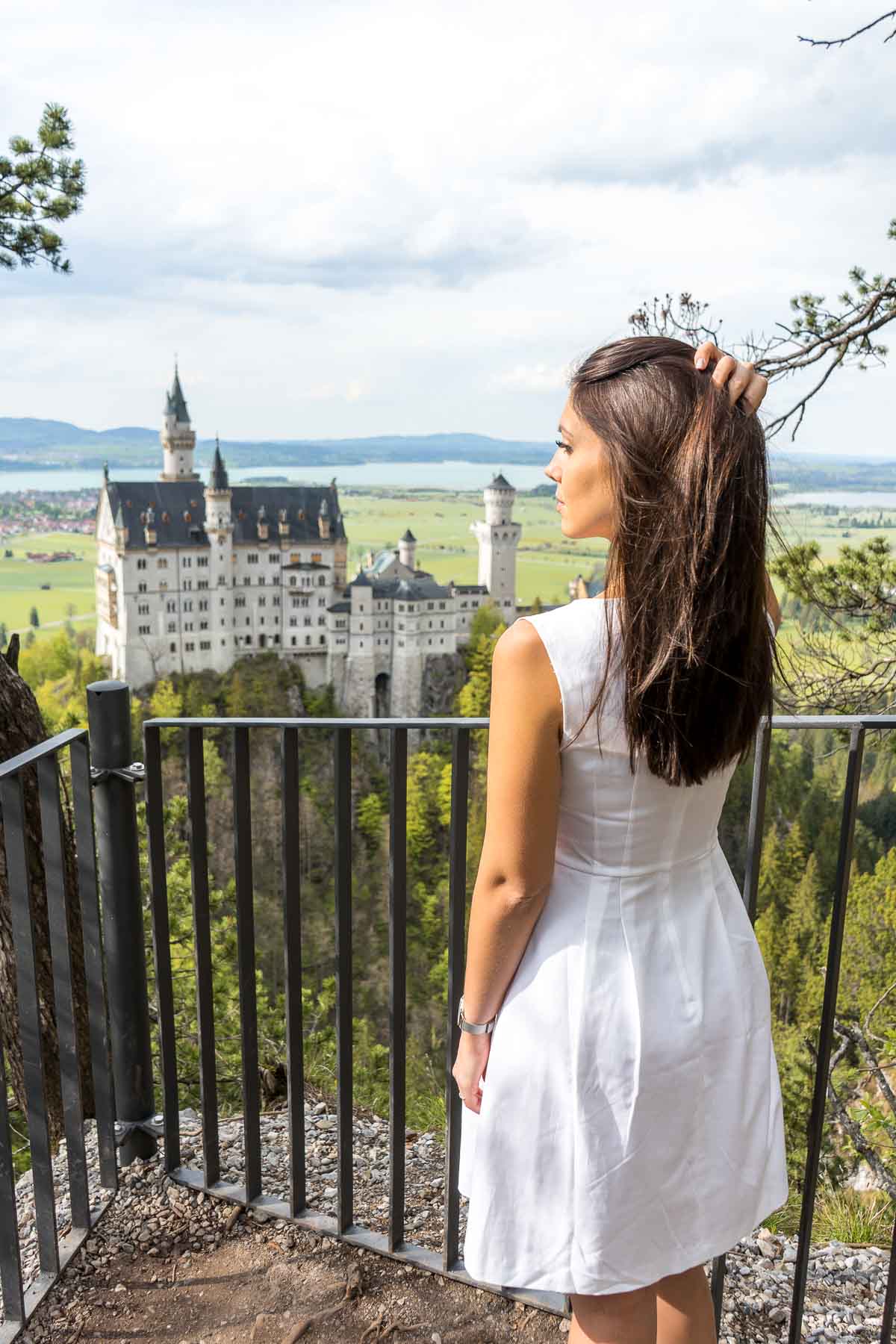 4. Panoramic viewpoint
While the previous viewpoint was really amazing, we decided to go further up the hill. The only reason we continued hiking up was that I was looking for THE BEST Neuschwanstein Castle viewpoint.
I've seen it all over Instagram so I knew it existed but of course, no one shared the exact location so I was committed to finding it on my own.
Let me tell you in advance: hiking further up is not the solution. A little offroading is, but more about it later! Hiking up further on the road was a little challenging but I didn't regret it for a second. Let me show you why!
So this is the view you get from up there. It's just simply fascinating. You can see the Neuschwanstein Castle (and the Hohenschwangau Castle as well) and the complete surrounding area with lakes, mountains, and fields.
No pictures do justice to how amazing this view is in real life. I was in awe!
You will easily recognize this spot because there is a cut-down log with a little cross on top of it. If you turn left and wander a bit down the road you will find a good photography spot where you can get some nice pictures of yourself.
The view is not so clear as there are many trees blocking the view, but I think it's still pretty amazing.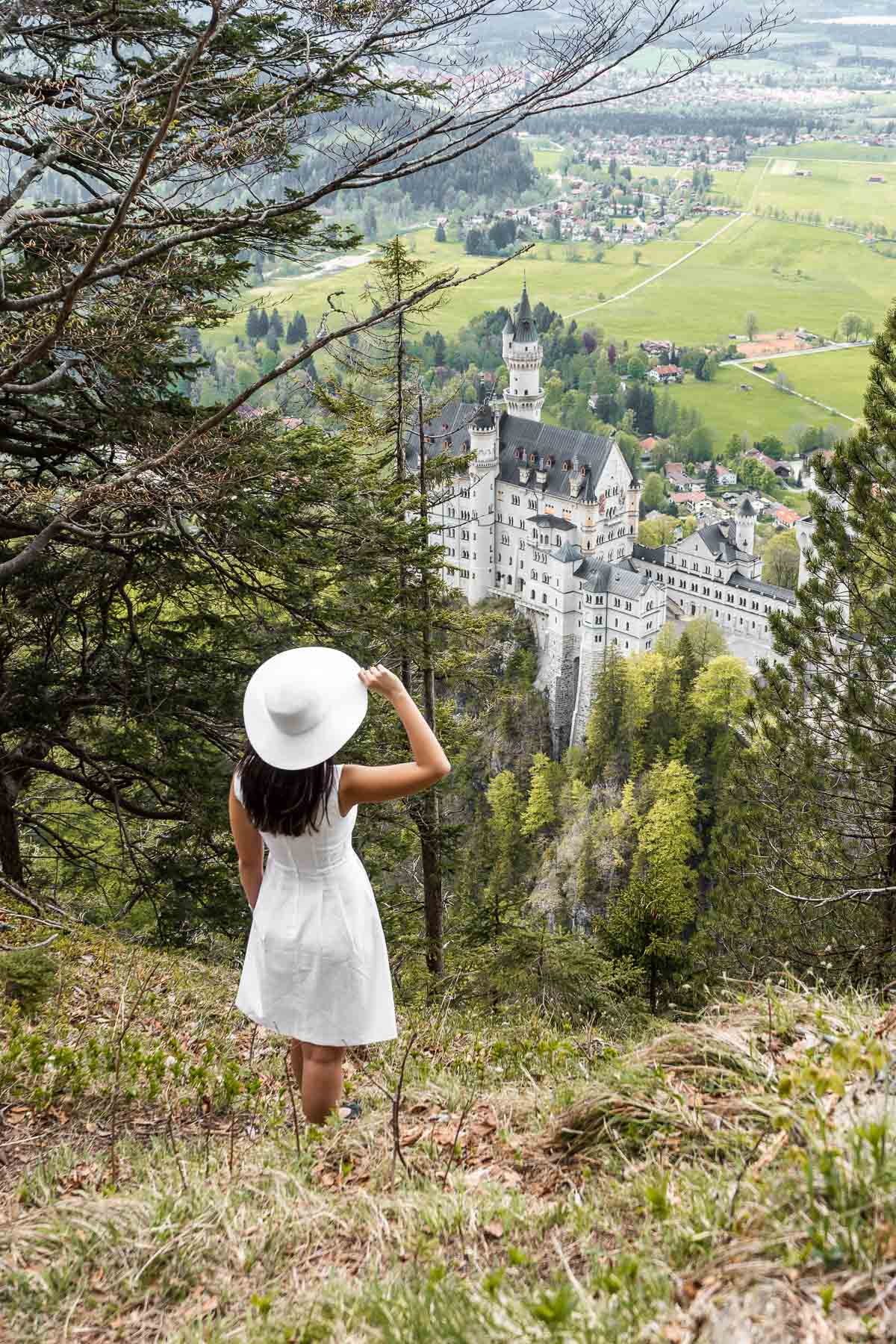 5. The best hidden Neuschwanstein Castle viewpoint
Okay, so let's get to the best part! I already told you that I was looking for THE BEST Neuschwanstein Castle viewpoint while hiking up from Marienbrücke.
I soon realized that it can't be that way because the view was completely different. The castle was already too far away and that was not what I saw in the photos.
So we turned back. I was kinda disappointed because it was getting late and we were really tired from all the hiking. Plus I still didn't have any clue where to find my spot.
I was on my phone constantly, crazily scrolling through every blog post and article I could find on Neuschwanstein Castle and staring at the Instagram pictures I saved.
Based on the photos I managed to figure out that it can't be higher than Marienbrücke. That's a start. Finally one of the blog posts mentioned the viewpoint, but it only said it's somewhere off the road. All right, challenge accepted!
How to find the hidden Neuschwanstein Castle viewpoint
We started to descend on the road that goes from Marienbrücke to the Neuschwanstein Castle (the purple one on the official map). I knew I had to venture off the road somewhere but there was a wooden fence with barbed wire on top all along the road. You couldn't really go through it unless you hurt yourself so this was not an option.
Suddenly when we went past the first big curve on the map I spotted a place where the fence was broken. Jackpot! We could slip underneath easily, turned left to the pathway, and started to follow that.
UPDATE: I've heard they repaired the fence recently but there is still no barbed wire so you can slip through easily.
After like 1-2 minute walk there is a curve in the pathway that goes down on the hillside. If you continue on that road you will reach a waterfall, but this is not what we are looking for.
Instead of going down the road, you have to climb up the hill! I marked the directions with the red arrows in the below pictures.
Don't worry, the road starts badly but it gets better, I promise! Only the first small climb is challenging, after that you need to turn left and soon you will find an old pathway. I guess it was part of the official hiking trails once but it's totally abandoned now.
The important thing is that it's very easy to follow and it will lead you right up to the best photography spot.
Basically, you just need to follow this path and soon you will see the Neuschwanstein Castle peeking through the trees. All you need to do is go in the direction of the castle and you will reach the best hidden viewpoint in a few minutes.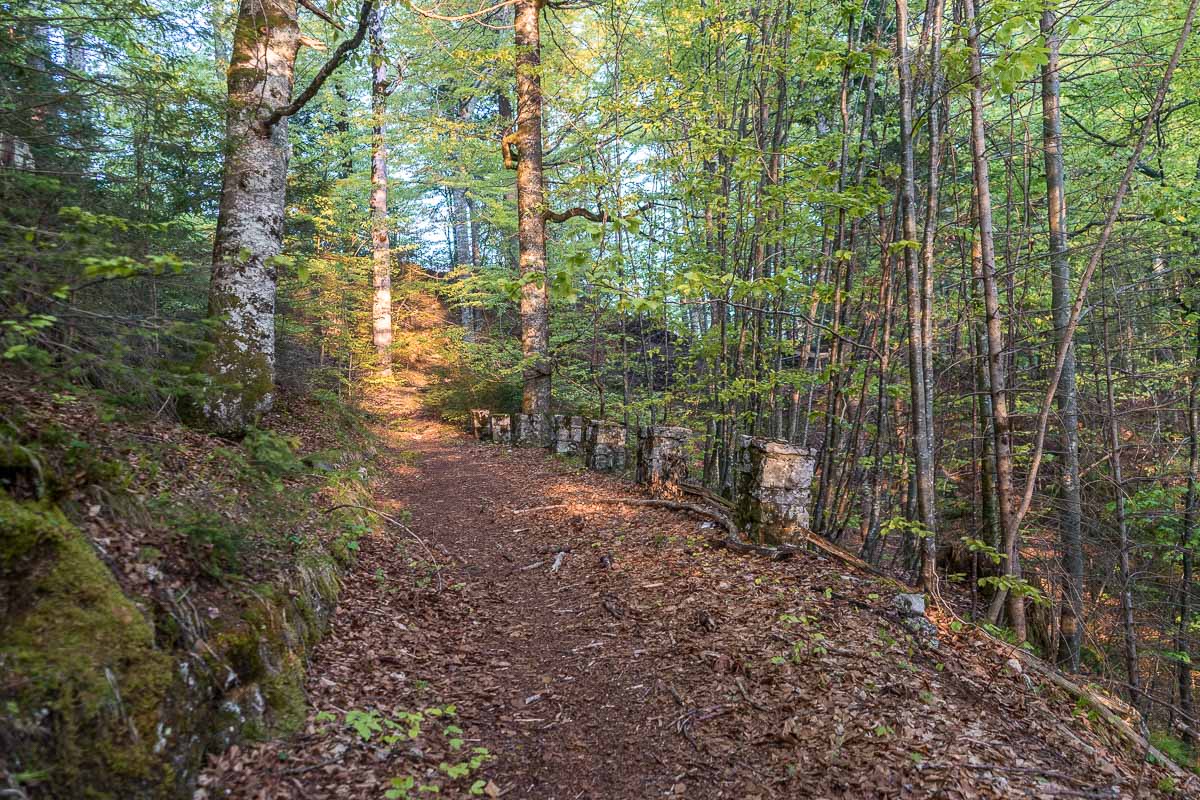 What you need to know about the hidden viewpoint
And voilá, this is the spot! So gorgeous, right? It's the perfect place for photography. The view of the Neuschwanstein Castle is completely clear and you can see the whole area in the background as well. It looks simply fascinating!
Plus there is a huge wide space where you can stand or sit on the roots. And the best thing is that you can have this spot all to yourself! It was totally worth all the trouble, am I right?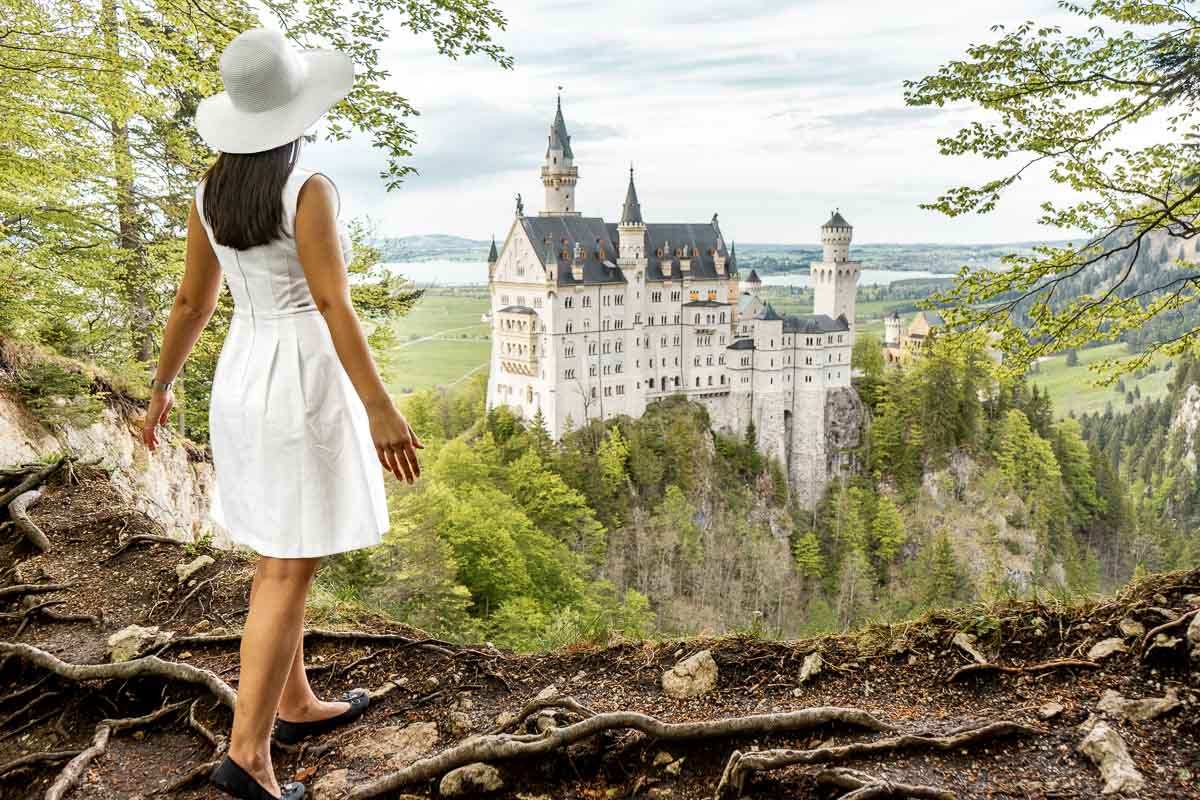 IMPORTANT INFORMATION: Please note that basically this viewpoint is located on the edge of a cliff and there is a sheer drop right below you. As I mentioned before there is a wide area there so if you are not comfortable with heights you don't need to stay close to the edge. Please always be careful and visit this place only at your own risk!
I loved this spot so much that I convinced my boyfriend to come back the next day for sunset. The soft colors were amazing! We also discovered that there is another way to reach this spot.
You need to walk all the way to Marienbrücke but instead of crossing the bridge, turn left and climb up on the hillside! This way is a lot harder because you need to slip through the barbed-wire fence and the way up is much steeper too.
I would still recommend you to do the other way I described first, but it's really up to you.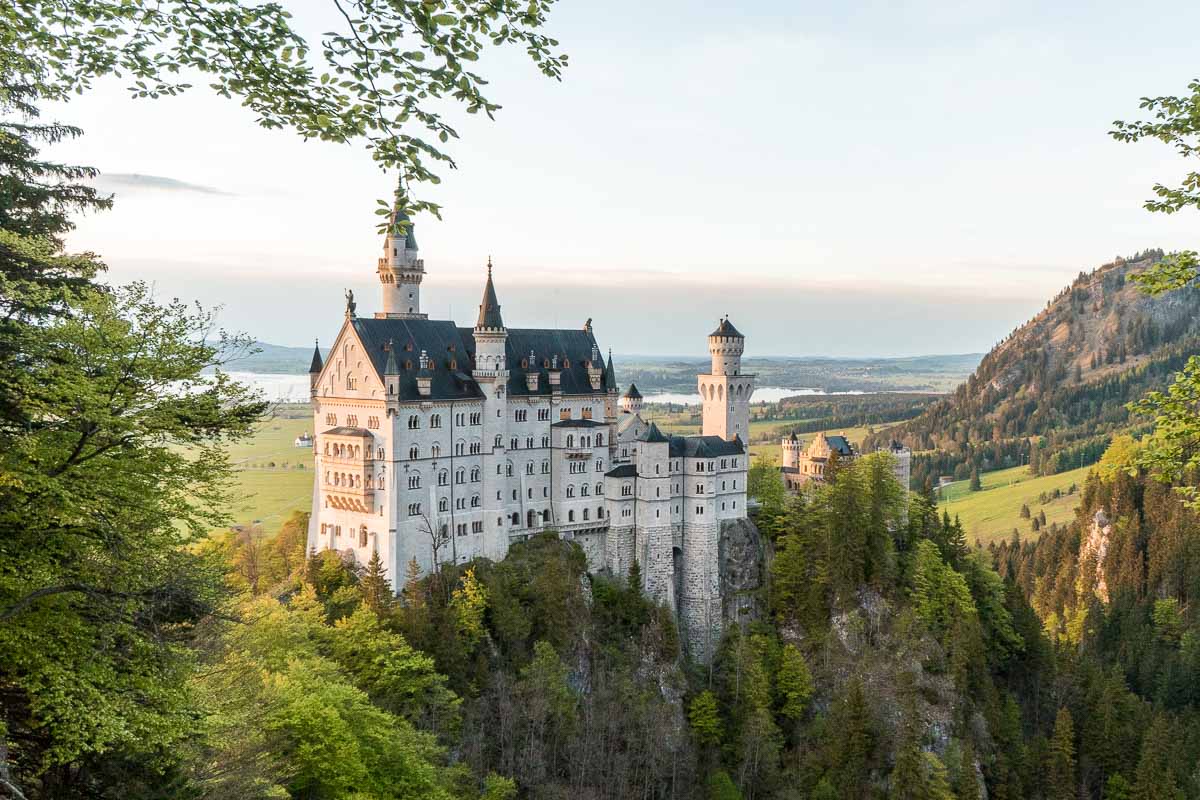 6. Viewpoint from the valley
This last viewpoint is very different from the other ones because it's in the valley!
If you are coming from the direction of Schwangau, there is a road named Schloßstraße that leads you to Hohenschwangau (where the Neuschwanstein Castle is located). There is a huge open grass field along the road where you can make some amazing photos!
During our visit, we stayed in Hotel Weinbauer in Schwangau which was located right at the beginning of Schloßstraße, close to the fields. We could even see the Neuschwanstein Castle from our window! How cool is that? We visited in the middle of May so the fields were full of dandelions, it was so gorgeous!
The Neuschwanstein Castle is visible from every angle, so you can't go wrong with that! Although it's very far away, you can always walk closer to the castles on the fields or use a good telephoto lens to make it bigger in the photos.
We didn't do any of that so the castle is quite small in my photos, but I still love the outcome!
Best Neuschwanstein Castle Viewpoints – On the map
Since it's not so easy to find the best Neuschwanstein Castle viewpoints I made you a custom map with the exact locations of the above-mentioned viewpoints. Together with my instructions, I'm sure you will be able to find them!
If you are reading this from your mobile, you just have to click on the bracket in the upper right corner to save it to your Google Maps app. Super convenient, right?
Where to Stay Around Neuschwanstein Castle
You can easily visit Neuschwanstein Castle on a day trip from either Munich or Innsbruck. Munich is a really great base to explore the nearby area so if you have to choose between the two I would definitely recommend Munich!
Although the castle can be easily reached from the two above-mentioned cities, I would still suggest staying near Neuschwanstein Castle for 1 or 2 nights. This way you can spend more time in the area which I highly recommend!
There are 3 towns nearby where you can stay if you want to stay close to Neuschwanstein Castle. Below you can see my top picks for each town for every budget.
Hohenschwangau
If you wish to stay as close to Neuschwanstein Castle as possible then Hohenschwangau is your best option. No matter which accommodation you choose, you can reach the path that leads up to the castle within a few minutes.
Check out all the hotels in Hohenschwangau here!
LUXURY – Hotel Villa Ludwig und Chalet
This 4-star hotel is set directly beneath Neuschwanstein Castle. The hotel was newly opened in December 2012 and all rooms have free WiFi, wired internet, a flat-screen satellite TV, and a balcony, while some have a view of Neuschwanstein Castle.
MID-RANGE – Hotel Müller
This hotel is located between Neuschwanstein Castle and Hohenschwangau Castle on the Romantic Road. Hotel Müller offers elegant rooms and a Bavarian-style restaurant. Some rooms have a balcony or terrace offering a view of the nearby castles.
BUDGET – Hotel Garni Schlossblick
With some rooms offering wonderful views of the Neuschwanstein and Hohenschwangau castles, this traditional hotel is just a 5-minute drive from Füssen and the Austrian border.
Schwangau
The second closest town to Neuschwanstein Castle is Schwangau. The distance between the two is 2.5 km (1.5 miles) so even if you don't have a car you can easily walk or bike. You can find more options here but don't expect hundreds of hotels.
Check out all the hotels in Schwangau here!
LUXURY – Hotel Das Rübezahl
This 4-star-superior hotel in Schwangau offers great views of the Neuschwanstein and Hohenschwangau castles, a modern spa and beauty area, and a gourmet restaurant serving regional food.
MID-RANGE – Hotel Weinbauer
Hotel Weinbauer is a traditional hotel peacefully and centrally located in Schwangau, 1.5 km (0.9 miles) from Neuschwanstein and Hohenschwangau Castles. Built in 1865, the cozy hotel is decorated with frescoes. Breakfast is served on-site.
BUDGET – Casa Patrizia
These spacious and modern apartments lie between Füssen and Schwangau in the Bavarian Alps. All apartments at Casa Patrizia feature a fully-equipped kitchen, living room, large bedroom, and bathroom.
Füssen
Füssen is the third option to stay close to Neuschwanstein Castle. The distance is 5 km (3.1 miles) so technically you can still walk but having a car or a bike is much better.
You can also call a taxi if you don't have your own car and it will take you to Hohenschwangau within a few minutes. Check out all the hotels in Füssen here!
LUXURY – Hotel Sommer – Urlaubs- und Wellnesshotel
Located on the shores of Forggensee Lake, this 4-star spa hotel offers regional cuisine and great views of Neuschwanstein Castle and the Alps. An extensive spa area with various saunas, steam rooms, and indoor/outdoor swimming pools are available.
MID-RANGE – Hotel Hirsch
This family-run hotel lies in the heart of Füssen, within a 10-minute drive of Neuschwanstein and Hohenschwangau Castles. The stylish rooms at the Hotel Hirsch Füssen are individually furnished and feature Bavarian antiques. All rooms include a flat-screen TV and a private bathroom.
BUDGET – Hotel Ludwigs
Located directly in the pedestrian zone in Füssen's old town, this traditional hotel offers free WiFi. It is 500 m from Füssen Train Station, and 5 km from Neuschwanstein Castle. Hotel Ludwigs provides bright rooms with wooden floors, elegant fabrics, and chandeliers.
Final Thoughts
The Neuschwanstein Castle is every photographer's dream, it's truly one of the most beautiful fairytale castles in the world. I hope you liked this post about the best Neuschwanstein Castle viewpoints and you will be able to find them yourself as well!
If you have any questions feel free to leave a comment below or send me an email, I always love helping you out! Have you already visited Neuschwanstein Castle? Do you know about any other great viewpoint? Leave your comments and tips below!
xoxo, Kriszti
---
Related Posts
Want to read more about Germany?
---
What Camera Gear Do We Use?
If you want to read more about what is in our camera bag, check out my detailed post about our travel photography gear!
---
Pin It for Later!