If you're looking for an amazing alpine getaway, look no further than Berchtesgaden, Germany.
Just a few hours south of Munich, this charming town offers a wealth of activities and attractions to enjoy during a long weekend stay. From towering peaks and pristine forests to crystal-clear lakes, there is something for everyone in Berchtesgaden.
Although you could easily spend weeks in this beautiful area, 3 days in Berchtesgaden is the perfect amount of time to start.
So if you only have a few days to explore the area, this Berchtesgaden itinerary will help you make the most of your time!
*Disclosure: This post contains a few affiliate links, which means I may receive a small commission, at no cost to you, if you make a purchase through my link.*
No time to read now? Pin it for later!
Useful Info for Spending 3 Days in Berchtesgaden
How to get to Berchtesgaden
The closest cities to Berchtesgaden are Salzburg in Austria and Munich in Germany. Depending on which city you're coming from, there are several different ways to get to Berchtesgaden.
Getting to Berchtesgaden from Salzburg
Located only 25 km (15 miles) from the town of Berchtesgaden, Salzburg is the closest major city.
It has an international airport but it's mostly connected with other European countries so if you're coming from overseas, you'll likely have to fly into Munich and get to Berchtesgaden from there.
It's important to note that Salzburg is located in Austria and not Germany, so it might complicate things a little bit.
Both countries are members of the Schengen Area so most likely you won't have to worry about visa issues or border controls. However, if you planning to rent a car, you will have to check whether you're allowed to take the car across the border.
The easiest way to get from Salzburg to Berchtesgaden is by car. The drive only takes about 30 minutes and there is no need to go through any border checkpoints.
If you don't have a car, you can also take the bus from Salzburg to Berchtesgaden. You can board the WATZMANNexpress (bus nr. 840) at Salzburg Mirabellplatz which will take you directly to Berchtesgaden with no changeovers.
It's around a 45-minute journey and a one-way adult ticket costs around €6. Buses depart roughly every hour on weekdays, however, on the weekends the service is more limited with only a few buses per day.
The other option is to take the train from Salzburg to Berchtesgaden. As there is no direct route, you will have to change trains in Freilassing.
The journey takes around 1 hour and 15 minutes and a one-way ticket starts from €12. Trains depart every hour or so throughout the day.
Getting to Berchtesgaden from Munich
As I mentioned before, if you're coming from overseas, you will most likely have to fly into Munich airport. It's one of the busiest airports in Germany and it has great connections to all over the world.
Located only 160 km (100 miles) away, getting to Berchtesgaden from Munich is pretty easy. As with Salzburg, the easiest way to get there is by car which takes around 2 hours.
Make sure to check the route in advance because sometimes Google Maps wants to take you through Austria as usually, that's slightly faster. If you have a rental car and you didn't specify that you want to cross borders, you might want to avoid this!
If you're not renting a car (which I would highly recommend), you also opt to take the train from Munich to Berchtesgaden. The journey takes around 2.5 hours with one change in Freilassing and a one-way adult ticket starts from €20.
Best time to visit Berchtesgaden
The best time of year to visit Berchtesgaden is between June to September, so right through the summer months.
This time of year offers the best temperatures and weather conditions, although it's the 'peak season' so you'll find the town to be busiest during these months.
Temperatures range from 20-24°C (68-75°F) in the summer, and even though the weather doesn't get hot – you'll get the best visibility and fewer rainy days.
If you're looking for a quieter experience, then spring is another fantastic time to visit. All the main attractions are open and you won't find as many tourists here!
How to get around Berchtesgaden
Berchtesgaden is a relatively small town so getting around on foot should be no problem. If you want to visit nearby attractions, such as the Eagle's Nest or Lake Königsee, then you might want to consider renting a car or taking public transport.
There is a regular bus service that runs in and around Berchtesgaden. As a bonus, if you're staying in any of the hotels in Berchtesgaden, you'll receive a Berchtesgaden Guest Card which grants you free access to all public transportation in the area (and 50% on parking fees).
However, planning your Berchtesgaden itinerary around bus schedules can be a bit of a hassle and you will lose valuable time that you could be spent exploring.
For that reason, I would strongly recommend renting a car as it gives you the most flexibility to explore the area at your own pace.
Where to stay in Berchtesgaden
As Berchtesgaden is small and the area is so popular you'll want to book your accommodation in advance if possible.
Many of the best hotels get booked up months in advance, and if you try to book a couple of weeks before your trip, you'll find that up to 90% of accommodation options are unavailable.
Without further ado, here are my top recommendations for staying in Berchtesgaden!
LUXURY – Kempinski Hotel Berchtesgaden
Offering picturesque views of the surrounding mountains, beautiful suites, and fantastic facilities, Kempinski Hotel is one of the best luxury options in town. With an indoor & outdoor pool, a spa & wellness center, and an on-site restaurant, this hotel has everything you could need for the ultimate stay!
MID-RANGE – Hotel EDELWEISS Berchtesgaden Superior
Located in the center of Berchtesgaden, this hotel offers breathtaking views of the Bavarian Alps – especially from its rooftop terrace. You'll also benefit from beautiful rooms and tons of facilities including an extensive spa, a swimming pool, a fitness center, and three on-site restaurants.
BUDGET – Hotel Grünberger Superior
If you're looking for a more budget-friendly option then check out Hotel Grünberger. This property is set on the River Ache and offers scenic views of the surrounding area. Boasting an indoor pool, a sauna, and an on-site restaurant & bar, this hotel has so much to offer. There's even a large sunbathing area right by the river.
Overview of Your Berchtesgaden Itinerary
Breakdown of your 3 days in Berchtesgaden
Day 1: Königssee, Obersee, Röthbach Waterfall, St. Bartholomew's Church, Jenner Aussichtsplattform
Day 2: The Eagle's Nest, Dokumentationszentrum Obersalzberg, Restaurant Café Graflhöhe "Windbeutelbaron", Salt Mine Berchtesgaden, Museum Schloss Adelsheim, Berchtesgaden Town
Day 3: Wimbachklamm, Parish Church of St. Sebastian, Zauberwald, Hintersee
Map for your Berchtesgaden itinerary
Below you can find a customized map that includes all the locations you're going to visit on this Berchtesgaden itinerary.
I marked your 3 days in Berchtesgaden with different colors – I used blue for the first, green for the second, and red for the third day, so you can easily see which places you're going to visit each day.
If you open up this post on your phone and you click on the bracket in the upper right corner of the map, it will open up in your Google Maps app so you can always have it with you. Super convenient, right?
Day 1 of Your Berchtesgaden Itinerary
Königssee
Start the first day of your Berchtesgaden itinerary strong by visiting Lake Königssee, one of the most beautiful places in the entire area (and all of Germany for what it's worth)!
This turquoise-colored glacial lake is nothing short of magical and you'll find yourself mesmerized by its beauty. It's the deepest lake in Germany with a depth of 190 meters (620 feet), and is also one of the cleanest!
What makes Königssee unique is that there aren't any trails or roads that run beside the lake. Instead, the only way to get around is by taking an electric boat that runs on a set schedule.
The boats operate all year round but the timetables do change depending on the season so make sure to check the timetable in advance. I would also recommend getting on the first boat of the day as it gets quite crowded later on.
The boat ride itself is absolutely stunning and takes you all the way to the end of the lake, where you can hike to Obersee and Röthbach Waterfall (more about them later).
There is also a boat stop at St. Bartholomä Chapel in the middle but I recommend riding to the end of the lake first and visiting the chapel on the way back.
If you want to know more about the boat ride and visiting the lake in general, then make sure to check out my detailed guide to Lake Königssee!
Obersee
After arriving at Salet (the end of Lake Königssee) with the boat, you'll have the option to hike to Obersee, which is a smaller lake located just a short walk away.
The hike to Obersee is absolutely beautiful and relatively easy, taking you through a beautiful forest. It only takes around 15 minutes to get to the lake and you'll be greeted by a cute boat house when you arrive.
Obersee is much smaller than Königssee but just as stunning! The water is crystal clear and the views of the surrounding mountains are breathtaking.
If you're visiting in the summer months, you can take a refreshing dip in the lake. Although be prepared for the water to be quite cold as it comes straight from the mountains!
If you have time and energy, I would also recommend hiking to the other side of Obersee. The hike takes around 45 minutes and the views are absolutely incredible.
Once you arrive, you can also have a meal or some drinks at Fischunkelalm, a small restaurant located right next to the lake.
Röthbach Waterfall
Did you know that Berchtesgaden National Park is home to the highest waterfall in all of Germany? Röthbach Waterfall features a vertical drop of a whopping 470 meters (1,541 feet) and is an absolutely incredible sight to behold.
It's so tall that you can already see it from the far side of Obersee!
The hike to Röthbach Waterfall starts from the other side of Obersee (close to Fischunkelalm) and takes around 30 minutes in one way.
If you opt to do this hike as well, then it will be a long day but definitely worth it as the views are incredible. Just make sure to be aware of your timings so you don't miss the last boat back!
The hike back from Röthbach Waterfall to the boat docks in Salet is around 4.6 km (2.8 miles) and it will take you around 1.5 hours to complete.
St. Bartholomew's Church
Even after completing all the above hikes, if you start the first day of your Berchtesgaden itinerary by catching the first boat you should still have some time left in the day.
And what better way to spend it than by visiting one of the most iconic buildings in all of Berchtesgaden? St. Bartholomew's Church is located in the middle of Lake Königssee, right next to the boat docks.
After getting back to Salet, you can take the boat over to the church which only takes around 20 minutes. The church is quite small but very beautiful, and you can even go inside to have a look around.
It was originally built in 1134 which makes it one of the oldest buildings in the area. However, it was fully rebuilt in the 18th century and this is when it received its iconic onion domes and a red domed roof.
Half an hour will give you ample amount of time to explore the church and take some photos. If you're feeling hungry, you can also stick around for a little while longer and have some late lunch at one of the restaurants nearby.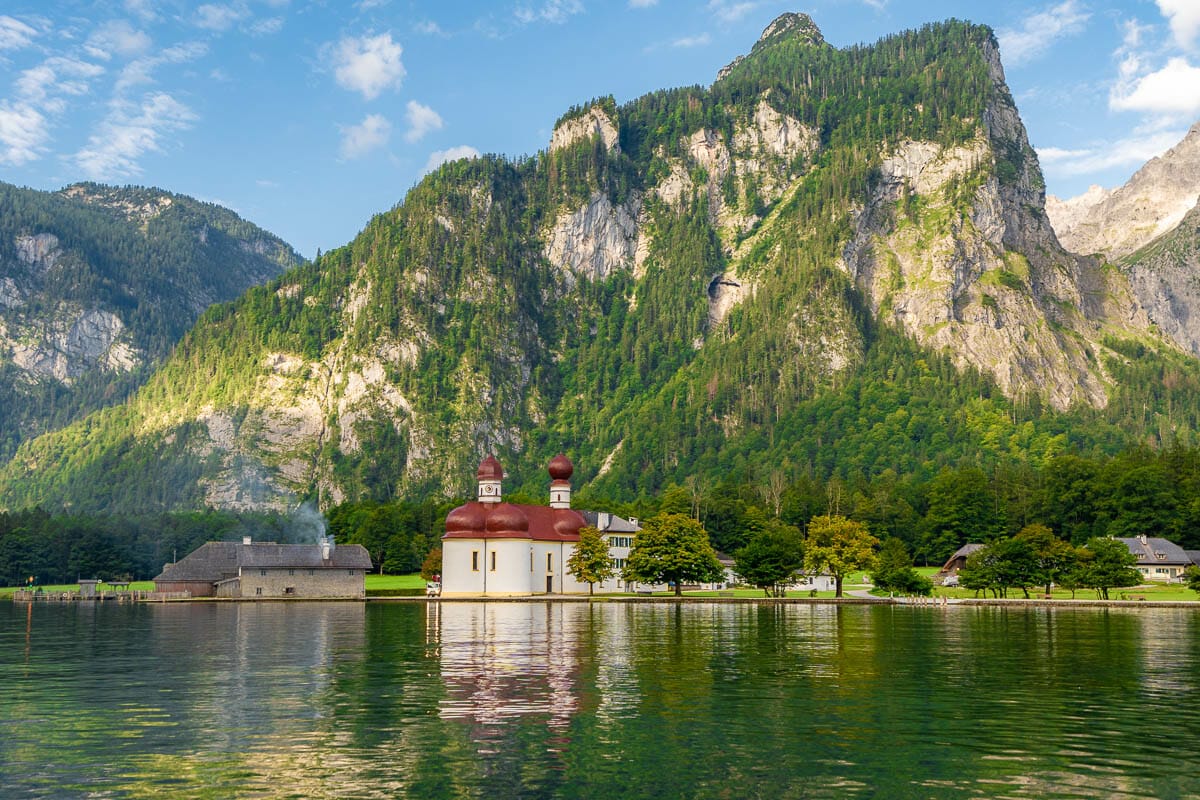 Jenner Aussichtsplattform
If you're looking for the most incredible views, make sure to include Jenner Aussichtsplattform on your Berchtesgaden itinerary.
Located right next to Lake Königssee, Jenner Aussichtsplattform is a viewing platform located at the top of Jenner Mountain, providing panoramic views of the entire area. On a clear day, you can even see all the way to Salzburg or Munich!
Although it's possible to hike up to the viewpoint from the middle station of the Jennerbahn cable car, due to time constraints it's best to take the cable car all the way to the top. Once you arrive at the top station, it's only a 10-minute walk to the viewing platform.
The cable car station is located right next to the Königssee parking lot and since you've already paid for full-day parking, it's best to visit the viewing platform right after you're done with your adventures at Lake Königssee.
During the summer season (from April to November), the Jennerbahn cable car runs between 9 am-5 pm. The journey to the top takes around 20 minutes and a round-trip ticket costs €38.
If you arrive after 3 pm, you can take advantage of the last-minute ticket that costs €32. However, keep in mind that the last cable car down leaves at 5 pm sharp so you need to make sure you're back in time!
Day 2 of Your Berchtesgaden Itinerary
The Eagle's Nest
After spending the entire first day exploring Berchtesgaden National Park, on the second day of your Berchtesgaden itinerary it's time to visit one of the most popular tourist attractions in the entire area: The Eagle's Nest (otherwise known as Kehlsteinhaus).
Located atop Kehlstein Mountain, the Eagle's Nest was originally built as a 50th birthday present for Adolf Hitler. However, he only visited the place a couple of times due to his fear of heights.
But still, it's surreal to think that you're standing in the same place where one of the most powerful dictators in history once stood!
Due to its location, the only way to get to the Eagle's Nest is by taking a shuttle bus from the Obersalzberg Documentation Centre. Buses depart every 25 minutes starting from 8.30 am, while the last bus comes back around 5 pm.
It's important to note that the bus only operates between May and October (weather permitting), so if you're visiting outside of those months you won't be able to get to the Eagle's Nest.
You can buy your tickets at the bus station, a round trip ticket for adults costs €28. Apart from the bus ticket, there is no entrance fee to Eagle's Nest.
The bus ride is quite steep and winding as it climbs 770 meters during the 20-minute journey. The ride already provides an insane view but wait until you see the views from the top!
From the bus stop, it's only a 5-minute walk to the Eagle's Nest. After walking through a dark and cold tunnel, a golden elevator will whisk you up to the top in just a matter of seconds.
As soon as you step out of the elevator, you will be greeted with one of the most incredible views you have ever seen in your life! The Eagle's Nest is located at an altitude of 1,834 meters (6,017 feet) so on a clear day, you can see for miles and miles.
Apart from the views, there are honestly not so many things to do at the Eagle's Nest. It's primarily functioning as a restaurant these days but there are a couple of smaller displays if you want to learn a bit more about history. Sadly, there is no museum at the Eagle's Nest.
Therefore I only recommend heading up there if the weather is clear. If it's cloudy or foggy, you won't be able to see anything so it's not really worth it.
You can actually check a live webcam of the Kehlsteinhaus before heading up to see what the current conditions are like.
Dokumentationszentrum Obersalzberg
After you're done exploring the Eagle's Nest on your second day in Berchtesgaden, it's time to learn more about the history of the Obersalzberg area at the Dokumentationszentrum Obersalzberg.
This museum is located near the bus station where you took the shuttle to get up to the Eagle's Nest so it's best to visit right after you're done exploring up there.
The Obersalzberg served as a summer retreat for senior Nazis during the Third Reich and it's actually where Hitler spent the majority of his time after purchasing it in 1923. Later in the years it actually became the second seat of government after Berlin.
Dokumentationszentrum Obersalzberg features over 950 documents and exhibits that depict Hitler's life, the Nazi regime, and the atrocious acts that he committed.
Unfortunately, many of the exhibits are only available in German. On the other hand, you also get to tour the underground bunker system which is really exciting!
Important info: The documentation center is currently closed for renovation. It's scheduled to reopen in spring 2023.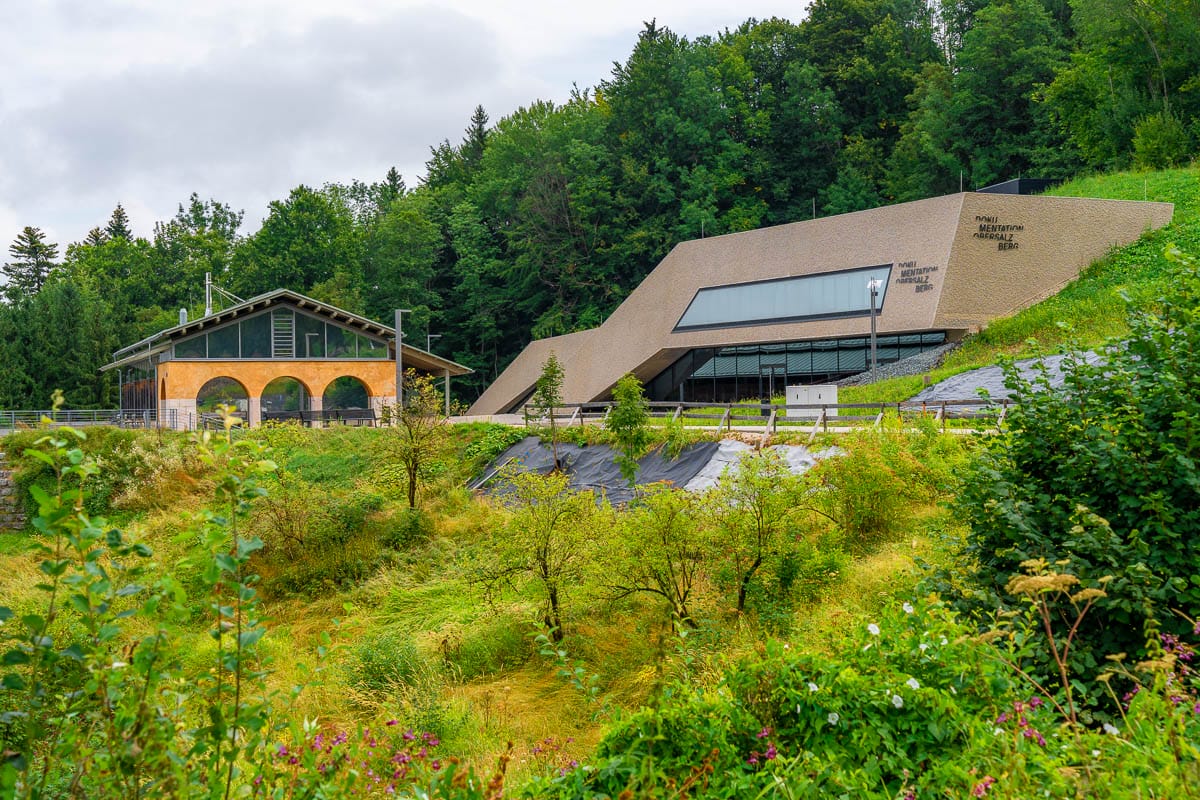 Restaurant Café Graflhöhe "Windbeutelbaron"
If you're looking for a beautiful place to eat during your 3 days in Berchtesgaden, then I've got the perfect place for you!
Restaurant Café Graflhöhe "Windbeutelbaron" is just a 10-15 minute drive from the town center and is one of the best places to dine in the area.
Boasting a sun terrace with panoramic views of the Bavarian Alps, a superb menu, and a relaxed atmosphere, it's a must-visit when in Berchtesgaden.
You've got a wide selection of dishes to choose from including burgers, salads, and pasta. However, this cafe is most famous for its giant cream puffs so don't leave until you've tasted one!
They are freshly made every morning and come in a variety of flavors including vanilla and caramel, and they offer seasonal versions too.
After all the exploring, allow yourself an hour or two to relax here and admire the breathtaking views.
Salt Mine Berchtesgaden
In the afternoon, it's time to go underground and explore Salt Mine Berchtesgaden! This is one of the most popular things to do in Berchtesgaden and definitely worth adding to your 3-day Berchtesgaden itinerary.
It's currently the oldest active salt mine in Germany and has been in operation since 1517. A guided tour will take you through the mine and teach you all about its history, geology, and how salt is extracted.
The guided tours last around an hour and you will be given a traditional miners' overalls to wear. This is primarily for the protection of your own clothes but it also comes in handy in the cold as the mine temperature is only around 12°C (54°F) all year round.
You will also get to slide down on an old industrial slide and take a boat trip across a salt lake, both of which are really fun!
The mine is open all year round, from 9 am to 5 pm in the summer season and from 11 am to 3 pm in winter.
Tickets cost €22.5 for adults and €11.5 for children (kids under 3 years old can visit for free). Due to its popularity, I recommend booking your tickets in advance, especially during the peak season.
Museum Schloss Adelsheim
The local heritage museum of Schloss Adelsheim is another great place to visit during your 3 days in Berchtesgaden if you want to learn about the history and culture of Berchtesgaden.
There are thirteen rooms in Museum Schloss Adelsheim, and in each one, you'll find a variety of fascinating exhibits and displays. This includes bone carvings, household items, traditional clothing, and weapons. You'll also get to see colorful wooden toys, furniture, and local handicrafts.
There's also a former chapel and a 19th-century marionette theatre on-site, and you can even take a look in the shop if you're looking for a souvenir.
The museum opens at 10 am and closes at 4 pm in the summer season and 2 pm during winter. An adult ticket costs €5.
Berchtesgaden Town
No trip to Berchtesgaden is complete without exploring the town itself! Located along the beautiful Ache river and offering striking views of the Bavarian Alps, this charming town has to be one of the most scenic places in Germany.
Although less than 10,000 people live here, Berchtesgaden is visited by around two million people every year so it's bound to feel quite busy. Especially, as the town itself is relatively small.
There are a few things to see and do in Berchtesgaden town including strolling around the pedestrianized old town, visiting the market square, and checking out some of the historic buildings.
Make sure you also walk along the Ache river and take in the stunning mountain scenery. If you're looking for some souvenirs, there are plenty of shops selling traditional Bavarian clothing, cuckoo clocks, and wood carvings.
If you still have some energy left, you can climb up to the Lockstein observation deck which offers a great panoramic view of the town and the surrounding mountains. In case you're already feeling tired, you can also drive up there and park right in front of the observation deck!
There are also several restaurants and cafes in Berchtesgaden town so it's the perfect spot for grabbing dinner after a busy day of sightseeing.
Day 3 of Your Berchtesgaden Itinerary
Can you believe this is already the last day of your 3 day Berchtesgaden itinerary? Time flies when you're having fun!
I intentionally left day 3 a bit shorter in case you have to catch a flight or a train back home. But if you have some extra time, you can spend more time at the below stops or you can head back to the town of Berchtesgaden for some more exploring (or restaurant hunting).
Let's start your final day in Berchtesgaden with a visit to one of the most beautiful natural wonders in the area: Wimbachklamm.
Wimbachklamm
Located only a 10-minute drive from Berchtesgaden town, Wimbachklamm is a stunning gorge that is home to an elevated walkway guiding you through the rugged gorge.
Along the way, you'll get to see several waterfalls cascading down the gorge walls, and lush forest surrounding you at every angle.
The gorge is only 200 meters (656 feet) long and takes around 30 minutes to complete. It's a relatively easy walk with only a few steps to climb, making it suitable for all fitness levels. However, getting to the entrance from the parking lot is pretty steep!
The entrance fee is only €3 per person (€2.5 if you have a guest card) so even though the gorge is small, it's definitely worth a visit.
It's also an amazing place to visit if you happen to be there on a rainy day – personally, I think it's even more magical when it rains!
Parish Church of St. Sebastian
After exploring Wimbachklamm, head back to your car and drive to the cute little town of St. Sebastian. This town is located in the shadow of the Watzmann mountain, and its main claim to fame is its beautiful parish church.
Set on the Ache River, the church is a true photographer's dream with its picturesque setting. You'll find a wooden bridge right in front of the church, which makes for the perfect photo opportunity.
The church itself is also quite beautiful, and it's definitely worth taking a look inside. There are not many things to do in the town other than visiting the church so this will be a short but very scenic stop on your Berchtesgaden itinerary.
Zauberwald
Located a 15-minute drive from Berchtesgaden town or a 5-minute drive from the Parish Church of St. Sebastian, Zauberwald is a great place to stretch your legs.
The name Zauberwald translates to "magic forest" and it definitely lives up to its name. This is one of the most scenic places in the area, and it's the perfect place to go for a peaceful walk in nature.
Boasting a beautiful forest track and spectacular scenery, you can easily spend a couple of hours in Zauberwald.
If you complete the full trail, it will take you along a river and through the forest, before arriving at the turquoise-colored Hintersee lake.
There is no entrance fee so even if you don't want to hike the whole trail, it's still worth a visit for a shorter walk in the stunning scenery.
Hintersee
Hintersee is one of the most scenic lakes in the Bavarian Alps and since it's located right next to Zauberwald, it's the perfect place to end your 3-day Berchtesgaden itinerary.
You can reach it on the forest track that runs through Zauberwald, and then there's a themed trail that will take you all the way around Hintersee.
If you don't want to walk all around the lake, then you can get back into your car and stop at any of the designated parking lots around the shores.
I recommend this one as it's close to the famous photography spot and also Café Gelfart, where you can enjoy a delicious slice of cake or an Apfelstrudel with a view.
You can also hire a boat and go for a row on the lake (if the weather is good), or just enjoy a picnic by the water. Whatever you do, the scenery is guaranteed to take your breath away!
---
Related Posts
Want to read more about Germany?
---
Pin It for Later!