If you're looking for an incredible travel experience, then you simply must visit Neuschwanstein Castle in Bavaria, Germany.
This fairytale castle is one of the most popular tourist destinations in all of Europe, and it's not hard to see why! With its stunning architecture and idyllic location nestled among the mountains, Neuschwanstein is a must-see for any traveler.
In this guide, I'll tell you everything you need to know about visiting Neuschwanstein Castle, from how to get there to what to do once you arrive. So read on and start planning your adventure today!
*Disclosure: This post contains a few affiliate links, which means I may receive a small commission, at no cost to you, if you make a purchase through my link.*
No time to read now? Pin it for later!
History of Neuschwanstein Castle
Neuschwanstein Castle was built at the request of King Ludwig II who was the king of Bavaria from 1864 until his death in 1886.
He spent his entire childhood in the Hohenschwangau castle (which was rebuilt by his father) and he was always obsessed with fairytales. Therefore the people of Bavaria often called him Swan King, Fairytale King, or even Mad King.
Once he became king he decided to build himself a true fairytale castle. The construction of Neuschwanstein Castle began in 1868 and it was originally designed to have more than 200 rooms. Unfortunately, the construction of the castle was never finished.
King Ludwig was found dead a few weeks after he moved into his new castle in 1886. By this time only 15 of the room were finished and the funds for the project has been immediately cut.
His death remained a mystery until this day – many people think he committed suicide and others think it was murder. Guess we will never know the truth.
Two months after his death Neuschwanstein Castle was opened up to the public and it quickly became one of the world's most famous castles.
Neuschwanstein Castle usually features on the top of everyone's Germany bucket list and as a consequence, it's the most visited tourist attraction in the country that usually receives 1.3 million visitors every year.
The fairytale design and the breathtaking surroundings inspired many talented artists, including Walt Disney. Both Cinderella's castle in the 1950 movie and the Sleeping Beauty Castle in Disneyland were modeled after Neuschwanstein Castle.
After seeing some pictures of this beautiful castle you can't blame him for that, can you? If you're interested in visiting more fairytale castles in Germany read this article about the most impressive castles in Thuringia!
Best Time to Visit Neuschwanstein Castle
As Neuschwanstein Castle is one of the most beautiful fairytale castles in Europe no matter when you visit it, it will be an unforgettable experience. I've seen many different photos of this fairytale castle and it looks gorgeous every season!
Late spring and summer are great times for visiting if you want to see the castle with a lush green backdrop. Spring can be a bit rainy but it's less crowded than the summer months.
As I've said before, Neuschwanstein castle is the most visited spot in Germany and summer is the absolute peak season in tourism.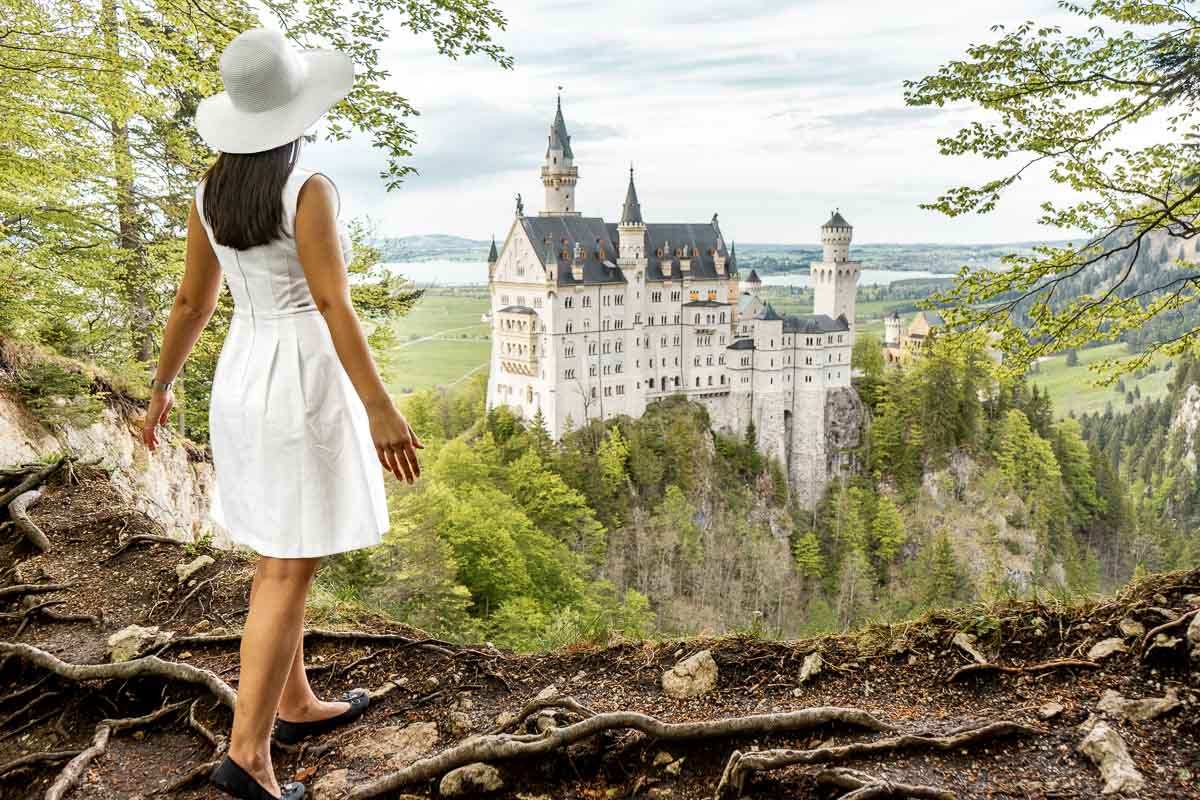 Fall is one of the best times for visiting Neuschwanstein castle. The surrounding area looks breathtaking in fall colors! September and October are some of the driest months and the temperature is still mild. As the summer crowds are already gone, fall months also tend to be quieter.
I know Neuschwanstein Castle looks incredible when it's covered with bright white snow but visiting in winter can be really tricky. First of all, the temperature is really cold, it gets below freezing from late November to mid-April.
Most of the hiking trails are closed due to the snow and ice and since the castle sits on top of a hill it's not so easy to reach either. However, if you are mostly interested in seeing the interior of Neuschwanstein Castle, winter can be still a great time for visiting without the crowds.
How to Get to Neuschwanstein Castle
Neuschwanstein Castle is located near a little town called Hohenschwangau in the Bavaria region (South Germany), close to the Austrian border. The castle itself is nested at the foot of the Bavarian Alps so a drop-dead gorgeous view is guaranteed.
Step 1: Getting to Hohenschwangau
Unfortunately, there are no direct flights to the area. If you plan to arrive by plane you need to fly to Munich (Germany) or Innsbruck (Austria).
The easiest way to reach Neuschwanstein Castle from Munich is by driving. You can rent a car at the Munich Airport and you need to drive 150 km (93 miles) which takes around 1h 45min.
If you are not comfortable with driving then public transportation and organized tours are also available. For more information check out my detailed guide about how to get to Neuschwanstein Castle from Munich!
Innsbruck is actually closer to Neuschwanstein Castle than Munich. Although there is no public transportation available your only option is to rent a car. You have to drive 115 km (71 miles, around 1h 35min) to reach Neuschwanstein Castle from Innsbruck.
Keep in mind that you need to cross the Austrian-German border during your trip! Therefore you need to notify your rental company in advance that you will leave the country.
Step 2: Getting up to the Neuschwanstein Castle
After you arrived at Hohenschwangau you need to find the path that leads up to Neuschwanstein Castle.
Actually, there are more starting points, you can see the official map right below. It takes around 30-40 minutes to reach the castle from Hohenschwangau on foot. You need to walk up on a steep uphill road for like 1.5 km (0.9 miles) so be prepared with comfy shoes!
Cars and bicycles are not allowed on the road to the castle, however, you can take a shuttle bus that departs from the Hohenschwangau Palace.
The bus can't go directly to the castle so it will drop you off around the Marienbrücke (Mary's Bridge) from where you still need to walk 10-15 minutes downhill.
Prices for the shuttle: €3 for the uphill trip and €2 for the downhill trip, or €3.5 for a return trip.
You can also choose to go up with a horse-drawn carriage. It won't take you to the castle either, you need to walk 5-10 minutes uphill from the ending point of the ride. Tickets can be bought at the horse carriage driver, the uphill ride costs €8, and the downhill ride is €4.
As I don't support this kind of animal tourism I would politely ask you not to use this service! Walking up there is not that bad and the views you get along the way will definitely make you up for your burning thighs.
If you can't walk for some reason it's still cheaper (and a lot more ethical) to take the shuttle bus. So please choose wisely!
Where to Stay Around Neuschwanstein Castle
You can easily visit Neuschwanstein Castle on a day trip from either Munich or Innsbruck. Munich is a really great base to explore the nearby area so if you have to choose between the two I would definitely recommend Munich!
If you choose to stay in Munich you might be interested to read a post about how to spend one day in Munich or the best day trips from Munich!
Although the castle can be easily reached from the two above-mentioned cities, I would still suggest staying near Neuschwanstein Castle for 1 or 2 nights. This way you can spend more time in the area which I highly recommend!
There are 3 towns nearby where you can stay if you want to stay close to Neuschwanstein Castle. Below you can see my top picks for each town for every budget.
Hohenschwangau
If you wish to stay as close to Neuschwanstein Castle as possible then Hohenschwangau is your best option. No matter which accommodation you choose, you can reach the path that leads up to the castle within a few minutes.
Check out all the hotels in Hohenschwangau here!
LUXURY – Hotel Villa Ludwig und Chalet
This 4-star hotel is set directly beneath Neuschwanstein Castle. The hotel was newly opened in December 2012 and all rooms have free WiFi, wired internet, a flat-screen satellite TV, and a balcony, while some have a view of Neuschwanstein Castle.
MID-RANGE – Hotel Müller
This hotel is located between Neuschwanstein Castle and Hohenschwangau Castle on the Romantic Road. Hotel Müller offers elegant rooms and a Bavarian-style restaurant. Some rooms have a balcony or terrace offering a view of the nearby castles.
BUDGET – Hotel Garni Schlossblick
With some rooms offering wonderful views of the Neuschwanstein and Hohenschwangau castles, this traditional hotel is just a 5-minute drive from Füssen and the Austrian border.
Schwangau
The second closest town to Neuschwanstein Castle is Schwangau. The distance between the two is 2.5 km (1.5 miles) so even if you don't have a car you can easily walk or bike. You can find more options here but don't expect hundreds of hotels.
Check out all the hotels in Schwangau here!
LUXURY – Hotel Das Rübezahl
This 4-star-superior hotel in Schwangau offers great views of the Neuschwanstein and Hohenschwangau castles, a modern spa and beauty area, and a gourmet restaurant serving regional food.
MID-RANGE – Hotel Weinbauer
Hotel Weinbauer is a traditional hotel peacefully and centrally located in Schwangau, 1.5 km (0.9 miles) from Neuschwanstein and Hohenschwangau Castles. Built in 1865, the cozy hotel is decorated with frescoes. Breakfast is served on-site.
BUDGET – Casa Patrizia
These spacious and modern apartments lie between Füssen and Schwangau in the Bavarian Alps. All apartments at Casa Patrizia feature a fully-equipped kitchen, living room, large bedroom, and bathroom.
Füssen
Füssen is the third option to stay close to Neuschwanstein Castle. The distance is 5 km (3.1 miles) so technically you can still walk but having a car or a bike is much better.
You can also call a taxi if you don't have your own car and it will take you to Hohenschwangau within a few minutes. Check out all the hotels in Füssen here!
LUXURY – Hotel Sommer – Urlaubs- und Wellnesshotel
Located on the shores of Forggensee Lake, this 4-star spa hotel offers regional cuisine and great views of Neuschwanstein Castle and the Alps. An extensive spa area with various saunas, steam rooms, and indoor/outdoor swimming pools are available.
MID-RANGE – Hotel Hirsch
This family-run hotel lies in the heart of Füssen, within a 10-minute drive of Neuschwanstein and Hohenschwangau Castles. The stylish rooms at the Hotel Hirsch Füssen are individually furnished and feature Bavarian antiques. All rooms include a flat-screen TV and a private bathroom.
BUDGET – Hotel Ludwigs
Located directly in the pedestrian zone in Füssen's old town, this traditional hotel offers free WiFi. It is 500 m from Füssen Train Station, and 5 km from Neuschwanstein Castle. Hotel Ludwigs provides bright rooms with wooden floors, elegant fabrics, and chandeliers.
Tickets for Visiting Neuschwanstein Castle
Visiting the hiking trails and the surrounding area of Neuschwanstein Castle is completely free. However, if you wish to see the castle from inside you will need to buy an entrance ticket for that.
Neuschwanstein Castle can only be visited with a guided tour that lasts for like 30 minutes. The adult tickets cost €15 and you will receive them with a fixed entrance time. Make sure to allow yourself enough time to get up to the castle otherwise your ticket will lose its validity and it can't be refunded.
The tickets can be only bought at the Ticket Center in Hohenschwangau. Yes, that means that you can't buy them at the entrance of the castle! So don't try to show up without a ticket because you won't be allowed to enter the castle at all.
And since you need to walk around 30-40 minutes from the Ticket Center to the castle on an uphill road, it can be a really unpleasant surprise if you are not prepared for it.
However, you can reserve the tickets in advance and if you plan to visit in high season I really recommend doing so! In this case, you will have to pay an additional €2.5 as a handling fee.
You can reserve the tickets up to 2 days before visiting and you can collect them on the day of your visit. Keep in mind that you can't print them at home so you must collect them at the Ticket Center!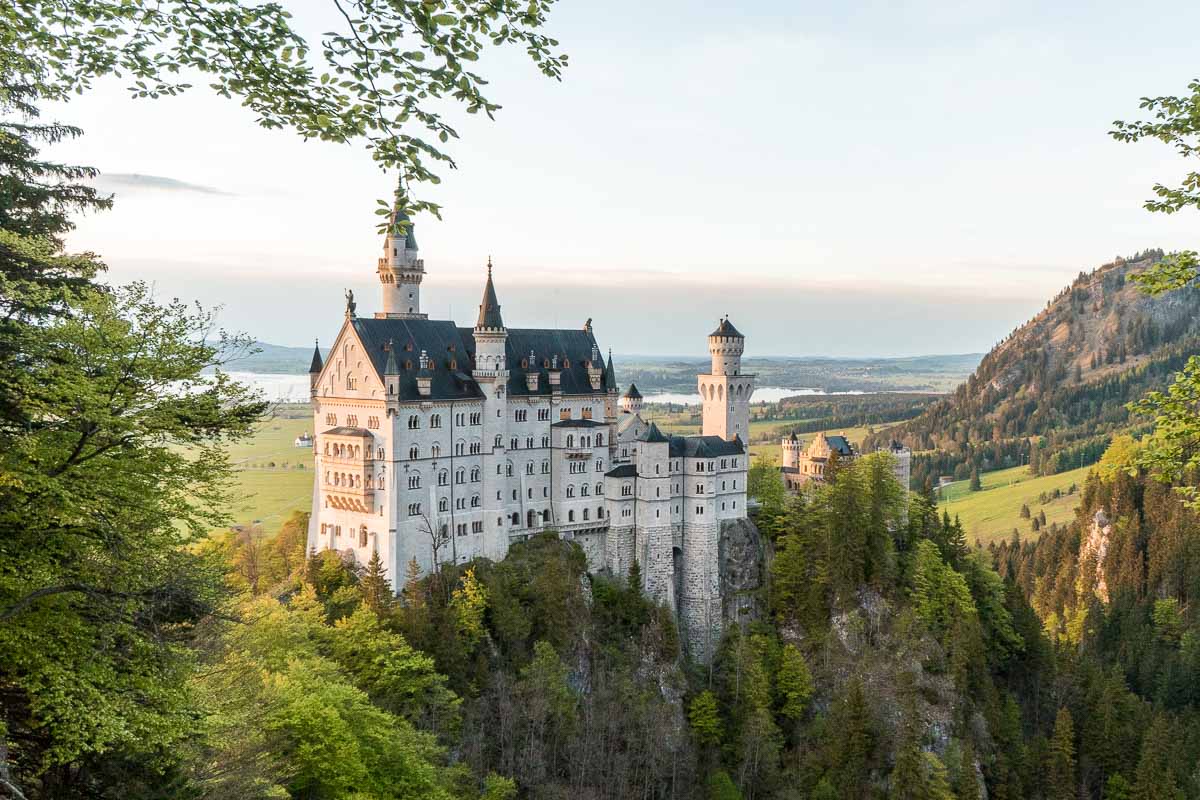 Best Things to Do Around Neuschwanstein Castle
Marienbrücke (Mary's Bridge)
As I said before, walking up to the castle takes like 30-40 minutes from the town of Hohenschwangau. But the hiking trails don't stop at the castle, you can venture further up on the hill to find some unique viewpoints of the castle.
If you are looking for that iconic castle view, you have to visit Marienbrücke for that!
But there are many other, not-so-known viewpoints around the castle. If you are curious about them, check out the list I've put together about the best viewpoints at Neuschwanstein Castle!
Hohenschwangau Castle
Remember the stories about the childhood home of King Ludwig II? If you are already in the area it's worth checking out the Hohenschwangau Castle as well!
The adult tickets cost €21 and the same conditions apply to them as for the tickets to Neuschwanstein Castle.
Linderhof Palace
Bavaria is full of fairytale castles and palaces and Linderhof Palace is also one of the most famous places in the area. It is located 60 km (37 miles) from Neuschwanstein Castle so you can easily reach it within an hour by car.
The visit to the palace is only possible with a guided tour, the adult ticket costs €10.
Garmisch-Partenkirchen
All the alpine towns in the Bavaria region have their own charm but Garmisch-Partenkirchen was one of my favorites! The town lies near the Zugspitze and the breathtaking views combined with the cute cobblestoned streets make this town a must-visit place on your Bavaria trip.
It takes around 35 minutes to reach the Linderhof Palace or a little more than an hour if you start from Hohenschwangau.
Zugspitze
With its 2,962 meters (9,700 ft) height Zugspitze is the highest peak in Germany. It lies south of Garmisch-Partenkirchen and the Austrian-German border runs through its western summit.
You can take a cable car or a cogwheel train to go up to the top, although be prepared for the prices – the tickets cost €63 per person!
Eibsee
Eibsee is one of the most beautiful lakes in the whole Bavaria region! It lies at the foot of the Zugspitze so the scenery is just simply breathtaking. Eibsee is a true paradise for nature lovers – you can walk around the lake, hire a boat or just simply admire the stunning landscape.
You can reach the lake in 1.5 hours from Hohenschwangau but you can easily organize a day trip from Munich to Eibsee as well.
---
Planning a trip to Germany?
Then you might want to take a look at all our other travel guides about Germany. I promise, they are just as awesome as this article was!
---
Pin It for Later!