Germany is estimated to have at least 15,000 lakes throughout the country, so there are plenty of beautiful destinations to visit. However, it's often the iconic Lake Königssee in Bayern, Germany that steals the show!
Situated near the charming mountain town of Berchtesgaden, this beautiful lake is surrounded by striking mountain peaks and lush forests.
Whether you're looking to visit as a day trip or you'd prefer to spend a couple of nights here, this is a place you don't want to miss.
So let's take a look at what you need to know before visiting Königssee Lake!
*Disclosure: This post contains a few affiliate links, which means I may receive a small commission, at no cost to you, if you make a purchase through my link.*
No time to read now? Pin it for later!
How to Get to Lake Königssee
From Berchtesgaden to Königssee Lake
By car
The town of Berchtesgaden is just an 8-minute drive from Lake Königssee, so is where many people choose to base themselves.
Visiting Lake Königssee is definitely one of the best things to do in Berchtesgaden but there are also lots of other interesting destinations nearby. If you're planning to explore more of the Bavarian Alps, then I'd recommend hiring a car that allows you plenty of flexibility when it comes to visiting Königssee!
There is a huge parking lot near the boat docks where you can park your car. Although it has lots of space, it can fill up pretty quickly due to the popularity of Königssee Lake and other nearby attractions so it's best to arrive early.
You can either buy a 1-hour ticket for €3, a 3-hour ticket for €7, or a daily ticket for €8. If you receive a Berchtesgaden guest card from your hotel, the prices will be as follows: €2 for 1 hour, €5 for 3 hours, and €6 for a daily ticket.
I would recommend getting the daily ticket since exploring the lake will probably take more than 3 hours (the round-trip boat ride alone is around 2 hours).
Make sure to have cash with you as the parking automat only accepts coins (this is very common in this part of Germany). If you don't have enough coins, there is a coin automat on site where you can exchange notes for coins.
The parking lot is located 600 meters (2,000 ft) from the shores of Königssee Lake so you will have to walk for around 5-10 minutes to reach the docks where you can buy your tickets (if you haven't bought them online yet).
By bus
If you'd prefer not to hire a vehicle then you can catch the bus from Berchtesgaden instead. It takes around 10 minutes to reach the lake and you can use either bus 841 or bus 842.
You can check the timetable by clicking on the below button – you have to search for lines from 'Berchtesgaden Hbf' to 'Königssee, Schönau a. Königssee'.
From Salzburg to Königssee Lake
If you're heading to Lake Königssee from Salzburg then you've got a couple of options!
The first option is of course public transport as you can catch the No. 840 bus to Berchtesgaden. The journey takes around an hour, and from there you'll need to catch another bus to Königssee (please refer to the section above).
There's also a train that runs from Salzburg to Berchtesgaden which takes around 1.5 hours and you'll be treated to spectacular scenery along the way. From there, you can take one of the transport options that I've previously mentioned.
You'll also find plenty of day-tour options from Salzburg where you'll get to see the lake including this tour of Berchtesgaden and Königssee or this Half-Day Tour of Berchtesgaden.
A word of warning though: although these tours include a stop at the lake, none of them offers enough time to actually take a boat ride and visit other parts of the lake, which is the highlight of Lake Königssee.
Without a doubt, hiring a car is by far the easiest way to travel. The journey takes around 45 minutes but since Salzburg is located in Austria, you will have to cross the border so make sure your rental allows this.
From Munich to Königssee Lake
If you're traveling to Lake Königssee from Munich then you can either catch the train or bus to Berchtesgaden and then continue on to the lake.
The train is generally the most popular option as it takes around 2.5 hours, although a changeover is often required.
You can choose to catch a bus to Berchtesgaden but the journey will be much longer – up to 4 hours in some cases! This won't matter too much if you're staying overnight, but won't leave you with much free time if you're heading there for the day.
Another popular option is to take a tour from Munich like this full-day tour of Königssee although it's only suitable for groups of four or more. On the bright side, unlike the tours from Salzburg, this one leaves you enough time to actually take a boat ride on the lake and explore various sites along the shores.
Similar to Salzburg, the easiest option to reach Königssee Lake from Munich is to rent a car. The drive will take around 2 hours one way but in this case, you don't need to cross any borders.
Where to Stay near Königssee Lake
If you're planning to visit Lake Königssee then one of the best places to stay is Berchtesgaden. It's just an 8-minute drive from this popular attraction and there are plenty of awesome accommodation options.
This includes Kempinski Hotel Berchtesgaden (luxury option), Hotel EDELWEISS Berchtesgaden (mid-range option), and Hotel Grünberger (budget option).
However, if you want to stay closer to the lake then here are some other fantastic options.
LUXURY – Chalet Watzmann
Chalet Watzmann offers two separate apartments; Apartment Watzmann and Apartment Königssee. Both of them feature a private sauna, panoramic views of the surrounding area, and a private terrace area. If you decide to stay here, not only will you be close to Lake Königssee, but you'll be treated to underfloor heating, an open fire, and a rain shower!
MID-RANGE – Alm- & Wellnesshotel Alpenhof
This beautiful hotel is situated just 1.9 km (1.2 miles) from Königssee Lake. Boasting a spectacular mountain backdrop, gorgeous suites, and fantastic facilities; Alm & Wellnesshotel Alpenhof has so much to offer! During your stay, you'll benefit from an indoor & outdoor swimming pool, a sauna, a jacuzzi, an on-site restaurant, and a bar.
BUDGET – Almhotel Grünsteinblick
If you're looking for a budget option then make sure you check out Almhotel Grünsteinblick! With authentic rooms, an outdoor swimming pool, and an on-site restaurant, this place has all you could need. There's also a sun terrace, a bar, and a garden area where guests can relax and enjoy the views!
Best Time to Visit Lake Königssee, Germany
The most popular time to visit Lake Königssee is generally the summer months of July and August. This is when temperatures are at their highest, as they can reach between 20-24°C (68-75°F).
Although the temperatures are pleasant during this time of year, you'll also experience plenty of crowds.
For a quieter experience, I'd recommend heading there in May, June, or September. Although the temperatures will be cooler, you won't have to fight against the crowds on the boat or at the stop-off points.
This will give you more time to explore the area rather than queuing up for the boat!
Lake Königssee can also be visited during the winter months, however, from mid-October to the end of April, the boats only run between the boat docks and St. Bartholomä.
They don't go all the way to Salet which means you won't be able to visit the famous boathouses, the beautiful Obersee, or Röthbach Waterfall.
Also, in the month of January and February, the temperatures can be so low that the lake can freeze. In this case, boats are not running for obvious reasons.
How to Visit Lake Königssee
Visiting Königssee Lake is actually a bit trickier than you would think as there are no trails or roads running beside the lake, therefore it's only accessible by boats.
The only exception is the northeast corner of the lake where the boat docks are located. This part of the lake is walkable and easy to reach, and also offers some fantastic viewpoints such as Malerwinkel or Rabenwand, if you're willing to hike a bit further up the mountain.
Other than that, the main way to visit Lake Königssee is by electric boat. What's really fascinating about these boats is that they've been operated electrically since 1909!
Getting your boat tickets for Lake Königssee
As for the tickets, you generally have two options: you can either buy them online in advance or you can buy them in person at the ticket booth located right by the docks.
If you opt to buy them on site, make sure to get there early as the queues can get pretty long, especially during high season. The ticket booth accepts both cash and card payments.
However, if you want to avoid the queues altogether, I would recommend buying your tickets online in advance.
Each boat can seat up to around 80 people but during the summer months, it's not unusual for them to be completely full so if you want to avoid any disappointment, this is the way to go.
When booking your ticket you have to set the exact date and departure time that you want to take the boat. This is very important because once you get your tickets, you can't change them!
The return time can't be set in advance meaning you can come back with any boat that has available seats.
You will receive your tickets via email and you will need to print them out or have them ready to show on your phone. With the ticket, you can go directly to the boat without having to queue up at the ticket booth.
Make sure to hold onto your ticket as you will need to show it again when boarding the return boat.
Lake Königssee boat timetable
The boats operate all year round but the timetables do change depending on the season.
There are 3 different boat schedules:
Early- and off-season: from April 23 to May 20, and from October 4 to October 16
Mid-season: from May 21 to June 24, and September 13 to October 3
High-season: June 25 to September 12
The first and last boats of the day generally depart as follows:
Early- and off-season: first boat departs at 9 am, last boat comes back at 5.10 pm
Mid-season: first boat departs at 8.30 am, last boat comes back at 5.40 pm
High-season: first boat departs at 8 am, last boat comes back at 5.40 pm
After the first boat, boats typically run at least every 30 minutes. In high season, they typically run more frequently due to the high demand.
Make sure you get on the last boat because there is no other way to get back to the parking lot except by boat! There is no accommodation along the lake and there are no roads or hiking trails, so in case you miss the last boat, you will have to call the water rescue with comes with a high fine.
Lake Königssee boat stops
All boats run on the same route and make the same stops along the lake.
The route goes as follows:
Königssee Seelände: departure point
Kessel (25 minutes): this is not a regular stop, the boat will only stop when requested (it's mostly used by mountaineers)
St. Bartholomä (35 minutes): this is the first stop where you can disembark the boat, home to a small church and a few cafes & restaurants
Salet (55 minutes): this is the end point of the boat trip, from here you can hike to Obersee and Rötback Waterfall
The boat will return on the exact same route. If you ride the boat all the way to the end and back, it will take around 2 hours in total.
You can get off from the boat at St. Bartholomä either on your way to Salet or on the way back. I would recommend doing the latter, especially if you're traveling on the first boat of the day.
Not only you can be among the first people to reach Salet and Obersee (more about it later) but most people will disembark at St. Bartholomä so you will be able to enjoy a quieter ride to Salet and less people at Obersee.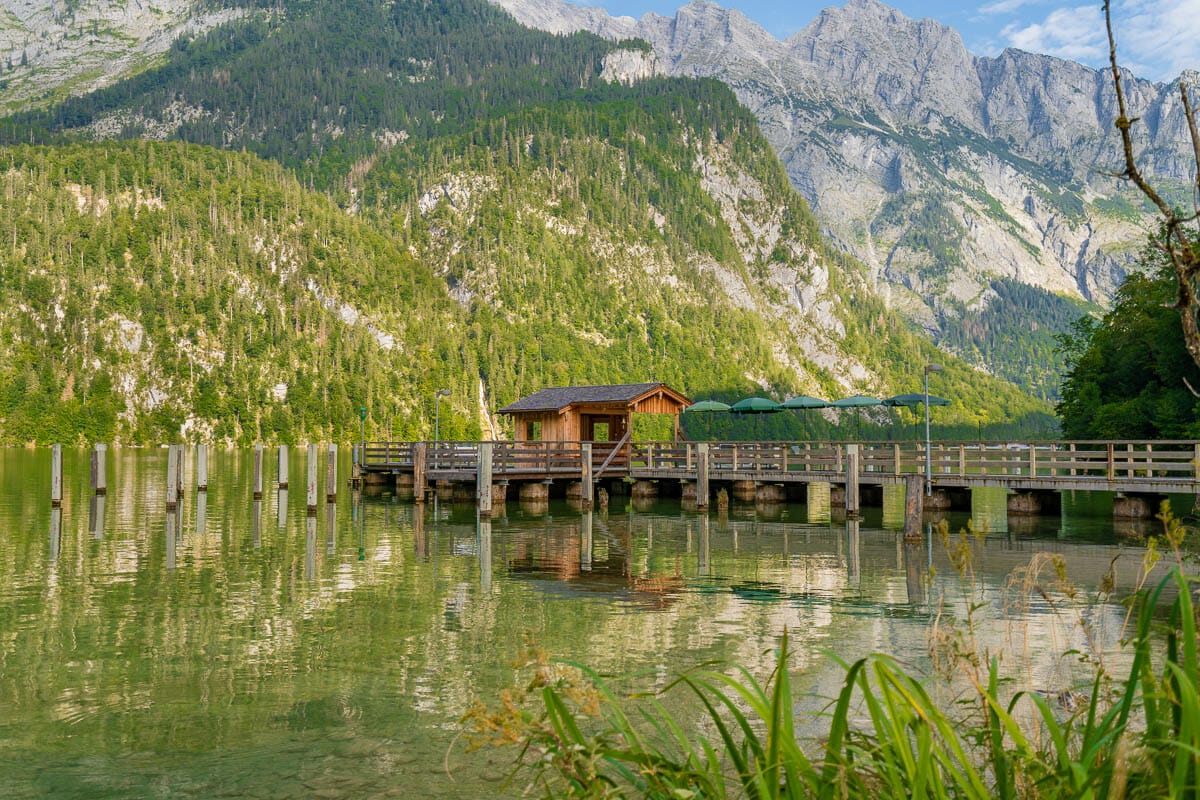 Ticket prices for the Königssee Lake boat tour
The boat prices are as follows:
Return ticket to St. Bartholomä: €20 (will increase to €22 in 2023)
Return ticket to Salet: €25 (will increase to €27.5 in 2023)
Children under 5 years old can travel for free and children aged between 6-17 will receive a 50% discount from the adult price. If you're traveling with a dog, you will have to pay an additional fee of €4 (which will increase to €5 in 2023) regardless of your end destination.
There are no discounts on guest cards so even if you have a Berchtesgaden guest card, you will still have to pay the full price for the boat ride.
What to expect on the boat at Lake Königssee
There are 19 electric boats in total that operate on Lake Königssee. From the outside, they look almost identical but some of them have different seating arrangements on the inside.
There are no seat assignments so seats are first come, first serve. Therefore it's best to be among the first in line to secure the best seats!
Also, the boats leave exactly on time so if you're not there when the boat is ready to depart, you will have to purchase another ticket if it's the onward journey or wait for the next boat if it's the return journey. Make sure to arrive at least 10-15 minutes before the departure time!
The electric boats are very comfortable and the whole trip is very smooth and relaxing, it almost feels like you're gliding on the water. It's such a magical experience!
There is also a guide on board who will provide commentary about the sights along the route. Normally he only speaks in German but if you ask, he will be happy to provide a summary in English.
Lake Königssee map
Below you can find a customized map that includes all important locations around Königssee Lake, including boat stops, transportation links, and attractions.
If you open up this post on your phone and you click on the bracket in the upper right corner of the map, it will open up in your Google Maps app so you can always have it with you. Super convenient, right?
Best Things to Do at Lake Königssee
Enjoy the panorama from the electric boats
One of the best things about Lake Königssee is that you can enjoy the stunning scenery from the comfort of an electric boat. This is definitely one of the highlights of the trip!
Make sure to secure a window seat so you can make the most of it. And if you can, try to be on the first boat of the day so you can enjoy the lake in all its tranquility.
It doesn't really matter which side of the boat you're sitting on because the whole lake is surrounded by towering mountains and both sides offer great views.
However, St. Bartholomew's Church is on the right side on the way to Salet so it might be a good idea to sit on that side if you're planning on snapping a few photos of the beautiful church!
Listen to the echo of the mountains
Just before reaching St. Bartholomä, the boat will stop for a few minutes so you can enjoy the echo of the surrounding mountains.
There is a sheer rock wall on the right side of the lake that is famous for its acoustic properties. The guide on the boat will ask everyone to be silent for a few seconds and then he will start playing his trumpet.
The sound will bounce off the rock wall and create a beautiful echo that will reverberate around the lake. It's a really surreal and unique experience!
Find the Instagrammable boathouse at Lake Obersee
When you reach Salet, you can disembark and explore the area on foot. There is a lovely walking trail that takes you to Lake Obersee in around 10-15 minutes.
Make sure to keep your eyes peeled for the charming boathouse that is located on the lake. It's a popular spot for taking photos so there might be a few people around but it's definitely worth a visit!
Actually, there is another boat house on the far side of the lake but it requires a little hike to get there so most people just stick to the one that's closer to Salet. It's located just 5 minutes from Fischunkelalm restaurant so it's the perfect place to have a little break after taking some photos.
Both boathouses offer great views of Lake Obersee and the surrounding mountains but if I had to choose, I would say the first one is slightly better in terms of photography.
Hike to the other side of Lake Obersee
Although Lake Obersee is a lot smaller than Lake Königssee, it surely makes up for it in terms of beauty!
The water is a gorgeous shade of turquoise and the mountain backdrop is simply stunning. It's definitely worth taking the time to hike around the lake and enjoy the scenery.
There is a well-marked trail that takes you to the other side of the lake. It's a fairly easy 2.6 km (1.6 miles) hike starting from the boat docks at Salet and ending at Fischunkelalm.
The walk takes around 1 hour but it's a really pleasant hike with some incredible views along the way. If you have some extra time, I would definitely recommend doing it!
Have a meal at Fischunkelalm
After your hike, make sure to stop by Fischunkelalm for some refreshments. This charming mountain restaurant is located right next to Lake Obersee and it's the perfect place to relax after a few hours of exploring.
The food menu is a tad bit limited and it only consists of bread with different toppings (usually butter, cheese, or ham). Although they are delicious, the real reason to come here is for the incredible views!
Make sure to grab a seat on the outdoor terrace so you can enjoy the scenery while munching on some bread.
And if you need something to drink, they serve fresh milk and buttermilk (made from raw milk), soft drinks, and beers as well.
Sadly they don't have any coffee which I really missed after my hike but other than that, it's a great place to take a break.
Visit Röthbach Waterfall
If you're feeling active, you can tap on another hike and visit Röthbach Waterfall which is located just a short walk from Fischunkelalm.
Röthbach Waterfall is the highest waterfall in the whole of Germany with an impressive height of 470 meters (1,541 feet). Actually, you can already see it in the distance from the other side of Obersee!
The hike to the waterfall is around 1.5 km (0.9 miles) from Fischunkelalm and it takes around 30 minutes to complete.
Please note that if you want to get directly to the bottom of the falls, you will need to tackle a steep and difficult part at the end of the trail.
We personally didn't do it as it looked quite dangerous and we were happy with the views from below but if you're feeling brave and have the proper equipment, go for it!
If you want to hike back all the way to the boat docks in Salet from Röthbach Waterfall, it's around 4.6 km (2.8 miles) and it will take you around 1.5 hours to complete.
Peek inside St. Bartholomew's Church
St. Bartholomew's Church is the first stop on the boat tour around Lake Königssee and it's definitely worth getting off the boat to take a look inside. However, as I mentioned before, I recommend stopping on the way back from Salet instead of on the way there.
It's a small Roman Catholic pilgrimage church that was first built in 1134. In 1754, the church was rebuilt in a Baroque style and it has since become one of the most popular tourist attractions in the area.
The interior of the church is quite simple but since admission is free, it's definitely worth taking a look inside.
And if you're feeling hungry after all that walking, there are a couple of restaurants located right next to the church. They serve traditional Bavarian food which is always a good option!
Hike to the Eiskapelle
Another great hike you can do in the area is to the Eiskapelle (Ice Chapel). Just to avoid confusion, it's not a real chapel, but rather a natural glacier cave which is located at the foot of Watzmann mountain.
The hike to the Ice Chapel is around 3 km (1.8 miles) from St. Bartholomew's Church and it takes around 1.5 hours to complete.
Due to the snow and ice, the trail is inaccessible during the winter months and it can also be closed before or after winter depending on the weather conditions.
Although the cave looks absolutely spectacular from the inside, make sure you take proper precautions as the trail and the cave itself can be quite dangerous.
It's important to have proper shoes and clothing! Even if you're hiking in the summer months, it's always a good idea to bring a jacket as the temperature inside the cave can be quite low and you can also come across some snow at the end of the trail.
Take a dip in Königssee Lake
If you're visiting during the summer months, you'll be pleased to know that you can actually go for a swim in Lake Königssee!
As with other mountain lakes, the water is freezing cold so make sure to manage your expectations. Even in the hottest period of the year, the water temperature barely reaches 20°C (68 °F) so it's definitely not for everyone.
In case you're up for the challenge, the only thing you need to be aware of is not to swim close to the boats as they might not see you. Other than that, enjoy the refreshing water and the stunning views!
Take in the views from Rabenwand
No trip to Königssee is complete without hiking up to Rabenward! It's just a 30-minute walk from the boat terminal and the hike starts near the entrance to the dock.
The trails are clearly signposted so you just have to follow them up to the viewpoint. You'll reach Malerwinkel first and then if you continue a bit further you'll come to Rabenward.
From here, you'll get breathtaking views of Lake Königssee and its surrounding mountains so make sure you've got your camera with you! You'll also want to spend some time up here just taking in the beauty of the area.
Just be wary of the trail as the route is rocky and can be extremely slippery so make sure you've got suitable footwear.
Tips for Visiting Lake Königssee, Germany
Wear proper shoes
Many of the designated stop-off points on Lake Königssee offer you the chance to explore the area by trails. Although most of them aren't located at the lakeside it's definitely worth taking a hike during your time here.
However, the terrain can be challenging with uneven surfaces, exposed roots, and slippery rocks so make sure you've got good-quality footwear.
Have cash with you
Many places in the area won't accept card payments so you need to have cash on you at all times. This is especially the case at the restaurants in Salet and St. Bartholomew!
Otherwise, you'll be going without food and drink which isn't ideal. I'd also recommend keeping some small changes on you too rather than just big notes.
Download Google Maps offline
The phone signal is incredibly spotty in this area – in fact, you'll be lucky if you get any signal at all. It all depends on your provider!
To be on the safe side, I'd recommend downloading Google Maps offline. This means you'll know exactly where you are, and you won't have to rely on the sketchy signal.
Try to catch the first boat
There are plenty of things to do in Königssee so for the best experience, make sure you grab the first boat. This will give you a full day to explore the stop-off points and hit some of the nearby hiking trails.
Depending on the time of year you visit, the boats can become increasingly crowded towards late morning/early afternoon so catching the first boat is also ideal if you want to avoid the crowds.
Make sure to buy a return ticket to Salet
When you're buying your boat ticket make sure you purchase a return ticket to Salet! It's arguably the most beautiful part of the lake and also offers many great hiking trails.
Also, getting a return ticket to St. Bartholomew is just slightly cheaper and you won't get the full experience, so it definitely doesn't worth it.
Don't miss the last boat
As I mentioned before, it's impossible to hike or drive back to the boat terminal on the northern side of the lake and there is no possibility to stay overnight at any of the stops along the lake.
If you miss the last boat you'll have to be picked up by Wasserwacht Berchtesgaden (water rescue) although be prepared to pay a huge fine. Depending on the time of day you call them, you can expect to pay a fee between €250-520 for up to 5 people.
The departure of the last return boat depends on which season you visit but generally it's between 5-6 pm. It's best to check the timetable before your visit just to make sure!
Lake Königssee FAQ
What is special about Königssee Lake?
One of the things that make Lake Königssee so special is its crystal clear water. In fact, it's one of the clearest lakes in the world with a visibility of up to 30 meters (100 feet)!
Another thing that makes it unique is its location. Surrounded by mountains, it's one of the deepest and most beautiful mountain lakes in Germany.
How deep is Lake Königssee?
Lake Königssee is the deepest lake in Germany with a maximum depth of 190 meters (620 feet). To put that into comparison, this lake would cover some of Frankfurt's tallest skyscrapers including ONE, Omniturm, and the Grand Tower.
Is Königssee worth visiting?
Absolutely! If you're looking for a breathtaking place to visit in Germany, Lake Königssee should definitely be on your Germany bucket list.
Whether you're interested in hiking, swimming, taking a boat tour, or simply admiring the stunning views, there's something for everyone. So make sure to include Lake Königssee in your Berchtesgaden itinerary!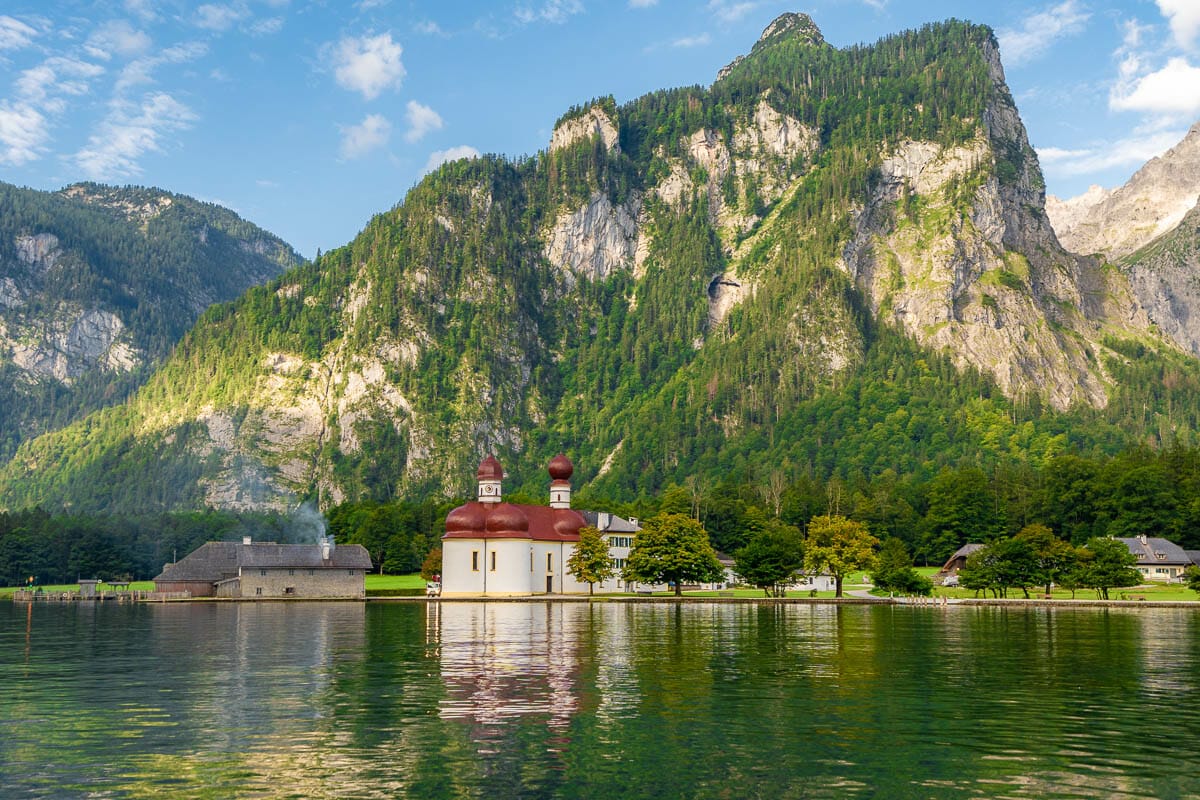 How do I get to Lake Königssee?
Lake Königssee is located in the Berchtesgaden National Park in Bavaria, southern Germany. The nearby town of Berchtesgaden is easily reachable by car or by public transport from the likes of Salzburg or Munich.
From Berchtesgaden, you can drive to the lake in 8 minutes or you can hop on a public bus. Walking is also an option but you will have to budget an hour for the journey.
Is there an entrance fee for Lake Königssee?
No, there is no entrance fee to visit Lake Königssee. However, if want to properly explore the lake, you'll have to pay for the boat tour which takes you to St. Bartholomew's Church and Salet, from where you can access other attractions in the area.
How do you explore Königssee?
The best way to explore Lake Königssee is by heading to the boat terminal and taking a boat out onto the lake. This will allow you to admire the breathtaking scenery, and stop off along the way at designated stops.
You can view the lake from near the terminal, but you won't get to fully appreciate its beauty from there.
Can you hike around Königssee?
Walking around the whole of Königssee isn't possible as there aren't any trails or roads that run beside the lake.
The only place that's easy to access is Malerwinkel (otherwise known as Painter's Corner). Other areas around the lake are only accessible to extremely experienced hikers due to the lack of trails and challenging terrain.
Can you swim at Königssee?
You are allowed to swim at Königssee although be prepared for chilly temperatures! The water only reaches temperatures close to 20°C (68 °F) during long periods of hot weather, which can be uncommon as you'll be in the Alps!
Just keep in mind that the lake is extremely deep too, so make sure you don't overestimate your swimming abilities.
What happens if you miss the last boat at Lake Königssee?
You won't find any accommodation options at the designated ferry stops and camping is illegal as the lake is in Berchtesgaden National Park. For this reason, you don't want to miss the last ferry!
If you do, you'll be picked up by Wasserwacht Berchtesgaden (water rescue) although be prepared to pay a huge fee of up to €520.
Final Thoughts
Lake Königssee is one of the most beautiful places on earth. Surrounded by towering mountains and breathtaking scenery, this emerald-green lake is a true natural wonder.
Whether you're interested in hiking, swimming, or simply admiring the stunning views, there's something for everyone.
Have you ever been to Lake Königssee or any other beautiful lakes in Germany? Let me know in the comments below!
xoxo, Kriszti
---
Related Posts
Want to read more about Germany?
---
What Camera Gear Do We Use?
If you want to read more about what is in our camera bag, check out my detailed post about our travel photography gear!
---
Pin It for Later!