If you are planning to visit Jordan then floating in the Dead Sea must be on your Jordan itinerary. Although you can get in the water almost anywhere along the shore (except where you see that swimming is forbidden), a good hotel will help you to enjoy your stay to the fullest.
We chose to stay at the Hilton Dead Sea Resort & Spa and absolutely loved our stay! Here's my complete review of the hotel.
*Disclosure: This post contains a few affiliate links, which means I may receive a small commission, at no cost to you, if you make a purchase through my link.*
No time to read now? Pin it for later!
Basic Information
Arriving at the Hilton Dead Sea Resort & Spa
Location
Like most of the hotels around the Dead Sea, the Hilton Dead Sea Resort & Spa is also located on the northern shore of the sea. It's very easy to reach by car and they have a huge parking lot where you can park your car.
Unfortunately, there are not so many restaurants or shopping malls around this area. But luckily you absolutely don't need them as you can find anything you will possibly need within the hotel properties!
Lobby & Check-in Process
I'm usually super careful when it comes to booking accommodation, but I made a huge mistake and accidentally booked the Hilton Dead Sea Resort & Spa for the wrong date.
I made the reservation via booking.com and it was non-refundable, therefore I couldn't change it. It would have completely ruined my perfect Jordan itinerary so I was really nervous about it.
I contacted the hotel via email and they responded immediately and managed to rebook my stay for the correct day. Since I didn't book directly on their website they were not obligated to deal with my problem but they helped me anyway. I will be forever grateful for that!
Arriving at the hotel is already an amazing experience. The hotel lobby is gorgeous with a modern and elegant design. After we parked the car we were welcomed by a delicious strawberry juice at the concierge desk.
The check-in process went smoothly and although we arrived 2 hours earlier than the check-in time we could take our room immediately.
Rooms & Suites
Originally we booked a King Guest Room but during the check-in process were happy to hear that we were upgraded to a King Deluxe Room with a sea view! The room was huge with a king-sized bed and a stylish bathroom.
The bathroom was well equipped with everything you could possibly need: high-quality toiletries, towels, bathrobes, and a hairdryer.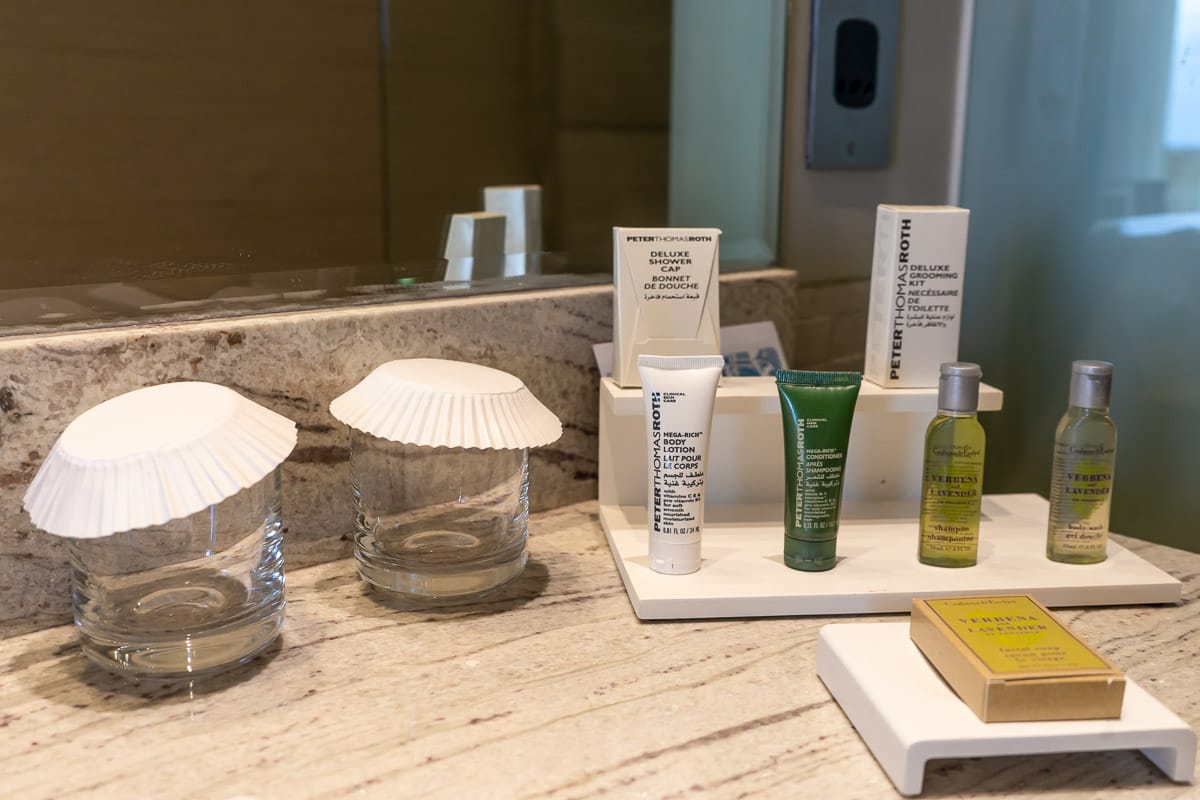 The room had a private terrace with an incredible view of the pool area and the Dead Sea. Sitting there and watching the sunset from our own terrace was an incredible experience!
Service & Facilities
Beach area
The Dead Sea is the lowest point on Earth and it is the deepest hypersaline lake in the world. It's almost 10 times saltier than the ocean, therefore you will rather float than swim in the water.
Although it's a really fun activity, there are some things you need to know before getting into the water. Check out my post about the 10 best tips for visiting the Dead Sea for more information!
The resort has direct access to the beach with a floating pontoon and sun deck. You can find some huge stone bowls filled with mud from the Dead Sea.
The mud is particularly rich in minerals like magnesium, sodium, and potassium. You can cover yourself with the mud from head to toe to be able to enjoy all its benefits!
Pool Area
It's not recommended to be in the water for too long due to its high salt content. Luckily there are many more pools in the resort that you can enjoy including a children's pool and an infinity pool.
Dining
There are seven restaurants and bars in the resort with amazing and high-quality food selections. We had dinner at the Lebanese restaurant and ordered chicken and beef shawarma.
The servings were huge and extremely delicious! After sunset, we sat outside with two yummy desserts and shisha and enjoyed the rest of the night.
But my absolute favorite part was the breakfast! I'm a huge fan of hotel breakfasts and I've been to several hotels in my life but the breakfast at the Hilton Dead Sea Resort & Spa was something entirely different! I was blown away by the huge variety of food. Everything was so fresh and delicious!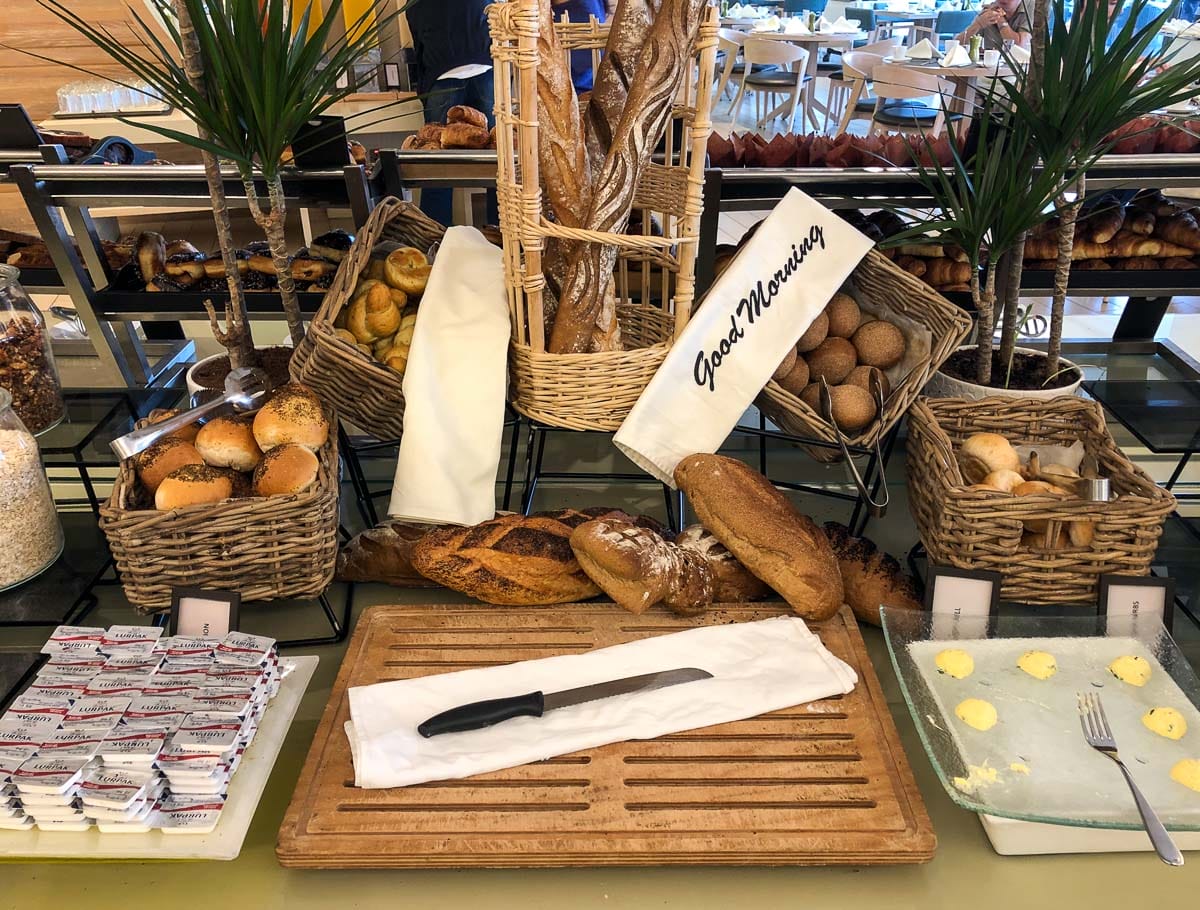 I had a hard time choosing among all the amazing options! In the end, I decided to have two breakfasts: one salty and one sweet. Both of them were super tasty!
The breakfast is served in the Spectrum located on the lower ground floor. You can take your breakfast outside the terrace and enjoy the view of the infinity pool and the Dead Sea while sipping your morning coffee.
Can you imagine a more perfect start to the day than this?
Final Thoughts
Our stay at the Hilton Dead Sea Resort & Spa was absolutely amazing. You couldn't possibly ask for a better location as you can directly access the Dead Sea within the hotel properties.
I was completely blown away by the internal design of the hotel and the food was extraordinary! If you want to see a video tour of our room and the breakfast selection head over to my Instagram highlights and check out the Jordan section!
I hope you liked this hotel review about the Hilton Dead Sea Resort & Spa and I managed to inspire you to visit Jordan and the Dead Sea! In case you want to visit the hotel you can check the latest prices and availability here!
If you have any questions feel free to leave a comment below or send me an email, I always love helping you out! Have you already visited the Dead Sea or is it still on your bucket list? Let me know in the comments!
xoxo, Kriszti
---
Planning a trip to Jordan?
Then you might want to take a look at all our other travel guides about Jordan. I promise, they are just as awesome as this article was!
---
Related Posts
Want to read more about Jordan?
---
What Camera Gear Do We Use?
If you want to read more about what is in our camera bag, check out my detailed post about our travel photography gear!
---
Pin It for Later!