Jordan is a true dream destination and one of the most diverse places I've ever visited. You can see lush green mountains, visit archeological sites, float in the sea and explore the desert, all within the same country! Are you excited yet? Here's the perfect itinerary for spending one week in Jordan!
If this will be your first time in Jordan I recommend reading my Ultimate Jordan Travel Guide first. In this post, you can find all the basic information you need to know before visiting Jordan!
*Disclosure: This post contains a few affiliate links, which means I may receive a small commission, at no cost to you, if you make a purchase through my link.*
No time to read now? Pin it for later!
How to Spend One Week in Jordan
Jordan is not a huge country, so spending one week in Jordan is the perfect amount of time to discover all the main sites. If you are short on time you can squeeze everything into 4 days by skipping Aqaba and shortening some of the programs. However, if you don't want to rush through the whole country, I would strongly recommend having one full week!
We arrived in Amman directly from Budapest and since we had our return flight from Amman as well, we did a circle road trip through Jordan on the following route: Amman – Petra – Aqaba – Wadi Rum – the Dead Sea – Jerash – Amman.
There is an airport in Aqaba as well so if you can catch a return flight from there you can visit all these sites in a one-way road trip from Amman to Aqaba. Alternatively, if you're planning to arrive from Israel and leave Amman, you can also do it on a one-way trip.
Day 1: Driving from Amman to Petra
How to get to Petra from Amman
If you arrive by plane you will land in the Queen Alia National Airport, located 25 km outside of Amman. Pick up your luggage and let's head down straight to Petra!
We decided to rent a car at the airport but you can hop on a bus or hire a private driver as well. If you also plan to rent a car, you have two options regarding the direction.
Either you can take the Desert Highway (Route 15) which is the quickest road or you can take the more scenic, but definitely longer King's Highway (Route 35).
The Desert Highway (as the name suggests) cuts through the desert without any interesting stops and it takes around 3 hours to get to Petra. If you are not in a rush and you are obsessed with dramatic landscapes, I'd suggest taking the famous King's Highway.
This is slightly longer in distance but because of the winding roads and steep climbs, the tour takes much longer in time (approximately 5 hours without stops). There are numerous stops along the road so it can easily take up a full day if you want to stop at every interesting site.
If you've decided to take the King's Highway, I would recommend stopping at at least two places. The first one is the Mujib Dam viewpoint where you can have a full panoramic view over the winding roads and the mountains.
The second one is Kerak Castle where you can also have an amazing view. Plus, if you have a Jordan Pass, it's free to visit!
Where to stay in Petra
Wadi Musa is the closest town to the ancient city of Petra so I would recommend staying here for 2 nights. Since it takes a long time to get to Petra from Amman, chances are you will arrive late afternoon or early evening.
You will not be able to visit Petra on that day, therefore you will need to stay at Wadi Musa for at least one night. Visiting Petra will take up a full day so it's better to stay for another night in Wadi Musa, get a good night's sleep and start again fresh in the morning.
Although the town is pretty big with many options to choose from, it's worth staying in a hotel which is close to the entrance of Petra. You can check all the accommodations in Wadi Musa here, or if you don't want to spend time searching, check out my recommendations below!
Day 2: Exploring the Ancient City of Petra
What to expect in Petra
The rose-colored city of Petra is one of the New Seven Wonders of the Modern World. No Jordan itinerary is complete without visiting this magical place!
The most famous spot is the Treasury, which you most likely know from the Indiana Jones and the Last Crusade movie. But there are many more interesting sites in Petra, so be prepared for a full day of exploring!
In order to visit Petra, you have to purchase either an entrance ticket to Petra or a Jordan Pass. If you want to spend only one day in Petra the ticket costs 50 JD ($70 US) per person.
However, you are better off with a Jordan Pass, since it's only 70 JD ($100 US) for one person and it already includes a one-day ticket to Petra and the mandatory visa for Jordan, which would cost 40 JD ($56 US) separately.
After passing through the Visitors Center, you will soon enter Petra through the Siq – a dim, narrow gorge created by natural rock formations. The gorge is approximately 2 km long and at the end of the trail it suddenly opens up and you will be rewarded with the most magnificent view: the Treasury!
Many people just want to visit the Treasury but I encourage you to explore more of Petra! It takes another 2.5 km to the end of the main trail and you will see many Nabatean ruins along the way. The path to the Monastery begins when the main trail ends. You have to climb up 800 stairs to reach the Monastery but it's totally worth it!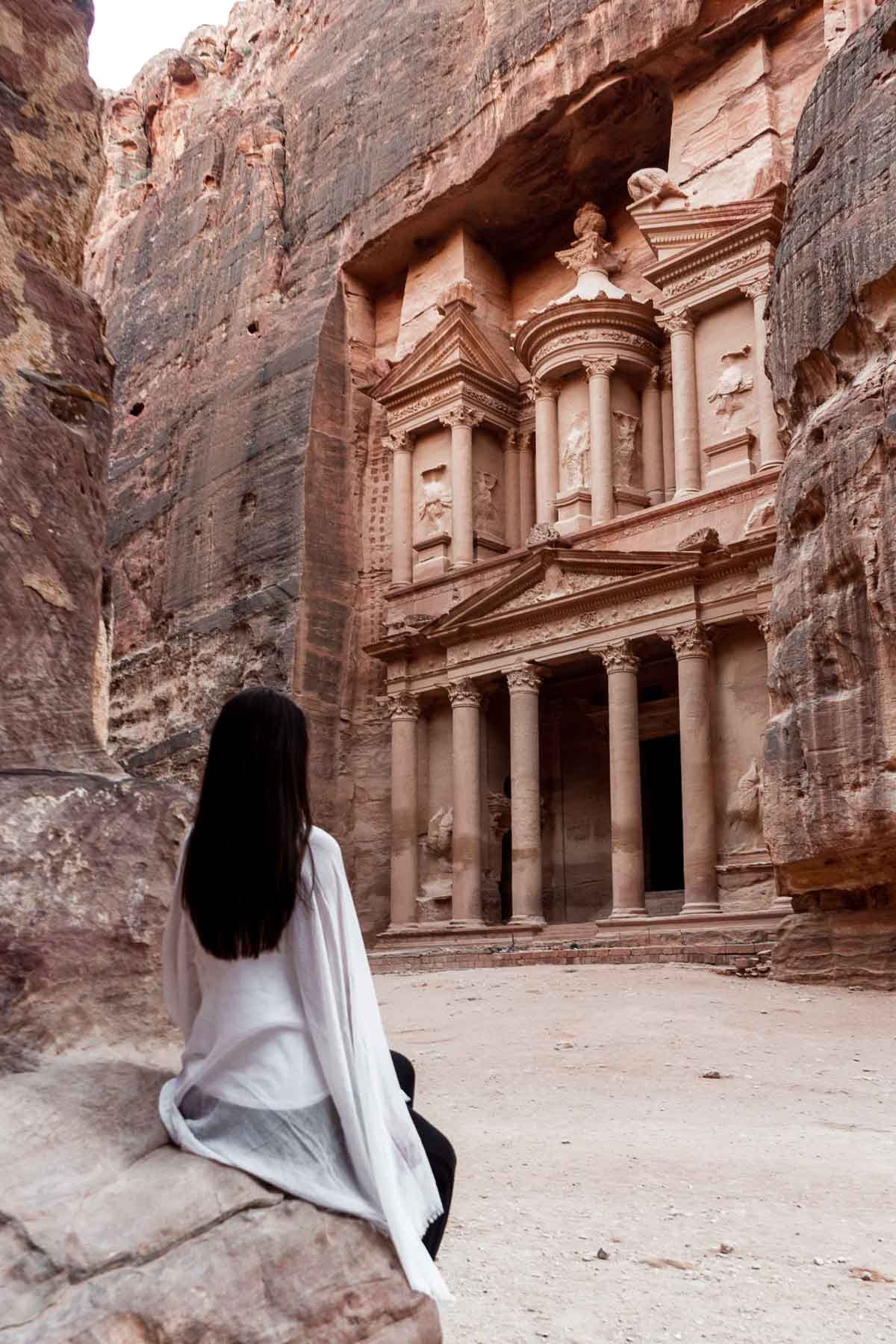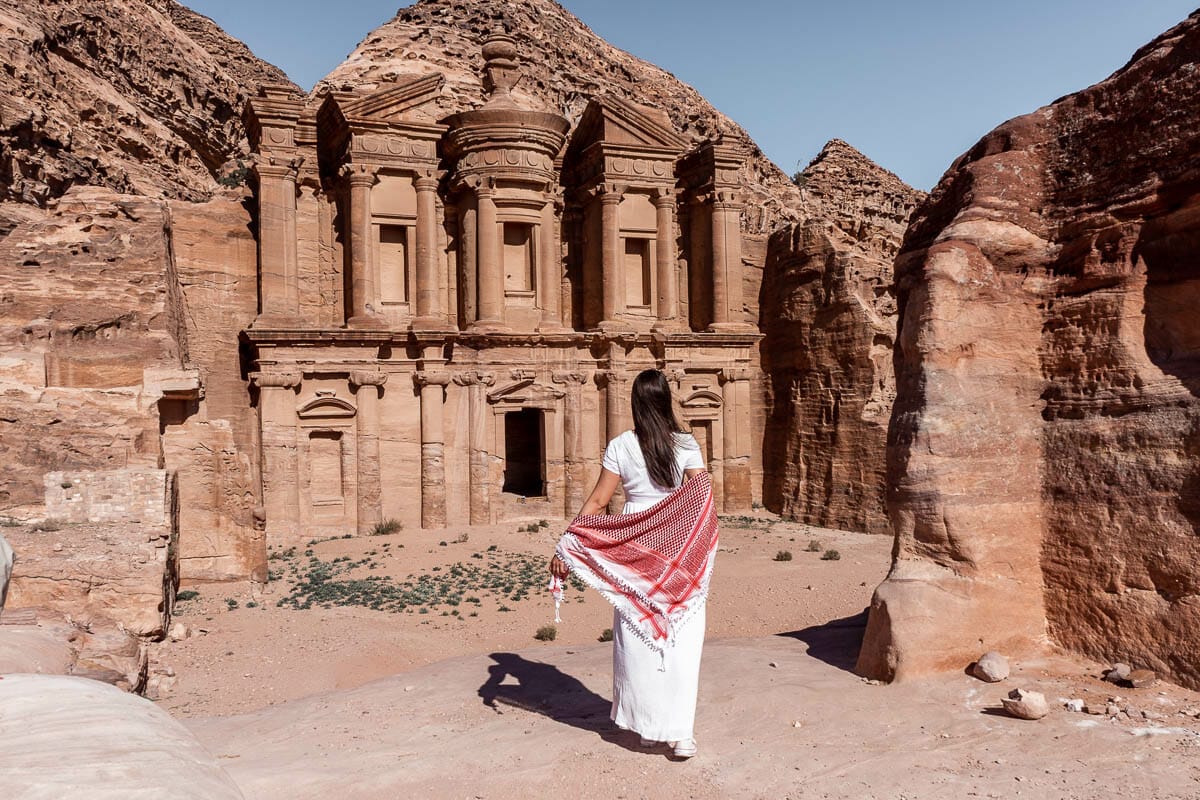 Viewpoint of the Treasury from above
Apart from the main road, there are two amazing viewpoints where you can climb up if you want to see the Treasury from above. And believe me, you don't want to miss out on that! The first viewpoint is only accessible with a local guide. Many bedouins will offer to take you up there, for money of course.
But there is another way! It's a bit longer to get up there but it's free and the view is incredible during the climb. We choose the second way and we didn't regret it.
If you want to do the same, check out my detailed post about the best viewpoint in Petra where I shared the step-by-step directions on how to reach this amazing place. If you want to find some other great photography spots, read my guide about the most Instagrammable places in Jordan!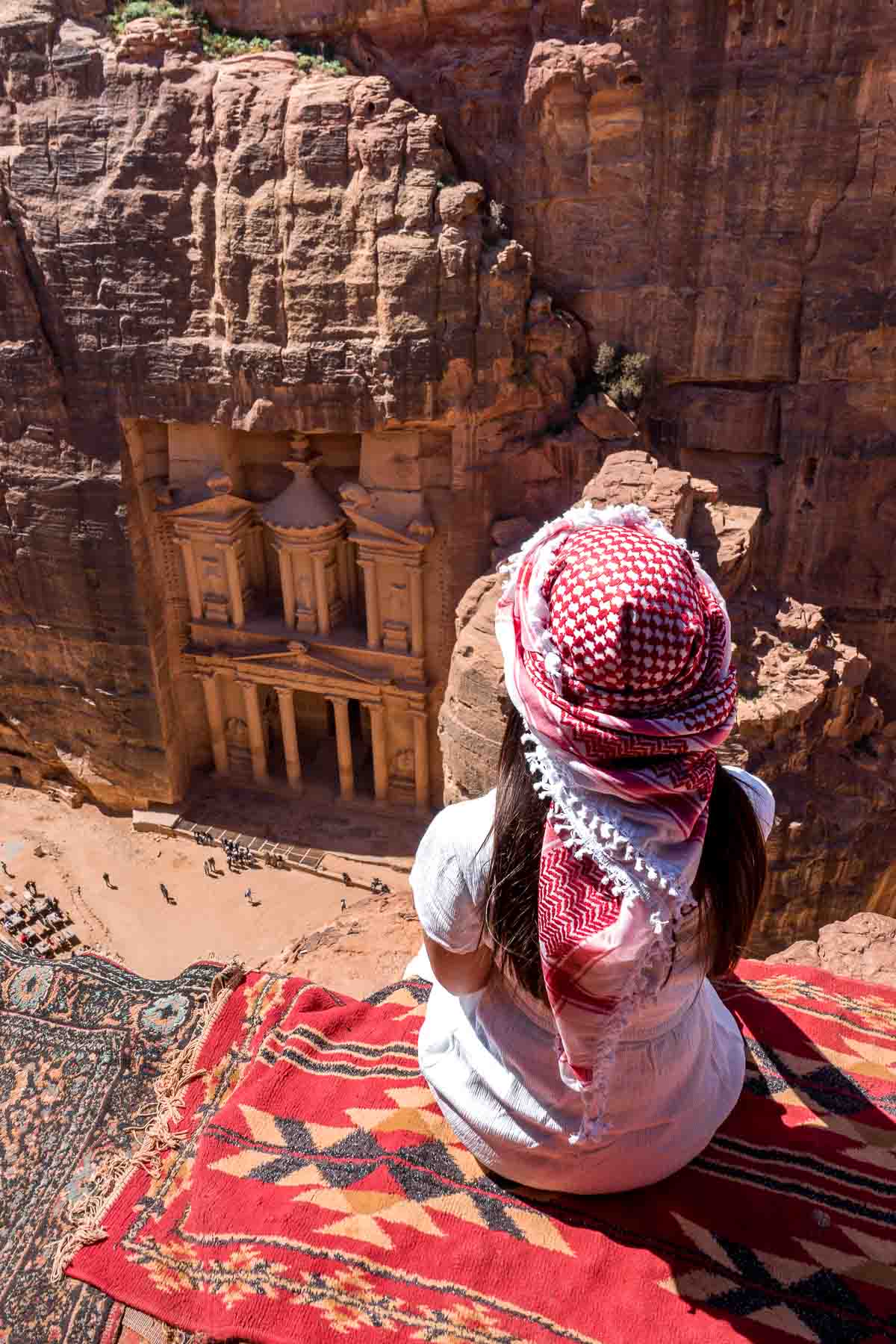 Petra by Night
If you visit Petra on a Monday, Wednesday, or Thursday, you can attend the Petra by Night event. The whole path through the Siq and the area in front of the Treasury is lit up by 1,500 candles, it's really magical!
The show itself is not so special but the view is really one of a kind. Unfortunately, this event is not included in the standard ticket so if you would like to attend, you need to purchase another ticket for 17 JD ($24 US) per person.
Day 3: Snorkeling or Scuba Diving in Aqaba
How to get to Aqaba from Petra
Yesterday was a really intense day, so you totally deserve a beach day today! Aqaba is the only coastal city in Jordan and if you have one week in Jordan I totally recommend putting it on your itinerary.
It's an easy 2 hours drive from Petra on the highway. I suggest having an early breakfast and hitting the road again, so this way you can have almost a full day in Aqaba!
What to expect in Aqaba
To be honest, there is not so much sightseeing to do, but there are a lot of beach resorts where you can relax and take a dip or dive in the Red Sea. And if there is one thing Aqaba is really famous for, it's underwater life! The water is always warm and crystal clear which makes it the perfect place for snorkeling or scuba diving.
I've never tried any of that before but both of them were on my bucket list forever. And since snorkeling is one of the best things to do in Aqaba, it seemed like a perfect place to try it!
I decided to book a tour with Deep Blue Dive Center which was absolutely wonderful. We opted for only snorkeling but they are organizing diving tours as well.
The tour included a 4-hour long boat trip with 3 different snorkeling spots, a delicious lunch, and soft drinks. We've seen many beautiful coral reefs with cute fishes, and there were even an airplane wreck and a tank down in the water! And while you are out on the sea you can see 4 countries at once: Egypt, Israel, Jordan, and Saudi Arabia. How cool is that?
Where to stay in Aqaba
Aqaba offers a wide selection of hotels and it's generally much cheaper than Petra or Amman. You can check all the accommodations in Aqaba here, or if you don't want to spend time searching, check out my recommendations below!
Day 4: Jeep Tour and Overnight Stay in the Wadi Rum
How to get to the Wadi Rum from Aqaba
The Wadi Rum (also known as the Valley of the Moon) is a UNESCO World Heritage Site located in the southern part of Jordan. This is a huge desert area with the most amazing landscapes you'll ever see!
It was used as a filming location for many famous movies, like The Martian or the Lawrence of Arabia. Definitely a must-visit place in Jordan!
First, you need to arrive at the Wadi Rum Village, which is a one-hour drive from Aqaba. You can choose to hire a 4×4 and explore the area on your own, however, I strongly suggest booking a tour with a local guide!
We choose the Wadi Rum Nomads company as according to Tripadvisor they are one of the best. And they really lived up to the expectations!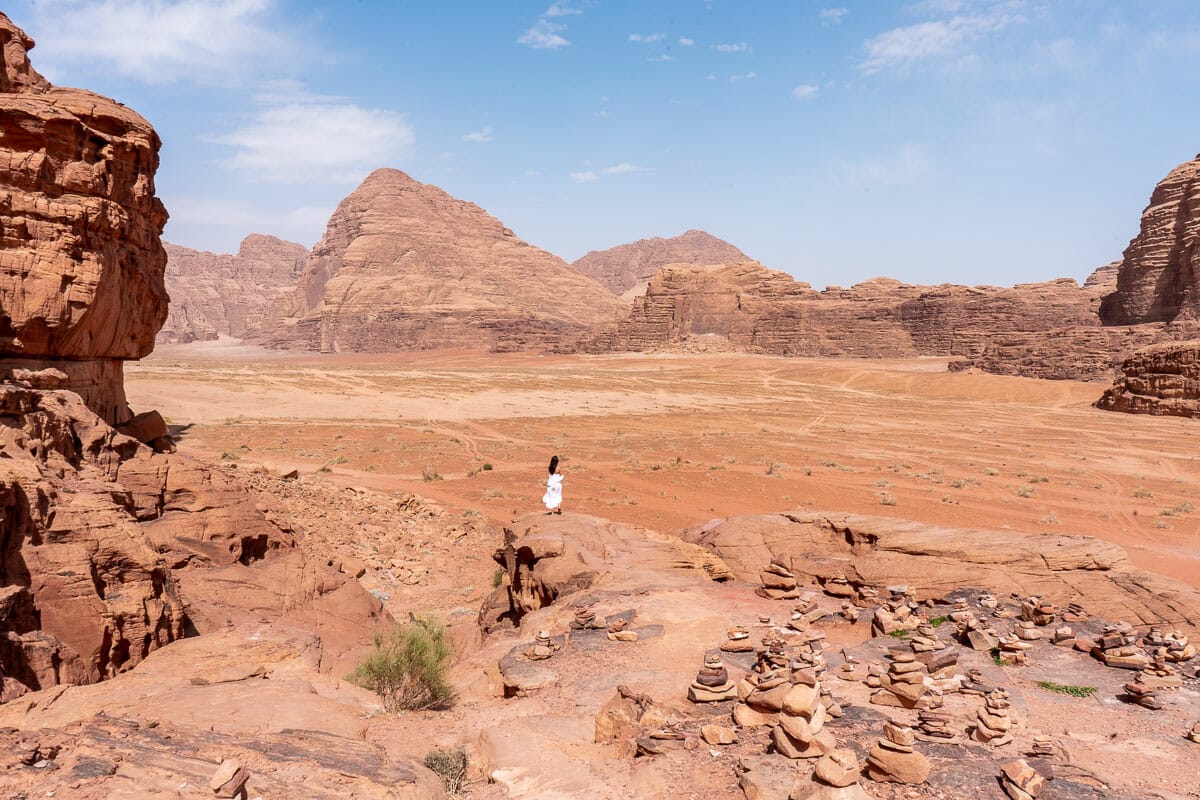 What to expect at the Wadi Rum
As I mentioned before, I recommend choosing a tour with a local drive instead of driving around the Wadi Rum by yourself. The desert is huge and there is no mobile network in the area so wandering around on your own is not the best idea. Plus a local guide knows all the best places so you don't need to plan anything!
You can choose from many tour types, there are multiple-day tours and only half-day tours as well. If you're planning to spend one week in Jordan I recommend planning one full day and one night for experiencing a Wadi Rum. We did the same and we absolutely loved it!
The full-day tours usually begin at 9 am in wintertime or 10 am in the summertime. During the daytime, you will visit many famous sites like the Lawrence spring, the Khazali canyon, and the Burdah rock bridge.
There is a lot of time at each location to explore the area, take a million photographs and enjoy the view. Trust me, you will never forget all the beauty you're going to see this day! Riding in a back of a jeep through these incredible sites is really a unique experience.
The last stop is in Um Sabatah where you can see the sunset behind the amazing rock formations. You can choose to spend the night in their Base Camp which I highly recommend!
After the sunset, they will drive you to the campsite where you can enjoy a traditional Bedouin dinner and learn about their culture.
The next day they will take you back to the Wadi Rum Village after a delicious breakfast and you can continue your journey towards your next destination.
Where to stay in the Wadi Rum
If your chosen tour company offers an overnight stay I think it's best to stay with them. However not every company has their own camp and since they are usually really basic camps I totally understand if you don't want to stay there.
Luckily there are many options to choose from, you can even go glamping in the Wadi Rum in luxurious bubble hotels and glamping tents!
You can check all the accommodations in the Wadi Rum here or if you're not in the mood for searching, check out my recommendations below!
Day 5: Floating in the Dead Sea
How to get to the Dead Sea from Wadi Rum
I bet you've seen a ton of pictures of people reading a newspaper while floating in the Dead Sea. This is a true bucket list experience! The Dead Sea is the lowest point on Earth and it is the deepest hypersaline lake in the world. It's almost 10 times saltier than the ocean, therefore you will rather float than swim in the water.
It's quite a long road from the Wadi Rum, it takes around 4.5 hours to reach the northern side of the Dead Sea where all the hotels are located.
The first part goes on the highway but after that, you need to drive through the mountains until you reach the southern part of the Dead Sea. There is not much traffic on these roads so it's quite a relaxing driving experience.
What to expect at the Dead Sea
Although the hotels are located on the northern side and that's the safest part of the Dead Sea for getting into the water, it's not the most beautiful one.
If you want to find the gorgeous white salt formations along the sea, you need to stop around the Wadi Al Mujib.
If you are coming from the Wadi Rum Village you will reach the southern side of the Dead Sea first. Drive up in the direction of the Mujib Chalets, park the car at the Coral reefs (2 km south from the Mujib Chalets), and have a walk on the shore!
You will find many amazing salt formations along the way and the sparkling blue water is crystal clear. It kinda makes you feel that you are walking on a Caribbean island, except the white beach is made of salt, not sand.
You can get into the water here as well (if there are no signs saying otherwise) but since you will not be able to have a shower after, I don't recommend it.
It's important to rinse off your body with regular water as soon as you get out, otherwise, the salt will dry on your skin and you will not be able to stop scratching yourself.
There are a few other things like this that you need to know before you get into the water, check out my 10 tips for visiting the Dead Sea for more information!
Therefore I recommend stopping here only for the view and to take some photos, then continue your journey to the northern side. I think it's best to stay at one of the hotels for one night so you can safely try floating in the Dead Sea and relax a little bit.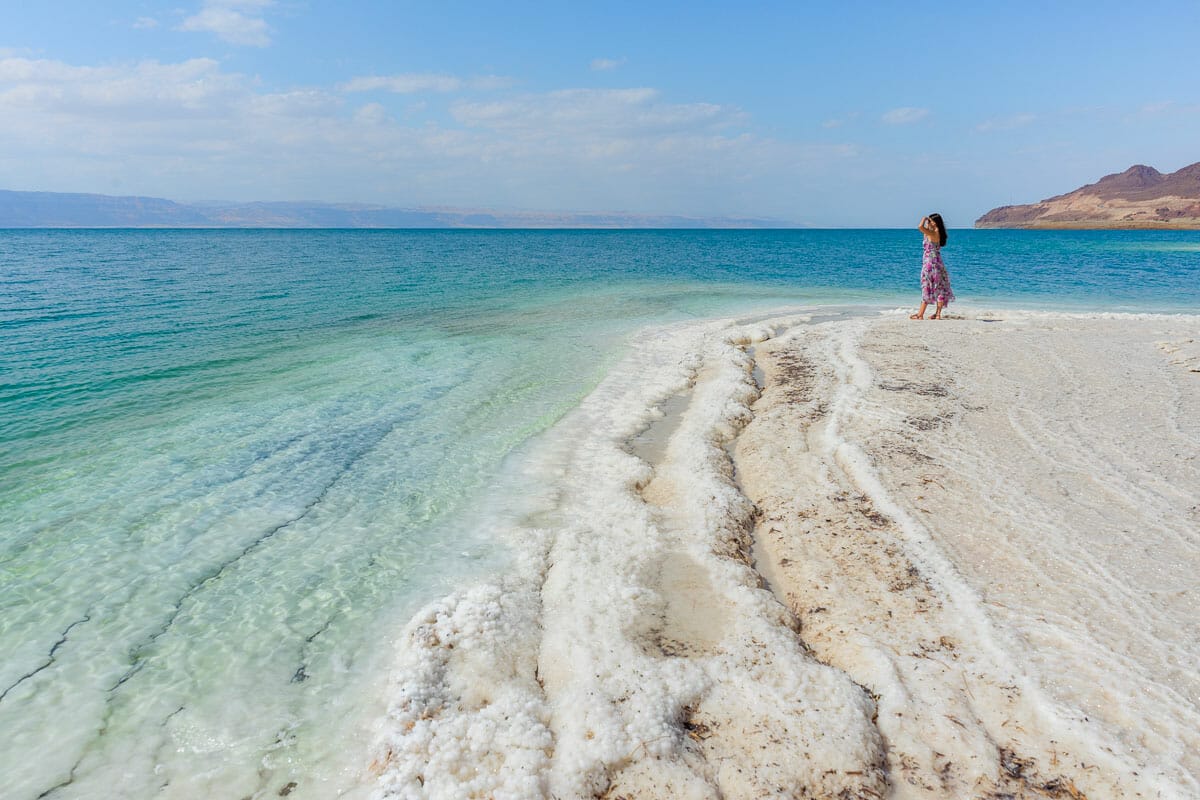 Where to stay at the Dead Sea
As I mentioned before, I totally recommend staying at least one night at the Dead Sea.
This way you can have immediate access to fresh water and towels after you're done with your floating in the Dead Sea. Not to mention that getting into the water at the beach of a hotel is the safest option!
Unfortunately, you will not find any budget options around the Dead Sea so you need to extend your budget a little bit.
You can check out all the accommodations at the Dead Sea here or if you don't want to spend your time searching, check out my recommendations below!
Day 6: Visiting Jerash and Arriving in Amman
How to get to Jerash from the Dead Sea
The ancient city of Jerash is the largest and most interesting Roman site in Jordan. The area is huge, and it is packed with many temples, amphitheaters, columns, and ruined buildings. Depending on how much you are into archeology, you can spend there a few hours or an entire day.
It takes around 1.5 hours to reach Jerash from the northern part of the Dead Sea. If you're really interested in ruins and archeology I recommend having an early breakfast and hitting the road right away. Although if it's enough for you to spend only a few hours in Jerash, you don't need to rush and you can take things easier.
What to expect at Jerash
Jerash is not a public site, hence you have to buy a ticket to get in and there is an opening time. Actually, I didn't know that and we arrived just around closing time so we didn't have time to explore the area.
I was really upset about this, so make sure you check the opening hours before visiting! If you already bought the Jordan Pass, you can enter for free, otherwise, you need to pay 10 JD ($14 US) per person.
How to get to Amman from Jerash
After you finished the sightseeing in Jerash, it's time to head down to Amman. It takes around 45-60 minutes to get to Amman, depending on the traffic and in which part of the city you're going to stay.
Where to stay in Amman
Depending on when your flight leaves, I would recommend staying in Amman for 1 or 2 nights. I think you will need to have at least one full day to explore Amman so if your flight only leaves late in the night the next day, staying 1 night can be enough.
Otherwise, I would suggest booking 2 nights in one of the hotels. You can check all the accommodations in Amman here, or you can just check out my recommendations below.
Day 7: Exploring Amman
What to expect in Amman
Amman is the capital city of Jordan. It's a very modern city with many ancient ruins so it's definitely an interesting place to visit. Unfortunately, it is often overlooked by tourists but it's worth spending at least a day there!
The most popular place is the historical site of the Citadel, located on top of a pretty steep hill. The major buildings at the site are the Temple of Hercules, the Byzantine church, and the Umayyad Palace.
Rainbow street is another must-visit place in Amman. The street is packed with shops, restaurants, and cafes, so it's the perfect place to grab a bite and relax a bit.
---
Planning a trip to Jordan?
Then you might want to take a look at all our other travel guides about Jordan. I promise, they are just as awesome as this article was!
---
Related Posts
Want to read more about Jordan?
---
Pin It for Later!