Are you planning to visit Neuschwanstein Castle soon? Let's start with the first point: how to get there! The castle is really close to Munich and to the Austrian border so luckily you have many options to choose from.
The easiest way to reach this fairytale place is from Munich, so I put together a list of all the possible ways to get to Neuschwanstein Castle from Munich. Read along to find out which option is the best for you!
If you are looking for a super detailed travel guide about when to visit, where to stay, and what to expect, check out my ultimate guide to visiting Neuschwanstein Castle!
Looking for the best places to photograph Neuschwanstein Castle? Don't worry, I got you covered too! Check out the best viewpoints at Neuschwanstein Castle along with a detailed description of how to find them!
*Disclosure: This post contains a few affiliate links, which means I may receive a small commission, at no cost to you, if you make a purchase through my link.*
No time to read now? Pin it for later!
How to Get to Neuschwanstein Castle from Munich
Neuschwanstein Castle is one of the most beautiful castles in Europe and it definitely has to feature on the top of your Germany bucket list. It is located near a little town called Hohenschwangau in South Germany, close to the Austrian border.
The castle itself is nested in the foot of the Bavarian Alps so a drop-dead gorgeous view is guaranteed!
Unfortunately, there are no direct flights to the area. If you plan to arrive by plane you need to fly either to Munich (Germany) or Innsbruck (Austria).
Innsbruck is actually closer to Neuschwanstein Castle than Munich, although there is no public transportation available, your only option is to rent a car. However, if you are planning to visit from Munich, you have all sorts of options to choose from. Let's see them one by one!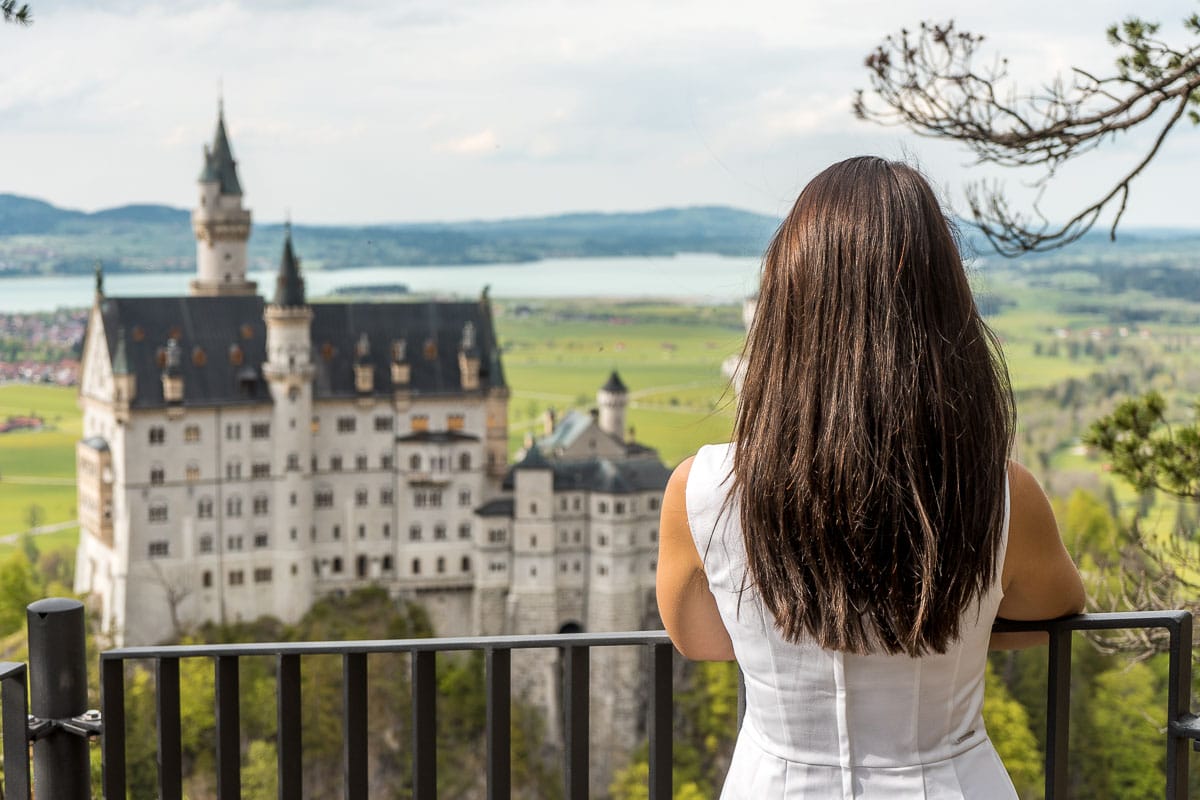 Option 1: Rent a Car
Drive from Munich to Hohenschwangau
If you decide to fly to Munich the easiest option is to rent a car at the airport. Car rentals typically start from €45 per day excluding fuel. Prices may vary based on your own requirements and the rental period. I recommend using Discover Cars to check the most recent options and offers.
You need to drive approximately 165 km (around 2 hours, depending on traffic) to reach Neuschwanstein Castle from Munich Airport. There are no mountain roads or anything like that involved so it's a fairly easy drive.
You just need to start following the highway and then you have 3 routes to choose from: you can either take road nr. 2, road nr. 17 or road nr.12. I suggest checking out the recommended route by Google Maps before starting your trip and choosing the one that has less traffic.
We also chose the rental car option and we took road nr. 17. Everything went smoothly and we had zero problems with the rental process or the driving itself.
Even if you are not a very experienced driver it's still worth checking out this option! Having a rental car is such a big advantage! You are absolutely free to go whenever you want to plus you can easily visit the nearby places too.
Park your car at Hohenschwangau
The roads to the Neuschwanstein Castle are closed to public traffic so you need to park your car in Hohenschwangau. There are 4 different parking lots in Hohenschwangau, you can see them on the below map.
You can't park directly in front of the ticket center, P3 and P4 parking lots are the closest ones to park nearby. The daily cost for parking is €8 for cars, €3 for motorcycles, and €10.5 for campers.
Getting up to the Neuschwanstein Castle from Hohenschwangau
After you park your car you can either go to the ticket office to pick up your tickets (if you want to visit the inside of the castle) or you can just head up straight to the Neuschwanstein Castle. For that, you need to find the path that leads up to the castle (the red trail on the above map).
It takes around 30-40 minutes to reach the Neuschwanstein Castle from Hohenschwangau on foot. You need to walk up on a steep uphill road for like 1.5 km so be prepared with comfy shoes!
If you don't want to walk that much, you can also take a shuttle bus which departs from the Hohenschwangau Palace. The bus can't go directly to the castle so it will drop you off around the Marienbrücke (Mary's Bridge) from where you still need to walk 10-15 minutes downhill.
Prices for the shuttle: €3 for the uphill trip and €2 for the downhill trip, or €3.5 for a return trip.
You can also choose to go up with a horse-drawn carriage. It won't take you to the castle either, you need to walk 5-10 minutes uphill from the ending point of the ride. Tickets can be bought at the horse carriage driver, the uphill ride costs €8, and the downhill ride is €4.
As I don't want to support this kind of animal tourism I would politely ask you not to use this service! Walking up there is not that bad and the views you get along the way will definitely make you up for your burning thighs.
If you can't walk for some reason it's still cheaper (and a lot more ethical) to take the shuttle bus. So please choose wisely!
Option 2: Public Transportation
Take the train to Füssen from Munich
Public transportation is also an option, but there is no direct connection between Munich and the Neuschwanstein Castle. First, you need to take a train to Füssen from Munich.
The trains depart from Munich Hauptbahnhof, usually from platforms 27-35 at the far north end of the station. The train ride takes around 2 hours, you can check the Deutsche Bahn website for the latest timetable.
Trains depart every hour, however, direct trains only run every 2 hours. If you are checking the timetable online make sure to pay attention to the "Changes" column!
If it says 0, it means the train runs directly to Füssen. But it if says 1 or more, then you need to change trains during your journey, usually at Buchloe or Kaufbeuren. The transfer is easy, however, you will have only 8-10 minutes to do it.
Use the Bavaria regional day ticket
A normal return ticket starts from €50, you will find the latest prices on the Deutsche Bahn website. However, instead of buying a regular ticket, you can purchase a Bavaria regional day ticket which can save you a ton of money!
The ticket cost €26 for 1 person and it is valid for all kinds of public transportation for one day within the Bavaria region. You can travel with it up to 5 people and you only have to pay €8 per additional person.
That means if you are a group of 5 you have to pay €58 in total – that is €12 per person!
If you are traveling with children it can be a great option for you as well. Children up to 5 years can always travel for free plus up to 3 children aged 6-14 can be taken along for free as well.
For example, if you are a family of 5 (with children up to 14 years old) you can purchase the Bavaria ticket for €34 for the whole family!
The only thing you need to pay attention to is that the Bavaria ticket has a time restriction on weekdays. The ticket is valid only from 9 am on the weekdays (Monday to Friday) until 3 am the next day.
That means during weekdays you can only use trains which depart after 9 am! Weekends and holidays have no time restriction, you can use the ticket from midnight until 3 am the next day.
Getting to Hohenschwangau from Füssen
After your train arrived at the Füssen train station, you need to continue your journey towards Hohenschwangau, where the Neuschwanstein Castle is located.
Füssen is only 4 km from Hohenschwangau so walking can be also an option, it would take around 1 hour to reach Hohenschwangau from the train station.
You can also take a public bus from Füssen train station to Hohenschwangau. You have to catch bus nr. 73 (direction: Halblech) or nr. 78 (direction: Shwangau) and exit at Hohenschwangau – Alpseestraße.
The buses run regularly and they are usually timed to depart shortly after the trains arrive. Return tickets cost €4.2 and you can buy your tickets from the bus driver. If you have a Bavaria day ticket you don't need to purchase another ticket!
Getting up to the Neuschwanstein Castle from Hohenschwangau
After you arrived at Hohenschwangau by bus you can either go to the ticket office to pick up your tickets (if you wanna visit the inside of the castle) or you can just head up straight to the Neuschwanstein Castle.
I already described at the end of the Rental car option how to get up to Neuschwanstein Castle from Hohenschwangau, please refer back to that section for a detailed guide!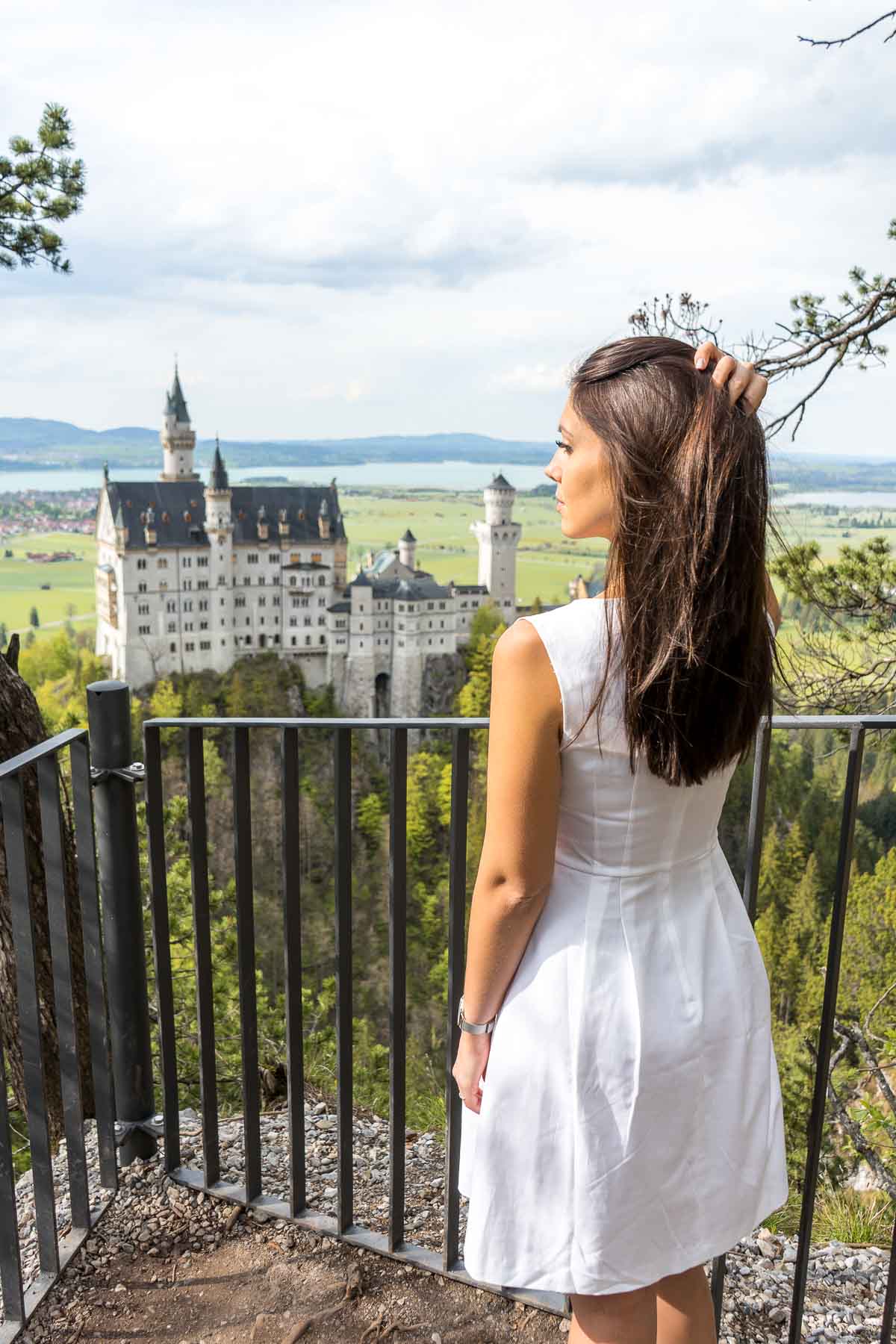 Option 3: Book a Tour
If you are not comfortable with driving but still want a direct connection between Munich and the Neuschwanstein Castle, you can take an organized day tour. They typically cost around €60-75, you can find many options on GetYourGuide.
One of the best-rated tours is the day trip to Neuschwanstein & Linderhof Castles from Munich. The tickets start from €59.9 and as the name suggests it includes a visit to both Neuschwanstein and Linderhof Castles.
Tickets for the castle tours are not included in the price, you need to purchase them separately from the tour guide.
The tour starts at 8.30 am and it will finish at 7 pm. It will be a long day for sure but you definitely need this time to properly explore the sights. I didn't try this tour personally but the customer ratings are amazing so it's definitely worth checking out!
Where to Stay Around Neuschwanstein Castle
You can easily visit Neuschwanstein Castle on a day trip from either Munich or Innsbruck. Munich is a really great base to explore the nearby area so if you have to choose between the two I would definitely recommend Munich!
If you choose to stay in Munich you might be interested to read a post about the best day trips from Munich!
Although the castle can be easily reached from the two above-mentioned cities, I would still suggest staying near Neuschwanstein Castle for 1 or 2 nights. This way you can spend more time in the area which I highly recommend!
There are 3 towns nearby where you can stay if you want to stay close to Neuschwanstein Castle. Below you can see my top picks for each town for every budget.
Hohenschwangau
If you wish to stay as close to Neuschwanstein Castle as possible then Hohenschwangau is your best option. No matter which accommodation you choose, you can reach the path that leads up to the castle within a few minutes.
Check out all the hotels in Hohenschwangau here!
LUXURY – Hotel Villa Ludwig und Chalet
This 4-star hotel is set directly beneath Neuschwanstein Castle. The hotel was newly opened in December 2012 and all rooms have free WiFi, wired internet, a flat-screen satellite TV, and a balcony, while some have a view of Neuschwanstein Castle.
MID-RANGE – Hotel Müller
This hotel is located between Neuschwanstein Castle and Hohenschwangau Castle on the Romantic Road. Hotel Müller offers elegant rooms and a Bavarian-style restaurant. Some rooms have a balcony or terrace offering a view of the nearby castles.
BUDGET – Hotel Garni Schlossblick
With some rooms offering wonderful views of the Neuschwanstein and Hohenschwangau castles, this traditional hotel is just a 5-minute drive from Füssen and the Austrian border.
Schwangau
The second closest town to Neuschwanstein Castle is Schwangau. The distance between the two is 2.5 km (1.5 miles) so even if you don't have a car you can easily walk or bike. You can find more options here but don't expect hundreds of hotels.
Check out all the hotels in Schwangau here!
LUXURY – Hotel Das Rübezahl
This 4-star-superior hotel in Schwangau offers great views of the Neuschwanstein and Hohenschwangau castles, a modern spa and beauty area, and a gourmet restaurant serving regional food.
MID-RANGE – Hotel Weinbauer
Hotel Weinbauer is a traditional hotel peacefully and centrally located in Schwangau, 1.5 km (0.9 miles) from Neuschwanstein and Hohenschwangau Castles. Built in 1865, the cozy hotel is decorated with frescoes. Breakfast is served on-site.
BUDGET – Casa Patrizia
These spacious and modern apartments lie between Füssen and Schwangau in the Bavarian Alps. All apartments at Casa Patrizia feature a fully-equipped kitchen, living room, large bedroom, and bathroom.
Füssen
Füssen is the third option to stay close to Neuschwanstein Castle. The distance is 5 km (3.1 miles) so technically you can still walk but having a car or a bike is much better.
You can also call a taxi if you don't have your own car and it will take you to Hohenschwangau within a few minutes. Check out all the hotels in Füssen here!
LUXURY – Hotel Sommer – Urlaubs- und Wellnesshotel
Located on the shores of Forggensee Lake, this 4-star spa hotel offers regional cuisine and great views of Neuschwanstein Castle and the Alps. An extensive spa area with various saunas, steam rooms, and indoor/outdoor swimming pools are available.
MID-RANGE – Hotel Hirsch
This family-run hotel lies in the heart of Füssen, within a 10-minute drive of Neuschwanstein and Hohenschwangau Castles. The stylish rooms at the Hotel Hirsch Füssen are individually furnished and feature Bavarian antiques. All rooms include a flat-screen TV and a private bathroom.
BUDGET – Hotel Ludwigs
Located directly in the pedestrian zone in Füssen's old town, this traditional hotel offers free WiFi. It is 500 m from Füssen Train Station, and 5 km from Neuschwanstein Castle. Hotel Ludwigs provides bright rooms with wooden floors, elegant fabrics, and chandeliers.
Final Thoughts
I hope you enjoyed this detailed guide about how to reach Neuschwanstein Castle from Munich and it will help you big time with your planning! If you have any more questions regarding this topic feel free to leave a comment below or send me an email. I always love helping you out!
Have you already visited Neuschwanstein Castle? How did you like it? I would love to know about your experiences! Don't be shy, add your comments and other tips below!
xoxo, Kriszti
---
Related Posts
Want to read more about Germany?
---
What Camera Gear Do We Use?
If you want to read more about what is in our camera bag, check out my detailed post about our travel photography gear!
---
Pin It for Later!