Thailand is one of the most popular countries in Southeast Asia, and for a good reason! This country really has everything tourists can possibly desire: gorgeous white sandy beaches, lush green mountains, ancient temples, interesting cultural sites, delicious local food, and vibrant nightlife.
Here's a complete list of the absolute best places to visit in Thailand including tips about what to do, where to stay, and how much time to spend there!
*Disclosure: This post contains a few affiliate links, which means I may receive a small commission, at no cost to you, if you make a purchase through my link.*
No time to read now? Pin it for later!
Best Places to Visit in Thailand
Are you looking for the most beautiful places in Thailand but don't know where to start? Don't worry, I got you covered! In this article you will find all the best places to visit in Thailand together with a bunch of useful recommendations about the best things to do in each location, how much time to spend there, and lots of other insider tips.
On the below map you can see all the places mentioned in this article with their retrospective number. The numbers don't reflect any ranking order, they are just simply there to make it easier for you to find all the best places in Thailand on the map!
Since many of these places are quite close to each other, it's worth planning a trip where you can cover multiple places.
1. Bangkok
Recommended by Kriszti from She Wanders Abroad
The vibrant, chaotic city of Bangkok is the most popular starting point of any Thailand vacation or Southeast Asian adventure. While many people only have a short layover in the city and often have only 24 hours in Bangkok, it's best to set aside some extra days to discover all the beauty the city has to offer.
It's worth spending at least 4 days in Bangkok to be able to see the best places in the city and visit a few attractions around Bangkok as a day trip.
From stunning temples like the Grand Palace, Wat Pho, or Wat Arun, huge shopping malls like Siam Paragon or ICONSIAM to sprawling markets and countless amazing rooftop bars, Bangkok really has it all.
Bangkok is home to many unique markets, such as the Talad Rot Fai Night Market or the Chatuchak Weekend Market, which is currently the biggest open-air market in the world.
You can also visit two of the most unique markets, the Damnoen Saduak Floating Market and the Maeklong Railway Market. These are located outside of Bangkok, so you will need to have your own scooter or book an organized tour in order to get there.
If you have some extra days in Bangkok, it's worth taking a day trip to many of the amazing places surrounding the city. The most popular choices are Ayutthaya, Ancient Siam, Kanchanaburi, and Pattaya.
If you want to make your stay in Bangkok even more memorable, make sure to check out these incredible Bangkok hotels with infinity pools!
2. Ayutthaya
Recommended by Sarah from A Social Nomad
Easily accessible from Bangkok via a 90-minute train journey or a 2-hour bus ride, Ayutthaya is a fabulous place to visit in Thailand. The city of Ayutthaya was once the capital of the Siam Kingdom between 1350 and 1767 until it was sacked by the neighboring Burmese.
Ayutthaya is mostly flat so it's quite easy to visit – you can take a tour in a tuk-tuk or rent a bicycle to get around. The old city has been on the UNESCO World Heritage list of sites since 1991 and there are a series of stunning temple ruins to see here.
At the height of Ayutthaya's powers, there were more than 400 temples in the district but many are gone now. Wat Ratchaburana is one of the most remarkable of the remaining temples. Be sure to climb the Prang for fabulous views and go underground to the spectacular crypt!
The most visited location in Ayutthaya is Wat Phra Mahathat which is the home of the famous sandstone Buddha head tangled in the tree roots. Legend has it that raiding Burmese dropped the head as it was too heavy and nature took over. Don't miss the neighboring three stupas of the Wat Phra Si Sanphet.
If you are short on time you can visit Ayutthaya on a day trip from Bangkok but if you have time to chill out then two days in Ayutthaya is a good visiting time.
3. Kanchanaburi
Recommended by Allan from Live Less Ordinary
Kanchanaburi is often best known for its rather grim past as the setting of the Burma-Siam Railway (now dubbed Death Railway) where over 100,000 war prisoners lost their lives building the railway in World War II.
And local tourism does focus a lot on these horrors including museums and memorials and "The Bridge on the River Kwai", the backdrop to the epic war movie, is central to it all.
Aside from the horrors of the past, there really is a lot of beauty in and around Kanchanaburi with serene river scenes, waterside temples, and laidback local life.
Erawan Falls is also a must, just out of town, with 7-tiers of waterfalls, crystal clear water, diverse tropical wildlife, and lots of macaques. A close 2nd would then be a train ride on the 'Death Railway' itself along rickety old tracks between cliffs, bridges, and just fascinating scenery.
While it is possible to do a day trip to Kanchanaburi from Bangkok it is best to stay at least one night to cover these attractions. From Bangkok there are also various taxi, bus, and minivan options to reach the town then it's easy to forward (if needed) to the main Mae Nam Khwae Road on the riverside that leads to the famous Bridge on the River Kwae.
4. Koh Samui
Recommended by Sylvie from Travels with Eden
Koh Samui is a must-visit on any trip to Thailand. The island is the largest of a group of islands in the Gulf of Thailand. Fringed with palm trees, huge beaches, and clear seas, Koh Samui is popular with all kinds of travelers from backpackers to families.
To reach Koh Samui, you can arrive by plane or boat. Most flights depart from Bangkok but regular flights connect Koh Samui with most part of Asia as well. If you're planning to arrive by boat, Lomprayah runs ferry services from the mainland port of Chumpong via the neighboring islands of Koh Phangan and Koh Tao.
You should stay at least 3 nights on the island but if you're planning on taking a day trip it's better to stay for 4 nights. The most popular day trip options are Koh Tao and the Ang Thong Marine Park.
Tours of Koh Samui can be booked from a wide range of agencies on the island. Most tours include visiting the main tourist attractions as well as a few viewpoints.
Make sure you visit Wat Plai Lem, a huge temple complex with a lake and iconic temple which is a real insight into the Thai culture. The Fisherman's village is also a must-see, with a huge selection of food and local souvenirs.
5. Koh Phangan
Recommended by Veronika from Travel Geekery
Koh Phangan, a little island in the Gulf of Thailand, belongs to one of the best places to visit in Thailand. The picturesque island neighbors the much larger Koh Samui island and has a completely different vibe.
Koh Phangan has a unique spiritual community, luring visitors with yoga courses, detox retreats, and mindfulness sessions which gives the island a unique hippie-like vibe.
A major part of Koh Phangan is a protected natural reserve, meaning the jungle and forests remain largely intact. The development of housing and tourist facilities mostly copies the shores. Beautiful beaches, often featuring white sand, are just one of Koh Phangan's many perks.
Jungle trekking and hiking are one of the best things to do in Koh Phangan since the island boasts a good network of well-marked trails. You can hike to the highest peak of Koh Phangan, Khao Raa, or choose one of two routes to the magical Bottle Beach.
Apart from the infamous Full Moon Party, Koh Phangan hosts various festivals, as well as parties. There's always enough to do in Koh Phangan if you don't feel like just lying on the beach all day long.
There are many wonderful cafes with high-quality roasts on the island as well which helps fuel a vibrant digital nomad scene.
6. Ang Thong National Park
Recommended by Adriana from Czech The World
Ang Thong National Marine Park is a group of 42 picturesque islands in the Andaman sea. It offers white sandy beaches, turquoise water, and beautiful limestone cliffs. It's a perfect destination for those who want to escape crowds – this place remains still quite undiscovered.
Ang Thong is a perfect place for kayaking, which you can rent on the main beach. You can paddle to the other island with saltwater lagoon or find any other beach on any of Ang Thong's islands.
There is also a beautiful view of all 42 islands from the top viewpoint of the main island. It's quite a steep climb but well worth it. Adventure seekers can enjoy a local limestone cave called Bua Bok and there are also some snorkeling spots accessible by long-tail boat.
The closest islands are Koh Samui or Koh Phangan, from where you can get to Ang Thong by boat. Every day, there are several "day trip boats" but you can easily arrange an overnight trip to the Ang Thong National Park. Your crew will simply pick you up a few days later.
The Ang Thong campsite is beautiful! You can bring your own tent or rent one for a small fee. There is also a possibility to stay in a bungalow.
The majority of people visit these islands only with day trips, which means that after the last boat leaves you have the island just for yourself and a few other people.
7. Koh Nang Yuan
Recommended by Camille from Everything Yoga Retreat
Koh Nang Yuan is one of the most beautiful islands in Thailand. It is made of three tiny islets that are connected by a massive sandbar. Koh Nang Yuan is a pretty small island and it's the perfect destination for a day trip.
Located only 15 minutes from Koh Tao, Koh Nang Yuan is easily reachable by speed boat. However, since the island is privately owned, there is an entrance fee of 200 baht ($5.90 US) per person.
The beach is definitely the main attraction of the island. Other activities include snorkeling, diving, or simply relaxing on the white sand beach. There is also a viewpoint from where you can take beautiful pictures of the place and it's only a 15 minutes hike to the top of one of the islets.
If you want to eat or drink, you can head to Nangyuan Island Dive Resort, which is the one and only resort on the island. The food proposed is quite expensive and limited but it's fine for ice cream or a lunch break. You could also spend the night there if you want, but it's quite pricey though.
8. Chiang Mai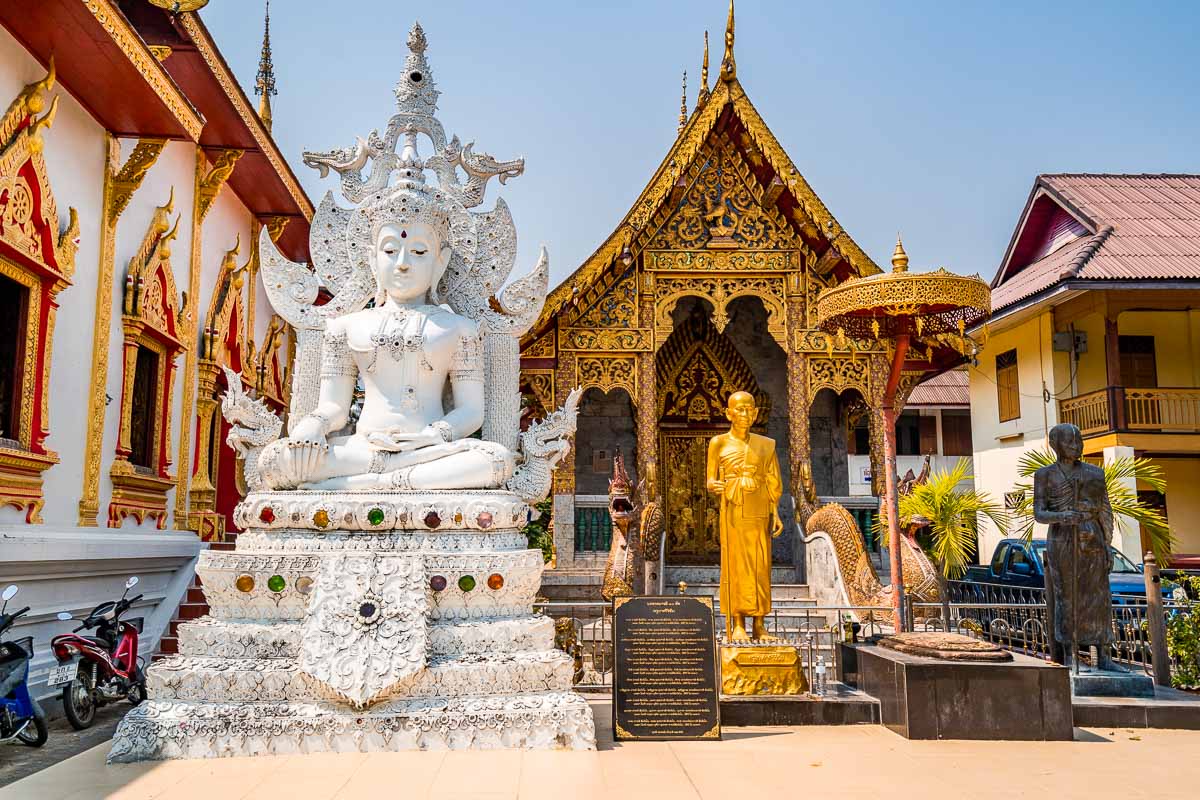 Recommended by Kriszti from She Wanders Abroad
Often referred to as the northern capital, Chiang Mai is definitely one of the best places to visit in Thailand. There are more than 500 temples in the city so there is no shortage of things to do but luckily you can see all the best sights in just 3 days in Chiang Mai.
The most famous temple is the Doi Suthep where you can get an amazing panoramic view over the city, but the Wat Phra Singh (Gold Temple) and the Wat Sri Suphan (Silver Temple) are also worth visiting.
Chiang Mai is surrounded by misty, lush green mountains which is home to many hill tribes and elephant sanctuaries. Please do thorough research before meeting the gentle giants and make sure you only visit ethical elephant sanctuaries and never visit a place that offers elephant riding!
Finding such a place is not easy because many sanctuaries that advertise themselves as ethical are still keeping the elephants on chains and treating them badly. One of the best places to visit is the Elephant Jungle Sanctuary where the elephants roam free during the day and you can interact with them in an ethical way.
Chiang Mai is often known as one of the best foodie destinations in Thailand. There are countless amazing restaurants and cafes in Chiang Mai, no wonder it's one of the most popular places among digital nomads.
If you want to know more about the local cuisine, you can attend an authentic Thai cooking class where you can learn the techniques of Thai cooking from a local chef.
The city is also famous for its Lantern Festival (Yi Peng) where thousands of lanterns decorated with good luck wishes and prayers are released to the sky. The festival always takes place on the full moon day in November so if you wish to attend it's worth checking the exact dates in advance.
9. Chiang Rai
Recommended by Kriszti from She Wanders Abroad
Chiang Rai is sort of a hidden gem in Thailand. It's not so touristy like Chiang Mai but it's very well worth the visit! Located close to the borders of Laos and Myanmar, Chiang Rai is home to the most unique temples in Thailand.
Wat Rong Khun, or otherwise known as the White Temple is the most famous one with its fully white and majestic design. It's actually no longer a temple but a privately owned art exhibit. The White Temple is filled with Buddhist symbolisms and the white color represents the purity of Buddha.
Besides the White Temple, you also can visit the Blue Temple (Wat Rong Suea Ten) which is a relatively new attraction since it's only been finished in 2016. The deep blue colors against the shiny golden details create a very unique atmosphere and since the temple is free to visit it's definitely worth including it in your Chiang Rai itinerary.
If you have more than one day in Chiang Rai, you should go up to the nearby hill to visit the Huay Pla Kung Temple. The temple is mostly known for the huge statue sitting on top of the hill which is often mistakenly referred as the Big Buddha, but it actually represents the goddess of Mercy.
The stairway leading up to the statue is guarded by beautifully designed, white dragon statues and once you are up there, you will have the most amazing view over the city.
10. Pai
Recommended by Darren & Lauren from Faramagan
Although it is tempting to stick to the idyllic paradise beaches of Southern Thailand, if you venture north to the quaint town of Pai you will not be disappointed.
Often referred to as a "hippie haven", Pai is a retreat in the mountainous region of Northern Thailand that attracts travellers from all over the world who are keen to escape everyday stress and enjoy yoga, nature, delicious food and an unrivalled nightlife.
Alongside the refreshing mountain air and friendly locals, you will find endless things to do in Pai so you will want to spend at least a week exploring this welcoming region.
Highlights include Lod Cave where you can travel through the cave on a bamboo raft, enjoy the sunset from the epic Pai canyon, visiting the towering White Buddha and the natural phenomenon – Pai Hot Springs.
After a day of adventures, take a wander through the bustling "Walking Street" where street vendors will tempt you with some of Thailand's best food as well as lively bars and the opportunity to meet many other travelers and backpackers from around the globe.
It is worth noting that in order to reach Pai you will need to travel via Route 1095 which is an infamously windy road that connects Chiang Mai and Pai. There are 762 hairpin bends you need to endure so those prone to travel sickness may want to take medicine beforehand.
However, please do not let stories of this road trip put you off, Pai is one of the most unique places to visit in Thailand and will be a guaranteed memorable trip that makes the crazy drive there worth every minute!
11. Phimai
Recommended by Monique from TripAnthropologist
Phimai is a lovely small town on the banks of the Mun River in Nakhon Ratchasima Province in northeastern Thailand.
Throughout the parts of Thailand that border Cambodia there are ruins of the Khmer Empire. At its height, the Khmer Empire stretched from Angkor in Cambodia into almost all the current countries of mainland Southeast Asia.
The town is quite special because it is the location of the Phimai Historical Park and the Phimai National Museum (temporarily closed). In the Historical Park, you can wander around the ruins of the great Khmer outpost city of Prasat Hin Phimai which was connected by a 225 km long Royal Road to Angkor.
Phimai is the most significant Khmer Temple in Thailand and the site was important from 1000 AD for 300 years.
Phimai is most likely the prototype of Angkor and you can see the wonderful architectural styles that were built even larger at Angkor, but without the crowds!
There are three main temple buildings, galleries, a moat, bridge, and the intricate statues and carvings on stone pillars that demonstrated the skills of the stone workers of Southeast Asia more than 1000 years ago.
The Phimai Museum shows all of the artifacts found in the Khmer temple and is only 300 meters from the front gate of the Historical Park.
12. Koh Chang
Recommended by Erin from Travel From Australia
Koh Chang is situated in the Thailand Gulf near the Cambodian border. The island is 300 km east of Bangkok and is part of Koh Chang National Park. Koh Chang is a popular holiday destination for locals and tourists alike, however, nowhere near as well-known as some of the bigger Thai islands.
While it certainly gets busy in peak season, there is plenty of space for all its visitors and such a lovely contrast to some of those more popular with international tourists.
There are so many great things to do in Koh Chang. There are some incredible beaches, beautiful waterfalls to explore, and a great range of outdoor recreational activities.
Snorkelling, paddling and scuba diving are among the most popular, of course reading a book on one of the white sandy beaches is also high on the to-do list when visiting Koh Chang.
Take a day trip out on a snorkelling tour, marvel at the incredible coloured fish and enjoy a meal aboard. Hire a motorbike and trip around the island discovering secluded beaches and waterfalls.
There are some magnificent waterfalls to explore and swim in the plunge pools. The most popular is Klong Plu Waterfall which is the most accessible to the western beaches. If you have access to a motorbike, be sure to check out Khlong Nonsi Waterfall and Than Mayom Waterfall.
Koh Chang's restaurant and bar scene is great fun, with quality meals being served. Shopping, massages, and walks along the many beaches are also among the favorite things for visitors to do in Koh Chang.
With 3-5 nights on Ko Chang you will see the highlights, but the longer you stay, the more slow and relaxed your trip will be.
13. Koh Kood
Recommended by Josh from The Lost Passport
Travel to the far east of Thailand, almost right by the Cambodian border, and you will discover a group of islands that rival those in the far south for their beauty.
Koh Chang, the elephant island, is probably the most well-known in this group but just next door, Koh Kood is arguably the most beautiful island in the region.
With only a few small fishing villages on the island, it is far less developed than you'd expect. While the east coast is remote and rugged, there are some amazing beaches on Koh Kood's west coast.
The water here is perfectly clear, beaches are backed with coconut palm trees and occasionally accompanied by small bungalow style resorts.
Some notable beaches on the island are Ao Tapao with its rope swings and incredible sunsets, Ao Phrao right down the southern end of the island, and Ao Takhian which is a small secluded bay perfect for swimming.
Whichever beaches you visit, it is best to allow at least 3 days on the island. Once you start exploring you will realize just how big and undeveloped the island is, with plenty more secrets to discover.
14. Hua Hin
Recommended by Clara from Petite Capsule
Hua Hin is one of the best places to visit in Thailand if you are looking for an affordable resort getaway close to Bangkok. It is quicker and easier to get to Hua Hin from Bangkok – about a 3-hour drive – compared to some of the popular southern islands, like Koh Samui and Phi Phi Islands.
Hua Hin is perfect as a relaxing visit on its own, or a great way to put your feet up after a jammed-packed sightseeing holiday.
Hua Hin is fantastic if you want to avoid foreign tourist crowds. It can be popular with the local Thais on weekends and during holidays, so it is best to visit during the week. This timing works well since Hua Hin is a resort destination, so up to five days is a good amount of time to spend there.
Hua Hin became a popular destination for local tourists after the Thai royal family took fancy to Hua Hin and built summer palaces as a getaway from Bangkok in the 1920s. You can visit one of the summer palaces, the Maruekhathaiyawan Palace, while you are in Hua Hin.
One of the best things about Hua Hin is that the seafood is abundant and cheap. You can get a delicious seafood dinner feast for two at a quarter of the price compared to back home at the Hua Hin Night Markets.
Other popular things to do while you are in Hua Hin include visiting the open-air handcrafts Cicada Markets, soaking in panoramic views from the top of Khao Takiab Mountain and exploring the Phraya Nakhon Cave.
15. Khao Sok National Park
Recommended by Jenna from I Want That Flight
Khao Sok National Park is a little off the beaten track, but it has started to become increasingly popular recently as more and more travelers started to discover the incredible beauty that awaits them.
Just three hours north of Phuket, this stunning spot boasts towering limestone cliffs, a stunning network of lakes, villages full of treehouses, colourful forests and abundant wildlife.
The area is comprised of two main sections: Khlong Sok town and Cheow Lan Lake. The town (or village) is small, rustic, and basic, though it does have everything visitors may need, including several restaurants, a supermarket, and plenty of hotels.
Many of the hotels sit upon the river, where you can spot monkeys and tropical birds, and some feature 'treehouse' style rooms, where visitors can stay amongst the boughs of the surrounding forest.
Khlong Sok is also a great place to stay to take advantage of the many activities available. You can take a canoe tour along the river, visit a beautiful elephant (ethically!) and explore some of the hiking trails.
There are also night safari's, wildlife tours, river tubing, and cooking classes offered, and many choose to do day trips from the village to the lakes.
However, if you want a truly unique experience, you should stay overnight on the lakes, in one of the really cool 'floating hotels' that are spread throughout the lake complex.
These stunning little overwater bungalows are a great base for exploring the beauty of the lakes, and once there you can jump straight into the water for a swim, grab a kayak and explore, or go hiking to one of the nearby caves or waterfalls.
16. Phuket
Recommended by James from The Travel Scribes
Although it's no longer in first place on the Thai bucket list, Phuket, one of the original utopian outposts, still packs a bit of a punch. This island is so large that it's really considered more of a region, with so much to offer the avid traveler.
Whether you're keen on dancing the night away, scrunching your toes in the pristine white sands of the beaches, munching your way through the buzzing night markets, or swimming in the warm waters of the Andaman Sea, Phuket has it all.
It's a true diver's paradise, you can spend many days either diving or snorkeling on the multi-colored reefs of the Andaman Sea, going out to places like Hin Daeng, Hin Maung, or Racha Noi to see the lavender-tinted corals, or checking out the acclaimed King Cruise Wreck.
If you're not much of a water baby there is still heaps to do, like hiking up to the legendary Big Buddha, a 45 metre tall, white concrete buddha atop Nakkerd Hills that has panoramic views of the region.
Want to down a few beers? You'll be in good company on the chaotic Bangla Road, a pedestrianized strip of road boasting everything from thumping bars, some slightly interesting 'shows' to hundreds of hawkers selling you a signature Chang t-shirt.
Many people also go from Phuket to Phi Phi, with Phuket being a jumping-off point for these party islands, and onwards onto the more laidback islands of Koh Lanta or even Koh Lipe.
It's the perfect gateway to these islands, although you can easily live the island life without stepping foot on a boat, relaxing on the more than 30 beaches on Phuket, from the busiest (Patong) to the off-the-beaten-track like Nai Harn.
17. Ao Nang
Recommended by Mariza from Hoponworld
If you're planning a trip to Southern Thailand, chances are Ao Nang is already on your travel radar. Located in Thailand's Krabi Province, Ao Nang is a beautiful seaside town and the main gateway to some of Krabi's best islands.
While most visitors only spend a few short days in Ao Nang, this little Thai gem has plenty to keep you busy. From soaking up the laidback vibes on one of the many gorgeous beaches and trekking through lush jungles to watching a Muay Thai fight and trying authentic Thai food at the bustling Ao Nang night market.
Of course, there are a few other obligatory things that you simply cannot miss while staying in Ao Nang. Among these include watching the breathtaking sunset at Noppharat Thara beach while sipping on an ice-cold Singha or coconut smoothie.
After sunset, head to the main promenade where you'll find plenty of shops and restaurants and, surprisingly, a booming nightlife scene with several bars and clubs guaranteeing a good time.
Hopping in a long tail-boat to explore the magnificent nearby islands, such as Hong Island or Koh Poda, are other must-dos. While there, you can snorkel among diverse marine life, sip on a freshly cracked coconut, and of course, enjoy island life at its very best.
Another must while in Ao Nang is taking a day trip to Railay Beach. A long-tail boat ride only takes about 10 minutes, and along the way, you'll be rewarded with the most stunning views of Thailand's iconic limestone karsts.
All in all, Ao Nang is a great beach getaway, especially if you need some downtime after exploring the chaotic streets of Bangkok. If time permits, spend at least one week in Ao Nang to unwind and experience all of its best bits.
18. Railay Beach
Recommended by Ellie from The Wandering Quinn
Located in Southern Thailand in the Krabi Province is Railay. It's not a town, not even a village – it's a small area nestled beneath huge limestone cliffs only accessible via boat. Railay is comprised of 4 beaches, restaurants, shops, and hotels for tourists visiting.
The nearest town to Railay Beach is Ao Nang. It's popular for visitors to take a day trip to Railay Beach from Ao Nang or alternatively you can put your bags in a long tail boat and stay in Railay Beach for a few days.
Once you get there, you won't want to leave this beach paradise anytime soon! If you decide to stay overnight in Railay, you won't find a lot of nightlife there but you will find chilled bars with live music playing and all the Bob Marley vibes.
Things to do in Railay include visiting all 4 of its beaches – Railay East, Railay West, Phra Nang and Tonsai Beach. Be aware that some of these beaches are popular spots on island-hopping day trips so they can be busy but later on the day they get much quieter.
Rock climbing on the majestic limestone cliffs is also a popular activity in Railay and lessons are offered for all levels. For an epic view and a good workout, head up to the Railay viewpoint and you will not be disappointed with the panoramic view.
19. Koh Mook
Recommended by Martina & Jürgen from PlacesofJuma
Koh Mook is a small idyllic island in the Andaman Sea in the South of Thailand and for sure, one of the best places to visit in this country. The biggest part of the island makes the Chao Mai National Park – a deep jungle with an intact nature.
Here at Koh Mook, you won't find any cars or bigger supermarkets, only a small tranquil village with friendly locals and a chilled atmosphere. Far away from mass tourism you will enjoy the quiet and idyllic island life.
The island is tiny so all the most important points can be easily reached by foot, bike or scooter. The coast of the island is lined with palm trees, gigantic cliffs, and beautiful beaches. Especially on Sivalai Beach, you will find a postcard-like panorama.
Another must-visit is the Emerald Cave on Koh Mook. It's the top attraction of the island and a popular destination in the whole Trang region. To go inside you will have to swim through an 80-meter-long and pitch-black cave to reach at its end the emerald-green lagoon with a white sandy beach.
All in all, Koh Mook is just incredibly beautiful and it's definitely one of the best places to visit in Thailand.
20. Koh Yao Noi and Koh Yao Yai
Recommended by Madhurima from Orange Wayfarer
Koh Yao Noi and Koh Yao Yai are twin beaches in Thailand off the coast of Phuket island. Far away from the madness of Bangla road and Old Phuket Town's history, Koh Yao Yai and Noi are the idyllic Thai beach paradises you have always been promised of!
There are plenty of activities on these two beach islands. You may choose to lounge by the beach at Santhia Resorts which is one of the most scenic resorts in Southeast Asia.
You can also take part in a number of community activities with the locals like collecting honey from a local bee or making bracelets with cane which the sailors wear before going deep into the sea. A few local women run a Batik print class on the island that you can join and paint together with them.
The sea is also home to a number of Lobster Farms – it takes 2 years to grow a lobster which then gets sold in Phuket! Beside the local activities, you can go kayaking at the mangroves of the west coast.
You should spend at least a couple of days on the islands. If serenity is what you are looking for, Koh Yao Yai and Noi, the twin islands on Phang Nga Bay will easily claim 7 days of your life!
21. Koh Lipe
Recommended by Hannah & Adam from GettingStamped
Some call Koh Lipe the Maldives of Thailand as it is full of beautiful sunrises and sunsets, day trips, and picturesque white-sand beaches. Koh Lipe is the most southern island in Thailand and it is home to three main beaches: Pattaya, Sunrise, and Sunset.
Pattaya is the main, bustling beach where you'll find lots of accommodations and beach bars. Sunrise and Sunset beach are quieter and are more for relaxing and enjoying the beach life. It's a good choice to stay at Sunrise beach where you can see both the sunrise and sunset at the top of the beach.
Koh Lipe has plenty of beach bars, but it is nothing like Phi Phi or other Thailand party islands – it's a much more chill scene.
When you stay on Koh Lipe, it's a good idea to check out popular day trips in order to visit neighboring islands and the popular Tarutao National Park. Some of the trips include snorkeling too! All in all, Koh Lipe is true paradise and you won't ever be bored on this beautiful island.
---
Planning a trip to Thailand?
Then you might want to take a look at all our other travel guides about Thailand. I promise, they are just as awesome as this article was!
---
Related Posts
Want to read more about Thailand?
---
More Thailand Resources
Do you want to know even more about Thailand? Check out these awesome books and travel guides for more inspiration!
---
Pin It for Later!