If you're looking for a summer getaway, Naxos is the perfect destination. Although it's not as popular as the likes of Santorini and Mykonos, Naxos is packed with plenty of amazing things to see, do and experience. In fact, it's the largest island in the Cyclades group, so you'll definitely not run out of activities or attractions.
Whether you're looking to relax on the beach or explore the island's rich culture and history, there are plenty of amazing things to do in Naxos. From visiting historical sites to experiencing traditional cuisine and participating in outdoor activities, here are the best things to do in Naxos that you absolutely can't miss!
*Disclosure: This post contains a few affiliate links, which means I may receive a small commission, at no cost to you, if you make a purchase through my link.*
No time to read now? Pin it for later!
Best Things to Do in Naxos
1. Explore Naxos town (Chora)
The charming Naxos town is the capital of the island and it's the quintessential Greek experience. In fact, if you arrive by ferry, this is the first place you'll encounter so it's a great place to start your exploration!
The town is filled with winding alleyways, cobblestone streets, and beautifully preserved traditional architecture. Don't miss the impressive Venetian castle on top of the hill, the Temple of Apollo, or the Archaeological Museum of Naxos.
Make sure to take a stroll around the harbor which is surrounded by lovely cafes and restaurants. You can also pop into some of the quirky souvenir shops and buy something to commemorate your time on the island.
2. Spend the day at Agios Georgios Beach
When talking about the best things to do in Naxos, spending a day at Agios Georgios beach is an absolute must! It's one of the most stunning beaches in Naxos and thanks to its close proximity to the town of Naxos, it's easy to access.
Boasting endless golden sands and calm shallow waters, Agios Georgios is the perfect place for a relaxing day at the beach. You can soak up the sun, swim in the crystal-clear waters, and top it all off with a delicious traditional meal at one of the beachfront taverns.
If you're looking for a more active time, Agios Georgios Beach also has plenty of watersports opportunities including jet skis, windsurfing, and the banana boat.
3. Visit the Temple of Apollo
The Temple of Apollo is one of the most important archaeological sites in Naxos and a must-visit on any trip. Located on the islet of Palatia, this iconic attraction is the only remaining part of the unfinished temple of Apollo.
The current ruins were built in 530 BC and the site is believed to have been a place of worship since the 6th century BC. The temple is made up of impressive marble columns and intricate carvings, making it the perfect place for a spot of history and culture.
It's only a 15-minute walk from the main town center, so you can easily explore it on foot. Since the ruins don't offer any shade, they are best explored in the early morning or late afternoon when the sun isn't at its hottest.
4. Visit the Archaeological Museum
The Archaeological Museum is located in Naxos Town and is just a 10-minute walk from the port. The museum is actually set inside the Venetian Castle but of course, it's the exhibits that you're here to see!
There are four floors at the museum so there's an impressive collection of objects to admire. This includes typical Cycladic statues, jewelry, clay pots, wooden tools, and marble. Many of these items are carved or have pattern impressions on them which is pretty cool to see.
If you're a culture buff or you're a fan of history, then visiting the Archaeological Museum is one of the best things to do in Naxos. You won't need too much time to wander around the museum, but I'd recommend taking your time so you can learn about the exhibits.
5. Explore Kastro
If you're looking for the best places to visit in Naxos, you can't miss a visit to Kastro. This gorgeous old castle is perched high on a hilltop right in the middle of Naxos town, and it's one of the best-preserved medieval castles in Greece.
The castle was built in the 13th century and is surrounded by walls made of stones and marble. Inside, you'll find the Archeological Museum, a 12th-century Byzantine church, and the ruins of an old Venetian palace.
Visiting Kastro is one of the most popular things to do in Naxos and you can easily spend an hour or two exploring its winding streets, admiring the incredible architecture, and taking in stunning views of the Aegean Sea.
6. Spend an evening at a cocktail bar
During your time in Naxos, you'll want to spend at least one evening at a cocktail bar. Even if you don't drink alcohol, the atmosphere and often the views are worth the visit alone.
Naxos town itself has a wide variety of cocktail bars, including the Honey & Cinnamon Cocktail Bar, Like Home Bar, and the Rum Bar.
However, I'd recommend visiting one of the rooftop bars in town so you can fully appreciate the views. Some fantastic examples include Swing Cocktail Bar, 520 Bar & Restaurant, and Toro Rooftop Cocktail Bar.
You can also head to Yazoo Summer Bliss and Tohu Bar if you're heading to Plaka or Island Bar Naxos if you're visiting Agia Anna.
7. Try some delicious Greek cuisine
No trip to Naxos is complete without trying some of the island's delicious traditional cuisine. With its fresh seafood, colorful salads, and aromatic olives, Greek cuisine is always a hit.
You can find plenty of amazing restaurants in Naxos town where you can sample dishes like moussaka, fried feta cheese with honey, and a classic Greek salad.
If you're a seafood lover, head to the harbor for some of the freshest fish around. My favorite restaurant for this was Nissaki restaurant, which serves up delicious seafood platters with a side of stunning views of the sea. The perfect combination for a romantic evening!
There's no shortage of meals to try for those with a sweet tooth, either. The local pastry shops are full of treats like baklava, kataifi, and loukoumades. For the best ice cream in town, make sure to visit Milkato gelateria. Their homemade flavors are simply divine!
The local wines and spirits in Naxos also deserve a mention – try some of the local white wines, ouzo, or sweet liqueur made from honey and herbs. It's sure to be a highlight of your Naxos holiday!
8. Join a cooking class
If you want to get a real taste of the island, there's no better way than to join a cooking class. This half-day cooking class at Basiliko Family Taverna is perfect for those who want to learn more about Greek cuisine.
During the class, you'll learn about the history and traditions of Naxian cuisine, gather the ingredients for the meals directly from the family garden, and cook up some delicious local dishes. Of course, you'll get to feast on the food you've made afterward, too!
After the class, you can choose to take a walk to the river, and you can even get a glimpse into the cheese-making process at a local producer.
If you want to gain deeper insight into the culture of Naxos while having lots of fun along the way, this cooking class is definitely one of the best things to do in Naxos!
9. Soak up the sun at Plaka Beach
With endless golden sands stretching up to 4 km (2.5 miles), turquoise waters, and plenty of facilities nearby, it's no wonder that Plaka Beach is so popular.
It's known to be one of the most beautiful beaches in Greece and once you get there, you'll understand why! The waters here are crystal clear, which makes them perfect for snorkeling and swimming, so don't forget your snorkel masks.
There's also plenty of space to relax, lots of water sports opportunities, and several beach bars where you can grab a bite to eat. Not only that, but there are lots of cafes, mini-markets, and shops nearby too!
If you're looking for things to do in Naxos, then you need to visit this beautiful beach. Public buses run regularly to Plaka, so you won't have any problems getting there either.
10. Marvel at the Kouros of Apollonas
The Kouros of Apollonas is the oldest statue on Naxos, and it's an absolute must-see. The marble sculpture is over 10 meters (32.8 ft) tall and dates back to the 8th century.
Despite the name, it's actually still an ongoing debate whether it depicts God Apollo or God Dionysus. Regardless, it's an impressive sight to behold and one of the most important archaeological monuments in Greece.
You have to climb a few stairs to reach the statue but it's nothing too strenuous. You can also marvel at the view over the Aegean Sea from here, making it one of the most memorable things to do in Naxos.
If you have time, be sure to explore the rest of Apollonas too! It's located on a small peninsula that juts out into the sea, and you can enjoy some stunning views while you're here.
11. Attend a food tour with wine tasting
Food and wine go hand in hand, so why not combine them into one fantastic experience? This Naxos Food & Wine Tour is an unforgettable tour that's perfect for foodies and wine lovers.
After you meet your local guide, you'll start by exploring the narrow alleys of the Old Town while making your way to the local food market. Here you can sample some of the freshest local produce, as well as enjoy your first glass of Naxian wine.
Then, it's off to some of Naxos' best restaurants, where you'll taste a variety of different foods starting from olives and cheeses to orange pie and donuts. Make sure to arrive hungry, as after all the sampling, the tour includes a full meal with soup, salads, moussaka, and more!
If you want to learn more about the gastronomic culture of Naxos while indulging your taste buds at the same time, this tour is one of the top things to do in Naxos!
12. Have a relaxing day at Agios Prokopios Beach
Agios Prokopios is undoubtedly one of the best beaches in Naxos and is easily accessible via public transport from Naxos town.
The beach has been certified as Blue Flag Status several times and is one of the most popular beaches on the island.
Boasting around 1.5 km (0.9 miles) of golden sands, crystal clear waters, and beachfront facilities, this spot has so much to offer. It's also sheltered from the island's strong winds, so you can try out plenty of watersports here.
Further down the beach, you'll find a charming chapel that's dedicated to Agios Prokopios and distinctive pink salt lakes too.
If you're looking for things to do in Naxos, then don't miss out on visiting this beautiful beach! It's the perfect place to relax, although it can get busy throughout the day so it's best to visit during the morning.
13. Go on a bus tour of the island
If you're not planning to hire a car or ATV to explore the island, then I'd recommend taking a bus tour instead. Although the public bus system is pretty good on the island and it's cheap, the routes don't reach everywhere.
This Highlights bus tour lasts for eight hours and will take you to some of the most popular Naxos attractions.
You'll get picked up around 9 am, and then you'll head to the green valley of Gyroula, where you'll explore the Temple of Demeter. From there, you'll continue to Chalki Village, Apiranthos village, and Apollonas. Other places you'll get to visit include Eggares Village and the ancient marble quarries.
This bus tour also includes a swimming stop making it the perfect way to spend one of your days on Naxos!
14. Snap some cool photos at the Alyko Hotel Ruins
Visiting the abandoned ruins of the Alyko Hotel is definitely one of the most unique things to do in Naxos. The hotel was intended to be a luxurious seafront hotel complex, but it was never completed due to financial problems.
Today, it stands as an eerie reminder of the past, with its crumbling walls and overgrown plants. In recent years it has also become a favorite spot for street artists so many of the walls are covered with amazing graffitis and murals.
Once you've spent some time exploring and taking pictures, you can cool off with a refreshing swim either at Alyko Beach or Hawaii Beach. Both beaches are super close to the ruins and will offer you a chance to relax and take in the stunning views of Naxos.
15. Hike up Mount Zas
For those looking for an outdoor adventure, the hike up Mount Zas (the highest mountain in the Cyclades) is a must-do.
According to local mythology, Mount Zas is where Zeus was born and raised, so it's definitely a place full of history and legends. The mountain is striking from afar, but hiking to the summit is undoubtedly one of the most adventurous things to do in Naxos!
The hike is not particularly long, but it's very steep and exhausting, so make sure you're wearing appropriate shoes and bring plenty of water with you. Also, I would only recommend this hike to experienced hikers as the last part of it can be quite challenging.
Once you reach the summit, though, you'll be rewarded with breathtaking views of the surrounding islands as well as a true sense of accomplishment.
16. Visit the Temple of Demeter
The Temple of Demeter is one of the most important historical sites in Naxos.
The ancient temple dates back to the 6th century BC and was built to honor the goddess of agriculture, Demeter. Made from the finest quality marble from the island of Naxos, the temple is truly a sight to behold.
It's located near the village of Sangri and is surrounded by lush valleys and olive groves. You can explore the ruins on your own or join the highlights bus tour to learn more about its history and significance in the local culture.
The temple is closed on Tuesdays, so make sure to plan your visit accordingly!
17. Get lost in the colorful streets of Chalkio Village
Another one of the best things to do in Naxos is visiting the picturesque village of Chalkio.
This charming village is located in the middle of the island's mountainous region and is known for its narrow, winding streets and brightly-colored houses. It's the perfect place to wander around and simply soak up the warm atmosphere.
You can head to the main square of Chalkio, where you can find the iconic church of Panagia Protothronos, or explore the small alleyways and admire the traditional architecture. You'll also find several traditional cafes and taverns where you can try some of the local delicacies.
Roaming the streets of Chalkio is one of the quintessential experiences on Naxos and a must-do if you're looking for something off the beaten path!
18. Wander around Apiranthos
If you want to visit more villages in the middle of the island, make sure to head to Apiranthos as well. It's only a 20-minute drive from Chalkio or a 40-minute drive from Naxos town, and it's said to be one of the most beautiful villages on the island.
Known for its incredible architecture, authenticity, and endless attractions – Apiranthos has so much to offer. The village is located on the slopes of Mount Fanari, so it naturally boasts stunning views of the surrounding area.
However, it's the architecture that steals the limelight as you'll get to wander along paved alleyways, admire stone-built towers, and explore old churches.
The village is home to five museums which makes it one of the best places to visit in Naxos for culture buffs. This includes the Apiranthos Archaeological Museum, the Folklore Museum, the Geological Museum, the Museum of Natural History, and the Visual Arts Museum.
19. Go scuba diving
If you're looking for a bit of adventure, then why not try scuba diving? The waters surrounding Naxos are crystal-clear, making them a fantastic place for spotting marine life under the surface.
This scuba diving experience is perfect for both beginners and certified divers, although if you're certified, you can opt for a boat dive instead.
You'll start your adventure at the Nima Diving Center, which is located in Agia Anna. From there, you'll have an experienced team on hand to give you the best experience.
Just keep in mind that the dive sites are all affected by weather conditions, so if your dive is canceled due to poor weather, you'll get a full refund.
Best Cruises & Day Trips from Naxos
20. Head to Paros on the ferry
Although you won't run out of things to do in Naxos, it's always worth taking a day trip out to one of the nearby islands if you have the time for it.
Paros is one of the most popular islands in Greece and is known for its stunning beaches, idyllic villages, and epic landscapes.
As the island is right next to Naxos, the ferry between the two islands only takes an hour, which leaves you plenty of time to explore during the day.
Some of the best places to visit in Paros include Parikia, Naousa, Lefkes, and Paros Park. You'll also want to visit some of the stunning beaches on the island, including Kolympethres, Parasporos, and Santa Maria.
Just make sure you keep an eye on the ferry times for your journey back!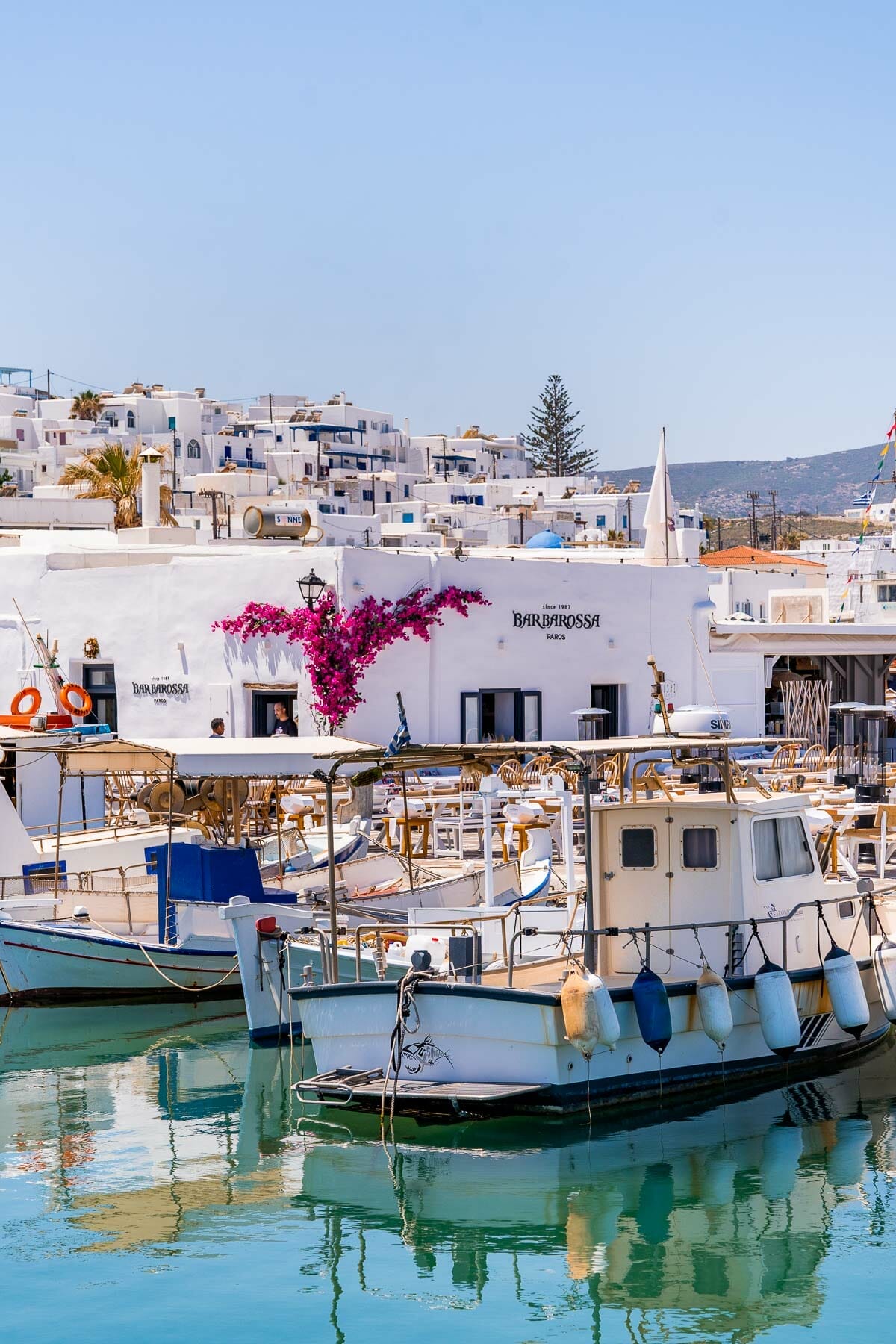 21. Head out on a Catamaran Cruise
If you're wondering what to do in Naxos, then why not head out on a catamaran cruise? It's one of the best ways to explore the Aegean Sea and you'll get to see plenty of wonderful sights along the way.
This all-inclusive catamaran cruise is a great option as it includes lunch, snacks, and alcoholic beverages.
You'll also get to borrow snorkeling equipment while you jump off the boat and explore the crystal-clear waters all around you! The catamaran cruise will take you to some of the most secluded beaches on Naxos, as well as some beautiful coves.
The cruise lasts for around eight hours, so it's a full-day experience.
22. Take a day trip to Mykonos Island
Due to its great location, Naxos is the perfect base for visiting some of the other nearby islands. One of these is the beautiful island of Mykonos, and this fantastic round-day trip will get you there!
You'll depart from Naxos Port early in the morning and then spend around two hours sailing before you reach Mykonos.
Once you've departed the boat, you'll have around six hours of free time to explore the island and see the best sites. You can either hire a car from the port area to explore, or you can simply get around by using one of the local buses.
Either way, try to fit in some of the most popular spots, including the picturesque Kato Mili windmills, the charming neighborhood of Little Venice, and the beautiful church of Panagia Paraportiani.
23. Take a cruise to Koufonissia Island
There's no denying that cruising around the Aegean Sea is one of the best things to do in Naxos! You'll find plenty of tour operators and cruise options on the island, but this unique cruise takes you to the beautiful Koufonissia Island.
You'll be hopping aboard a traditional wooden boat and heading out on a cruise around Naxos first before you visit Kato Koufonissi.
This island is uninhabited, so you'll get to dive off the boat and explore it to your heart's content in the surrounding waters.
An onboard BBQ lunch is included with this cruise, and then you'll head to Ano Koufonissi, where you'll have three hours of free time to wander around.
Unlimited water, soft drinks, and wine are also included on this tour, so it's fantastic value for money!
---
Planning a trip to Naxos?
Then you might want to take a look at all our other travel guides about Naxos. I promise, they are just as awesome as this article was!
Other Amazing Destinations in Greece: Athens | Santorini | Mykonos | Milos | Paros
---
Pin It for Later!