Naxos is undoubtedly one of the most beautiful islands in Greece and should be a must for any bucket list. Boasting breathtaking beaches, striking landscapes, and plenty of archaeological sites, it's no wonder that this island attracts so many tourists every year.
However, if you're visiting Naxos for the first time, then there are a couple of things you should know. I've condensed them all into this Naxos travel guide so you don't have to spend all day researching for your trip.
This travel guide to Naxos will take you through all the information you need to know including where to stay, how to get around, and the best things to do. So, let's dive right in!
*Disclosure: This post contains a few affiliate links, which means I may receive a small commission, at no cost to you, if you make a purchase through my link.*
No time to read now? Pin it for later!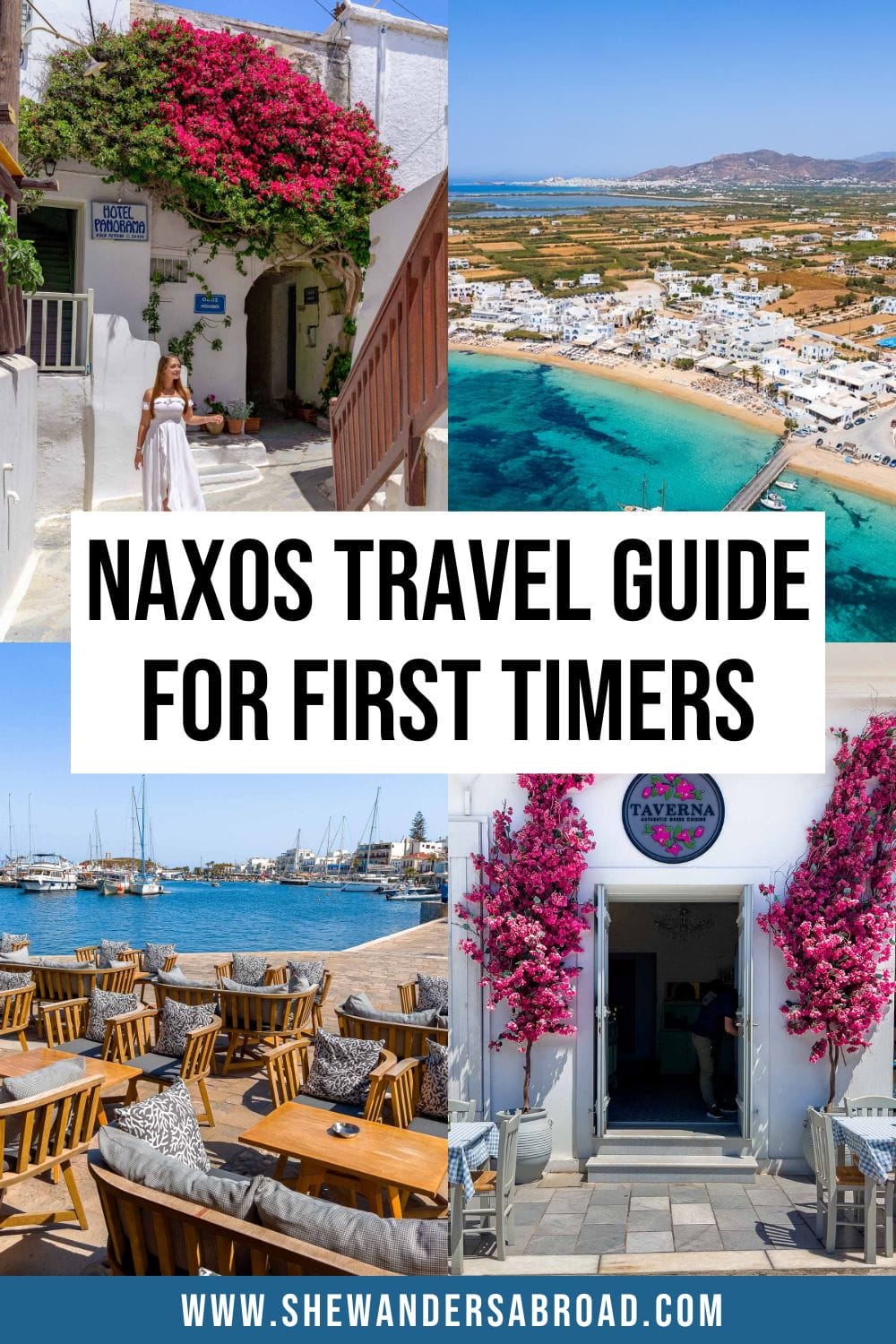 Naxos Travel Guide: Useful Info for Your First Visit
Where is Naxos located?
Naxos Island is part of the Cyclades Island group just like the islands of Ios, Milos, and Santorini. It's situated in the middle of several islands including Paros and Mykonos so is a great base for exploring the rest of the Cyclades.
Naxos is around 175 km (108 miles) from the capital of Athens.
How big is Naxos?
Naxos is the largest island of the Cyclades family and covers an impressive area of around 430 square km (166 sq miles). The width of the island is 24 km (15 miles) at its widest point, and its length is 33 km (20 miles) from the North to the South.
What is Naxos known for?
The island is known for many things, but primarily it's considered to be a popular holiday spot because of its beautiful beaches, delicious cuisine, and archaeological sites.
Naxos is also known for its Greek mythology and you'll find plenty of places across the island that are thought to be connected to the gods.
How many days to spend in Naxos?
As Naxos is the largest of the Cyclades, there's a lot to see! I'd recommend spending at least 3 days on the island so you can see the best sites and not have to rush.
However, many people choose to come for the week so it's completely up to you. There are certainly enough things to keep you occupied for longer!
What currency is used in Naxos?
Like the rest of Greece and Europe in general, the island of Naxos uses the Euro (€). As with many of the islands in Greece, card payments are widely accepted but many businesses will prefer you to pay with cash.
Do I need a visa to visit Naxos?
If you're traveling to Greece from other countries in the European Union, you don't need to apply for a visa but you will need a valid ID card or passport.
Other countries such as Australia, Canada, the United States, and New Zealand can travel through the Schengen area without a visa for up to 90 days.
The circumstances will differ depending on your country of origin so make sure you check the visa requirements for Greece before you travel.
Is Naxos expensive?
The island of Naxos is a great destination for budget travelers as it's not expensive. Although the nearby islands of Mykonos and Santorini will put a dent in your wallet, you'll find Naxos to be extremely affordable.
The public bus system here is very cheap and you can find some great bargains on accommodation too!
Is Naxos safe?
Generally, Naxos is a very safe island to visit. During the day it's extremely safe to wander around but at night just keep an eye on your belongings (as you would anywhere).
How to Get to Naxos
Flying to Naxos
There are no direct flights to Naxos from anywhere other than Athens so you'll need to travel from the capital if you want to fly. In this case, it's worth doing a short layover and seeing the best of Athens in a day too!
The flight to Naxos from Athens only takes around 30 minutes so it's the quickest way to reach the island by far.
However, as it's the most convenient mode of transport, you'll often pay much more for plane tickets compared to the ferry. If you book in advance though you might get a good deal!
The airport on Naxos is located at Agios Prokopios which is just 3 km (1.8 miles) from the main town of Chora/Naxos.
Taking the ferry to Naxos
Catching the ferry to Naxos offers more flexibility as you don't necessarily have to travel from the capital. There's a ferry service that runs from Athens though if that's where you're staying.
You can get the ferry to Naxos from several Greek islands including Mykonos, Paros, and Santorini among others.
There's also a local express ferry that operates six times a week between Naxos, Amorgos, and other islands from the 'small Cyclades'.
The ferries take between 4-6 hours depending on where you're traveling from but tickets are often much cheaper than flying. During the summer months, the ferries run frequently too which is always handy.
Usually, there are more ferry operator companies on the same route with various prices and duration. You can use the below search box to compare ferries and check the schedules.
Best Time to Visit Naxos
High season
The peak/high season in Naxos runs from June to September and this is when you'll experience the most crowds.
These months are popular for a reason as the temperature during this time of year ranges from 18-30°C (64-86°F). You'll also experience plenty of sunshine throughout the summer and rainy days are relatively uncommon.
You'll have no problem getting to Naxos during the summer either as the ferries run regularly. This is generally the case for most Greek islands!
Just keep in mind that accommodation prices during the peak season can be more expensive and you'll need to book in advance.
Shoulder season
If you're looking to avoid the crowds, then I'd recommend heading to Naxos during the shoulder season. The shoulder season consists of May, early June, September, and early October and has plenty of advantages.
Not only is it quieter, but you'll find some great deals on accommodation, especially if you book in advance.
The weather is still pleasant too but you've got a higher chance of rainy days. Temperatures range from 14-28°C (57-82°F) so many of the days are still pretty warm.
However, some of the restaurants and tour agencies may be closed which is something to consider.
Low season
The low season in Naxos generally runs from late October to April. It's the quietest time to visit the island although the weather can be unpredictable.
The temperature will vary depending on when you visit throughout this time of year but expect a range between 9-25°C (48-77°F). Late October will often give you the highest temperatures although this isn't guaranteed.
You'll also want to keep in mind that precipitation levels are at their highest during the low season, although you can bag some great accommodation deals.
However, ferries will be running on a limited schedule during this season, and many of the restaurants and tour agencies will be closed.
How to Get Around in Naxos
Public transport
Naxos has a really efficient public transport system and it's extremely cheap too. Tickets start from just €1.80 and there are several routes on the island.
You'll easily be able to reach the most popular spots on Naxos including Agia Anna, Agia Prokopios, and Plaka, and the service is quite frequent too.
The central bus stop is found in Naxos town/Chora and this is where you'll have the most options. From here, you can access not only the places mentioned above but Apollonas, Filoti, and Koronos among others.
During the summer months buses are much more frequent so just keep that in mind. For more information, you can check out the official website of Naxos Buses.
Car rental
If you're visiting Naxos for the first time, then I recommend hiring a car if you're able to. There are so many fantastic places to visit on the island and some of them are hidden gems, so you won't find any bus services that run there.
If you can hire a car you also won't be restricted by the bus timetables, so you'll have much more flexibility.
The only thing to consider is the price. If you're planning to visit Naxos during the peak season, then car rental prices can be higher than usual. This is where the shoulder season comes in handy, as you can find some great rental bargains during this time.
Taxi
If you'd prefer not to hire a car or catch the bus, then you've always got the option of using taxis instead. They are undeniably comfortable and convenient, but they are much more expensive than using public transport.
This is especially the case during peak season, so you won't want to get around this way if you're on a budget. If you're traveling as a group and splitting the cost, then it becomes more affordable.
Taxis on the island are generally found parked near the ferry port, the airport, and throughout Chora.
Where to Stay in Naxos
If you're visiting Naxos for the first time then deciding where to stay is no easy feat! Luckily, you can find a wide range of accommodations starting from budget hostels to many gorgeous luxury hotels in Naxos.
There are six popular areas on the island and these are Agia Anna, Agia Prokopios, Chora/Naxos town, Mikri Vigla, Plaka, and Stelida. Each one has something unique to offer and it will all depend on what you're after.
If you're interested in reading more about each place and what they have to offer, make sure to check out my in-depth guide about where to stay in Naxos.
However, if you're in a rush, take a look at my top choices for different budgets below.
LUXURY – 18 Grapes Hotel
This hotel is the definition of luxury, with gorgeous suites, a fantastic concierge service, and incredible facilities. Boasting an outdoor swimming pool, a spa & wellness center, an on-site restaurant, and a bar – 18 Grapes Hotel has so much to offer! They even offer personal shopping and treatment experiences.
MID-RANGE – Naxian Breeze
Situated right by the beautiful Agia Anna Beach, Naxian Breeze is another fantastic option. They offer a variety of sea-view studios and apartments, and each one is kitted out with a kitchenette and a private balcony. You'll also find plenty of bars, restaurants, and supermarkets nearby!
BUDGET – Hotel Sphinx
Centrally located in Naxos Town, Hotel Sphinx is only 50 meters away from several traditional taverns, shops, and cafes, 150 meters from Agios Georgios Beach, and a 10-minute walk from Naxos Port. The Deluxe suites are really spacious and worth the upgrade.
Best Places to Visit in Naxos
For the ultimate travel guide to Naxos, you'll want to visit some of the island's beautiful beaches and important archaeological sites. Here are the places you don't want to miss!
Naxos town/Chora – Chora is the island's capital and is known for its scenic coastline, whitewashed buildings, and fantastic restaurants. You can find some of the best things to do in Naxos here like exploring the old town, visiting the Temple of Apollo, and wandering around the Archaeological Museum. You'll find lots of cute restaurants here too.
Plaka Beach – Plaka Beach is considered to be one of the most beautiful beaches in all of Greece. Once you get there, it's easy to see why! With up to 4 km (2.5 miles) of golden sands, turquoise waters, and lots of facilities, it's one of the best beaches on the island. You can try your hand at watersports here too.
Mount Zas – Mount Zas is the highest mountain in the Cyclades and it dominates the island's skyline. At an impressive height of 1,003m (3,290 feet), it's no wonder that this is where the God of Zeus spent the majority of his childhood – according to Greek mythology. If you hike to the summit, you'll be treated to spectacular views!
Kastro – During your visit to Chora, you need to visit the Kastros of Naxos. This castle dates back to the 13th century and there is a small village within its walls. Kastro is made up of four levels in total and there are plenty of fortress towers throughout.
Agios Prokopios Beach – This is one of the best beaches in Naxos and has been certified as Blue Flag Status several times. Boasting golden sands, crystal clear waters, and beachfront facilities, this beach has a lot to offer. You'll have no problem getting there either as public buses run to Agios Prokopios.
Alyko Beach & Cedar Forest – Alyko Beach and the cedar forest next to it are both a must-visit during your stay in Naxos. The beach is one of the largest on the island and is pretty quiet compared to some of the others. You can also find some really cool hotel ruins nearby which are now home to many graffitis and street art.
The Temple of Apollo – No Paros travel guide would be complete without including a visit to the Temple of Apollo. Today, there's just an enormous marble gate that's left from the old temple which dates back to around 530 BC. This place is one of the most visited sites on the island and it's associated with Greek mythology.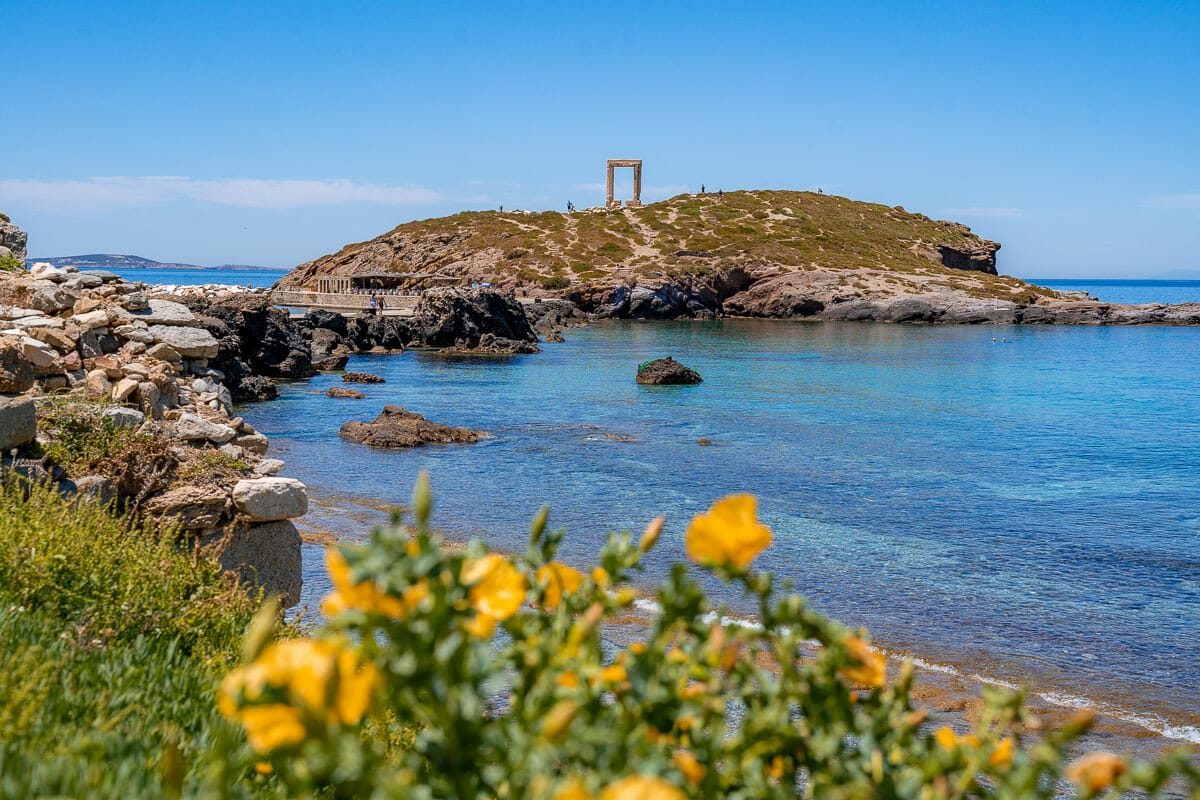 Apiranthos – This is one of the most beautiful villages on the island and it's known for its authentic charm and incredible architecture. Located on the slopes of Mount Fanari, Apiranthos offers stunning views of the surrounding area and there are plenty of attractions to visit here too. There are five museums for you to explore in fact!
The Archaeological Museum – This incredible museum is set in a 17th-century Venetian building. There are four floors so as you can imagine there are plenty of cool items to see here. This ranges from typical Cycladic statues to clay pots. No trip to Naxos is complete without visiting the Archaeological Museum as you'll get to learn about the island!
Agios Georgios Beach – Agios Georgios Beach is just a short walk from Naxos town/Chora and it's one of the most family-friendly beaches on the island. With calm shallow waters and a sandy shelf that extends out into the sea, it's the perfect spot to spend some quality time with the little ones.
Best Places to Eat in Naxos
There are plenty of fantastic restaurants in Naxos, especially in the main town. Whether you're looking to sample some local cuisine or try some fresh seafood, this island has something for everyone.
For the best experience, you'll want to dine at some of these spots!
Nissaki Restaurant – Nissaki Restaurant is close to Saint Georges Beach and is located within the Nissaki Beach Hotel. Many of the dishes are seafood based, but they also offer grilled meats and pasta dishes. Whether you're looking for a quick lunch or a romantic evening under the stars, this restaurant is the perfect option.
Scirocco Cafe Restaurant – This is undoubtedly one of the best places to eat in Chora. It's a family-owned restaurant that's been around since 1995 and is renowned for its delicious food. From Greek salads to fresh seafood, there are options for everyone but it's the desserts that often steal the show; the homemade orange pie especially.
Padelis Coffee Shop – This coffee shop is also located in Chora and is known for its fantastic service and friendly staff. They serve a variety of tasty dishes including burgers, club sandwiches, and waffles so there's something to everyone's taste. Just make sure you try the loukoumades during your visit here!
Doukato Restaurant – Doukarto is just a short walk from Naxos Port and is one of the most popular options in town. Boasting a beautiful outdoor seating area, a great atmosphere, and delicious dishes, it's no wonder this place gets so busy! Trust me, this is a place you'll go back to again and again.
Taverna Platanos – This place is located in Apiranthos and is one of the best restaurants in the area. Although it's only a small restaurant, this taverna is a hidden gem and the staff are lovely too. It's a great spot to grab some authentic Greek food and you'll get large portion sizes too. Not only that, but the prices are extremely reasonable.
Honey & Cinnamon Cocktail Bar – Although based on their name you would assume that this place is a chic cocktail bar, it's actually a lot more than that! Besides cocktails and long drinks, Honey & Cinnamon Cocktail Bar offers plenty of brunch options, and lots of other delicious dishes including bagels, salads, and tortillas.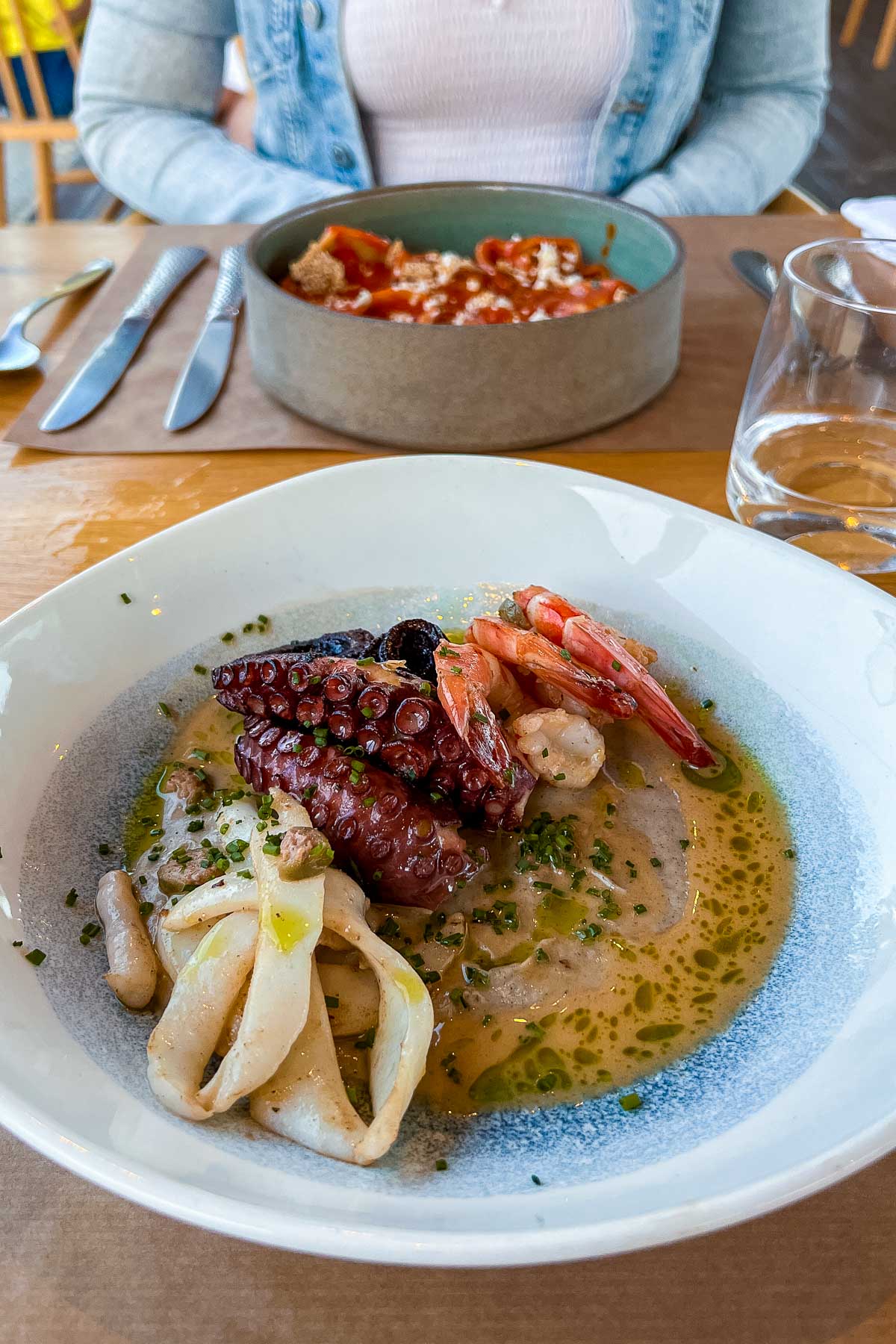 ---
Planning a trip to Naxos?
Then you might want to take a look at all our other travel guides about Naxos. I promise, they are just as awesome as this article was!
Other Amazing Greek Destinations: Athens | Santorini | Mykonos | Milos | Paros
---
Related Posts
Want to read more about Greece?
---
More Greek Islands Resources
Do you want to read even more about the Greek islands? Check out these awesome books and travel guides for more inspiration!
---
What Camera Gear Do We Use?
If you want to read more about what is in our camera bag, check out my detailed post about our travel photography gear!
---
Pin It for Later!