Chalet al Foss is hands down one of the most unique properties I've ever been to. The hotel has become incredibly popular on Instagram over the last few years, and it's easy to see why.
The property is set in a picturesque valley in the Italian Alps, with nothing but mountains and forests as far as the eye can see. What makes the hotel really stand out is that they offer many unique experiences that cannot be found anywhere else.
Just imagine having breakfast with alpacas, enjoying an aperitif in the infinity pool overlooking the mountains, or dining in a romantic private chalet with your other half.
After seeing countless photos and videos about this place, you might be wondering: how does it compare to reality? Is it worth the hype?
In this blog post, I'll be sharing my honest opinion about Chalet al Foss after having stayed there for 3 nights. Let's get into it!
*Disclosure: This post contains a few affiliate links, which means I may receive a small commission, at no cost to you, if you make a purchase through my link. Please note that we were invited to stay at Chalet al Foss, however, all thoughts and opinions are my own, as always.*
Basic Information
Arriving at Chalet Al Foss
Located in Vermiglio, a small town in the province of Trento, Chalet al Foss is a less than 2-hour drive from Bolzano or a little over 3 hours from Milan.
Both cities have airports but the one in Milan is much bigger and has more international flights, so if you're coming from abroad, that's probably the best option.
Whichever airport you choose, I recommend renting a car as the hotel has a bit of a remote location and getting there by public transport is not very easy. Another bonus of renting a car is that you'll be able to go on a road trip in the Dolomites and explore the area more easily.
When we arrived at the hotel, we were warmly greeted by the staff and received a refreshing welcome drink. While enjoying our beverages, we quickly went over the schedule of our special experiences.
As I mentioned before, Chalet al Foss is famous for offering unique and special activities that you won't find anywhere else. From romantic private dinners by the pool to enjoying breakfast in the forest, there's something for everyone.
All in all, the check-in process was very smooth and quick, and after the staff gave us a little tour of the property, we were off to our room.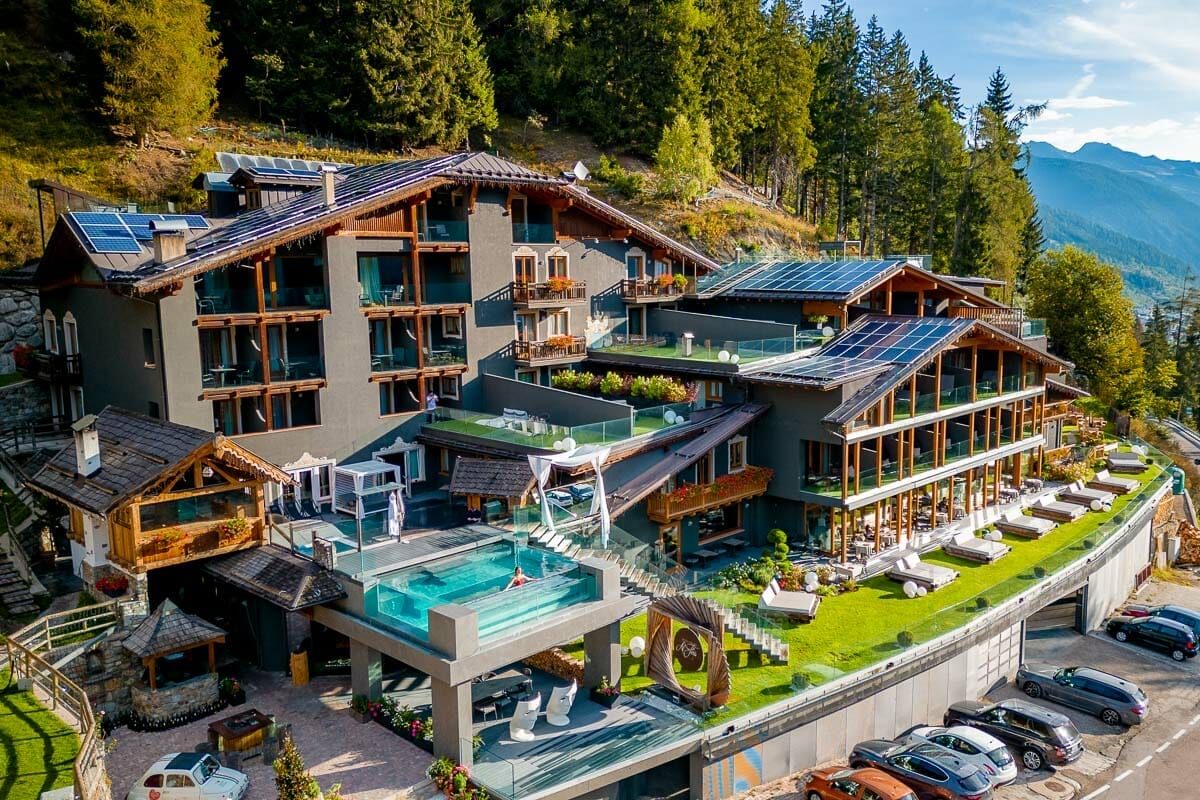 Rooms & Suites
At Chalet Al Foss, there are 44 various rooms and multiple room types. Luckily, they all offer beautiful views, so it just comes down to the type of room that you'd rather stay in, as well as the budget for your holiday.
The atmosphere of each and every suite is incredibly calming and relaxing, as they all feature some type of cabin-like warm wood accent mixed with modern finishings. Some of the rooms even have unique hanging beds, unlike anything I've ever seen before at another property!
The team at Chalet al Foss has truly gone above and beyond with the styling of the rooms, and it's easy to see why this is such a romantic place for a couple's getaway.
Alpin Lodge with Private Jacuzzi Outside #216
During our stay at Chalet Al Foss, we stayed at the absolutely beautiful Alpin Lodge with Private Jacuzzi Outside #216.
What's really unique about this room is that it's actually split between two levels, making you feel like you're in your own private chalet.
Upon entering, you'll find yourself in the first bedroom which is complete with a king-size bed, a bathroom, and a small terrace. What I really loved about this terrace is that it looks over to the shelters of the alpacas so you can wake up to their cute faces every morning!
Although I already loved the ground floor of our room, the best part was definitely the upstairs loft. Right after walking up the stairs, you're greeted by a huge glass walk-in shower which is perfect for some R&R after a long day of exploring.
The upstairs area also had a lovely sitting area with wooden benches and a second bedroom kitted with a comfy, king-sized bed and a free-standing bathtub.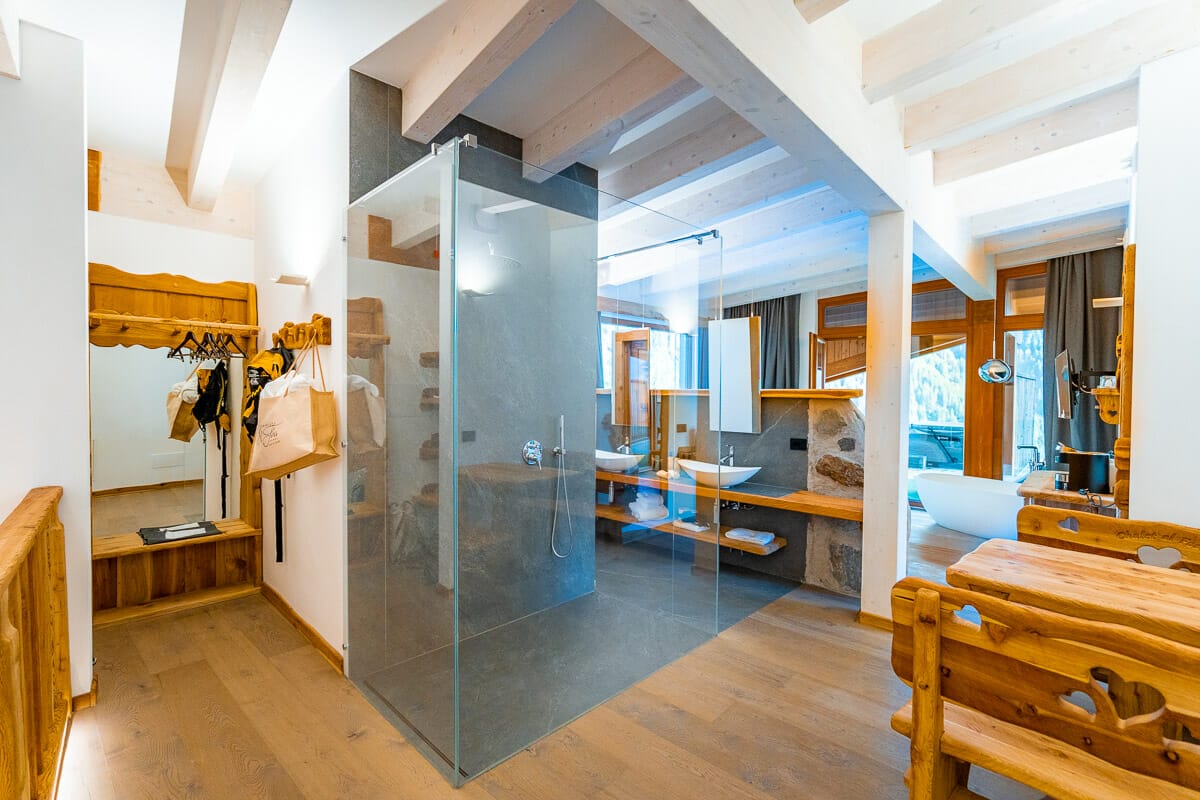 But the real highlight of our lodge was the private outdoor terrace with a hot tub overlooking the mountains. I didn't want to believe my eyes when I first saw it!
Suffice to say, we spent most of our time relaxing in the bubbling waters while enjoying the incredible views. If you're looking for a truly romantic and unique experience, I highly recommend staying in one of the Alpin Lodges during your time at Chalet al Foss!
Wellness & Spa
The wellness and spa area at Chalet al Foss is definitely one of the highlights of the property. If you're looking for a relaxing mountain getaway, you'll be in great hands!
For starters, you can enjoy a swimming pool, a Turkish bath, or a bio sauna inside the H2O Alpin Spa. This means even if the weather is too cold to be outside, you can still take a dip or relax in the warm, calming atmosphere.
The spa is also home to a wide range of treatments and massages that are sure to help you relax your body and mind.
Apart from the indoor spa, Chalet Al Foss also has an expansive outdoor area which is definitely the highlight of the property. Here, you can enjoy a glass infinity pool overlooking the Presanella Glacier, a panoramic Finnish sauna, and a couple of hot tubs that are perfect for enjoying the breathtaking views on chilly evenings.
The infinity pool is also heated so you can enjoy your swim even during the colder months! One thing to note though is that the pool is not that large, so it can get crowded pretty quickly if the hotel is fully booked.
There is also a live DJ spinning tunes every afternoon by the infinity pool so you can enjoy your swim with some nice jams in the background.
The spa area is generally open between 10 am and 7 pm every day. The early mornings and late evenings are reserved for special experiences such as floating breakfast in the pool or aperitifs in the hot tub (more about them in the next section!).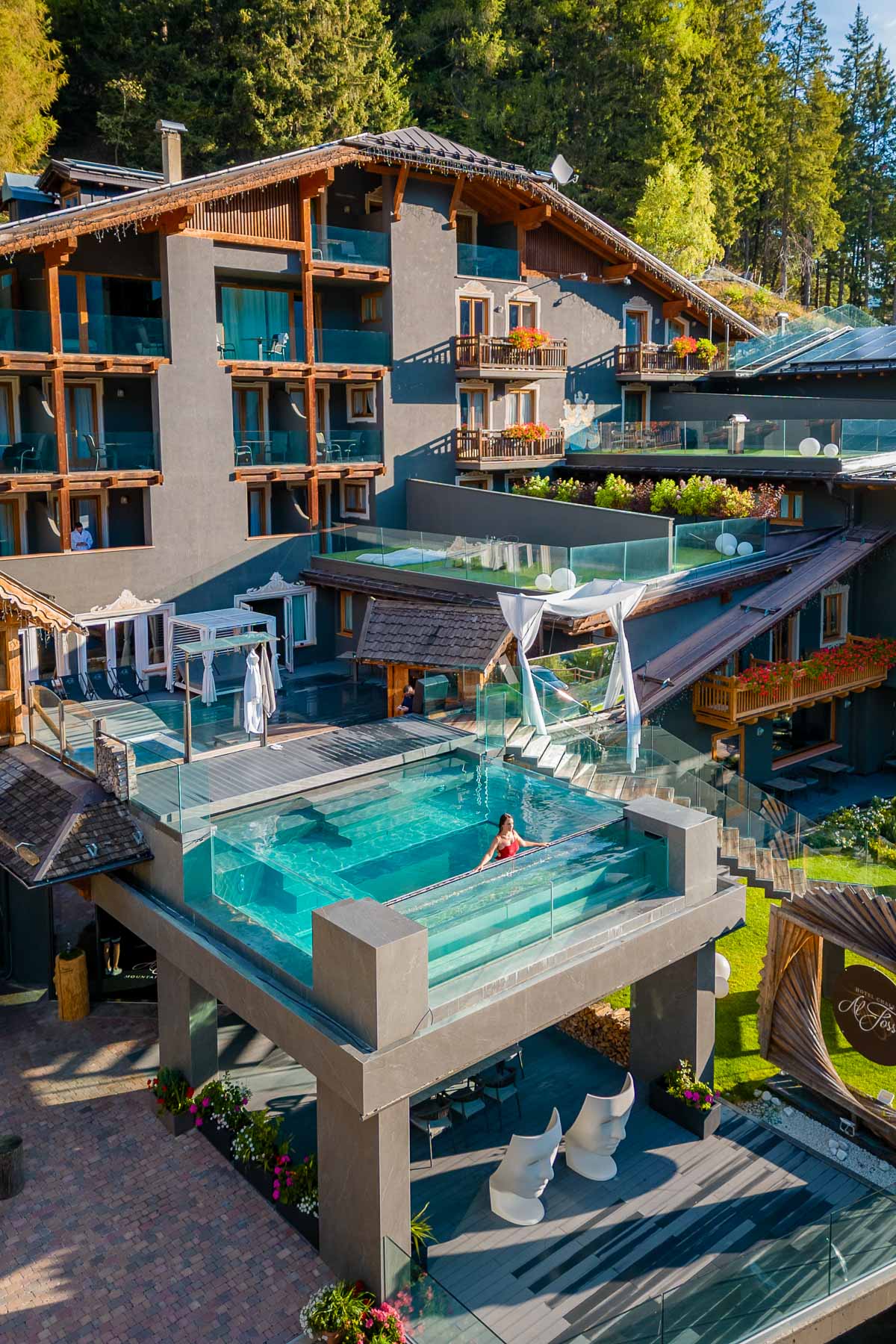 Special Experiences
Chalet al Foss really knows how to create special experiences for their guests, and they've gone the extra mile to make sure you can make the most of your stay.
They offer several extraordinary luxury experiences ranging from romantic breakfasts to hot tub aperitifs and even rooms decorated in rose petals.
No matter what luxury you'd like to enjoy during your stay, there is something for everyone at Chalet al Foss. All you have to do is book it through the concierge! It's best to reserve the experiences in advance but you can also inquire about them when you arrive at the hotel.
Most of the special experience packages were created for the utmost romantic time. These experiences take place either in the morning (between 8-10 am) or in the evening (from 7 pm onwards).
During these times, the spaces are reserved just for you so you can enjoy the special moments in absolute privacy!
You can find the whole list of experiences here and the romantic love set here.
We were lucky enough to try a few different experiences during our stay at Chalet al Foss, I will go into more detail about them below.
Forest breakfast
If you love breakfasts in bed, this experience will blow your mind. It involves enjoying your morning treats in bed but with a unique twist, as the bed is located in the middle of the forest!
Your bed is set up with cozy blankets and furs, beautiful wildflowers, and of course, delicious breakfast treats.
The breakfast itself includes a selection of local and seasonal products such as cheese, eggs, homemade pastries, and yogurt with granola. And of course, a delicious cup of cappuccino – you are in Italy after all!
You can enjoy the peace and quiet of nature while munching on your breakfast and admiring the stunning view of the valley. It's a perfect way to start your day in the Alps!
Breakfast in love
Another of the romantic breakfast options at Chalet al Foss is Breakfast in Love, a classic romantic breakfast that you can enjoy from the comfort of your own hotel room.
You'll receive freshly-baked croissants, pancakes, and delicious fruit cups served with a selection of teas or coffees. Plus, the breakfast comes with the most beautiful decorations, including roses, heart-shaped balloons, and more.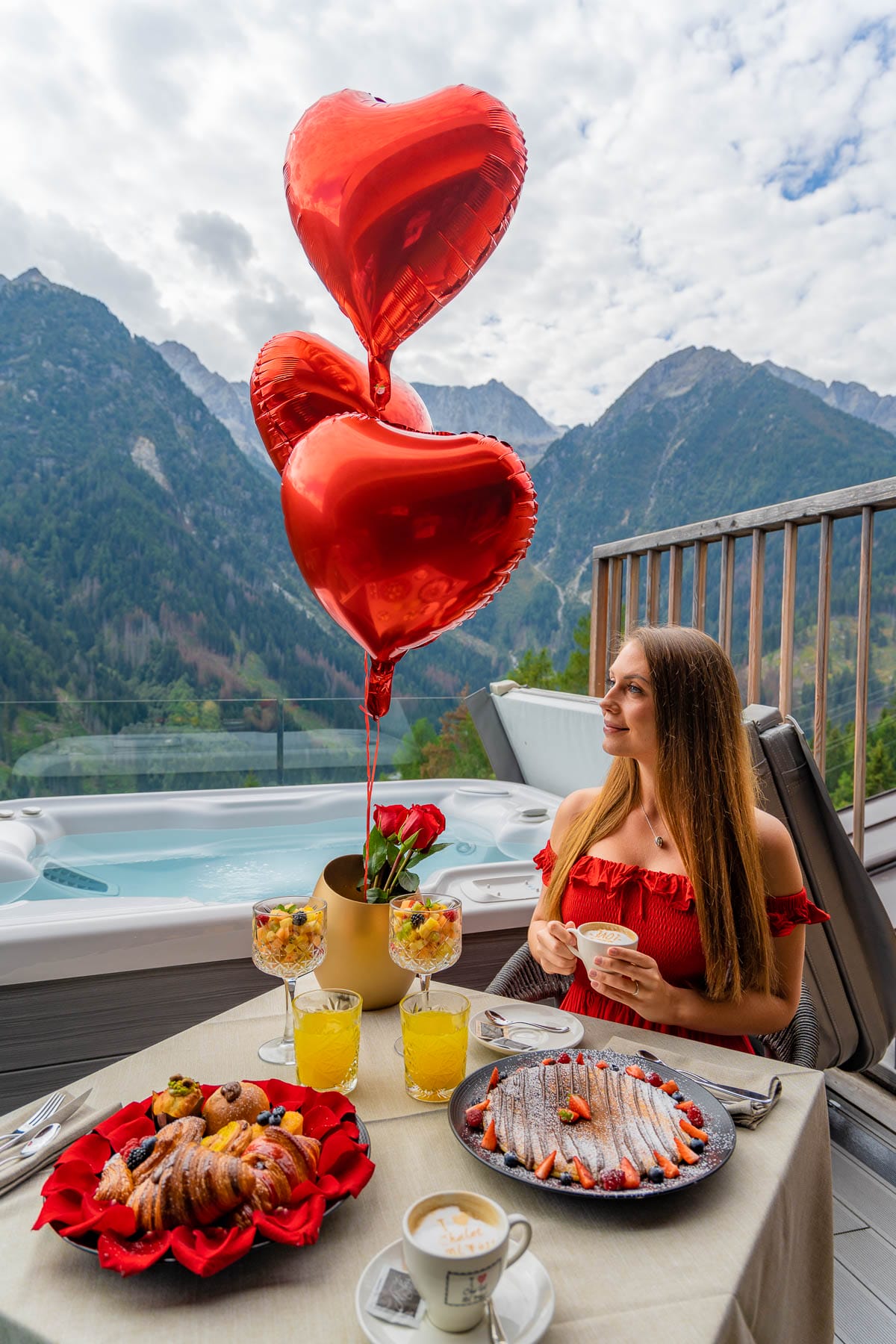 Floating aperitif
Having a floating breakfast in the infinity pool is one of the most popular experiences at Chalet Al Foss. In fact, it's so popular that it was fully booked during our stay! So if you want to make sure you'll get to enjoy your breakfast in the pool, be sure to book it as soon as possible.
In case the floating breakfast isn't available, you can always enjoy a floating aperitif instead! It's very similar to a floating breakfast, but instead of breakfast treats, you'll receive an assortment of savory snacks and drinks, and it takes place in the evening rather than the morning.
It's a great way to relax and enjoy the stunning sunset views of the mountains in complete peace and quiet. If you want, you can complete the experience with a bottle of bubbly – the perfect romantic way to end your day.
Fire hot tub aperitif
Similar to the floating aperitif, you can also opt for a fire hot tub aperitif. This is an exclusive experience like the one above but it takes place inside the fire hot tub.
You'll receive some yummy treats on a rustic wooden board, like pizza slices, cured meats, and caviar, accompanied by a bottle of champagne. You can stay toasty by standing near the fire in the center of the hot tub while enjoying the unparalleled mountain views.
It's definitely one of the most romantic experiences we tried at Chalet al Foss and it was certainly a highlight of our stay!
(Side note: We originally booked the floating aperitif but then someone canceled on the fire hot tub aperitif so we were able to enjoy both experiences at the same time. That's why you see the same floating tray in both pictures – normally, you receive a different one for this experience but we just moved our tray to the hot tub from the pool!)
Breakfast with the alpacas
Another one of the greatest hits at Chalet al Foss is the Breakfast with Alpacas experience. The hotel has two resident alpacas, Happy and Bernard, who will join you for breakfast in the garden.
You can enjoy a selection of local products, such as freshly-baked pastries, yogurt, and homemade jams, all while the alpacas are grazing around you. This is a great option if you're looking for something different and fun to do during your stay.
Unfortunately similar to the floating breakfast, this experience was also fully booked during our stay. But if you're lucky enough to get a spot, it's sure to be an unforgettable experience!
Since we didn't get to try it out, instead of eating our breakfast with the alpacas, we decided to give breakfast to the alpacas!
We received a little snack plate containing carrots and salads, which the alpacas happily devoured. It was a really fun way to interact with them and I loved their cute little faces so much!
During the day they are staying in their shelter near the garden, and visitors can meet them any time they wish. Happy and Bernard are such lovely alpacas, it was a pleasure spending time with them!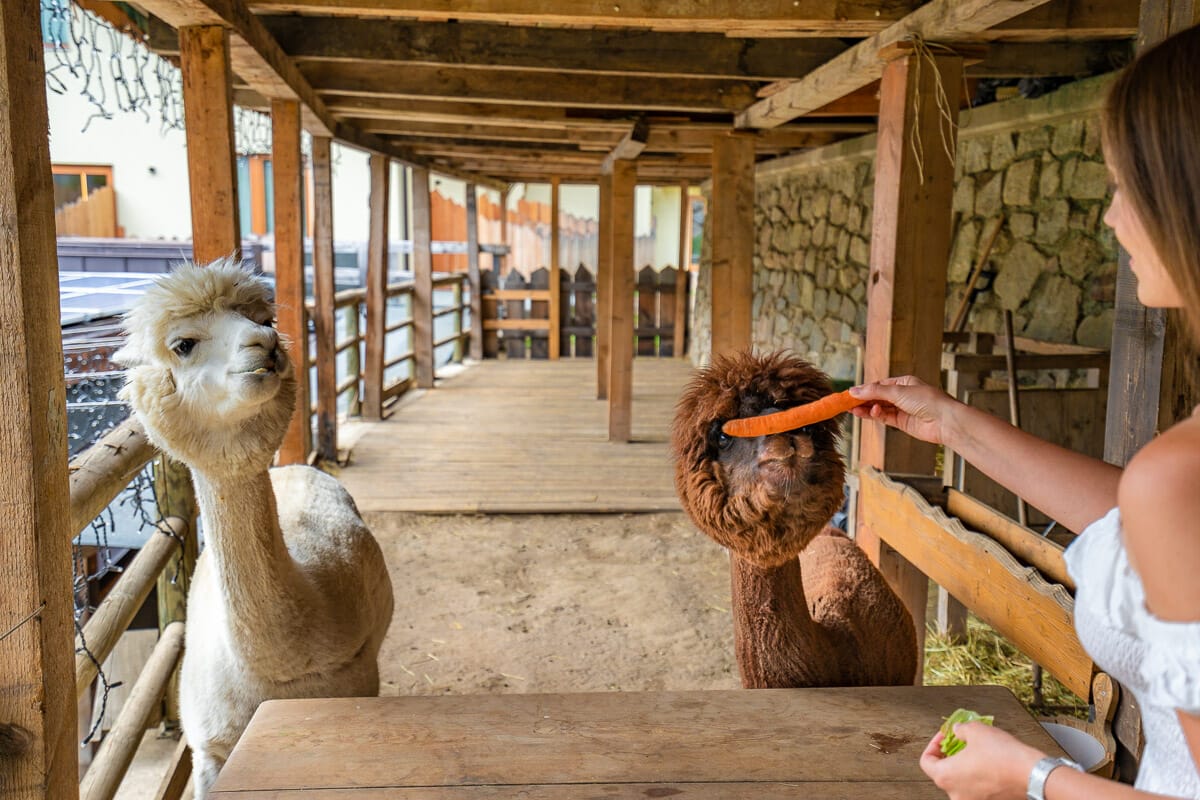 Dinner in the small chalet
If you're looking for a special dinner experience, I would definitely recommend dinner in the small chalet. This is an intimate, private dining experience that takes place in one of the beautiful small wooden chalets on the grounds of Chalet al Foss.
The atmosphere is super cozy, with candles and fairy lights decorating the chalet, as well as a stunning view of the mountains in the background. If you want to surprise your loved one with something really special, this is definitely the way to go!
The 6-course gourmet dinner is prepared by the chef and they generally offer two different sets, one vegetarian and one meat-based. The menu is always changing depending on the seasons and it's made of local and seasonal ingredients.
For dessert, we received a cute box full of homemade sweets and pastries, which were delicious! Since they came in a box, we decided to take them up to our room and cozy up in bed to eat them while watching a movie. It was a really nice way to end our perfect evening at Chalet al Foss!
Red passion
For the ultimate romantic experience, you can opt for the Red passion, which is one of the most beautiful surprises you can give to your partner.
For this special occasion, the staff of Chalet al Foss will decorate your room with hundreds of rose petals, roses, and fairy lights which will make your loved one feel as if they stepped into a romantic movie scene!
If you want it to be a real surprise, you can order the Red passion in secret and the staff will take care of everything while you're out having dinner. Just make sure to book the experience in advance as they require a minimum of 3 days' notice.
In case you want something different, just take a look at the Love Set packages they offer, which include a variety of romantic experiences tailored to your needs.
Dining
Now that you're familiar with all the special experiences that you can book at Chalet al Foss, let's talk about their restaurants!
Even if you don't opt for any experiences for breakfast or dinner, you can still take advantage of their amazing restaurants on-site. They have a restaurant focusing on gourmet dining and the main restaurant overlooking the mountains and serving classic Italian dishes.
If weather permits, you can also enjoy your meals outside, either on the terrace of the main restaurant or the garden right next to it, which features cute wooden benches and heart-shaped wooden tables. What's really special about this place is that each table has a little fountain with drinking water coming right from the mountains!
Breakfast is included in your stay so if you don't want to do anything special, you can just enjoy the delicious food that's served at the restaurant. It's an a la carte breakfast so you can pick what you want to eat and that way, you'll be sure not to miss anything!
You'll receive a menu containing various egg dishes, meats, cheeses, bread, and pastries, as well as fresh fruits. Their Egg Benedict is definitely a must-try and the pastries are simply to die for!
For lunch or dinner, you can choose between the classic Italian dishes of the main restaurant or go for something more gourmet in the other restaurant. We opted for the main restaurant because the view of the mountains was stunning and we really enjoyed the same classic dishes that you can find all over Italy.
The food was absolutely divine and the atmosphere was really nice. Plus, you even get to choose from a wide selection of Italian wines as well!
Final Thoughts
Overall, our stay at Chalet al Foss Alp Resort was nothing short of amazing. From the stunning views, luxurious amenities, delicious food, and romantic experiences, this is the perfect destination for a couples getaway.
The hospitality was also top-notch and we felt completely taken care of throughout our stay. We can't wait to come back for another romantic getaway in the Italian Alps, I would love to see what other surprises they have in store for us!
If you're looking for a luxurious, romantic getaway that's full of special experiences, I would highly recommend Chalet al Foss Alp Resort.
---
Planning a trip to the Dolomites?
Then you might want to take a look at all our other travel guides about the Dolomites. I promise, they are just as awesome as this article was!
Other Great Destinations in Italy: Cinque Terre | Florence | Lake Como | Lake Garda | Rome | Venice
---
Pin It for Later!