With dazzling views of the mountains of the Trentino, La Maiena Meran Resort is a truly beautiful 5-star accommodation that boasts contemporary style and luxurious amenities.
We were recently lucky enough to stay at La Maiena Meran Resort, and in this review, I'll be sharing all of my honest thoughts about the stay. From the room types to the restaurants and everything in between, this La Maiena Meran Resort hotel review covers it all.
*Disclosure: This post contains a few affiliate links, which means I may receive a small commission, at no cost to you, if you make a purchase through my link. Please note that we were invited to stay at La Maiena Meran Resort, however, all thoughts and opinions are my own, as always.*
No time to read now? Pin it for later!
Basic Information
Location & Check-in process
Located directly in Meran in South Tyrol, La Maiena Meran Resort is in an area of Italy that's incredibly underrated. The area is surrounded by breathtaking mountains and picturesque villages similar to those you'd expect to see in Austria or Germany.
The closest airport to the hotel is Bozen Airport in Bolzano, which is about 30 km (19 miles) from the property. This takes about a 30-minute drive for guests renting a car, and the drive is incredibly picturesque!
Those who plan to drive a car to the resort will be happy to hear that there is free private parking available right on site, as well as vehicle charging stations for electric cars.
The check-in process at La Maiena Meran Resort is very simple and easy, and we received a warm welcome from the staff upon arrival. Check-in begins at 3 pm and ends at 10 pm, while check-out is by 10 am.
For those who need it, luggage storage and express check-in/check-out are available.
Rooms & Suites
La Maiena Meran Resort has 22 different room types available to be booked by guests, ranging from comfortable double rooms to luxury penthouses. Each of the rooms has been uniquely decorated with welcoming green, brown, or blue color schemes, which aid in relaxation.
One of the great things about the rooms here is that there is something for everyone. There are rooms for couples looking for a romantic getaway, families wanting to explore Italy's countryside, and even solo travelers who want to enjoy modern luxury.
The property's Meran Lodge has gone to zero waste as of 2022, featuring plastic-free bathrooms. Guests in these suites enjoy natural products that are made locally with fresh ingredients.
Penthouse Suite Lodge Spa
While there are many fantastic room types available, the Penthouse Suite Lodge Spa is one that truly takes the cake with its elegant touches and teal accents. There's only one of this room type, and it's available upon request.
The room boasts a seating area atop a turquoise rug, beautiful vases that add a sophisticated touch, unique lighting fixtures on the ceiling, and even welcoming floral art on the walls.
Featuring a living room area/bedroom, relaxing lounge, and even a heated outdoor whirlpool and sauna, this room is perfect for anyone wanting true relaxation during a vacation away. In addition, there is a desk area for guests who have to work during their stay.
Plus, there are amazing panoramic views of Merano available right from the suite. Thanks to the size of the room, the Penthouse Suite Lodge Spa is perfect for guests who will be staying in the area for ample time and want to experience full comfort.
While breakfast normally takes place in the restaurant, guests also have the option to order in-room dining and with a private terrace with views like this, it would be hard to pass up!
Service & Facilities
La Maiena Meran Resort is luxurious from every angle and has a variety of facilities available for guests who want to relax in tranquility during their stay.
The resort is actually compiled of three separate buildings with different facilities. All three buildings have different rooms and suites on offer but no matter which building you decide to stay in, all guests have access to the same incredible amenities, including the pools, spa, restaurants, and bars.
The main building is where you'll find the reception, the gourmet restaurant with a panorama terrace, the house bar, and an adult-only spa. The spa features different saunas and a cold-water pool but these can only be used nude, so this might not appeal to everyone.
At Meran Residence, you can find a huge outdoor heated pool with a whirlpool which is perfect for a family vacation. As a bonus, this is located right next to Bistro Fiorello which is a perfect spot for lunch or some afternoon snacks.
Meran Lodge is home to a panoramic indoor pool which is connected to the outdoor infinity pool through a water tunnel. There's also a glamorous day spa featuring a fitness area with saunas, and packages can be booked with more inclusive services.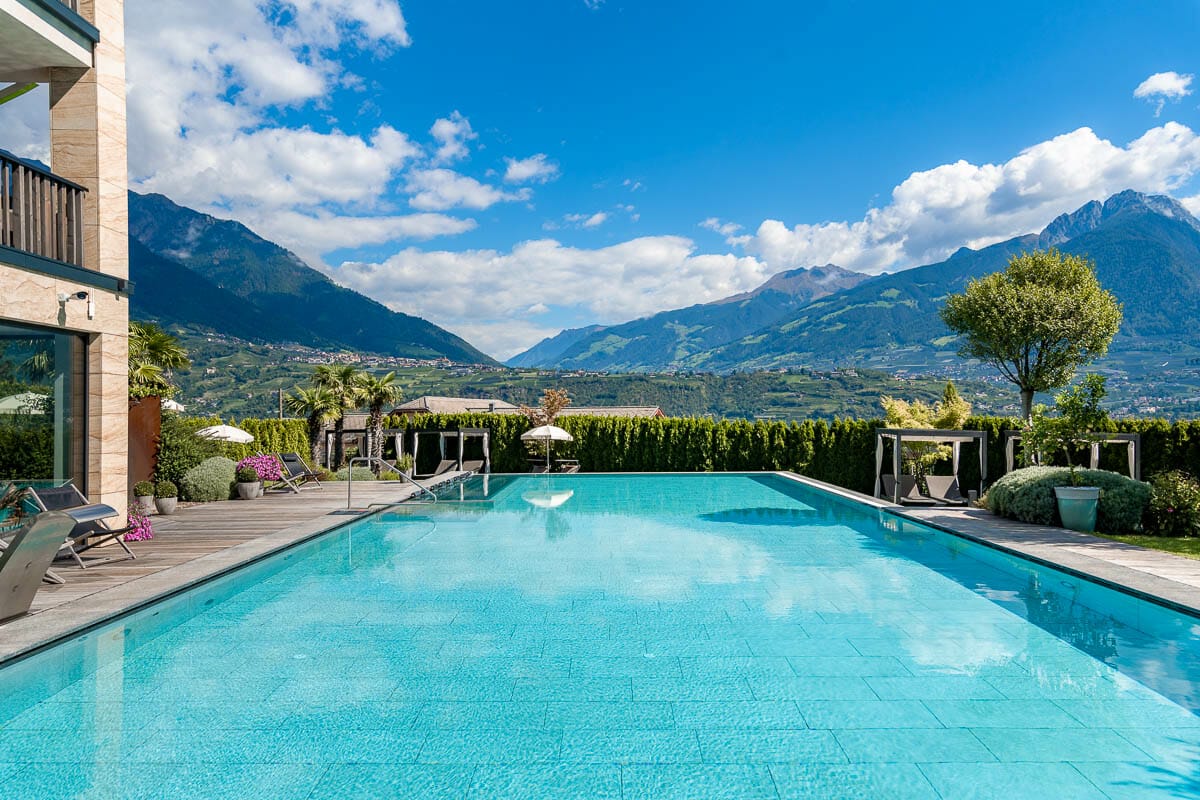 In case your room or suite doesn't have a hot tub, you'll be pleased to hear that the Sky Terrace at Meran Lodge has two hot tubs, as well as a sunbathing area with a lounge. Needless to say that since it's located on the top of the building, it boasts incredible views of the surrounding area!
The wellness experiences at this hotel are truly unmatched so if you're looking for a relaxing vacation, you'll surely love the facilities at La Maiena Meran Resort.
Dining
A variety of dining options are available at La Maiena Meran Resort, which you can learn more about below.
Breakfast
A breakfast buffet is served every morning with panoramic views that overlook Meran and the mountains. The hotel has its own specialties, and mornings can be spent enjoying everything from salmon to cheese selections and even homemade vegetable juice.
Although you get a dedicated table where you'll sit during your whole stay, breakfast actually has a free table choice so in case the weather is nice and warm, you can also choose to sit on the outside panoramic terrace which offers superb views.
Breakfast is served daily between 7.30 and 11 am, so it's perfect for both early and late risers at the property. The Italian coffee pairs perfectly with anything from the breakfast buffet, and the staff is accommodating and welcoming as you enjoy your morning feast.
Bistro Fiorello
The hotel also boasts its own bistro, Bistro Fiorello. This is the perfect place to sit and enjoy culinary delicacies from pasta to shrimp and everything in between.
There is both indoor and outdoor seating, so if the weather is nice, you're able to dine outdoors with a view of Meran.
The food here is truly gourmet, managed by chef Mathias Wenin. Bistro Fiorello is open for lunch seasonally between May and October from 12 to 5 pm. If you've opted for a half-board stay, you can also take advantage of the free cakes served here every afternoon.
Gourmet dinner
In the evenings, a gourmet meal is served using regional, fresh ingredients that supply quite a trip for the taste buds.
We were treated to a 6-course meal every evening during our stay, and there were always three distinct menus to choose from. The normal and vegetarian menus change every night so you can always experience something new.
In case you don't like the menu for the day or you're longing for something more traditional, you can opt for the alternative menu instead. This stays the same every night and it includes 3 courses: an appetizer, a first course with a couple of different pasta dishes to choose from, and a second course featuring meats and vegetables.
Fine wine can be enjoyed with the gourmet dinner with the help of the resident wine expert, who is truly amazing at pairing wines with every type of meal.
The dinner takes place at the same restaurant as breakfast and as I mentioned before, you'll receive a dedicated table for your entire stay.
If weather permits, you can arrange a table on the panoramic terrace as well. The view of Meran as it gets dark and the town starts to light up is genuinely breathtaking, and it's a feast for the eyes as dinner is enjoyed.
Final Thoughts
La Maiena Meran Resort is one luxury hotel in southern Italy that I truly recommend that anyone visiting the area considers staying at. With a variety of rooms, there's truly something there for everyone, even for families visiting with little ones.
The service was superb during our stay, and the food was incredibly decadent. There was nothing I would change about our stay. In fact, I can't wait to go back!
In case you're interested in staying at the hotel, you can check the latest prices and availability here.
If you have any questions about La Maiena Meran Resort or about Northern Italy in general, please don't hesitate to send me a message or drop a comment below. I would love to hear from you!
xoxo, Kriszti
---
Related Posts
The Perfect Dolomites Road Trip Itinerary
Want to read more about Italy?
---
What Camera Gear Do We Use?
If you want to read more about what is in our camera bag, check out my detailed post about our travel photography gear!
---
Pin It for Later!