With its mix of archaeological sites, grand avenues, and cool neighborhood hangouts, spirited Mexico City is the perfect introduction to the country's enthralling heritage and contemporary Latin culture. But how long should you spend there and how can you make the most of your time in this urban sprawl?
3 days in Mexico City is the optimum time for your first visit as it means you get to explore all the major landmarks as well as discover the more offbeat districts and even squeeze in a day trip to Teotihuacán where you can see the famous Aztec pyramids.
Continue reading this guide and I will tell you exactly what to do in Mexico City for 3 days. Need to plan a shorter trip? In that case, you might want to refer to my one day Mexico City itinerary instead.
*Disclosure: This post contains a few affiliate links, which means I may receive a small commission, at no cost to you, if you make a purchase through my link.*
No time to read now? Pin it for later!
Useful Info for Spending 3 Days in Mexico City
How to get to Mexico City
Located 5 km (3.1 miles) east of Downtown Mexico City, Mexico City International Airport (MEX) (often referred to as Benito Juárez International Airport) is the busiest airport in the whole of Latin America. The airport is served by 30 domestic and international airlines so getting to Mexico City is fairly easy from basically any destination.
Since the airport is pretty close to Downtown Mexico City, getting to the city center is quite easy once you figure out the logistics. The easiest option is to order an Uber, which will cost you around 200-300 MXN (12.5-15 USD) for the 20-minute ride. Alternatively, you can also book a transfer via the airport portal.
If you're looking to save some money or you're visiting Mexico City on a budget, you'll be pleased to hear that multiple public transport lines serve the airport.
If you're landing at Terminal 1, you can either jump on Metrobus Line 4 for 30 MXN (1.5 USD) or you can use Metro Line 5 for 5 MXN (0.25 USD). The journey takes 30 minutes and 50 minutes respectively. From Terminal 2, you can either transfer to Terminal 1 via the Aerotren, or you can board Metrobus Line 4 which stops at both terminals.
Please note that you'll have to buy your Mexico City Metro Card first before using any bus or metro lines. The metro card costs 15 MXN (0.75 USD) and you also have to upload a balance to your card before using it.
Best time to visit Mexico City
The best time to visit Mexico City is during the months of March to May. This is when the weather remains consistently dry, sunny, and warm. Temperatures hover around 26-27°C (80-82°F).
June sees the arrival of the rainy summer season and while the weather remains hot, the rain can be heavy and unpredictable. On the plus side, the city is less busy and accommodation is often cheaper.
The rains ease towards the end of September with October offering drier conditions and an average day temperature is 24°C (75°F).
If you want to experience one of Mexico's vibrant festivals then you can always plan your 3 days in Mexico City to coincide with an event such as Semana Santa (March/April, right before Easter) or Cinco de Mayo (5 May).
What's more, if you time your trip right, you can even celebrate the Day of the Dead in Mexico City (1 November) which is a really cool experience.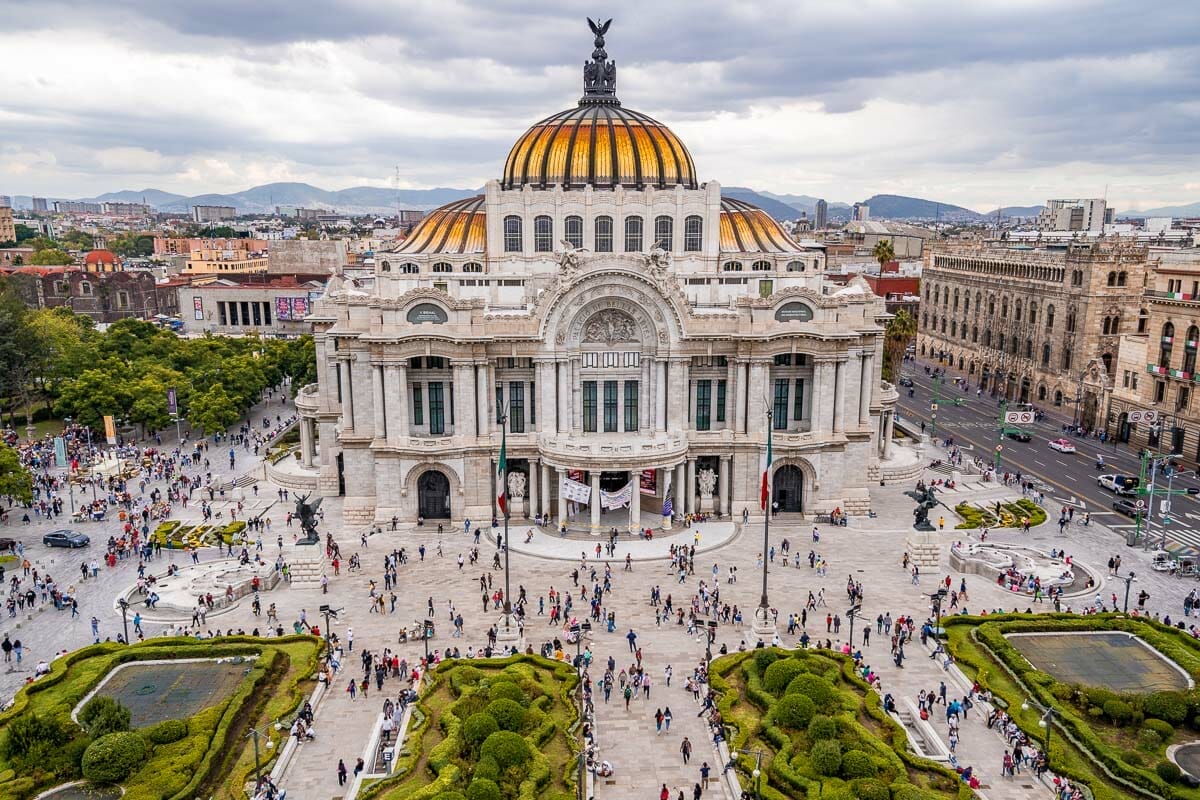 How to get around Mexico City
Arguably the best and safest way to get around Mexico City is using taxis or ordering an Uber. It's actually quite affordable and if you buy a local prepaid SIM card, you can easily order an Uber practically anywhere.
If you want to take a deep dive into Mexican culture or you're traveling on a budget, you can also use public transport. Mexico City is set up with an efficient metro and bus system which is easy to use and super cheap once you've got your metro card.
Most tourist attractions are served by Metrobuses and Metros and a ride typically costs 5-6 MXN (0.25-0.30 USD). It's important to know that the first two cars of each metro are for women and children only and there are also women-only buses so make so to check these before boarding.
Where to stay in Mexico City for 3 days
In terms of where to stay in Mexico City, the city is organized into 16 districts (delegaciones) which are then further divided into around 300 smaller neighborhoods (colonias or barrios). The districts belong to a series of municipalities (alcaldías).
Named after a former Aztec leader, Cuauhtémoc is the most central of these municipalities and is where most of the best neighborhoods to stay in Mexico City are located. If you're visiting Mexico City for the first time, I would recommend staying in either Centro Histórico, La Condesa, or Roma Norte.
If you want to read more about where to stay in Mexico City, make sure to check out my guide about the best areas to stay in Mexico City. If you're in a hurry, below you can find my top picks for staying in Mexico City for one day.
LUXURY – JW Marriott Hotel Mexico City
This luxury hotel is 8 km from central Mexico City and a 10-minute walk from Auditorio Metro Station. It features an outdoor pool, free Wi-Fi, and a Health Club with exclusive spa services such as a gym and hot tub.
MID-RANGE – Hotel Histórico Central
This boutique hotel is housed within a historic townhouse and features a gym and a restaurant on-site. Check out the Junior Suite which comes with a terrace and a scenic view. Your rate includes breakfast.
BUDGET – Hotel Catedral
Clean, cozy, and central, this budget-friendly hotel offers bedrooms with private balconies or terraces. Breakfast is available at a surcharge and you can walk anywhere within the Zócalo area.
Overview of Your 3 Days in Mexico City Itinerary
Breakdown of your Mexico City 3 days itinerary
Day 1: Explore Centro Histórico: Plaza del Zócalo, Mexico City Metropolitan Cathedral, Templo Mayor, National Palace, House of Tiles, Torre Latinoamericana, Finca Don Porfirio, Palacio de Bellas Artes, Palacio Postal, Dinner in Centro
Day 2: Museum of Anthropology, Chapultepec Park & Chapultepec Castle, Explore La Condesa neighborhood
Day 3: Day trip to Teotihuacán Pyramids, Explore Roma Norte neighborhood
Important info: Most museums are closed on Mondays so you might need to rearrange this itinerary if your 3 days in Mexico City include a Monday. In this case, it's best to visit the Teotihuacán Pyramids on Monday and visit the other attractions on other days.
Map for your 3 days in Mexico City
Below you can find a customized map that includes all the locations you're going to visit on this Mexico City itinerary. I marked your 3 days in Mexico City with different colors – I used blue for the first day, green for the second day, and red for the third day, so you can easily see which places you're going to visit each day.
If you open up this post on your phone and you click on the bracket in the upper right corner of the map, it will open up in your Google Maps app so you can always have it with you. Super convenient, right?
Day 1 of Your 3 Days in Mexico City
Plaza del Zócalo
Also known as the Plaza de la Constitución, Zócalo marks the center of Mexico City.
Zócalo means "plinth" and the public square earned this name for the base of a plinth that once stood in the space. Presumably, there were plans to erect a monument or building but it never happened, although the name stuck.
The site dates back to the Aztec era when it was used as a meeting and ceremonial point of the citizens of Tenochtitlan. As well as being the heart of the city, the Aztecs believed that Tenochtitlan marked the very center of the universe. Formerly an island, the water was drained by Spanish invaders following their arrival in Tenochtitlan during the 16th century.
Besides the ginormous, billowing flag in the middle of the plaza, you will spot the National Palace (there is the option to visit this later), federal offices, and museums bordering the square.
Plaza del Zócalo erupts into life during Mexican festivals. When you are planning what to do in Mexico City for 3 days, check in case your dates align with an event.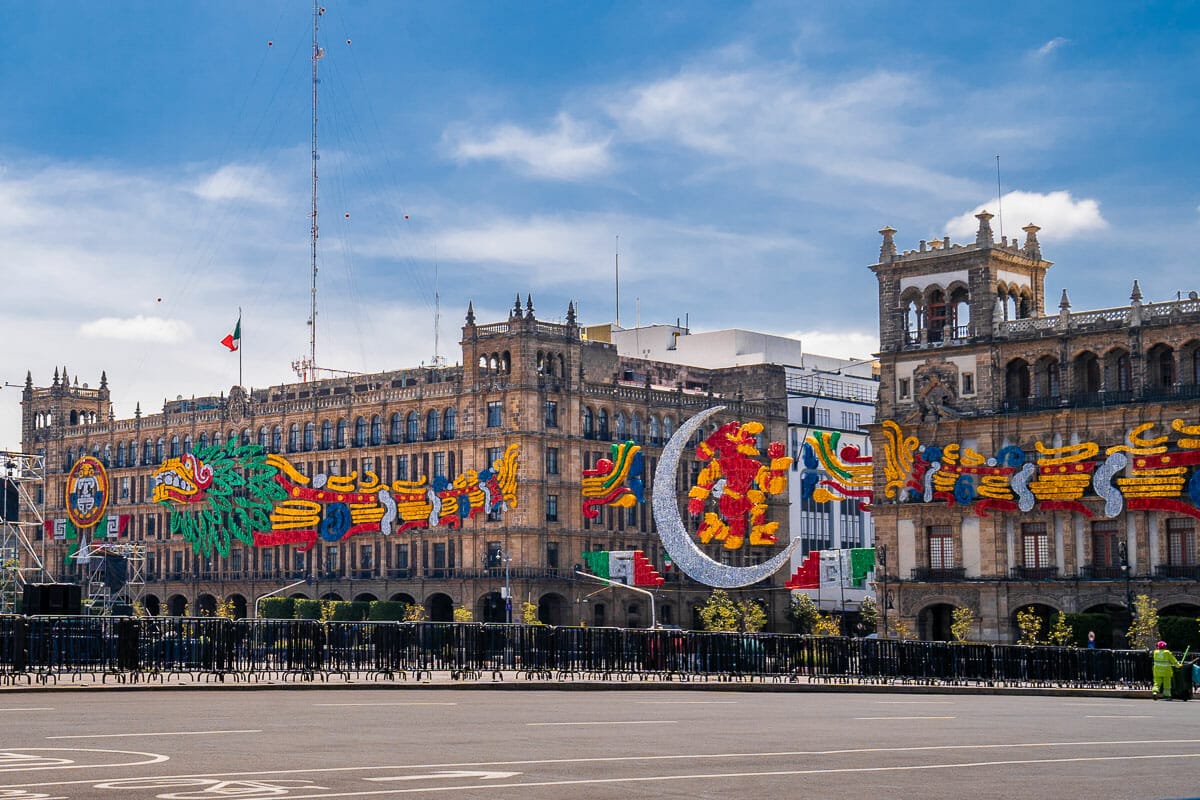 Mexico City Metropolitan Cathedral
The Catedral Metropolitana de la Ciudad de México is the oldest and largest Roman Catholic cathedral in Latin America. Work on the church started in 1573 with the initial designs headed up by the Spanish architect, Claudio de Arciniega.
As it took over 200 years to finish the building, by the time the church was declared complete in 1813 it featured a blend of Gothic, Renaissance, Baroque, and Neoclassical architectural styles.
Consisting of five naves and 25 bells dotted along the two bell towers, there is a lot to experience from the ground. However, you can also enter the church and explore the interiors for free. It is open daily, 8 am – 8 pm.
The cathedral is a short walk from Plaza del Zócalo.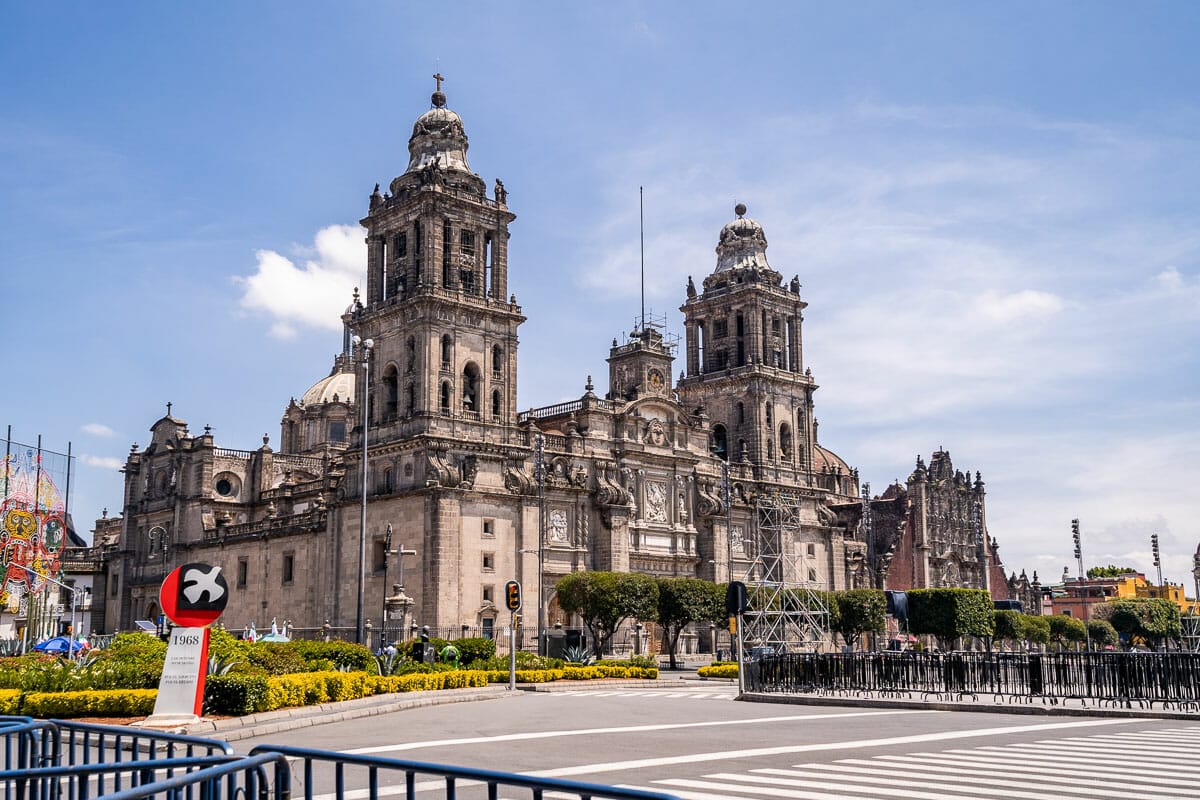 Templo Mayor
The Templo Mayor Museum is an archaeological exhibition that deserves to be on any Mexico City 3 days itinerary.
This was the main temple of Tenochtitlan during the Aztec period and was dedicated simultaneously to the gods of war and agriculture, Huitzilopochtli and Tlaloc respectively. The temple itself is characteristic of the late Postclassic period of Mesoamerica.
The open-air museum was opened in 1987 with a series of walkways and footbridges connecting the ruins. Spread among the museum you will find rooms that contain objects excavated from the temple site and explain the rituals, lifestyles, and culture of the Aztecs.
The Templo Mayor Museum is open Tuesday to Sunday, 9 am – 5 pm, and it costs 80 MXN (4 USD) to enter the site. It's right next to the cathedral.
National Palace
Cut back across the Zócalo and pay a visit to the National Palace, the seat of Mexico's federal government.
During the Aztec times, the location of the building was used as a royal residence. In fact, the National Palace recycled some of the materials that were used for the palace of Moctezuma II.
You can pay a visit to the National Palace and tour the courtyard, gardens, chambers, and national library. It is free to visit but you must show your passport in order to enter.
The National Palace is open to tourists from Tuesday to Sunday, 9 am – 5 pm.
House of Tiles
Once you finish exploring the National Palace you can take a stroll along the car-free Avenida Francisco I. Madero, also known simply as Madero Street (Calle Madero). This beautiful street has a lovely atmosphere and there are a number of boutiques and cafes where you can stop off if you want to shop or grab some lunch.
In terms of what to see in Mexico City in 3 days for free, you can check out the House of Tiles (Casa de los Azulejos). This is a former 16th-century palace that was embellished with blue and white tiles from the state of Puebla 200 years later.
The building is now occupied by a restaurant so you can always make this your lunch stop for today. Even if you don't want to eat, you can still go inside to have a look and maybe buy a souvenir from one of the gift shops on the ground floor.
Torre Latinoamericana
Erected in 1956, Torre Latinoamericana once held the title of the tallest building in Latin America. The architects and engineers attracted acclaim for their efforts in making the tower able to withstand the powerful earthquakes that are common in the area.
It is worth getting a close-up look of the skyscraper from but the best way to experience it is to ride the elevator up to the 44th floor where you can take in a panoramic view of Mexico City.
Access to the observation tower costs 170 MXN (8.5 USD) and also permits entry to a small museum where you can chew over the potted history of Mexico City.
Another option is to visit the bar on the 41st floor. There is no entry charge but you will need to order a drink in order to access the lounge.
Torre Latinoamericana is open daily, 10 am – 9 pm (until 10 pm on weekends). The walk from the National Palace to the Torre Latinoamericana via Avenida Francisco I. Madero only takes around 20 minutes.
Finca Don Porfirio
Seize the opportunity to rest your feet at Finca Don Porfirio, a small cafe with a terrace on the 8th floor of the department store, Sears. The store is directly opposite the Palacio de Bellas Artes and it grants a fantastic view and photo spot.
The cafe has a selection of sandwiches and pastries if you've not eaten lunch yet although it's coffee, hot chocolate, and cakes that they're rated for. Even if you're not feeling peckish, try and head back here during your 3 days in Mexico City at a later date.
Palacio de Bellas Artes
Palacio de Bellas Artes is a cultural center that has hosted notable music, dance, theatre, and opera tours as well as major art exhibitions that have granted it the nickname, the Cathedral of Art.
Work on the building that you will see took place between 1932 and 1934 after earlier attempts were interrupted due to the Mexican War of Independence and later the Mexican Revolution.
Mexican architect Federico Mariscal claims responsibility for the Art Deco interiors while the Art Nouveau facade was conceived by the Italian architect Adamo Boari.
If you choose to go inside then you can take a look at the murals painted by the likes of Diego Rivera, David Alfaro Siqueiros, Rufino Tamay, and José Clemente Orozco.
The admission charge for the museum at Palacio de Bellas Artes is 75 MXN (3.7 USD). It's a smaller gallery than you might expect so it will not take long to view the pieces and it's a worthy addition to your Mexico City 3 days itinerary.
The museum is open Tuesday to Sunday, 11 am – 5 pm.
Palacio Postal
Dating to the turn of the 20th century, this glamorous post office opened its doors in 1907 and has remained in use ever since.
Created by Mexican engineer Gonzalo Garita y Frontera along with Adamo Boari, who also worked on Palacio de Bellas Artes, the golden Palacio Postal is a feast for architecture lovers!
There is a lot of debate about the style of the building, as it incorporates ​a fusion of Art Nouveau, Moorish, Venetian Gothic Revival, Baroque, Neoclassical, and Spanish Renaissance Revival elements.
As a working post office, the Palacio Postal is open Monday to Friday, 8 am – 7.30 pm, Saturday, 10 am – 4 pm, and Sunday, 10 am – 2 pm. If you were wondering what to see in Mexico City in 3 days for free then you'll be pleased to hear there is no admission charge for tourists who want to have a look inside.
Palacio Postal is situated right across the street from Palacio de Bellas Artes.
Dinner
Conclude the first of your 3 days in Mexico City with a meal you'll not forget in a hurry!
Azul Historico is a gourmet option that I can recommend, located a 10-minute walk from Palacio Postal. Decorated with trees and lanterns, the dining room has a romantic vibe and the menu presents an imaginative take on traditional Mexican fare.
On the other hand, El Cardenal is a more casual choice of restaurant that is also within a short walk of the post office. The food is authentic and packed with flavor while the service is impeccable.
Day 2 of Your 3 Days in Mexico City
Museum of Anthropology
If you're wondering how to see the best of Mexico City in 3 days then the Museum of Anthropology is the perfect place to feed your curiosity about the indigenous people of past and present Mexico.
Designed to be as immersive as possible, the exhibitions and recreations of archaeological zones are curated chronologically to help you track and digest how the cultures of Mexico evolved.
One of the most famous items that you will see is the Aztec Calendar, also known as the "Sun Stone." The collection also holds the world's largest collection of ancient Mexican art.
The scale of the museum is off the charts, with 23 permanent exhibit halls to explore. Plan to spend at least 90 minutes here but allow up to 3 hours. The museum is open Tuesday to Sunday, 9 am – 7 pm, and the admission fee is 64 MXN (3.2 USD).
Auditorio Metro Station is the closest option for reaching the museum.
Chapultepec Park
Once you're finished with the museum you can make your way to the largest green space in Mexico City, Chapultepec Park (Bosque de Chapultepec), which is a few minutes walk away.
Amounting to 1,600 acres of land and studded with a range of things to see and do, the park will easily fill a couple of hours of your 3 day Mexico City itinerary.
The area that the park is situated on is steeped in history as it was used as a summer residence for Aztec rulers. "Chapultepec" comes from Nahuatl, the Aztec language, and means "Hill of the Grasshopper".
Chapultepec Castle
The star attraction is Chapultepec Castle (​​Castillo de Chapultepec), an 18th-century hilltop residence that resembles the fairytale castles of Europe within a plot of manicured gardens.
No longer used as a royal residence, nowadays the castle holds the National Museum of History which you can choose to visit if you want to see the interiors.
Once you're inside, you can wander through suites fitted with period furnishings, art, ornaments, and other antiques that give you a sense of the life led by the Mexican royal families. You can also get an amazing view of the whole city from the balconies so have your camera ready!
Admission to the castle is 80 MXN (4 USD) and you can buy tickets at the door. Chapultepec Castle is open Tuesday to Saturday, 9 am – 5 pm.
Chapultepec Zoo
Chapultepec Zoo (Zoológico de Chapultepec) deserves a mention as it might be the only zoo of this scale that is completely free to visit!
The zoo was founded in 1923 by the Mexican biologist Alfonso Luis Herrera, partially using donations from private citizens and partially with the support of the Ministry of Agriculture and Development and the Society of Biological Studies.
The menagerie is located atop the original grounds of Montezuma's game reserve in the northwestern corner of the park. Among the residents, you will spot Mexican wolves, jaguars, ocelots, Xochimilco axolotl, and even giant pandas.
The zoo is one of the best things to do with kids in Mexico City in 3 days but certainly appeals to solo and couple travelers too! Chapultepec Zoo is open Tuesday to Sunday, 9 am – 4.30 pm.
Chapultepec Lake
You can also take a stroll around Chapultepec Lake (Lago del Bosque de Chapultepec) or rent one of the rowing boats or pedalos for a small fee and take a paddle around the surface. The lake is wedged between the zoo and botanical gardens.
Botanical Garden
Another highlight of the park is the Botanical Garden (Jardín Botánico del Bosque de Chapultepec) which is in the northeast corner and contains a beautiful range of orchards, cacti, and medicinal plants.
If you're feeling the heat then you will appreciate the shade offered by the park! The gardens are open to guests Tuesday to Saturday, 9 am – 3 pm.
La Condesa
Chapultepec Park backs onto the La Condesa neighborhood so once you've got your fill of greenery you can cross over Cto. Bicentenario and explore the streets at leisure.
La Condesa is defined by its stately art nouveau and art deco architecture and its artistic, fashionable ambiance. The streets are lined with boutiques and places to eat and drink while the Parque España is a lovely spot to take a break and try to befriend a few local dogs out on their walk!
No 3 days in Mexico City can be signed off without experiencing a meal and a taste of the nightlife in La Condesa. There are so many restaurants to choose from but if you want to book ahead then you can head to one of my tried and tested eateries.
Lardo serves a fusion of Italian and Mexican dishes but their pizzas are delectable. This is one of the best places to grab a creative cocktail. I'd also recommend Lardo as a breakfast option if you are staying in this area.
Cafe Milou is just over the road from Lardo. Modeled on a French bistro, the menus cover classic brunch options such as eggs benedict while dinner is geared towards meat and fish dishes.
Taqueria El Pescadito specializes in making the best seafood tacos in Mexico City, ranging from plump shrimps to juicy marlin! The tacos are generously sized and coordinate with a chilled Cerveza.
My final recommendation is Tacos Hola El Güero which has a proper local vibe and caters well to vegetarians and vegans. Word of warning; the portions are huge so order with care and prepare to take some leftovers back to your hotel.
Day 3 of Your 3 Days in Mexico City
Day trip to Teotihuacán Pyramids
Once one of the largest cities in the world with an estimated population of over 125,000 citizens, Teotihuacán is now one of Mexico's most significant archaeological sites.
Built somewhere around 200 AD (the exact date is unknown), the city pre-dates the Aztecs and is known for its Mesoamerican pyramids built in honor of the ancient gods.
As you walk the length of the Avenue of the Dead you will have the chance to climb up the Pyramid of the Moon and the Pyramid of the Sun while visiting on-site museums and former residences that will help you make sense of the ancient city.
In terms of what to see in Mexico City in 3 days, this is the one day trip you'll absolutely want to make time for! Teotihuacán is located 50 km (32 miles) north of Mexico City and is perfectly viable as a day trip that you can plan independently or as part of a tour.
As you are only spending 3 days in Mexico City, you can decide how to visit Teotihuacán based on your budget and personal preferences.
Important info: As of September 2021, climbing up the pyramids is no longer possible and the museums and exhibitions are currently closed due to *you know what*. However, I still think it's a great option to take a day trip to Teotihuacán and see the pyramids with your own eyes.
Visiting Teotihuacán independently
Option A, you can visit Teotihuacán using public transport. All you need to do is ride the metro or hail an Uber out to the Northern Bus Station (Terminal de Autobuses del Norte) and then connect to the bus.
Buses leave frequently and the journey takes 45-60 minutes. It's really easy to find the right bus as the kiosks are marked with photos of the pyramids (hint: it's all the way onto the left side of the bus station, next to gate no. 8). A return ticket costs 106 MXN (5.2 USD) per person.
There are five entrance gates at the Teotihuacán complex and the buses will stop at all of them chronologically.
It makes sense to alight at Gate 1, the main entrance, but you can always mix things up a little! Buses shuttle passengers back to the bus station throughout the day until 5 pm when the site closes. Just head to whatever gate you are nearest to once you are done exploring.
The admission fee to the entire Teotihuacán Archaeological Zone is 80 MXN (4 USD) and you can buy your ticket upon arrival. The complex is open daily, 9 am – 5 pm.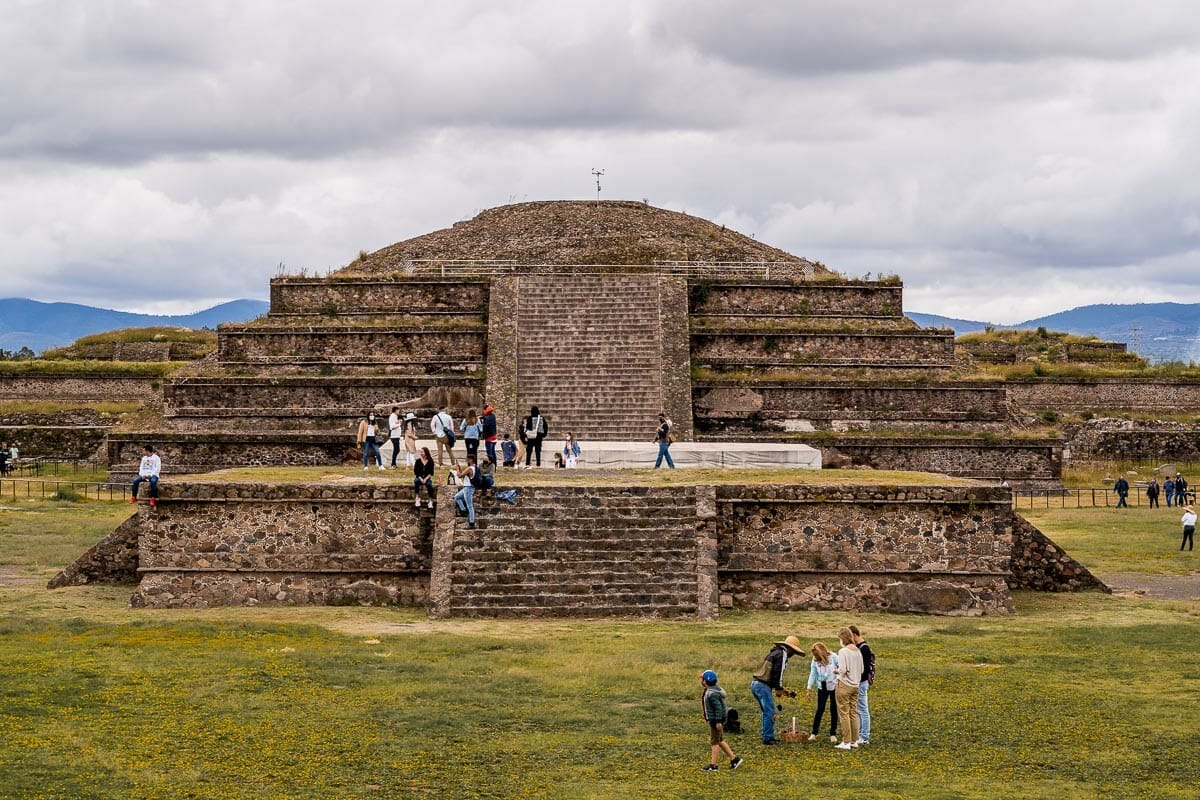 Visiting Teotihuacán on a tour
If you would prefer to streamline your visit then Option B is to book a tour that includes return travel to and from Mexico City and admission to Teotihuacán. Below you can find my top picks when it comes to guided tours of Teotihuacán depending on your interests (and your budget).
Teotihuacán Exclusive Early Access & Tastings: This tour is the best option if you want to have the pyramids all to yourself as the tour starts at 7 am which means you'll be among the first ones to enter the site. It also includes a tour led by a local cultural interpreter, workshop with a Teotihuacan family and a tequila and mezcal tasting.
Teotihuacan, Shrine of Guadalupe & Tlatelolco Day Tour: If you're open to adding a couple of additional stops for your day trip, this tour is the best option for that. Besides visiting Teotihuacán, you can also tour Mexico's most important Catholic pilgrimage site, the basilica of Our Lady of Guadalupe, and Tlatelolco, where it is said that the past, present, and future of Mexico meet.
Teotihuacan Air Balloon Flight & Breakfast: If you want to enjoy the most exciting day trip from Mexico City, then flying over the Teotihuacán pyramids in a hot air balloon definitely delivers! After the flight, you can enjoy a delicious buffet breakfast and explore the pyramids with a full stomach.
Roma Norte
Once you get back to your hotel you'll probably feel pretty beat after a day clambering up the pyramids so I recommend you wind up your 3 day Mexico City itinerary in one of the coolest neighborhoods.
Roma Norte is a walkable area with an arty spirit where you can enjoy wandering through the streets and pottering through little pockets of greenery.
It is also one of the best areas for food which is exactly what you need after a day at Teotihuacán. Let me share a couple of my favorites in case you're too tired to follow your nose!
First up, Mercado Roma is a great option if you're not sure exactly what you feel like eating. The food market complex features a variety of Mexican and international options and those on a plant-based diet will find plenty of choices. This is also a great place to grab a drink and enjoy the lively atmosphere.
Another solid option is Taquería Orinoco, a small local chain with outposts in Roma Norte as well as Condesa and Polanco. Taquería Orinoco is laid back with a diverse menu of tacos to pore over.
La Pitahaya Vegana is one of the best vegan restaurants in Mexico City, with colorful tacos and other Mexican classics that star pitaya as the base. They also offer vegan lassis, organic coffee, and punchy kombuchas alongside their beer list.
Belmondo is one of the chicest bars in town, which opens for breakfast and stays serving until late. The menu places a creative twist on Mexican and international favorites and the place has friendly energy that will inspire you to stay for hours.
Final Thoughts
Now you know exactly what to do in Mexico City for 3 days you can look forward to booking your adventure! I hope that my 3 days in Mexico City itinerary has demonstrated how much there is to see and do and will inspire your own trip.
If you have any questions about traveling to Mexico City then feel free to send me an email, get in touch via social media, or drop a comment below. Have you already visited Mexico City? What were your highlights? Let my readers know in the comments!
xoxo, Kriszti
---
Related Posts
Want to read more about Mexico?
---
What Camera Gear Do We Use?
If you want to read more about what is in our camera bag, check out my detailed post about our travel photography gear!
---
Pin It for Later!