If you're wondering how to fill 2 weeks in Mexico then taking a Yucatan road trip is always going to be one of the most thrilling ways to organize your trip.
This tropical region is where you'll find hundreds of mysterious cenotes, impressive Mayan ruins, golden beaches with azure waters, and fascinating cities rich in Mexican culture and heritage. Not to mention world-class diving and snorkeling!
But with so many sights to choose from, it can be exhausting to piece it all together into the perfect route. And that's where my Yucatan Peninsula road trip itinerary comes into the picture!
The following guide contains everything you need to know about what places to visit, which hotels to stay at during your trip, and even where to eat.
A quick note before we begin that this Yucatan itinerary covers the Yucatan Peninsula rather than just the Mexican state of Yucatan. In fact, the peninsula is inclusive of Campeche and Quintana Roo besides as well as Yucatan. Let's get started!
*Disclosure: This post contains a few affiliate links, which means I may receive a small commission, at no cost to you, if you make a purchase through my link.*
No time to read now? Pin it for later!
Useful Info for Your Yucatan Road Trip
How to get to Yucatan
You can access the Yucatan Peninsula by a number of international airports including Cancun (CUN), Cozumel (CZM), and Mérida (MID), all of which are well connected to Mexico City and international destinations.
However, for the purpose of this 2 week Mexico itinerary I suggest that you fly in and out of Cancun International Airport in the state of Quintana Roo.
As one of the largest and busiest airports in the region – Latin America's third and Mexico's second busiest airport to be precise – Cancun is well served by international flights from the US, Europe, and beyond.
If connections work out better you can also choose to fly into Mexico City International Airport (MEX) and then transfer to Cancun from there. Flight times from Mexico City to Cancun take approximately 2 hours 30 minutes.
From Cancun International Airport you're looking at a 20-minute transfer downtown or to the Zona Hotelera (Hotel Zone).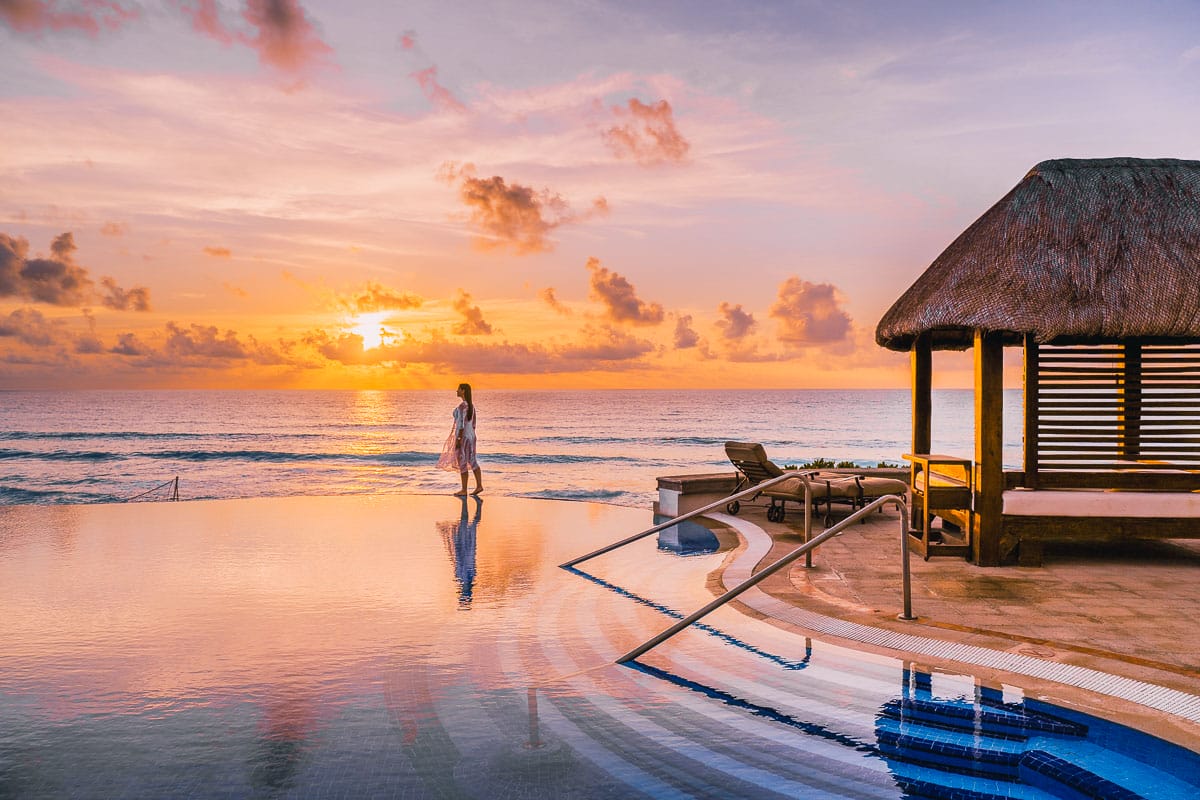 Best time to visit the Yucatan Peninsula
The best time to plan your Yucatan Peninsula road trip is between December and April. This is when the weather is at its driest and temperatures are most comfortable. Even though this is coined as the "winter" period, daytime temperatures never drop below 20°C (68°F).
The summer months of May and onwards bring hotter temperatures and the onset of the rainy season where heavy rainfall is to be expected. This can prevent access to certain sites on your Yucatan itinerary and will make the driving conditions more dangerous so it's best to avoid traveling during these months.
Remember to plan your trip for early November if you hope to experience some of the Día de los Muertos celebrations.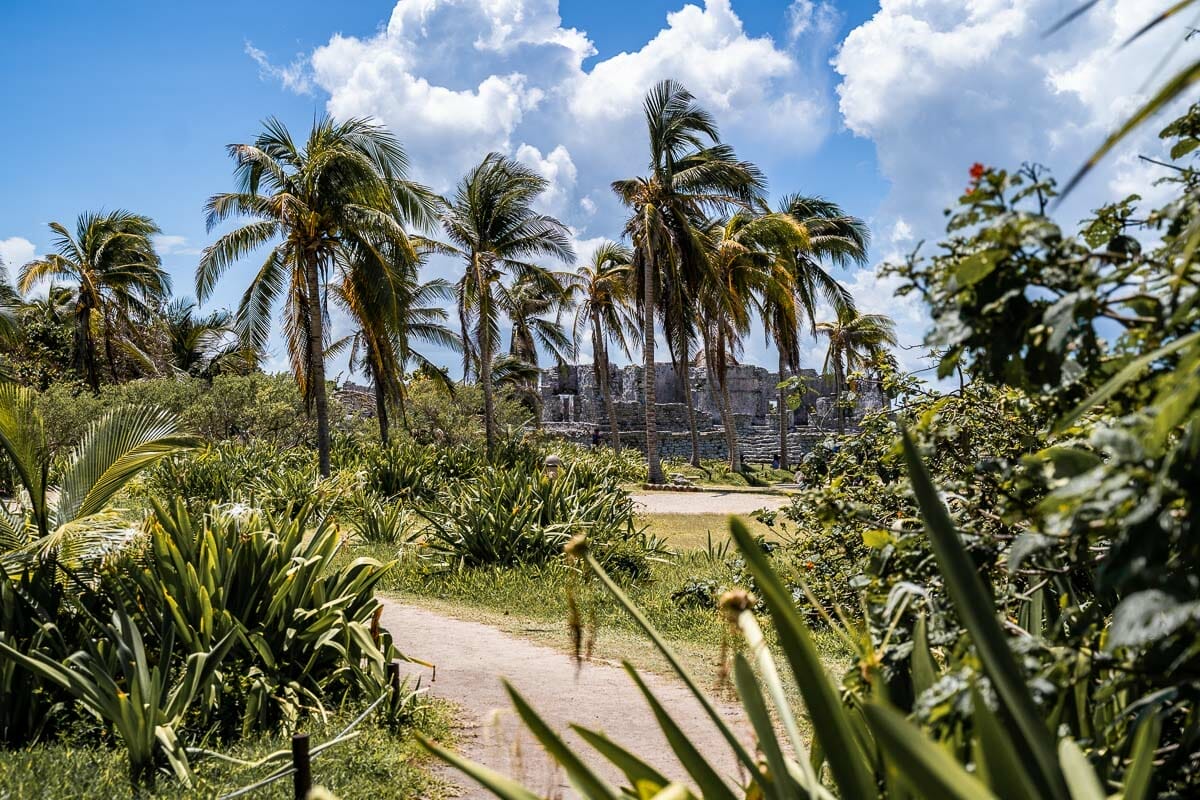 Driving tips for Yucatan
The Yucatan is fortunate to comprise flat paved roads that are safe, well-maintained, and perfectly pleasant to drive.
As with the US and most European countries, you must drive on the right-hand side of the road. The minimum age to rent a car in Mexico is 21 but drivers under the age of 25 are subject to paying higher fees.
Once you're behind the wheel, driving in the region is a straightforward affair and the locals are used to sharing their roads with international tourists. To ensure you don't encounter any surprises on your Yucatan road trip, these are a couple of rules and customs to be familiar with:
If your vacation falls within the rainy season be mindful that the heavy downpours will hinder your progress. Check that your windscreen wipers work well and try to avoid driving during storms and the heaviest rains.
Check your tire pressure as driving at faster speeds on these hot asphalt roads can cause blow-outs.
All gas stations in the Yucatan Peninsula are staffed by attendants and it is customary to leave a small tip of around 10 MXN (0.5 USD). Check that they have set the pump to "zero" before they start.
Check the locations of gas stations and plan your gas stops in advance. There are lots of long roads where you'll find no gas stations, for example between Cancun and Valladolid, so it's important to have enough fuel for the drive.
You can generally park everywhere but always avoid the yellow and red curbs in the major cities as these forbid parking.
Do not leave your valuables in your rental when sightseeing. Theft is rare but it can happen. Some of the cenotes have lockers where you can safely leave your important documents but always leave them at hotels where the itinerary makes this possible.
Hopefully, you will not need this during your Yucatan Peninsula road trip but in case you do encounter a breakdown, make a note of the number for the Green Angels [Ángeles Verdes]. This is a free service and they are available at 01-800-987-8224.
Overview of Your Yucatan Road Trip
Breakdown of your 2 weeks in Mexico
Before we go over the schedule day by day, here is a quick overview of your Yucatan road trip itinerary.
Day 1: Arrive in Cancun
Day 2: Cancun
Day 3: Day trip to Isla Mujeres
Day 4: Valladolid
Day 5: Chichen Itza & Cenote Ik Kil
Day 6: Cenote Zaci, Cenote Suytun, Cenote Chukum
Day 7: Cenote Oxman, Uayma, Merida
Day 8: Merida
Day 9: Izamal, Cobá Archaeological Zone, arrive in Tulum
Day 10: Tulum
Day 11: Tulum Archaeological Zone & Cenote Hopping
Day 12: Cenote dos Ojos, Cenote Azul, arrive in Playa del Carmen
Day 13: Playa del Carmen
Day 14: Return to Cancun airport
Map for your Yucatan road trip itinerary
Below you can find a customized map that includes all the locations you're going to visit on this Yucatan road trip itinerary.
I marked the different parts of the road trip with different colors so you can easily see which places you're going to in each part of the Yucatan Peninsula.
If you open up this post on your phone and you click on the bracket in the upper right corner of the map, it will automatically save this map to your Google Maps app so you can always have it with you. Super convenient, right?
Yucatan Road Trip: The Perfect 2 Weeks in Mexico
Day 1-2: Cancun
Welcome to the Yucatan! After a potentially long experience of traveling to the region on day one, I recommend that you devote the first full day of your 2 weeks in Yucatan to relaxing in the immediate Cancun area.
Seize the opportunity to enjoy the swimming facilities at your resort, hit the beach, and sample the local sites. Unless you want it for added convenience you will not need to collect your rental car until the fourth day when you depart Cancun.
In terms of things to do in Cancun, you can head over to the downtown area (Ciudad Cancun) and explore the streets and public parks while you find your feet. The Malecón Tajamar is also a fantastic spot to take a walk to coincide with sunset.
There are lots of other activities in the region including visiting cenotes and zip lines but as you'll have the opportunity to experience these later during your Yucatan road trip, I highly recommend making the most of the downtime by winding down in your hotel resort and checking out the beaches in the Hotel Zone.
Where to stay in Cancun
Cancun is situated at the eastern tip of the Yucatan Peninsula and is divided into two parts. Downtown Cancun is located on the mainland while the Zona Hotelera (Hotel Zone) straddles a long, narrow stretch of island that juts out into the Caribbean Sea and runs parallel to the city.
The Hotel Zone is broken down into a string of districts known as the North, Middle, and South Hotel Zones and the whole strip is buzzing with beach resorts, restaurants, and amenities.
For the purpose of this Mexico 2 week itinerary, I recommend that you opt for one of the hotels situated in the Hotel Zone. These are my top picks for where to stay in Cancun.
Day 3: Day trip to Isla Mujeres
For the third day of your 2 week Mexico itinerary, you can head to the outlying Isla Mujeres, the "Isle of Women".
Isla Mujeres is a small island that registers around 7 kilometers (4.3 miles) in length. It is accessible via a short boat ride from Gran Puerto Cancun in Puerto Juarez or from one of the jetties on the Hotel Zone if you prefer.
The island was dedicated to the goddess of fertility and love, Ixchel, and in pre-Hispanic days Mayan people would leave offerings to her on the gorgeous beaches that border the island.
Once you reach Isla Mujeres you can hire a golf cart for the day and tour the island at leisure, stopping to swim in the turquoise waters and explore the sights. If you prefer to go with a guided tour, check out this Catamaran tour with Lunch and Open Bar!
There are plenty of opportunities to snorkel off the beaches or you can also book an excursion if you'd rather. Scuba diving is also an option if you want to factor this into your Yucatan road trip itinerary.
Some of the most popular attractions on the island include the northernmost beach of Playa Norte, the southern cliffs of Punta Sur, and MUSA which is accessible as a snorkeling or diving tour. During the summer months (May until September) it is possible to swim with the gentle whale sharks just off the island.
I have written an entire blog post dedicated to how to plan a day trip to Isla Mujeres so you can check that out for the full information on how to organize your outing.
Day 4: Valladolid
Driving time: 2 hours 15 minutes (175 km/108 miles) from Cancun to Valladolid
Today it's time to check out of your hotel in Cancun and truly start your Yucatan road trip itinerary! If you haven't picked up a rental car yet, now is the time to do so.
After checking out, head straight to Valladolid which will take you around 2 hours and 15 minutes if you take the 180D highway. Although you have to pay a toll fee for using the highway (355 MXN/15 USD), I still recommend taking this road as it's in very good shape and it will help you speed up the driving time.
One thing to note is that you won't come across any gas stations on the highway so make sure to fill up before starting the journey!
Exploring Valladolid
The attractive city of Valladolid is rich in historical buildings that include the Convent of San Bernardino of Siena.
Constructed between 1552 and 1560 this beautiful building was originally a monastery and was the first home of the Franciscan Order in Valladolid. Step inside for the chance to see the magnificent frescoes and stately wooden altarpiece.
There is also a small museum that will fill you in on the history and archaeology of the cenotes that stud the Yucatan region. The convent is open daily, 8 am – 5 pm, and there is a small admission charge of 30 MXN (1.5 USD) if you want to go inside.
Right in the very heart of the city, you will find the Parque Principal Francisco Cantón Rosado which features an impressive statue and shaded seating areas.
If you fancy brushing up on your trivia while stocking up on treats for family and friends back home you can check out the museums that are dedicated to chocolate and tequila, both of which are a short walk from the square.
Beyond the convent and main square, you can spend the rest of your day exploring the little cobblestone streets and ducking into cafes. There are also a number of cenotes in and around Valladolid although you can save these for the next couple of days of your Yucatan Peninsula road trip.
If you're interested in some dinner recommendations, check out the colonial restaurant and rooftop bar of El Meson del Marques for the best views (pictured below) , Restaurante El Atrio del Mayab across the park for a romantic dinner, or Restaurante Ahal for some delicious local flavors.
Where to stay in Valladolid
Valladolid is a small city that is divided down into districts and neighborhoods. The most central of these – Sisal, San Juan, and Candelaria – put you within a short walk of the major attractions and places to eat in the town and I recommend that you select accommodation around these areas.
These are my recommendations for where to stay in Valladolid during your Yucatan road trip.
Day 5: Chichen Itza & Cenote Ik Kil
Chichen Itza
Driving time: 45 minutes (42 km/26 miles) from Valladolid to Chichen Itza
For the fifth day of your 2 weeks in Yucatan you can finally tick off one of the most famous sites in the country! The archaeological site of Chichen Itza is a 40-minute drive from central Valladolid so you can visit it as a day trip.
Built during 250 AD and 900 AD (the exact dates are hotly contested), Chichen Itza developed into a center of political and economic power during the Mayan era. By the 9th century, the rulers of Chichen Itza held power over the vast majority of the central and northern Yucatan peninsula.
The name is understood to mean "at the mouth of the well of the Itza" and it is believed that Itza is symbolic of water. Archaeologists have discovered a large cenote in the northern segment of the site which research suggests was used for human sacrifices.
While exploring the ruins of the ancient complex you will have the opportunity to get up close to the remarkably well-preserved El Castillo Pyramid (also known as the Kukulkan Pyramid). The light from the equinox casts shadows down the steps to create the illusion of a descending serpent.
Other sites include the Great Ball Court and The Snail. This UNESCO World Heritage Site was commended as one of the "New" Seven Wonders of the World in 2007.
The complex is open daily, 8 am – 5 pm and you can purchase your tickets on site.
Admission to Chichen Itza is 533 MXN (26.2 USD) that is made up of the actual entrance fee of 80 MXN (4 USD) plus a state fee of 453 MXN (22.2 USD). You have to pay for these in separate windows and while the state fee can be paid by credit card, the entrance fee is cash only.
If you would prefer to visit Chichen Itza with a guide then it is possible to organize this from Valladolid. Certain tours also include a stop at Cenote Ik Kil but you will need to double-check that before you book. Even if you would prefer to visit independently, it is beneficial to pre-book your admission tickets in advance.
Cenote Ik Kil
Driving time: 5 minutes (3 km/1.8 miles) from Chichen Itza to Cenote Ik Kil, then 40 minutes (40 km/25 miles) back to Valladolid
After you finish exploring Chichen Itza you can head 5 minutes down the road to take a dip in the first of several cenotes of your Mexico 2 week itinerary.
Cenote Ik Kil was held sacred by the ancient Mayan civilization and is where they would go to worship their god of the rain, Chaac. Admission to Cenote Ik Kil is 150 MXN (7.3 USD) and the sinkhole is open daily, 9 am – 5 pm.
If you've not eaten yet, then you might want to eat lunch at the buffet next door to the cenote or pick up some refreshments from the snack bar.
Day 6: Cenote hopping around Valladolid
If yesterday's trip to Cenote Ik Kil gave you a flavor for subterranean swimming then you'll be pleased to hear that you have three more to look forward to on the sixth day of your Yucatan itinerary.
Cenote Zaci, Cenote Suytun, and Cenote Chukum are all super close to Valladolid so drive time today will only come out at around one hour (32 kilometers/20 miles). If you intend to swim in all three then you'll want to factor in at least 1-1.5 hours at each cenote.
Cenote Zaci
Cenote Zaci is situated in the center of Valladolid so you can head there first and beat the crowds. This open cenote reaps all the benefits of the natural light which pours in from above and helps keep the environment a lush shade of green.
If you're feeling up to the challenge, you can dive from the cliffs that reach heights of 8 meters (26 feet). Admission to Cenote Zaci is 30 MXN (1.5 USD) and it is open daily, 9 am – 5 pm.
Cenote Suytun
Driving time: 15 minutes (8.5 km/5 miles) from Valladolid to Cenote Suytun
The next cenote on your Yucatan road trip is one of the most Instagrammable places in Mexico. Cenote Suytun is characterized by its stalactites and stalagmites as well as the long walkway that takes you out into the middle of the cave where you can get a vantage point while the sun beams down from above.
The best time of day to experience the beams of sunlight is just after midday. It's best to schedule your visit to Cenote Suytun at around noon to capture the best lighting conditions.
Factor in the rule that guests are only allowed to spend an hour at Cenote Suytun. Admission is 150 MXN (7.3 USD) and it is open daily, 9 am – 5 pm.
Cenote Chukum
Driving time: 10 minutes (7 km/4.5 miles) from Cenote Suytun to Cenote Chukum
Your final sinkhole of the day, Cenote Chukum, was named after the chukum trees that grow in the vicinity. This whopping big cenote is kitted out with three diving platforms, a rope swing, and a zipline to enhance the adventurous experience.
The entry charge is 200 MXN (9.7 USD) and the cenote is open to the public daily, 9 am – 5 pm.
For more tips and in-depth details about visiting the cenotes, you can refer to my complete guide to the best cenotes in Yucatan.
Dinner in Valladolid
Driving time: 25 minutes (15 km/9.5 miles) from Cenote Chukum to Valladolid
After an energetic day exploring the cenotes, you can look forward to treating yourself to a dinner in Valladolid. You can use my recommendations from the previous day or if you're looking for something new, read on below.
Casa Conato Cultural is a laid-back bar with a menu that consists of Mexican classics as well as pizzas and light bites. The place is upbeat in the evening and it's a great choice if you fancy staying out for a couple of drinks.
Alternatively, Le Kaat offers an extensive vegan menu that is packed with goodness in a beautiful setting.
Day 7: Cenote Oxman, Uayma & Merida
You need to check out of your Valladolid hotel this morning and drive to today's final destination, Merida, with scenic stops at Cenote Oxman and Uayma. Driving time today comes out at around 2.5 hours (175 km/108 miles).
Cenote Oxman
Driving time: 15 minutes (6.5 km/4 miles) from Valladolid to Cenote Oxman
Your first stop of the day is the picturesque Cenote Oxman which is a cerulean blue sinkhole in the depths of a collapsed cave. Long tendrils of tree roots and other foliage hang down over the water and there are a number of diving platforms if you're feeling brave enough to take the plunge.
It is possible to swim in the cenote but if you do not feel like it, I still recommend that you squeeze a stop in your Yucatan road trip itinerary purely to see the spectacle for yourself and take some photos.
The admission fee for Cenote Oxman is 150 MXN (7.3 USD).
If you prefer, you can pay 250 MXN (12.2 USD) which taps on a dining experience at the Hacienda Cenote Oxman. You can decide whether to take 200 MXN (9.7 USD) in credit to put towards a meal in the restaurant or alternatively you can apply 250 MXN (12.2 USD) to the buffet spread.
Besides the cenote, the hacienda features a large open-air swimming pool.
Uayma
Driving time: 20 minutes (14.5 km/9 miles) from Cenote Oxman to Uayma
Uayma is a small town that makes a huge splash with its architecture. Make a beeline for the church and former convent of Santo Domingo de Guzmá.
Built using stones sourced from the surrounding Mayan temples, the convent was erected by the Spanish. The exterior features a kaleidoscope of motifs against the russet-hued bricks.
You can take a stroll through the streets to take in the colorful residences such as Casona Santo Domingo de Guzmán and other traditional homes. If you didn't eat at Cenote Oxman then you can pick up a light lunch in Uayama. There are a couple of local taquerias and convenience stores in town.
Dinner in Merida
Driving time: 2 hours (170 km/105 miles) from Uayma to Merida
Now it's time to head to your final destination today, which is going to be Merida. One thing to note is that after Uayama, you'll need to drive up to the 180D highway again which means another toll fee. This time you'll have to pay 196 MXN (10 USD).
Once you arrive in Merida, you'll probably want to head straight out for dinner so you can read my recommendations below.
Rosa Sur 32 fuses together Mexican and Mediterranean cuisine to create a flavorsome, healthy, and filling dining experience in an elegant setting. The menu also highlights some of the leading dishes from the Yucatan region.
Las Vigas is situated a stone's throw from Plaza Grande and serves affordable Mexican plates although it's more the kind of place to go for a party atmosphere with a jovial vibe and excellent deals on drinks.
Where to stay in Merida
Merida is the capital and largest city in the state of Yucatan. As it is somewhat bigger than the other cities featured on this Yucatan road trip, you will need to ensure your accommodation isn't too far out of the city.
The Zocalo area is situated around the Plaza Grande and puts most of the major attractions on your doorstep. Slightly further afield, the neighborhoods of Santa Ana and Santa Lucia offer more affordable accommodations.
These are my recommendations for where to stay in Merida.
Day 8: Merida
There is so much to see in Merida so it is absolutely worth dedicating a full day of your 2 week Mexico itinerary to explore the colorful sights.
This is one of the best cities for absorbing and connecting with traditional and modern Mexican culture and you can happily lose a few hours roaming the Zocolo with its vibrant haciendas and cafes.
The Plaza Principal de Mérida, or Plaza Grande, marks the heart of Merida and is where the guided walking tours usually depart from if you want to sign up to learn all about the city.
Nearby, the Parque de Santa Lucía is another attractive spot to wander and take photos and is also a meeting place for tours offered by Free Walking Tours Merida.
The leafy Plaza Grande is the setting for the Catedral de San Ildefonso, a 16th-century cathedral constructed atop a Mayan temple using bricks salvaged from the remains.
It is free to enter the cathedral where you can spot the giant crucifix that represents the unity between Spanish and Mayan heritage.
If you're happy to drive further out then you can check out the archaeological site of Dzibilchaltún. Meaning "writing on flat stones" this historic city is an interesting contrast in comparison with the other Mayan sites you're visiting as while it doesn't offer the gigantic pyramids of other destinations, the setup of the city is wholly different.
You can explore such sites as the sacbe trails, the Temple of the Dolls, and the Open Chapel which resembles an amphitheater. Admission to Dzibilchaltún is 80 MXN (4 USD) and it's open daily 9 am – 4 pm.
While you could easily spend an entire day touring the city's museums, the Mayan World Museum of Merida is the best one to visit with limited time. The collection spans Mayan art, handicrafts, The museum is open Thursday to Sunday, 10 am – 5 pm, and the admission fee is 150 MXN (7.3 USD).
If you would prefer to head to a more centrally located museum then try the Museum of the City of Merida which provides a full panorama of the city's history from the Mayan times to the present day. This museum is open Tuesday to Friday, 9 am – 6 pm, and on weekends, 9 am – 2 pm. Admission is also 150 MXN (7.3 USD).
Day 9: Izamal, Cobá Ruins & Tulum
This morning you can check out of your Merida hotel and tackle the longest drive on your Mexico 2 week itinerary to Tulum with stops at Izamal and the Cobá Archaeological Zone. Drive time today is around 4 hours 15 minutes (293 km/182 miles).
Izamal
Driving time: 1 hour (68 km/42 miles) from Merida to Izamal
With an array of sunshine-colored buildings, Izamal earned itself the nickname of the Yellow City of the Yucatan. The city was painted yellow as the Mayans considered the region as the dwelling place of the sun god, Kinich Kakmo.
Sites to check out include the Pirámide Kinich Kakmó, one of the largest pyramids built by the Mayans in the Yucatan region. According to folklore, a deity in the form of a macaw would collect offerings left atop the monument.
The site is open daily, 8 am – 5 pm, and it is free to visit. Across the road, you can also visit the Pirámide de Itzamatul.
You can also visit the mustard-toned Convento de San Antonio and enjoy a sheltered walk along the covered colonnades. The convent is also free to visit, making IIzamal a budget-friendly addition to your Yucatan road trip.
Cobá Archeologial Site
Driving time: 2 hours 15 minutes (173 km/108 miles) from Izamal to Cobá Archeological Site
On your way to Tulum from Izamal, you can once again take advantage of the 180D highway. The toll fee is exactly the same as it was on the way to Merida, which is 196 MXN (10 USD).
Make one more stop right outside Tulum, and take a wander around the Cobá Archaeological Zone which contains the remains of an ancient Mayan city. Cobá translates to "waters ruffled by the wind" and is likely a reference to the two large lagoons on the premises.
Nohoch Mul is the star of Cobá and it is possible to climb up the 120 steps to the top of this huge pyramid for a panoramic view across the surrounding jungle. Standing at a height of 41.6 meters (137 feet), Nohoch Mul is in fact taller than the 30 meters (97.4 feet) tall El Castillo Pyramid.
The Cobá Archaeological Zone is open daily, 9 am – 5 pm, and the admission fee is 80 MXN (4 USD). As it takes around three hours to walk around the complex in full, you might find it best to get around with a bicycle which is available for 50 MXN (2.5 USD).
Dinner in Tulum
Driving time: 1 hour (52 km/32 miles) from Cobá Archeological Site to Tulum Beach
No doubt you'll feel hungry when you reach Tulum and you'll be overjoyed to hear that there is an endless supply of places to eat! The Tulum Beach Strip is brimming with options where you can find nutritious and appetizing dishes.
Head to Atila for beachside fine dining presented with a flourish or make a date at Parole Tulum if you want something romantic. The Italian menu is served to a backdrop of live violinists.
Where to stay in Tulum
When it comes to choosing where to stay in Tulum, you basically have two options: Downtown Tulum and Tulum Beach. However, within these two districts, there are sub-sections to take into consideration when selecting the best part of Tulum to stay in.
Downtown Tulum is set back from the coastline with the national park sandwiched in between. You can find dozens of restaurants, shops, and other amenities in the town and it is not an overwhelming size.
The most beautiful setting is the Tulum Beach Strip, which is an extension of the Tulum Hotel Zone. Located around 5 kilometers (3.1 miles) from the town, this strip runs southwards from the Tulum National Park and Archaeological Park with all properties boasting seafront access. If you're looking for the best luxury hotels in Tulum, here is where you'll find most of them.
I recommend choosing accommodation in this area for your Yucatan itinerary but if you're not sure exactly which part to choose, you can consult my guide about the best areas to stay in Tulum.
And if having a pool is a must for you, check out these amazing Tulum hotels with private pools.
For a quick solution, check out my top picks below for different budgets.
Day 10: Tulum
Tulum Beach is one of the most beautiful beach towns in Mexico and it's one of the places to go for a morning stroll with your camera. The resort has sprung to fame thanks to its Instagrammable spots that pop with color.
It's up to you whether you go for a wander and check out the Tulum Beach Strip cafes and lookouts at leisure or maybe you want to specifically plan to visit the most Instagrammable places in Tulum.
With sculptures, signs, swings, and cafes to tempt you, a couple of hours wandering around the area will provide you with months worth of content for your feed!
One of the most iconic spots is the Ven a La Luz statue that welcomes arrivals to the Ahau Resort at Tulum Beach. This 8 meters (26 feet) tall representation of a woman opening her heart gets pretty popular so you'll want to arrive there early.
If you want to multitask your shooting then head to one of the cute cafes such as Matcha Mama or Raw Love Tulum where you can grab a nourishing yet made-for-Instagram smoothie. One of the quirkiest spots is surely the giant pink rabbit that marks the entrance to Conestesia Restaurant.
As it's been a busy couple of days and you're now nearing the end of your Yucatan Peninsula road trip, this afternoon you can look forward to relaxing at either your hotel, a local beach club, or the public beach.
Tulum Beach is lined with beach clubs where you can rent a bed and pamper yourself with juices, cocktails, and fresh fruit. Check out the luxurious Mía Restaurant & Beach Club or Taboo Tulum if you're looking to indulge yourself.
Day 11: Tulum Archaeological Zone & Cenote Hopping
After recouping your energy, today you should rise early and head out to visit the Tulum Ruins before calling in at the local cenotes. Drive time today will be approximately 1 hour (30 kilometers/18.5 miles).
Tulum Archaeological Zone
Driving time: 15 minutes (6 km/3.7 miles) from Tulum Beach to Tulum Archaeological Zone
The Tulum Archaeological Zone is located a 15-minute drive north of the Tulum Beach Strip, within the Parque Nacional Tulum. The complex comprises the ruins of a Mayan city that rests on a bluff overlooking the Caribbean Sea.
Inhabited since 564 AD, the city was a religious and ceremonial center. Admission to the Tulum Archaeological Zone is 80 MXN (4 USD) and it's open daily 9 am – 3.30 pm. Aim to arrive as early as possible to beat the intense midday heat.
Cenotes around Tulum
You can spend the rest of your afternoon hopping around Tulum's local cenotes. The ones that I have included in this 2 week Mexico itinerary are close by to one another (in fact, they're on the same road!) and do not require too much driving.
However, if there are too many for one day, feel free to shorten my list and just visit the ones that most appeal to you.
Cenote Calavera
Driving time: 15 minutes (7 km/4.5 miles) from Tulum Beach to Cenote Calavera
Resembling a human skull, Cenote Calavera is perhaps the spookiest sinkhole in the Yucatan. It's fairly well hidden away and has thus far escaped the tourist scene so you might manage to have this one to yourself if you're lucky.
The admission fee is 250 MXN (12.2 USD) plus 200 MXN (9.7 USD) if you want to take photos. It's open daily, 9 am – 5 pm.
Gran Cenote
Driving time: 2 minutes (2.2 km/1.3 miles) from Cenote Calavera, or 20 minutes (9.5 km/6 miles) from Tulum Beach to Gran Cenote
In contrast to Cenote Calavera, the more popular Gran Cenote is composed of two sunken basins that are linked together with a series of caves. But if the beautiful setting of Gran Cenote wasn't enough, the water is alive with turtles and you are more or less guaranteed to spot them as well as the resident bats and birds who call the cenote home.
Admission to Gran Cenote is 300 MXN (14.6 USD) and it is open daily, 8 am – 4.45 pm.
Cenote Aktun-Ha
Driving time: 4 minutes (4 km/2.5 miles) from Gran Cenote, or 20 minutes (13 km/8 miles) from Tulum Beach to Cenote Aktun-Ha
Cenote Aktun-Ha goes by the nickname "Cenote Car Wash" because in past years, local taxi drivers would bring their vehicles to the cenote to wash them!
This no longer is permitted and, instead, the water has returned to its former glory and Cenote Aktun-Ha has become one of the leading destinations for cenote diving in the Yucatan Peninsula.
If you want to take photos, then Cenote Aktun-Ha is a little more pricey. The entry charge is 250 MXN (12.2 USD) but then you would need to pay an extra 150 MXN (7.3 USD) to use your camera and 150 MXN (7.3 USD) if you want to shoot with a drone.
There is also a mandatory charge of ​​30 MXN (1.5 USD) to hire a lifejacket if you want to swim in this cenote. Bear this in mind if you're spending 2 weeks in Yucatan on a budget.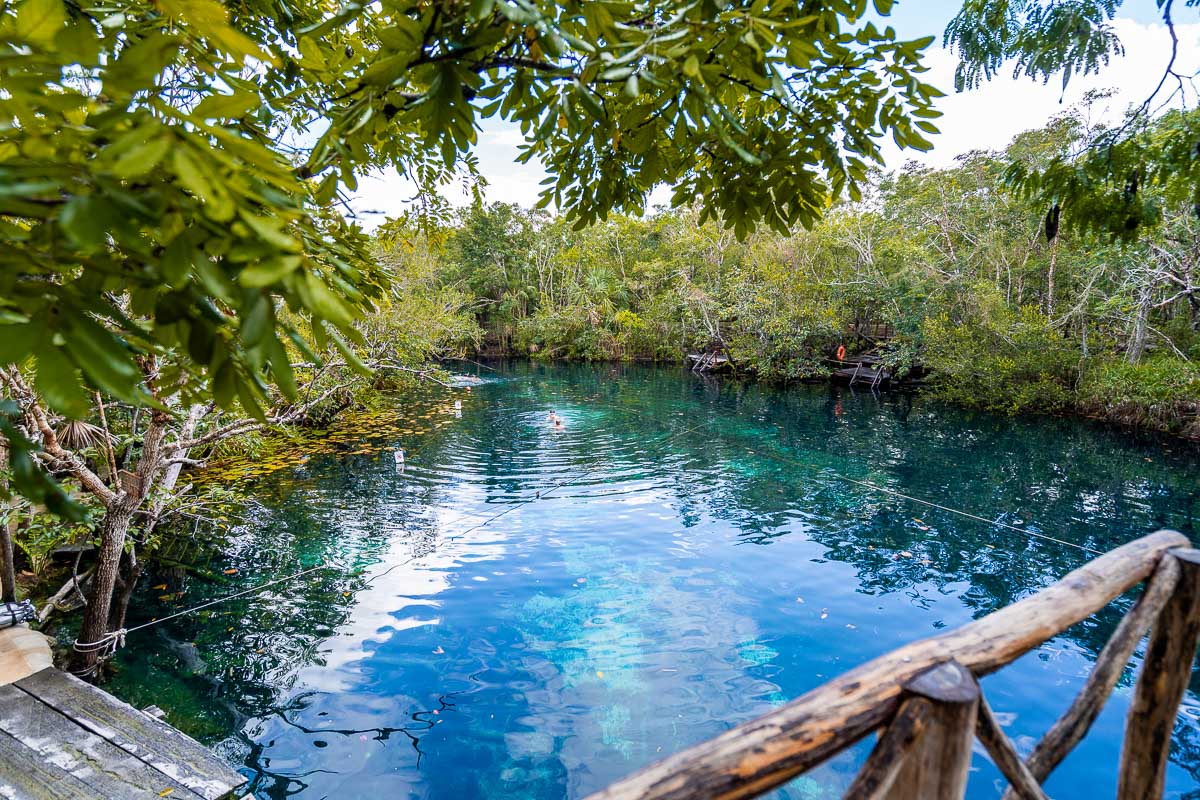 Cenote Zacil-Ha
Driving time: 2 minutes (350 m/1,150 feet) from Cenote Aktun-Ha, or 20 minutes (13.5 km/8.5 miles) from Tulum Beach to Cenote Zacil-Ha
Cenote Zacil-Ha is right across the road from Cenote Aktun-Ha. This open cenote is shrouded by greenery and is a popular hangout for birds.
Local families tend to favor this cenote as it's particularly family-friendly with its shallow depths of up to 10 meters (32.8 feet), the zipline, and the additional two swimming pools located within the area.
Another reason to wrap up your day at Cenote Zacil-Ha? You can get a free pedicure from the fish in the water! The admission fee for the cenote is 200 MXN (9.7 USD) plus 150 MXN (7.3 USD) if you want to use your camera.
Day 12: Cenote Dos Ojos, Cenote Azul & Playa del Carmen
On the twelfth morning of your 2 weeks in Mexico, you can check out of your Tulum hotel and drive to Playa del Carmen. Drive time including the cenote stops equates to 1 hour 30 minutes (86 kilometers/53.5 miles).
Cenote Dos Ojos
Driving time: 35 minutes (26 km/16 miles) from Tulum Beach to Cenote Dos Ojos
Cenote Dos Ojos, the "Two Eye Cenote", comprises two cenotes that are connected by an underwater tunnel. You can swim in either of the two cenotes: you'll notice that one is a vibrant shade of blue while the other is much darker.
Cenote Dos Ojos is situated close to a third cave which is home to a colony of bats but if you want to visit this one too then you'll need to pay for a guided tour.
Entry to Cenote Dos Ojos is 350 MXN (17 USD) or you can pay 700 MXN (35 USD) for a guided tour which includes the bat cave. The cenote is open daily, 8 am – 5 pm.
Cenote Azul
Driving time: 30 minutes (30 km/18.5 miles) from Cenote Dos Ojos to Cenote Azul
If you want to experience some of the best cenote snorkeling conditions during your Yucatan Peninsula road trip, you'll want to visit Cenote Azul.
The "blue cenote" is alive with corals and plentiful aquatic life. Adventurous souls might want to jump from the cliffs to the watery depths below.
The entry fee for Cenote Azul is 120 MXN (5.8 USD) and it is open daily, 8.30 am – 5.30 pm.
Dinner in Playa del Carmen
Driving time: 30 minutes (30 km/18.5 miles) from Cenote Azul to Playa del Carmen
Once in Playa del Carmen you can drop off your rental and head out for dinner in town.
El Fogon is one of the most popular restaurants in town and although you can expect a line to greet you the food is absolutely worth the wait. The menu features all your favorite Mexican dishes plus a generous drinks menu to wash your fajitas down with.
If you fancy a change from Mexican food you can check out Luma Taverna Del Mar which specializes in fresh seafood prepared with a Mediterranean influence.
Where to stay in Playa del Carmen
Situated in the state of Quintana Roo, the resort town of Playa del Carmen is part of the Yucatan Peninsula's Riviera Maya strip of Caribbean shoreline. It's a fraction larger than Tulum but smaller and less busy than Cancun.
Much of the action within the Centro district revolves around Quinta Avenida which bustles with street food stalls, restaurants, and stores where you can pick up locally made souvenirs.
South of Centro, Playacar is the setting for the most luxurious beach resorts, while to the north you will find more affordable options and family-friendly resorts. Below you can find my top picks for where to stay in Playa del Carmen.
Day 13: Playa del Carmen
How you spend your day in Playa del Carmen is going to depend on your personal preferences and how much you are prepared to spend.
You might want to seize the moment to spend a final day at one of the best beaches in Playa del Carmen, visit a few more cenotes or adventure parks, or spend your day cafe hopping and picking up mementos on Quinta Avenida.
Cenotes & Beaches
If you haven't had your fill of cenotes then there are a couple of options close to the town that you can check out including Cenote Chaak Tun and Cenote Cristalino. In case you're looking for an adventure, you can try out this Riviera Maya buggy tour with cenote swim!
In terms of beaches, most of the beachfront at Playa del Carmen is occupied by resorts and beach clubs that you will need to pay to hire a bed at if your chosen accommodation isn't on the sand.
Mamita's Beach Club is a swanky option and you can offset the higher fee towards the cost of food and drink. The lively Lido Beach Club is a more affordable option where you can rent a chair or a bed and again part of the rental fee goes towards any food or drinks.
Parks
If you want to get a final burst of excitement to conclude your Yucatan road trip then you could drive to one of the nearby adventure parks. There are three options to choose between: Xcaret, Xel-Ha, and Xplor.
Xcaret is the most well-known of the parks and draws together adrenaline activities with cultural pursuits. The park contains three underground rivers, a beach, and natural wells.
You can also visit the Coral Reef Aquarium, the Butterfly House, and the Aviary, and catch cultural dances and performances. Tickets to Xcaret start at 2,078 MXN (103 USD).
Xel-Ha is your one-stop shop for snorkeling, river tubing, gentle hiking, and the exploration of cenotes, caverns, and jungle.
Together, Xcaret and Xel-Ha are the most appropriate options for families with younger children but both parks appeal to all types of travelers due to the scope of activities and nature sights. Admission to Xel-Ha starts at 1,889 MXN (94 USD).
For those seeking the highest level of thrill, Xplor features two zip line routes that fly you over the top of the canopy and deposit you in the cooling waters. You can also swim through subterranean rivers and drive jeeps through the jungle. Admission to Xplor starts at 2,456 MXN (122 USD).
Day 14: Return to Cancun
Driving time: 45 minutes (55 km/34 miles) from Playa del Carmen to Cancun Airport
It's the final day of your trip and all that is left to do on your Yucatan road trip itinerary is squeeze in one final trip to the pool at your Playa del Carmen resort, check out of your hotel, and drive back to Cancun for your flight.
Drive time from Playa del Carmen to Cancun International Airport is 45-60 minutes (55 kilometers/34 miles). Make sure to leave plenty of time for this road as it can get quite busy and missing your flight is not the best way to end your 2 weeks in Mexico!
---
Pin It for Later!