During our recent trip to Mexico, we indulged in a two-night stay at the JW Marriott Cancun Resort & Spa. As part of the luxurious and highly acclaimed Marriott International chain, we knew that we were in for a much-needed treat after an exhausting journey from Hungary and a busy couple of days exploring the best of Mexico City!
This is my honest review of the JW Marriott Cancun Resort & Spa, what we loved about our stay, and what you can expect if you book this hotel for yourself.
*Disclosure: This post contains a few affiliate links, which means I may receive a small commission, at no cost to you, if you make a purchase through my link. Please note that we were invited to stay at JW Marriott Cancun Resort & Spa, however, all thoughts and opinions are my own, as always.*
No time to read now? Pin it for later!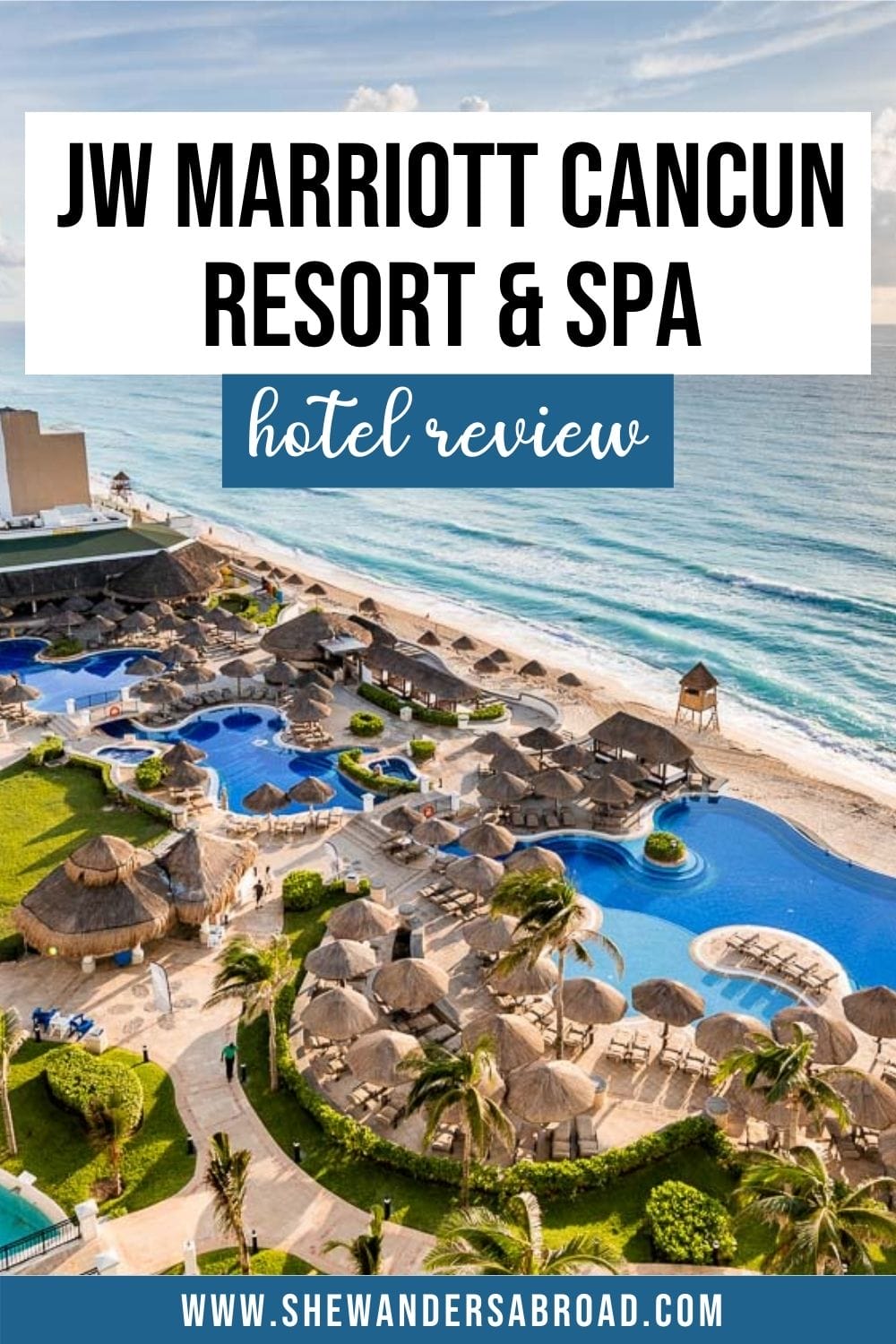 Basic Information
Arriving at JW Marriott Cancun Resort & Spa
Location
The JW Marriott Cancun Resort & Spa is located in the Cancun Hotel Zone (Zona Hotelera). Running from the Faro de Punta Cancún in the north down to Punta Nizuc on the southern tip, this is a 22.5 km (14 miles) island that connects by road to the main city.
Blessed with sandy beaches, excellent restaurants, and world-class hotels and resorts, the Hotel Zone is the most popular place to stay as a tourist in the city. The JW Marriott Cancun is situated in the middle part of the zone which is perfect for exploring the rest of the area and sample local restaurants from the base of the hotel.
Cancun International Airport is only 17 km (10.5 miles) away. As we were doing a wider Yucatan Peninsula road trip, we decided to rent a car so it took us a mere 20 minutes to connect to the hotel. The hotel offers secured parking at no additional cost which is good news if you're also planning to rent a car!
The hotel doesn't offer a shuttle but you can arrange a transfer for around 355 MXN ($20 US) per person. JW Marriott Cancun recommends booking this via Prestige Transportation Services. This must be booked in advance, usually 48 hours ahead of arrival.
Alternatively, you can expect to pay around 710 MXN ($40 US) for a taxi from the airport.
Lobby & Check-in Process
The cool, marble lobby that greeted us at the hotel was such a welcome relief after waiting almost 1.5 hours at the airport to get our rental car. We were greeted warmly by the doormen and a friendly reception team who checked us in without any issues.
Staff was available to help with our luggage which was very well needed as we traveled with 3 huge suitcases plus 2 backpacks (we were doing a 3-month trip around Mexico and the US).
A concierge desk was available at all times in case we needed any further advice throughout our stay. You can ask for any advice here on how to arrange to visit the nearby attractions, such as the island of Isla Mujeres or the famous Chichen Itza Ruins.
Room Types
The JW Marriott Cancun Resort & Spa offers 447 rooms and suites that cater to families, couples, groups, and solo travelers.
In addition to the standard room options, you do have the option to book one of the exclusive Club 91 Level rooms.
These ​​offer specialized services and amenities such as access to the Lounge Club where you can look forward to complimentary food and drinks throughout the day.
As the property was refurbished in 2019, the guest rooms are in excellent shape and still feel freshly decorated.
We stayed in a Premium Ocean View Deluxe Guest Room. This room option provides a comfortable 467 square feet (42 square meters) of space and is equipped with a king bed as well as a sofa bed: perfect for afternoon siestas!
The space was decorated in hushed neutral tones inspired by the beach and the ocean and we noticed intricate Mayan-style carvings above the bed.
Our private bathroom continued the nautical theme with sand and water hues and was immaculately designed in marble.
We benefited from a double vanity, a huge soaking tub, and a powerful rainfall shower. As the JW Marriott Cancun Resort is a luxury hotel, we were provided with fluffy bathrobes and slippers to help us feel at home.
But of course, the best thing about the room was our private balcony which gazed out over the sparkling Caribbean Sea. There was a pair of chairs and a table waiting for us so we could savor the view over a morning coffee or evening glass of wine.
Service & Facilities
Pool
There's not one but three pools at the JW Marriott Cancun Resort & Spa! Your options include a huge two-tier pool that is particularly suitable for families and little children, an incredible infinity pool that overlooks the ocean (children are also welcome), and a separate adults-only pool.
There are also a couple of hot tubs dotted around the pools and the sun deck is set up with loads of loungers. If you fancy some more privacy, then you can also choose to rent a private cabana.
We were thrilled to receive a complimentary private Balinese-style bed at the pool during our stay, which came with gratuitous drinks and snacks. If you have a chance, try the nachos with cheese, it was easily one of the best ones we've ever eaten!
If you feel like a change of scenery, then the pool area connects to a sandy beach where you can take a dip in the Caribbean Sea. Note that this is public rather than private so you will need to either hire a sunbed or take a towel with you.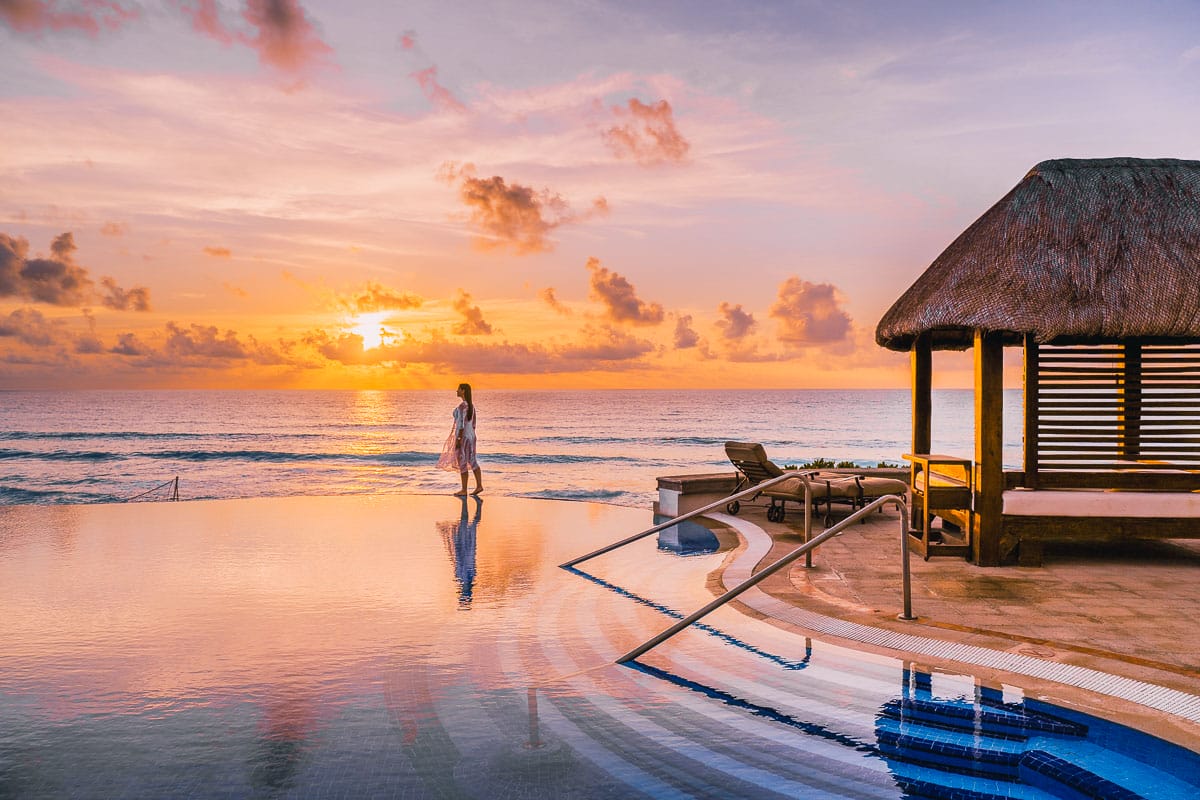 Spa
If you've got your sights set on pampering yourself while in Cancun then you don't even need to leave the hotel. The Mayan-inspired spa is located right next to the lobby and spans two floors. Professional staff is on hand to provide massages, facials, wraps, scrubs, and manicures.
You can even book a fitness counseling session for something a little different!
Besides the sauna and steam room, the spa complex features an adult-only lap pool where you can perfect your front crawl if you feel inclined.
If you want to make use of the spa facilities then you will need to remember to book in advance before arrival or after you check-in at the hotel.
Gym
Within the spa complex, you can also access the hotel gym which is large by hotel standards. It is well-appointed with cardio, free weights, and other workout equipment.
The fitness suite is open to hotel guests daily, 6 am – 11 pm. Check when you arrive as there might be some free fitness classes taking place during your stay dates.
Culinary Delights
The JW Marriott Cancun Resort & Spa offers 9 dining and drinking options, ranging from Italian and Japanese to New York-style pizza. All of the establishments operate a casual dress code so you needn't worry about dressing up unless you want to.
Breakfast
Breakfast was included in our stay so we benefited from two substantial brunches at the property. There are two options to choose from: Sedona Grill or Sasi Thai.
We opted for Sedona Grill both mornings which mixes up the best of Southwestern and Mexican cuisine by night and presents a tempting buffet spread in the mornings. For breakfast, you can either take advantage of the buffet or order from the menu.
We decided to order from the menu on our first morning and we got ourselves some green chilaquiles (my new favorite breakfast), an omelet, and some fluffy waffles with blueberries. Everything was super delicious, especially the waffles!
On the second morning, we decided to mix things up so we tried the breakfast buffet. We saw all the typical breakfast items you would expect at a resort: fruits, cereals, pastries, cooked meats, and any style of eggs are all up for grabs.
To be fully honest, we preferred the food from the first morning when we ordered from the menu as everything was freshly prepared just for us. On the other hand, choosing the buffet gives you a chance to try more types of food so it's absolutely up to you!
The rate for the buffet breakfast is 445 MXN ($25 US) per day. If you want to order breakfast to be delivered to your room then you can arrange this at an additional fee.
Restaurants & Bars
As we wanted to taste as much Mexican food as we could while in Cancun, we went to dinner at Sedona Grill on our first night. The menu offered all the classic dishes plus excellent seafood options, spanning fajitas to crab ceviche to oysters with a Mexican touch.
If you happen to have supper at Sedona Grill on a Tuesday or Friday evening, you will be treated to a lively performance from the resident Mariachi band!
Besides the seven restaurants, you have a choice of two bars: the Lobby Bar and Champion's Sports Bar. Stylishly decorated with a lovely ambiance, the Lobby Bar was our firm favorite.
Plus, it provides a direct view of the ocean and this might be the only place in the world where you can browse 150 different types of tequilas!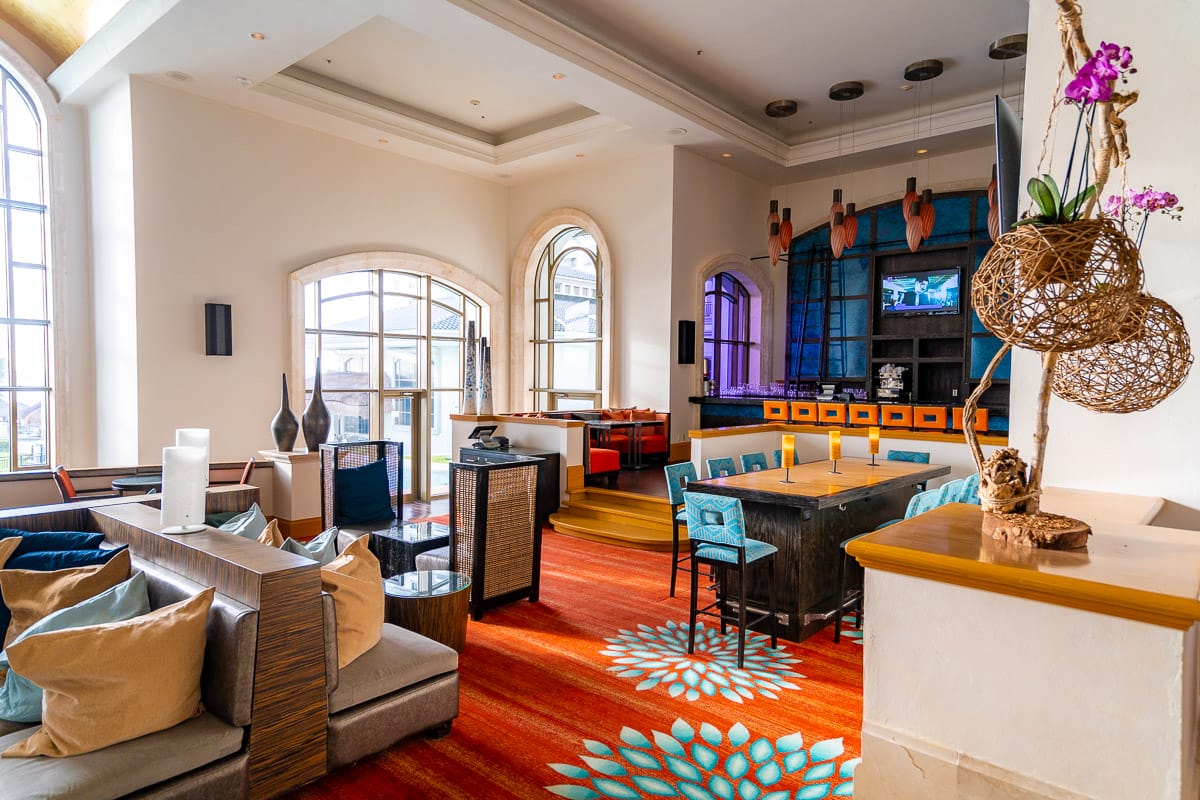 A highlight of our stay was the tequila tasting that we attended at the Lobby Bar. We tasted 6 different types of tequila and one mezcal, and learned a lot about how they are produced as well as the history of tequila.
The tequila tasting is available every Monday and Thursday between 5 pm – 6 pm at the Lobby Bar.
Advance reservation is required and you can choose from three different levels: Gold Tasting (600 MXN/$35 US per person), Premium Tasting (1,000 MXN/$55 US per person) and Extra Anejo Premium (1,500 MXN/$80 US per person).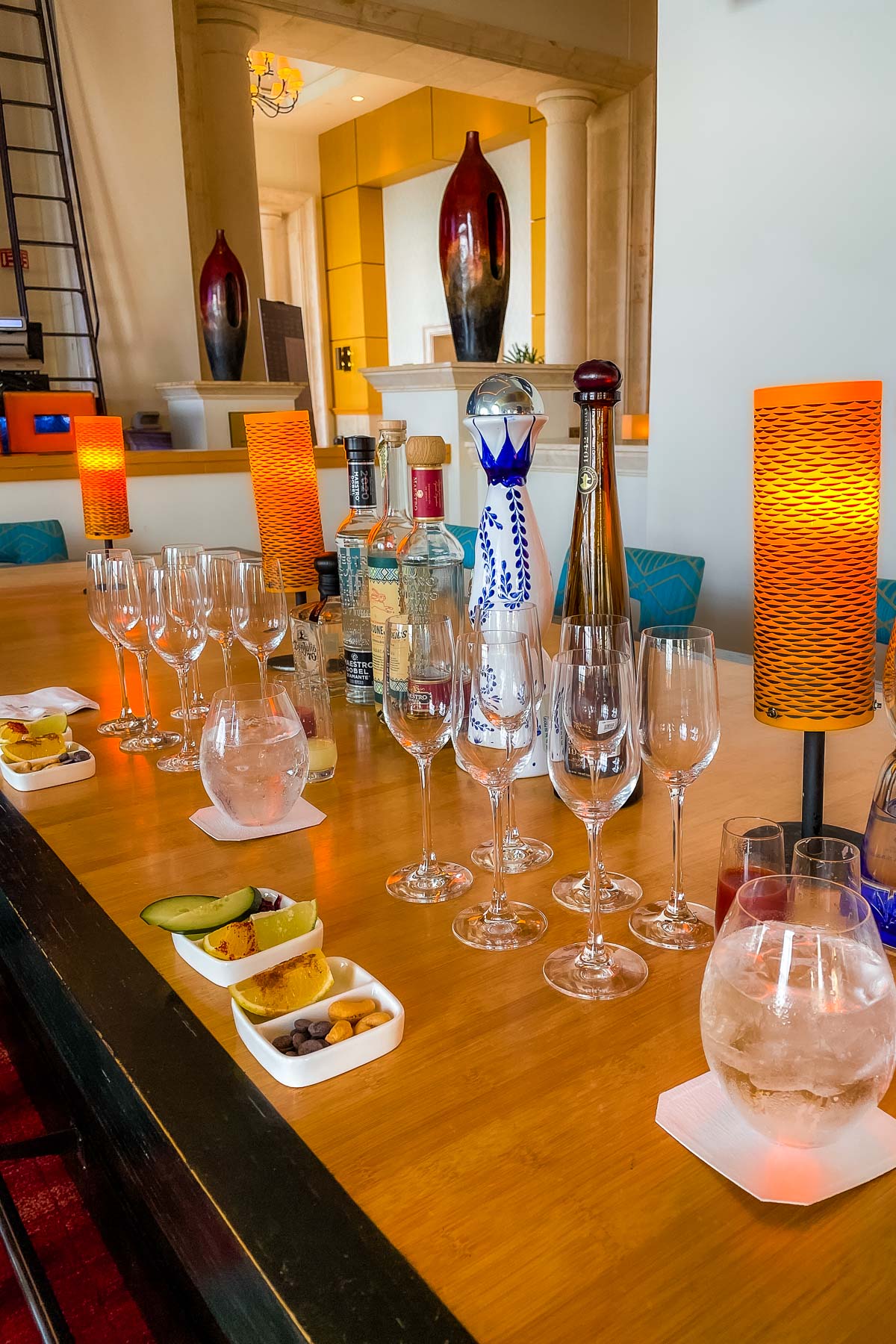 Final Thoughts
We thoroughly enjoyed our stay at the JW Marriott Cancun Resort & Spa. Our room was spotless and beautifully designed to put us into vacation mode. We were impressed with the dining and leisure facilities and felt well taken care of throughout our stay.
If you're looking for a luxurious stay in Cancun, I can only recommend choosing this amazing hotel. Check the latest prices and availability here!
If you have any questions about the hotel or traveling to Cancun, please don't hesitate to send me a message or drop a comment below. Have you ever been to Cancun or is it still on your travel bucket list? Let me know in the comments!
---
Planning a trip to Mexico?
Then you might want to take a look at all our other travel guides about Mexico. I promise, they are just as awesome as this article was!
Yucatan Peninsula:
Mexico City:
---
More Mexico Resources
Do you want to know even more about Mexico? Check out these awesome books and travel guides for more inspiration!
---
What Camera Gear Do We Use?
If you want to read more about what is in our camera bag, check out my detailed post about our travel photography gear!
---
Pin It for Later!