Mexico City is one of the largest capital cities in the world and is the gateway to discovering the country's Aztec heritage and vibrant contemporary culture. If you are planning a flying visit then you are likely wondering how to see the best of Mexico City in one day? That's where this itinerary is going to help you out!
Despite the immensity of the city, you can actually explore a large chunk of the major attractions in 24 hours. This guide is packed with advice on how to get around the city, where to stay, and most importantly, the best things to do in Mexico City in one day!
As you have limited time in the city I have shared my recommended timeline for your day to help you make the most of your visit.
Are you planning to stay longer in the city? Then make sure to read my 3 days in Mexico City itinerary instead!
*Disclosure: This post contains a few affiliate links, which means I may receive a small commission, at no cost to you, if you make a purchase through my link.*
No time to read now? Pin it for later!
Useful Info for Visiting Mexico City in One Day
How to get to Mexico City
Mexico City International Airport (MEX), or Benito Juárez International Airport, is one of the busiest airports in Mexico and the whole of Latin America. Direct flights connect the airport's two terminals to US, European, and Central and South American destinations.
If you need to transit between the terminals then you can use the Aerotren, which runs between 5 am – 1 am. The stations are located at Gate 6 (Terminal 1) and Gate 4 (Terminal 2) and it is free to use the service.
The cheapest way to travel to the city center is via public transport. One option is to ride Metro Line 5 from the Terminal Aérea Station. This is within walking distance of T1 but if you arrive at T2 then you will need to transfer to T1. The fare is 5 MXN (0.25 USD).
Alternatively, you can take the Metrobus Line 4 from either terminal. This costs 30 MXN (1.5 USD) one way, once you have bought your Mexico City Metro Card for 15 MXN (0.75 USD).
If you would rather take a taxi then you can either take one of the cars from outside the terminal or hail an Uber. Actually, the prices do not differ too drastically. You should expect to pay between 250-300 MXN (12.5-15 USD) to travel the 20 minutes downtown. And last but not least, you can book a transfer via the airport portal.
Best time to visit Mexico City
The best time to visit Mexico City is during the months of March to May. This is when the weather remains consistently dry, sunny, and warm. Temperatures hover around 26-27°C (80-82°F).
June sees the arrival of the rainy summer season and while the weather remains hot, the rain can be heavy and unpredictable. On the plus side, the city is less busy and accommodation is often cheaper.
The rains ease towards the end of September with October offering drier conditions and an average day temperature is 24°C (75°F).
If you want to experience one of Mexico's vibrant festivals then you can always plan a day in Mexico City to coincide with an event such as Semana Santa (March/April, right before Easter), Cinco de Mayo (5 May), or Día de los Muertos (1 November).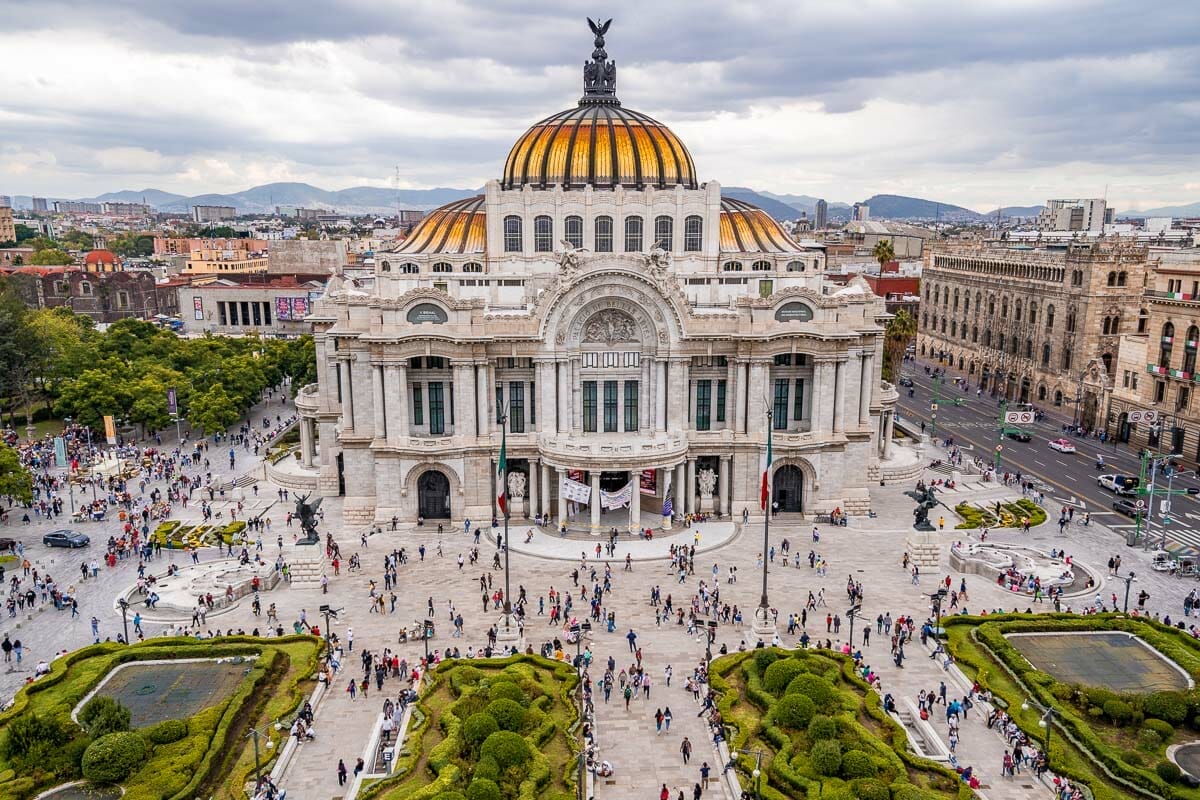 How to get around Mexico City
Mexico City is set up with an efficient metro and bus system which is easy to use and super cheap once you've got your metro card. If you want to get around this way then it's handy to download the CityMapper app first, assuming you have a local SIM card or data on your phone.
For the purpose of this one day Mexico City itinerary, I actually recommend that you get around just by walking or taking Ubers, which will save you heaps of time. However, if you are planning on staying for a couple of days in the city then you will benefit from getting acquainted with public transport.
Where to stay in Mexico City
As you are only spending one day in Mexico City you will appreciate a centrally located hotel. Mexico City is extremely accommodating to all budgets and you can even score a room in the Centro Histórico district for a decent rate.
You may also consider the attractive Roma, Condesa, and Juárez neighborhoods which offer a mix of accommodations to suit all budgets and they aren't far from the central core.
If you want to read more about where to stay in Mexico City, make sure to check out my guide about the best areas to stay in Mexico City. If you're in a hurry, below you can find my top picks for staying in Mexico City for one day.
LUXURY – JW Marriott Hotel Mexico City
This luxury hotel is 8 km from central Mexico City and a 10-minute walk from Auditorio Metro Station. It features an outdoor pool, free Wi-Fi, and a Health Club with exclusive spa services such as a gym and hot tub.
MID-RANGE – Hotel Histórico Central
This boutique hotel is housed within a historic townhouse and features a gym and a restaurant on-site. Check out the Junior Suite which comes with a terrace and a scenic view. Your rate includes breakfast.
BUDGET – Hotel Catedral
Clean, cozy, and central, this budget-friendly hotel offers bedrooms with private balconies or terraces. Breakfast is available at a surcharge and you can walk anywhere within the Zócalo area.
Overview of How to See Mexico City in One Day
Breakdown of your one day in Mexico City
Morning: Breakfast at Lalo!, Plaza del Zócalo, Mexico City Metropolitan Cathedral, Templo Mayor Museum, Avenida Francisco I. Madero, Torre Latinoamericana, Palacio de Bellas Artes
Afternoon: Coffee or light lunch at Finca Don Porfirio, Museum of Anthropology, Chapultepec Castle, Chapultepec Park
Evening: Dinner & drinks in the Roma Norte neighborhood
Important info: Most museums are closed on Mondays so if your one day in Mexico City falls on this day, you won't be able to visit some of the attractions on this list. If you can, it's best to plan your trip from Tuesday to Sunday so you can truly enjoy the best of Mexico City in one day.
Map for your one day Mexico City itinerary
Below you can find a customized map that includes all the locations you're going to visit on this Mexico City in a day itinerary.
I marked the different parts of the day with different colors – I used blue for the morning, green for the afternoon, and red for the evening, so you can easily see which places you're going to visit during your one day in Mexico City.
If you open up this post on your phone and you click on the bracket in the upper right corner of the map, it will automatically save this map to your Google Maps app so you can always have it with you. Super convenient, right?
Morning of Your One Day in Mexico City
Breakfast at Lalo!
Visit time: 8 am – 9 am
When you are seeing the best of Mexico City in one day, choosing where to eat is just as important as deciding what attractions to visit! Start your day in Roma Norte, the culinary capital of Mexico City.
Lalo! is my number one pick for where to eat breakfast in the city. The menu is diverse and offers all your favorites like granola, pancakes, and avocado toast as well as Latin specialties such as huevos rancheros. Coffee and tea are on the menu as are mimosas and Bloody Marys in case you need something stronger to shake off your flight.
Lalo! is open Tuesday until Sunday, 8 am – 5 pm (closed on Mondays).
If you already had breakfast at your hotel, you might still want to swing by for a coffee purely to soak up the vibe. At 9 am, call an Uber to take you to the Centro district.
Plaza del Zócalo & Mexico City Metropolitan Cathedral
Visit time: 9.30 am – 10 am
Plaza del Zócalo (or, Plaza de la Constitución) is the very heart of the city's Centro district and it's around this area that you will find some of the most historic things to do in Mexico City in one day.
This large public square was once the center of the Aztec city, Tenochtitlan, and was in fact an island. When the Spanish arrived in the 16th century, they drained the lake and began their renovations on the city.
You will see the National Palace (Palacio Nacional) occupying the very spot where the palace of Moctezuma once stood. Grand museums border the area although when you are visiting Mexico City in one day there isn't enough time to visit them all.
Adjacent to the plaza, you will find the gigantic Catedral Metropolitana de la Ciudad de México, the oldest and largest cathedral in Latin America. The architecture draws together elements from the Gothic, Renaissance, Baroque, and Neoclassical styles.
It is free to enter the church and you can even climb to the top of the building for a view of Zócalo. The doors are open to tourists and worshippers daily, 8 am – 8 pm.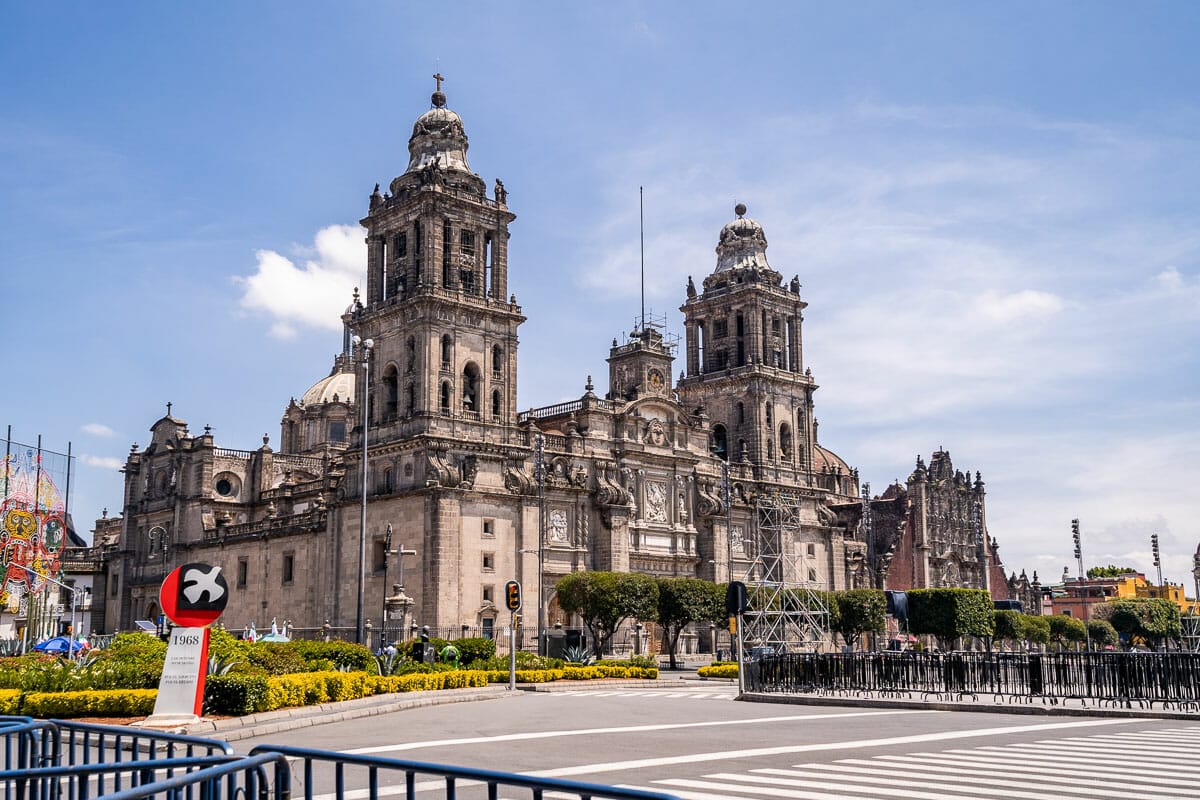 Templo Mayor Museum
Visit time: 10 am – 10.30 am
Right next door to the cathedral, Templo Mayor Museum is an open-air archaeological exhibition that sheds light on how the Aztecs lived in the ancient city of Tenochtitlan. A walkway and series of footbridges connect the excavated remains and you can check out exhibits of such artifacts as stone masks, jewelry, and weapons.
This is one of the most immersive ways to digest the local and national history during your one day in Mexico City. The Templo Mayor Museum is open Tuesday to Sunday, 9 am – 5 pm, and the admission charge is 80 MXN (4 USD).
Avenida Francisco I. Madero
10.30 am – 11 am
This long pedestrianized street is more commonly known just as Madero Street. It connects Zócalo with the Palacio de Bellas Artes and you can enjoy a leisurely stroll towards the museum without having to navigate cars.
The beautiful historic buildings are now the setting for a mix of contemporary brands and smaller boutiques.
Along the way, you can stop off to have a look at the House of Tiles (Casa de los Azulejos). This former palace was originally built by the Count of the Valle de Orizaba family in the 16th century and was later adorned with blue and white tiles that were sourced from the state of Puebla.
Nowadays, the tiles remain intact and the building is occupied by a restaurant where you can eat authentic Mexican fare. It's fine to stop and take some photos.
Torre Latinoamericana
Visit time: 11 am – 11.30 am
Before you reach the Palacio de Bellas Artes, swing around the corner to visit this landmark that towers high above the streets.
Once the tallest building in Latin America, the Torre Latinoamericana has stood since 1956 and has a reputation for being extremely resilient to earthquakes. If you are wondering how to find the best panoramic view of Mexico City in one day, this is the place!
In order to visit the observation deck on the 44th floor, you will need to pay the admission fee of 170 MXN (8.5 USD). This includes entry to a small museum that outlines the history of Mexico City.
Alternatively, you can visit the bar on the 41st floor and pay for a drink rather than the platform access. The Torre Latinoamericana is open daily, 10 am – 9 pm (until 10 pm on weekends).
Palacio de Bellas Artes
Visit time: 11.30 am – 12 pm
This elegant cultural center contains a concert hall that hosts all manner of music, dance, and theatrical performances. The domed facade is a mix of Art Nouveau and Neoclassical styles while the interior is an example of Art Deco.
The building is revered for its murals by Diego Rivera and Siqueiros. You can appreciate the majesty of the building from outside but you do have the option to explore the interiors and tour the small museum.
If you do want to visit the museum at Palacio de Bellas Artes then admission is 75 MXN (3.5 USD). However it really is tiny, so you will not need long to visit! The collection is open Tuesday to Sunday, 11 am – 5 pm.
Afternoon of Your One Day in Mexico City
Coffee or light lunch at Finca Don Porfirio
Visit time: 12 pm – 1 pm
Before you continue, take a rest stop at this cafe on the 8th floor of the Sears department store where you will be rewarded with an aerial view of the Palacio de Bellas Artes.
They excel at pastries and desserts served with specialty coffee, infusions, and hot chocolate but if you have a larger appetite you can pick up a sandwich here. Once you are ready, call an Uber to take you to the next museum on your one day Mexico City itinerary.
Museum of Anthropology
Visit time: 1.30 pm – 3 pm
If you are curious about what Mexico was like in its pre-Hispanic days, then this expansive and exceptionally well-curated museum tells you everything you need to know about the indigenous people and their lifestyles.
The exhibitions take you on a journey to the Mayan and Aztec civilizations then loop back to teach you about the ​​present-day indigenous groups. You will see artifacts, murals, tombs, and the Sun Stone that represents the Aztec Calendar. The Museum of Anthropology is one of the most unmissable things to do in Mexico City in one day.
There are 23 permanent exhibit halls to explore and the collection is as fascinating as it is vast so I recommend spending 90 minutes here. Unfortunately, this time is not enough to see everything in detail but you can visit the most important parts and save the other exhibitions for later.
The museum is open Tuesday to Sunday, 9 am – 7 pm, and the admission fee is 64 MXN (3.2 USD).
Walk to Chapultepec Castle
Visit time: 3 pm – 3.30 pm
Once you've learned all you possibly can about early Mexico, you can walk through the sprawling Chapultepec Park (Bosque de Chapultepec) to Castillo de Chapultepec (Chapultepec Castle).
As the castle closes at 5 pm, aim to head there and arrive by 3.30 pm so that you have enough time to explore the grounds.
Chapultepec Castle
Visit time: 3.30 pm-5 pm
The 18th century Chapultepec Castle sits above Chapultepec Park and offers panoramic city views from its maze of landscaped gardens. This location was held sacred to the Aztecs and was chosen to serve as the residence of the President of Mexico until 1939.
You can go inside and tour the collection of the National Museum of History which is brimming with plush furnishings, ornate ceiling moldings and frescoes, chandeliers, and colorful stained glass windows.
The view from the castle is wonderful and makes this one of my top recommended things to do in Mexico City in one day.
The entry fee to the castle is 80 MXN (4 USD) and you can buy tickets at the venue. Chapultepec Castle is open Tuesday to Saturday, 9 am – 5 pm.
Chapultepec Park
Visit time: 5 pm – 6 pm
Now that the castle is bolted shut, you can spend some time exploring the park itself. "Chapultepec" comes from Nahuatl, the Aztec language, and means "Hill of the Grasshopper".
A highlight of this huge green space is the display of orchards and cacti of the Jardín Botánico del Bosque de Chapultepec. You can also take a stroll around Chapultepec Lake which is a great spot for some photos.
Evening of Your One Day in Mexico City
The best way to sign off a day in Mexico City is with a feast back in the foodie district of Roma Norte! This neighborhood has an artistic vibe and comprises green piazzas, tree-lined avenues, quirky museums, and art galleries.
The museums will be closed by this time but you can enjoy roaming the streets and soaking up the atmosphere while you build up your appetite.
Once you get hungry, there are hundreds of options for where to eat in Roma Norte so you can follow your nose or check out one of my recommendations.
The vegan-friendly Los Loosers serves a fusion of Asian and Mexican dishes while Blanco Colima is an upscale destination in a beautiful building with a choice of two bistros. Grab a liquor ice cream from Helado Obscuro before heading to Morenos Tasting Room for a Mexican Cerveza!
Final Thoughts
That concludes how to spend a day in Mexico City. Once you've got your head around the layout of the city, you can see that it really is possible to see a lot of the place in a short period.
That being said, this Mexico City in one day itinerary is pretty jam-packed and while it's definitely doable, feel free to skip some of the attractions if you prefer to explore the city at a more leisurely pace.
I hope that my one day Mexico City itinerary will inspire you to plan your own trip and help you to maximize your time. Already visited Mexico City? Let me know what you loved most in the comments!
xoxo, Kriszti
---
Related Posts
Want to read more about Mexico?
---
What Camera Gear Do We Use?
If you want to read more about what is in our camera bag, check out my detailed post about our travel photography gear!
---
Pin It for Later!