While vacationing or road tripping in the Yucatan Peninsula, a day trip to Isla Mujeres is one of the most rewarding extensions you can add to your travel itinerary. This small island is accessible via a short boat ride from Cancun and is rich in sights and activities to fill a day.
Translating into 'Island of Women', Isla Mujeres was named in honor of Ixchel, the Mayan goddess of fertility, medicine, water, and the moon. Ixchel is also associated with happiness which explains why this tropical haven is such a joy for solo explorers, couples, and families alike.
Getting to and from Isla Mujeres and navigating your way around the island is a piece of cake once you have all the correct information to plan your visit. That is exactly where this blog post comes into the picture to help!
The following guide is going to tell you everything you need to know in order to plan the perfect day trip to Isla Mujeres from Cancun including how to get there, what to do, and where to eat on the island.
*Disclosure: This post contains a few affiliate links, which means I may receive a small commission, at no cost to you, if you make a purchase through my link.*
No time to read now? Pin it for later!
Reasons to Take a Day Trip to Isla Mujeres from Cancun
In a region blessed with so many incredible sights and attractions, you're probably wondering whether it's worth visiting Isla Mujeres. Let me help you make up your mind.
First and foremost, Isla Mujeres is overflowing with beautiful nature while the laid-back atmosphere offers an attractive contrast to the busier hub of Cancun.
During your day trip to Isla Mujeres, you can look forward to lounging on pristine beaches, snorkeling in coral-filled waters, wandering past palm trees, and checking out heritage buildings.
Secondly, the island is small enough that you can explore it in its entirety without needing to plan an overnight. However, if you do have more time on your hands then you can always choose to stay for a couple of nights at one of the resorts or guest houses.
But if you are traveling with a limited timeframe or as part of a Yucatan Peninsula road trip then a day trip from Cancun to Isla Mujeres is the far more logical option.
Last but not least, Isla Mujeres is accessible via a short boat trip from Cancun, and overall getting there is a straightforward affair once you've got all the right information at your fingertips. This makes it one of the easiest day trips from Cancun.
How to Get to Isla Mujeres from Cancun
Option A: Ferry ride with Ultramar
Isla Mujeres is located around 13 kilometers (8.1 miles) of the Yucatan Peninsula coastline and is accessible via a short ferry ride from Cancun.
Boats operated by Ultramar depart from Gran Puerto Cancun in Puerto Juarez and take 15 minutes to reach the island. The pier is a 10-minute drive from downtown Cancun.
In case you arrive with your rental car, there is a multi-story parking house as well as a small parking lot near the ferry. Parking costs 25 MXN (1.2 USD) per hour or 150 MXN (7.4 USD) for a full day.
Ferries to Isla Mujeres start at 5 am and run every half hour until 9.30 pm. The final two crossings are scheduled for 10.30 pm and 11:30 pm. For your return journey, boats depart every half hour from 5.30 am until 9.30 pm after which they are scheduled for 10 pm, 11 pm, and 12 am.
A single fare costs 240 MXN (11.8 USD) while a return ticket is 450 MXN (22.2 USD).
If you are starting your Isla Mujeres day trip from the Hotel Zone (Zona Hotelera) then the drive to the pier will take between 15 and 40 minutes depending on which part of the island your hotel is situated on.
Alternatively, you can take a boat from one of the three jetties located in the Hotel Zone but crossings are less frequent and cost slightly more. You can check the schedule for each of these piers on the Ultramar website.
Option B: Booking a guided tour
In case you don't feel like planning your whole day trip to Isla Mujeres by yourself, you'll be pleased to know that there are tons of guided tours from Cancun and Riviera Maya to Isla Mujeres.
The most popular option is taking a full-day Catamaran tour to Isla Mujeres. This excursion includes an open bar with drinks and a delicious buffet lunch as well as transportation from and to your hotel, snorkeling at a coral reef park, and visiting the beaches on Isla Mujeres.
If you're short on time, this half-day whale shark snorkel tour is also a great option. During the tour, you can enjoy complimentary food and beverages, snorkel with whale sharks then have a delicious lunch at Playa Norte on Isla Mujeres.
Last but not least, you can also book an Isla Mujeres sunset cruise. This one doesn't include any snorkeling but in exchange, you can swim in Playa Norte, walk through the colorful streets of downtown Isla Mujeres and witness a spectacular sunset over the Caribbean Sea.
How to Get Around Isla Mujeres
It is possible to take your rental car to Isla Mujeres. However, as the island only registers 7 kilometers (4.3 miles) in length, it really isn't necessary for your day trip to Isla Mujeres.
The best way to get around the island is by hiring either a bicycle, scooter, or golf cart. All types of vehicles are readily available close to the ferry terminal near Playa Norte.
Golf carts are the most popular and novel option and this is what I would recommend doing as well. For a one day hire you should expect to pay around 700-800 MXN (35-50 USD) for a two-seater. Prices tend to fluctuate during high and low seasons.
You can either look for a golf cart rental when you arrive at the island or you can rent directly with Ultamar when you board the ferry. In this case, you can pay when boarding the ferry and you can pick up the golf cart when in Isla Mujeres.
Once you have your golf cart you can comfortably traverse your way around the island and stop off at beaches and towns as you please.
Bicycle hire is significantly cheaper and is suitable for travelers on a budget. You can expect the cost to fall around 200 MXN (10 USD) for a day rental. Bear in mind that you will get pretty hot as you cycle around the island so take a lightweight bag and plan to carry lots of water to stay hydrated.
Scooter rentals are only available to those with experience and the correct license. If that's applicable, then you should budget around 400 MXN (20 USD) for a full-day moped hire.
Best Things to Do in Isla Mujeres
Over to the most exciting part of my guide! Once you make it to the island, here are my tips on what to do there as part of your Isla Mujeres day trip itinerary.
Relax at Playa Norte
Playa Norte (North Beach) is considered one of the most beautiful beaches in Mexico. It occupies the northernmost point of the island and is blessed with warm shallow water and soft sand.
As the beach is within close proximity to the pier (a 10-minute walk away) you can schedule an hour or two out of your Isla Mujeres day trip itinerary for a dip and time to soak up the sunshine.
Roam the streets of Centro
The main town on Isla Mujeres, Centro, is located at the north of the island close to the ferry port and Playa Norte. The area is buzzing with places to eat and drink as well as stock up on any essentials that you might need for your day out. For example, if you need surplus cash then you will find ATMs here.
Head over to the Parador Fotográfico for panoramic views across the Caribbean Sea which is dreamy whatever time of the day you visit. You can also wander along the promenades on the east and west side.
Before venturing beyond Playa Norte and Centro you can seize the opportunity to swing by the Mercado Municipal where you can stock up on fresh fruits to keep your energy levels up as you explore the rest of the island.
Take in the views from Punta Sur
Down at the southernmost point of the island, Punta Sur is a dramatic stretch of coastal cliffs with enchanting ocean views as the waves crash 20 meters (65.6 feet) below.
While you're roaming the cliffs you can pay a visit to the Sculptural Park and the ruins of the temple dedicated to the Mayan goddess Ixchel, the patron deity of the island.
If you organize your time carefully then this is the perfect setting to catch the sunset on your Isla Mujeres day trip but it's a magical sight to see any time of the day. Entrance to Punta Sur costs 30 MXN (1.5 USD) per person.
In case you're feeling hungry or you're in need of a cold drink, you can sit down at Acantilado, a small restaurant located right by the entrance of Punta Sur.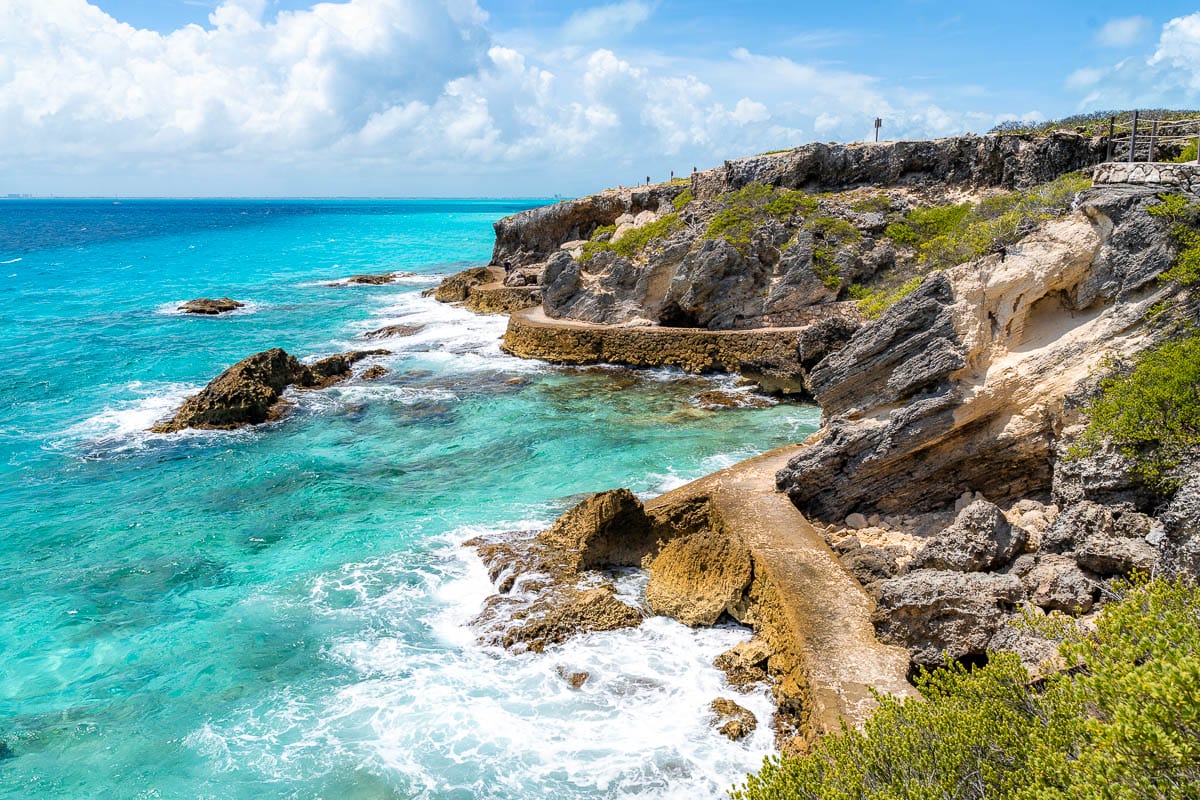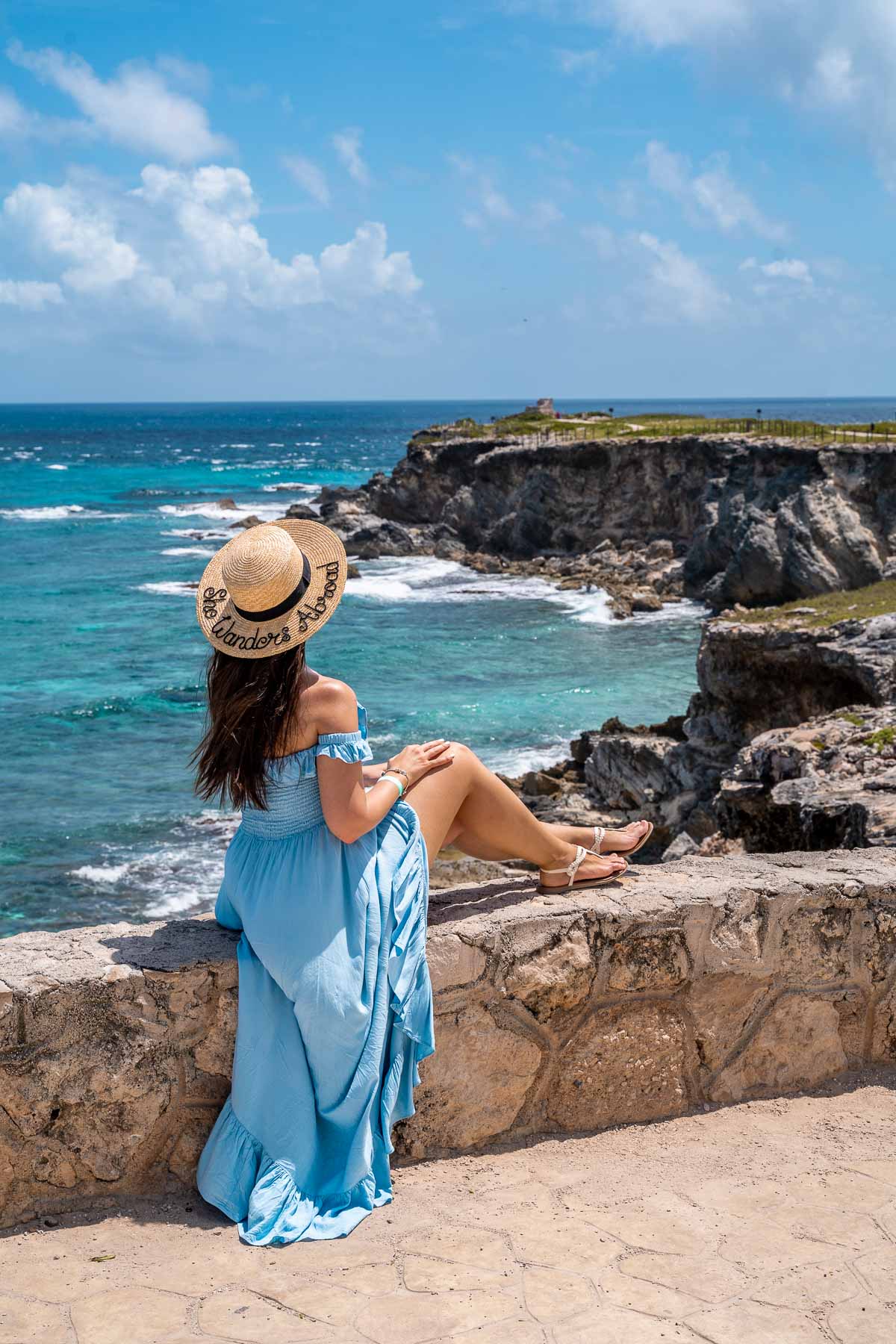 Admire the Sea Walls Murals
In an effort to raise awareness of endangered marine species in the Yucatan Peninsula, a series of murals have been added to the island's main center. Established street artists created the murals as a part of the worldwide initiative, Sea Walls Artists for Oceans.
Most of the murals are dotted around the Centro district and you can wander around them on foot. Bursting with color and intrigue, these artistic representations of aquatic life serve as a crucial reminder about the importance of sustainable and responsible travel.
Isla Mujeres used to be home for a Turtle sanctuary as well but sadly they closed their doors in September 2021. Despite them being featured in most Isla Mujeres guides, unfortunately visiting the turtle farm is no longer an option.
Go Snorkeling or Scuba Diving
The crystal clear water off Isla Mujeres makes it one of the best snorkeling and scuba diving destinations in Mexico. This is where you will find the Underwater Museum of Art (Museo Subacuático de Arte, or MUSA), a collection of around 500 sculptures created by the British artist Jason deCaires Taylor.
The installation is accessible via snorkeling but if you want to swim closer to the statues and are open water qualified then you will want to book a scuba diving excursion instead.
Visit Crayola House
Make a quick pit stop at this funky house in the Meteorológico neighborhood which is painted in all the colors of the rainbow. It isn't possible to go inside but you can stop outside and take a quick photo as you head south.
You can coincide your stop here with a visit to the nearby Isla Mujeres Sea Glass Gallery if you fancy picking up a quirky souvenir from your Isla Mujeres day trip.
Swim with Whale Sharks
During the summer months, the warm water off the coast of Isla Mujeres attracts whale sharks to linger. As they favor a solitary lifestyle, having the opportunity to see them in volume is a unique experience.
These docile giants are the world's largest fish and can reach lengths of 46 feet (14 meters) and weigh up to 15 tons. Whale sharks are filter-feeders, swimming with their wide mouths open, collecting plankton algae, krill, and sometimes small squid or small fish.
It is only possible to swim with the gentle creatures between May and September. It is not permitted to scuba dive alongside them (only snorkel) and you must respect a boundary of at least two meters.
In terms of the cost, you should expect to pay 2,520 MXN (125 USD) for the experience as determined by the Mexican government. If a tour agency charges less than the specified rate then they might not be legitimate.
Note that it is also possible to arrange this activity from your base in Cancun, Playa del Carmen, Tulum, and other popular Mexican resort towns. That means you can always plan this excursion for another day and keep your Isla Mujeres day trip itinerary focused on the island itself.
If you're interested in this activity, check out this top-rated swimming with whale sharks experience! With this tour, whale shark sighting is guaranteed from early June to mid-September (or you'll get a refund!) and professional guides will help you find the best possible views of the whale sharks.
Volunteer at Isla Animals
Located in the heart of the island, Isla Animals is another option for animal-loving travelers! This sanctuary sterilizes the stray dogs and cats on the island and pledges to find each animal a forever home.
As a tourist, you can pay a visit to the shelter and offer to take one of the resident dogs for a walk. This is free and works on a casual basis so you can just turn up at the center as suits your schedule. One of the volunteer coordinators will brief you on what to expect and set you up with one of their dogs.
Visit Isla Contoy
Visiting the nearby Isla Contoy is one more activity that is trickier if you're planning a day trip to Isla Mujeres from Cancun yet is ideal for a longer stay so I'll mention it in case you're considering staying for a night or two.
Accessible via a one-hour boat ride, Isla Contoy is a national park and home to a bird refuge. Most tours include a couple of stops for snorkeling throughout the day as well as the opportunity to try your hand at fishing from the boat.
If you're set on visiting both islands in one day, it's best to book an Isla Contoy & Isla Mujeres day trip that takes care of all the transportation issues and lets you enjoy your time to the fullest.
Where to Eat in Isla Mujeres
Isla Mujeres is the setting of all manner of places to eat ranging from sleek restaurants to cool beach clubs and local taquerias. These are my recommendations for where to eat during your day trip to Isla Mujeres from Cancun.
Café Mogagua: Start your exploration of the island with a coffee from this lovely cafe. Besides excellent coffees, Café Mogagua also excels at breakfast and brunch with a menu that spans everything from pancakes and bagels to the classic Mexican breakfast and any style of eggs.
Lola Valentina: Set in the heart of Centro, Lola Valentina is famous for its creative Mexican and Caribbean meals, as well as their trendy swings at the bar. They also offer plenty of vegan and gluten free options.
Mango Cafe: Said to be the best breakfast spot on Isla Mujeres, Mango Cafe definitely does not disappoint. The cafe has a cozy and friendly atmosphere and their Coconut French Toast is seriously to die for!
Mar-Bella Fish Market and Raw Bar: Located on the west coast, the Marbella Fish Market and Raw Bar is a beachfront setting where you can indulge in all varieties of seafood fresh from the ocean with a glass of wine while you watch the sun sink on the horizon.
Taqueria El Cachirul: This low key, friendly taqueria serves wholesome and flavorsome tacos at a wallet-friendly price and is perfect for hungry travelers on a budget planning a day trip to Isla Mujeres.
Madera Food and Art: Situated on the east side of the island, Madera tempts with burgers and rice bowls alongside light bites. Even if you eat elsewhere, this is a great spot for grabbing a refreshing cocktail.
Acantilado: The most southerly restaurant on my list is located close to Punta Sur. The menu is diverse and covers seafood, burgers, salads, and traditional Mexican fare. The partially open restaurant offers a stunning view of the surrounding cliffs and ocean.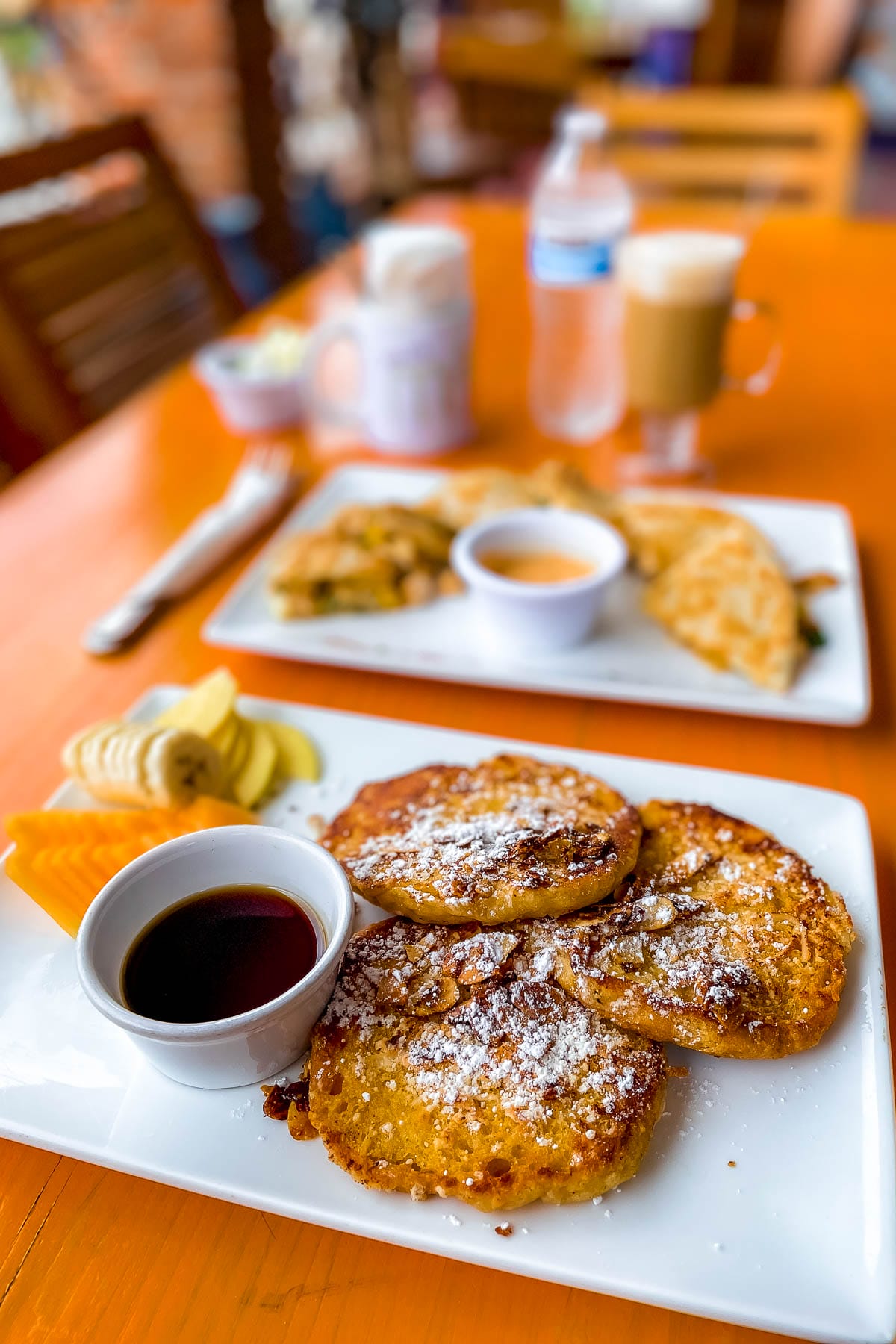 What to Pack for Isla Mujeres
When it comes to packing for your day trip from Cancun to Isla Mujeres, the following items are essential.
Sunscreen: Pack a high factor sunscreen to protect your skin from the intense Caribbean sun. If you intend on swimming or snorkeling then you need to pack biodegradable sunscreen that will not damage the corals or interfere with the aquatic life.
Hats and sunglasses: Protecting yourself from the harsh sun is really important when taking a day trip to Isla Mujeres. You will appreciate a having a pair of sunglasses and a sunhat for the hottest points of the day as well.
Mosquito repellent: If you intend on staying until the evening then you will benefit from bug repellent in time for when the local mosquitoes appear at dusk time.
Beach towel: Beach towels and deckchairs are available for hire on the island beaches however if you want to save some money during your Isla Mujeres day trip then it's worth carrying your own towel. I recommend bringing a microfiber towel as it dries quickly and occupies minimal space.
Snorkel mask and fins: Again, it is possible to hire snorkeling gear while on the island. But if you have your own set (or have already hired one from your hotel in Cancun) then you can make a saving.
Comfortable shoes: You will be on your feet a lot during your one day in Isla Mujeres so it is important to wear comfortable sneakers or walking sandals that will not hinder you. It's also worth packing water shoes if you plan to spend lots of time in the water.
Splash proof bag: This ALOHA Collection Day Bag is perfect for holding all your essential items for your day trip to Isla Mujeres and it's also splash proof so it works perfect on the beach as well. If you're interested in snorkeling or diving, you might want to bring a dry bag as well.

---
Planning a trip to Mexico?
Then you might want to take a look at all our other travel guides about Mexico. I promise, they are just as awesome as this article was!
Yucatan Peninsula:
Mexico City:
---
More Mexico Resources
Do you want to know even more about Mexico? Check out these awesome books and travel guides for more inspiration!
---
What Camera Gear Do We Use?
If you want to read more about what is in our camera bag, check out my detailed post about our travel photography gear!
---
Pin It for Later!