The Mexican beach resort of Tulum is a paradise for content creators, bloggers, and Instagrammers. Tulum Instagram spots include ethereal cenotes, cute cafes, quirky hotel entrances, and ancient Mayan ruins that each beg for a photoshoot.
The thing about shooting in Tulum is that you have to plan it out in advance and make a schedule. Popularity for this happening beach town is rampant and as a year-round destination, it still gets busy even during the rainy season.
Read on for my guide to the best Instagram spots in Tulum and let me explain exactly why you need to plot your photo walk ahead of time. Especially as my guide contains a selection of offbeat places that you could so easily miss if you didn't know about them before you travel.
*Disclosure: This post contains a few affiliate links, which means I may receive a small commission, at no cost to you, if you make a purchase through my link.*
No time to read now? Pin it for later!
Tips for Visiting the Most Instagrammable Places in Tulum
Before we get started on the actual places to add to your schedule, let me share some helpful pointers to help you plan your shooting experience to make the most of your time in Tulum.
Getting there & around
Most of the Tulum photo spots in this article are located on the Tulum Beach Strip, which is generally one of the best areas to stay in Tulum.
It's located 5 km (3.1 miles) south of the main town and it's basically one very long street and as it's pretty narrow, it gets super crowded.
Although you can get to Downtown Tulum with the ADO bus, unfortunately, there is no bus service available on the strip.
It's often advised that tourists hire a bicycle to get around and there are rental agencies that provide vintage-style bikes which are particularly Insta-friendly. Honestly, based on my own experience, I wouldn't really recommend doing this (maybe only for using the bikes as props for your photos).
Besides the fact that the road is in need of some maintenance work, the traffic is heavy and chaotic which makes it quite a stressful experience.
Bear in mind that walking is also a pretty intense experience but overall this is far safer than getting around by bike.
Parking at Tulum Beach Strip
If you are not staying on the strip and need to drive there to start your jaunt around the Tulum Instagram spots, note that parking in the area is extremely expensive and that spaces disappear quickly in the morning.
Generally speaking, you can only park in front of restaurants and resorts if you're a guest, and even in this case you only have limited time. For example, you can park your car while dining at the restaurant but you'll have to move right after you're finished.
If you're intending on checking into a beach club for a few hours then you may be able to park at the property free of charge.
Parking on the side of the road is not allowed but there are a few designated parking lots along the strip where you can leave your car. The only downside is the hefty fee – you can expect to pay between 200-300 pesos ($10-15 US) for parking.
You will also need to get there early to secure your space and then walk to as many attractions as your time scale allows. This is why planning your itinerary out beforehand and visiting them in clusters is so vital.
Arrive as early as possible
Leading to the most important tip: plan to get to the Tulum Beach Strip as early in the day as possible. This way you can nab a parking space if necessary, and you stand a chance of beating the worst of the traffic and crowds.
Another thing to note is that the Tulum Beach Strip is bathed in sunlight which is lovely for photos but it does get remarkably hot by midday. This is another reason why getting there early in the day is imperative.
Prepare for long lines
Word has spread about the photo potential which means that the best Instagram spots in Tulum have boomed in popularity.
It's not unusual to see long lines at the places so if you don't arrive before 10 am, you might have to contend with waiting a long time to get your shot which can add some unwanted pressure. You know what I'm going to say: arrive early!
Plan your itinerary ahead
You will need to go through my list of the Instagrammable places in Tulum and make a priority list and hit those spots. If you're spending a couple of days in the area as part of your Yucatan itinerary, then you could start each morning by hitting up a couple of the places to avoid getting caught up in the traffic, crowds, and heat.
Another thing to note is that you won't have any cell reception on the Tulum strip, so it's extremely important to download Google Maps to you phone and mark the spots you want to visit so you can use it in offline mode while exploring the best Tulum Instagram Spots.
Pack a wide angle lens
As the photo spots are located on a road – a busy one – you do not have a lot of space to work with to create your images. It's highly beneficial to pop a wide angle lens in your camera bag when shooting at the following Tulum Instagram spots. If you're interested to know more about my photography gear, check out my post about what's in our camera bag!
Support the local businesses
As a common courtesy, if you take pictures at one of the restaurants or cafes included on this list, please do order something to eat or drink while you're there. It helps to keep these local businesses open.
With the hotel and beach club installations, it is always free to take a photo of the entrance. However, if you do want to use the beach club facilities then there is often a hefty minimum consumption fee so make sure you do your research in advance and check the latest prices.
Stay tuned…
And finally, the Tulum Beach Strip is constantly evolving with new photo spots and cool installations arriving frequently. Keep an eye on the latest new Tulum Instagram spots and if you come across something that isn't on my guide, please feel free to drop a comment below, I'd love to see what you find!
Now, over to my guide to the most Instagrammable places in Tulum.
16 Best Tulum Instagram Spots for Epic Photos
1. Escultura "Ven a la Luz"
Standing at a height of 10 meters (33 feet) and constructed out of wood, rope, steel, and vegetation, David Popper's Escultura "Ven a la Luz" was conceived to represent the unity of people and nature.
Translating to "come into the light" the female figure originally welcomed beachgoers to the Ahau Tulum Beach Resort by opening her heart – a luscious archway stuffed with greenery – for guests to walk through.
Only recently, the statue was relocated to a new setting within the Ahau Tulum Sculpture Park, not so far from the original location. Now you can experience one of the most Instagrammable places in Tulum alongside further sculptures from Popper and other artists for a token fee.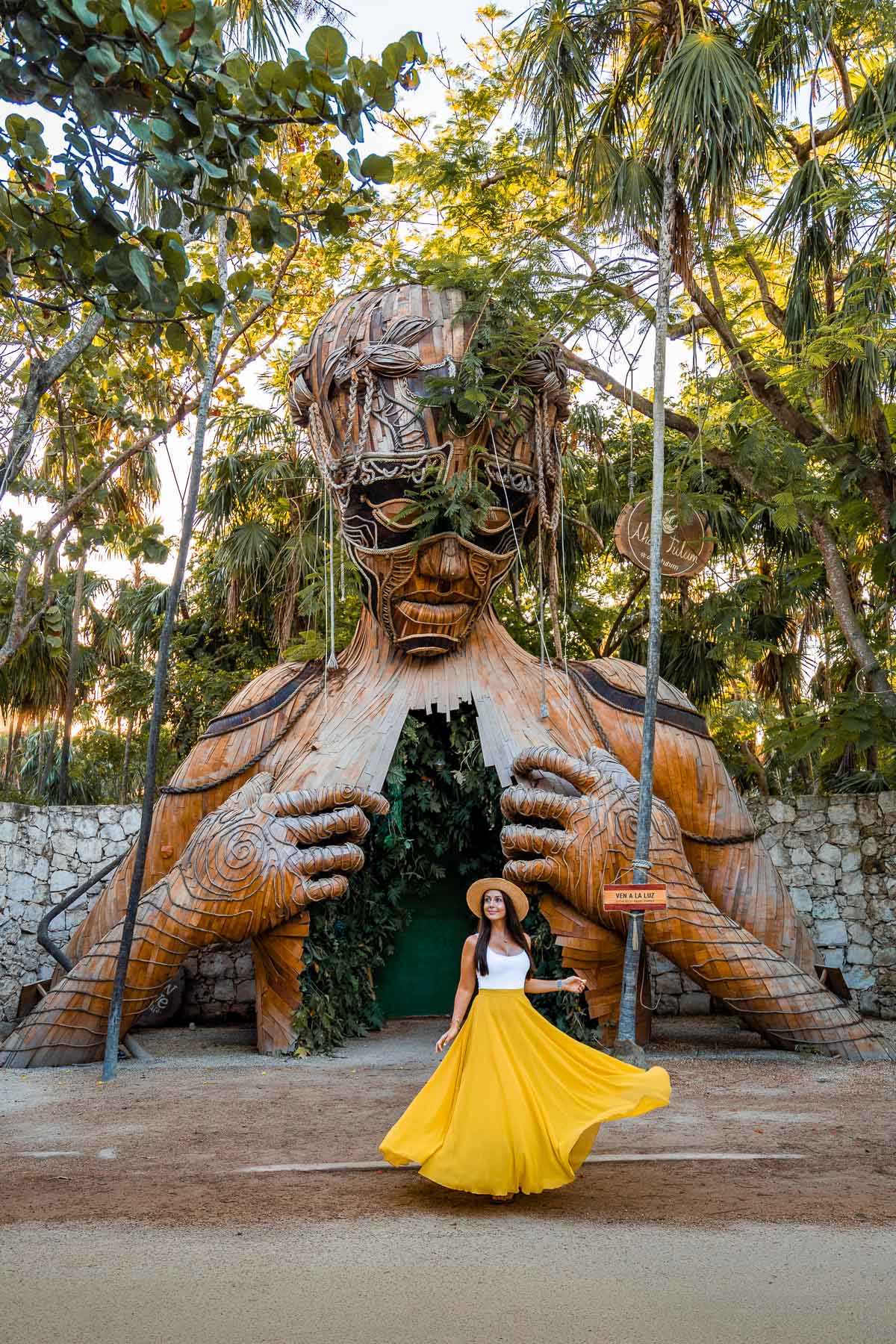 Location on Google Maps: Escultura "Ven a la Luz"
Best time to go: As early as possible to beat the crowds.
Cost: 100 MXN ($6 US)
2. Matcha Mama
As well as being one of the cutest Tulum photo spots, Matcha Mama is also one of the best cafes on the beach strip and is the perfect place to start your adventure around the strip. Specializing in zingy matcha drinks, punchy kombucha, and nutritious smoothie bowls, it's one of the best picks for grabbing a healthy breakfast!
The shack rose to fame on Instagram due to the swings and painted surfboard that rests outside the shack, bordered by tropical foliage, and this is the best spot to grab your photos. As there are two swings available, it's particularly fun for couples or groups of friends to get some group shots.
When you're visiting this cute cafe, please be aware that this is an actual working cafe and even if you don't want to grab a full breakfast, at least order a coffee or a bottle of water.
I've seen so many people coming here for a photoshoot, occupying the swings for a good 10-15 minutes and then leaving without ordering anything. I find this really sad and extremely rude, so please don't be like them!
Location on Google Maps: Matcha Mama
Best time to go: As early in the day as possible. In order to beat the crowds, you can arrive 10-15 minutes prior to the cafe opening to shoot your pictures. Matcha Mama is open daily, 8 am – 6 pm, so remember to plan some time to have breakfast or at least a drink while you're there.
Cost: Free but budget for ordering food or at least a drink to go from the cafe.
3. "Follow That Dream" Sign
If you've seen a couple of Tulum photos on Instagram, I'm pretty sure that you'll be already familiar with this one! The turquoise "Follow That Dream Sign" is located outside the clothing and gift boutique, Lolita Lolita Tulum.
Above it hangs the canopy of palm trees that flank the strip, so it makes this one of the ultra tropical Tulum photo spots! It's a seriously simple addition to the Tulum Instagram scene but the photo potential is huge. If you want to take your Instagram game a step further, you can even rent some cute turquoise bikes from a nearby store to match the iconic sign!
Location on Google Maps: Follow That Dream Sign at Lolita Lolita Tulum
Best time to go: As early in the day as possible. Otherwise, you might need to stand in line for a while to get your photos!
Cost: Free.
4. "Here Is The Dream" Sign
The "Here Is The Dream" sign is a nice follow up photo opportunity once you've visited the "Follow That Dream Sign". It's installed outside of Santo Mercado Tulum which is another great spot to grab something to eat or drink and get a real flavor for Mexican culinary culture while sampling mezcal and tequila.
Besides the sign, the roof of the restaurant and grocery store is decorated with a marvelous wooden sculpture of a woman who rises above the street and offers an alternative photo opportunity. Honestly, I had never seen this Tulum spot on Instagram before and I seriously don't know why as it's really picturesque!
Location on Google Maps: Santo Mercado
Best time to go: As early as possible unless you want to eat while you're there. Santo Mercado Tulum is open daily, 14 pm – 11 pm.
Cost: Free but factor in purchasing something at the restaurant.
5. Vagalume Tulum Beach Club Entrance
The entrance to Vagalume Tulum Beach Club is another grand affair that qualifies as one of the top Tulum Instagram spots with its levitating hand which floats whimsically above the path.
If you're not so limited on budget, you might also want to duck into the club for a couple of hours. The beachfront complex is dotted with cabanas and a swimming pool that is crossable by a bridge held up by a giant sculpture of a pair of hands, continuing the theme. However, as you'll see below, this is an activity for those with deeper pockets.
Location on Google Maps: Vagalume Tulum
Best time to go: As early as possible or to coincide with visiting the beach club. It is open Tuesday – Sunday, 11 am – 11.30 pm.
Cost: Visiting the entrance is free. The rental fee for a bed is 500 MXN ($30 US) and then you're looking at a minimum spend of 2,500 MXN ($140 US) which comes to a combined total of 3,000 MXN ($170 US).
6. Selina Tulum Entrance
A somewhat more budget-friendly beach club option (or accommodation if you're looking for where to stay in Tulum), Selina Tulum is a beachfront hotel resort with dorm rooms, private guest houses, and workation packages as well as a beach club that is open to the wider public.
Marked by its huge wooden archway, the entrance to the hotel is easily one of the best Instagram spots in Tulum. Resembling the shape of the sun and its rays, the entrance forms a tunnel that takes you through to the hotel property and provides a fabulous backdrop. If you visit early in the day, you might be able to catch some sun rays as well which will make your photo even more magical!
Location on Google Maps: Selina Tulum
Best time to go: As early in the day as possible.
Cost: Visiting the entrance is free. The minimum spend at the beach club is 1050 MXN ($60 US).
7. Conestesia Beach Club Entrance
The entrance to the Conestesia Beach Club is fronted by the head of a huge, pink bunny fashioned from straw that peeks out from the exotic foliage. You will literally walk into the open mouth of the rabbit if you want to hit up the beach club.
If not, you can snap a few photos in front of the structure – complete with a button note and two great big teeth – before continuing on your way.
If you decide to take a tumble down the rabbit hole then you will find an extremely Instagrammable scene ahead of you with lots of bunny-themed ornamentation sprinkled around the beach club venue and an awesome array of food and drinks.
Location on Google Maps: Conestesia Beach Club
Best time to go: As early as possible: the bunny is quickly becoming one of the most popular Tulum photo spots. The beach club itself is open daily, 10 am – 11 pm (closing at 5 pm on Sundays).
Cost: Visiting the entrance is free.
8. Roc Luxe Tulum Entrance
The Roc Luxe Tulum is another hotel on the strip that tempts tourists with its prime setting on the beach. Its entrance is marked by a gigantic white dome with holes carved all over it that invite bursts of sunlight to drip into the space.
Palm trees rise from the sand and stretch towards the top of the monument, which makes it a lot of fun to shoot with and experiment with different angles based on what the weather conditions are doing.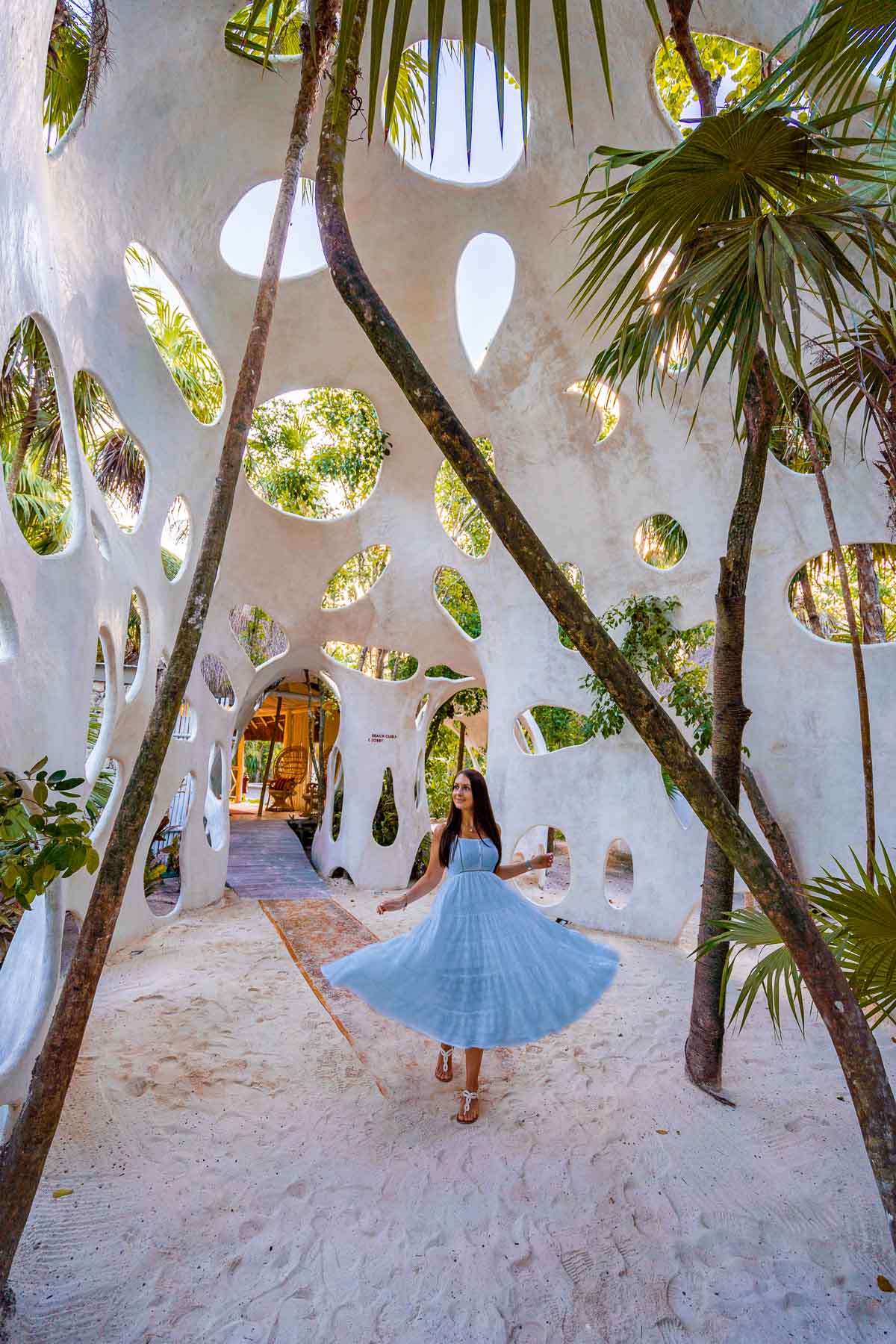 Location on Google Maps: Roc Luxe Tulum
Best time to go: As early in the day as possible.
Cost: Visiting the entrance is free.
9. Blue Wings at Plaza Kapen Ha
Located in a recently generated spot on the strip among a hotel, several boutiques, bars, and restaurants, an elegant sculpture of two soaring blue wings leap out from the jungle. In front of them, you'll find a small wooden platform so that you can perfectly align yourself with them for a flawless photograph.
As Plaza Kapen Ha is a newcomer to the Tulum scene, the Blue Wings are not so well-known yet. Still, you should be prepared for a crowd as they're utterly striking and in a short space of time, I'm sure they'll become one of the busiest Tulum photo spots. Also, check out the mushroom and bench sculpture which is in the same neck of the woods.
Location on Google Maps: Plaza Kapen Ha
Best time to go: Early in the day or to coincide with any meals you plan at Plaza Kapen Ha.
Cost: Free.
10. "Love Sign" at Hotel BT Live Tulum
Another eye-catching hotel entrance that you'll want to add to your checklist is the "Love" sign outside Hotel BT Live Tulum. Buried among the trees, the resort comprises beach bungalows and hippy vibes.
The sculpture features artistic representations of local wildlife and is bursting with joy and color. This is another of the less famous Tulum Instagram spots which make it all the more special an addition to your feed.
Location on Google Maps: Love Sign at BT Live Tulum
Best time to go: Early in the day is best but as the sign is less busy generally, you can schedule it for a little later on.
Cost: Visiting the sign is free.
11. Beach Club Sign at Villa Alquimia
One of the more obscure additions to make my list, the beach club sign at Villa Alquimia is one of the simplest icons. It's a really simple sign that invites beachgoers to indulge in the three "rules" of the beach. Those being, "relax, unwind, and enjoy".
The sign is paired with an equally aesthetic sign directing you towards the infinity pool, bikes, and beyond. The fact that the resort is pet-friendly gives it even more kudos!
Maybe in part because it's more off the beaten track but this is surely one of the best Instagram spots in Tulum for a no-frills photo moment.
Location on Google Maps: Villa Alquimia
Best time to go: As early as possible, although it doesn't get quite as busy as some of the other Tulum Instagram spots on this list.
Cost: Visiting the sign is free.
12. Blue "Tulum" Sign at Cerveceria Tulum
This huge sign spells out "Tulum" in every shade of blue you could possibly imagine! It is suspended over a small water feature and you can climb up onto the installation and pose in either of the "u" letters for your photos.
For your comfort (and added aesthetic value), there is a swing in each character to make your photo all the better. The Tulum sign is connected to Cerveceria Tulum, a hip place to enjoy a locally brewed beer alongside a high-end meal. It's one of the best Tulum Instagram spots for traveling couples as you can each take a spot in one of the "us".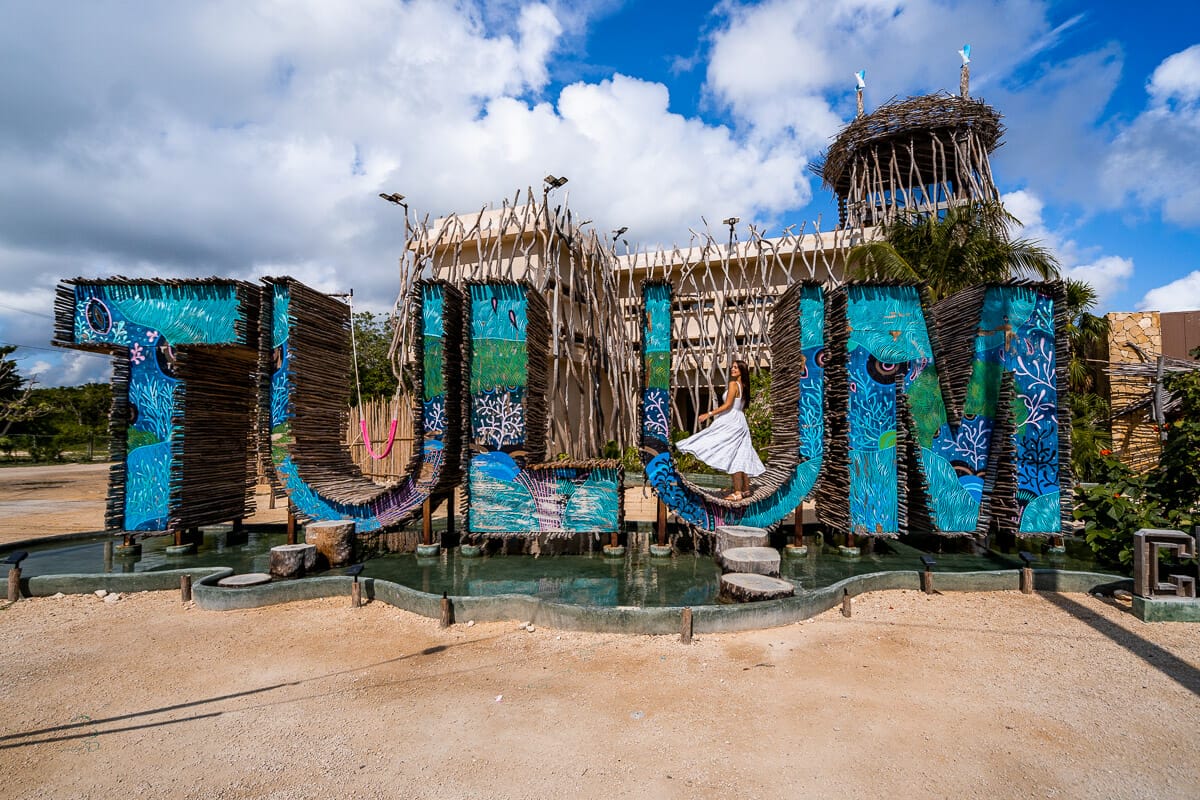 Location on Google Maps: Cerveceria Tulum
Best time to go: Early in the morning to avoid having to queue or to coincide with opening hours of Cerveceria Tulum. It's open daily, 9 am – 7 pm.
Cost: It's free to visit the sign and pose on it but you might want to purchase something in the restaurant. Just be prepared that the prices are fairly high as it's an upscale place.
13. Tulum Ruins
Of course, my guide to the most Instagrammable places in Tulum has to include the local archaeological site, which is a must-visit anyway to learn about the regional heritage.
The Tulum Ruins (also known as the Tulum Archaeological Zone) comprise a walled city that was inhabited from around 564 AD and now stands in ruin. The ancient city served as a religious and ceremonial center for the Mayans.
Located on a bluff that looks out across the Caribbean Sea, the site provides a stream of sensational photo opportunities making use of both the ruins and the glittering backdrop.
Visiting the Tulum Ruins is definitely one of the best things to do in Tulum, and not just photography or history lovers!
Location on Google Maps: Tulum Archaeological Zone
How to get there: Drive time from the Tulum Beach Strip is around 15-20 minutes and from Tulum town, it's 15 minutes. Again, public transport is not an option but you could book a tour to see the Tulum Ruins if you want to learn more about the old city before embarking on your photo session.
Best time to go: Early in the morning before the sun gets overwhelmingly hot. The opening hours are daily, 8 am – 5 pm.
Cost: 90 MXN ($5 US)
14. Gran Cenote
One of the best cenotes in the Yucatan Peninsula, the complex at Gran Cenote features two swimming sinkholes that are linked by caves. It is possible to swim here and it's actually one of the most incredible snorkeling spots in the area due to the turtles and fish who dwell in the crystal clear water!
There are so many options for photography here and I recommend taking a Gopro or similar if you have one so that you can capture some colorful underwater shots. Just remember, do not touch the turtles or corals in order to conserve the natural habitat of one of the most incredible Tulum photo spots.
Location on Google Maps: Gran Cenote
How to get there: Subject to where your hotel is, Gran Cenote is a 15-25 minute drive from Tulum Beach Strip or less than a 10-minute drive from Tulum Town. If you are comfortable doing so, you can cycle there. Parking is available free of charge but there are no options for public transport.
Best time to go: As early as possible. Gran Cenote is open daily, 8 am – 4.45 pm.
Cost: 500 MXN ($30 US)
15. Cenote Calavera
Shaped kind of like a human skull, Cenote Calavera is one of the spookiest Tulum Instagram spots. It's slightly more off the radar than the other cenotes in the area which means you can escape the crowds and explore the swimming hole in your own time.
However, since this is one of the smallest cenotes in the area, even having a few other people hanging in the cenote makes it super hard to photograph it. So if you're looking to shoot some images without no one else in the background, try to arrive early!
A rope is available which is a) awesome for photography, and b) makes the swimming experience all the more exciting! There are also some smaller holes where you can jump through – just be careful when you do so, as the holes are pretty narrow.
Location on Google Maps: Cenote Calavera
How to get there: Cenote Calavera is a 5-minute drive from Tulum, 20-30 minutes from Tulum Beach Strip, and a 2-minute drive from Gran Cenote.
Best time to go: Cenote Calavera is open daily, 9 am – 5 pm. As it's one of the coolest Instagrammable places in Tulum, it's best to visit either at opening or right before closing to ensure you get an awesome photo.
Cost: 250 MXN ($12.5 US) entrance fee plus a 200 MXN ($10 US) camera fee.
16. Cenote Zacil-Ha
The final listing on my guide is your third cenote, Cenote Zacil-Ha. This is an open cenote in the middle of the Yucatan jungle, fully kitted out with diving boards and a zipline.
The water depth is relatively shallow in comparison with the other cenotes in Mexico and there are two additional swimming pools on the premises if you want to prolong your time here.
What with all the amenities, Cenote Zacil-Ha is one of the best Instagram spots in Tulum for families looking for some sweet family photos as well as professional content creators.
Location on Google Maps: Cenote Zacil-Ha
How to get there: Cenote Zacil-Ha is a 10-minute drive from Tulum, 20-30 minutes from Tulum Beach Strip, and a 5-minute drive from Gran Cenote. You can visit all three cenotes in succession if you want to.
Best time to go: Cenote Zacil-Ha is open daily, 10 am – 5.30 pm. Since it's one of the lesser-known Instagram spots in Tulum, you can go anytime during the day.
Cost: 300 MXN ($17 US) admission charge plus a 150 MXN ($8.50 US) camera fee.
Map of the Best Instagram Spots in Tulum
I created a custom map for you that contains all the best Tulum Instagram spots with their exact location. You can even open it up on your phone if you click on the bracket in the upper right corner, this way you can easily check it during the day to ensure you're not missing out on anything. Super convenient, right?
Where to Stay in Tulum
When it comes to choosing where to stay in Tulum, you basically have two options: Downtown Tulum and Tulum Beach. However, within these two districts, there are sub-sections to take into consideration when selecting the best part of Tulum to stay.
Downtown Tulum is set back from the coastline with the national park sandwiched in between. You can find dozens of restaurants, shops, and other amenities in the town and it is not an overwhelming size.
The most beautiful setting is the Tulum Beach Strip, which is an extension of the Tulum Hotel Zone. Located around 5 kilometers (3.1 miles) from the town, this strip runs southwards from the Tulum National Park and Archaeological Park with all properties boasting seafront access.
I recommend choosing accommodation in this area because most of the Tulum Instagram spots are located here.
But if you're not sure exactly which part to choose, you can consult my guide about the best areas to stay in Tulum. And if having a pool is a must for you, check out these amazing Tulum hotels with private pools.
For a quick solution, check out my top picks below for different budgets.
LUXURY – The Beach Tulum
The adults-only The Beach Tulum Hotel offers a beautiful setting on Tulum Beach within 7 km (4.3 miles) of its famous Mayan Ruins. It features beach-front rooms with terraces and lounge areas, an outdoor pool, a beach club, and a restaurant.
MID-RANGE – Gramercy Tulum
Located in Tulum, 150 feet from South Tulum Beach, Gramercy Tulum provides accommodation with a restaurant, free private parking, a bar, and a garden. Featuring a private beach area, the 5-star hotel has air-conditioned rooms with free WiFi, each with a private bathroom.
BUDGET – Zamas Hotel
Located on a beautiful beach within Tulum National Park, Zamas Hotel offers an open-air restaurant, 24-hour reception, and free Wi-Fi. The colorful thatched cabins have balconies overlooking the tropical gardens or the sea.
---
Planning a trip to Mexico?
Then you might want to take a look at all our other travel guides about Mexico. I promise, they are just as awesome as this article was!
Yucatan Peninsula:
Mexico City:
---
More Mexico Resources
Do you want to know even more about Mexico? Check out these awesome books and travel guides for more inspiration!
---
What Camera Gear Do We Use?
If you want to read more about what is in our camera bag, check out my detailed post about our travel photography gear!
---
Pin It for Later!