We all know Amsterdam as being among Europe's most sought-after, bustling cities that have made its way to the top of many travelers' wish lists.
You've surely added the likes of the Anne Frank House and the Heineken Experience to your itinerary, but that's really just the start of the best things to do in Amsterdam.
This is a city that has such a diverse and extensive range of things to see and do; you could spend a week here and still feel like you've only scratched the surface.
To ensure you get the most out of your Amsterdam trip, I have created this fool-proof guide to the Dutch capital's incredible range of things to do.
From indoor activities on those rainy days to foodie experiences you'll dream about after you've arrived home, let's jump into this Amsterdam bucket list.
*Disclosure: This post contains a few affiliate links, which means I may receive a small commission, at no cost to you, if you make a purchase through my link.*
Are you planning a last-minute trip to Amsterdam?
If your trip is coming up soon and you still haven't booked anything, we have you covered! Below you can find our top picks when it comes to hotels, tours, getting around, and more.
Best Tours and Experiences in Amsterdam
Best Places to Stay in Amsterdam
Looking for the best way to get around Amsterdam? Make sure to buy a GVB Public Transport Ticket. Even if you only use public transport a few times, it's already worth it!
Planning to visit a handful of attractions? You can save a lot of money by purchasing the I Amsterdam City Card. It includes free entry to more than 70 attractions, unlimited access to public transport, and a free canal cruise!
Top 10 Best Things to Do in Amsterdam
Looking for a quick answer to the must-visit sights in Amsterdam? Here are the top 10 best things to do in Amsterdam that you absolutely can't miss!
Take a canal cruise
Visit the Rijksmuseum
Explore Anne Frank House
Enjoy art at the Van Gogh Museum
Try the famous stroopwafels
Walk through the Red Light District
Take in the views from the A'DAM Lookout
Taste local specialties at Foodhallen
Visit the Heineken Experience
Explore the Floating Flower Market
Now, if you want to know more about each activity above and discover even more amazing things to do in Amsterdam, keep reading!
Best Outdoor Things to Do in Amsterdam
1. Take a canal cruise
Kicking things off with an excursion you can't miss, a cruise around some of Amsterdam's 165 canals is usually everyone's first stop when they touch down in the Dutch capital.
As gorgeous as the city looks from the canal-side walkways, there's something magical about exploring the area from the water. Winding through the narrow canals, ducking under tiny bridges, and admiring the architecture, a cruise is a pretty unparalleled introduction to Amsterdam.
When it comes to canal cruises in Amsterdam, you'll have a myriad of options. To save you from going through them all, here are my top picks:
Amsterdam: City Canal Cruise – Have your cameras ready as you sail past 17th-century canal houses and fleets of busy cyclists during this 75-minute tour. You'll get an insight into Amsterdam's eventful history through the onboard audio guide, which is available in 19 languages.
Amsterdam: Classic Boat Cruise with Cheese & Wine Option – This really is as good as it sounds! Take the basic package, and you'll cruise by spots like the Skinny Bridge and Red Light District, or add on unlimited cheese and wine or beer to level up your journey!
Amsterdam: Evening Canal Cruise – Watch Amsterdam come to life when the sun goes down on this romantic evening hour-and-a-half boat tour, where you'll see the likes of A'DAM Tower alight under the stars and discover hidden pockets of the city.
Read Next: 16 Best Canal Cruises in Amsterdam You Can't Go Wrong With
2. Rent a bike and cycle around the city
When in Amsterdam, do as the locals do! Provided you've mentally prepared for the jam-packed streets, of course.
In a city famed for its cycling culture, it's no surprise that many tourists want to try their hand at making their way around on two wheels, but it's not for the faint-hearted.
Though there's plenty of excellent cycling infrastructure, bikers in Amsterdam are known for being super-speedy and ruthless at times, so make sure you're confident in your bike handling skills before taking to the bike lanes.
You'll come across dozens of bike rental stores around the city, or you can join a cycling tour where you'll be in safe hands traveling as a group.
I highly recommend this Guided Bike Tour of Central Amsterdam, where you'll zip through the city in groups of 15 people or less over the space of three hours.
3. Stroll around Vondelpark
From an often chaotic Amsterdam experience to something much more laid-back, the lush Vondelpark will be a place to catch your breath after a few hours of cycling or wandering the lively streets.
Vondelpark is the city's largest urban park and is at the top of the best places to visit in Amsterdam to see another side of the capital.
In fact, if you're keen to rent a bike but don't want to face the notoriously hectic bike lanes, Vondelpark is an excellent place for a leisurely cycle.
Whether you choose to cycle or walk, you'll love getting some peace and quiet in the city's backyard. Better yet, grab a coffee from any of the park's cafes, bring some snacks, and have a lake-side picnic.
If you're like me and love all things pretty and colorful, stroll over to the northwest of the park, where you'll see the rose garden filled with more than 70 beautiful varieties.
4. Take in the views from the A'DAM Lookout
For the finest views in all of Amsterdam, the A'DAM Lookout is the place to go. Not only can you take in unspoiled vistas of the canals, city center, and busy port, but you can do so from Europe's highest swing.
If this has your adrenaline flowing, up the ante and experience the Amsterdam VR rollercoaster ride, where you'll feel like you're zooming past all the iconic sites at high speeds.
As if all of these activities weren't enough, A'DAM Lookout transforms into a music venue with live DJ sets all evening during the summer. At the same time, you can also get a bite at their panoramic bar and restaurant if you fancy.
Entry tickets also grant you access to their interactive exhibition and fascinating audio tour, retelling the story of Amsterdam's past.
Entry tickets can start from as low as €14.50 when you purchase them online, or you can take your pick from their bundles featuring the swing, VR ride, and a meal.
5. Participate in a guided walking tour
Walking tours have become my go-to when I have landed in a new city for the first time, as it's such a fantastic way to find your bearings while getting a sense of the local area.
In a city as pedestrian-friendly as Amsterdam, a walking tour allows you to explore the narrow streets and laneways you'd miss out on with buses and private transfers.
Most tours last for around two or three hours, stopping by many of the highlights that are a must for an Amsterdam visit, including the Jewish Quarter and the Torenslius Bridge.
Another reason why I have become so fond of these tours is because of the amazing guides that run them! It's the best opportunity to ask questions, meet fellow travelers, and dive deep into the culture.
SANDEMANs NEW Amsterdam are some of the best in the business, offering outings in English or Spanish. Each tour is free of charge, though it's important to remember to give a tip to show some appreciation to your guide.
Read Next: 3 Days in Amsterdam: The Ultimate Amsterdam Itinerary
Best Indoor Things to Do in Amsterdam
6. Visit the Rijksmuseum
This time, we're heading indoors to Amsterdam's most renowned cultural hub, which I'm confident you've heard about before – the Rijksmuseum.
Even though this museum celebrates the history of The Netherlands, many people flock here to catch a glimpse of the works of some of the nation's most acclaimed artists, from Vincent Van Gogh to Rembrandt van Rijn.
The Rijksmuseum is the home of paintings many of you'll recognize, with the most prized pieces including Rembrandt's The Night Watch, Johannes Vermeer's The Milkmaid, and Van Gogh's self-portrait.
However, you'll find over 6,000 artworks here, so you will definitely need at least a couple of hours to check out as much as possible.
You don't need to be an art devotee to appreciate this spectacular museum, but if you're somewhat of a connoisseur, you can spend hours here examining and making sense of the paintings, sculptures, and ornaments.
As visiting the Rijksmuseum is one of the most popular things to do in Amsterdam, it's worth booking your tickets in advance to avoid the long lines.
7. Explore the Anne Frank House
The heartwrenching but compelling tale of Anne Frank is brought to life in Amsterdam's Anne Frank House.
You can travel back through time and explore the secret annex where she wrote her iconic diary that tells the tale of how her family hid from Nazi forces for over two years during the Second World War.
To ensure you can see the museum's collection of original items, photos, and videos, you'll need to secure your tickets weeks before your trip to Amsterdam, as tickets infamously sell out over a month in advance.
Every Tuesday, the tickets go on sale for the upcoming six weeks on the Anne Frank House official site, where you can get an adult ticket for €16.
8. Enjoy art at the Van Gogh Museum
If the Rijksmuseum left a lasting impression on you, the Van Gogh Museum should be next on your list. Anyone visiting on a bit of a time crunch will be glad to know that the two museums are just minutes apart.
As well as hundreds of paintings and drawings from the Dutch artist himself, thousands of pieces from Van Gogh's contemporaries call this extensive gallery home. This includes mesmerizing Japanese and French prints Van Gogh collected during the 19th century.
Similar to the Anne Frank House, tickets to the Van Gogh Museum are usually in high demand and sell out really far in advance. You'll have to book your tickets at least a month prior to your visit, so make sure to keep your eye on the website once you have your travel dates.
9. Discover the Stedelijk Museum
Is contemporary art more your vibe? The Stedelijk Museum's 90,000-piece collection of paintings, sculptures, and furniture is sure to keep you enthralled.
Only around 500 pieces are displayed at a time as the museum rotates the artworks they showcase. In just one visit, you can cast your eyes on late 19th-century paintings, Art Deco furniture, and modern drawings.
Some of the artists you can expect to feature include the likes of Piet Mondrian, Andy Warhol, and Lucio Fontana.
Art buffs can easily explore the Stedelijk Museum on the same day as the Rijksmuseum and the Van Gogh Museum, as these three spots, which together make up Amsterdam's most beloved art galleries, are all within the Museum Square.
Buy your tickets on the day or beat the lines and snap yours up for €22.50 online ahead of time.
10. Visit the Royal Palace of Amsterdam
Many visitors often don't realize that The Netherlands is still a monarchy to this day! The Royal Palace Amsterdam is one of three palaces owned by the Dutch royals.
During your visit, you can see where King Willem-Alexander hosts state visits, prestigious dinners, and special occasions right in the heart of the city in Dam Square.
Inside, you can head to the jaw-dropping, marble-clad Citizen's Hall, which was constructed when the palace was initially designed as Amsterdam's town hall. Even the floors are magnificent here, showcasing some of the world's largest maps.
Entry fees start from €12.50 for adults, though you can upgrade to a tour package from €95. This palace is open most days, but double-check for any upcoming royal events before your visit.
11. Learn at the NEMO Science Museum
When you've had your fill of art galleries, unleash your inner child at the NEMO Science Museum. As you amble around the Oosterdokseiland neighborhood, you won't be able to miss the green boat-like building that plays host to this interactive, hands-on museum.
Set over five floors, this is definitely among the most fun things to do in Amsterdam if you're looking for something entirely different from the classic tourist hotspots. It's also the perfect place to keep the little ones amused if you're traveling as a family.
NEMO boasts exhibitions for all things science, from how forces of nature work and the development of humankind to the explanation of natural phenomena and how massive structures are built. Both you and your kids will definitely learn a thing or two during your visit!
12. Pop into the Basilica of St. Nicholas
Another spot that's sometimes surprisingly omitted from visitor's itineraries is the Basilica of St. Nicholas.
As Amsterdam's most revered Catholic church, you can expect to be blown away when you head inside. Exquisite stained glass windows, detailed murals, dimmed lighting, and high ceilings are just some of the highlights of this structure.
However, the exterior is pretty marketable, too! Designed with a range of architectural styles in mind, St. Nicholas' Basilica blends in perfectly with the Amsterdam skyline.
Stop by between 12 and 12:30 pm or from 1 – 3 pm any day except Sunday. You'll also enjoy free entry to the basilica too.
13. Explore Madame Tussauds
No matter how many times you visit Madame Tussauds, each trip always makes for an entertaining few hours of celebrity spotting.
Make your way to Dam Square and snap some shots of you with the often shockingly realistic wax sculptures of stars like Harry Styles, Jennifer Aniston, Beyonce, and Leonardo DiCaprio.
Something I love about the Amsterdam branch of Madame Tussauds is the variety of combination packages they have, helping you to cut the costs of some of the city's attractions.
Both the THIS IS HOLLAND 5D flying experience, and the eerie Amsterdam Dungeon can be combined with your Madam Tussauds ticket, saving you up to almost €30.
14. Wander through the Amsterdam Dungeon
Speaking of the Amsterdam Dungeon, this is possibly the best thing to do in Amsterdam if you're a horror movie fanatic or love a thrill.
Bring your friends along and see who can hold their nerve for the longest as your spooky guide takes you through over 500 years of Amsterdam's most chilling past events.
You'll encounter plenty of unsettling characters along the way as you watch a host of talented actors take you through terrifying mazes, acquaint you with tortured ghosts, and bring the legend of the Flying Dutchman to life.
If you're jumpy and scared easily, this might not be the activity for you! The same goes for younger guests under the age of 10.
15. Visit the Eye Filmmuseum
Whether you're a movie guru or just enjoy visiting somewhere a little different, the Eye Filmmuseum is the center of Amsterdam's film scene.
There really is so much to see and do here, from the museum detailing the movie-making process and production to the various cinema rooms displaying Dutch and international films.
Different filmmakers, movie styles, and aspects of cinemas are the subject of many of the rotating exhibitions and programs, though they also have some permanent fixtures.
An absolute must during your visit is to create your own flipbook, which is so much fun to do with your loved ones and costs less than €7 to buy. Select the exhibition you want to see and reserve your spot online.
16. Check out the Moco Museum
I don't claim to be an art expert, but I have found the Moco Museum to be absolutely brilliant, and it definitely needs to have a space in your Amsterdam to-do list.
Exhibiting modern art from a mix of established artists and up-and-coming talent, the Moco Museum is filled with weird and wonderful masterpieces that are both aesthetically pleasing and thought-provoking.
Everything from dizzying optical illusions to contemporary photography features in this small but eye-catching museum, where the works of artists like Banksy sit alongside pieces by undiscovered creators.
Each entry pass includes an informative audio guide to give you some background and food for thought about each exhibition.
17. Shop at Magna Plaza
You'd easily be fooled into thinking this sublime neo-Gothic structure was an old-world five-star hotel or government building rather than a shopping center.
Magna Plaza has got to be one of the prettiest malls in the world, with some incredible Romanesque arches and a glass dome roof making the inside as impressive as the exterior.
Originally constructed as a post office, Magna Plaza is now home to an eclectic mix of stores, ranging from international brands like Mango to Dutch chains like Sissy Boy and quirky cheesemongers and candle shops.
Even if you don't feel like you're in need of some retail therapy (or simply have no room left in your suitcase!), a stop at Magna Plaza is totally worth it to admire the beauty of this historic building.
Best Foodie Things to Do in Amsterdam
18. Try the famous stroopwafels
What better way to soak up the culture in a new country than to tuck into some native dishes, or desserts in this case.
A sweet and chewy stroopwafel should be a first on your foodie Amsterdam bucket list! The name itself translates to syrup waffle, which sums up these treats pretty well.
Made from two thin layers of sweet dough with a caramel filling cementing them together, stroopwafels are available in shops, cafes, and restaurants all over Amsterdam.
However, there are two spots that I have a particular soft spot for.
Van Wonderen Stroopwafels – Anyone who has seen stroopwafels on Instagram was probably looking at Van Wonderen's offerings! As the busiest spot in town, you'll likely have to queue to get your hands on their marshmallow-topped stroopwafels.
Melly's StroopWafels – The place to go for reasonably priced stroopwafels, this cozy store serves up freshly baked goods with your choice of toppings, including Smarties, Oreo, Lotus, and nuts, to name a few.
19. Taste local specialties at Foodhallen
Amsterdam's famous Foodhallen would give any food court a run for its money. First-time visitors should head straight to De Ballenbar, an ever-busy stand where a Michelin-star chef and his team prepare their own take on bitterballs, a type of Dutch meatball.
These breaded meatballs are traditionally filled with beef, but De Ballenbar offers patrons unique, drool-worthy fillings like shrimp and truffle.
After you've stocked up on bitter balls, you'll have your pick for 19 other stands if you're still feeling peckish. Choosing where to eat is always an arduous task here, as you'll be torn between healthy Mexican eats, Asian street food, and fresh sushi.
20. Attend a food tour
For a more in-depth introduction to Dutch cuisine, a food tour will give you plenty of opportunities to taste some of the finest dishes The Netherlands has to offer.
Here are a couple of tried and tested culinary adventures!
Jordaan District Local Food Walking Tour – Jordaan has made a name for itself as a foodie haven for many years now, and this tour takes you to six eateries in the neighborhood over three hours. Your guide will be a fountain of knowledge about traditional eats and the local history.
Private Food Tour with a Local – Go restaurant hopping with your expert local guide in the lively Pijp district, where you and your travel buddies can munch on a mixture of ten different local food and drink offerings on your own private excursion.
Food Lovers Walking Tour with Tastings – Sightseeing has never tasted so good! Learn about the Royal Palace and Flower Market as you feast on eight Dutch specialties, with the likes of crispy Dutch fries and apple tarts on the menu.
21. Cheese And Wine Tasting
Is there ever a bad time for wine and cheese? As the birthplace of Gouda and Edam varieties, the Dutch certainly know what they're talking about when it comes to cheese.
They also know a thing or two about wine, as you'll quickly learn throughout this tasting experience.
Over the course of an hour, you'll become well-versed in the best cheese and wine pairings. Each tasting provides guests with five types of cheese, accompanied by three glasses of wine.
When you've had your fair share of both, you'll receive a 10% discount for in-store purchases, where you can search for the ultimate souvenir.
22. Indulge in a delicious brunch
You don't have to visit on a Sunday to experience a tasty Amsterdam-style brunch!
Brunch has become an increasingly popular concept in the city over the last few years, with new spots regularly popping up while many long-standing haunts have also added the mid-morning meal to their menus.
There are so many trendy spots scattered around Amsterdam, but you'll find some of my go-to's below.
Bakers & Roasters – With two locations in the city, you're never too far from Bakers & Roasters' brunch, served every day of the week. The team here is all about ethically sourced ingredients, which go into their breakfast burritos, eggs benedict, and pancake stacks.
Coffee & Coconuts – The rustic wooden furniture and red brick walls have made this place one of the coolest brunch spots in town. Avocado toast and coconut pancakes are served alongside their specialty coffee.
Omelegg – After trying their delectable brunch dishes, you'll understand why Omelegg's two branches are always packed! As the name suggests, this spot is all about omelets, serving varieties like chicken and pesto, halloumi, and chorizo.
Read Next: 14 Best Breakfast Places in Amsterdam You Have to Try
23. Have dinner on a cruise
Make your dinner plans a bit more special with an evening meal onboard a canal cruise.
Seeing the center of Amsterdam light up after dark from your boat is just magical! Couple it with a hearty meal, and you've got yourself a night to remember.
Take a look through the dinner cruises below to start planning your night on the canal.
Dinner Cruise with 4-Course Menu – For something upmarket, I think this tour will fit the bill. As you begin your meal, which is available with meat, fish, or vegetarian dishes, your guide will talk you through the landmarks you pass along the way. Beer, wine, and soft drinks are also included.
Evening Canal Cruise with Pizza and Drinks – A much more casual affair, this cruise offers guests their choice of one of five pizzas and two beers, wines, or soft drinks. On a sunny summer evening, there's no better place to be in Amsterdam!
Private BBQ Cruise with Personal Chef & Drinks – Are you heading to Amsterdam with your pals? You're going to love this! For two hours, you can rent out a private boat with unlimited drinks, where you'll have your pick of BBQ classics like steaks, burgers, and skewers, each of which has a veggie alternative.
24. Visit the Heineken Experience
It wouldn't be a list of the best things to do in Amsterdam without mentioning the Heineken Experience.
Avid Heineken drinkers will no doubt have plans to visit this iconic former brewery. Even if beer isn't your thing, don't let this stop you from joining in on one of these interactive tours, which are a lot of fun.
The tours take place in Heineken's former brewery, where the world-famous beer was produced up until the late 1980s.
For 90 minutes, you'll explore the site where the lager was first created, get an insight into the brewing process, and taste two glasses of the most exceptional Heineken you'll ever try.
Prices for this outing start from €23, but you can add access to a rooftop bar or canal cruise for an extra fee.
25. Head out on a guided beer or prosecco bike tour
It's safe to say that the title of this tour speaks for itself. When you're considering what to do in Amsterdam, it's unlikely that a boozy bike trip will initially spring to mind! However, these fun-filled tours are guaranteed to keep you and your gang entertained.
For around an hour and a half, your group will peddle their way through the streets of Amsterdam while working through 20 liters of beer or a bottle of Prosecco each.
Better yet, you can have a mix of both during the beers and bubbles experience if you're having trouble deciding.
Each tour usually can cater for up to six passengers, excluding your guide, who can take over the peddling when you've had one too many Proseccos.
26. Board the Pancake Boat Cruise
For something more low-key, the Pancake Boat Cruise is an excellent family-friendly activity that combines sightseeing and delicious grub.
This boat trip will take you along Amsterdam's River IJ, which is one of the few cruises that doesn't run along the canals. From here, you'll be able to spot sites like the A'DAM Lookout and the Eye Filmmuseum.
Now, onto the main event, the Dutch pancakes! Did I mention that these are all-you-can-eat pancakes? You heard that right! You'll spend your cruise snacking on these divine traditional desserts, which you can pair with your choice of fruits, jams, cheese, and ham.
Kids can spend time in the onboard playground area when they're not stocking up on pancakes.
Best Free Things to Do in Amsterdam
27. Stroll around the canals
Some of the best things to do in Amsterdam are completely free of charge.
Wandering around the seemingly endless canals is what the city's all about, and you could easily spend an afternoon here watching cruises sail by, admiring the historic houses, and chilling out with coffee along the banks.
With so many canals running through Amsterdam, you'll want to prioritize which ones you want to visit, as stopping by them all would be a challenging feat.
You can't miss Prisengracht, Herengracht, Keizersgracht, and Kloveniersburgwal, but you should also consider adding Groenburgwal, Brouwersgracht, and Singel to your itinerary.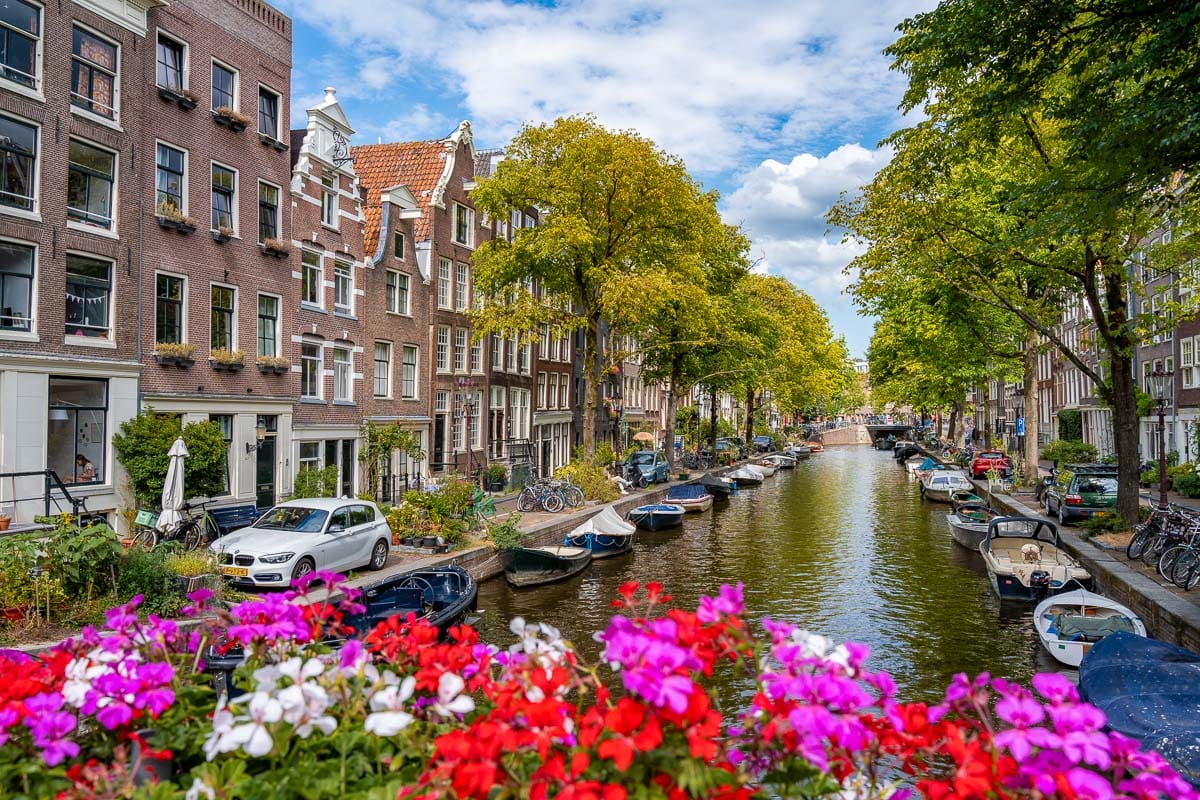 28. Visit Albert Cuyp Market
Europe's largest day market lies right in the heart of Amsterdam. Situated in the de Pijp neighborhood, the Albert Cuyp Market plays host to over 260 stalls and has become as popular with tourists as it is with locals.
You'll likely hear people saying that anything you could ever need can be found at the Albert Cuyp Market, and they're not lying! Clothes, jewelry, fresh vegetables, cheese, flowers, handbags, and reading glasses are just a fraction of the goods you can pick up here.
Of course, it's not a free activity if you decide to purchase something, but many visitors come here just to see the market in action and take in the sights and smells of this bustling part of town.
29. People-watch at Dam Square
As well as being home to the Royal Palace and Madame Tussauds, Dam Square is also a marvelous place to do some people-watching.
Perch yourself on a bench or join the groups of other people who have gathered on the steps and simply watch the world go by! Whether you're looking to save some cash or just want to rest your feet after a day of explorations, Dam Square is your best bet for an easygoing afternoon.
The National Monument is also found in Dam Square and is free to visit. This towering white stone structure was built in the 1950s to commemorate those who lost their lives fighting for The Netherlands in wars and conflicts.
30. Explore the Floating Flower Market
As the world's only floating flower market, this unique bazaar is a must-do if you're strolling along the Singel Canal.
Once you step inside the houseboats comprising this quirky marketplace, you'll be treated to an impossibly beautiful and ultra-colorful array of flowers and other plants.
The main attraction is undoubtedly the storefronts covered with gorgeous tulips in every color, which are even more majestic if you visit in spring when they'll be in full bloom.
Daffodils, roses, orchids, and numerous other flowers are also on display here, and the vibrant color scheme extends to the souvenirs. Magnets, clogs, and trinkets are on sale in every color under the sun.
31. Walk through the Red Light District
Amsterdam has become well-known for quite a number of things, one of them being the infamous Red Light District.
You wouldn't be alone in assuming that an area famed for its sex trade is a seedy and dangerous neighborhood that's best to avoid, but the Red Light District is a lot safer and friendlier than you'd imagine.
During the daytime, the area doesn't look too dissimilar from any other narrow street in the city, but at night, you'll notice tons of packed bars, busy streets, and neon red lights everywhere you look.
Once you abide by the rules and refrain from taking pictures of sex workers, you can stroll through the area hassle-free.
A couple of interesting Red Light District tours are on offer to get a better understanding of the district, though this would mean you're no longer visiting for free.
32. Snap a picture at the Damrak Canal Houses
You might find your camera roll overflowing after your trip to Amsterdam, as the city really is as picture-perfect as you'd imagine. One spot that you'll have to capture the perfect shot of is the view of the Damrak Canal Houses.
These famously lopsided houses have become some of the most photographed canal houses in the city, and finding them is also super straightforward.
As you leave the Central Train Station, make a slight left and head down Damrak Street for just over 400 meters (0.25 miles), and you'll soon be greeted by these quirky houses on your left. You'll arrive at a great vantage point for your Instagram-worthy photos from here!
Best Day Trips from Amsterdam
33. Keukenhof
Would you believe me if I told you that Keukenhof, aptly nicknamed the Garden of Europe, was only a 30-minute drive from the center of Amsterdam?
Those old-school windmills, endless fields, and immaculate gardens filled with tulips that Holland is renowned for are much easier to reach from the capital than you'd expect.
As these gardens are only open for around eight weeks of the year, you'll need to plan your visit between March and May.
You have a couple of options to get here. The quickest way to reach Keukenhof is by car, but taxis can be costly, so it may work out cheaper to get a rental car and make your own way there.
Lots of tour companies run shuttle buses from Central Station, which is a more budget-friendly alternative.
For a fuss-free experience, the Keukenhof & Windmill Village Guided Tour will take care of your transport, entry ticket, and guided tour. This particular day trip also allows you to see traditional clogs being crafted and even includes a cheese tasting.
34. Zaanse Schans
Another picturesque area that seems like a world away from Amsterdam is Zaanse Schans, a stunning neighborhood in the town of Zaandam.
You'll be transported back to the 19th century as you wander past colorful wooden houses and windmills, many of which were actually relocated here from other towns nearby towns.
Zaanse Schans is reachable by car in less than 20 minutes, or you can hop on one of the buses from Central Station, which takes around 40 minutes.
I recommend catching the short train to Zaandijk – Zaanse Schans and walking to the neighborhood from here. Alternatively, if you're up for an active day, you can rent a bike and visit Zaanse Schans on two wheels!
If you are after a hassle-free experience, check out this Guided Zaanse Schans & Cheese Tasting Tour, where you'll see the best of the area with your knowledgeable guide.
Another great option is this Zaanse Schans, Edam, Volendam & Marken Bus Tour. It's a full-day tour that combines Zaanse Schans with trips to the adorable Volendam fishing village and the town of Edam. No prizes for guessing why Edam is so well-known!
35. Giethoorn
Giethoorn might just be the cutest village you'll ever lay your eyes on! Narrow waterways, old-fashioned thatched-roof homes, and wooden bridges make up this car-free pocket of The Netherlands.
Unless you're renting a car, the best way to get to Giethoorn is by taking the train from Central Station to Zwolle train station and changing to the 70 bus from here until you reach the village center.
If you'd rather let someone else do the planning, the Giethoorn & Enclosing Dike Day Trip will tick all of your boxes, taking you past the Enclosing Dike, a dam-come-motorway on your journey to Giethoorn.
While here, you'll go on a tranquil cruise along the water and go for a wander during your free time.
36. Volendam
The Netherlands is blessed with some of Europe's loveliest towns and villages, and Volendam is among the best of them.
With direct links to the center of Amsterdam, you can reach Volendam in less than 25 minutes on bus 316 and enjoy the town's delightful seafood alongside the fishing boats and multi-colored homes.
For a deep dive into Dutch culture, I think you'll find this Marken, Volendam, and Edam Full-Day Tour to your liking. On this excursion, you'll stop by the teeny village of Marken and get a masterclass in cheese-making in the town of Edam.
This tour also offers some add-ons for an extra special day out, such as a boat trip, windmill entry, and a clog-making demonstration.
37. Rotterdam
The Netherlands's second most-populated city, Rotterdam, is Amsterdam's modern and eclectic little sister, where you'll be in awe of the bold architecture, high-rise buildings, and big-city vibe.
Exploring Rotterdam from Amsterdam is so convenient, as both the high-speed and regular trains will land you here in under an hour.
Anyone short on time can spend an afternoon checking the cube houses, the Market Hall, and the massive harbor off their lists before returning to Amsterdam in no time.
I suggest looking into this Guided Trip to Rotterdam, Delft & The Hague for a well-rounded and fascinating day trip. After you've seen Rotterdam's highlights, you'll head to the charming city of Delft and The Hague, which the Dutch royal family and government call home.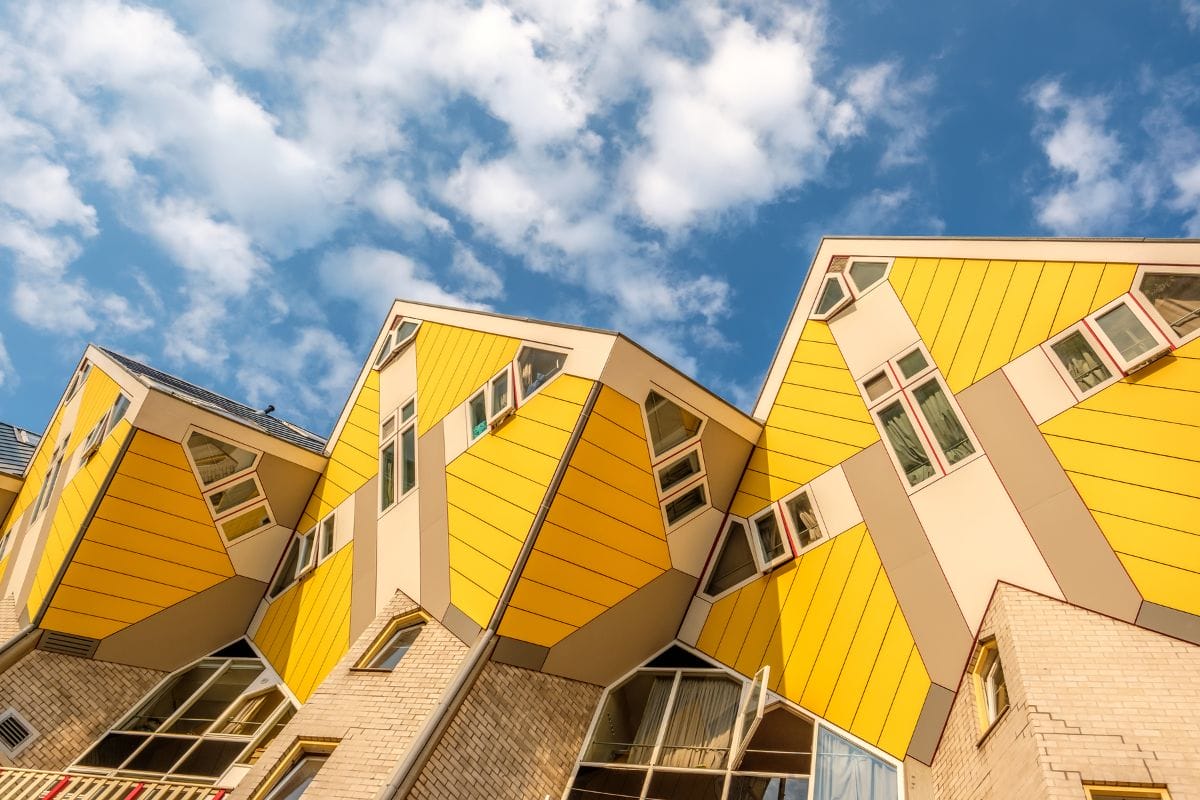 38. Bruges
For a European adventure, take advantage of Amsterdam's close proximity to Belgium and spend a day in the enchanting city of Bruges.
Though Bruges is much smaller than Amsterdam, it's a city that's also famed for its canals and storied past.
Amsterdam is extremely well-connected, making it possible to arrive in Bruges within three hours by train. There are also a few companies that operate buses between the two cities, and this is often a cheaper option.
If you'd rather join a guided tour, this Day Trip to Bruges from Amsterdam tour has you covered. You'll spend some of your day visiting spots like the Grote Markt and the Belfry with your guide, as well as getting some free time.
39. Brussels
From one captivating Belgian city to another, you won't regret spending some of your vacation in lively Brussels.
Unless you're joining a guided tour, I recommend taking a high-speed train from Amsterdam, which will bring you to the Belgian capital in under two hours. Catch an early departure to ensure you have ample time to visit the Grand Place, Royal Galleries, and some chocolate shops.
Brussels has so much to see and do, and this day trip will take you to all the must-see spots while also taking care of your transport. When you've had your fill of sightseeing, you'll have some extra time to munch on Belgian fries and waffles or sample one of their legendary beers.
Where to stay in Amsterdam
If you're a first-time visitor, then you'll want to stay close to the city center, and there are plenty of options.
De Pijp is the city's bohemian quarter and home to some of the best bars and streetside cafes. If you're looking for something a little more upmarket, then Jordaan is an excellent option with its gorgeous 17th-century townhouses and top-class restaurants. Oud West is another charming area with leafy parks and plenty to do.
If you want to read more about the best areas to stay in the city, make sure to check out our in-depth post about where to stay in Amsterdam. For an unforgettable stay, browse through the list of the best Amsterdam hotels with canal views, the best Amsterdam hotels with pools, or the best boutique hotels in Amsterdam.
In case you're in a rush, here are my top hotel recommendations for different budgets.
LUXURY – Anantara Grand Hotel Krasnapolsky Amsterdam
Conveniently located on the edge of Dam Square in the heart of Amsterdam, this 5-star hotel offers stylish rooms with amazing views. There's also a grand cafe, a winter garden, and a Michelin-star restaurant on site.
MID-RANGE – NH Amsterdam Schiller
Set in a historic building only a 10-minute walk from Dam Square, NH Amsterdam Schiller benefits from a central yet quiet location. The hotel features elegant rooms and offers easy access to the most famous Amsterdam attractions, such as the floating flower market or the Jewish quarter.
BUDGET – Bridge Inn
If you're looking for a budget-friendly place to stay for your 2 days in Amsterdam, look no further than Bridge Inn. Located in the popular Jordaan neighborhood, this hotel offers cozy rooms with canal views, as well as a 24-hour front desk and luggage storage space.
---
Planning a trip to Amsterdam?
Then you might want to take a look at all our other travel guides about Amsterdam. I promise, they are just as awesome as this article was!
Amsterdam hotel guides:
Amsterdam travel guides:
---
Pin It for Later!