Are you planning to spend 2 days in Amsterdam and don't know where to start? With so much to see and do, it can be overwhelming to figure out how to make the most of your time in this charming city. But that's why we're here!
Our perfect 2 day Amsterdam itinerary is jam-packed with all of the must-see attractions, as well as some hidden gems just waiting for you to uncover. From its iconic canals and charming architecture to unique museums and amazing restaurants, Amsterdam really has it all.
So let's take a look at how to see the best of Amsterdam in 2 days!
*Disclosure: This post contains a few affiliate links, which means I may receive a small commission, at no cost to you, if you make a purchase through my link.*
No time to read now? Pin it for later!
Useful Info for Spending 2 Days in Amsterdam
How to get to Amsterdam
Most international visitors to Amsterdam will arrive at the Schiphol Airport, which is located just outside of the city center.
This is the third-largest airport in Europe, so you can get there from almost any major city. There are more than 100 different airlines that offer flights from all over the world, so it's easy to get to Amsterdam no matter where you're coming from.
The airport is conveniently connected to Amsterdam Central via train, so you can easily get to your hotel in no time. The journey takes around 20 minutes and costs €5.9 per person.
In addition to flying in, Amsterdam's Central Station receives trains from all across Europe, and you can easily access the capital city by land. You can find routes from major cities across Europe like London, Paris, Vienna, Zurich, and Berlin.
Best time to visit Amsterdam
Choosing the ideal time to visit Amsterdam truly depends on your preferences, as the city buzzes with life throughout the year but offers distinct experiences with each season.
The Netherlands is really famous for its tulips, so if you're looking for a unique experience, consider visiting Amsterdam in April or May to explore the fields of colorful tulips that bloom throughout the country.
June marks the start of the summer season and is a great time to visit Amsterdam for its outdoor activities. This is when temperatures are warmest and days are longest, making it perfect for exploring the city's many parks, canals, and outdoor attractions. On the other hand, you can expect bigger crowds and higher prices.
If you're looking for a more budget-friendly option, consider visiting Amsterdam in the fall. Temperatures will still be mild, and the city won't be as crowded, meaning you'll have more freedom to enjoy the sights at your own pace.
The winter months boast a charming ambiance with Christmas markets and ice-skating rinks adorning the city. However, do keep in mind the colder temperatures and limited daylight hours when packing your suitcase.
Oh, and if we're already talking about packing – make sure to bring an umbrella no matter what time of year you're visiting. You're going to be spending 2 days in Amsterdam after all!
How to get around Amsterdam
Luckily getting around Amsterdam is a breeze as the city is quite compact and has a very good public transport system in place.
For this 2 day Amsterdam itinerary, I recommend purchasing a 2-day GVB Public Transport Ticket. For only €15 per person, this ticket allows you to use all of Amsterdam's public transport – including buses, trams, metro, and ferries.
One single GVB ticket costs €3.40 so if you only use public transport 5 times during your 2 days in Amsterdam, the 2-day ticket is already worth it. Plus, you can save yourself some time by skipping the hassle of buying individual tickets each time you use public transport.
Important note: Transportation to and from the airport is not included in this ticket, so make sure to purchase a separate ticket for that.
Another great option for getting free public transportation in Amsterdam is the I Amsterdam City Card. With this card, you get unlimited access to Amsterdam's public transport, as well as free entrance to many museums and attractions, plus discounts at a bunch of other sights.
Although Amsterdam is famous for its cycling culture, I actually don't recommend renting a bike in the city. It's fine if you want to discover the countryside but riding in the city center can be quite chaotic with so many bikes and pedestrians around.
Similar to bikes, I don't recommend renting a car for your Amsterdam itinerary either. Even if you arrive by car, it's best to park it somewhere safe and leave it there for the duration of your stay.
Where to stay in Amsterdam
To make the most of your 2 days in Amsterdam, you'll want to make sure that you locate yourself close to the city center. This way, you'll be able to access all of the attractions with ease and won't have to waste any time traveling.
One of the best areas to stay in Amsterdam is the Jordaan district. This is a charming part of the city that's home to historic canals, amazing restaurants, and some of the best cafes in Amsterdam. You'll be close to all the attractions but still able to enjoy a quiet local experience.
Another great area is Museumplein, which is located close to Vondelpark and near most of the major attractions. The area has a great selection of restaurants, cafes, bars, and shops so you'll never run out of things to do.
If you want to know more about the best areas to stay in the city, make sure to read our in-depth post about where to stay in Amsterdam. For a unique stay, you can check out the best boutique hotels in Amsterdam or the best Amsterdam hotels with canal views.
In case you're in a hurry, below you can find our recommendations for where to stay in Amsterdam for 2 days.
LUXURY – Anantara Grand Hotel Krasnapolsky Amsterdam
Conveniently located on the edge of Dam Square in the heart of Amsterdam, this 5-star hotel offers stylish rooms with amazing views. There's also a grand cafe, a winter garden, and a Michelin-star restaurant on site.
MID-RANGE – NH Amsterdam Schiller
Set in a historic building only a 10-minute walk from Dam Square, NH Amsterdam Schiller benefits from a central yet quiet location. The hotel features elegant rooms and offers easy access to the most famous Amsterdam attractions, such as the floating flower market or the Jewish quarter.
BUDGET – Bridge Inn
If you're looking for a budget-friendly place to stay for your 2 days in Amsterdam, look no further than Bridge Inn. Located in the popular Jordaan neighborhood, this hotel offers cozy rooms with canal views, as well as a 24-hour front desk and luggage storage space.
Overview of Your 2 Days in Amsterdam
Breakdown of your 2 day Amsterdam itinerary
Day 1: Breakfast, Damrak Canal Houses, Canal Cruise, Dam Square, Royal Palace of Amsterdam, Begijnhof, Fabel Friet, Stroopwafels, Bloemenmarkt, Albert Cuyp Street, Heineken Experience, Dinner
Day 2: Breakfast, Museumplein, Foodhallen, De 9 Straatjes, Jordaan, Anne Frank House, A'DAM Lookout, Red Light District, Dinner
Map for your Amsterdam 2 day itinerary
Below you can find a customized map that includes all the locations you're going to visit on this Amsterdam itinerary.
I marked your 2 days in Amsterdam with different colors – I used blue for the first and green for the second day, so you can easily see which places you're going to visit each day.
If you open up this post on your phone and click on the bracket in the upper right corner of the map, it will open up in your Google Maps app, so you can always have it with you. Super convenient, right?
Day 1 of Your 2 Day Amsterdam Itinerary
Breakfast
Start your day with a delicious breakfast at one of Amsterdam's famous pancake houses – Pancakes Amsterdam. The restaurant offers traditional Dutch pancakes, but if you would like to stick with something similar, you can opt for their American-style pancakes as well.
They currently have 6 different locations – for this 2 day Amsterdam itinerary, I recommend visiting the one close to the Central Station.
Insider tip: You get a 25% discount at Pancakes Amsterdam with the I Amsterdam City Card so make sure to use it if you have one!
If pancakes are not your style, you can alternatively head to Omelegg to try one of their incredibly delicious omelets. Out of their two locations, the one in the city center will be the perfect choice for the morning of your first day in Amsterdam.
No matter which breakfast place you choose, you're very likely to encounter a bit of line outside at both. Don't let this discourage you though as the lines usually move quite quickly and trust me, it's completely worth the wait!
Damrak Canal Houses
After breakfast, the Damrak Canal is the perfect place to start the sightseeing part of your Amsterdam 2 day itinerary. You've likely seen many pictures of these beautiful canal houses before, and now it's time to admire them in person!
These narrow houses of Amsterdam are a charming and distinctive feature of the city's landscape. But have you ever wondered why these houses are so narrow? Well, it has to do with the historical tax system!
Back in the 17th century, taxes were levied based on the width of the front of your house. Consequently, residents built their houses narrow and tall to minimize their tax bills. This practical and economical approach resulted in the unique and picturesque streetscape we associate with Amsterdam today.
However, don't let the narrow facades fool you – these houses often extend quite a bit in length and height, incorporating multiple floors and a fair amount of living space.
Canal Cruise
Going on a canal cruise is one of the most popular things to do in Amsterdam, and for good reason! Nothing beats cruising through the canals on a sunny day, admiring its iconic architecture from the water.
You can find many different companies offering canal cruises, but my favorite one is Flagship Amsterdam. This one-hour Classic Boat Cruise takes you along the city's most beautiful sights and also has a live tour guide offering interesting insights about Amsterdam's history and culture. Plus, you can book it with a cheese and wine option if you wish!
If you're looking for a slightly cheaper option, take a look at this Canal Cruise. It has frequent departures throughout the day, and it's also one hour long. However, it only offers an audio guide, and there's no live tour guide on board.
Whichever cruise you choose, I would recommend getting your tickets in advance, especially if you're visiting in the busy summer season.
Insider tip: The I Amsterdam City Card includes a free canal cruise so if you have a card, this is your time to enjoy it!
Dam Square
Spend the rest of your morning at Dam Square, one of Amsterdam's most recognizable landmarks.
Located right in the center of the city, this is where you'll find a number of important historic and cultural attractions such as the Royal Palace, National Monument, and Madame Tussauds.
You'll also find many street performers and lively crowds around Dam Square. And if you don't mind a bit of shopping, the square is also home to some of Amsterdam's best shops.
Royal Palace of Amsterdam
If you have time, don't miss the opportunity to visit the Royal Palace of Amsterdam. This 17th-century palace served as the city's Town Hall until 1808 and is now open for visitors.
At first, I was not sure whether it was worth going inside, but it was honestly one of the highlights of our 2 day Amsterdam itinerary!
Inside, you'll find various grand and ornate rooms filled with paintings, sculptures, and furniture from the time when Amsterdam was a major trading hub in Europe. The building also has a great audio tour that explains its fascinating history in detail.
The palace still plays an important role in the Dutch monarchy as it's the official reception venue of King Willem-Alexander and it's actively used for state visits and royal events.
Outside of these special occasions, the palace is open to visitors every day from 10 am to 6 pm. You'll need around one hour to comfortably tour the palace, however, if you take your time to explore and admire the artwork, you can easily spend more.
Begijnhof
After the grandeur of the Royal Palace, step into the tranquility of the Begijnhof, one of the city's oldest inner courtyards. This peaceful oasis in the bustling heart of Amsterdam is a hidden gem.
It was originally built in the 14th century for the Beguines – lay religious women who lived in semi-monastic communities.
At Begijnhof, you'll find a group of historic buildings centered around a serene courtyard. This includes the oldest wooden house in Amsterdam, Het Houten Huys, dating back to around 1452.
You can also see the Engelse Kerk (English Church), with origins dating back to the 15th century, which stands as a testament to the rich history of this place.
Lunch at Fabel Friet
After a busy morning, you'll likely be ready to fuel up again. Cross a few of the canals on a short walk to Fabel Friet, where you will find some of the best fries in the city.
The crispy, golden fries are made from organic potatoes and are served with a variety of toppings and sauces. If you want to try the most popular option, make sure to order the fries with parmesan cheese and homemade truffle mayonnaise!
And to make sure you've had enough to get you through the rest of the afternoon, there's also a small selection of other offerings such as croquettes, deep-fried sausages, and cheese souffle.
Fabel Friet is really popular so no matter when you visit, you'll probably have to wait in line for a bit. Don't worry though, since it's a fast food restaurant, the wait time is usually not more than 10-15 minutes, even when the line seems awfully long.
Stroopwafels at Van Wonderen Stroopwafels
After lunch, it's time for dessert – in Dutch style! And nothing screams Dutch dessert more than a good old Stroopwafel.
For this, head to Van Wonderen Stroopwafels. This little shop in the heart of Amsterdam is famous for its delicious stroopwafels and cute decoration.
A stroopwafel is made up of two thin layers of baked dough with a caramel syrup filling in the middle. You can choose from three different sizes (mini, medium, and mega) and a variety of toppings such as chocolate, candies, and nuts. My personal favorite was the marshmallow!
Similar to Fabel Friet, you might encounter a bit of a line here too, but trust me – it's worth the wait.
Bloemenmarkt
Have you ever seen a floating flower market before? Bloemenmarkt is definitely one of a kind and a must-visit in Amsterdam!
Established in 1862, the Bloemenmarkt lines the southern side of the Singel Canal between the Koningsplein and the Muntplein. Each of the market's stalls stands atop its own floating barge, a nod to the days when flowers arrived at this market daily from the countryside by boat.
You'll find a wide variety of flowers, bulbs, and seeds, but it's the tulips that steal the show.
Remember that if you plan to take tulip bulbs back home, they must be officially stamped as approved for export if you're traveling outside of Europe. Many of the stalls at Bloemenmarkt cater to tourists and offer pre-packaged bulbs that are ready for international travel.
Even if you're not in the market for flowers, Bloemenmarkt is still a picturesque place for a stroll. The colorful displays of blooms against the backdrop of the canal and Amsterdam's distinctive buildings are perfect for photography.
Albert Cuyp Street
Now that you've fueled up with both savory and sweet, it's time to discover another popular area of Amsterdam: De Pijp.
Start your explorations at the Albert Cuyp Street Market, a bustling outdoor street market with over 250 stalls selling everything from fresh produce and flowers to vintage clothes and souvenirs.
Named after the 17th-century painter, Albert Cuyp Street is located in the heart of De Pijp, known as the "Latin Quarter" of Amsterdam. The lively, bohemian vibe of this neighborhood is reflected in the market, which attracts a diverse crowd of locals and tourists alike.
If you're still hungry, you can sample a wide variety of foods, including fresh produce, local cheeses, and traditional Dutch snacks like herring, kibbeling (fried fish), and poffertjes (mini pancakes). The market is also a great place to buy souvenirs, clothes, and household goods at bargain prices.
It's worth noting that the market operates from Monday to Saturday, from 9 am to 5 pm, and it's closed on Sundays and most major holidays.
It's a 20-25 minute walk to get here from Bloemenmarkt, but if you want to shorten the walk, you can hop on metro line 24 for 2 stops.
Heineken Experience
No 2 day Amsterdam itinerary is complete without a visit to the Heineken Experience! Located in a former brewery, this interactive museum is both informative and entertaining.
As you walk through the museum, you'll learn about the brand's history, from its humble beginnings in 1867 to its evolution into a global icon. You'll see the old copper brewing kettles, get a crash course in beer making, and even have the chance to "brew" a little yourself.
But the Heineken Experience is not just for beer enthusiasts. It offers a multi-sensory experience that engages and entertains. You can also enjoy a virtual reality ride that simulates the journey of a beer bottle from the brewery to the shop.
And, of course, no visit would be complete without a tasting session. You'll have the opportunity to enjoy two complimentary glasses of Heineken at the end of the tour.
The standard Heineken Experience takes around 1.5 hours and costs €23 per person. You can also purchase an Exclusive VIP Heineken Experience ticket which besides the standard tour, also includes exclusive access to one of the hidden bars, a special beer tasting with five different beers and matching bites, and a personalized Heineken gift.
Insider tip: The I Amsterdam City Card grants you 25% off the Heineken Experience!
Dinner
After a day filled with exploration and discovery, it's time to unwind and enjoy a delicious dinner. I recommend staying in the De Pijp area for this, as this neighborhood is full of amazing restaurants and bars.
If you're in the mood for a casual dinner, head over to Burger Bar De Pijp. This local favorite is known for its gourmet burgers, which you can customize to your liking. Make sure whatever you get, you get it with fries!
Another great option is Porchetteria, a small Italian restaurant that serves up delicious pizza and sandwiches. But, if you're going for a late dinner, Porchetteria might not be the best bet as their dough is handmade daily and when it runs out, that's it.
For a more upscale dining experience, consider Restaurant Zaza's. This charming eatery offers a menu that changes with the seasons, featuring a fusion of international flavors made from locally sourced ingredients. They only have 12 tables so make sure to book one in advance!
Day 2 of Your 2 Day Amsterdam Itinerary
Breakfast at Bakers & Roasters
Start the second day of your 2 days in Amsterdam with breakfast at Bakers & Roasters, one of the best breakfast places in Amsterdam. This New Zealand style café, located in De Pijp district, offers a perfect blend of Kiwi and Brazilian dishes that are sure to satisfy your morning cravings.
Their menu offers a diverse range of dishes from huevos rancheros and kimchi fried rice to American-style pancakes and homemade granola. The coffee is also excellent, made with beans from a local roaster, and they offer a selection of fresh juices too.
Be warned, this place is incredibly popular, especially at weekends, so you may have to wait for a table. They have a really good system in place though – you just have to scan the QR code at the entrance and then wait for a text message when your table is ready.
Museumplein
After a hearty breakfast, make your way to the Museumplein, Amsterdam's museum district. Here, you'll find three of the city's most important museums: the Rijksmuseum, the Van Gogh Museum, and the Moco Museum.
Each museum offers a unique experience and provides a deeper understanding of the Dutch cultural landscape. Depending on your interests, I recommend choosing one or two to visit.
Rijksmuseum
The Rijksmuseum is home to many of the Dutch masters' works, including Rembrandt, Vermeer, and Hals. You'll be able to see iconic works such as Rembrandt's "The Night Watch" and Vermeer's "The Milkmaid."
The museum's impressive collection spans 800 years of Dutch history, with over 8,000 artifacts and artworks on display. Allow yourself at least 2-3 hours to explore this vast collection, otherwise, you'll only scratch the surface.
The museum is open from 9 am to 5 pm and the entrance ticket costs €22.5 (free for under 18 years). You can usually snag tickets on the day of your visit, but it's better to book them in advance to avoid the queues. You can also opt for a guided tour with reserved entrance tickets.
Insider tip: Entrance is free with the I Amsterdam City Card!
Van Gogh Museum
The Van Gogh Museum houses the world's largest collection of Van Gogh's works, including more than 200 paintings, 500 drawings, and 700 of his letters. Key pieces include "Sunflowers," "The Potato Eaters," and "Almond Blossom."
Getting tickets to the Van Gogh Museum is a bit tricky as they usually sell out quite far in advance. Make sure to check the tickets at least 2 weeks ahead of your visit and book them as soon as you can.
The entrance ticket costs €20, and it's available online only.
Moco Museum
The Moco Museum is the perfect place for contemporary art lovers. It features changing exhibitions, often showcasing works from internationally renowned artists such as Banksy, Andy Warhol, and Salvador Dali.
This is the smallest museum of the three, but in exchange, tickets are usually available anytime. Entry costs €21.95, and the museum is open from 9 am to 9 pm.
Insider tip: Entrance is free with the I Amsterdam City Card!
Lunch at Foodhallen
For lunch, I recommend heading to Foodhallen, a gourmet food market housed in a converted tram depot.
Located in the hip Oud-West neighborhood, this indoor food hall features over 20 stalls offering a variety of international cuisines, from Spanish tapas and Italian pizza to Vietnamese bánh mì and Japanese sushi. There's also a range of vegetarian and vegan options, ensuring there's something for everyone.
You can try the famous Dutch bitterballen or have some delicious pastries from Petit Gateau. For the best BBQ in town, head over to The Rough Kitchen. The beauty of Foodhallen is the opportunity to try different cuisines all under one roof!
In the center of the food hall, there are communal tables where you can enjoy your meals. Additionally, Foodhallen is home to several bars serving local craft beers, cocktails, and wines.
De 9 Straatjes
The Nine Streets, or De 9 Straatjes as it's known in Dutch, is a collection of narrow streets in Amsterdam's historic canal district. This charming neighborhood is a haven for boutique shopping, unique dining, and picturesque views of the canals.
Here, you'll find an array of independent boutiques selling everything from designer clothing and vintage treasures to artisanal cheeses and handmade chocolates.
Among the trendy cafes and restaurants, one standout is Pluk, an Instagram-worthy spot where you can enjoy a refreshing juice or a quick coffee.
Exploring the Nine Streets is more about soaking in the atmosphere and less about sightseeing. Allow yourself to get lost amongst the meandering streets and beautiful canals.
The best way to experience De 9 Straatjes is to simply wander and see where the quaint cobbled streets take you.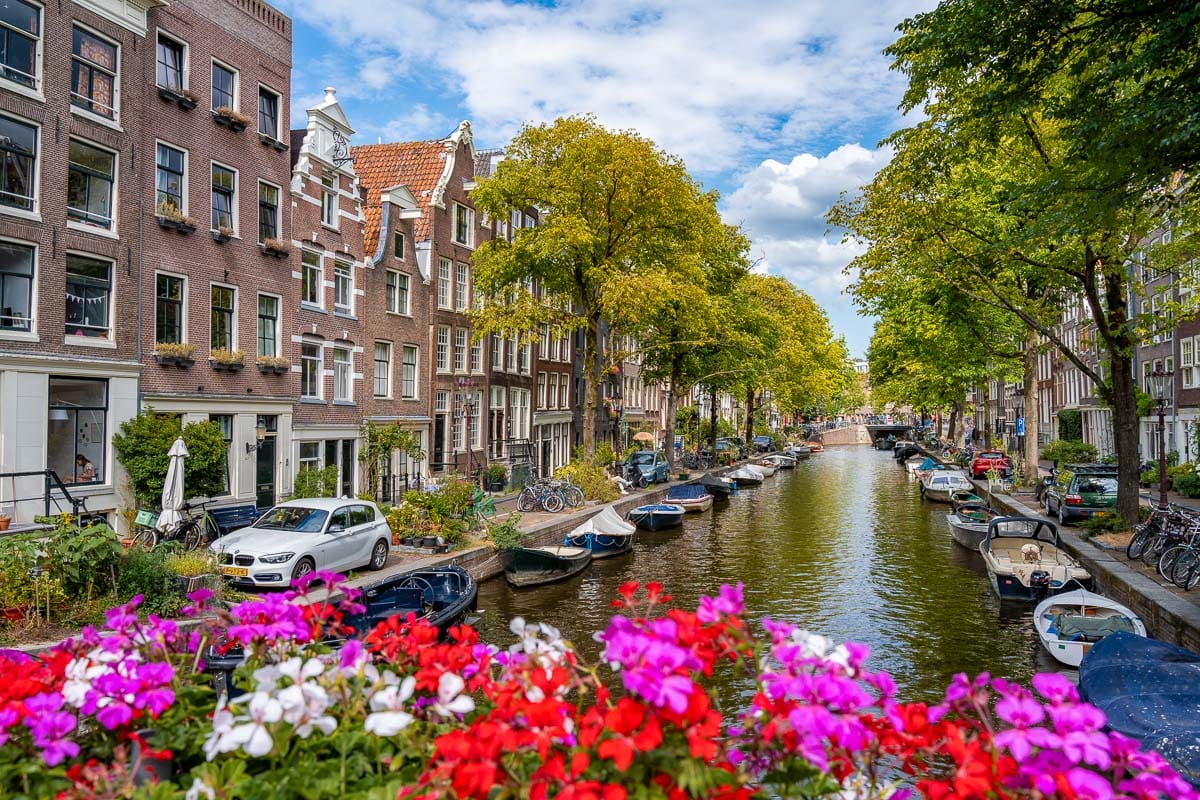 Jordaan
Continue your afternoon by heading to one of the city's most famous neighborhoods, Jordaan. It's one of the best areas to stay in Amsterdam, but even if you opt to stay elsewhere, you must visit this charming area.
In Jordaan, you'll find a diverse array of art studios, galleries, and hip boutiques. Don't miss a visit to the Houseboat Museum, where you can see what life is like living on Amsterdam's famous canals. Entrance is free with the I Amsterdam City Card!
If you could use a coffee break, head over to one of my favorite cafes in Amsterdam – Le Petit Deli. It's a cute little café with French-inspired decor and incredibly delicious pastries and cakes.
Anne Frank House
After spending the afternoon wandering through the picturesque streets of Jordaan and the 9 Streets, your next stop is the Anne Frank House. Even if you have only 2 days in Amsterdam, it's one of the places you absolutely have to visit.
This former hiding place of Anne Frank and her family is now a moving museum that tells the story of the Jewish teenager's life during World War II.
Here, you'll walk through the secret annex where Anne, her family, and four others hid from the Nazis for over two years. The museum maintains its original state as much as possible to portray the harsh realities they lived in.
You'll see the small rooms where they hid, the tiny window from which they could see the sky, and the original diary Anne wrote in.
Do keep in mind that you can only visit the Anne Frank House with a timed-entry ticket, which must be purchased online in advance.
Tickets are released every Tuesday for the following six weeks, and they sell out very quickly, so make sure to plan ahead. I recommend booking your tickets at least one month in advance if you want to be sure.
Since it's a timed-entry ticket and you don't always have the option to choose your preferred time, you might have to move the activities in your 2 day Amsterdam itinerary around a bit.
The entrance ticket costs €16, and the museum is open daily from 9 am to 10 pm. You can't take any photos or videos inside so it's best to leave your camera along with your backpack in the cloakroom.
A'DAM Lookout
Next, add a little thrill to your Amsterdam 2 day itinerary by heading to the A'DAM Lookout. This observation deck offers panoramic views of Amsterdam, but that's not the only reason to visit.
It's also home to 'Over the Edge', Europe's highest swing. If you're daring enough, you can swing over the edge of the tower, 100 meters above the ground!
The elevator ride to the top is an experience in itself, complete with a light show. Once on the deck, enjoy the breathtaking views of the city's historical center, its bustling port, and the unique Dutch polder landscape.
There's also a restaurant and a bar where you can grab a snack or a drink while soaking up the vistas.
To get to A'DAM Lookout, you have to hop on a ferry at Central Station and cross to Amsterdam Nord. The ferry ticket is already included in the GVB Pass and the I Amsterdam City Card, so it won't cost you any extra.
Entrance to the observation deck costs €14.50 online (€16.50 on site), and it's open from 10 am to 10 pm (last entry at 9 pm). If you plan to also do the swing, you will have to pay an extra fee of €6.
Red Light District
Of course, you can't finish up this 2 days in Amsterdam itinerary without a visit to the infamous Red Light District. This neighborhood, one of the oldest in the city, is famous for its window brothels, sex shops, and adult theaters.
While the area might be best known for its adult entertainment, it's also home to some of Amsterdam's most beautiful canals and old buildings.
There are several historical points of interest, such as the city's oldest church, the Oude Kerk, and the Museum of Prostitution, which offers insights into the world's oldest profession.
If you would rather explore the area with a knowledgeable local guide, you can join this Red Light District Tour. The tour is available in English or German and departs at 8 pm every day. During the tour, you can learn more about prostitution, coffee shops, and the history of the district.
Whether you choose to explore on your own or with a guided tour, remember to be respectful when walking through the area. Taking photos or videos of sex workers is strictly forbidden and can incur a hefty fine.
Dinner at Mata Hari
End your day with dinner at Mata Hari, located at the edge of the Red Light District. This local favorite is named after the infamous Dutch exotic dancer and spy, and its decor gives a nod to its namesake era with a blend of vintage charm and modern style.
The menu is short but very well thought-out, and the dishes are all perfectly crafted. On a nice evening, you can even grab a seat on their terrace to enjoy your meal while watching the boats sail through the canals.
---
Planning a trip to Amsterdam?
Then you might want to take a look at all our other travel guides about Amsterdam. I promise, they are just as awesome as this article was!
---
Related Posts
Want to read more about the Netherlands?
---
More Amsterdam Resources
Want to know even more about Amsterdam? Check out these awesome books and travel guides for more inspiration!
---
What Camera Gear Do We Use?
If you want to read more about what is in our camera bag, check out my detailed post about our travel photography gear!
---
Pin It for Later!