Visiting Amsterdam without embarking on a canal cruise is like going to Rome without seeing the Colosseum!
Of course, you'll surely spend a significant portion of your trip strolling alongside canals like Herengracht and Prisengracht, but there's something magical about the city towering over you from the waters.
Amsterdam has over 150 canals to its name, with almost as many boat tours on offer, too! In fact, you'll likely spot dozens of canal cruises gliding through the waterways from the moment you arrive.
The abundance of Amsterdam canal tours gives you lots of flexibility and choice, but it can be tricky to determine which cruises tick all your boxes and which will have you uncomfortably sandwiched between one too many passengers.
You might also be surprised that the variety of boat tours is endless, with cruises catering to just about every interest. Think romantic sunset sailing for couples, family-friendly excursions, and rowdy booze cruises for any party animals!
Below, you'll find a collection of the best canal cruises in Amsterdam, featuring everything from trips that will be kind to your wallet to luxurious private outings for you and your crew.
*Disclosure: This post contains a few affiliate links, which means I may receive a small commission, at no cost to you, if you make a purchase through my link.*
Quick Lockdown of the Top Amsterdam Canal Cruises
Best Canal Cruises in Amsterdam
1. Classic Boat Cruise with Cheese & Wine Option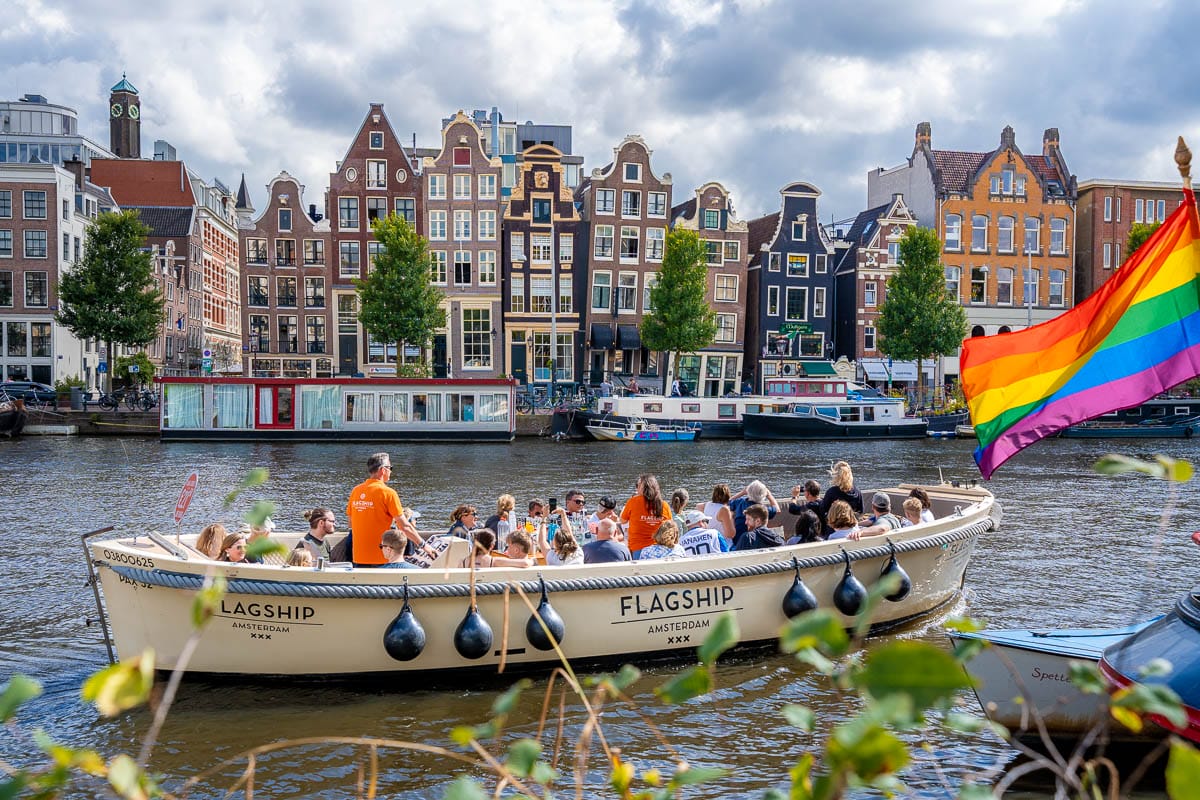 A quintessential boat ride in Amsterdam with a twist, this cruise will help you start crossing off many landmarks from your Amsterdam to-do list in style.
Although you can opt for the basic package without any add-ons, if you're like me, you most certainly won't regret elevating your trip with some delectable Dutch cheeses and tasty wines!
As you snack on your plate of Gouda and Edam, your hosts and skipper will be on hand to unravel the rich history behind sites like the Damrak Canal Houses and the Skinny Bridge.
Don't let the idea of unlimited wine fool you into thinking that this is a party cruise! This tour is much more low-key and focuses on exploring the canals in comfort.
2. Evening Canal Cruise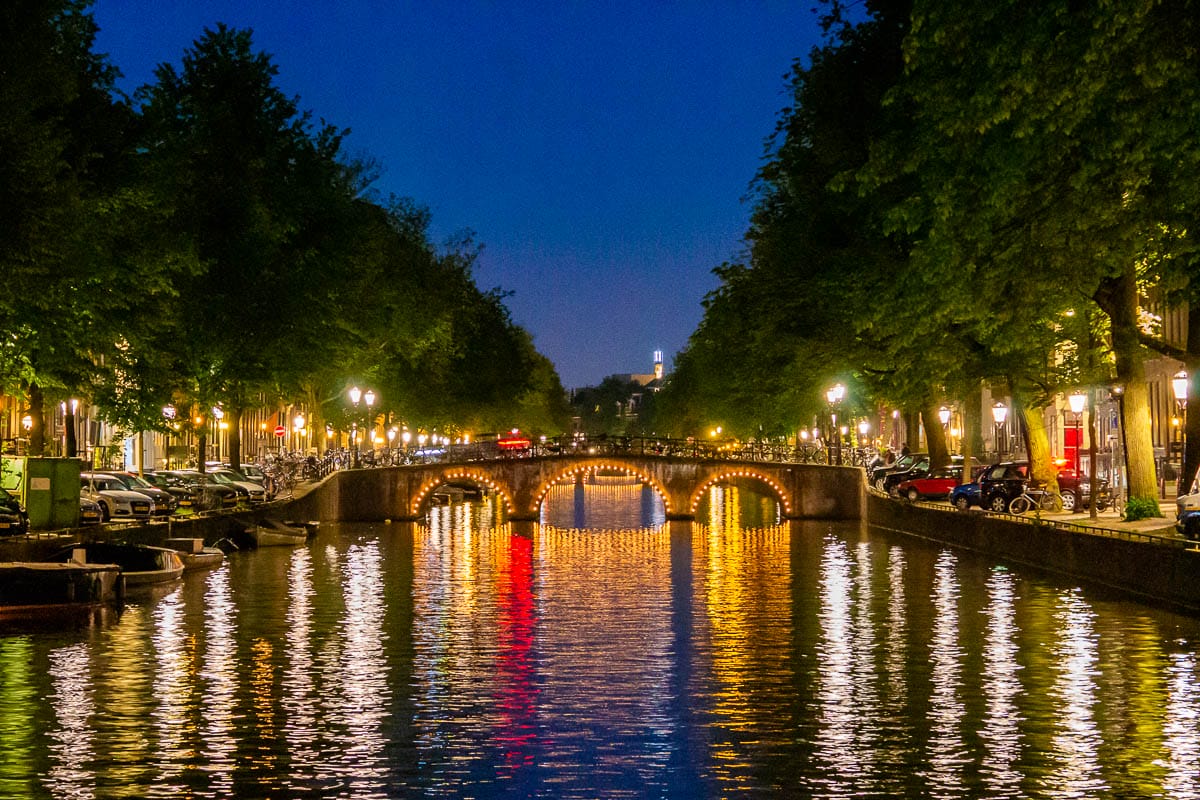 Even though first-timers are usually best to stick to daytime tours to get a closer look at Amsterdam's staggering architecture and flower-covered bridges, after-dark cruises are also a fantastic opportunity that allows you to see the city in a whole different light.
Amsterdam is vibrant at any hour of the day, but I love witnessing the city light up when the sun goes down. Every walkway along the canal feels incredibly romantic, the cobblestone streets are full of life, and the canal houses become even more enchanting.
Over an hour and a half, you'll get unparalleled views of famous sights like the Blauwbrug Bridge, A'DAM Lookout, and Rijksmuseum while your audio guide gives you all the need-to-know information.
If you've arrived before your dinner and are feeling famished, you can add a snack box to your ticket so you can nibble on popcorn, stroopwafels, and peanuts along the way!
3. Amsterdam City Canal Cruise
Packing in a myriad of Amsterdam hot spots into one trip, like Skinny Bridge and the Golden Bend, this excursion will have you arguing with your travel buddy over who gets the window seat!
You'll have your pick of up to ten departure times each day, but if you have a particular date in mind, be sure to snap up your tickets ahead of time online, as the weekend and sunset spots frequently sell out quickly.
This won't be a quiet and intimate cruise, but the vibe on each of these sailings still tends to be pretty relaxed as passengers get the low down on Amsterdam's winding canals from an audio guide.
Much like the previous Amsterdam canal boat tours, you can select some treats to keep your hunger at bay during your outing.
Read Next: 3 Days in Amsterdam: The Ultimate Amsterdam Itinerary
4. Canal Cruise with Live Commentary and Audio Guide
It's rare to find boat rides in Amsterdam that feature narration from the captain and are also easy on the pocket. This is why this tour has rightfully earned its place among the best canal cruises in Amsterdam!
Not only will your skipper share little-known facts about life along the canals and Amsterdam's fascinating culture, but you'll also use your audio guide to get some extra insight into the many points of interest you encounter during your tour.
As well as being a fully electric boat, this vessel has another, rather strange, claim to fame, as it's home to the smallest toilet in Amsterdam!
You won't find drinks included in your ticket, but you can purchase some onboard if the summer sun is leaving you parched.
5. Evening Canal Cruise with Pizza and Drinks
Only for the cheese and wine-filled cruise option I mentioned before, this evening tour just might have been my top recommendation!
It doesn't get much better than pizza and a glass of wine at sunset as your captain stops by some of Amsterdam's most eye-catching waterfront buildings and iconic sites.
Possibly, the only thing that can distract you from the beauty of this magical city is when you're picking out your pizza on board! Five flavors are available, which you'll pair with two drinks of your choice from a selection of wines, beers, and soft drinks.
A great middle ground that's neither an upscale cruise nor a party boat, I think this tour fits the bill whether you're traveling as a couple, family, or with your pals.
6. River Cruise With All-You-Can-Eat Dutch Pancakes
From fresh pizzas to bottomless pancakes, the Dutch certainly know how to keep their visitors well-fed! In addition to the seemingly endless supply of pancakes provided, this tour is distinct from many other boat rides in that it focuses on a different part of Amsterdam.
After you've topped your pancakes with your favorite fruits, jams, and cheeses, you can look out over the River IJ and spot contemporary buildings like the EYE Filmmuseum that have popped up just minutes from the typical streets filled with traditional Dutch structures.
If your youngsters aren't as enamored with the views as you are, there's a playground on board to keep them entertained!
7. Hop-On Hop-Off Boat
When in Amsterdam, a hop-on, hop-off bus just won't suffice! This hop-on, hop-off boat is a flexible sightseeing tour with 24 and 48-hour boat passes, allowing you to navigate the city on the water as you please, much in the same way as you would with traditional hop-on, hop-off bus packages.
With this option, you can choose between passes for the bus, boat, or both, though the boat pass is definitely the way to go for a unique and convenient Amsterdam adventure.
To make things even easier, the bus and boat boarding points are usually quite close together, which is fantastic if you've opted for the combined ticket.
Read Next: 39 Best Things to Do in Amsterdam: The Ultimate Amsterdam Bucket List
8. Open Boat Canal Cruise with Local Guide
For uninterrupted views of Amsterdam's historic canal-side architecture, this open boat tour is hard to beat.
Your onboard guide will fill you in on each captivating sight you pass and will have the answer to all your lingering questions if you want more in-depth insight into the Dutch way of life.
Over the course of an hour, your skipper will give you a glimpse of bucket list Amsterdam attractions like the Anne Frank House and the Rijksmuseum.
You'll have an opportunity to get some stellar shots of the scenic Grachtengordel district, so have your cameras at the ready!
9. Semi-Open Canal Boat Cruise
Next up is the 1-hour Semi-Open Canal Boat Cruise with a partially open rooftop offering unbeatable views. The roofs of these ships are fully made of glass and run with zero emissions, so you won't miss out on views regardless of the weather.
This relaxing tour departs all throughout the day at various times and shows you the best of Amsterdam at a slow pace. Cruise through the historical center and spot all the landmarks you've dreamt about.
After you jump on your electric boat, you'll be equipped with an audio guide you can listen to in between bursts of commentary from your captain if you wish.
10. Canal Cruise with Drinks and Bites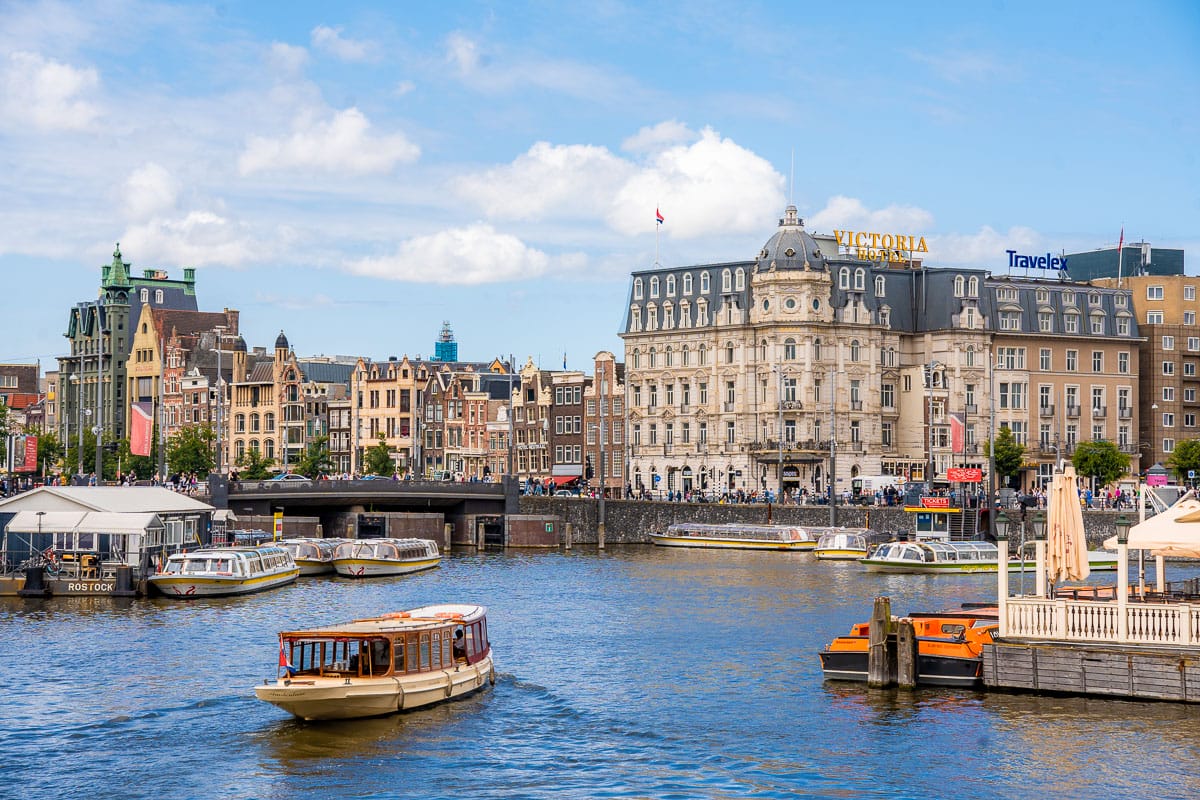 Gather your family and friends for this one! Despite the name, this is not the type of cruise where you'll spend the evening partying along the canals. While you can sip on a few Heinekens or wines, the ambiance onboard is mellow, and passengers old and young are all welcome.
As this boat is relatively small, your captain will drift along tiny canals many other tours can't offer, letting you spot some fabulous hidden corners of the city unknown to many.
There will be a bunch of guides on hand during your 90-minute expedition to answer any questions you might have about any of the sights or the city itself.
Each group leader puts their own spin on the tour, so no two journeys are the same.
To top it all off, you'll be supplied with a platter of Dutch delights, including a selection of sweet and savory bites so nobody goes hungry.
11. Canal Booze Cruise with Unlimited Drinks
Get ready for a night out while exploring the sights and sounds of Amsterdam on this party tour.
The drinks start flowing as soon as you climb aboard this lively boat, where you'll have an hour of unlimited beer and wine to sip on as you sail under historic bridges and onto the Amstel River.
You'll travel on a gorgeous, nautical-themed open boat during the warmer months or stay toasty inside a luxury enclosed vessel when the winter chill gets a bit too much.
With a huge range of time slots, you'll have no problem fitting this boozy activity into your schedule.
Read Next: Where to Stay in Amsterdam: 10 Best Areas & Hotels
12. Smoke and Lounge City Boat Cruise
Combining two of the things Amsterdam has become famed for, this smoke-friendly Amsterdam canal cruise is a surprisingly rare tour.
You'll need to leave the kids at home for this one, as this trip is filled with passengers dabbling in the city's famous cannabis culture while taking in the views of Amsterdam's mesmerizing canals.
Anyone planning to smoke up will need to bring their own stash, though you're welcome to use the onboard supply of shishas for an extra cost. Opt for the 60-minute journey, and you'll get a complimentary drink, while the 70-minute excursion supplies guests with two beverages.
13. Cheese and Wine Canal Cruise
Take your better half on a date night they'll never forget on this cheese and wine-filled cruise.
Each tour starts in the evening, meaning you'll have the most incredible view in Amsterdam to watch the capital transition from day to night.
Plenty of nibbles are provided, including a range of Dutch cheeses that pair perfectly with a few glasses of wine of your choice.
This particular tour feels a little more upmarket than many of its competitors, though it still manages to have a casual vibe that attracts couples and friend groups looking to catch a dreamy Amsterdam sunset.
Perfectly-timed sailings like this truly make for some of the best canal cruises in Amsterdam.
14. Romantic Private Canal Tour and Prosecco & Snacks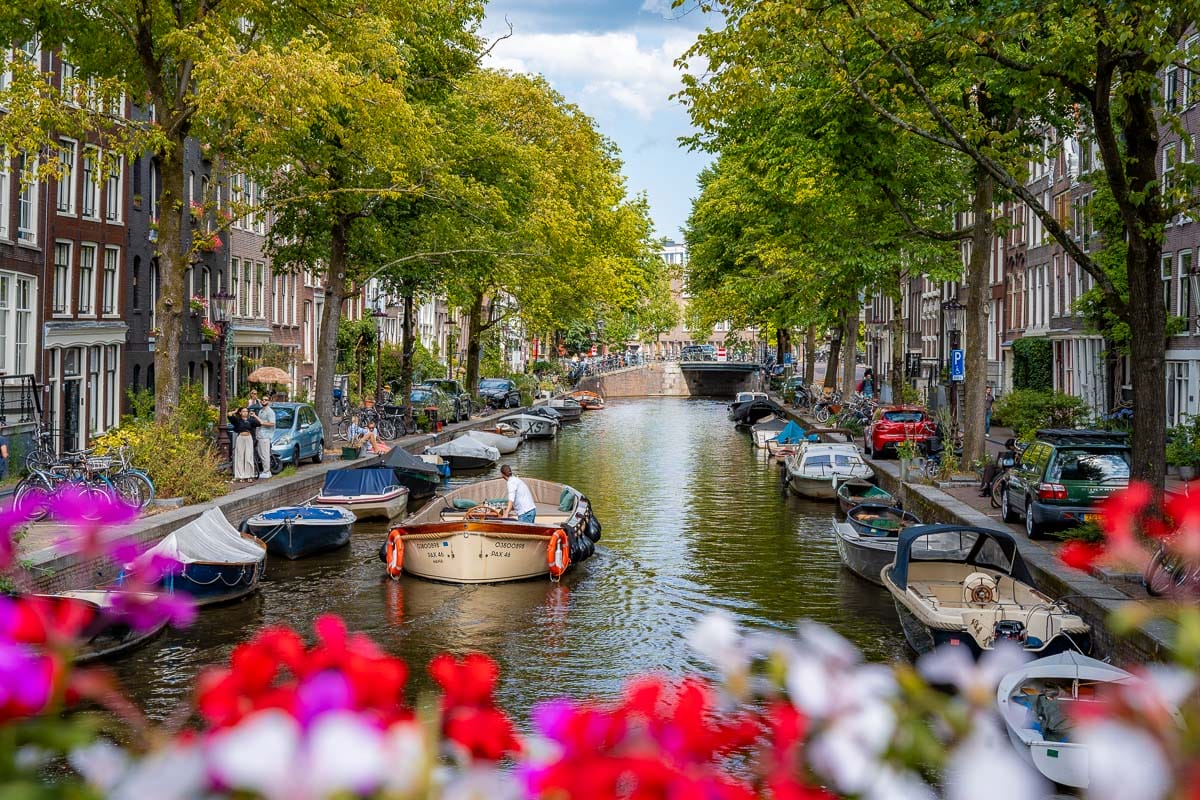 Explore the city's more sentimental side on this day tour as your guide takes you through spots like the Skinny Bridge and the Bridge of Love while you and your partner share some Prosecco, sweet treats, and traditional Dutch snacks.
For an even more intimate affair, I can't think of anything more romantic than this nighttime cruise through Amsterdam.
Similar to the daytime version but even more romantic, your skipper will double as a storyteller during this heavenly journey, treating you and your loved one to Prosecco or mulled wine, snacks, and heated seats for those cold winter nights.
You'll be glad to know that the rain can't interfere with your date night, as each boat has a detachable roof to ensure nothing puts a dampener on your plans.
15. Private BBQ Cruise with Personal Chef & Drinks
When it comes to the best canal tours in Amsterdam for big groups, it's hard to argue that anything can top this BBQ cruise.
Exactly as the name suggests, your gang will have a deluxe boat to yourselves, where there'll be a private chef onboard serving up mouthwatering BBQ favorites for two hours.
Fresh bread and colorful salads will accompany a selection of steaks, burgers, and chicken skewers fit for a king. Your chef can cook up veggie alternatives for each dish if meat isn't your thing, ensuring everyone gets a good feed before the unlimited beer and wine takes its toll.
As superb as this already sounds, you'll have all of this with Amsterdam's iconic scenery as your backdrop.
16. Canal Belt Private Beer Boat Tour
If you'd prefer to pass on the food, this beer canal cruise will be right up your street.
A top pick for bachelors and bachelorettes who've come to Amsterdam to party, this plush boat can hold up to 35 of your nearest and dearest if you have a big friend group.
Your captain will take you through some of the most bewitching parts of town, pointing out tourist hubs and cultural hotspots on the way, but you'll undoubtedly be more focused on the booze.
You'll sample four of the tastiest Dutch beers across this 90-minute, fun-filled outing that will stay with you long after you've headed home.
Where to Stay in Amsterdam
If you're a first-time visitor, then you'll want to stay close to the city center, and there are plenty of options.
De Pijp is the city's bohemian quarter and home to some of the best bars and streetside cafes. If you're looking for something a little more upmarket, then Jordaan is an excellent option with its gorgeous 17th-century townhouses and top-class restaurants. Oud West is another charming area with leafy parks and plenty to do.
If you want to read more about the best areas to stay in the city, make sure to check out our in-depth post about where to stay in Amsterdam.
For an unforgettable stay, browse through the list of the best Amsterdam hotels with canal views, the most incredible Amsterdam hotels with pools, or the best boutique hotels in Amsterdam.
In case you're in a rush, here are my top hotel recommendations for different budgets.
LUXURY – Anantara Grand Hotel Krasnapolsky Amsterdam
Conveniently located on the edge of Dam Square in the heart of Amsterdam, this 5-star hotel offers stylish rooms with amazing views. There's also a grand cafe, a winter garden, and a Michelin-star restaurant on site.
MID-RANGE – NH Amsterdam Schiller
Set in a historic building only a 10-minute walk from Dam Square, NH Amsterdam Schiller benefits from a central yet quiet location. The hotel features elegant rooms and offers easy access to the most famous Amsterdam attractions, such as the floating flower market or the Jewish quarter.
BUDGET – Bridge Inn
If you're looking for a budget-friendly place to stay for your 2 days in Amsterdam, look no further than Bridge Inn. Located in the popular Jordaan neighborhood, this hotel offers cozy rooms with canal views, as well as a 24-hour front desk and luggage storage space.
---
Planning a trip to Amsterdam?
Then you might want to take a look at all our other travel guides about Amsterdam. I promise, they are just as awesome as this article was!
Amsterdam hotel guides:
Amsterdam travel guides: