Amsterdam is a truly magical city that has long been recognized for many things, like cycling, colorful tulips, and, most importantly, its majestic canals.
Finding the best Amsterdam hotels with canal views is a high priority for many visitors. There's nothing quite like opening the curtains each morning and seeing the Dutch capital come to life, with houseboats lining the canals and busy streets filled with pedestrians trying to dodge the city's many bikes!
Unsurprisingly, Amsterdam is an expansive city, meaning countless accommodation options are available to you, and many of them are located along the city's 165 canals. While this can be a good thing, it can also make choosing a hotel more time-consuming than you'd expect.
However, the wealth of options means that canal-side hotels aren't just reserved for travelers with a ton of money to spend, as you'll find there are plenty of budget-friendly lodgings scattered around Amsterdam.
In this post, I have broken down some of the best hotels in Amsterdam with canal views in a range of different neighborhoods, featuring some of my top picks for all budgets.
*Disclosure: This post contains a few affiliate links, which means I may receive a small commission, at no cost to you, if you make a purchase through my link.*
Quick Lockdown of the Best Amsterdam Hotels with Canal Views
If you're in a rush, then here's a quick breakdown of the best Amsterdam hotels with canal views. I've split them up by category so you can easily find the one that's most suited to you!
Keep on reading to learn more about each hotel and to find more amazing Amsterdam hotels with canal views!
Best Luxury Amsterdam Hotels with Canal Views
1. Waldorf Astoria Amsterdam
It doesn't get much more lavish than the timelessly chic Waldorf Astoria, one of the best canal view hotels in Amsterdam, comprising six terraced Dutch palaces.
Sitting along the Herengracht, Amsterdam's most important canal, the Waldorf Astoria has an enviable location. In minutes, you can walk to Rembrandtplein and the Skinny Bridge.
The amenities at this hotel are second to none. Guests can dine at the two Michelin-starred Spectrum restaurants and sip on unique craft cocktails in the hotel's cozy bar. Recharge with a facial or massage at the spa, where you'll find an indoor pool and fitness center.
Spend the night in rooms that are as gorgeous as you'd expect, with fresh yet classic furnishings and majestic canal views. If plush bathrobes, premium linen, and king-size beds aren't enough, you can upgrade to one of the spacious suites or lofts.
2. Andaz Amsterdam Prinsengracht – a concept by Hyatt
The most funky hotel in Amsterdam, the Andaz is a taste of modern luxury with a twist.
Many highlights are less than a 15-minute walk from the hotel's Prinsengracht canal location, including Vondelpark and the Rijksmuseum, placing it amongst the top canal hotels in Amsterdam.
Offering some fantastic amenities for residents, you'll have to pay a visit to the amazing Bluespoon restaurant, which serves up international cuisine. There's also a spa, fitness center, bike rental facilities, and an incredibly glamorous bar.
Pet owners will be glad to know that the Andaz is dog-friendly, and your pup will be treated like royalty for an additional fee.
The rooms here are some of the most unique in the city. In addition to unconventional artwork and a blend of classic and quirky furniture, each room boasts a walk-in shower and a well-stocked mini-bar.
3. De L'Europe Amsterdam – The Leading Hotels of the World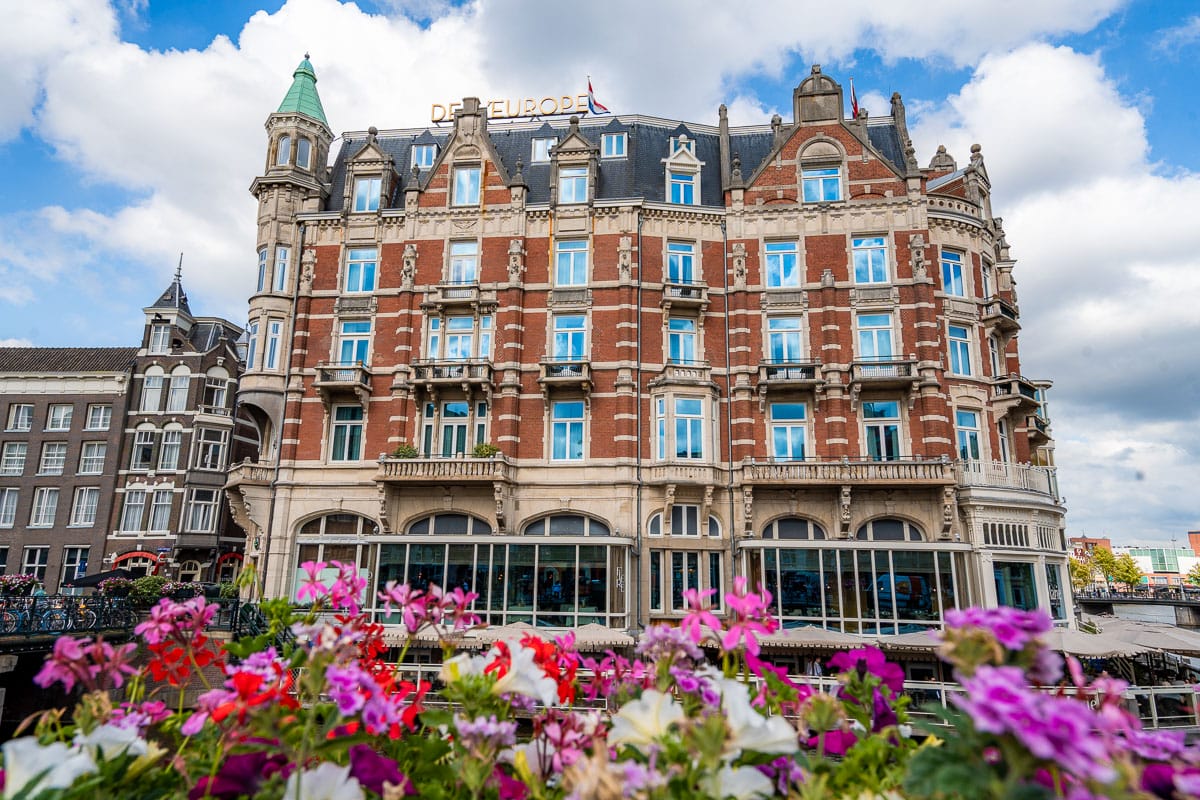 Having been named the best city hotel in the world for 2023, De L'Europe Amsterdam needs no introduction.
Just 8 minutes from Dam Square or a 10-minute stroll to the captivating Leidseplein nightlife district, almost everywhere you'll need to be is within walking distance from the property. If it's too far to walk, the nearest metro station is just 220 meters (722 feet) away.
Not only is this arguably the best Amsterdam hotel with canal views, but it's also home to some excellent facilities. From the fine-dining Flore, with no less than two Michelin stars, to the French and Italian restaurants, you can sample some of the finest food in town without leaving the hotel.
You'll also find a classy jazz bar, top-of-the-range spa, and 24-hour gym on site.
All rooms and suites are designed to retain the building's history without compromising modern comforts. Marble bathrooms, Apple TVs, and even motion-detecting floor lights are on offer in all rooms.
4. Boutique Hotel The Noblemen
Hotel The Nobleman manages to seamlessly blend the old with the new in this remarkably charming canal hotel in Amsterdam.
The hotel makes reaching all the top sites accessible, with spots like Rembrandtplein and the Royal Palace just 10 minutes away. Alternatively, you can give your feet a rest and hop on at one of the metro stops.
Guests consistently rave about the hotel's breakfast, which is made to order and served to your room each morning. Also on site is a hidden spa facility where you can book a private session for the sauna and Turkish hammam.
Spend your vacation in the signature rooms with ultra-comfortable beds that even have steps up to them! Hotel The Nobleman goes the extra mile with additions like Dyson hairdryers, Nespresso machines, and smart TVs.
5. The Pavilions Amsterdam, The Toren
A touch of old-world glamor in the hip Jordaan neighborhood, The Pavilions Amsterdam, The Toren, is at the heart of the city's bustling center.
Aesthetic cafes and some of Amsterdam's best breakfast spots are just steps from the hotel, as are some of the city's bucket list attractions that need to be included on your 3 day Amsterdam itinerary. The Anne Frank House is just a 2-minute walk away, while in 10 minutes, you can be at Dam Square.
A firm favorite amongst residents, the colorful and cozy Lounge Bar is where you'll tuck into your breakfast each morning. On a sunny day, the outdoor terrace and garden are exactly where you'll want to chill out.
Set in two 17th-century buildings, rooms are designed to showcase a more modern take on the elegant rooms that once stood in the same building. Unwind in the bathtub before slipping into your bathrobe and slippers.
6. Hotel The Craftsmen
Are you wondering where to stay in Amsterdam to take in some wonderful vistas from your room? Check out the Hotel The Craftsmen, where innovation and grandeur meet.
You can easily explore some of Amsterdam's must-visit landmarks with the Beurs van Berlage, the World's Narrowest House, and the Royal Palace only minutes away. Cafes and shops are right on your doorstep here.
You'll find the Craftsmen Kitchen right beside the property, preparing fresh takeaway sandwiches and juices daily. Continental breakfasts are included with each room, and guests can also make use of the laundry facilities.
With teeny single rooms for solo travelers and spacious lofts and family rooms for up to four guests, you'll find whatever you're looking for here.
Anyone interested in interior design will be drawn to the signature rooms, each filled with nontraditional decor. Luxury toiletries and Nespresso coffee feature in all rooms.
7. Hotel 717
Sitting pretty alongside the Prinsengracht canals, Hotel 717 is a boutique lodging with immaculate guestrooms and attentive butlers.
Everything from the Rijksmuseum and the Van Gogh Museum to the Heineken Experience is within a 15-minute walk along the canals from the hotel, and the metro is less than 10 minutes away for anywhere a little further away.
Hotel 717 is a five-star hotel with the facilities to match. Think in-room massages, delectable breakfasts, a Michelin-star chef, and even a packing service where the staff will take care of unloading your bags!
Choose between 7 room styles, each with neutral white and navy furnishings and upholstery. Make the most of your stay and soak up the dazzling city and canal views. Picture yourself enjoying a drink from the fully-stocked mini-bar in your room while watching the boats go by.
8. The Dylan Amsterdam – The Leading Hotels of the World
A boutique hotel that provides a quiet escape from the hustle and bustle of the city center, The Dylan is rightfully considered to be one of the top canal hotels in Amsterdam.
Situated along the Keizersgracht canal, the Dylan is a 10-minute stroll from the exciting Leidseplein district, filled with busy bars and restaurants. The Anne Frank House is just 8 minutes away, while you can be at Dam Square in less than 15 minutes.
You'll get a little bit of everything at the Dylan. Two acclaimed restaurants are located onsite, one fine-dining spot with two Michelin stars and another brasserie ideal for laid-back dining. You can also treat yourself to a massage or chill out on the terrace.
The hotel has an impressive selection of rooms and suites available to guests, from chic double rooms with sophisticated decor to two-story suites overlooking the canal. No matter what option you go for, you can expect luxury toiletries, a coffee machine, and super-fast WiFi.
9. Ambassade Hotel
When you think of Amsterdam, the Ambassade Hotel is everything you picture, especially as it's set across 15 traditional canal-side homes.
Among the hotel's top selling points is its handy location. From the Houseboat Museum to the Royal Place, the Ambassade Hotel makes exploring the city easy and convenient.
On top of the highly-rated breakfast, guests can enjoy the hotel's many other amenities, such as the French restaurant that caters to all dietary requirements, the in-house art collection, and the casual bar.
After, you can burn it off by taking on Amsterdam like a local with the property's bike rental service.
You're assured of having a restful night's sleep whether you're staying in the split-level suite or the charming deluxe room, as all rooms are kitted out with unlimited tea and coffee, free water, and a flat-screen with tons of international channels.
10. Tivoli Doelen Amsterdam Hotel
Amsterdam's oldest lodging, the Tivoli Doelen, has been welcoming guests for hundreds of years. The location is almost as fabulous as the property, with busy squares like Waterlooplein and Rembrandtplein only a few minutes away, taking you into the middle of all the action.
Filled with premium facilities, residents at the Tivoli Doelen can organize tours and excursions through the guest relations service, sample Dutch cuisine at the Omber restaurant and bar, and start their day with a scrumptious breakfast.
Stay the night in the hotel's minimalistic and stylish rooms, complete with fresh bed linen, marble bathrooms, and Lalique toiletries. Suites at the hotel are modern, with old-school features like fireplaces and vintage wooden furnishings.
Best Mid-Range Amsterdam Hotels with Canal Views
11. Park Plaza Victoria Amsterdam
The stunning Park Plaza Victoria is set in an ancient building directly opposite Amsterdam Central Station, making your journey to and from the airport much easier.
You have got the best location possible when you stay at the Park Plaza Victoria. Eccentric tourist attractions like the Sexmuseum Amsterdam are seconds away, while the likes of the A'DAM Lookout are just a 10-minute walk.
You'll have your pick of restaurants at the Park Plaza Victoria, from upmarket dining experiences to casual eateries and a cafe to lounge in. The hotel's wellness center is home to a gym, sauna, and Amsterdam's largest indoor pool!
As well as having canal or city views, each spacious, air-conditioned room has Egyptian cotton bedding and a Nespresso machine. Walk-in showers, Chromecast smart TVs, and mini-fridges are in all rooms.
12. The Hoxton, Amsterdam
The Hoxton is a sophisticated contemporary hotel along the Herengracht canal with trendy touches, where you'll instantly feel at home.
Within 400 meters (1312 feet), you'll find the Anne Frank House, the Royal Palace, Madame Tussauds, and the Houseboat Museum. Better yet, it's only a 20-minute ride from the airport.
Though the hotel has plenty of amenities for your comfort, you'll be especially impressed with Lotti's Bar and Restaurant, which focuses on all-day dining from 7 am until midnight. The dishes here are absolutely divine!
What I love about The Hoxton is their choice of rooms, as each suite style is available with and without a view, making it easy to ensure you snag one that looks over the canal.
Decorated with period furniture and eclectic modern touches, the rooms here have all the essentials, including a work desk and complimentary toiletries.
Save some cash with their self-described shoebox rooms or splash out on their super fancy concept rooms, each featuring a different theme.
13. Eric Vökel Boutique Apartments – Amsterdam Suites
Designed to combine Nordic and Mediterranean accommodation styles, the swanky apartments at Eric Vökel Boutique Apartments house up to 6 people and provide excellent value for money.
Just 4 minutes from Central Station, you'll have quick access to numerous metro, bus, and tram routes. As you wander the canals, you'll be surrounded by lots of quaint shops and cozy cafes, sure to keep you occupied during your stay.
Featuring many facilities that you'd find in any hotel, these boutique apartments have a 24-hour reception service, nearby parking, and speedy WiFi throughout the property.
If you're the type of person who likes to really feel at home when you're traveling, you'll find these apartments fantastic, as they boast full kitchenettes and laundry facilities.
14. Hotel Estheréa
This adorable hotel has an interior even more beautiful than the stunning building it calls home. Hotel Estheréa is set in an ideal location for anyone who loves to discover a new area on foot.
Lying on the Singel canal, dozens of fabulous restaurants and cafes surround the hotel, while the must-see Dam Square and Historical Museum are just minutes away.
Keeping the traditions of hospitality from the original owners alive, the Hotel Estheréa provides guests with plenty of brilliant amenities, from their timelessly decorated 24-hour bar and well-maintained gym to the library filled with picture and coloring books to keep the kids entertained.
You won't be disappointed with any room options at Hotel Estheréa, as they all feature a refrigerator, a private bathroom, a safe, and a TV.
Larger rooms also have living areas and extras like a chandelier and jacuzzi tub. With floral wallpaper and bed linen to match, every room is a feast for the eyes!
15. Hotel BOAT & CO
A cross between a hotel and an apartment complex, Hotel BOAT & CO is a superb lodging along Amsterdam's canals.
If you prefer to stay a little out of the center without being too far from the highlights of the capital, this is one of the best Amsterdam hotels with canal views for you. You'll never be too far away; you can hop on a bike or the metro and be at spots like the A'DAM Lookout and Westerpark in no time.
This four-star hotel has some wonderful facilities available for visitors, including a restaurant preparing everything from fresh seafood to unique cocktails and a relaxing wellness center. If you're stuck, you can even get a trim at the onsite barber's.
Pick from the Hotel BOAT & CO's studios, penthouses, and everything in between. All your home comforts can be found in your room, from well-equipped kitchens to spacious living areas to king-size beds.
16. 't Hotel
't Hotel is a small hotel that packs a big punch, with eight aesthetically pleasing rooms perched up on the side of one of Amsterdam's picturesque canals.
If the Anne Frank House, Dam Square, and the National Monument are on your list (which I'm sure they are!), you can easily walk to these attractions from this spot.
This delightful little property dates back to the late 17th century, managing to preserve the building's heritage while updating it with modern comforts, including fulfilling breakfasts and free WiFi throughout.
Every room at the 't Hotel has its own decor and character, with stand-out wallpapers color coordinated with the furnishings and upholstery. Flat-screen TVs, mini-fridges, and extra-long beds are some additional features you're sure to enjoy during your stay.
17. Sir Adam Hotel, part of Sircle Collection
As part of the famous A'DAM tower, the Sir Adam Hotel is home to some of the finest views in Amsterdam. Looking out over the IJ-river, this spot is near the likes of the EYE Film Institute, Oeverpark, and the World's Narrowest House.
Jump aboard the ferry from right outside the hotel, and you'll reach Central Station in minutes. Once you've arrived on the other side of the river, you can cycle to the likes of the Rijksmuseum or Rembrandtplein in under 15 minutes.
You won't have to go far to get a good feed, as the hotel's famous restaurant, The Butcher, serves brunch classics and mouthwatering burgers all day. Other much-loved amenities include the outdoor seating area, bike hire, and the gym with in-house instructors.
In addition to the all-important city views, coffee machines, rain showers, and mini-bars, the rooms at Sir Adam have some unusual features centered around the music industry, like record players and Gibson guitars!
18. Hotel Jakarta Amsterdam
As the name suggests, Hotel Jakarta is an Indonesian-inspired hotel that pays homage to its storied past. Sitting along the waterfront where ships once left for Jakarta, this property is just 1.2 km (0.75 miles) from The National Maritime Museum and a 20-minute stroll from the Artis Zoo.
Hotel Jakarta is home to three restaurants where you can munch on your complimentary breakfast as you gaze over Amsterdam's canals. Head to the Sky Bar as the sun goes down for even better views. The property also has a gym and indoor swimming pool for guests to use in their free time.
River-facing suites and tropical rooms are all the rage here. While some even have balconies or bathtubs mixed in with Indonesian designs, TVs, and bathrobes.
19. Hilton Amsterdam
In a laid-back part of town along the Noorder-Amstel canal, you'll find the lovely Hilton Amsterdam. Although set in a quiet location, you're still just 1 km (0.6 miles) from Vondelpark and an 8-minute cycle from the Heineken Experience.
With some top-notch facilities, you can put your feet up after a day of exploring and order room service or grab some Italian dishes at Roberto's. If you're keen to stay fit while on vacation, you'll appreciate the Hilton's onsite gym.
The rooms at the Hilton Amsterdam really have it all, from 49″ HD flat-screen TVs to well-appointed bathrooms with complimentary toiletries.
20. Hotel Okura Amsterdam
Hotel Okura is a five-star property that looks over Amsterdam's incredibly pretty canals and prides itself on their Japanese-influenced hospitality.
Less than a 10-minute walk from the metro station, you can get to all of the tourist hotspots with ease from Hotel Okura, including the Van Gogh Museum and the Rijksmuseum.
The amenities at Hotel Okura speak for themselves: Michelin-star restaurants specializing in Japanese and European cuisine, a full-service spa, and a fitness center with a sauna, indoor pool, and jacuzzi.
A stay here guarantees you a rest in a sleek guest space where East meets West, filled with natural light, breathtaking canal views, and modern touches like mood lighting and curtains that can be adjusted with the touch of a button.
Best Budget-Friendly Amsterdam Hotels with Canal Views
21. Olympic Hotel
Proving that you don't need to stay right in the city center to find Amsterdam hotels near canals, the Olympic Hotel is the perfect place to rest your head for a couple of nights.
Nicely placed 2.7 km (1.7 miles) away from Vondelpark, guests can rent a bike and cycle wherever they want during the day.
There are endless facilities at the Olympic Hotel for visitors; break a sweat in the onsite fitness center, have a bite at the breakfast buffet, or catch a movie in the shared TV lounge.
Thanks to the soft color scheme and simplistic decor, the rooms at the Olympic Hotel feel like a world away from the chaos of Amsterdam, where you can enjoy the view from the floor-to-ceiling windows and have your pick of international TV channels.
22. Hotel des Arts
Affordable rooms in a prime location? Yes, please! This is why this place definitely deserves a place on the list of the best Amsterdam hotels with canal views.
Hotel des Arts is a family-run hotel within walking distance from pretty much any Amsterdam attraction you can think of, with the Leidseplein district, Rembrandt House, and the Royal Palace less than 600 meters (1,970 feet) away.
What really sets the Hotel des Arts apart from others is its amenities. Begin your day with the hotel's much-loved buffet breakfast, enjoy some snacks and tea and coffee in the lounge, or surprise your other half with a bottle of bubbly delivered to the room.
Every morning, you can soak up the canal views from a homely attic room or spacious, family-friendly room. All the spaces at Hotel des Arts feature gorgeous vintage furniture, secure WiFi, and tea and coffee facilities.
23. Boutique Hotel View
Boutique Hotel View is a modern hotel set in a traditional canal house in a buzzing corner of Amsterdam. If you want to experience the city's renowned nightlife, you can hit up the bars at Leidseplein in seconds from here or tick some sights off your itinerary at the nearby museum district.
This spot has all the necessities for a city break. Add on a continental or hot breakfast with your booking, and make the most of the onsite massage services. Anyone with an evening flight can leave their bags in the hotel's secure storage area and finish exploring the city.
You can catch up on some sleep in the comfortable rooms designed to retain the spirit of the historic building while including free toiletries, coffee machines, and ironing facilities.
24. NL Hotel District Leidseplein
Guests can have the best of both worlds at the NL Hotel, close to Amsterdam's best-loved areas but with undisturbed rooms tucked away along the canals.
Dam Square and the Heineken Experience are only 1.6 km (1 mile) away, while the best of the city's bars and cafes are a short stroll from the property.
As well as the speedy WiFi, this hotel offers laptops and prepaid phones for guests who need to check up on some work or make a quick call.
You'll find elegant double rooms for couples and solo travelers and roomy canal-view alternatives for families and larger groups at the NL Hotel District Leidseplein. Each is decked out with flashy private bathrooms, air-conditioning, and cable TV.
---
Planning a trip to Amsterdam?
Then you might want to take a look at all our other travel guides about Amsterdam. I promise, they are just as awesome as this article was!
---
Related Posts
Want to read more about the Netherlands?
---
More Amsterdam Resources
Want to know even more about Amsterdam? Check out these awesome books and travel guides for more inspiration!