Amsterdam is one of Europe's most buzzing cities famed for its vibrant arts scene, picturesque canals, chilled-out cafes, and world-class museums. Spending 3 days in Amsterdam is just the right amount of time to get to grips with the city.
In this Amsterdam 3 day itinerary you'll find out the top things to see and do from the Van Gogh Museum and Royal Palace to canal cruises, city walks, and of course some excellent cafes and restaurants.
If you're a foodie, you're going to love Amsterdam as it's packed with a wide variety of eateries from cheap eats and street food to Michelin-starred dining. Oh, and who doesn't love Stroopwafels, right?
So let's see how to see the best of Amsterdam in 3 days!
*Disclosure: This post contains a few affiliate links, which means I may receive a small commission, at no cost to you, if you make a purchase through my link.*
No time to read now? Pin it for later!
Useful Info for Spending 3 Days in Amsterdam
How to get to Amsterdam
Amsterdam is served by Schiphol Airport which is one of the busiest in the world (the 13th busiest in fact) with flights to and from destinations around the globe.
It's a piece of cake getting from the airport to the city center. The cheapest and quickest way to get downtown is to take the airport train which costs just €5.90 and takes only 20 minutes. If you're looking for a more comfortable way of arriving at your hotel, then you can also book an airport transfer.
The city is also served by trains and buses from across Europe, and if you're coming from the UK, you can take advantage of the Rail and Sail deal with Stena Line which includes the ferry and rail connections on either side.
Best time to visit Amsterdam
The beauty of Amsterdam is that it's a great city to explore at any time of the year and bursting with fun things to do.
The shoulder seasons of spring and fall are best as you'll avoid the worst of the crowds, but the weather is still pleasant enough to sit outside and enjoy a coffee or a cold beer.
Summers are warm with average daily temperatures around 18˚C to 22˚C (64˚F to 72˚F), and winters are a little on the cold side with temperatures from 3˚C to 7˚C (37˚F to 45˚F).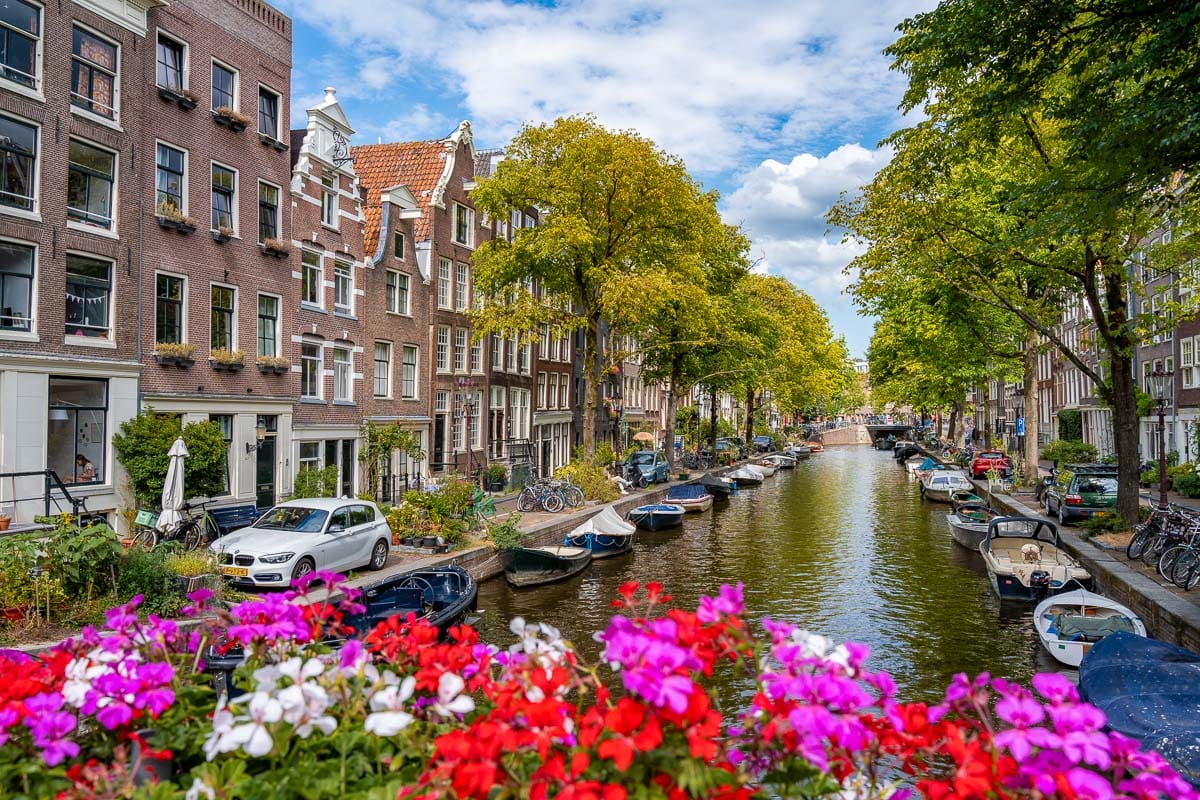 How to get around Amsterdam
The Dutch capital is easy to navigate on foot with many of the top tourist attractions within walking distance. Make sure to pack comfortable shoes as you'll be walking around a lot during your 3 days in Amsterdam!
If you want to see the best of Amsterdam in 3 days, then it makes sense to grab a GVB ticket which includes unlimited rides on the bus, tram, and metro, and even bike hire. A 72-hour ticket costs €21 which is a really great deal, considering that a one-way ticket costs €3.40.
Important note: Transportation to and from the airport is not included in this ticket, so make sure to purchase a separate ticket for that.
Another great option for getting free public transportation in Amsterdam is the I Amsterdam City Card. With this card, you get unlimited access to Amsterdam's public transport, as well as free entrance to many museums and attractions, plus discounts at a bunch of other sights.
The city is famed for its many bicycles, and this is another excellent way of getting around. However, getting around by bike within the city limits is definitely not for the faint-hearted! Riding in the city center can be quite chaotic so I would only recommend doing this if you are an experienced rider.
Where to stay in Amsterdam
If you're a first-time visitor, then you'll want to stay close to the city center, and there are plenty of options. Hip De Pijp is the city's bohemian quarter and home to some of the best bars and streetside cafes.
If you're looking for something a little more upmarket, then Jordaan is an excellent option with its gorgeous 17th-century townhouses and top-class restaurants. Oud West is another charming area with leafy parks and plenty to do.
If you want to read more about the best areas to stay in the city, make sure to check out our in-depth post about where to stay in Amsterdam. For an unforgettable stay, browse through the list of the best Amsterdam hotels with canal views or the best boutique hotels in Amsterdam.
In case you're in a rush, here are my top hotel recommendations for different budgets.
LUXURY – Anantara Grand Hotel Krasnapolsky Amsterdam
Conveniently located on the edge of Dam Square in the heart of Amsterdam, this 5-star hotel offers stylish rooms with amazing views. There's also a grand cafe, a winter garden, and a Michelin-star restaurant on site.
MID-RANGE – NH Amsterdam Schiller
Set in a historic building only a 10-minute walk from Dam Square, NH Amsterdam Schiller benefits from a central yet quiet location. The hotel features elegant rooms and offers easy access to the most famous Amsterdam attractions, such as the floating flower market or the Jewish quarter.
BUDGET – Bridge Inn
If you're looking for a budget-friendly place to stay for your 2 days in Amsterdam, look no further than Bridge Inn. Located in the popular Jordaan neighborhood, this hotel offers cozy rooms with canal views, as well as a 24-hour front desk and luggage storage space.
Overview of Your 3 Day Amsterdam Itinerary
Breakdown of your 3 days in Amsterdam
Day 1: Free Walking Tour, Jordaan & De 9 Straatjes, Anne Frank House, Stroopwafels, Bloemenmarkt, Begijnhof
Day 2: Museumplein, Albert Cuyp Street, Heineken Experience, Vondelpark
Day 3: Royal Palace of Amsterdam, Damrak Canal Houses, Canal Cruise, Basilica of St. Nicholas, Volendam, A'DAM Lookout, Red Light District
Map for your Amsterdam 3 day itinerary
Below you can find a customized map that includes all the locations you're going to visit on this Amsterdam itinerary.
I marked your 3 days in Amsterdam with different colors – I used blue for the first day, green for the second day, and red for the third day, so you can easily see which places you're going to visit each day.
If you open up this post on your phone and click on the bracket in the upper right corner of the map, it will open up in your Google Maps app so you can always have it with you. Super convenient, right?
Day 1 of Your 3 Days in Amsterdam Itinerary
Breakfast (Omelegg or Mortimer)
There's no better way to start your 3 days in Amsterdam than with a hearty breakfast! You'll be pleased to know that this is something the city does incredibly well and you can find many amazing breakfast places in Amsterdam.
One of the best places to load up on protein before a day's sightseeing is Omelegg. You'll not be surprised to learn that this eggcellent restaurant specializes in – you guessed it – eggs!
You can choose from a huge menu of omelets of every shape and size from halloumi to BBQ sausage, gorgonzola bacon, and one of the greatest hits, the Viking Fisherman with salmon and dill.
If you're not that eggcited about eggs (okay, that's enough of the egg puns), then Mortimer is another fab option located in the heart of the city.
This breakfast behemoth boasts some of the best coffee in the city, tasty American pastries, croissants, sandwiches, and a delicious full English breakfast that'll definitely set you up for a day of exploring.
Free Walking Tour
I always find the best way to orient yourself in any new city is to take a free walking tour. You also get the lowdown from a local so it's a great way to learn a little about the history from someone who lives in the city.
Free Walking Tours Amsterdam has a range of options from the Classic Amsterdam tour to food tours, museum tours, and a spooky Dark Side of Amsterdam tour.
I recommend the Classic Amsterdam tour as this will give you a good insight into the history of the city from its association with marijuana to its biking culture, Dutch food, the city's famously liberal values, and a lot more.
The tour lasts 2 hours and sets off from the National Monument in the city center at 10:30 am, 11 am, and 4 pm every day.
Although it's a free tour, it's customary to tip your guide after the tour if you enjoyed it. The best thing is that you can decide exactly how much you tip based on your own budget, so it's one of the best things to do in Amsterdam even for budget travelers.
Lunch (Piqniq or Pancake Bakery)
After exploring central Amsterdam and learning about its history, you'll have no doubt worked up an appetite. Picniq is one of the city's top lunch spots thanks to its excellent range of sandwiches, salads, soups, and baguettes.
The portions are quite small, but this is intentional as this way you get to try several different items from the menu. It's recommended to choose at least three items per person which cost €13.40 so it's still very budget-friendly.
The pulled-chicken focaccia is a must-try, and there are also vegetarian and gluten-free options. Just be aware that Pincniq is closed on Tuesdays and Wednesdays.
Another great lunch place is The Pancake Bakery on Prinsengracht which sits right on one of the canals. You can choose from a range of sweet and savory pancakes from around the world including French, Greek, Hungarian, Indonesian, and even Greenlandic.
Insider tip: You get a 25% discount at The Pancake Bakery with the I Amsterdam City Card so make sure to use it if you have one!
Jordaan & De 9 Straatjes
The next stop on your 3 day Amsterdam itinerary is the suburb of Jordaan which is located right in the city center. It incorporates the UNESCO-listed canal ring and the "9 Streets" (De 9 Straatjes), one of the best shopping areas of the city.
This bustling area dates back to the 17th century when the city was an important shipping hub. It's also where you'll find some of the city's most Instagrammable streets around the canals, boutique shops, and quaint little eateries.
Exploring these areas is more about soaking in the atmosphere and less about sightseeing. Allow yourself to get lost amongst the meandering streets and beautiful canals.
If you could use a coffee break, head over to one of my favorite cafes in Amsterdam – Le Petit Deli. It's a cute little café with French-inspired decor and incredibly delicious pastries and cakes.
Anne Frank House
One of the most moving museums in Amsterdam is the Anne Frank House. The former home of the Van Pells family contained the annex in which they housed the Frank family as they hid from the Nazis who occupied the Netherlands during World War 2.
The house has been preserved as a museum that tells the tragic story of Anne Frank through a series of exhibitions, photographs, and videos.
A great way to get a better understanding of wartime Amsterdam is to combine a trip to the Anne Frank House with this walking tour which takes place in the city's Jewish Quarter where you'll hear stories about Anne and her family during the war.
Tickets to the museum cost €16 for adults and €7 for children aged 10-17. It's open daily from 9 am to 10 pm and is a must-visit on your 3 days in Amsterdam itinerary.
Visiting Anne Frank House is one of the most popular things to do in Amsterdam and therefore getting tickets is a bit challenging.
Tickets are released every Tuesday for the following six weeks, and they sell out very quickly, so make sure to plan ahead. I recommend booking your tickets at least one month in advance if you want to be sure.
Since it's a timed-entry ticket and you don't always have the option to choose your preferred time, you might have to move the activities in your 3 day Amsterdam itinerary around a bit.
Stroopwafels at van Wonderen Stroopwafels
If there's just one food you need to try during your 3 days in Amsterdam, then it has to be the deliciously decadent stroopwafels. And just like Guinness in Dublin, they definitely taste better in Amsterdam than anywhere else!
For the uninitiated, a stroopwafel is a sweet, lattice waffle sandwich with a caramel center that was first made in the Dutch city of Gouda in the early 19th century.
You'll find these sweet treats for sale in bakeries and from mobile vans around the city, but one of the best places to try them is at van Wonderen Stroopwafels on Kalverstraat.
As well as the traditional waffle, van Wonderen are famed for their huge array of toppings from chocolate to fruit, nuts, fresh cream, and a whole lot more (the marshmallow is my personal favorite).
Chances are you will see a bit of a line outside if you happen to be visiting during the day but don't worry, the line usually moves quickly, and it's absolutely worth the wait!
Bloemenmarkt
The Netherlands is famed for its windmills, clogs, and of course tulips, daffodils, and other flowers. If you have just 3 days in Amsterdam, then a trip to the picturesque Bloenmarkt floating flower market is an absolute must.
The market sits on the Singel Canal and is the only one of its kind in Europe. It dates back to 1862 and has changed little since then, conjuring images of Amsterdam's rich cultural heritage.
The market is open Monday to Saturday from 9 am to 5:30 pm and on Sunday from 11 am to 5:30 pm and is free to enter.
Begijnhof
The gorgeous Begijnhof is a series of 164 houses dating back to the 14th Century in the heart of the city and incorporates some of the most impressive architecture to be found in Amsterdam.
The dwellings are located around a peaceful courtyard and were once homes to Amsterdam's beguines, women who had dedicated their lives to helping those in need.
If you want to escape the hustle and bustle of the city, this is the perfect place to find a little tranquillity in beautiful surroundings.
The Begijnhof is open daily from 9:30 am to 6 pm and is another of the excellent free things to do in Amsterdam as there is no entry fee.
Dinner at Fabel Friet
The Netherlands is also famous for its amazing friet (fries, or chips) and the best place to indulge in a portion is at Fabel Friet on Runstraat. The fries come with a selection of toppings, but if you want to try the most popular combo, make sure to order your fries with Parmesan cheese and truffle mayonnaise!
The fries are cooked in plant-based oil so this is also a great option for vegetarians and vegans. You can eat at the restaurant inside, but I find they taste a little bit better if you order to take away and enjoy them next to the canals.
A medium portion of fries costs just €3.95 with toppings from €1, making this an excellent option for budget travelers. The menu also includes other Dutch classics including croquettes and crispy breadcrumb pancakes with a selection of fillings (the shrimp one is seriously yummy).
Fabel Friet is open from Monday to Thursday 12 pm to 8 pm and Friday to Sunday from 12 pm to 9 pm. It's a really popular place to eat so the lines are usually pretty long. However, since it's a fast food restaurant, it moves super quickly so you will have your dinner in hands in no time!
Day 2 of Your 3 Days in Amsterdam Itinerary
Breakfast at Bakers & Roasters
Start the second day of your 3 day Amsterdam itinerary at Bakers and Roasters, a homely coffee shop and cafe run by a Kiwi (New Zealander) and a Brazilian who share their love of good coffee, street food, and dishes from their home countries.
Choose from a delicious selection of breakfasts and brunches including the Kiwi Brekkie (a bit like a full English but with garlicky spinach, creamy mushrooms, and homemade tomato relish).
The Brazilian huevos rancheros is a breakfast winner and sure to set you up for the day. There are also vegetarian options, American-style pancakes, and a wonderful selection of homemade cakes to go with your morning coffee.
Museumplein
The Museumplein is Amsterdam's museum quarter and is home to three of the city's top museums; the Rijksmuseum, Van Gogh Museum, and the MOCO Museum.
I recommend checking out at least one or two of these, depending on how much time you have.
Rijksmuseum
The Rijksmuseum houses the largest collection of paintings from the Dutch Golden Age and contains pieces by Rembrandt, Jan Steen, and Frans Halls among other Dutch luminaries.
If this is your first time in the city, I definitely recommend checking out the museum, even if you have only one day in Amsterdam!
The museum has an impressive collection of almost 8,000 artifacts and artworks, so allow yourself at least 2-3 hours to explore the museum. It's open from 9 am to 5 pm every day, and an adult ticket costs €22.5 (free for children under 18 years old).
If you want to learn more about the museum and the exhibitions, you can also book a guided tour with a reserved entrance.
Insider tip: Entrance is free with the I Amsterdam City Card!
Van Gogh Museum
A visit to the Van Gogh Museum is an essential part of any 3 day Amsterdam itinerary, especially for art enthusiasts. Housing the largest collection of works by Vincent Van Gogh, the museum offers a comprehensive insight into the artist's life and his captivating artwork.
Inside, you'll find over 200 paintings, 500 drawings, and 700 letters by Van Gogh himself. The museum takes you on a chronological journey through his life, showcasing his development as an artist, his struggles with mental illness, and the profound influence he had on 19th-century art.
Iconic works like "The Potato Eaters," "Sunflowers," and "Almond Blossom" are on display, along with lesser-known pieces.
However, securing tickets to this popular attraction can be challenging due to its high demand. It's highly recommended to book your timed-entry tickets online well in advance of your visit to guarantee entry. The entrance ticket costs €20 per person.
Moco Museum
If you're more of a contemporary art fan, then the Moco Museum is a must. Short for Modern Contemporary Museum, it houses a fascinating blend of works from renowned artists like Andy Warhol, Banksy, Damien Hurst, and Tracey Emin.
The museum is particularly celebrated for its extensive Banksy exhibition, showcasing his iconic street art pieces that critique societal issues and consumerism.
Entry costs €21.95 per person, and the museum is open from 9 am to 9 pm.
Insider tip: Entrance is free with the I Amsterdam City Card!
Lunch at Coffee & Coconuts
After exploring Amsterdam's world-class museums, you'll need a pit stop, and Coffee and Coconuts provides the perfect place just a 15-minute walk from Museumplein (they've also just opened a new space in the Zuidas district).
In addition to a huge selection of coffees, freshly squeezed juices, coconut-based drinks, and cocktails, there is an extensive food menu serving everything from sandwiches and salads to wraps, cakes, and even kimchi!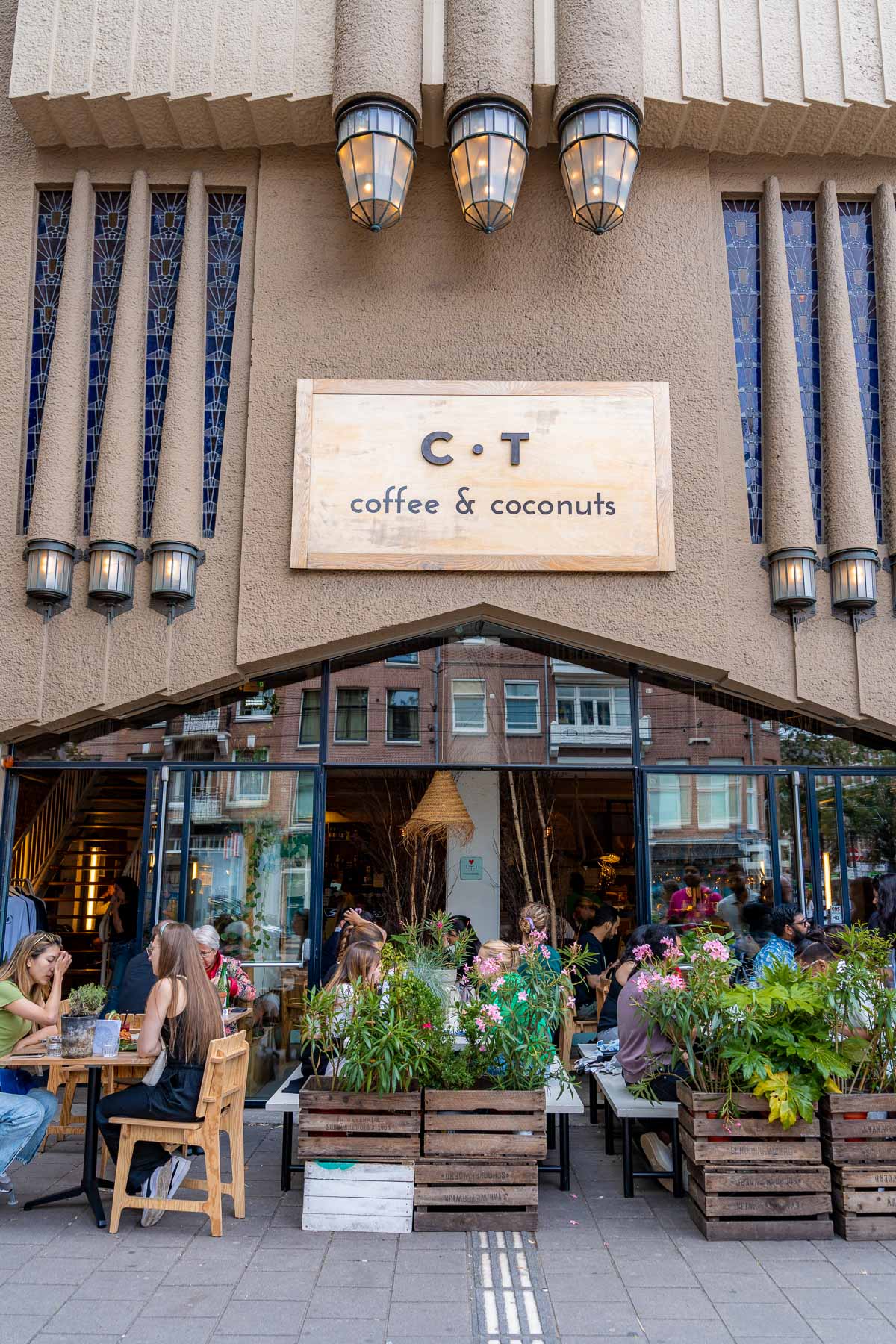 Albert Cuyp Street
Albert Cuyp Street is home to "the most beautiful market in Amsterdam" (though personally, I think the Bloenmarkt gives it a run for its money). This vibrant part of the city is packed with market vendors and street food sellers and shouldn't be missed on your 3 days in Amsterdam.
Here you'll find everything from artisan foods to clothing, arts and crafts, and household items. The market is located in the de Pijp neighborhood and sandwiched between one of the canals and the Sarphatipark.
The market is open Monday to Saturday from 9:30 am to 5 pm (closed Sundays). This Dutch Street Food Market Tour is the perfect way to explore Albert Cuyp Street and indulge in some of the best street food the city has to offer.
Heineken Experience
If you're a beer-lover, you won't want to miss the Heineken Experience where you get to explore the brewery and learn all about the beer-making process – and of course, sample the finished product.
The brewery was built in 1867 by Gerard Adriaan Heineken and is now one of the most famous beers in the world thanks to sponsorship deals with UEFA, the Rugby World Cup, and Formula 1.
You have the option of a self-guided tour with an audio guide in 6 different languages, or you can opt for the VIP experience which includes entrance to the museum, a guide, 5 beers, and snacks.
Vondelpark
After all the excitement of bustling markets, museums, and beer, take some time out on your 3 days in Amsterdam to relax in the tranquil surroundings of the Vondelpark, known locally as Amsterdam's green lung.
The park is perfect for summer picnics around the large lake, and there are annual events held throughout the year from concerts to plays and food festivals. It's open 24 hours and free to enter.
Dinner (Foodhallen or Paindemie)
If you're a foodie, you'll want to make your way to the Foodhallen for dinner. There's a huge range of tastes and flavors on offer from burgers and pizza to dim sum, noodles, sushi, and a mouthwatering selection of dessert and cake stalls.
The Foodhallen is open Sunday to Thursday from 12 pm to 12 am and Friday from 12 pm to 1 am. This is definitely one of my favourite places in Amsterdam for a bite to eat thanks to the incredible array of dishes on offer.
Another fab option is Paindemie (it's also a great place to enjoy a couple of beers). As the name suggests (pain meaning bread), this eatery specializes in massive sandwiches of every description.
Closed, open, hot, cold, you'll be sure to find something mouthwatering on the menu. I know that eating a sandwich doesn't sound that exciting but trust me, this will be one of the most delicious sandwiches you'll ever taste! The egg salad sandwich in particular was exceptionally good.
On the ground floor, Paindemie looks like a standard fast food restaurant, however, if you take the stairs on the right, you will find yourself in a super cool speakeasy bar! Unlike the downstairs area, the bar has table service, and it's recommended to book a table because it's quite popular.
Day 3 of Your 3 Days in Amsterdam Itinerary
Breakfast at Greenwoods Singel
Forget Breakfast at Tiffany's, as breakfast at Greenwoods is where it's at. This was the first all-day breakfast/brunch restaurant in Amsterdam and has been serving hungry customers since 1988, making it something of an institution.
The restaurant is located on the Singel Canal and boasts some of the best views in the city. The massive full English is an excellent way to start the day, but there are also healthy, vegetarian, and vegan options if you're looking for something a little lighter.
Royal Palace of Amsterdam
The next stop on your Amsterdam 3 day itinerary is the impressive Royal Palace of Amsterdam, the official residence of King Willem-Alexander.
It's the largest 17th-century building in the city and includes grand, marble galleries, statues by Dutch artists such as Rembrandt, and a selection of interesting displays and exhibitions.
Although the palace plays host to the King, world leaders, and other dignitaries, it's also open to the public and is well worth a visit for its striking architecture and historical significance.
The Palace is open daily from 10 am to 6 pm and costs €12.50 for adults and €9 for students and is free to all under 18. The ticket also includes an audio guide in 8 different languages.
Damrak Canal Houses
The dancing houses of Amsterdam are so called thanks to the narrow, leaning buildings which give the impression that they are dancing (the reflections in the canal also dance with the ripples of the water).
This is another of Amsterdam's top Insta-spots and definitely worth seeing for the picturesque 17th-century architecture.
The houses are private residences so you won't be able to look inside, but as they are located in the heart of the city, you can get some excellent vantage points from around the canal.
Fun fact: Back in the Dutch Golden Age, houses were taxed by the width of the front of the houses, so the locals built their houses narrow and tall to minimize their tax bills. That's why you can see so many narrow houses in Amsterdam!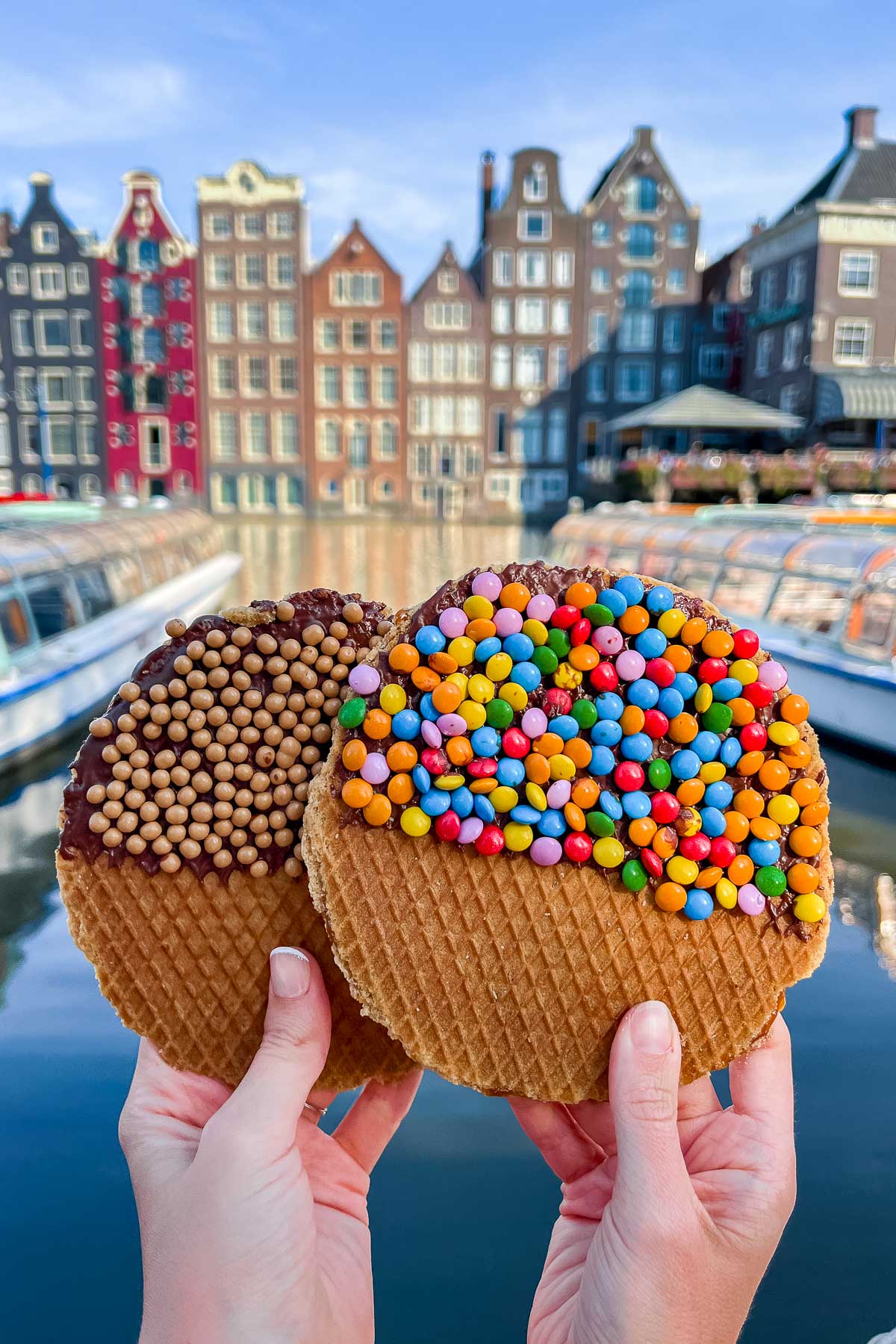 Canal Cruise
You can't go to Amsterdam in 3 days and not take a canal cruise as this is one of the best ways to explore the cute streets and beautiful architecture of the city.
This classic Amsterdam canal cruise will take you on a journey through the heart of the city as you pass landmarks such as the Skinny Bridge, Anne Frank House, and the old harbor.
The tour includes an English-speaking guide, and there is an option to include a wine and cheese tasting (recommended). The experience lasts an hour and is definitely one of my favorite ways to explore the city (especially with a chilled glass of wine on a sunny day).
If you're looking for a slightly cheaper option, take a look at this Canal Cruise. It has frequent departures throughout the day, and it's also one hour long. However, there's no live tour guide on board, but you can listen to the prerecorded audioguide.
Whichever cruise you choose, I would recommend getting your tickets in advance, especially if you're visiting in the busy summer season.
Insider tip: The I Amsterdam City Card includes a free canal cruise so if you have a card, this is your time to enjoy it!
Basilica of Saint Nicholas
The beautiful Basilica of Saint Nicholas was completed in 1887 and is Amsterdam's primary Catholic church in a famously Protestant country.
Although not the oldest church in Europe, it's definitely worth a look for its impressive neo-baroque architecture that rises majestically over Amsterdam's rooftops.
The church is open to the public from 12 pm to 3 pm Monday to Saturday and is free to enter.
Volendam
The gorgeous town of Volendam is just 30 minutes from Amsterdam by bus, so it makes a perfect escape from the city to experience a quieter side of the Netherlands.
The town sits on the shores of Lake Markermeer and is famed for its colorful houses, working harbor, and many seafood restaurants, which are perfect for lunch.
To get there, take bus 316 from Amsterdam Central Station (bus stop H). A ticket costs €6 and the journey time is between 33 and 41 minutes.
After walking around the picturesque harbor, head to the Volendam Museum (free with the I Amsterdam City Card) which is home to a collection of paintings and sculptures by Dutch artists dating back to 1800.
Volendam is actually a really small town so it won't take more than an hour to stroll through the cute little streets.
Even if you opt to visit the museum and have a leisurely lunch, you will only need a maximum of 3 hours which means you can still squeeze in some evening activities to the final day of your 3 day Amsterdam itinerary.
A'DAM Lookout
For the best views in Amsterdam, a trip up to the A'dam Lookout is an absolute must (though best avoided if you're not good with heights).
The observation deck sits at a height of 100 meters (328 feet) and offers unrivaled, panoramic views across the city and surrounding areas.
Daredevils can take a seat on Europe's highest swing for an adrenaline-fuelled ride high above the city. It's an absolutely amazing activity so unless you have a fear of heights, I would definitely recommend trying it out!
There's also a rooftop bar, which is one of my favorite places for a glass of wine in the city. It's especially amazing at sunset as the city lights start to twinkle below.
Entrance to the lookout costs €16.50 (€14.50 when purchased online) for a basic ticket including access to the observation deck. A ride on the swing costs €6 extra and if you want to go all out, you can buy a combo ticket for €24.50 which includes a ride both on the swing and the Amsterdam VR ride.
Red Light District
It's no secret that Amsterdam is known for its red light district and no trip to the city is complete without wandering around the area, which is also home to some great bars and cafes.
Amsterdam's Red Light District, also known as De Wallen, is an intriguing part of the city that's infamous worldwide for its adult entertainment. However, beyond its notorious reputation, it holds a fascinating history and is part of the city's unique cultural landscape.
The neighborhood, one of the oldest in Amsterdam, is characterized by a network of narrow, cobblestone lanes, crimson-lit windows, and charming old buildings.
Here, you'll find an eclectic mix of erotic shops, theaters, and museums, such as the Museum of Prostitution, which provides a candid look into the realities of the world's oldest profession.
Yet, De Wallen isn't solely about the adult industry. Amidst the red glow, you'll discover historic gems like the Gothic-style Oude Kerk, Amsterdam's oldest building, and vibrant bars and cafes offering a taste of the city's lively nightlife.
While exploring, it's crucial to respect the local rules: no photography of the sex workers is allowed, and public disturbances are frowned upon. Though it might not be for everyone, a stroll through the Red Light District provides a unique perspective on Amsterdam's open-minded character and diverse culture.
The best way to see this is to take a red light district tour where you can learn about the history of the area. This two-hour tour with a local guide includes a trip to the city's most famous coffee shop, and you'll get to learn about Amsterdam's famously liberal attitudes to drugs and sex.
Dinner at Mata Hari
Finish off your 3 day Amsterdam itinerary with dinner at Mata Hari in the heart of the Red Light District. The restaurant is named after the famous exotic dancer and spy and encapsulates the area so well.
The menu includes steaks, lamb, Spanish fish stew, and pasta as well as a selection of salads and sides. Expect to pay €20 to €30 for a main dish.
---
Planning a trip to Amsterdam?
Then you might want to take a look at all our other travel guides about Amsterdam. I promise, they are just as awesome as this article was!
---
Related Posts
Want to read more about the Netherlands?
---
More Amsterdam Resources
Want to know even more about Amsterdam? Check out these awesome books and travel guides for more inspiration!
---
What Camera Gear Do We Use?
If you want to read more about what is in our camera bag, check out my detailed post about our travel photography gear!
---
Pin It for Later!