If you're planning to spend one day in Amsterdam, there are so many options when it comes to things to do.
The Dutch capital is bursting with a vibrant culture, international cafes and restaurants, and art and history museums that rival any European city.
Around 18 million visitors stay overnight in Amsterdam each year, so it pays to have a plan when visiting this multicultural city, knowing which sights to head for as well as which ones to skip if you are short on time.
This Amsterdam one day itinerary makes the most of all of the best things to see in Amsterdam, as well as where to eat, where to stay, when to visit, and a few unmissable attractions to add to your list.
*Disclosure: This post contains a few affiliate links, which means I may receive a small commission, at no cost to you, if you make a purchase through my link.*
No time to read now? Pin it for later!
Useful Info for Spending One Day in Amsterdam
How to get to Amsterdam
Most visitors will visit Amsterdam through Schiphol International Airport. It's one of the busiest transport hubs in Europe with 104 airlines flying to 97 countries.
It is also connected to major European cities like Paris and London by high-speed train, great if you are looking for ways to reduce your carbon footprint. Many major European coach companies and ferries also have regular links to the city.
Schiphol is located 17 km (10.5 miles) southwest of central Amsterdam. Getting the train from Schiphol to Amsterdam city center is the cheapest and most convenient option.
The station lies directly underneath the airport and is well set up for travelers. A single ticket to Amsterdam Central costs €5.90 and takes around 15 to 20 minutes.
Save money by purchasing a one day Amsterdam Travel Ticket for €18 ($20 US). It's valid for one calendar day on all GVB trams, metro, and buses in Amsterdam as well as the return airport train or bus.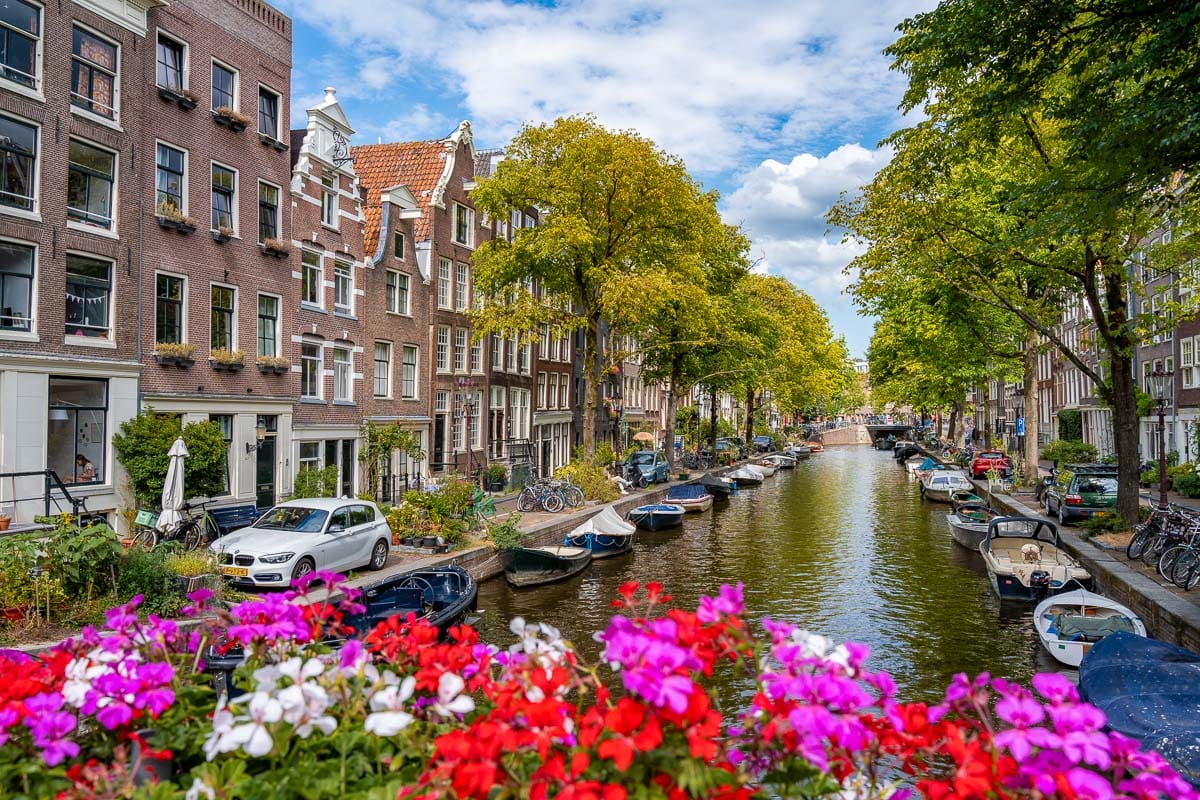 Best time to visit Amsterdam
Amsterdam is a year-round destination, but it's worth keeping in mind that it's one of the most popular tourist destinations in Europe and it can get crowded in peak season.
The months of June, July, and August offer the best weather with long sunny days and little rainfall. But the European summer holidays mean that prices are inflated, and popular attractions can be booked out months in advance.
The shoulder season between March to May, and September to November are the best months to visit Amsterdam. The weather is still pleasant but not too warm, the queues start to die down, and there is a lot more room to breathe in the old city center.
If you don't mind the chance of snow, December is also a fantastic month to spend a day in Amsterdam. The city comes alive with Christmas markets and festivities, just make sure to wrap up warm and make allowances for winter daylight hours as well as reduced opening times.
How to get around Amsterdam
Even if you're not getting the Amsterdam Travel Ticket, it's worth looking at the GVB tickets because it's the best way to save on transport costs if you're in Amsterdam for one day.
You can get an Unlimited GVB Day Ticket for €9 and enjoy unlimited transport for 24 hours on all GVB trams, buses, and the metro. It's important to note that this ticket is not valid for the airport train.
One single GVB ticket costs €3.4 so if you only use public transport 3 times during your one day in Amsterdam, the unlimited one day ticket is already worth it. Plus, you can save yourself some time by skipping the hassle of buying individual tickets each time you use public transport.
There are also regular free ferries from Amsterdam Central to Amsterdam-Noord that are included in the unlimited ticket. Just hop on board and take the 5-minute trip to see this quiet and trendy district that is missed by many visitors.
Taxis and Uber are also easy ways to get around the city center, but they can easily add up especially with heavy surcharges when it rains.
Hiring a car isn't recommended in Amsterdam as parking charges are expensive and the roads can be difficult to navigate due to the trams and abundance of cyclists.
There is a network of cycle lanes around the city that makes it one of the easiest capitals to get around by bike, but hiring a bicycle is only recommended for experienced riders. There are often collisions with unaware tourists wandering into cycle lanes, and the whole system is quite chaotic if you're not used to it.
Where to stay in Amsterdam
While the historic Old Town is beautiful, it's not the best place to stay for a day in Amsterdam – prices are high, and the quality is often low. Instead, choose to base yourself in one of the surrounding districts, all have easy access to the center.
For budget travelers, Amsterdam Noord is full of trendy hostels like Clink Noord and Bunk Hotel as well as affordable eateries. It's just a 5-minute free ferry ride from the center, so it is perfect for first-time visitors.
For leafy streets and iconic Dutch architecture, stay in the Jordaan District. There are boutique hotels, popular local restaurants, and plenty of attractions like the Anne Frank Museum nearby.
For families and foodies, stay near Vondelpark in the Oud-West District. Close to the museums, outdoor markets, and sprawling parks, it's a world away from the crowded center. It's also close to nightlife hotspots like Leidesplien and the bohemian De Pijp neighborhood.
If you want to read more about the best areas to stay in the city, make sure to read our in-depth post about where to stay in Amsterdam. For a unique stay, you can check out the best boutique hotels in Amsterdam or the best Amsterdam hotels with canal views.
In case you're in a rush, you can take a look at our recommendations below for different budgets.
LUXURY – Anantara Grand Hotel Krasnapolsky Amsterdam
Conveniently located on the edge of Dam Square in the heart of Amsterdam, this 5-star hotel offers stylish rooms with amazing views. There's also a grand cafe, a winter garden, and a Michelin-star restaurant on site.
MID-RANGE – NH Amsterdam Schiller
Set in a historic building only a 10-minute walk from Dam Square, NH Amsterdam Schiller benefits from a central yet quiet location. The hotel features elegant rooms and offers easy access to the most famous Amsterdam attractions, such as the floating flower market or the Jewish quarter.
BUDGET – Bridge Inn
If you're looking for a budget-friendly place to stay for your 2 days in Amsterdam, look no further than Bridge Inn. Located in the popular Jordaan neighborhood, this hotel offers cozy rooms with canal views, as well as a 24-hour front desk and luggage storage space.
Overview of Your One Day Amsterdam Itinerary
Breakdown of your one day in Amsterdam
Morning: Breakfast at Bakers & Roasters, Rijksmuseum
Afternoon: Lunch at Foodhallen, Bloemenmarkt, Stroopwafels, De 9 Straatjes and Jordaan, Dam Square, Royal Palace of Amsterdam, Damrak Canal Houses, Canal cruise
Evening: Red Light District, Dinner at Mata Hari
Map for your Amsterdam in one day itinerary
Below you can find a customized map that includes all the locations you're going to visit on this one day in Amsterdam itinerary.
If you open up this post on your phone and click on the bracket in the upper right corner of the map, it will open up in your Google Maps app so you can always have it with you. Super convenient, right?
Morning of Your One Day in Amsterdam
Breakfast at Bakers & Roasters
Start your Amsterdam one day itinerary right by heading to Bakers and Roasters, a New Zealand style cafe with heavy Brazilian vibes.
From their open kitchen, they serve hearty brunches like a Kiwi brekkie, American-style pancake stacks, and Huevos Rancheros. There are plenty of healthy veggie options too as well as fresh pastries and mouth-watering cakes baked in-house.
Their ethos is to use local suppliers where possible, supporting ethically reared, free-range, sustainable, organic, and seasonal produce. Wash it all down with an Ozone coffee or a brunch cocktail (because, well why not?).
It's one of the most popular breakfast places in Amsterdam so make sure to arrive early to avoid staying in line. Even if you visit later, you only need to scan the QR code at the entrance to be added to the waitlist, and you'll receive a text when your table is ready.
Rijksmuseum
You can't spend a day in Amsterdam without visiting at least one of its fantastic museums, and the Rijksmuseum comes high on the list.
Filled with over 400 paintings and other artifacts from the Dutch Golden Age, the Rijksmuseum holds national treasures such as the Night Watch by Rembrandt van Rijn as well as works by Vincent van Gogh and Johannes Vermeer.
The museum is open from 9 am to 5 pm and the entrance ticket costs €22.5 (free for under 18 years). Skip the line and see all of the most important pieces by booking a Rijksmuseum Guided Tour With Reserved Entrance from €52 per person.
For art enthusiasts, also located in Museumplein is the Van Gogh Museum which houses the world's largest collection of Van Gogh paintings.
If you want to visit this museum, make sure to book your tickets at least a month in advance, otherwise it will be impossible to snag a ticket! The entrance ticket costs €20, and it's available online only.
Alternatively, there's the MOCO Museum with more abstract and contemporary works by Dalí & Banksy. This is one of the less popular museums in this area so you can almost always buy an entrance ticket. Entry costs €21.95, and the museum is open from 9 am to 9 pm.
Afternoon of Your One Day in Amsterdam
Lunch at Foodhallen
From Museumplein wander through the vast Vondelpark, passing students and families relaxing in the open green space, towards the leafy Amsterdam Oud-West District.
For lunch stop at Foodhallen, a converted old tram depot with 20 food stalls with influences from around the globe. Try Vietnamese street food from Vietview, tapas from Jabugo Bar Iberico, or traditional Dutch bitterballen from De Ballenbar.
Foodhallen is open Sunday to Thursday from noon to midnight and Friday to Saturday until 1 am. It's the perfect place to try all of the best food in Amsterdam in one day.
Bloemenmarkt
For the next stop, head into the city to the floating flower market on the Singel Canal. Bloemenmarkt has been in business since 1862, providing tulips, flowers, and bulbs to local businesses and visitors alike.
Even if you're not in the market for flowers, the Bloemenmarkt is still worth visiting. The colorful displays against the canals are a joy to look at, and it's a perfect place for photography as well.
To get here, jump on the metro to Waterlooplein, from there it is about a 10-minute walk along the canal. The market is open from Monday to Saturday from 09 am to 5:30 pm, and Sunday from 11 am to 5:30 pm.
Stroopwafels at Van Wonderen Stroopwafels
Try to resist the cafes at Bloemenmarkt and instead head to Van Wonderen Stroopwafels for one of the Netherlands' favorite sugary snacks.
Fresh and warm caramel stroopwafels are offered with all sorts of different toppings from this brightly decorated shop that sells over 1 million of these irresistible Dutch biscuits per year.
You can choose from three different sizes (mini, medium, and mega) and then you can choose your preferred topping to round up the experience. My favorite toppings are the marshmallows and the colorful Skittles!
You will most probably encounter a bit of a line here, but it usually moves quite fast and trust me, it's completely worth the wait!
Stroll around De 9 Straatjes and Jordaan
From here, head west to the eclectic De 9 Straatjes neighborhood to take in canal-side views and peruse small independent boutiques.
The neighboring Jordaan District is an equally beautiful place to stroll the narrow streets with sights like the Houseboat Museum, the Anne Frank House, the Amsterdam Cheese Museum, and the Amsterdam Tulip Museum.
It's impossible to see everything if you're visiting Amsterdam for a day, but popular museums like the Anne Frank House book out months in advance anyway, so a quick look from the outside is more than enough for a first-time visit.
If you feel like you're in need of some caffeine, stop by Le Petit Deli. This cute French-style cafe serves amazing pastries and cakes, and it's a perfect stop for a cup of coffee.
Dam Square
Head back towards the medieval city center known as De Wallen to Dam Square to get a great view of the Royal Palace.
This 13th-century square has been a popular meeting place throughout its history, and today remains one of the central sights of Amsterdam. It's busy with locals and tourists both day and night and is a must-see on any Amsterdam one day itinerary.
There is usually a Ferris wheel and all sorts of street performers entertaining the crowds. Have a look at Madame Tussauds, the New Church (Nieuwe Kerk), and Beurs van Berlage while you're in the area too.
Royal Palace of Amsterdam
The 17th-century Royal Palace is no longer home to the Dutch royal family, which means you can often go inside and marvel at the grand interior.
Originally built as a town hall, you can stroll through the Citizen's Hall and great marble galleries to see ornate sculptures and paintings by famous artists. The Palace still hosts King Willem-Alexander and his family during state visits, New Year's celebrations, and award ceremonies.
Take a tour of the Royal Palace of Amsterdam with an audio guide to learn more about the history of this magnificent building. The entrance costs €12.50 per person the palace is open to visitors every day from 10 am to 6 pm (except royal events).
Damrak Canal Houses
Next, head to the busy thoroughfare of Damrak to see the iconic canal houses of Amsterdam near Oudebrugsteeg.
Known in Dutch as grachtenpanden, tall and skinny canal houses date back to the 17th century when there was a tax on the width of properties. Amazingly, the narrowest house in the Dutch capital is just 2.2 meters (7 feet) wide.
Don't miss a chance to have a look at the ornate exterior of Oude Kerk, or head into Our Lord in the Attic Museum. This former Catholic Church was hidden in a loft space during the Nazi occupation and offers an interesting insight into that era.
You will also be able to see the stunning Gothic-Renaissance style Amsterdam Centraal Station, the transport hub of the city that's a useful place to know when exploring Amsterdam in one day.
Canal Cruise
You will notice the whole area around Damrak offers canal cruises, and there are many different routes available to take around the city. It's a great chance to rest your feet and take a look at the sights from the water.
Book an eco-certified tour of the Amsterdam canals with Stromma Netherlands to see modern architecture along the banks of the IJ lake and the up-and-coming Amsterdam-Noord district, as well as the traditional canal-side houses of the city center. Tours typically last for 1 hour, and you will receive an audioguide which is available in many different languages.
If you would rather take a cruise that has a live tour guide, take a look at this one-hour Classic Boat Cruise by Flagship Amsterdam. The tour takes you along the city's most beautiful sights, and you can book it with a cheese and wine option if you wish!
Alternative canal cruise tours in Amsterdam include a cruise on a former refugee boat with local refugee guides, the Plastic Whale tours with boats made from recycled canal trash, or the zero-emissions small group tours run by Those Dam Boat Guys.
Evening of Your One Day in Amsterdam
Red Light District
From around 7 pm onwards the central Red Light District starts to open up for the night. The name comes from the red neon lights of the 300 or so windows that line the historic area.
Although the activities may not be for everyone, it's a must-visit cultural area if you're spending just one day in Amsterdam.
It's one of the few places in the world where prostitution is so openly embraced, and it can be an eye-opening experience for visitors. It's this liberal vibe that has gained Amsterdam global attention and affords these ladies much better rights and healthcare options than in some other countries.
There are also erotic shops, shows, and museums such as the Museum of Prostitution, the Erotic Museum, and the Cannabis Museum Amsterdam.
The area is very well policed and is safe to visit at night time. But take note that there are very strict rules to protect the working girls.
For instance, it's forbidden to take pictures or film women behind their windows or in strip clubs, peep shows, or at sex theaters. Not only will visitors feel the wrath of the women themselves but they may also get into trouble with the law. To be safe, it's best practice to keep your phone or camera stored away at all times.
There are also plenty of coffee shops in the RLD where you can legally smoke cannabis. But from May 2023, it's now illegal to smoke in the public areas of Dam Square, the Red Light District, Damrak, and Nieuwmarkt. A rule introduced in a plan to reduce anti-social behavior in the capital is enforced with fines of 100 euros.
If you would rather explore the area with a knowledgeable local guide, you can join this Red Light District Tour. The tour is available in English or German and departs at 8 pm every day. During the tour, you can learn more about prostitution, coffee shops, and the history of the district.
Dinner at Mata Hari
Escape the busy RLD streets and grab a quiet cozy corner in Mata Hari restaurant. The dark, stylish interior is the perfect place to unwind after a busy day of exploring Amsterdam in one day.
Named after the exotic dancer turned spy from the Netherlands, Mata Hari offers Mediterranean-Persian-inspired cuisine alongside globally-recognized cocktails. The small, focused menu ensures that dishes are made with great care and are always cooked to absolute perfection.
It's the perfect spot to finish up a busy day of exploring, or if you still have the energy head out to experience Amsterdam's nightlife scene in lively areas like De Pijp or Leidseplein.
---
Planning a trip to Amsterdam?
Then you might want to take a look at all our other travel guides about Amsterdam. I promise, they are just as awesome as this article was!
---
Related Posts
Want to read more about the Netherlands?
---
More Amsterdam Resources
Want to know even more about Amsterdam? Check out these awesome books and travel guides for more inspiration!
---
What Camera Gear Do We Use?
If you want to read more about what is in our camera bag, check out my detailed post about our travel photography gear!
---
Pin It for Later!