Visiting Amsterdam is always a good idea! You're guaranteed a good time here regardless of how many days you have to spend. However, spending 4 days in Amsterdam is the perfect amount of time to check the highlights off your list, explore some hidden corners of the city, and make the most of the many day trips available to surrounding towns.
Below, you'll find my all-encompassing Amsterdam 4 day itinerary, filled with many things to do to ensure you see the best of the aptly-named Venice of the North.
If you haven't been before and are keen to see what all the fuss is about, you're in for a real treat!
*Disclosure: This post contains a few affiliate links, which means I may receive a small commission, at no cost to you, if you make a purchase through my link.*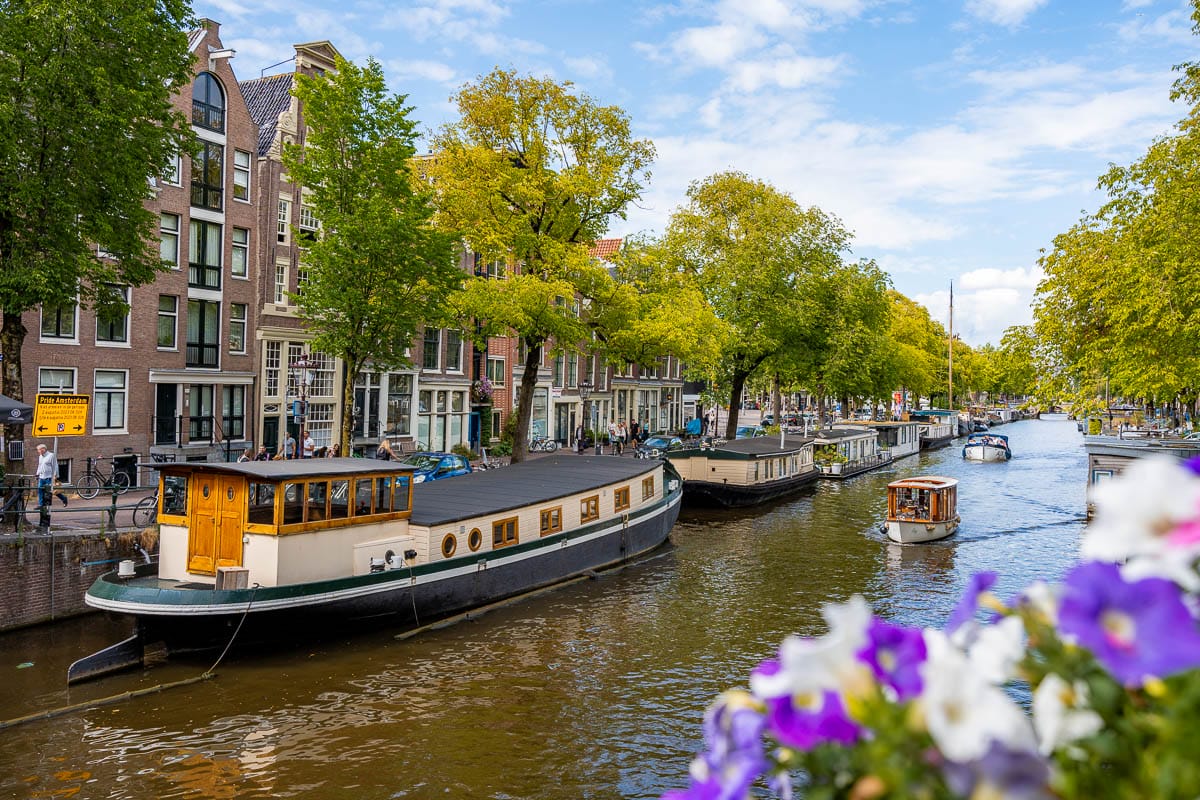 Are you planning a last-minute trip to Amsterdam?
If your trip is coming up soon and you still haven't booked anything, we have you covered! Below you can find our top picks when it comes to hotels, tours, getting around, and more.
Best Tours and Experiences in Amsterdam
Best Places to Stay in Amsterdam
Looking for the best way to get around Amsterdam? Make sure to buy a GVB Public Transport Ticket. Even if you only use public transport a few times, it's already worth it!
Planning to visit a handful of attractions? You can save a lot of money by purchasing the I Amsterdam City Card. It includes free entry to more than 70 attractions, unlimited access to public transport, and a free canal cruise!
Overview of Your 4 Days in Amsterdam Itinerary
Breakdown of your 4 days in Amsterdam
Day 1:
Dam Square & Royal Palace of Amsterdam
Madam Tussauds or The Amsterdam Dungeon
Begijnhof
Bloemenmarkt
Van Wonderen Stroopwafels
Damrak Canal Houses
Canal Cruise
Red Light District
Day 2:
Rijksmuseum
Van Gogh Museum
Vondelpark
Anne Frank House
Amsterdam Cheese Museum
Jordaan & 9 Streets
Foodhallen
Day 3:
Hoftuin Park
Amsterdam Museum or Hermitage Museum
National Holocaust Monument
Skinny Bridge
Hortus Botanicus Amsterdam
Rembrandt House Museum
Albert Cuyp Market
Heineken Experience
Day 4:
Zaanse Schans
Volendam
Marken
Edam
A'DAM Lookout
Map for your 4 day Amsterdam itinerary
Below you can find a customized map that includes all the locations you're going to visit on this Amsterdam itinerary.
I marked your 4 days in Amsterdam with different colors – I used blue for the first, yellow for the second, red for the third, and green for the fourth day, so you can easily see which places you're going to visit each day.
How to use this map: This map is fully interactive, so you can move around, zoom in/zoom out, and click on the icons. If you want to see a larger map, click on the bracket in the upper right corner. To see more details and the different layers, click on the tab in the upper left corner. If you want to save it for later, click on the star icon next to the name of the map. Then simply open Google Maps either on your desktop or phone, go to 'Saved'/'Maps', and open the map whenever you need it.
Day 1 of Your 4 Days in Amsterdam
Dam Square & Royal Palace of Amsterdam
There's no better place to start your Amsterdam adventure than in Dam Square. Day or night, Dam Square is always full of life and is the epicenter for a bunch of the city's top attractions.
In the square itself, you'll probably notice the National Monument commemorating those who lost their lives in the Second World War and the unmissable Royal Palace of Amsterdam.
Despite its name, the palace is where the royals host events like award ceremonies and state visits, and the family actually resides in a lavish estate in the Hague.
Whenever the building is not used by the royal family, it's accessible to the public, and since you have 4 days in Amsterdam, I'd recommend going in for a tour.
The palace is absolutely breathtaking, and it's home to many lavishly decorated rooms. I'm not kidding when I say that my jaw was on the floor the whole time we were inside!
You'll need around 1-1.5 hours to comfortably tour the whole place and I suggest picking up a free audio guide to really uncover the palace's long history.
Madame Tussauds or Amsterdam Dungeon
No matter where in the world you go, a visit to Madame Tussauds is always a good time.
You won't have to walk far, as Amsterdam's edition of this iconic wax museum is within Dam Square, where you'll bump into the likes of Harry Styles, Jennifer Anniston, and Beyonce.
Thrill-seekers might want to opt for a visit to the eerie Amsterdam Dungeon instead, which is just a 4-minute walk away. Here, you'll be taken on a terrifying journey through Dutch history with plenty of terror and surprises along the way.
As I absolutely loved the London Dungeon during our London trip, I knew I had to try the Amsterdam version and it did not disappoint!
You are not allowed to take any photos inside, so you'll just have to trust my word on this – if you love live performances and interactive experiences, I'm sure you'll enjoy the Amsterdam Dungeon.
Insider tip: You can get 25% off at both attractions with the I Amsterdam City Card.
Begijnhof
When you've had your fill of shockingly life-like wax figures or jumpscares, make the super short walk to the tranquil Begijnhof.
Consisting of a collection of traditional homes surrounding a grassy courtyard, the Begijnhof is Amsterdam's best-known hofje, which is a group of homes for unmarried religious women, many of whom still live here today.
Make sure you catch a glimpse of Amsterdam's oldest surviving house during your visit, No. 34, but remember to ensure you're quiet and respectful of the surroundings.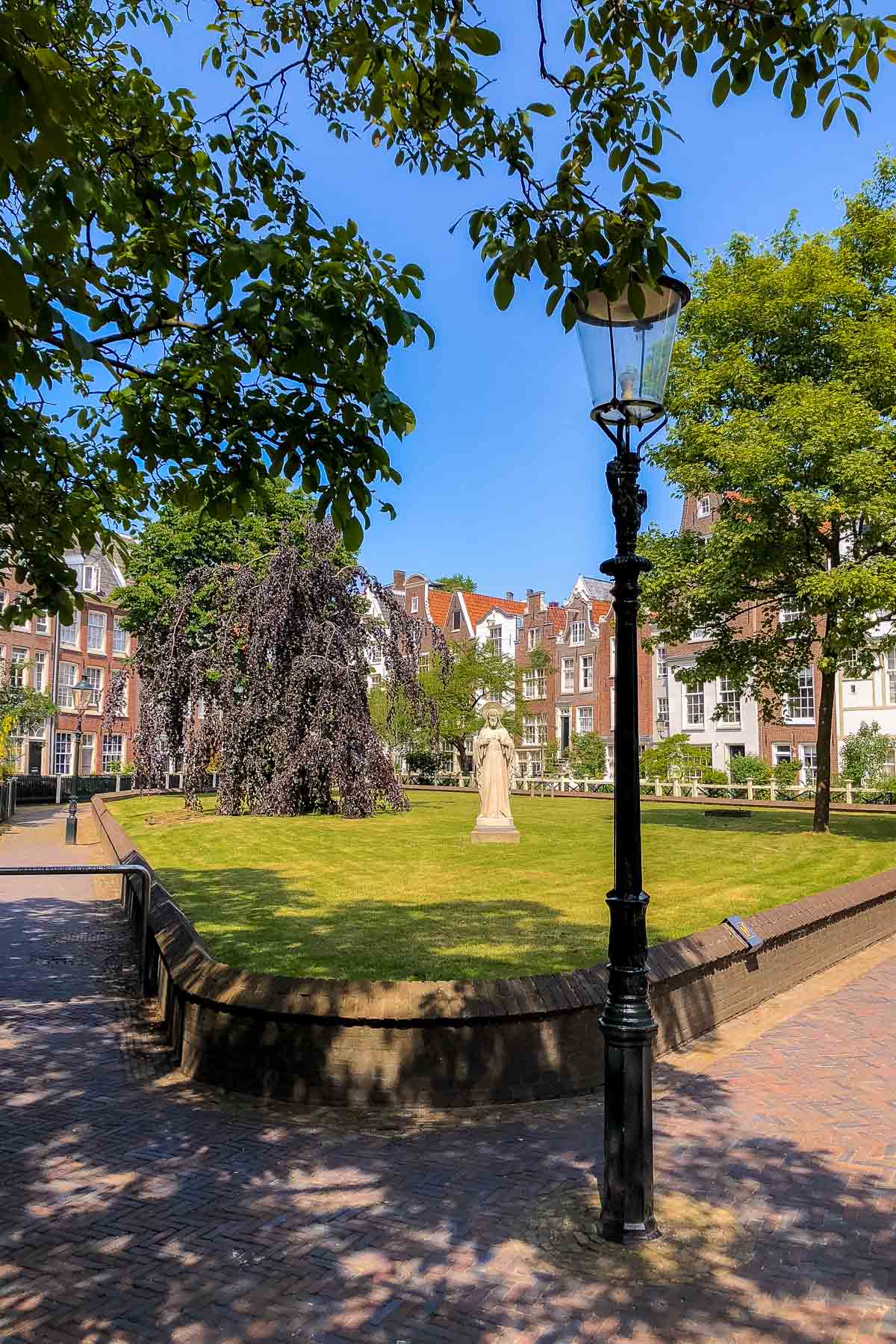 Bloemenmarkt
When you're ready to head back out into the hustle and bustle of Amsterdam, head to the nearby Bloemenmarkt, the world's only floating flower market.
As soon as you step inside, your eyes won't know where to look! Hundreds of brightly-colored flowers, bulbs for every plant you could think of, and heaps of quirky souvenirs are all on display at the Bloemenmarkt.
Although you might spot some of The Netherlands' beloved tulips here throughout the year, anyone visiting between March and May will see the best of these stunning flowers, as they're in full bloom in the spring.
If you want to take home some tulip bulbs with you, you can find many pre-packaged bulbs that are ready for international travel (remember that these have to be officially stamped for export). Even if you don't want to buy anything, it's absolutely worth strolling around the market as it's a real feast for the eyes.
Van Wonderen Stroopwafels
After a busy morning of sightseeing, it's about time for a quick snack, and what would be a better way to treat yourself than trying the famous stroopwafels?
Just 260 meters (0.16 miles) from the Bloemenmarkt, you'll find Van Wonderen Stroopwafels, the most buzzing spot in the capital for these sweet caramel-filled waffle cookies.
You can expect to find a line outside at any time of day, but the minute you tuck into your chocolate, marshmallow, or Lotus-topped stroopwafel, I think you'll find that they're worth the wait.
We loved these sweet treats so much that we went back almost every day – no kidding! I'd recommend going for the medium or mega size and topping it with marshmallows – it was my favorite combo, and it was absolutely delicious.
Damrak Canal Houses
Once you've polished off your stroopwafels, stroll along the waterside and admire the hundreds of canal houses with which Amsterdam has become synonymous.
After around 20 minutes of walking, you'll come across the Damrak Canal Houses, some of the most famous and historic homes in all of the city.
Often nicknamed the Dancing Houses, these colorful buildings have gotten their names thanks to their slightly crooked appearance and always seem to look as if they're holding each other up.
This is one of my favorite photo spots in Amsterdam – you seriously can't take a bad photo here so make sure to have your camera ready!
Canal Cruise
If there's one thing you most definitely can't skip out on during your 4 days in Amsterdam, it's a canal cruise down the dozens of enchanting waterways.
Experience the city from a whole new perspective from the comfort of a cruise boat, passing under cute bridges, squeezing through narrow canals, and, of course, doing some people-watching.
Best of all, there are so many boat tours to choose from, with everything from budget-friendly trips to romantic evening sailings and lively booze cruises available to you. However, this tour is my top recommendation, as you can add on a cheese and wine package!
Read Next: 16 Best Canal Cruises in Amsterdam You Can't Go Wrong With
Red Light District
Your drop-off point will vary depending on the cruise you've picked, but you'll likely be between a 10 or 20-minute walk from the infamous Red Light District, where you'll finish up your first day of explorations.
De Wallen is Amsterdam's most well-known Red Light District, and here you'll pass by erotic museums, countless windows lined with sex workers, adult stores, and a ton of late-night bars.
Although it's easy to assume that this pocket of Amsterdam is dangerous, there's a pretty heavy police force in the area, and it's generally considered to be very safe.
The only rule you need to abide by is that you can't take any photos of the workers here, so it's best to keep your camera or phone in your pockets.
If you would rather explore the area with a knowledgeable local guide, you can join this Red Light District Tour. The tour is available in English or German and departs at 8 pm every day. During the tour, you can learn more about prostitution, coffee shops, and the history of the district.
Day 2 of Your 4 Days in Amsterdam
Rijksmuseum
One of the best things to do in Amsterdam is touring its many museums, so it's time to start!
If I had to pick only one museum to visit in Amsterdam, it would be the Rijksmuseum, so I recommend starting your day with this one. Easily the capital's most-visited museum, this is a can't-miss attraction for anyone with an interest in art.
Rembrandt's The Night Watch, Vermeer's Milkmaid, and Van Gogh's self-portrait are just some of the thousands of incredible artworks from the Dutch Golden Age that call the Rijkmuseum home, and you could easily spend hours here.
Getting your tickets online is best if you're visiting during the summer, but they're also available on entry.
Insider tip: Entrance is free with the I Amsterdam City Card!
Van Gogh Museum
Within a five-minute walk from Rijksmuseum is the Van Gogh Museum, where you'll have the chance to see some of the Dutch painter's most treasured pieces.
As well as seeing the largest collection of Van Gogh's works in the world, including a Starry Night and Sunflowers, hundreds of his favorite paintings and prints from artists he admired are also on display.
Along with the permanent exhibits, there are usually some temporary showcases, too.
With so much to see, it's a good idea to join a guided tour to get a better understanding of what you're looking at, but you can also buy a standard ticket if you prefer.
Insider tip: Getting tickets to the Van Gogh Museum is a bit tricky as they usually sell out quite far in advance. Make sure to check the tickets at least two weeks ahead of your visit and book them as soon as you can.
Vondelpark
Amsterdam's back garden, Vondelpark, is less than a 15-minute stroll from the Van Gogh Museum and is among the most laidback places you'll find in the city.
Walk along the pathways and pass by water fountains, sprawling green spaces, and tranquil ponds, or jump on a classic or electric bike and see the park like a local.
There are a couple of lovely cafes scattered around Vondelpark where you'll be able to grab a coffee or a quick bite to eat, plus a huge playground for anyone who happens to be traveling with little explorers.
Anne Frank House
A devastating but unmissable edition to your 4 days in Amsterdam itinerary is a stop at the Anne Frank House, a museum formed on the site where this young girl chronicled her family's journey as they hid for two years during the Holocaust.
When you visit, you'll see the bookcase that hid the entrance to the secret annex and original items from the kitchen, along with countless photos and videos.
Tickets for the Anne Frank House always tend to sell out well in advance, so you'll need to snap up yours as early as possible. Every Tuesday, tickets for the upcoming six weeks become available online, so keep your eyes on the website!
You have to reserve your tickets for a specific timeslot, so you might need to move around the activities on this day depending on which timeslot you receive.
Photography and videography are forbidden inside, so you can leave your camera in the cloakroom along with your other stuff.
Insider tip: If you want to learn even more about Anne Frank while touring the Jewish Quarter, you can join this Life of Anne Frank and World War II Walking Tour.
Amsterdam Cheese Museum
After a gut-wrenching experience at the Anne Frank, you'll appreciate something a little lighter at the nearby Amsterdam Cheese Museum.
The Netherlands has its fair share of excellent cheeses from Edam, Gouda, and Maasdam, and the Amsterdam Cheese Museum gives you an insight into how these cheeses are made.
When you walk in, you'll be offered a tonne of free samples, including truffle goat cheese and chili cheese, while downstairs is the super cute and free museum.
If you have room in your suitcase, stock up on your favorite varieties, most of which are vacuum-packed and easy to travel with.
Jordaan & 9 Streets
Next up is the trendy and picturesque neighborhood of Jordaan, which is just a 10-minute walk from the Amsterdam Cheese Museum. It's one of the best areas to stay in Amsterdam and also my favorite area to stroll around!
Jordaan was once a working-class area of Amsterdam and has developed into one of the city's most sought-after neighborhoods, consisting of boutique stores, hip cafes, and a thriving nightlife scene.
The enchanting nine streets, a collection of stunning avenues lined with upscale shops and some of the city's most incredible hotels, lie within the Jordaan district. They have been declared a UNESCO World Heritage Site, thanks to their old-world allure and beauty.
If you love cute cafes, you have to stop by my favorite one: Le Petit Deli. It's a cute little café with French-inspired decor and incredibly delicious pastries and cakes.
Foodhallen
Amsterdam has hundreds of top-quality eateries, but the Foodhallen is a true foodie heaven in the heart of the city.
You'll work up an appetite as you make your way over from Jordaan, which is around 20 minutes away on foot.
Once you arrive, you'll quickly find that the Foodhallen is a true feast for the senses, with stalls selling everything from drool-worthy tacos and crunchy Vietnamese banh mis to spicy noodle dishes and juicy burgers.
If this is your first time here, I recommend starting with De Ballenbar. You have to try the local bitterballs, which are deep-fried meatballs covered in crunchy breadcrumbs. They are super delicious!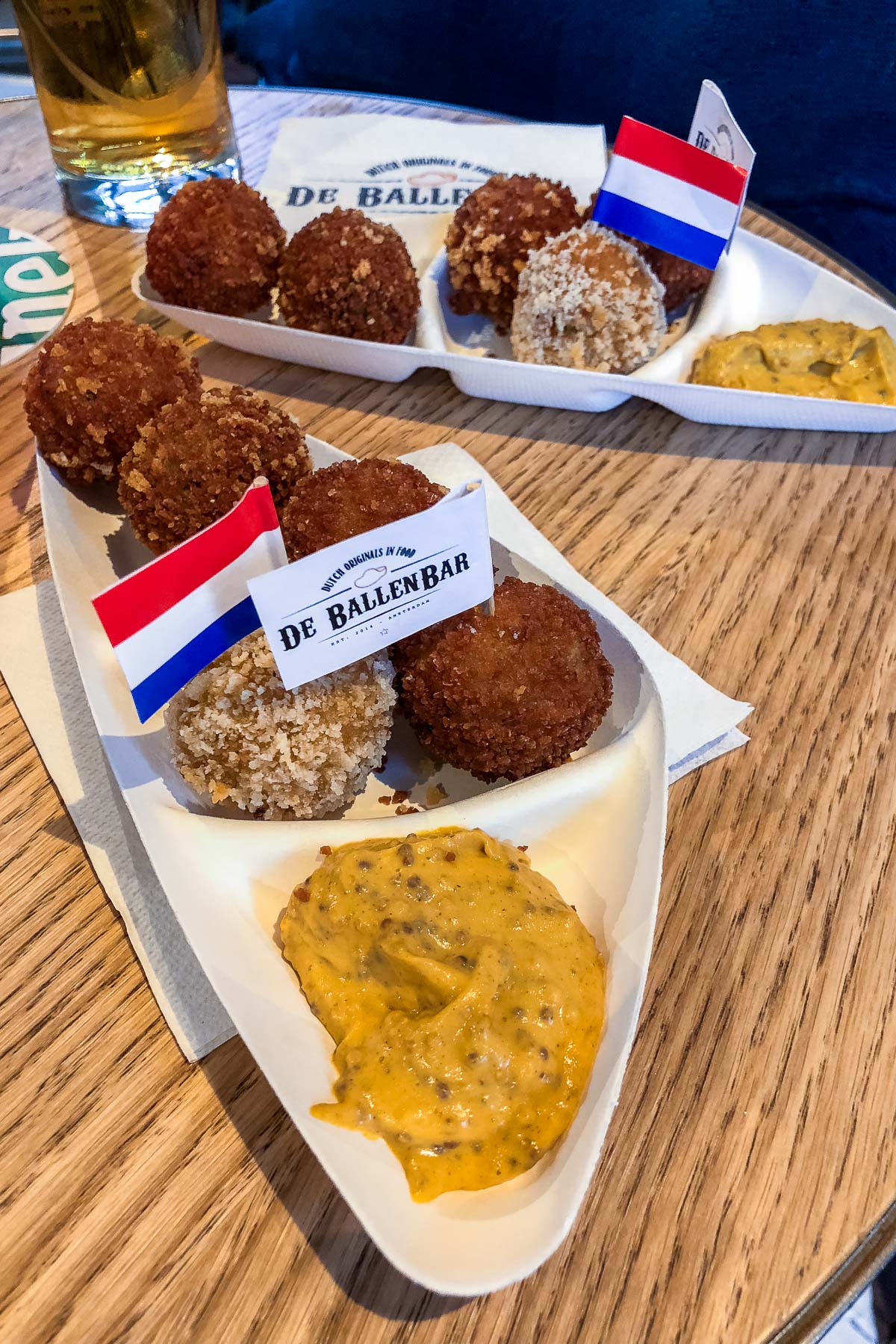 Day 3 of Your 4 Days in Amsterdam
Hoftuin Park
Start the third day of your 4 day Amsterdam itinerary by exploring some of the hidden gems in Amsterdam located in the Old Jewish Quarter and the Plantage area.
First, make your way to Hoftuin Park, a small and serene garden located next to the Hermitage Museum. It's only a few minutes walk from the Waterlooplein metro station, but depending on where you're staying in Amsterdam, you might be able to walk too.
This hidden gem is perfect for a peaceful morning stroll or a picnic surrounded by beautiful flowers and trees.
It's also home to one of my favorite breakfast places in Amsterdam: Dignita Hoftuin. This cozy cafe offers delicious and healthy breakfast options, as well as a beautiful outdoor seating area in the park.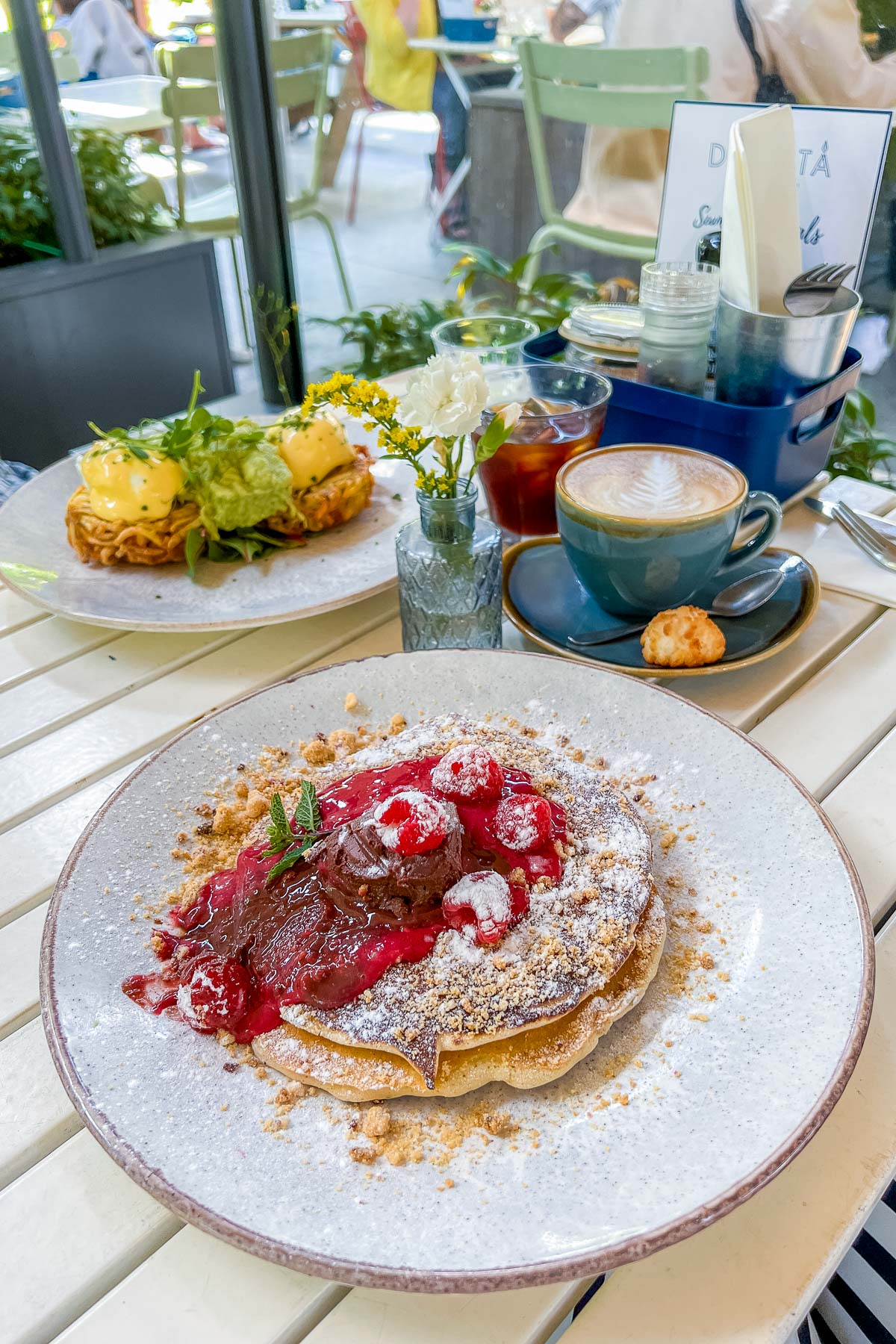 Amsterdam Museum or H'ART Museum
After breakfast (or just a quick stroll around the park), you have two museums to choose from for your next stop: the Amsterdam Museum or the Hermitage Museum.
The Amsterdam Museum gives you an overview of the highs and lows of The Netherlands throughout time.
With a unique exhibition for each historical period, the Amsterdam Museum uses displays, videos, art, and artifacts to take you through the city's storied history, which is really brought to life with the audio guide included in your ticket.
The building in which the museum is set is also steeped in history, having once stood as an orphanage run by nuns during the 1500s, prior to the Reformation.
Insider tip: Entrance is free with the I Amsterdam City Card!
On the other hand, H'ART Museum is now presenting various arts from three international partners: the British Museum, Centre Pompidou, and Smithsonian American Art Museum.
The museum was formerly known as Hermitage Amsterdam, and it used to house an impressive collection from the world-renowned Hermitage Museum in St. Petersburg, Russia. After the recent events, the museum has cut ties with Russia and renamed itself H'ART with a new concept starting in September 2023.
Both museums offer unique and fascinating exhibitions, so choose whichever one interests you more.
National Holocaust Monument
Another attraction you can't miss next to Hoftuin Park is one of Amsterdam's newest and most culturally significant landmarks, the National Holocaust Monument.
The four red brick, mirror-topped sections of the monument come together to spell the Hebrew phrase for 'In Memory Of' from above.
Each brick has a name engraved onto it for each of the known Holocaust victims in Amsterdam, while some are left blank to represent unnamed members of the Jewish community who suffered during World War II.
An incredibly solemn point of interest, this monument sheds some light on the darker sides of Dutch history.
Skinny Bridge
Seeing Amsterdam in 4 days wouldn't be complete without a walk to the Skinny Bridge, just a 5-minute walk from Hoftuin Park.
Connecting the areas of Keizersgracht and Prinsengracht, this revered white bridge is said to be one of the most romantic spots in Amsterdam, and it's believed that couples who kiss under the bridge will be blessed with eternal love.
You might wonder why it's fondly called the Skinny Bridge despite not being particularly narrow, but this overpass was initially much smaller and was only wide enough to allow two people to pass each other at a time.
Hortus Botanicus Amsterdam
As you might have figured out from the name, the Hortus Botanicus is Amsterdam's botanical garden, which happens to be one of the oldest of its kind on the planet.
At just over 5 minutes from Hoftuin Park or 10 minutes from the Skinny Bridge, these gardens feel like a tropical oasis hidden amongst the busy streets of central Amsterdam.
Home to a spectacular butterfly house with dozens of colorful species, vibrant flowers, and a rainforest room, you won't have to be an aspiring botanist to be impressed by this serene corner of the city.
If you would rather visit some free parks, you can stroll around either J. W. van Overloopplantsoen Park or Wertheimpark, both right next to Hortus Botanicus.
Insider tip: Entrance is free with the I Amsterdam City Card!
Rembrandt House Museum
Around 650 meters away (0.4 miles) is the Rembrandt House Museum. Most of you could probably make a good guess as to who this place is named after!
Rembrandt van Rijn called this townhouse home for almost 20 years during the mid-1600s, and seeing where he completed many of his most coveted paintings makes for a totally different experience to that of the Rijksmuseum while also giving some detail about his private life.
Most of his pieces lie in galleries, but many of his etchings are on display here, and you might even catch an art demonstration during your visit.
Albert Cuyp Market
Situated around a 30-minute walk from the Rembrandthouse or a 20-minute metro ride away is the Albert Cuyp Market.
Everything and anything is available to buy here, and I mean everything! Think clothes, jewelry, flowers, fresh vegetables, souvenirs, and pretty much whatever else you can think of.
Even if you don't plan on buying anything here, it's worth spending time passing by each of the 260 stalls and seeing Europe's largest market in action.
For a truly authentic Dutch experience, pay a visit to the Albert Cuyp Market between 9 am and 5 pm any day except Sunday.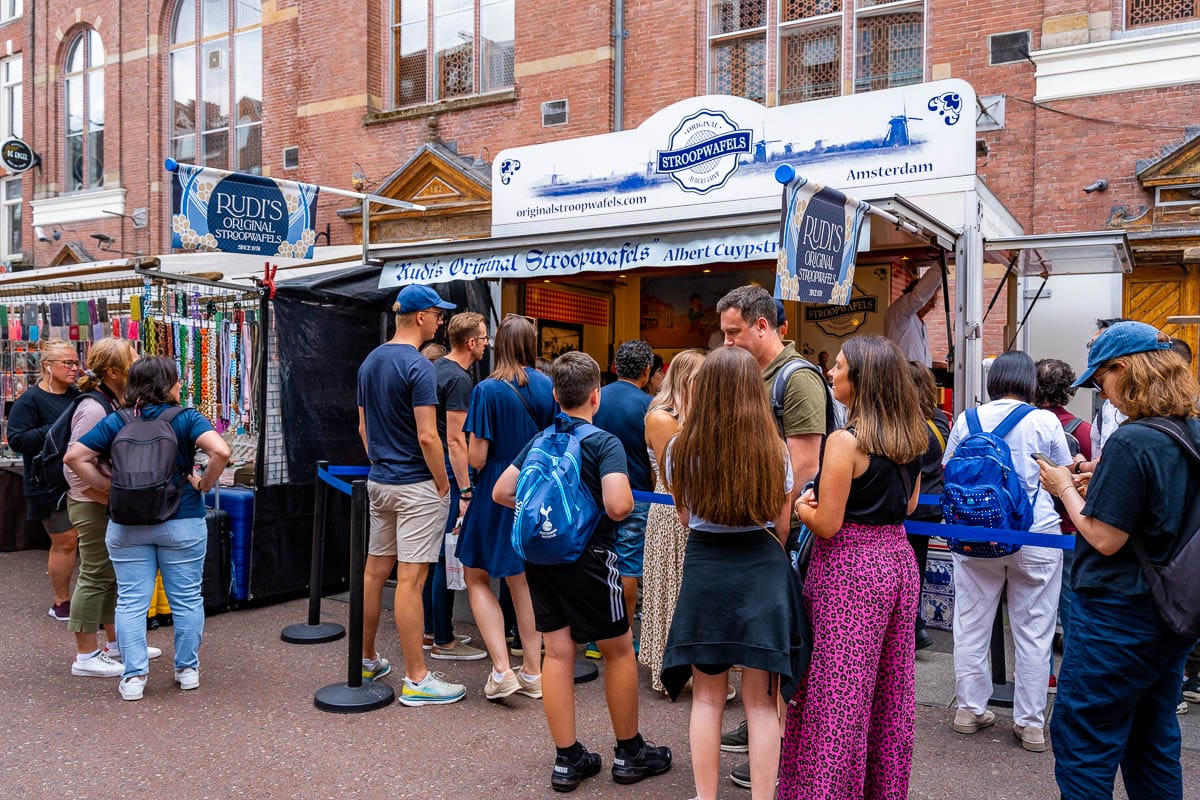 Heineken Experience
Around a 7-minute walk from the market is the Heineken Experience, a must for all beer enthusiasts out there. I must admit, I'm not a beer fan myself, but I still enjoyed this experience very much!
The standard experience includes a 1.5-hour long interactive self-guided tour of Heineken's former brewery, learning the brewing process, how Heineken became one of the world's best-loved lagers, and sampling two glasses of this famous beer.
If you want to go all in, choose the VIP experience. This tour lasts for 2.5 hours and is led by a knowledgeable guide, and it also includes a visit to a hidden bar, plus a tasting of 5 different beers!
Insider tip: You can get 25% off with the I Amsterdam City Card.
Day 4 of Your 4 Days in Amsterdam
For the last day of your Amsterdam itinerary, it's time to venture out of the city and discover the gorgeous towns that lie in the Dutch countryside.
I have four recommendations for you: Zaanse Schans, Edam, Volendam, and Marken.
Now you have a choice to make: you can either explore independently by using public transport, or you can book this Zaanse Schans, Edam, Volendam & Marken Bus Tour, which will take you to all four towns and provide a guide for the day.
If you want to visit all these four places, I strongly recommend booking this tour. While it's possible to visit them independently, you won't be able to fit all of them into one day if you're relying solely on public transport. Plus, the tour is an excellent value for money and will provide you with interesting information about each town.
If you'd rather explore independently, the good news is that you can easily reach all four towns by public transport. I'll give you all the details below on how to get there from Amsterdam Central Station and you can choose your favorite towns to visit.
Another great way to visit these towns is to rent a bike and cycle there. The Netherlands is known for its cycling culture, and it's a really popular way to explore the countryside. We visited Zaanse Schans this way on our first trip to Amsterdam, and it was such a lovely experience!
Zaanse Schans
Zaanse Schans is a perfect example of the other side of The Netherlands, as this neighborhood is filled with traditional windmills and colored wooden homes from the 1800s dotted along the riverside, many of which have been relocated from other parts of the country.
You can easily spend a few hours here exploring the windmills, visiting the wooden shoe workshop, and trying some delicious Dutch cheese. You can even enter one of the working windmills to see how they operate and learn more about their importance in Dutch culture.
How to get to Zaanse Schans:
Bus (45 minutes): Take bus 391 from Amsterdam Central Station. It runs every 15 minutes.
Train + walk (35-40 minutes): Hop on a regional train and get off at Zaandijk – Zaanse Schans station. From here, it's a 15-20 minutes walk to reach Zaanse Schans.
Bicycle (1 hour)
Edam
Visit the birthplace of the beloved Edam cheese, which is positioned just 20 minutes from the Dutch capital.
The town of Edam itself is quaint and idyllic, with peaceful canals and pretty buildings, but let's face it, the cheese is what it's all about here.
You'll most likely find yourself hitting the Edam Cheese Market and the Story of Edam Cheese, a little museum detailing the rise of this popular cheese that also happens to offer some free samples.
From Amsterdam Central Station, catch the 314 bus, which will have you in Edam within 35-45 minutes.
How to get to Edam:
Bus (30 minutes): Take either bus 314 or bus 316 from the bus terminal at Amsterdam Central Station. Buses depart every 15 to 30 minutes.
Bicycle (1 hour 10 minutes)
Volendam
This colorful fishing village is just 23 km north of Amsterdam and has a much slower pace of life than the capital. I was absolutely blown away by this town!
Volendam has a picture-perfect harbor, delicious seafood, and a bunch of adorable streets to be explored, and it's a window into Dutch traditions that you don't always get to see in the bigger cities.
For a cultural experience, you can also visit Volendam Museum or take a tour of the Cheese Factory.
How to get to Volendam:
Bus (30 minutes): Take bus 316 from the bus terminal at Amsterdam Central Station. Buses depart every 15 minutes. You can take this same bus to Edam which is only 5-minutes from Volendam so you can easily combine them into a day trip!
Bicycle (1 hour)
Marken
Not far from Volendam is the tiny village of Marken, which lies on a peninsula just 25 minutes from Amsterdam.
As small as Marken is, it boasts a history museum, a wooden shoe factory, and a 19th-century lighthouse, all of which are well worth visiting and easy to reach.
How to get to Marken:
Bus (20 minutes): Bus 315 runs from Amsterdam directly to Marken and it leaves very frequently throughout the day.
Ferry (30 minutes): If you want to combine a visit to Marken with Volendam, hop on the scenic ferry that connects the two areas.
A'DAM Lookout
As the final evening of your 4 days in Amsterdam comes to a close, you'll hopefully arrive back in the city center before the sun sets.
Many of you will land at Central Station, and just 10 minutes from here is the A'DAM Lookout, home to the famous rooftop swing, a thrilling VR ride through Amsterdam, and some of the most magical views in the city.
There's also a rooftop bar, which is one of my favorite places for a glass of wine in the city. It's especially amazing at sunset as the city lights start to twinkle below.
Get your tickets online or at the office on-site, head up to the observation deck, and finish your vacation with a drink at the plush Sky Bar.
Useful Info for Spending 4 Days in Amsterdam
Where to stay in Amsterdam
If you're visiting Amsterdam for 4 days, you'll want to stay as close to the city center as possible. While staying in the city center is one of the most convenient options, it's also quite expensive. You can save some money by staying a bit further out and using public transport to get around.
Some popular areas to stay in Amsterdam are:
Jordaan: A trendy area filled with cafes, galleries, and boutique shops. It's also close to major attractions.
De Pijp: A lively district with plenty of bars and restaurants. It's a bit further from the city center but still within walking distance.
Museum Quarter: As the name suggests, this area is home to some of Amsterdam's top museums, like Van Gogh Museum and Rijksmuseum. It's also close to Vondelpark, a popular park for picnics and strolls.
To learn more about each neighborhood and find the perfect accommodation for your stay, check out our complete guide to where to stay in Amsterdam.
Looking for a unique experience? Then browse through our guide to the best luxury hotels in Amsterdam, the best boutique hotels in Amsterdam, the best Amsterdam hotels with pools, or the best Amsterdam hotels with canal views.
In a hurry? Check out our top recommendations for different budgets below.
LUXURY – Anantara Grand Hotel Krasnapolsky Amsterdam
Conveniently located on the edge of Dam Square in the heart of Amsterdam, this 5-star hotel offers stylish rooms with amazing views. There's also a grand cafe, a winter garden, and a Michelin-star restaurant on site.
MID-RANGE – NH Amsterdam Schiller
Set in a historic building only a 10-minute walk from Dam Square, NH Amsterdam Schiller benefits from a central yet quiet location. The hotel features elegant rooms and offers easy access to the most famous Amsterdam attractions, such as the floating flower market or the Jewish quarter.
BUDGET – Bridge Inn
If you're looking for a budget-friendly place to stay for your 2 days in Amsterdam, look no further than Bridge Inn. Located in the popular Jordaan neighborhood, this hotel offers cozy rooms with canal views, as well as a 24-hour front desk and luggage storage space.
How to get to Amsterdam
If you're visiting from elsewhere in Europe, the easiest way to reach Amsterdam is by train. Amsterdam Centraal Station is well-connected to other major cities like Paris, London, and Berlin.
For those traveling from further away, Amsterdam Schiphol Airport is a major international airport with flights arriving from all over the world. From there, you can take a 20-minute train ride to Amsterdam Central Station or hop on a bus or taxi.
How to get around in Amsterdam
Most attractions are within walking distance from the city center, so get ready to put on those walking shoes! You can also take advantage of Amsterdam's extensive public transport network, which includes buses, trams, metro, and ferries.
To use public transport in Amsterdam, I recommend buying a GVB Public Transport Ticket. They have different options from one to seven days, so you can choose the one that best fits your itinerary.
One single GVB ticket costs €3.40, so if you're planning to use public transport more than twice a day, the GVB ticket will definitely save you money.
Another popular option is to purchase an I Amsterdam City Card, which offers free access to public transportation as well as discounts on attractions and activities. This card is valid for one, two, three, or four consecutive days.
Best time to visit Amsterdam
The best time to visit Amsterdam is during the spring (April and May) when the tulips are in full bloom or in September when summer crowds have dispersed. The weather is mild and pleasant during these months, making it ideal for outdoor activities.
Summer is the peak tourist season in Amsterdam, and while the city is buzzing with energy, it can also get quite crowded. If you're planning to visit during this time, be prepared for long lines at popular attractions and higher prices.
No matter when you decide to visit, make sure to check the weather forecast beforehand and pack accordingly. Bring an umbrella for those unexpected showers and dress in layers to stay comfortable, as temperatures can vary throughout the day.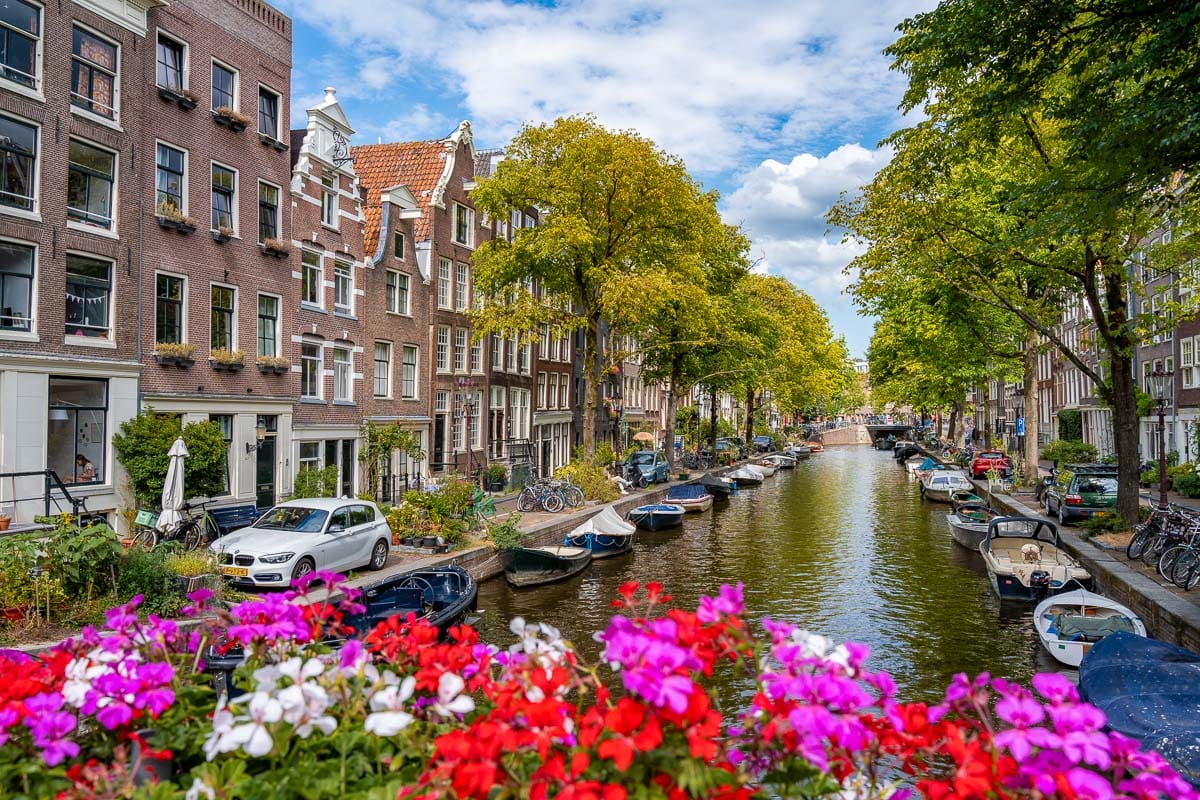 ---
Planning a trip to Amsterdam?
Then you might want to take a look at all our other travel guides about Amsterdam. I promise, they are just as awesome as this article was!
Amsterdam hotel guides:
Amsterdam travel guides:
---
Pin It for Later!