Amsterdam is one of the most popular destinations for travelers in Europe thanks to its excellent museums, a picturesque network of canals, and world-class coffee shops.
However, no sightseeing trip to the Dutch capital is complete without a good breakfast, so I've put together this guide on the best breakfast places in Amsterdam to help you start the day right!
I've used my own experience from my many trips to the city as well as reviews and extensive research to bring you the best breakfast in Amsterdam (and brunch too in case you're not an early bird).
If you're looking for things to do in the city once you've set yourself up for the day, check out my Amsterdam itineraries for one day and two days.
*Disclosure: This post contains a few affiliate links, which means I may receive a small commission, at no cost to you, if you make a purchase through my link.*
No time to read now? Pin it for later!
Best Breakfast Places in Amsterdam
Below you'll find 14 of the best breakfast spots in Amsterdam serving up everything from eggciting eggs to pancakes, croissants, cooked breakfasts, and more. Oh, and coffee too. Let's definitely not forget about the coffee!
So, without further ado, let's dive in and discover Amsterdam's best breakfasts.
1. Bakers & Roasters
Location on Google Maps: Bakers & Roasters Centrum | Bakers & Roasters De Pijp
Website: https://bakersandroasters.com/
Instagram: @bakersandroasters
If you're looking for a truly international breakfast, then Bakers and Roasters is for you. This is by far one of the best breakfast places in Amsterdam and labels itself as "a New Zealand-style cafe served with a heavy dose of Brazil".
B&R, as it's colloquially known, is run by a Kiwi (New Zealander) and a Brazillian who share a passion for coffee, street food, and using the freshest ingredients in whatever they do.
You'll find a wide selection of brunch dishes from the Kiwi Brekkie (a bit like a full English) to more exotic specialties like the chorizo breakfast burrito (yum!) and American pancakes.
Everything is prepared in the open-plan kitchen and made in-house using ingredients from local farms, bakers, and smokehouses.
There are plenty of vegetarian options too, and light and healthy breakfasts from fruit bowls and granola to yogurt. B&R's coffee is always served as doubles, and there are fresh fruit juices, lemonades, and other drinks available.
This isn't the cheapest brunch spot in Amsterdam, but in terms of atmosphere quality, and service, it is worth every penny.
2. Coffee & Coconuts
Location on Google Maps: Coffee and Coconuts De Pijp | Coffee and Coconuts Zuidas
Website: https://www.coffeeandcoconuts.com/
Instagram: @coffeecoconuts
Laid-back Coffee and Coconuts describes itself as "a little island of rest in a sea of busy" and it's definitely a great place to take time out and enjoy one of their amazing breakfasts in cozy surroundings.
The cafe in De Pijp is located inside a former cinema and exudes charm and understated sophistication. They've also recently opened a branch in Zuidas in case you find yourself in the business district.
The breakfast menu is served all day from 8 am and has a wide range of European dishes from fresh croissants, eggs, and pancakes to healthy options like the blueberry smoothie bowl or green coconut bowl.
If you had a few too many drinks the night before, banish that hangover with their zingy Bloody Mary (it works, I promise)!
If that's a little too much at this hour, you'll be pleased to know there is an extensive coffee menu (with coconut and oat milk options), teas, coconut-based drinks (well of course), and freshly made juices and lemonades.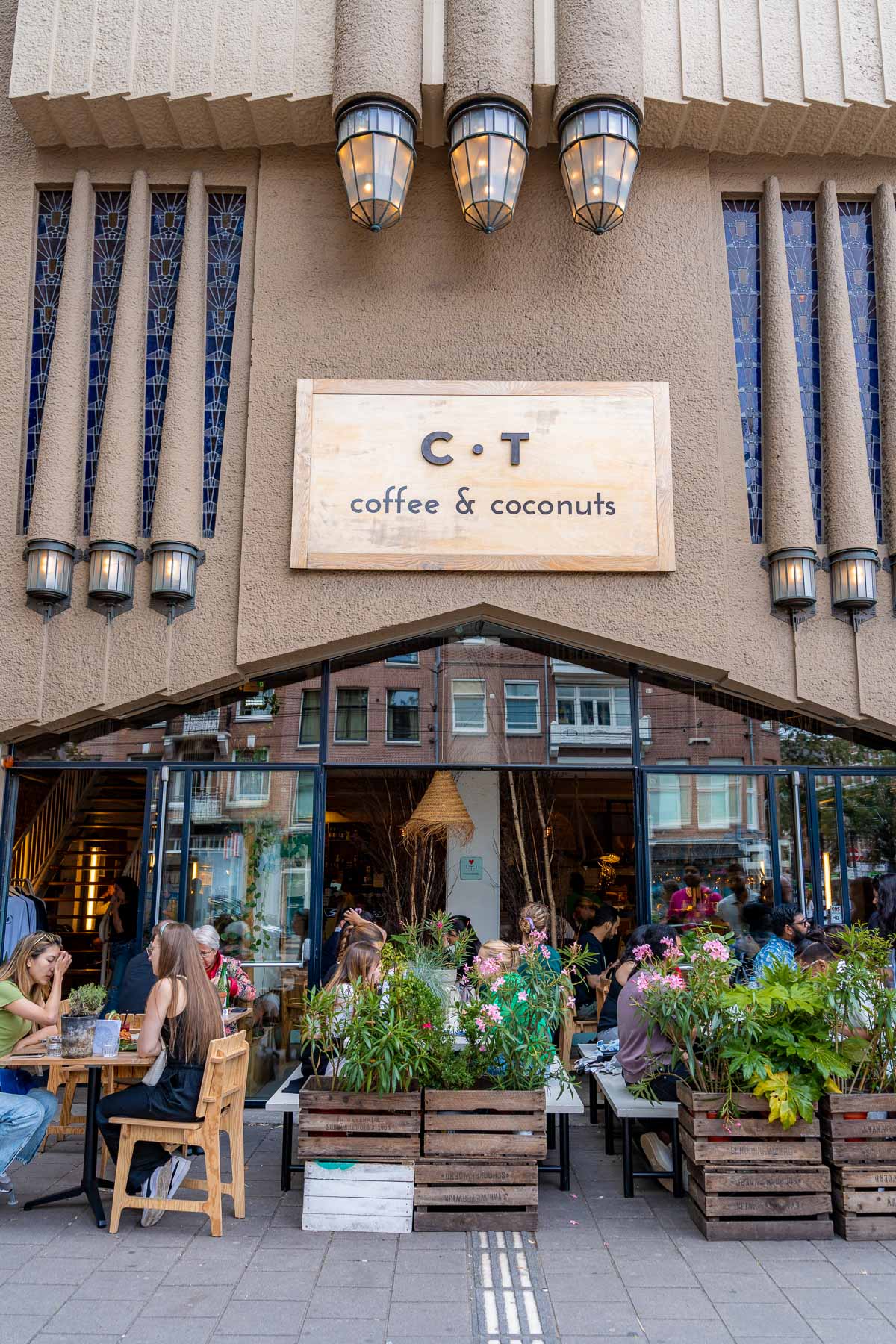 3. Greenwoods
Location on Google Maps: Greenwoods Keizersgracht | Greenwoods Singel
Website: https://greenwoods.eu/
Instagram: @greenwoods.amsterdam
Greenwoods is something of an institution and one of the best brunch spots in Amsterdam. These fine folks have been serving up breakfasts and brunches to hungry mouths since 1988, and it remains one of the most popular hangouts in the city!
Come here for classics like the full English, eggs benedict, vegetarian breakfasts, muffins, and a whole lot more.
Greenwoods is usually my go-to for a good breakfast in Amsterdam as the quality of the food, lively atmosphere, and excellent service are hard to beat.
The restaurant is also committed to becoming carbon neutral and only uses locally sourced products, recyclable plastic and paper, and avoids anything that is detrimental to the environment.
There are two locations across the city, one at Singel close to the flower market, and the other at Keizergracht.
4. The Avocado Show
Location on Google Maps: The Avocado Show Keizergracht | The Avocado Show Kleine Gartman
Website: https://www.theavocadoshow.com/
Instagram: @theavocadoshow
If you're looking for a healthy and filling breakfast, then look no further than The Avocado Show which started life in De Pijp and has since expanded to include restaurants in London's Covent Garden and Mayfair, Stuttgart.
They have two cafes in Amsterdam, one in Keizergracht and another in Kleine Gartman. The menu focuses on, you guessed it, avocado, be it sweet, savory, sour, or anything in between.
The mouthwatering Benny Boy is made with two packed eggs, mixed greens, and hollandaise sauce, topped off with avocado.
Or how about the Sinner Stack; a stack of fresh pancakes smothered in maple syrup and finished with sliced avocado, banana, and bacon?
Each meal offers a unique mix of classic dishes paired with avocado, so if you're a fan of green, mushy goodness, then you're in for a real treat.
5. PANCAKES Amsterdam
Location on Google Maps: PANCAKES Amsterdam Central (they also have four other locations)
Website: https://pancakes.amsterdam/
Instagram: @pancakesamsterdam
There's no denying that pancakes are one of the best breakfasts out there, and one of the best breakfasts in Amsterdam too! If you're looking to get your fill of these awesome treats, then PANCAKES Amsterdam is where it's at.
You'll be sure to find the "best Dutch pancakes in the world" whether you want sweet or savory, gluten-free, lactose-free, or vegan.
Choose from savory creations such as ham and cheese, goat cheese and spinach, or bacon and apple. Sweet pancakes include lemon sugar, chocolate and almonds, or chocolate sauce with coconut flakes (simply sublime).
There are five locations across the city including on 9 Streets, one by the central railway station, and one next to the Anne Frank House. So no matter where you are, you'll be able to get your fix of traditional Dutch pancakes.
6. Mortimer
Location on Google Maps: Mortimer
Website: https://mortimeramsterdam.com/
Instagram: @mortimeramsterdam
Another contender for the best brunch in Amsterdam is Mortimer located in the center of the city halfway between the station and Dam Square.
This brunch and breakfast behemoth is well-known for its excellent coffee, sumptuously cooked breakfasts, and fresh, American-style pastries.
Mortimer sources all of its food from local organic suppliers and offers dishes from a full English to croissants, eggs in whichever way you like them, and lighter/healthier options such as the tasty fruit bowl or granola and yogurt.
Enjoy your breakfast in cozy surroundings just a short walk from many of the city's top attractions. There is indoor and outdoor seating, the latter perfect for warm summer mornings.
7. Dignita
Location on Google Maps: Dignita Vondelpark | Dignita Hoftuin | Dignita Westerpark
Website: https://eatwelldogood.nl/en/
Instagram: @dignitaamsterdam
I'm a big fan of the all-day brunch, and that's why Dignita is one of my favorite places in Amsterdam when I'm hungry as they have some of the best brunch and breakfast dishes in the city.
With locations at Vondelpark, Hoftuin, and Westerpark you won't have to go far to find the perfect morning (or afternoon) snack.
Dignita has been serving up some of the best coffee and breakfasts in Amsterdam since 2015 and focuses on seasonal foods using the freshest ingredients. You'll find plenty of brunch classics but with a modern twist.
Enjoy a breakfast brioche or the Benny Boy poached eggs, pancakes, or a delicious and healthy fruit bowl. The chocolate & raspberry pancake stack is seriously to die for!
The awesome selection of homemade cakes will leave your mouth watering and go perfectly with a coffee, or if you're feeling cheeky, you can opt for a cocktail (I promise I won't tell).
8. Omelegg
Location on Google Maps: Omelegg City Center | Omelegg De Pijp
Website: https://omelegg.com/
Instagram: @omelegg
The fine folks at Omlegg really know how to make an eggcelent omelet (do you see what I did there?) and this is hands down one of the best breakfast places in Amsterdam thanks to the huge selection on offer.
Choose from a massive menu of omelets of all shapes and sizes from traditional farmhouse to pulled chicken, gorgonzola bacon, and my personal favorite, the Viking Fisherman with salmon chives and creme fraiche.
Omelegg has been serving happy customers for over ten years and has restaurants in both in the city center close to the train station, and in the hip De Pijp district. Inside each, you'll find a homely place with wooden floors and beams and a warm welcome.
9. Rainbowls Amsterdam
Location on Google Maps: Rainbowls Amsterdam
Instagram: @rainbowls.amsterdam
If you're looking for a super-heathy (and colorful) breakfast in Amsterdam, then head along to Rainbowls for a selection of healthy and delicious smoothie bowls, açai bowls, porridge, health shots, coffee, and more.
The menu is plant-based so this is a great option for vegetarians and vegans (and perhaps if you've eaten one too many stroopwafels). You'll also find soups, smoothies, and of course plenty of coffee on offer too.
Rainbowls is located just around the corner from Bakers and Roasters and a five-minute walk from the Heineken Experience.
10. Little Collins
Location on Google Maps: Little Collins
Website: https://www.littlecollins.nl/home/depijp
Instagram: @collins.amsterdam
Little Collins is the sister restaurant of Collins and focuses on all-day brunches in the heart of De Pijp, a stone's throw from the Sarphatipark.
Choose from light bites or larger plates like the banana loaf or opt for a crepe, poached eggs, hash browns, or the delicious fava bean falafel and hummus. The brunch items are really unique, so it's definitely not one of your average breakfast places in Amsterdam, but if you're open for something new, I can only recommend stopping by!
There's also an extensive drinks menu of coffees, juices, teas, and more. This is one of my favorite places in the city for brunch, and they have a lovely courtyard outside to enjoy your breakfast/brunch.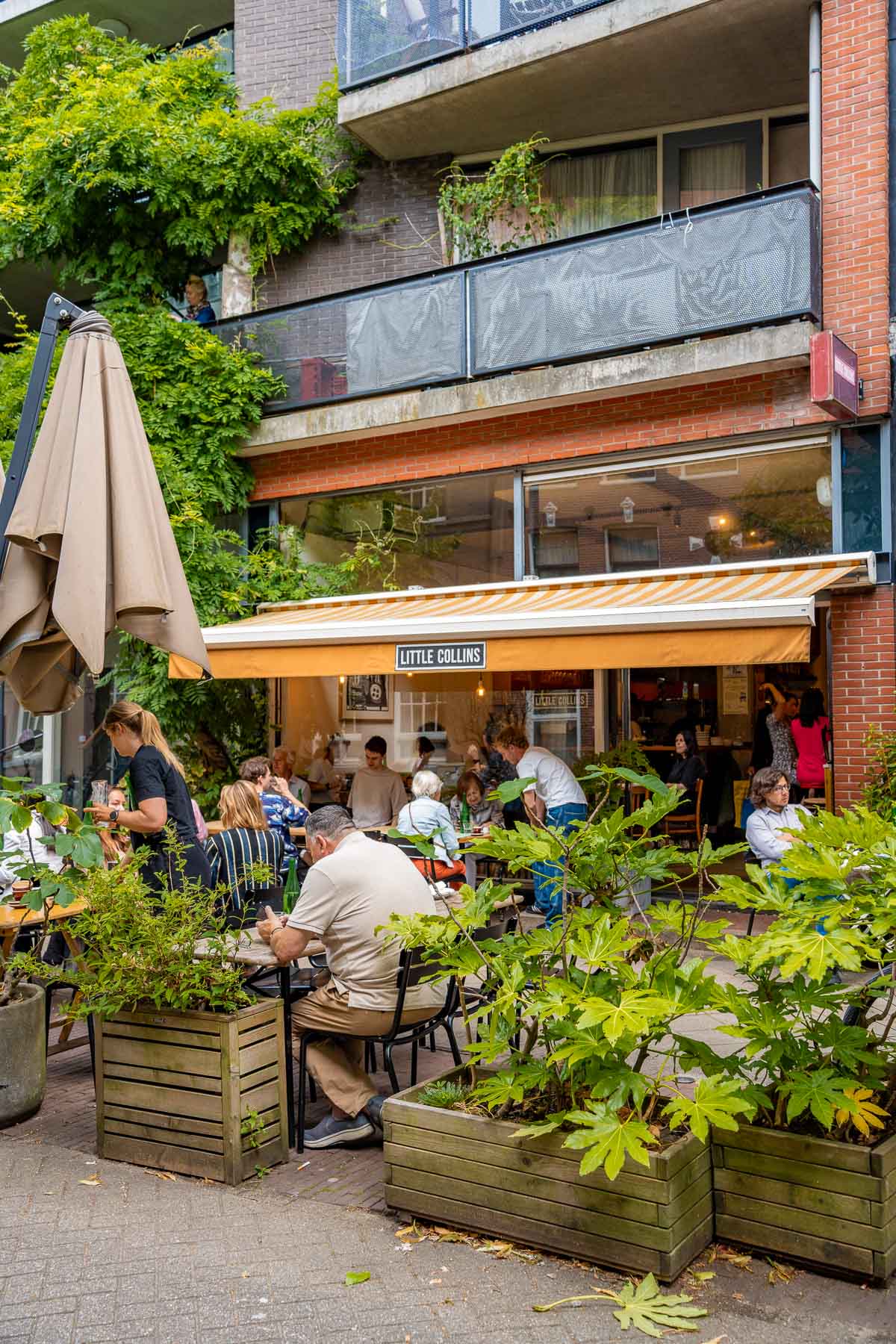 11. Le Petit Deli
Location on Google Maps: Le Petit Deli
Website: https://www.lepetitdeli.nl/
Instagram: @lepetitdeli_amsterdam
You really can't miss Le Petit Deli, which is definitely one of the cutest breakfast places in Amsterdam and brings a little bit of Paris to the heart of Jordaan.
Indulge in French classics like Omelelette Parisian, cinnamon toast, and of course the freshest croissants in the city.
The smoothie bowls are delicious or if you're feeling more than a little peckish opt for a croque monsieur or madam or other tasty sandwich.
You'll taste some of the best coffee in the city here alongside other treats like Matcha, Chai Latte, and even beetroot or turmeric lattes. You can enjoy your breakfast inside, outside or to take away.
12. Staring at Jacob
Location on Google Maps: Staring at Jacob
Website: https://staringatjacob.nl/
Instagram: @staringatjacob
From chicken and waffles to "dirty" Bloody Marys, Staring at Jacob is a New York-style brunch bar and one of the hippest breakfast joints in Amsterdam.
The mouthwatering Brunch Specials menu includes a yogurt bowl, summer salad, eggs royale, veggie burgers, hot chicken sandwiches, and a lot more.
The Rasco is always a favorite, made from buttermilk fried chicken and coming with a delicious waffle, soft scrambled eggs, and maple syrup. If it's past 12 (or even if it's not – you're on holiday) try one of the dazzling cocktails or stay for a beer or three.
There's outside seating overlooking the canal making it a great spot to sit and watch the world go by with a bite of something tasty or a coffee/cocktail.
13. Piqniq
Location on Google Maps: Piqniq
Website: https://piqniq.nl/
Instagram: @piqniqamsterdam
Picniq is definitely one of the best breakfast spots in Amsterdam thanks to its location on one of the most picturesque streets in the city (Lindengracht) sandwiched between two canals.
The menu has an excellent range of breakfast classics including eggs, pancakes, fresh fruit, soups, and baguettes. The pulled-chicken focaccia is a must-try, and there are also vegetarian, vegan, and gluten-free options.
If you just fancy a small nibble then the Little Breakfasts are a great option. Choose from a doughnut fresh from the oven, a croissant with jam, or a cheese croissant among other tasty bites.
There is indoor and outdoor seating, and the decor is cozy and welcoming. The breakfast menu is served until 11:30 am but don't worry if you don't make it there in time, the lunch menu is just as good!
14. The Pancake Bakery
Location on Google Maps: The Pancake Bakery
Website: https://pancake.nl/en/
Instagram: @thepancakebakery
I'm all about those pancakes, and The Pancake Bakery is another excellent option and one of the best breakfast places in Amsterdam with all manner of sweet and sour pancakes on offer.
The Pancake Bakery has been open since 1973 making it one of the oldest breakfast joints in the city (if not the oldest). The restaurant is located inside an old 17th-century warehouse and retains much of its original charm.
Choose from dishes like the luxury breakfast of croissants, jam, scrambled eggs, fresh orange juice, coffee, and a cheeky glass of prosecco, or opt for the Dutch breakfast of sunny-side-up eggs with ham, bacon, and cheese.
There are healthy options with yogurt and muesli, and plenty of freshly squeezed juices, coffees, and other drinks available.
Best Breakfast Spots in Amsterdam on the Map
To make your life even easier, we put together a customized interactive map that contains all the best breakfast places in Amsterdam mentioned in this article.
You can also save this map to your Google Maps app on your phone if you click on the bracket in the upper right corner. Super convenient, right?
Where to Stay in Amsterdam
To make the most of your trip to Amsterdam, you'll want to make sure that you locate yourself close to the city center. This way, you'll be able to access all of the attractions with ease and won't have to waste any time traveling.
One of the best areas to stay in Amsterdam is the Jordaan district. This is a charming part of the city that's home to historic canals, amazing restaurants, and some of the best breakfast places in Amsterdam! You'll be close to all the attractions but still able to enjoy a quiet local experience.
Another great area is Museumplein, which is located close to Vondelpark and near most of the major attractions. The area has a great selection of restaurants, cafes, bars, and shops so you'll never run out of things to do.
If you want to know more about the best areas to stay in the city, make sure to read our in-depth post about where to stay in Amsterdam. For a unique stay, you can check out the best boutique hotels in Amsterdam or the best Amsterdam hotels with canal views.
In case you're in a hurry, below you can find our recommendations for where to stay in Amsterdam for different budgets.
LUXURY – Anantara Grand Hotel Krasnapolsky Amsterdam
Conveniently located on the edge of Dam Square in the heart of Amsterdam, this 5-star hotel offers stylish rooms with amazing views. There's also a grand cafe, a winter garden, and a Michelin-star restaurant on site.
MID-RANGE – NH Amsterdam Schiller
Set in a historic building only a 10-minute walk from Dam Square, NH Amsterdam Schiller benefits from a central yet quiet location. The hotel features elegant rooms and offers easy access to the most famous Amsterdam attractions, such as the floating flower market or the Jewish quarter.
BUDGET – Bridge Inn
If you're looking for a budget-friendly place to stay for your 2 days in Amsterdam, look no further than Bridge Inn. Located in the popular Jordaan neighborhood, this hotel offers cozy rooms with canal views, as well as a 24-hour front desk and luggage storage space.
---
Planning a trip to Amsterdam?
Then you might want to take a look at all our other travel guides about Amsterdam. I promise, they are just as awesome as this article was!
---
Related Posts
Want to read more about the Netherlands?
---
More Amsterdam Resources
Want to know even more about Amsterdam? Check out these awesome books and travel guides for more inspiration!
---
Pin It for Later!